My fingers hovered over the keyboard. Could I really do it? As soon as I did, I knew that it would all be real. The chain reaction would start and the floodgates would open. I'd be standing right in the thick of it, learning how to swim.

I asked myself, "Are you really ready to buy the one-way ticket to Bangkok? Are you truly prepared for all of the things that it will mean?"

Well that night, it became real and I knew what I had to do. I had to let everyone know that I would be leaving fewer than six months later with nothing but a carry-on bag on my back and a dream in my heart, and that I didn't know when I'd be back

– A Thousand New Beginnings
The above is an excerpt from my second book, a memoir drawn from my personal journal during my first year of solo travels.
I've kept pretty quiet about the book, I know. I did the very same with my first book, because when I'm pouring my heart and soul into something and omigod I don't know if it's going to be any good and should I really put this personal stuff out there? My way to deal with it is to silently plug away until it's shiny and finished and ready to be presented to the world. Today is that day.
How did it all come about? It washed up on the shore in Mozambique…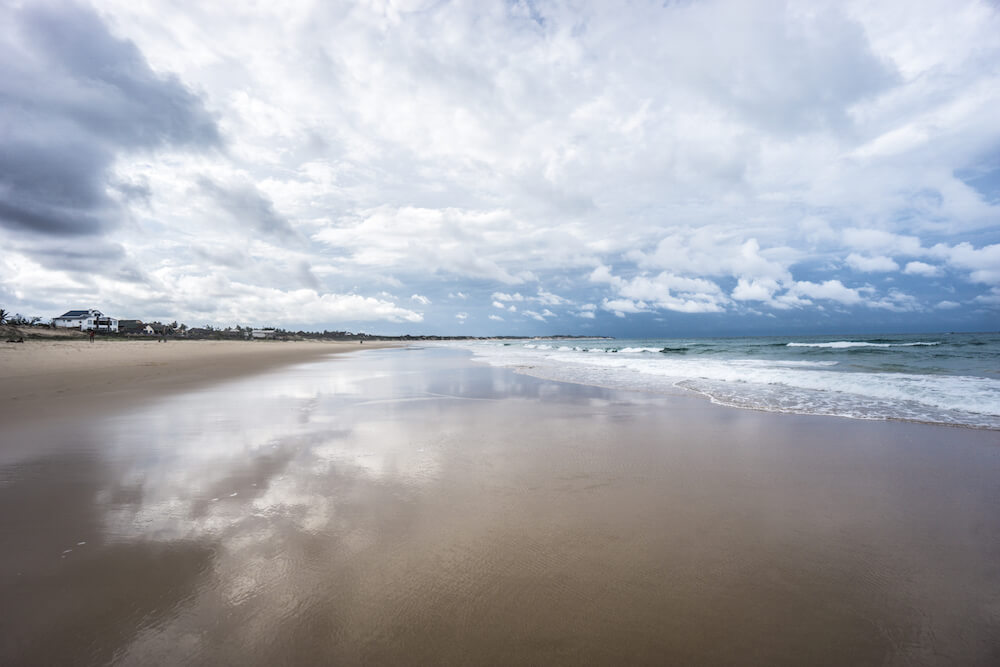 The breeze blew lazily against my window, gently calling me to the land of the waking in a little bamboo hut. I rolled over, not quite ready to step out into the scorching sun, and began scrolling through emails.
After a few months of back to back 15+hour days in front of my computer over the summer and fall, I resolved not to do anything during my November in Africa.
I had been doing really well at that.
Yet that day, one email in particular brought me back to reality with lightning speed. It was from the CEO of Thought Catalog, a website I'd formed a partnership with as a writer, asking how I felt about writing a book with them that would be made available as an ebook, print book, and even an audio book!
That day, I had a little more pep in my step when I danced across the hot sand, forgetting, as I did every day, where I'd left my shoes.
In the months that followed I went back to those long days behind the computer, because I operate in a binge-work, binge-play mode, and the result is something I know you're going to love.
What's in this book?
The memoir goes through my first year of traveling solo from buying the ticket all the way through Cambodia, Laos, Thailand, Malaysia, Borneo, and Indonesia, with a little Australia thrown in as well.
If you've read this blog from the beginning then you already know some of the story, but I never told it all until now.
This book has all of the parts in it that I left out of the blog – the parts that had to do with falling in and out of love, those wild nights dancing on the beach with beautiful strangers, the darkest, innermost thoughts that plagued me during the difficult times, and my eventual movement towards growth and understanding, not only of the world outside, but also the world within.
For anyone who is considering traveling, and for those who already do, particularly solo, this book is the perfect companion on those long bus rides, or the nights when you can't sleep because you're so excited about your upcoming trip, or maybe even the push you need to book that plane ticket already. Whatever stage you are in your travel adventure, this will resonate with you, entertain you, and encourage you.
The Story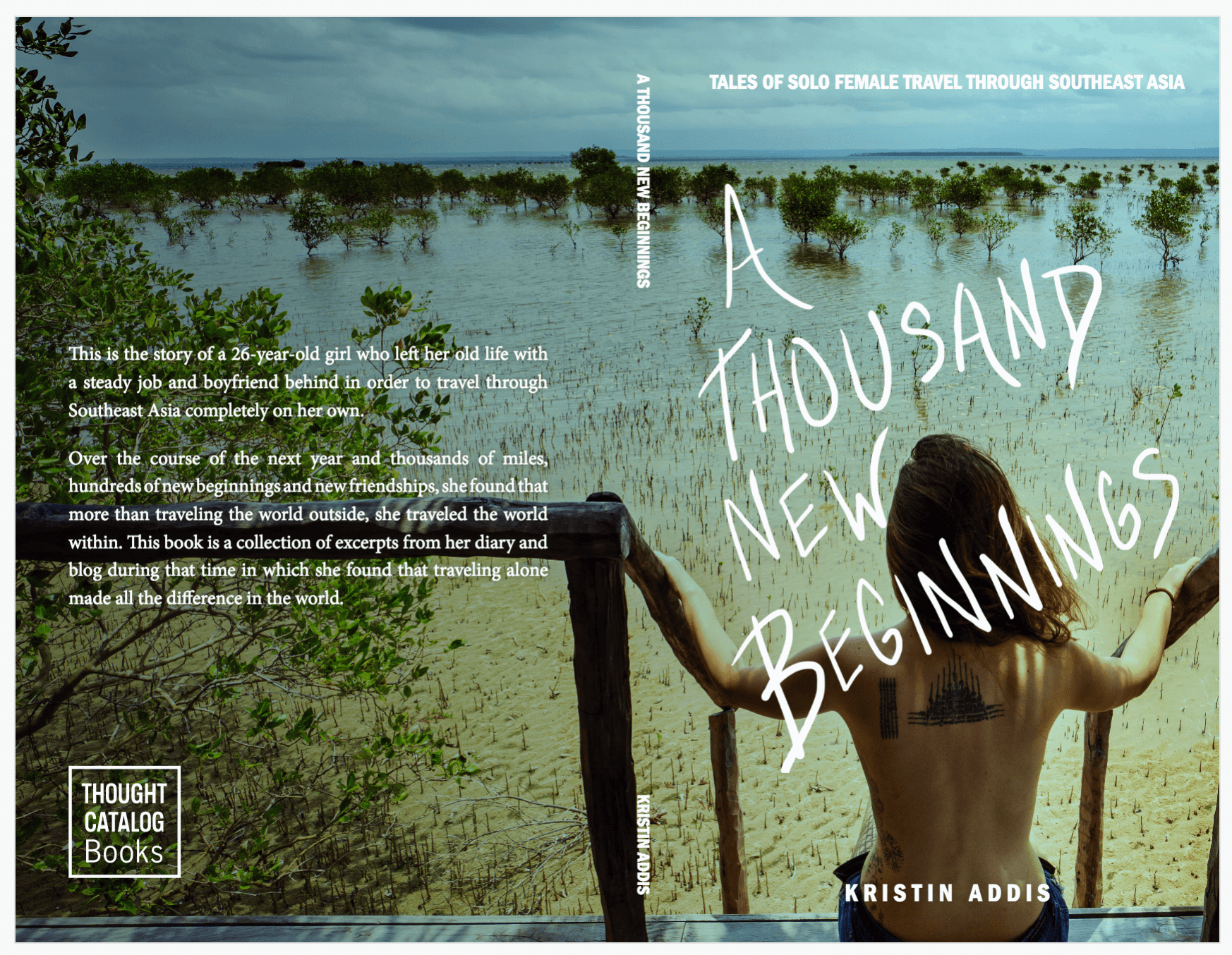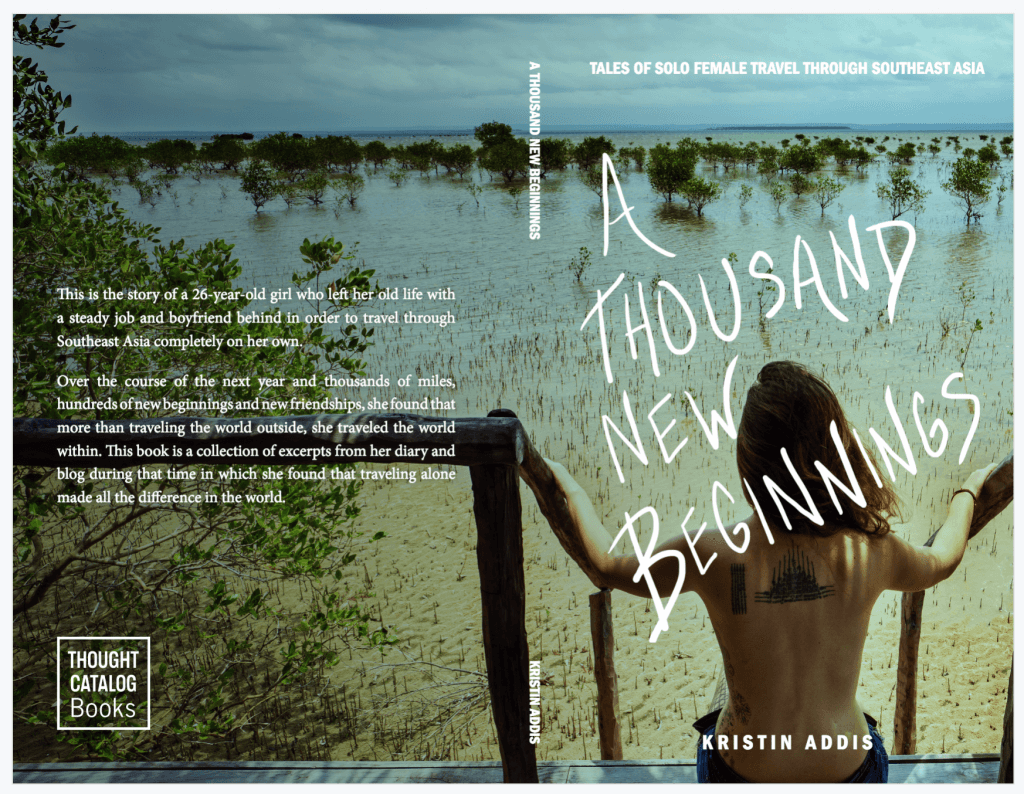 It started out as a joy ride 
Every day here is like a new intense high. I wake up and pinch myself.
The trip started out as an endless party of enthusiasm and new adventures, save for a few hiccups here and there of course.
It was full of new friendships, biking through ruins and little villages with smiling faces, floating down the Mekong River with a double rainbow overhead, and learning how to drive a motorbike through some of the most rural parts of Laos to see giant cascading waterfalls.
That turned into a story about love (but not a love story)
I always have an open heart and, it makes me both a lover and a habitual hurter. It's the name of the game we travelers play, and I don't know how to play it any other way, mistakes and all.
The story I never told about falling in love on the road – It was the kind of love that burned hot and bright, but could it last, or blow out quickly and all-too easily?
That morphed into a challenging thriller
Our impromptu guide brought us directly, and dangerously, close to the flames. Every now and then the winds would change and send the toxic fumes right toward us, burning my eyes and cutting off all air sources. I covered my face with my sarong and ducked behind a rock.
From meditating in a Buddhist temple in silence for ten days, to trekking to parts of Indonesia where most visitors never go, to experiencing all kinds of amazing cultural traditions, the trip became less about neon paint and buckets of alcohol and more about the kind of cultural immersion and adventurous experiences that have since defined my travels.
Full of beautiful interactions
"Hi Kristin! Where you go?" kind voices call out periodically as I walk down the dirt and rock path through the trees each day. Smiling faces greet me each time I turn my head to see who's calling. Somehow they've all memorized my name, and they knew it after my second day here.
The best part of the trip turned out to be the locals who I met along the way. They taught me more about patience, compassion, enjoyment, and love than I ever could have expected or hoped for.
I went into the journey a 20-something girl who knew very little of the world and how life operated outside of my immediate surroundings in California, and came home a renewed spirit.
Back when I bought that one-way ticket to Bangkok referenced in the opening quote, I had no idea of what awaited me, and could only have imagined and hoped that it would be the spark that would turn into a new life, new career, and a thousand new friendships, sunrises, sunsets, and new beginnings.
This is the kind of adventure that awaits you, too, if you allow yourself to take the first step. This book can be the one to encourage and inspire you. 
Happy travels, fellow wanderluster.