Each month, Jenn Brown from Jetsetter Jenn will write about what to eat, where to eat, and how to cook a dish from her favorite destinations abroad. In this post, she explains Cambodian cuisine and shares a recipe of one of her favorite Cambodian dishes. 
Growing up in Southern California, I was always surrounded by the food of different cultures. The best carne asada came from the Spanish-speaking market, where I stretched my high-school vocabulary to the max. Una libra de carne asada por favor.
Twenty minutes north, pho houses and Vietnamese bakery-coffee shops dotted every corner. Sushi bars, teppanyaki grills, dim sum, Korean BBQ, and Thai takeout were mainstays of my dining experience from a young age.
But one cuisine was conspicuously absent, despite the abundance of south Asian dining options in every strip mall in my suburban homeland: Cambodian food.
So when I hopped off the plane in Siem Reap, fresh off a month of stuffing my face with all my favorite Thai curries, I had zero idea what to expect. My (limited) research told me that Cambodian food didn't pack the punch of its culinary heavyweight neighbors on either side, so expectations were low.
Perhaps that's why I was so wowed.
Here's a tip: Do NOT believe any guidebook or blog that says Cambodian food leaves little to be desired. Sure, it may not have the chili obsession of southern Thailand or the wildly popular soups and sandwiches of Vietnam, but Cambodia offers its own unique blend of flavors that deserves reverence.
Most Cambodian cuisine is national — you will find similar menus in Siem Reap and Phnom Penh. However, each area will prepare these dishes slightly differently, and each restaurant has its own unique approach to these recipes. There is one region of Cambodia that has a proud place in the global culinary scene, and any foodie worth his or her salt should visit.
Culinary Capital: Kampot & Kep
The French colonial influence is felt more strongly in these southeastern cities than the rest of Cambodia, through both the architecture, the makeup of the tourists, the the food. The rural farmland surrounding these two outposts is considered home to the highest-quality version of the most essential of seasonings: pepper. The humble peppercorn is elevated to new heights in the wide flatlands of the Kampot countryside, where it comes in pink, green, white, and black. It is revered by top chefs all over the world, and Kampot locals are fiercely proud of the plantations that dot the countryside.
And if you're thinking to yourself: Pepper is just pepper. What the heck? No, this pepper is kissed by the gods. I swear it has a little extra spiciness, a little kick in the palate that makes your entire mouth sit up and listen to what the dish is saying to you. The fanciest French restaurants would only use Kampot pepper, and traditional steak au poivre required this exotic spice when Cambodia was a French colony. This pepper was the one thing I brought back from Cambodia with me, after being toted for six more months, and it was gone in less than three.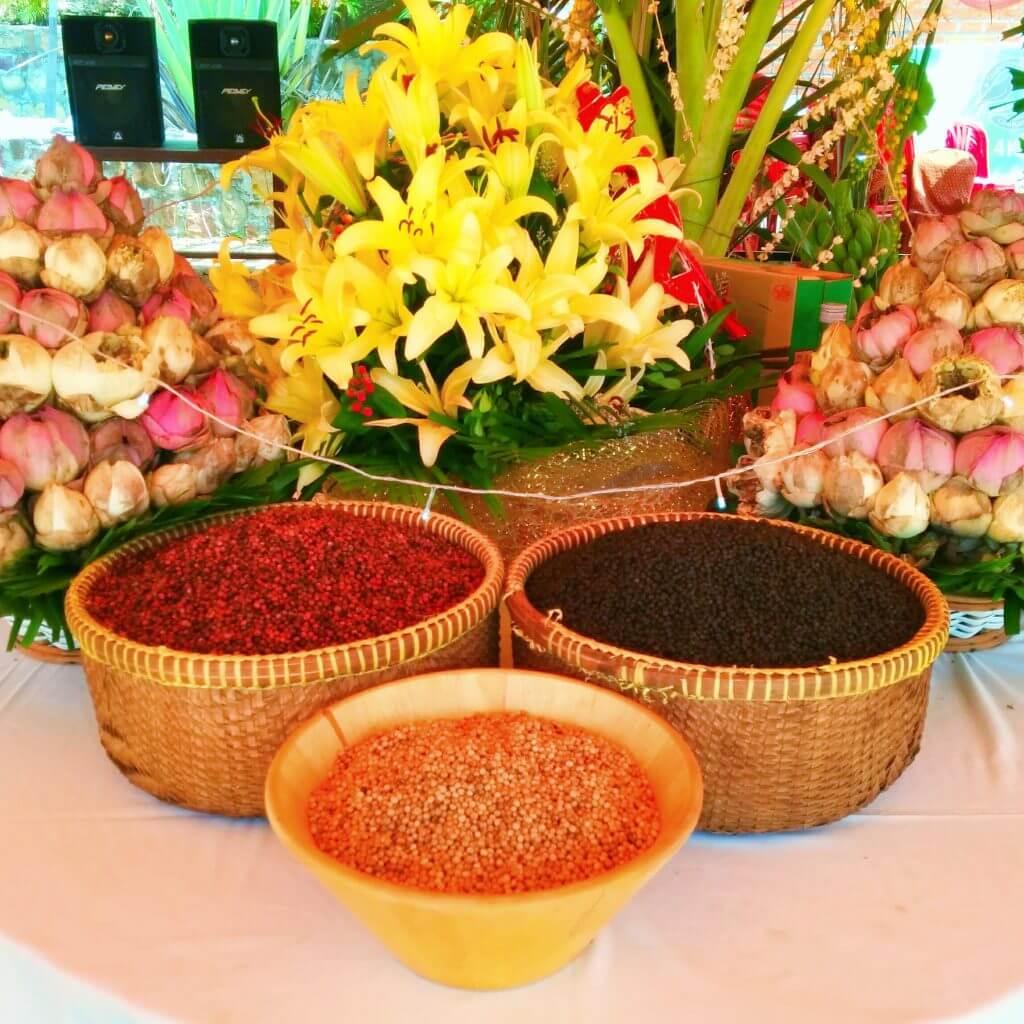 Mosey a little further east to Kep, a seaside town famous for its crab, and suddenly a match in culinary heaven is born: Pepper Crab.
Pepper crab is made in Kep using green peppercorns, which are immature, unripened peppercorns that can't be found outside of Cambodia because they dry out and the flavor changes after just a couple of days. Pepper crab consists of freshly-caught crab fried in a delicious garlicky-chili sauce that's heavy on (you guessed it) pepper! One bite and the sweetness of the crab meat, the warmth of the chili and the kapow! kick of pepper will send your tatebuds to seafood heaven. Also worth trying in Kep are the myriad prawn dishes, served with yummy curries and lots of that famous Kampot pepper. Yum!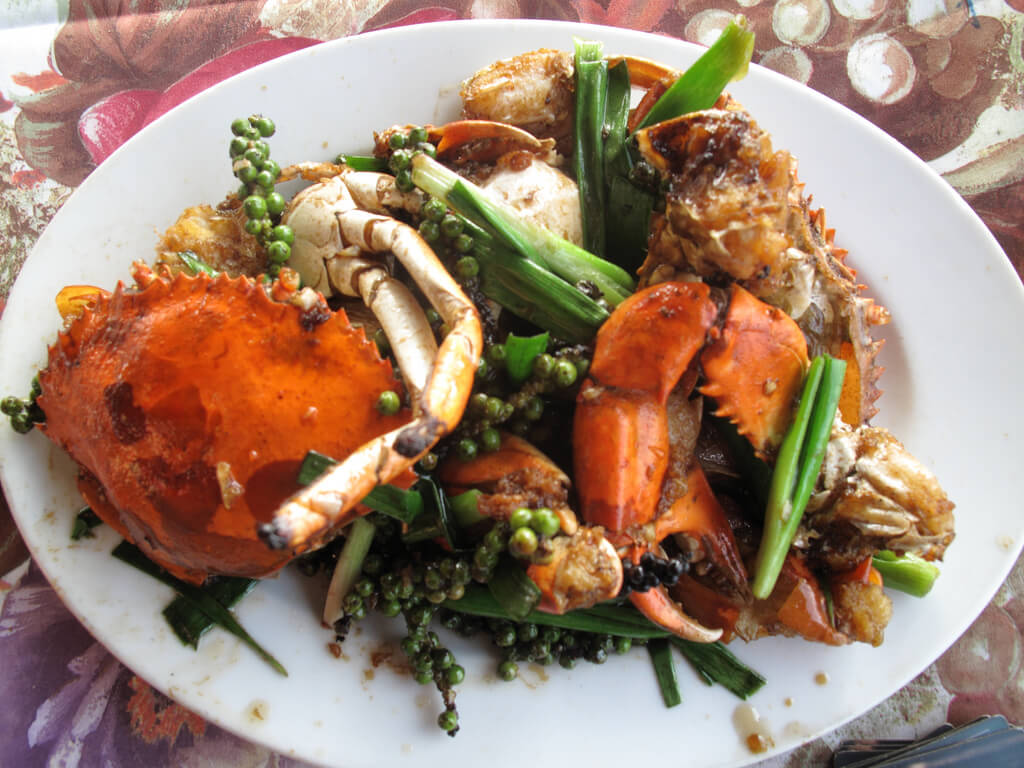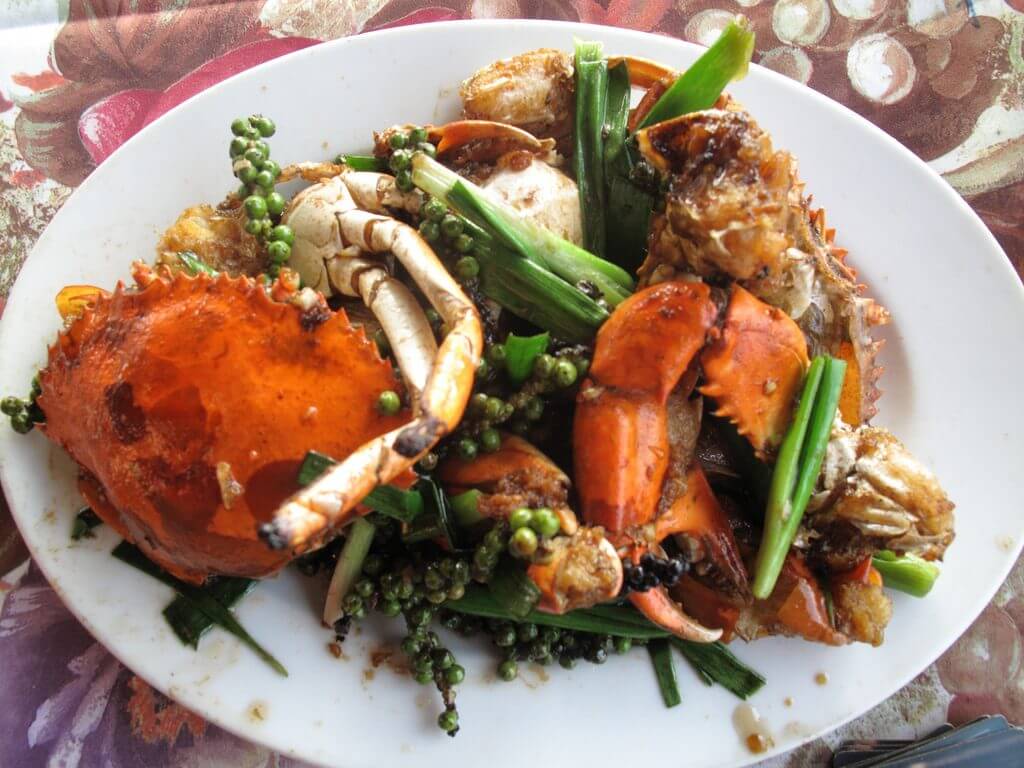 Where to sample: Lonely Planet has made Kimly's the most famous crab shack in Crab Shack Row, but some people complain that the quality has gone downhill and the sauce is too heavy. Diamond Jasmine and So Kheang Restaurant have gotten good marks from expats.
The most authentic way to try Kep crab? At the Crab Market itself! Haggle with Khmer saleswomen over the price and size of the crabs, which vary each day. Once you've purchased your crab, pay to get it boiled or fried onsite. After it's cooked, purchase chili sauce and rice from kiosks in the market and sit down for a meal right there! Talk about fresh. It's a crab-lover's heaven.
Dishes Not to Miss
Outside of Kep, there are plenty of dishes worth sampling while you're in Cambodia. Here's a shortlist of the ones you absolutely must try.
Fish Amok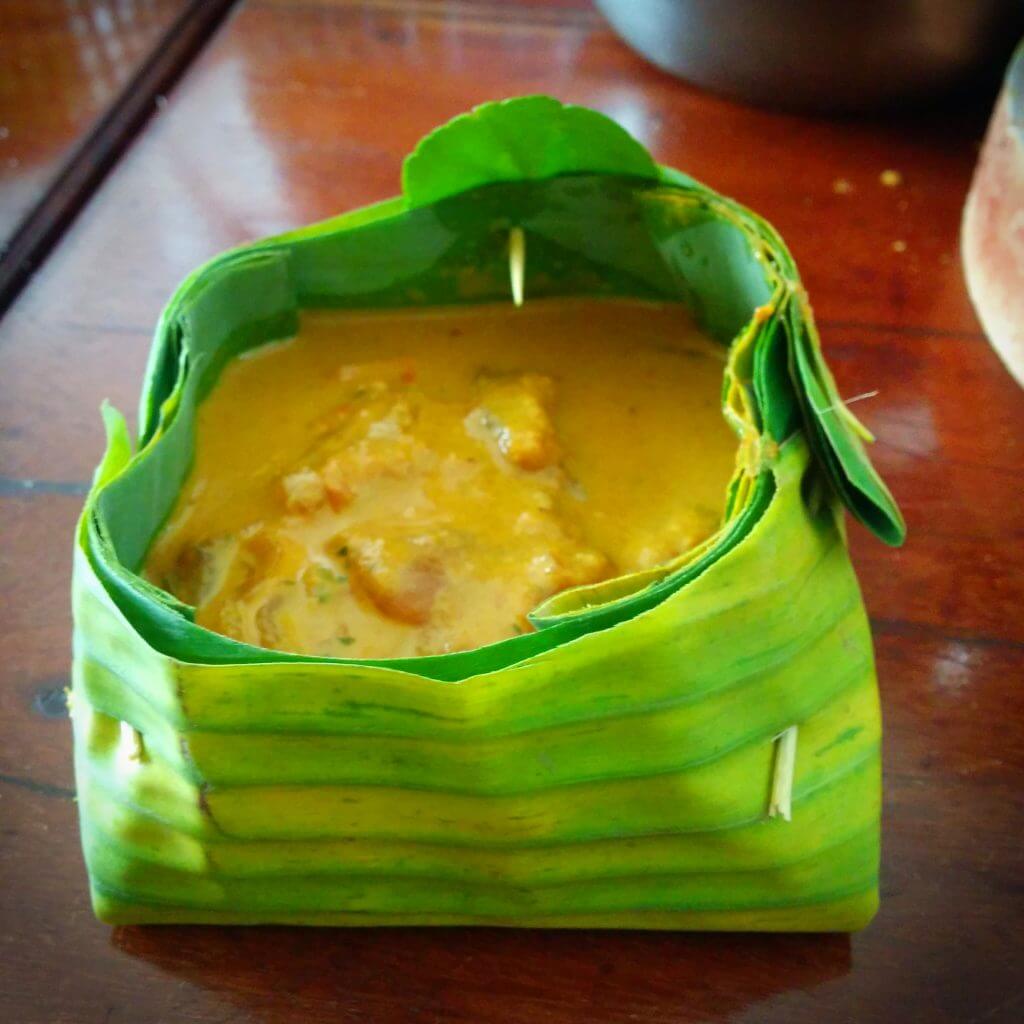 Often called the national dish of Cambodia, fish amok is a pretty little parcel of fish and thick yellow sauce in a banana leaf package. The sauce is a wondrous mixture of intense Asian flavors: several different types of ginger give it a hint of sweet spice, lemongrass and kaffir lime lend a jolt of tartness, and coconut milk gives it a creamy thickness that will coat your tastebuds in this heavenly mixture. Many restaurants offer this dish with chicken for fish-leery Westerners, but it tastes best with the most common Khmer protein: white fish.  
Where to Try: For Life Restaurant in Siem Reap, Nary's Kitchen in Battambang, Romdeng in Phnom Penh (Romdeng is also a social enterprise for disadvantaged youth. Win-win!)
Beef Lok Lak
Where the fish is a light explosion of flavor, beef lok lak is a savory roundhouse kick to the mouth. The star of this dish is undoubtedly the beef, stir-fried in a thick brown sauce that's the warm blanket of beef sauces. It's served with a tangy lime-pepper dipping sauce that's the perfect foil to the uber-savory beef. This was one of my favorite dishes in Cambodia, and one I recreated for friends and family at home with yummy success. Recipe is below if you want to try it too!
Where to Try: It's hard to find a restaurant that can mess this dish up, but here are a few suggestions: Jack's Place or Veronica's Kitchen in Kampot, Genevieve's in Siem Reap, Karma Restaurant in Phnom Penh.
Khmer Noodles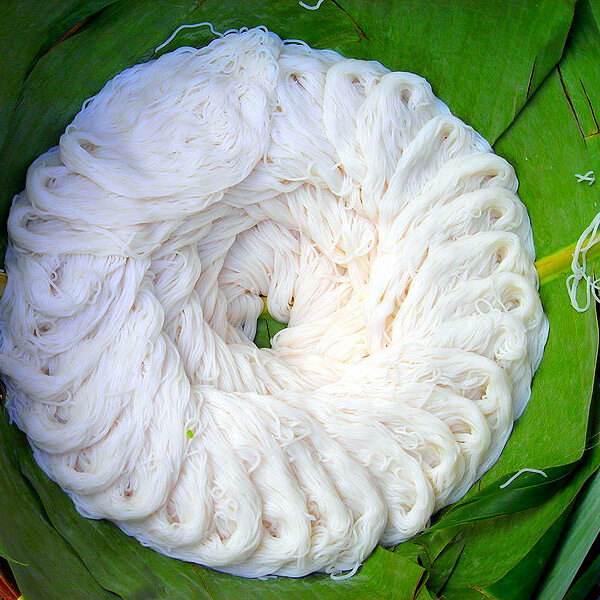 To get the most authentic version of this dish, seek out the women with buckets and pots dangling from a pole balanced over their shoulders. Those buckets contain the individual components of this dish: thin rice noodles, fresh veggies like cucumber, green beans, and bean sprouts, herbs like mint and basil, and a lemongrass green curry sauce to pour over the whole thing. When you order, the woman will put down the pole and make you a dish right there on the roadside. It's a common breakfast meal in Cambodia, so look for it at morning markets.  
Where to Try: Near the Central Market in Phnom Penh or the Old Market in Siem Reap.
BBQ Pork and Rice: a.k.a.
bai sach chrouk
Because this is Cambodia's most popular breakfast, it's tragically hard to find this dish after mid-morning. Tragic because this would be a delicious lunch and/or dinner as well! Sweet, caramelized BBQ pork is smothered in a garlicky-soy sauce, grilled over smoky charcoal, then sliced thin over rice and served with pickled veggies on the side. You might think savory when you look at it, but there is a sweetness in this marinade that makes it great for breakfast… think Asian-style maple bacon. You will do a happy dance after one bite of this simple-but-delicious meal.
Where to Try: Everywhere you go! I personally think street carts and market stalls are best for this one (especially the morning markets in Battambang or the local market [not Old Market] in Siem Reap), but Restaurant 126 in Phnom Penh gets packed with locals and sells out before 8 a.m., so it must be something special!
Cambodian Curry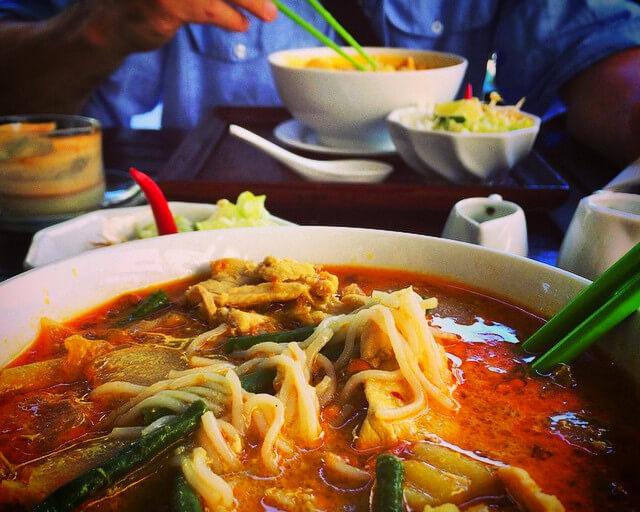 There are two common types of curry in Cambodia, red and green. The red curry is more common than the green, but you can find both on most restaurant menus these days. Where Thai curries are heavy on the chili, Cambodian curry dials up the sweet factor. Still heavy on vegetables and aromatics like ginger, galangal, turmeric, and lemongrass, there's also sweet potato, a strong dose of coconut milk, and a dash of sugar that makes it uniquely Khmer.  
Where to Try: Khmer Kitchen in Siem Reap has a traditional and simple version, and Rikitikitavi in Kampot does good Khmer and Western food, so you can finish your curry with a ridonkulous brownie dessert (like I did) or slice of pie.
Beverages
Cambodia is home to a few unique drink options that are worth a sample (and sometimes only a sample). Here they are:
Rice Wine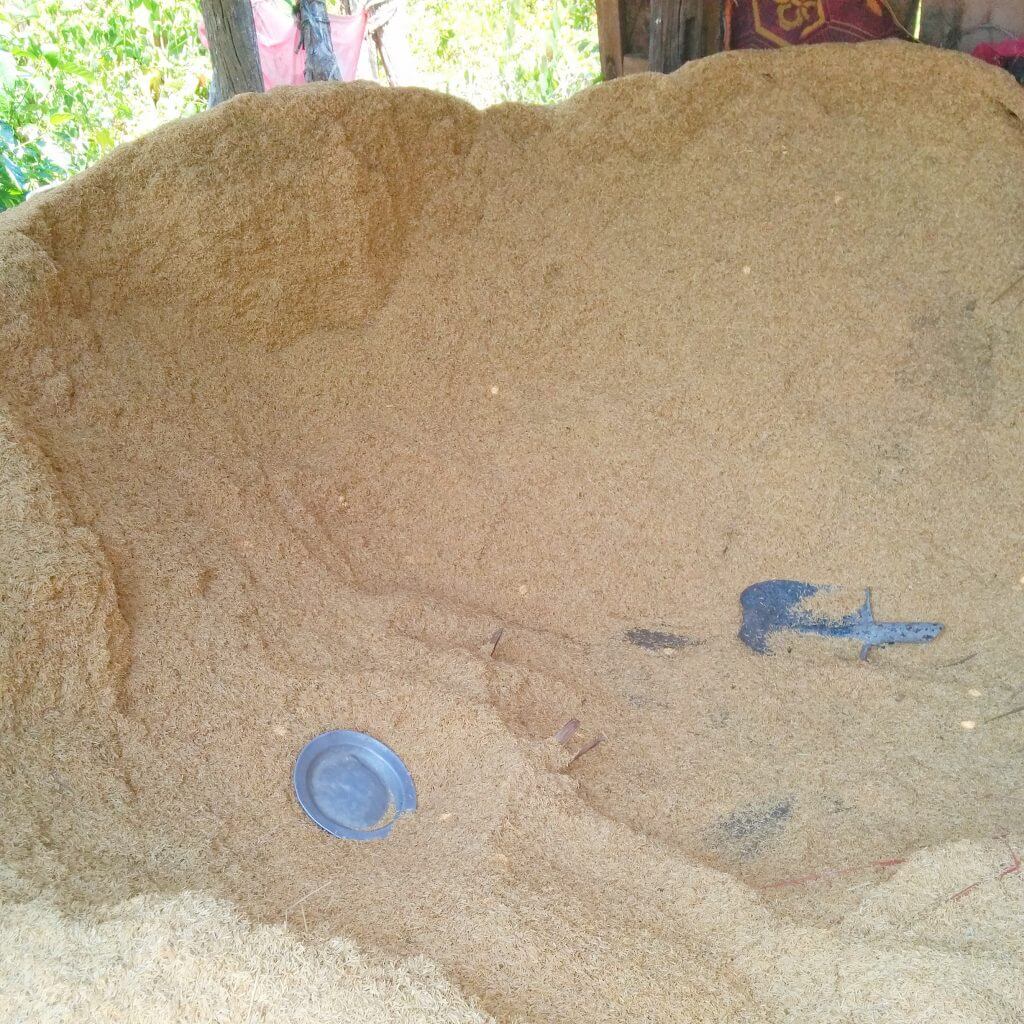 Or as I call it: Cambodian Moonshine. The word wine seriously misrepresents this beverage!
Here's what it tasted like to me: Imagine the cheapest bottle of vodka you could finagle from the liquor store in high school. The one that was below the bottom shelf, cost $5, and was probably expired. Now toss that into a washing machine with a tablespoon of sugar and a load of dirty socks and put it on spin.
One small sip of this concoction screamed down my throat like a power-fart from Satan and enlarged my sinuses until an elephant could take a casual stroll through them.
When you try it, the Khmer will watch you sip with laughing eyes, waiting for the tears to form in your own. Then they will drink it like it's no big thang, like your entire skull doesn't get violently assaulted by this innocuous-looking clear liquid. Despite the trauma, it's a must-try if you visit Cambodia, if only to say you drank it.
Angkor Beer
This is the cheapest and most prevalent beer option in Cambodia, and good luck getting out of Pub Street in Siem Reap without having at least a few of these! It's a pretty basic lager (no craft brew flavor here), but it's light enough to have several and tasty enough to get through before it gets warm. In the humid nights of Cambodia, that's saying a lot!
Sugar Cane Juice
For a non-alcoholic option, look for wheeled carts on the streets of Cambodia's cities and towns with a mechanical press and several stalks of sugarcane. The drink is simply a fresh stalk of sugarcane, juiced through a hand-cranked press into a plastic bag with ice and a straw. You drink a sweet, delicate, cold drink immediately after it's pressed, and in the humidity and heat of Cambodia it is heaven. I have no idea what the calories on these are, but it feels a little more honest than a Coca Cola. Sorry Coke lovers!
Bring Cambodia to Your Kitchen
Not traveling to Cambodia anytime soon? Bring these flavors to you! By far the easiest (and most widely crowd-pleasing) Cambodian dish to recreate in a Western kitchen is Beef Lok Lak. With ingredients common in most kitchens, you may not even need to run to the grocery store for this one. Win!
Recipe: Beef Lok Lak
Beef Lok Lak
Serves 4
The marinade on the beef really makes the meat sing, and the dipping sauce gives the perfect acidic twang to an otherwise earthy dish. A high-heat stir fry style of cooking means this dish can be on the table in under 20 minutes, start to finish.
Ingredients:
Beef:
1 lb. beef, cut into 1-inch cubes
2 Tbsp vegetable oil + more for stir-frying
2 tsp chicken stock powder (e.g. Knorr)
2 tsp sugar
1 tsp salt
2 Tbsp soy sauce
2 Tbsp oyster sauce
2 Tbsp chili sauce (Heinz) or 1 Tbsp Sriracha & 1 Tbsp chili sauce*
2 Tbsp ketchup
2 tsp ground black pepper
6 cloves garlic, chopped
Dipping Sauce:
3 – 4 limes, juiced
Generous pinch of salt
1 tsp sugar
1 – 2 tsp ground black pepper
Garnish (Optional):
4 eggs
6 leaves lettuce
2 tomatoes, sliced
1/2 onion, sliced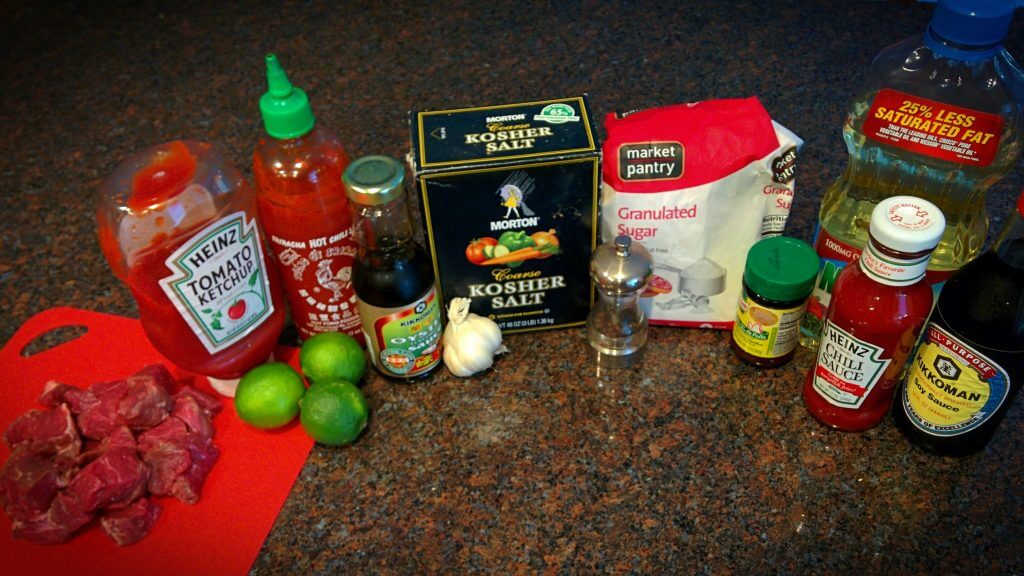 Directions:
in a large bowl, mix all ingredients listed under "Beef,"

except

the garlic. Place the cubed beef in the marinade and set aside.

Combine all ingredients listed for the dipping sauce, set aside.

Heat a skillet on high heat with vegetable oil. Add garlic when pan is very hot. Saute until aromatic, about 15 seconds. Keep moving the garlic or it will burn!

Add the marinated beef and marinade to the pan and stir-fry until the beef is cooked through, about 2 – 4 minutes. Place onto four plates to serve.

Pour the dipping sauce into the pan used to cook the beef to deglaze, stirring to lift all remaining marinade from the pan. Pour into a bowl to serve with the meat.

Optional: Fry an egg until cooked to medium, and place on top of each serving of beef. Garnish each serving with 2 leaves of lettuce, a 2 -3 slices of tomato, and 1 slice of onion.
Beef Lok Lak is typically eaten by spearing a chunk of meat, egg, and vegetable onto your fork, dipping in the sauce, and shoveling the whole mess into your mouth. It's usually served with steamed rice. If you make at home, I suggest steamed rice and a salad with Asian-style dressing to accompany the meat.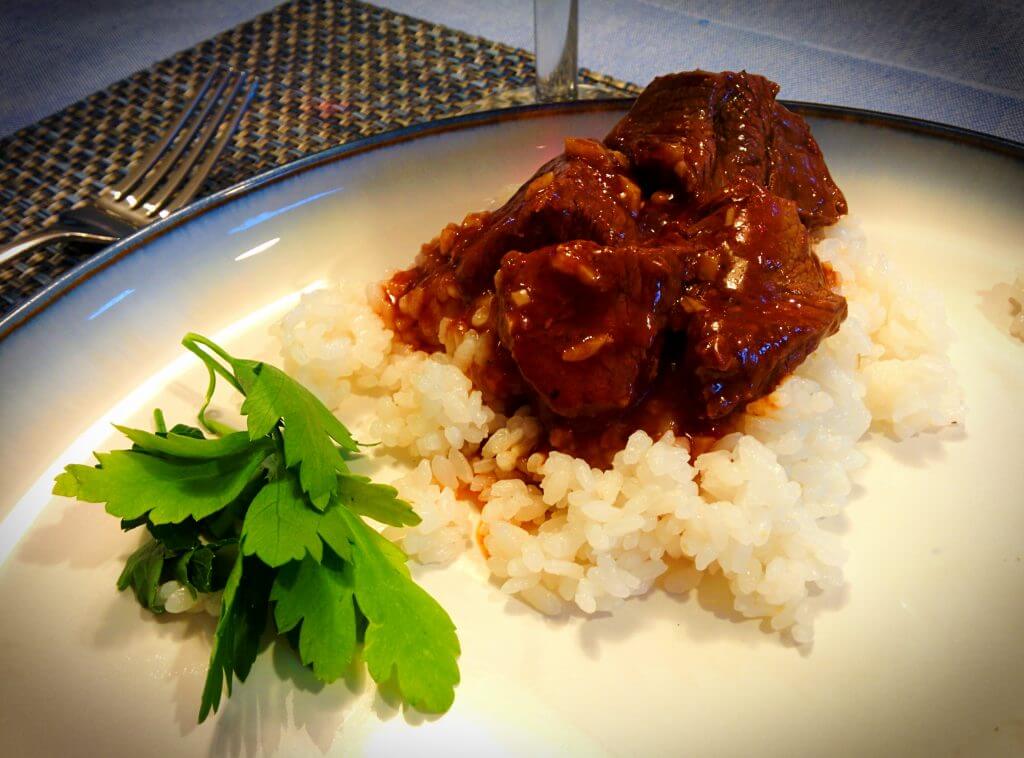 *You can sub Sriracha for all or part of the chili sauce in this dish. If you opt for 100% sriracha, it will be spicy. If you want traditional lok lak, use normal Heinz chili sauce, found at any grocery store. I do 50/50 and people love it!
So now I pass it over to you, dear readers. What dish or restaurant do you think can't be missed in Cambodia? Comment and let me know!
About the Author: "Jetsetter" Jenn Brown is an adventurer, amateur chef, and wine-lover who has been on the move since 2012. Past adventures include swimming with whale sharks in the Philippines, solo hiking the mountains of Montenegro, and apprenticing at a dairy farm in Spain. This summer she is working aboard a tourism charter boat in Southeast Alaska as their chef. You can follow her adventures at her site, JetsetterJenn.com, or on one of her many social media channels: Facebook, Instagram, or Twitter.