Day 14
I have found the ultimate oceanic sanctuary in Southeast Asia: Otres Beach in southern Cambodia.
I know these are bold words, but from a girl who grew up with the beaches of Southern California and has traveled to many around the world since then, I'd have to say Otres Beach in Cambodia rivals Caye Caulker in Belize as one of the top offbeat beach destinations in the world (that I'm aware of, as it were).
A lot of backpackers in Cambodia naturally head down to Sihanoukville; a beachside paradise with white sandy beaches and endless parties. I heard that it could be quite seedy in Sihanoukville, a place known for prostitution and tourist robberies.
Through word of mouth, I was told Otres, just a few miles away, that was known more as a hippie enclave (I mean, I have the pants now, so I'm in, right?), would be a much pleasanter experience.
Best advice of my trip yet.
Here is how a typical day begins:
While I'm lying on the sand, an elderly local Khmer woman comes by and does a full pedicure for just a few dollars.  She also offers massage and threading services. Jack-of-all-trades, this enterprising lady is.
She's closely followed by girls carrying baskets of fruit on their heads: fresh mango, pineapple, and small, sweet bananas.
Though there are still children selling bracelets here, there are far fewer than in Sihanoukville, where I was approached by either child vendors, or Westerners trying to pass out flyers to get me in the bar they were working at.
I don't know about you, but that's not for me.
I much prefer this: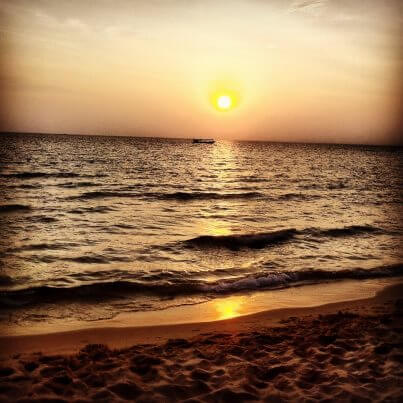 The white sands squeak beneath my feet.  Several days have passed and I have no intention of leaving anytime soon. Each day I wake up and can't come up with a reason to leave.  I'm in good company.  Many of us travelers have been here for a while.
I tend to see the same friendly and familiar faces.
Day 20
Somehow almost a week at Otres has passed and I've hardly realized it. The only place in the area with Wi-Fi happens to be a bar, where patrons alternate between drafts of Angkor beer and dips in the pristine and calm sea.
A long-term patron of the bar announces to all of us that we're a bunch of "misfits, losers, rejects! We couldn't survive a day in the real world!"
I look at my phone and realize it's 1pm on a Monday and almost everyone has a beer in his or her hand.
I don't feel one bit guilty.  Being a reject suits me just fine.
I hope this beach doesn't change, but I know rapid change is coming.  Someday, it will probably resemble its evil step-brother, Sihanoukville (do you have the impression yet that I'm not a fan?).  But for now, with nothing more than a mattress on the floor with a mosquito net covering and a beach just a few steps away, I'm happy with this paradise.
As offbeat travel goes, it doesn't get much better than this.
*I stayed at Moonlight Rock in Otres which has been renamed Taste of Paradise. Though I'm sure it has changed a bit, I really enjoyed the people I met there and had a blast. Recent reviews seem to indicate it has retained its charm.