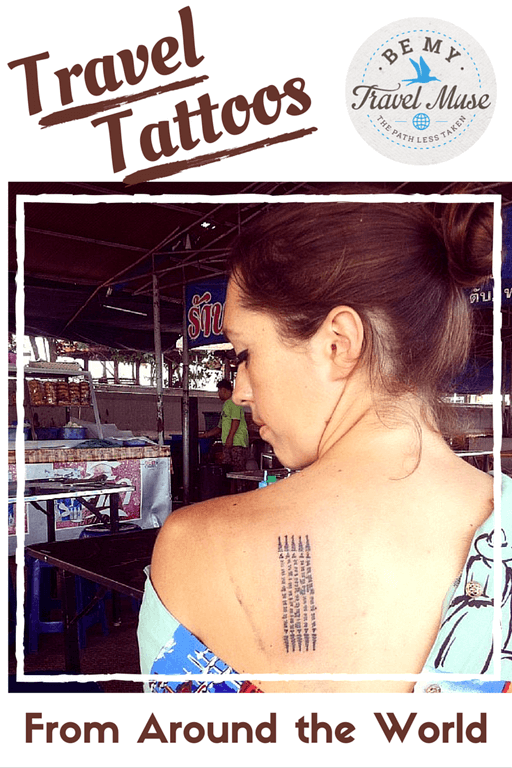 I've heard it said that tattoos are addictive.  Ever since getting my first Sak Yant in December of last year, I can certainly attest.  After only four months, I was back in the tattoo chair getting another, "because the other one looks lonely," I reasoned.
It seems with wanderlust often comes the desire to commemorate the metamorphosis of the mind that travel brings with a tattoo.  It's a way of symbolizing the changes that come along with seeing the world, and having one's eyes opened to the wonder that lays out there, just waiting to be discovered.
I recently asked several other travel bloggers who also have Sak Yant tattoos to tell me their stories behind why they got them and what it meant to them.  They were absolutely beautiful.  Given how much fun that post was to put together, I took to Facebook to ask other travel bloggers if they, too, had travel tattoos, and for the meaning behind each one.  The result is a set of beautiful tattoos from around the world and their inspiring back-stories:
Erin De Santiago of Our Tasty Travels: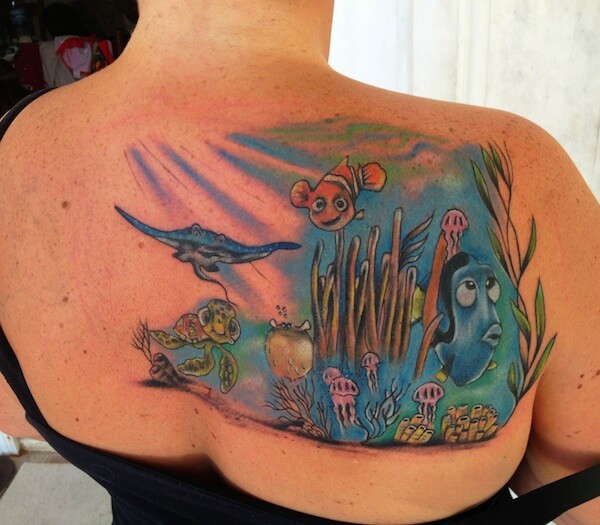 "I love tropical spots and I'm a scuba diver — it's big part of why I fell in love with Belize and now live here on the small island of Ambergris Caye part of the year. I am also a crazy Disney fanatic. I grew up near Disneyland and all my tattoos are Disney related.
I wanted a new tattoo that symbolized my love of diving, Belize, and still had a Disney tie-in. And most importantly, I wanted a local artist to do it. George is one of our best tattoo artists here in Belize and he's also a diver. We went with a whole 'Finding Nemo' scene that hit all my "must haves".
Sarah Bennett of The Further Adventures of Bennett: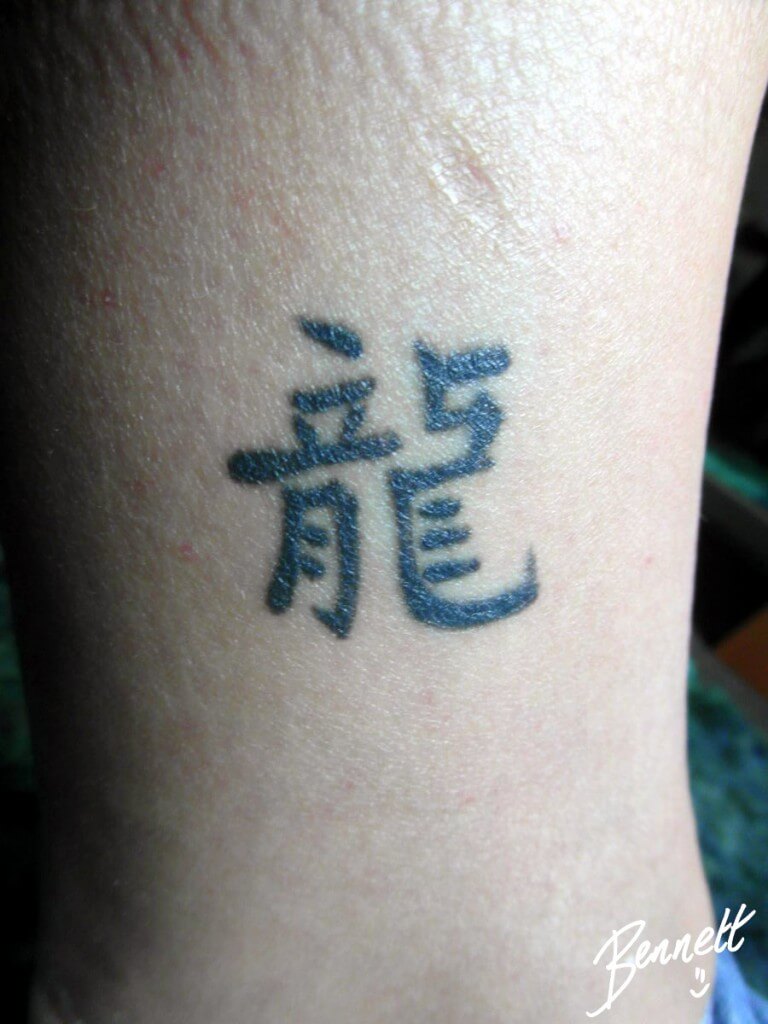 "I've always wanted a tattoo, I just wanted to take my time and decide on one that would mean something to me. Mine is the Chinese character for dragon, which is on the inside of my left ankle.
I moved to China 2 years ago to find out that the next Chinese New Year would be the year of the dragon; as I was born in the year of the dragon, I knew that it was exactly what I wanted to remind me of my time in China. At that point I was only meant to stay for 6 months."
Dyanne of TravelnLass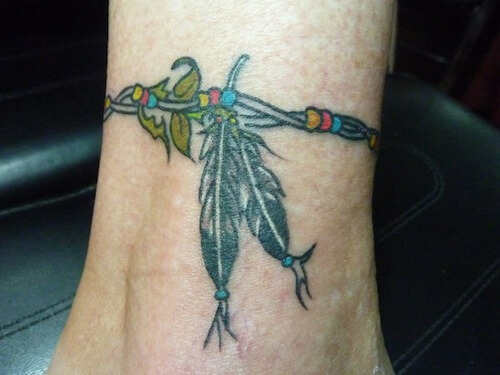 "My FIRST ever tat???  That would be at age 6-oh! whilst in my jet-lagged state after 20 hours en route from the U.S. to South Africa.  I had no intention of ever getting a tattoo (and especially not at 60) but…  Suffice a young lass in the hostel I stayed at my first night in Johannesburg had just gotten one, and…  in my muddled, loopy state of mind that night, I was enchanted by it, and vowed that I'd go get one the very next morning.  And… as they say, the rest is history.
2nd tat 3 years later – in Bali.  Interestingly, I had a tough time finding/convincing someone that I wanted a PERMANENT tattoo 'cuz most folks/everywhere it was only temporary henna tattoos.  But I finally found a lad who did permanent tats, and chose the "om" symbol.  At first I wanted it on my ankle but… he said that would be disrespectful.  The om symbol is sacred of course, and he insisted that I had to put it somewhere ABOVE my waist.  Thus… I chose the inside of my left wrist (an oh my, did that HURT!)
In retrospect, he did a pretty lame tat job (all blurry) but… nonetheless I love it.  The fact that it's not perfect makes it that much more endearing.
And finally – my most recent travel tat (just yesterday!) here in Kathmandu.  At first I wanted om mani padme hum mantra in Sanskrit, but again, it had to be on my upper body and I wanted it strung around my ankle. So instead I opted for a simple beaded ankle bracelet."
Eden Rudin of Belize Expats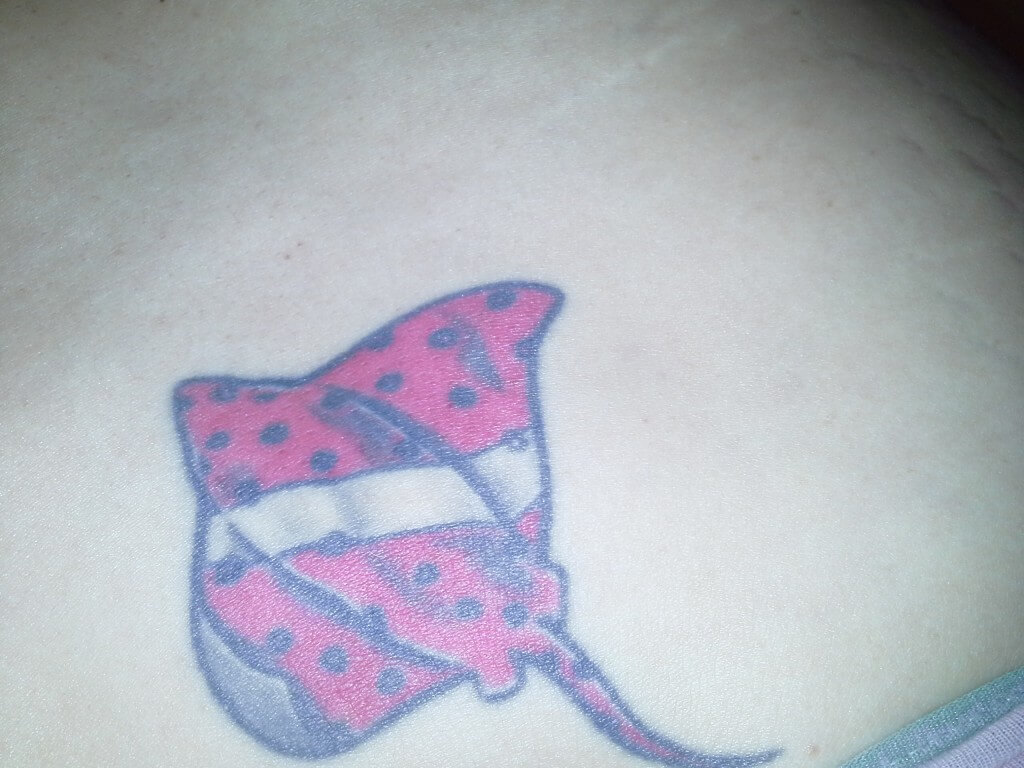 "In 2003 I was in a huge state of personal growth and of course with that comes lifetime changes.
The one thing that was constant and a big part of the year was my passion for SCUBA diving. I spent 5 weeks in Belize that year, and a majority of it was spent underwater where I fell in love with the beauty and grace of the Spotted Eagle ray, an almost daily sighting when diving there. The rays reminded me of the peaceful beauty that is found in the silence and calmness of diving, something my life above water had very little of at the time.
After that trip I knew I wanted a spotted eagle ray and the dive flag in a tattoo but wasn't in a hurry, I really wanted to form the vision for it in my head and about 5 months later I was ready.
I was in Tampa for a cruise and had a few days before and after the cruise booked in town to chill out.  Knowing that Florida is much more familar with the eagle ray than my friends in California, I searched out a tattoo shop and told them exactly what was in my mind. I asked them to put some sketches together and I would return in 7 days to see what they had and get it done if we had a match. As promised I returned, with my sister, brother in law and mom in tow, all on the cruise with me, and there it was, hand sketched, perfectly as I had imagined a spotted eagle ray, in motion with her wing curled up and a dive flag on her back. After the family gave their input I kissed them all fairwell (to catch their flights home) and had the artist get to work.
The tattoo is on my lower back, right at my tailbone. 10 years later I sit here in Belize, where I live now, writing this to you. Yes those rays are magical and lifetime changing."
Lydnsay Cabildo of Discount Travel Blogger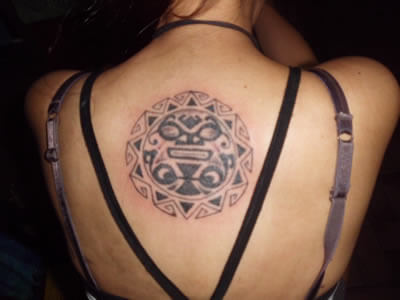 "I always wanted a tattoo but due to my strict upbringing, I knew I would have to face whatever my family and relatives would have to say.  Initially, I planned to get a Sak Yant from Thailand but I thought it would be better if I get one that would tell deeper story about my roots, history, and heritage. With that, I thought doing it in my country would make it even more authentic.  I missed several opportunities due to courage issues but I finally got it done in Davao (Southern Philippines).
The Maori tribe have great respect of their traditions, Maori tattooing was done with rituals after the receiver completed a challenge that one should accomplish to be worthy of the tattoo – mostly, warriors have them.  Maoris, Samoans, Polynesians, Hawaiians, and Filipinos share almost the same traditions.
My Maori tat was customized for my personality representing twins (I'm a Gemini) with 2 opposite faces (happy and sad) symbolizing Yin Yang of life.
When my mother asked me about why I got this tattoo and what it means, she was overwhelmed of the story I told you above.  She replied, "I thought tattoos were meaningless and for prisoners, I didn't know there's a story behind it".  I told her that even prisoners tattoos, in my opinion have meaning, it's a story of what they have experienced in jail."
Taylor Ahlstrom of Wanderlust Logs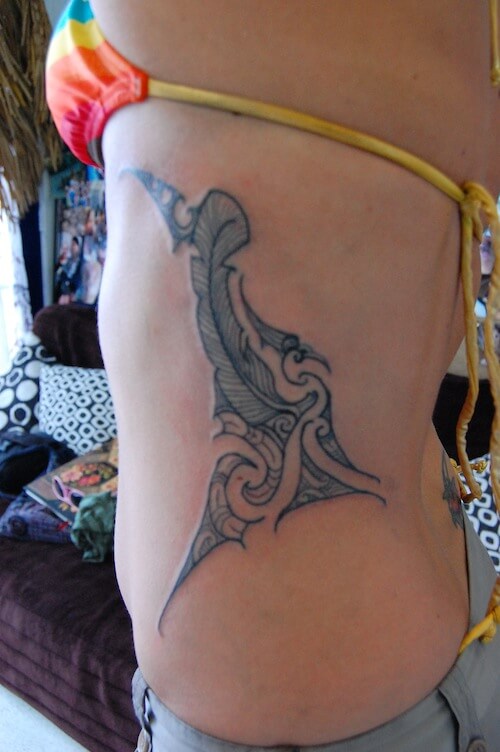 "I made the decision to get my Maori moko the moment I heard that the tattoo is chosen by the Maori artist and is a reflection of the receiver's life story and inner soul. Paitangi was a spiritual leader in Paihia, New Zealand and a highly respected member of the Maori community. When she granted my request for permission to receive the ta moko, I didn't have a single doubt about the final product, despite having no idea what it would turn out to be.
When I finally saw it, I was stunned. Each inked line carries significance, even the negative spaces for they are as much a part of our lives as the positives. Every moko must have the Manawa, the lines of the heart and blood flowing through it, represented by this negative space. If the Manawa cannot flow through the moko, the body is dead. When Paitangi was finished, my Manawa was flowing and I felt very much alive."
Alaina McGregor of Jandals & A Backpack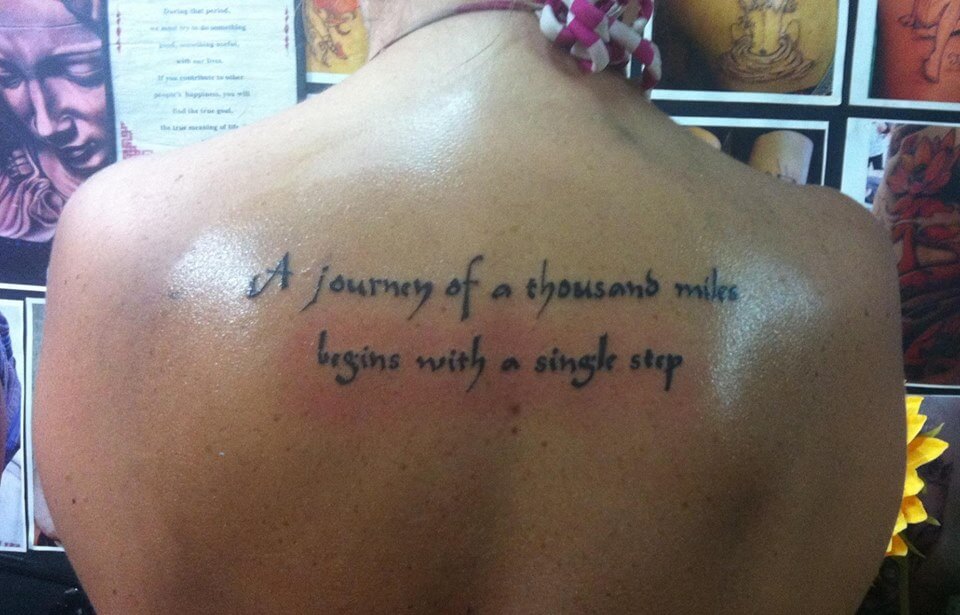 "My favourite quote is 'A journey of a thousand miles begins with a single step'. It is a well-known saying from a Chinese philosopher and it is something that really resonates with me. It epitomises my outlook on life in regards to my passion for travel and how I am the master of my own destiny. To make life happen for oneself involves taking the first step. I had wanted the tattoo for a few years and after travelling the world for almost a year, it felt like the right time to cement my personal mantra in a place of spiritual enlightenment – India."
Chanel of La Viajera Morena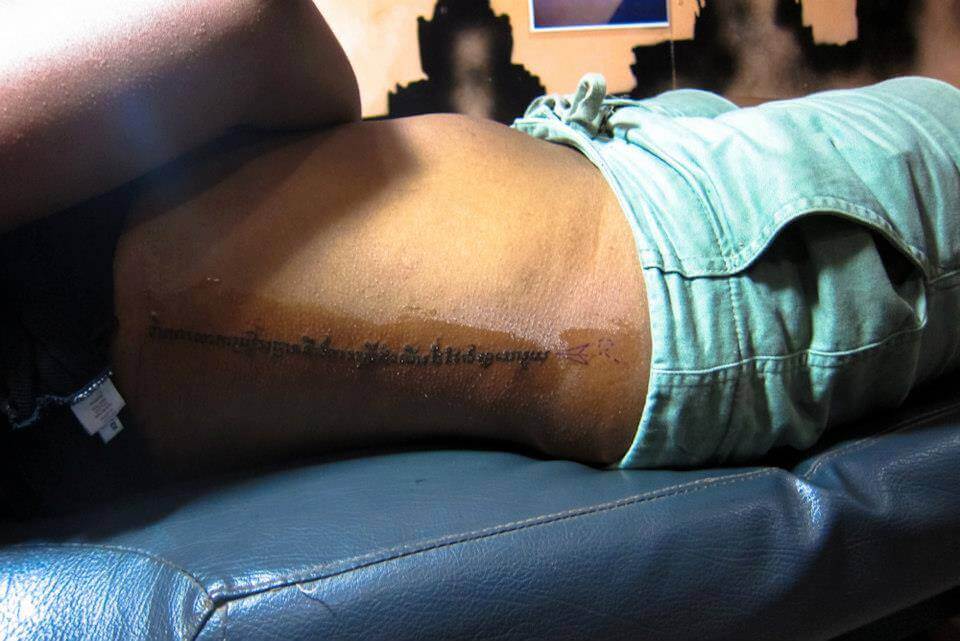 "I got a travel tattoo in March '12 saying "The World is a Long Journey" in the Khmer language in Siem Reap, Cambodia.
I had wanted a travel tattoo for a long time, but I wanted something meaningful, so I searched through a book of tattoos written in Khmer, and found one that I thought was not only relevant but powerful.
To me, the world is a long journey, one that is neverending. There is so much to see and do, and I feel as if I have barely touched the surface."
Do you have any travel tattoos? I'm dying for more stories and photos! Do share!