São Miguel is the island that most people who visit the Azores end up exploring first. It's a great choice, as the big island of the archipelago, it's not only varied in what you can see and do, but in of cuisine, places to stay, and sheer volume of possibilities on both land and sea.
There's a reason why this was the rumored lost island of Atlantis, or sometimes called the Hawaii of Europe. It feels like a dreamy, well-kept secret full of waterfalls, hot springs, and incredible viewpoints. Broken up into a weeklong road trip that you can easily shorten or lengthen, these are 31 amazing things to do on the island of São Miguel.
Days One – Two/Three: Sete Cidades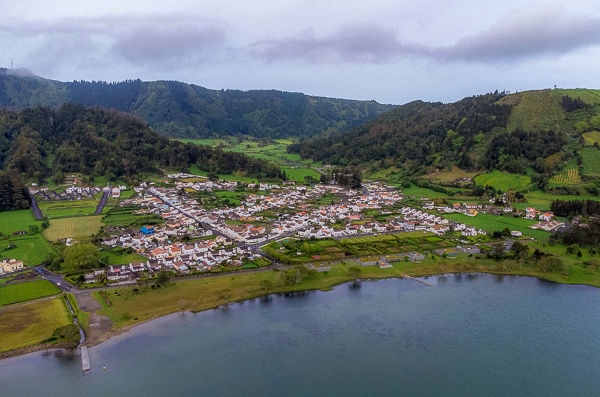 On our first day we landed in Ponta Delgada and immediately made our way to Sete Cidades, the jumping off point for some of the best lake hikes and views on the entire island of São Miguel. Since fog and clouds can make the weather variable here, I recommend heading here as soon as you get to the island and basing yourself here for at least a couple of days. Here's what to do and see:
1. Vista do Rei Overlook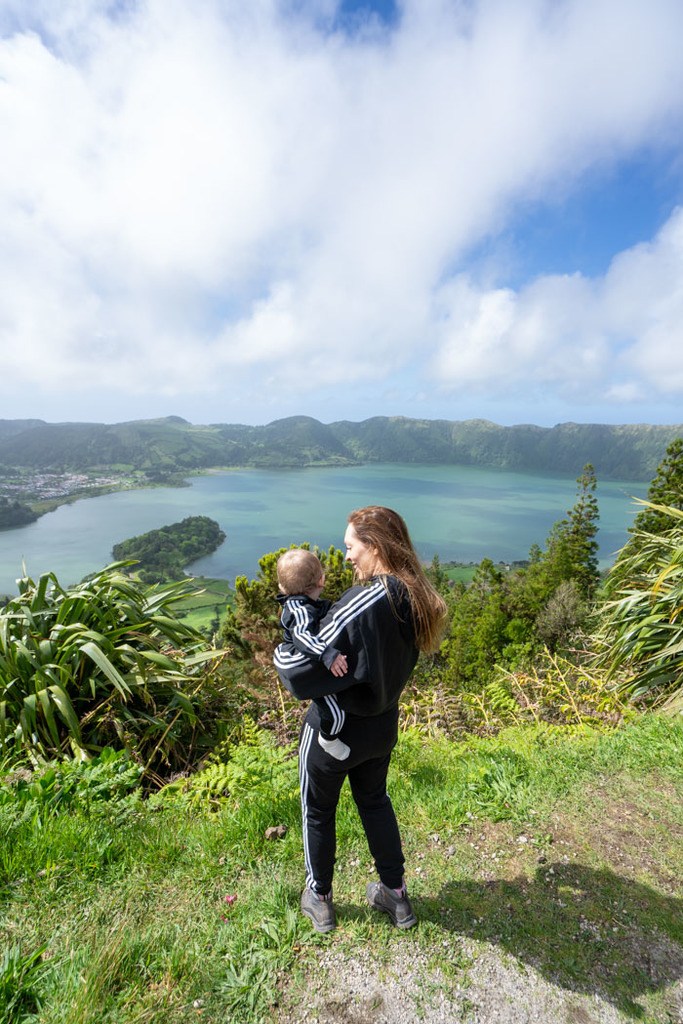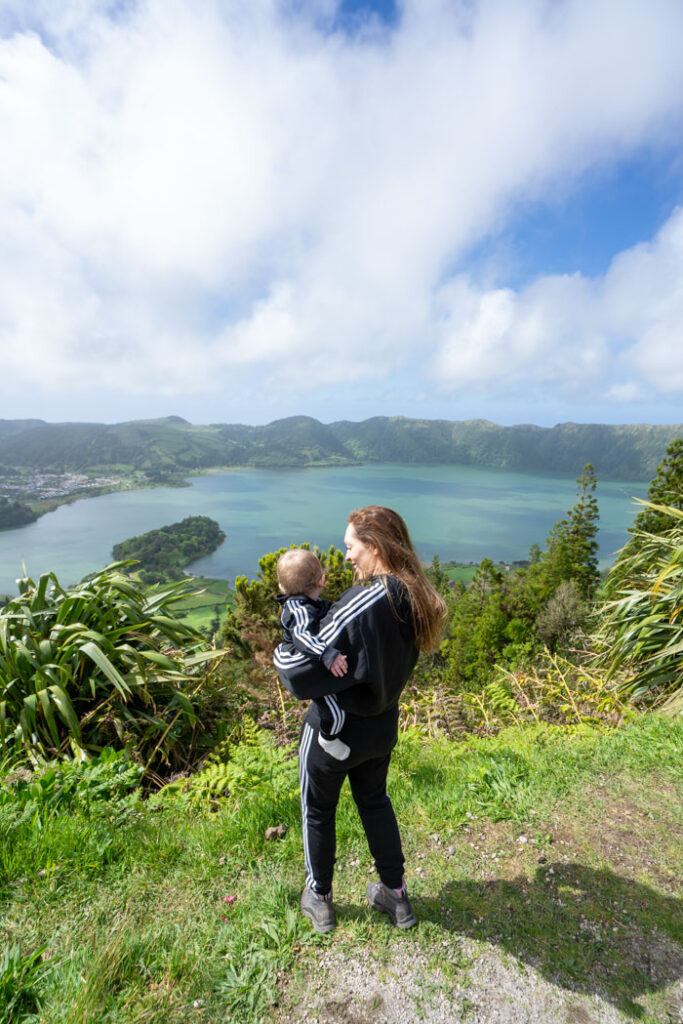 On your way in, you'll see several possible overlooks and it's worth stopping at all of them. The Vista do Rei is one of the more famous ones, with a view that, on a clear day, gives an incredible view of the lakes and the town of Sete Cidades below.
And yes, that's my son and I rocking our matching adidas tracksuits — or in my case cropped hoodie and sweat pants (gifted). It was the perfect Azores outfit!
2. Boca do Inferno Viewpoint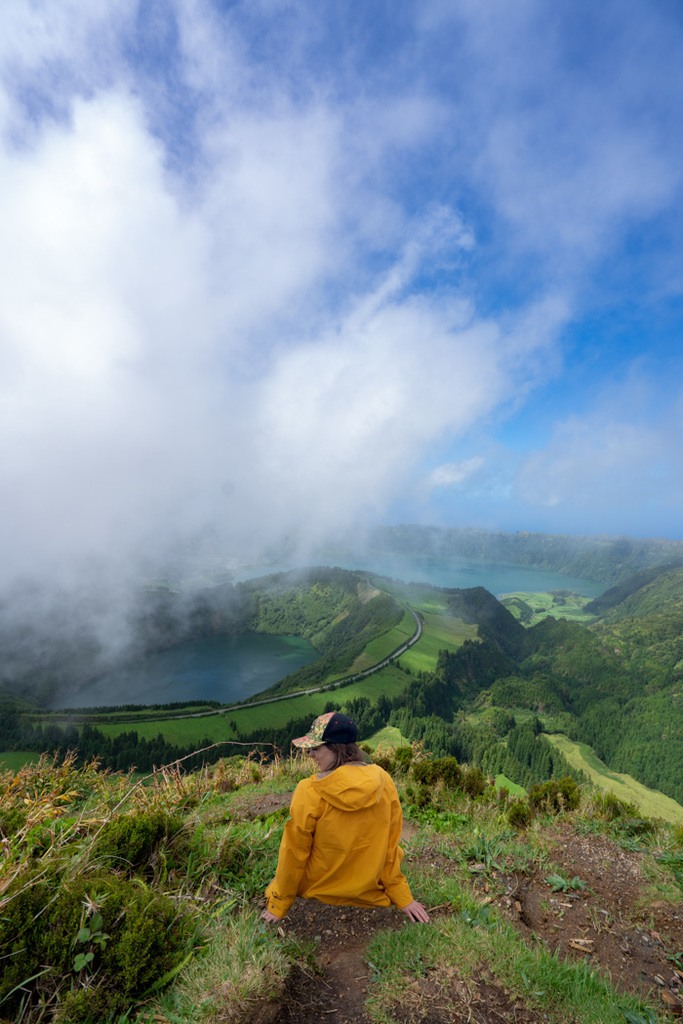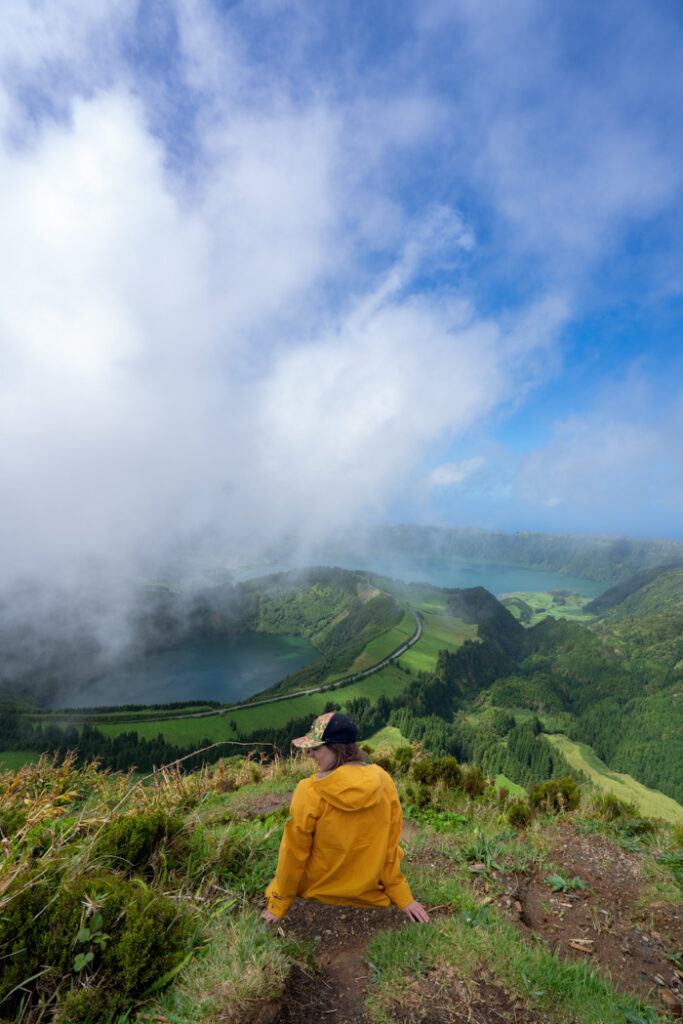 If you spend more than five seconds researching the Azores, you're likely to see a photo of the breathtaking Boca do Inferno viewpoint with its walkway leading to a view of two of the major lakes in Sete Cidades. It's easily THE most famous photo and view in the whole of the Azores.
The hike to the viewpoint is about half a mile from the parking lot, which can fill up quickly especially during the summer. You may have to attempt this one multiple times in order to see it without the fog. It took us three tries just to get a short window of visibility, but it was worth it! You can also check the Spot Azores webcam for current conditions all around the island before you head up.
Be sure to pit stop at the Lagoa do Canário on the way up or down. It's a quick detour on the trail.
3. Wall of Nine Windows Hike
If you've got a semi clear day and you're up for a challenge, tackle the 14 mile pico da Cruz, wall of nine windows hike. My partner did it on his first visit to the Azores and it was an incredible way to see multiple lakes and the entire view around the caldera that surrounds Sete Cidades.
4. Mosteiros Beach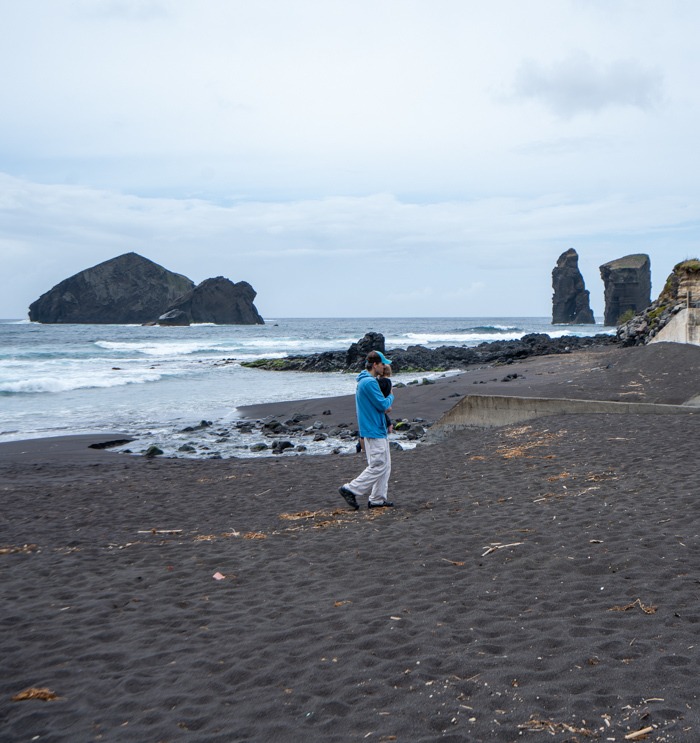 From your base in Sete Cidades, drive West to Mosteiros Beach, a rare sandy beach, as the Azores doesn't have a ton of them, made of black volcanic sand with split rocks in the distance. It's the perfect window for sunset, which is great to watch either from the sand or Sunset Steve's Bar.
5. Piscinas Naturais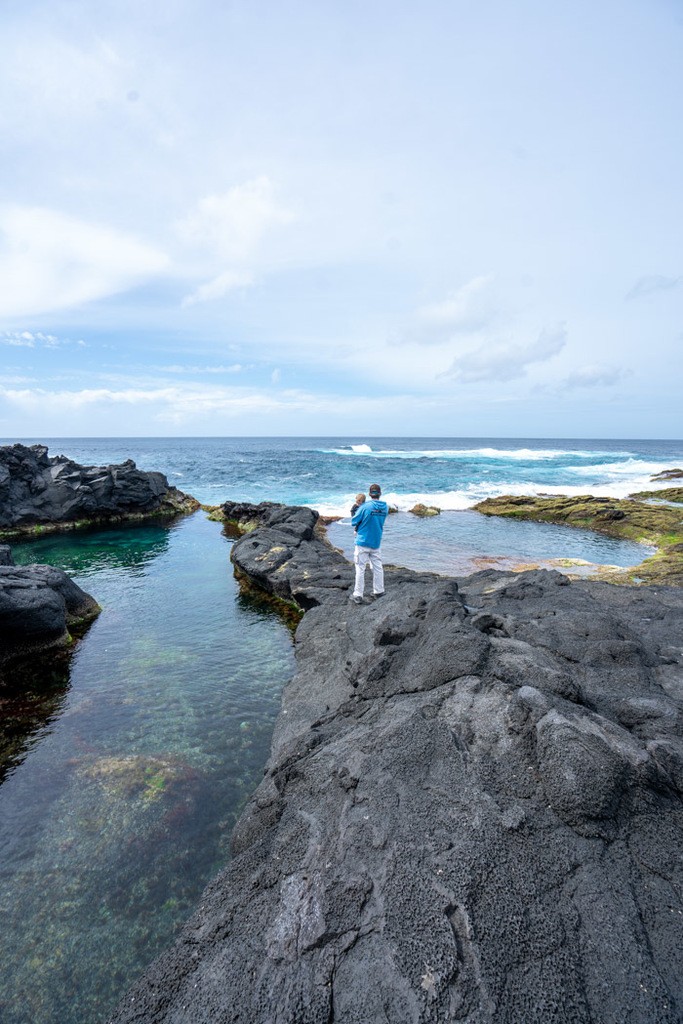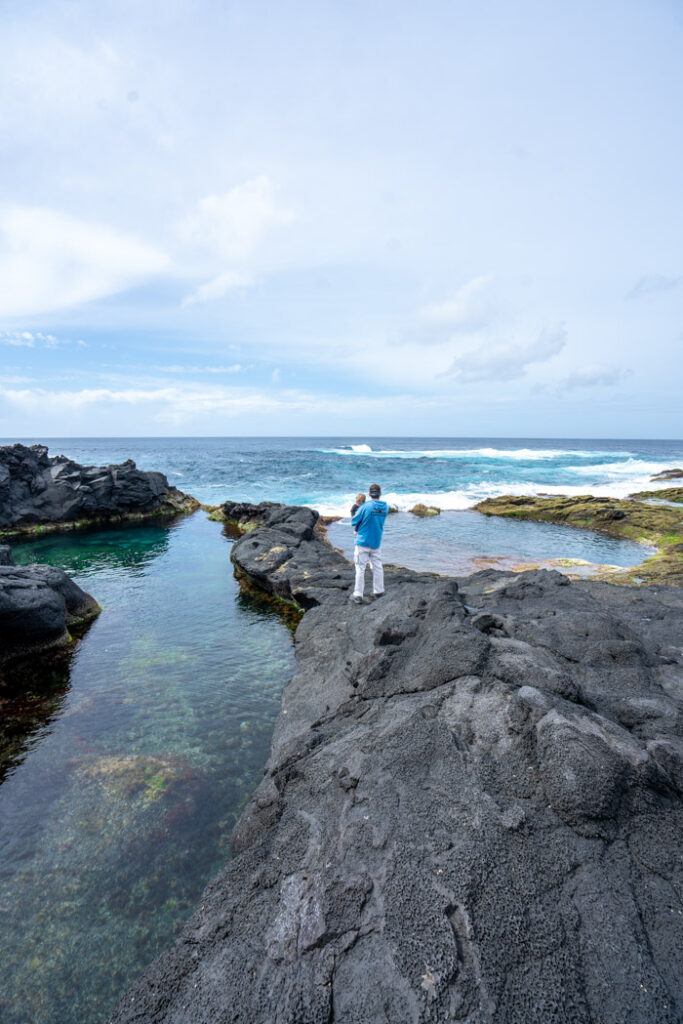 Speaking of Sunset Steve's bar, there's a natural swimming pool just in front of it that would be incredibly inviting during the summer months when the weather is fine and the ocean is warmer.
6. Ponta da Ferraria Thermal Baths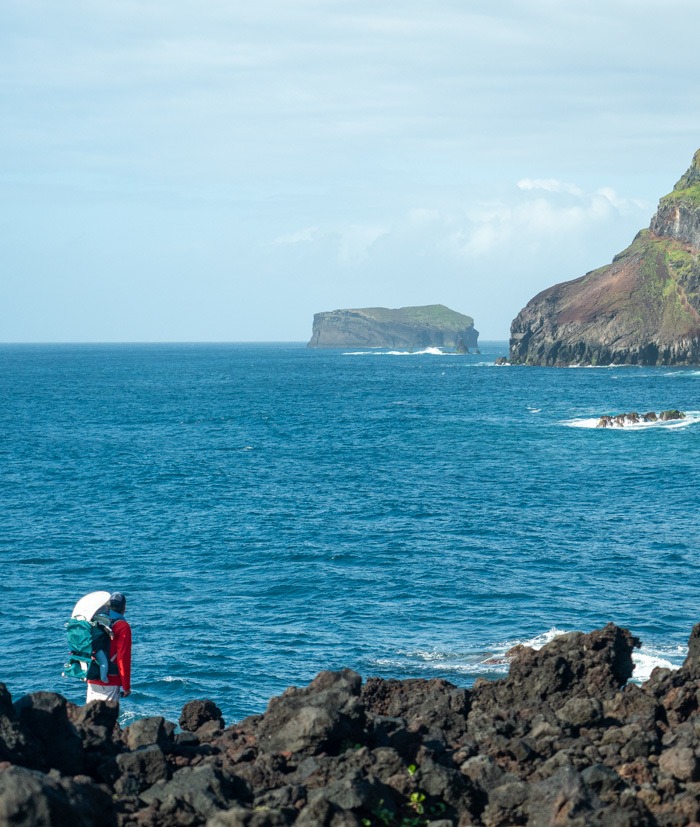 Imagine a naturally occurring thermal bath that you can only access at low tide, with waves rolling in from the ocean, and the warmth from the thermal waters. If you can hit it at the right time, it looks like an incredible experience. Though there's a spa onsite, this natural pool is free to access and enjoy.
Although we went at low tide (check times here as they change daily), the swell was just too big that day and it wasn't safe to get in, but it's definitely on my list for the future. Plus it is in beautiful surroundings with a gorgeous rocky coastline to walk before or after your dip.
7. Miradouro da Ponta do Escalvado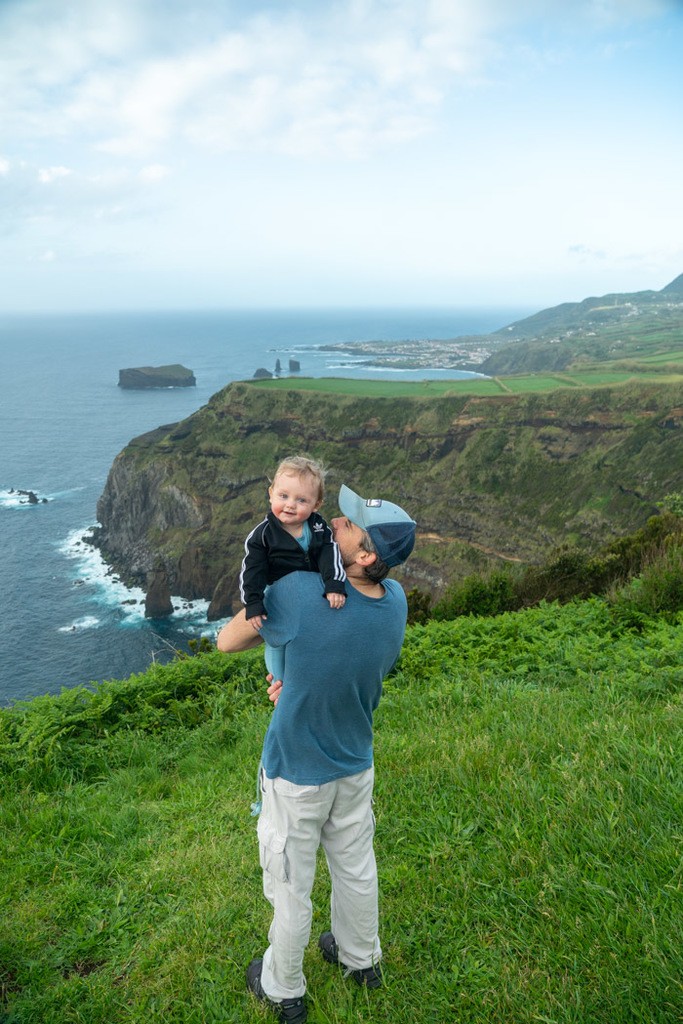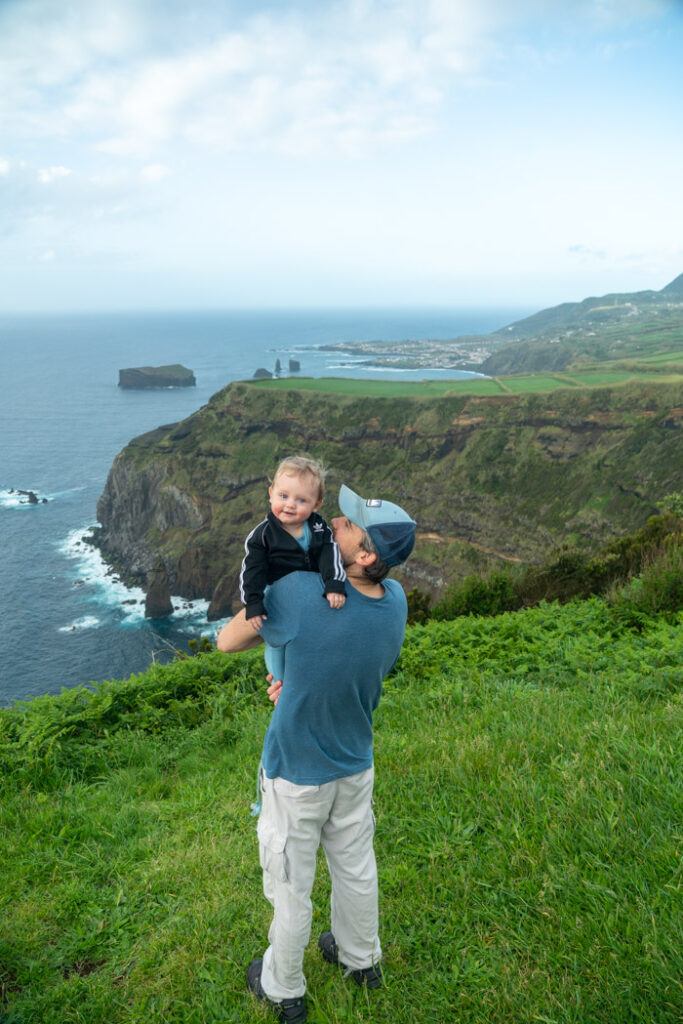 After the tide pools, enjoy a few minutes or a few hours at this beautiful viewpoint, which would offer a perfect sunset view.
Stay – Lagoon's House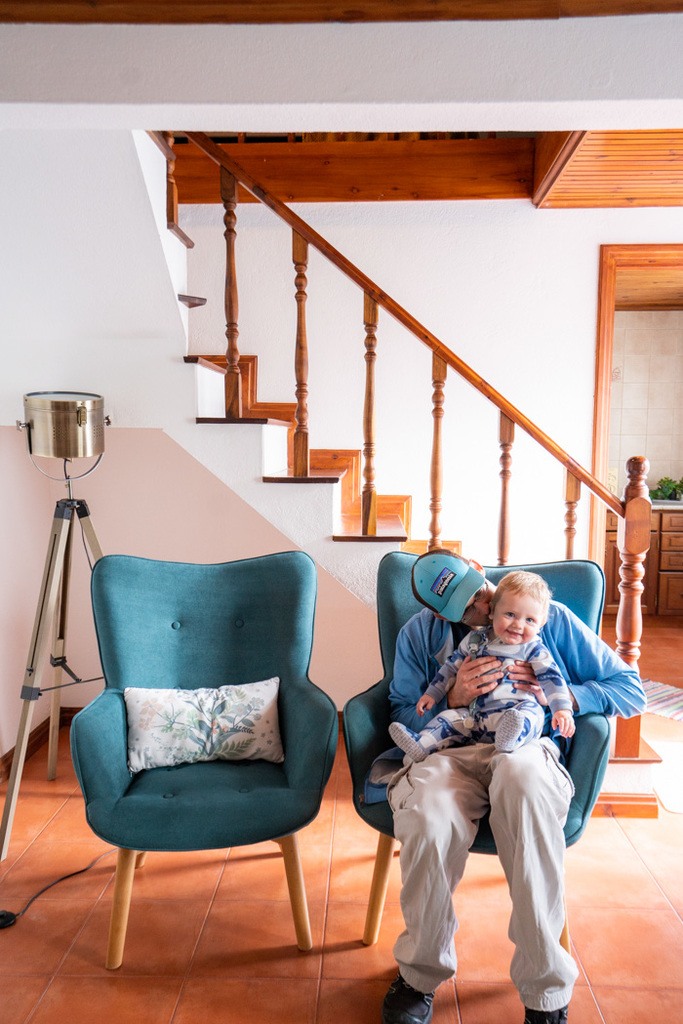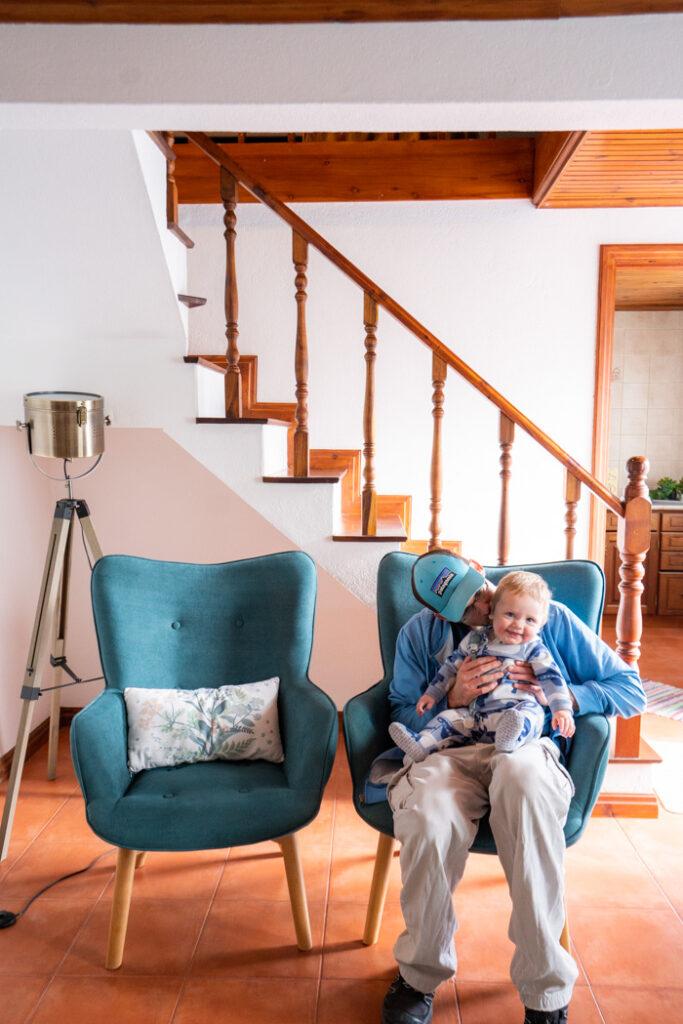 This was my partner's second time staying at this home with a main bedroom, two beds in the upstairs loft, a full kitchen, living room, and sitting area. It's located in Sete Cidades and the perfect spot for your local adventures. Book it here.
Day Three – Northern Coastline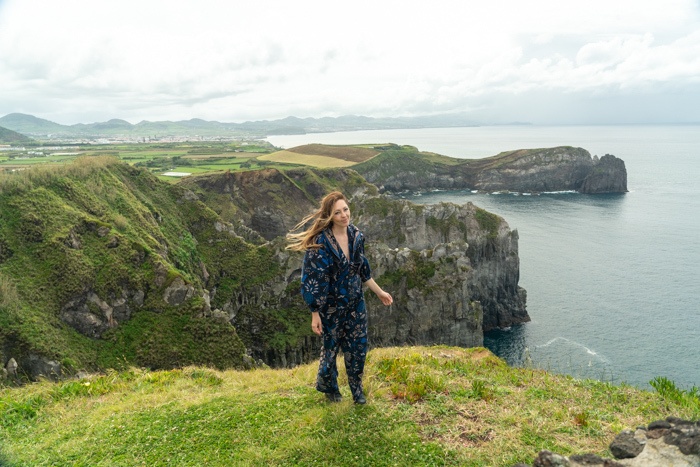 From here we headed to the northeastern coast, stopping at several overlooks and waterfalls along the way. So you could easily drive the inland route and be in Nordeste in less than two hours, but the northern coast is wild, quaint, and not to be missed!
8. Miradouro da Fonte Grande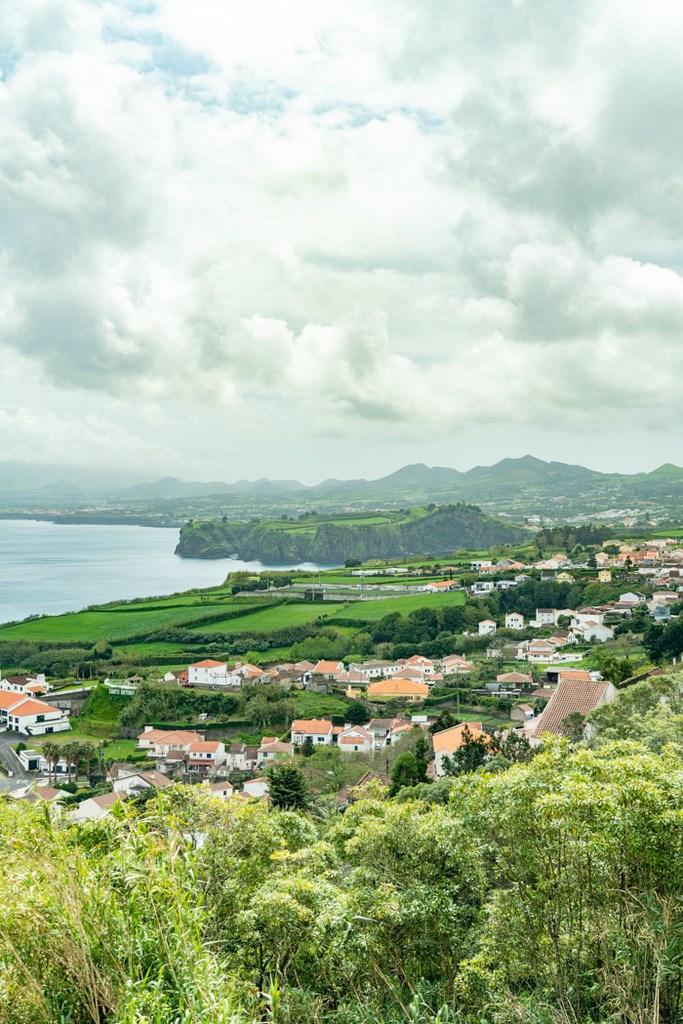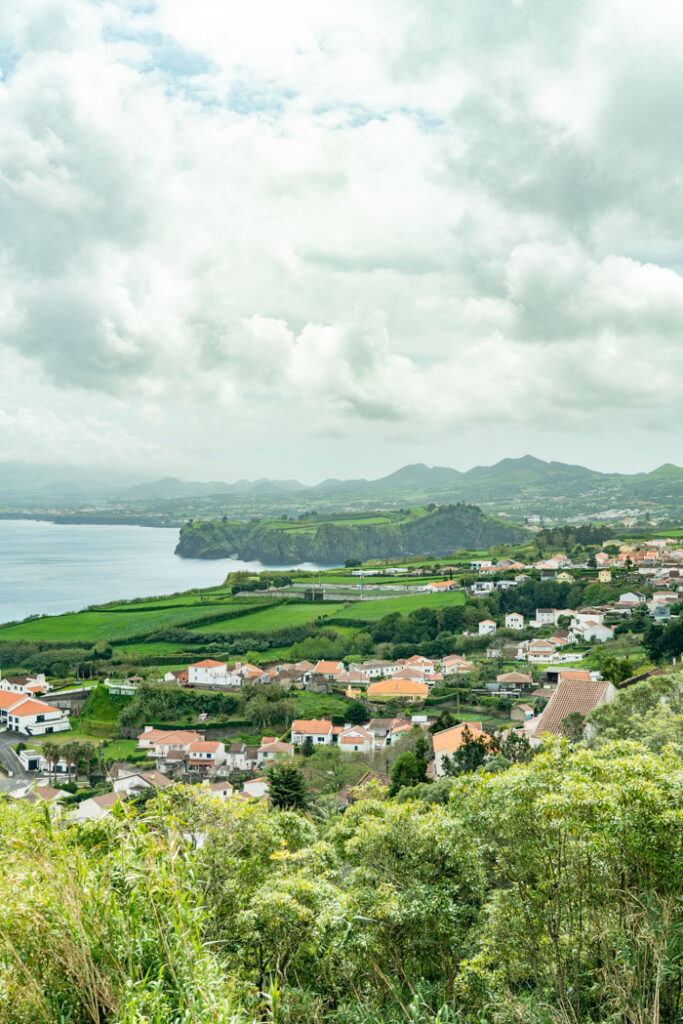 Upon leaving Sete Cidades you'll be meandering through lovely villages with rolling hills of dairy farms and seaside views. There will be several viewpoints to stop at, and there's no harm in doing so every time one piques your interest. For us, that was Miradouro da fonte grande, with this lovely view of the towns in the distance.
9. Miradouro do Cintrao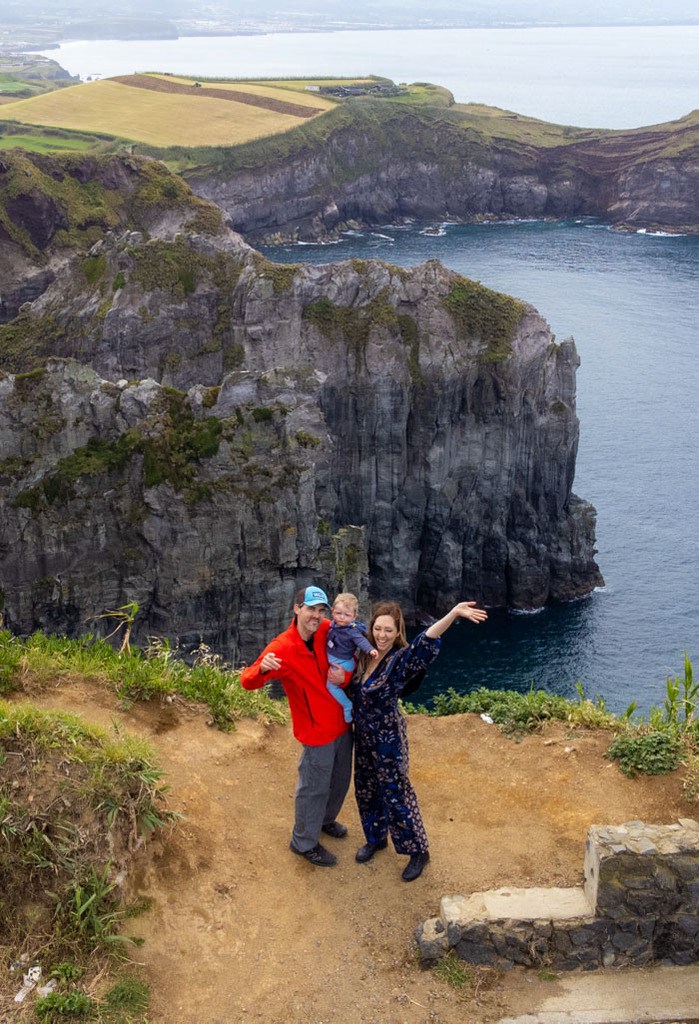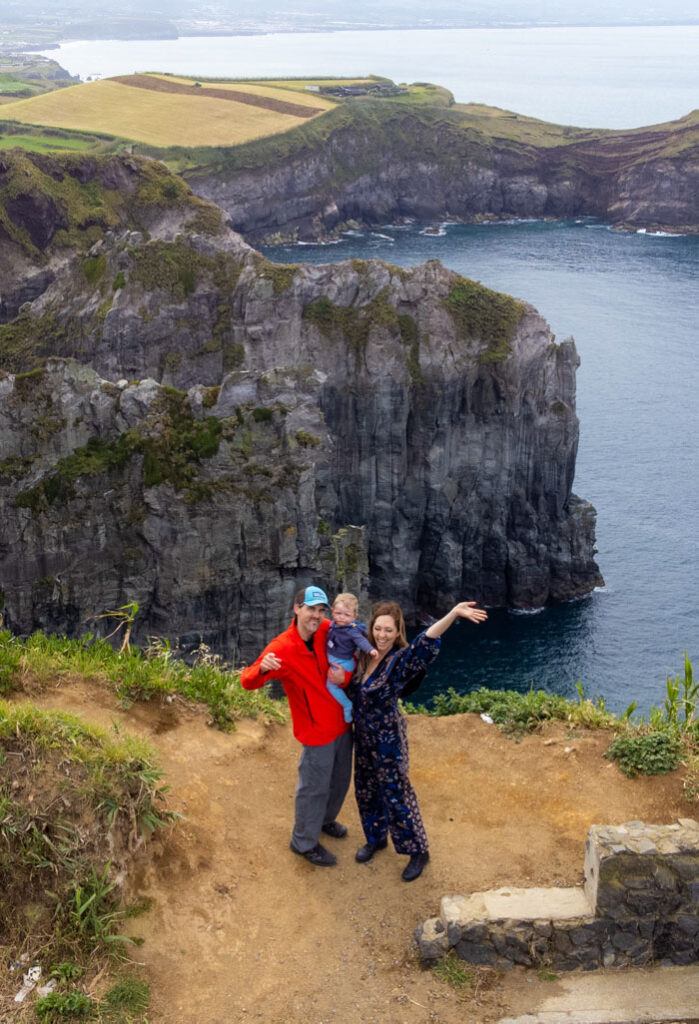 The perfect lunch spot, Miradouro do Cintrao offers a nice contrast to the previous overlooks and beaches with more of a rugged coastline in several layers, with views all the way down the coast. This was one of our favorite overlooks of the whole trip, which also had a gazebo that was perfect for a picnic.
10. Cascata do Salto do Cabrito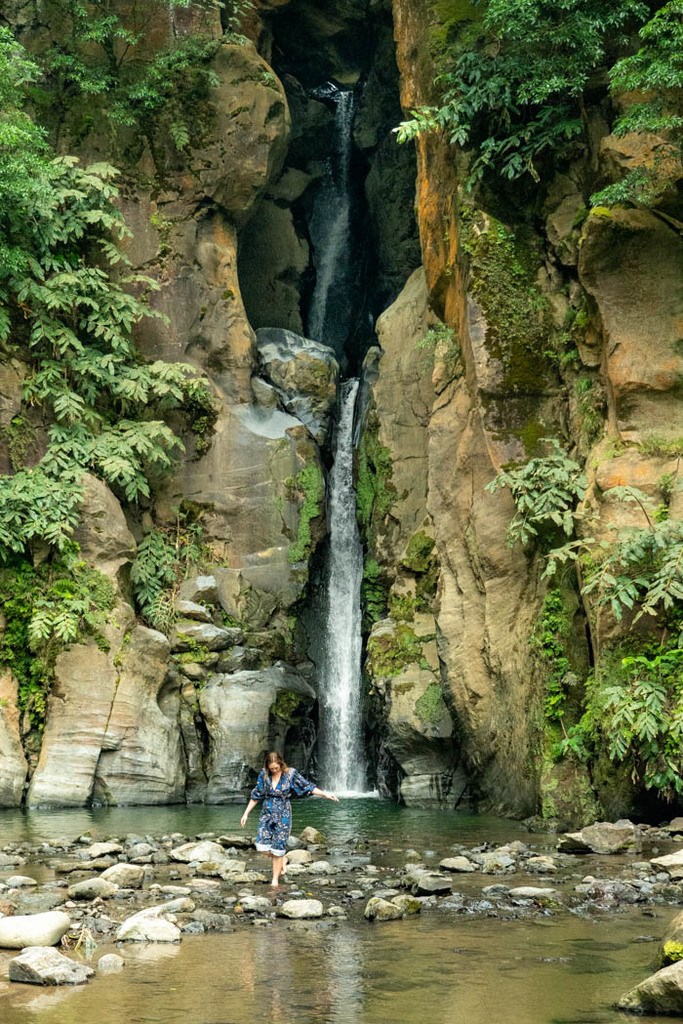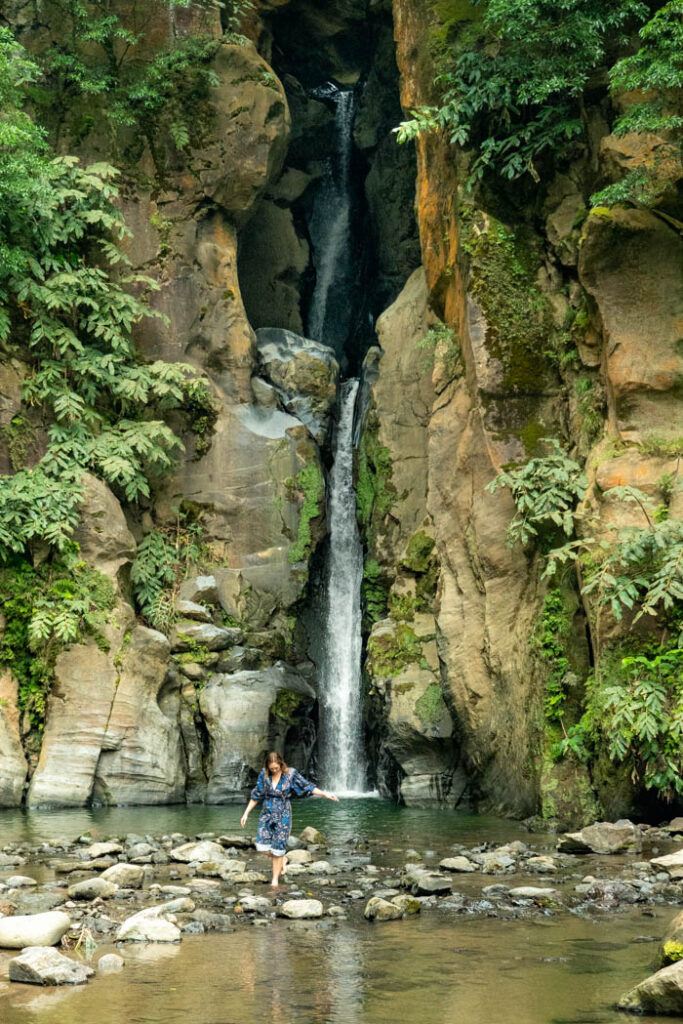 Heading inland a bit, this is one of three stops worth making a brief detour from the coastal route for. The waterfall itself is a short hike from the lower parking lot, or a slightly longer walk down a steeper hill from the upper one. We chose to take the longer walk since the drive was so steep, but our rental probably could have handled it judging from the smaller cars that made it down.
Although not warm, the water isn't too cold to swim in, and I certainly would have if I'd had a towel along!
The Azores have many, MANY waterfalls, but this was one of the more unique ones I found during my research with the way it falls through the rocks in two veils.
11. Centro de Interpretação Ambiental da Caldeira Velha
If you're looking for thermal baths, this is one of the loveliest and most popular spots to experience them. They're set in a lush natural area and have showers onsite. If visiting during the busy months, it's a good idea to book a ticket ahead of time. Entry costs €10.
12. Lagoa do Fogo Overlook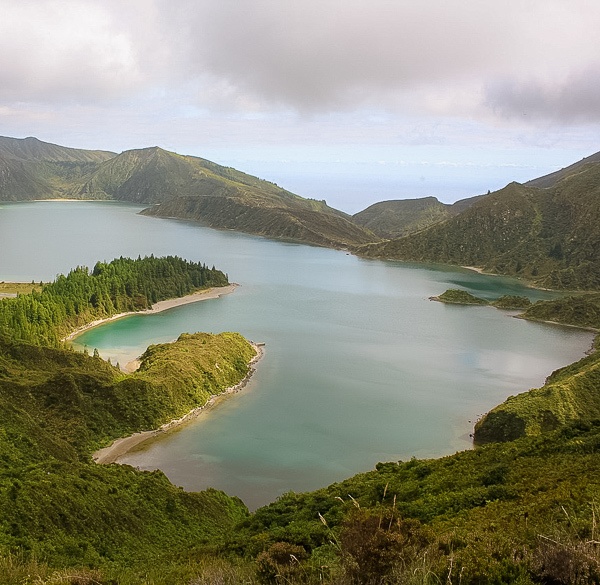 This is another one of the more popular and iconic lake views on São Miguel and the Azores in general. You have several options to experience it, including a couple of different overlooks and the hike mentioned below. Keep in mind that this is one of the areas that can often be foggy, so check the web cams before you go.
13. Trilho Lagoa do Fogo
São Miguel is all about hiking, and if you happen to get a nice day, Lagoa do Fogo is lovely to hike to. During late spring, the seagulls nest in this area and can be aggressive, so keep that in mind if visiting during that time of year.
14. Gorreana Tea Factory
Did you know that tea grows on São Miguel? It's not all about dairy farms (though that's most of what you'll see). For a different perspective and view, enjoy the panoramas walking through this organic tea plantation that dates back to the late 1800s. It seems to be an unwritten rule that tea can only grow in beautiful places, am I right?
Entrance to visit is free, with a free tea tasting and gift shop in case you want to buy!
14. Miradouro da Fonte do Buraco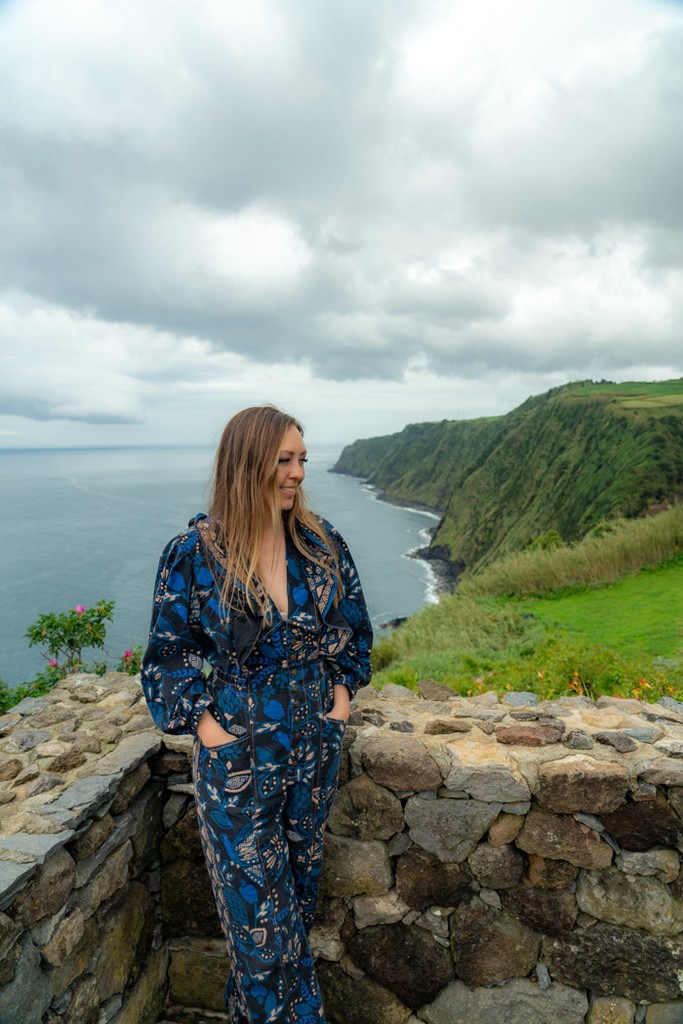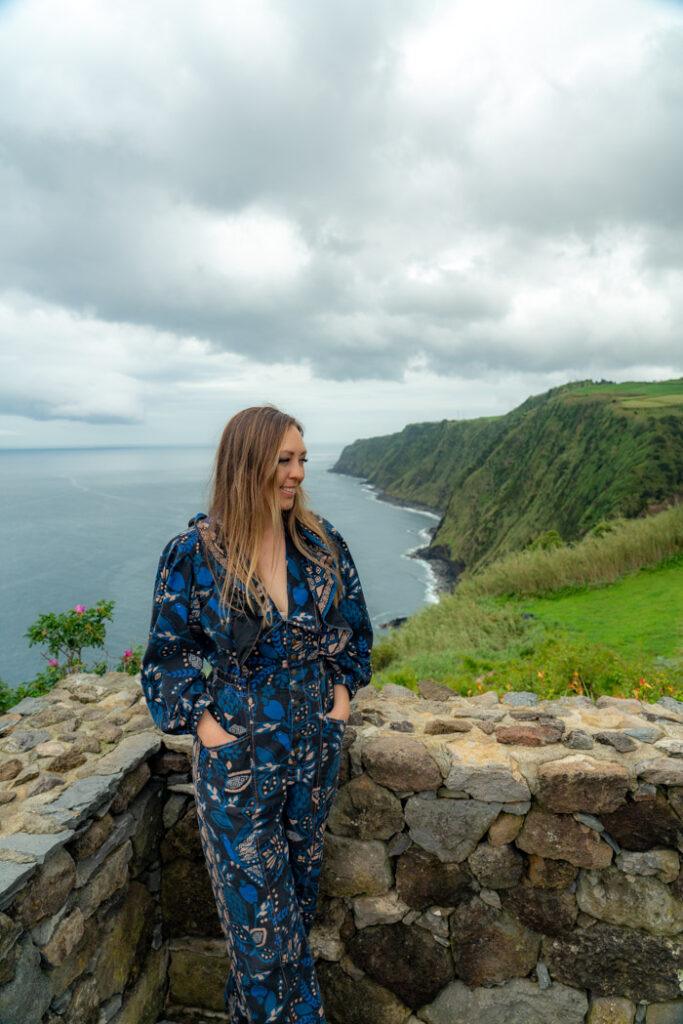 You'll see more (and more, and more) overlooks on your drive up the coast, and each one is stunning. Some have bathrooms and gardens, especially the further east you go. This was one of our favorites along the way.
16. Miradouro do Salto da Farinha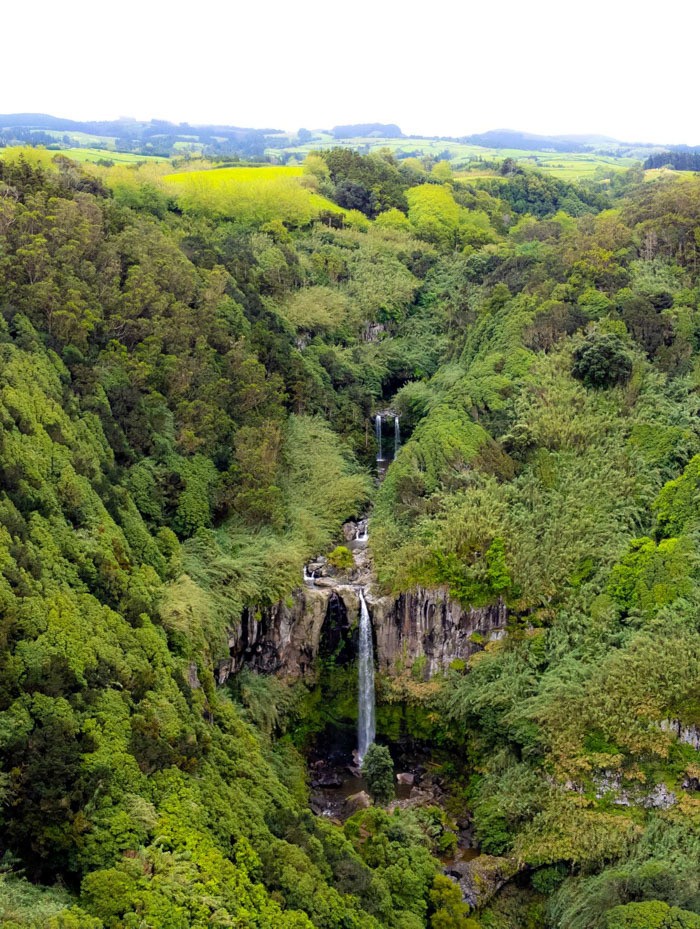 This area starts to be full of waterfalls and small hiking trails. We happened to pull off here and I mostly saw the area from my drone (as an excuse for the laziness, our baby was napping in the car seat), but I recommend taking a quick look at Google maps and looking at all of the different waterfalls in the area to pick the one that appeals most to you. Stop at several if you have the time!
17. Nordeste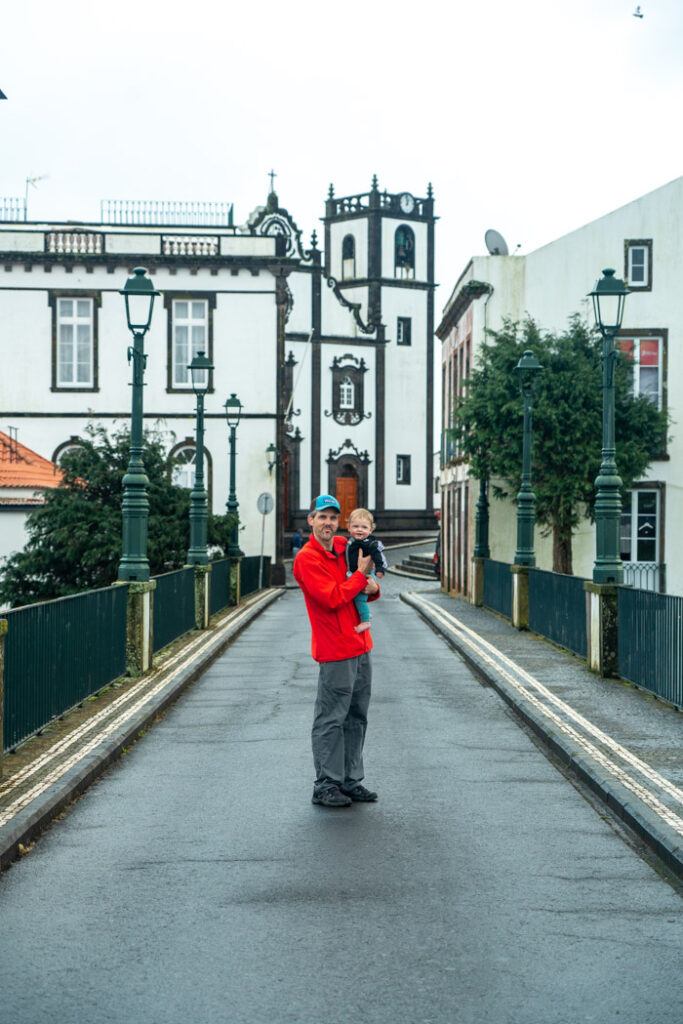 I just loved the design and vibe of this town. There was so much symmetry everywhere, and everything was in black-and-white including the church, the buildings, the lamp posts, and even the cobblestone. Many towns in São Miguel have this color profile, but Nordeste was the most charming, IMHO.
It can be a quick stop, but it's worth spending some time walking around and taking pictures.
Stay – Casas da Chamine Eco Country Lodge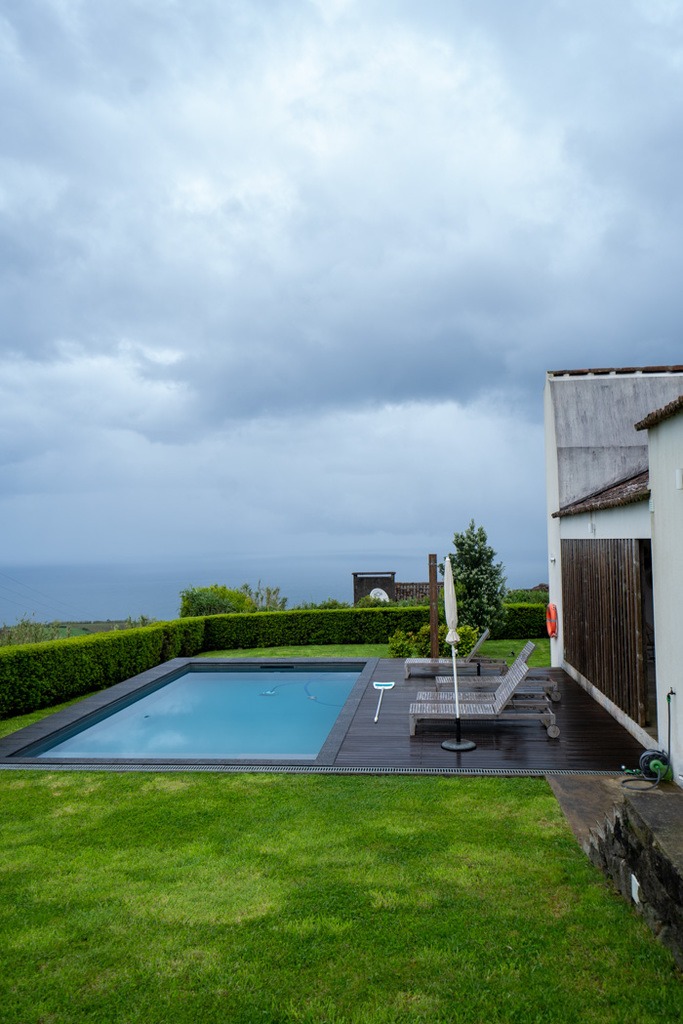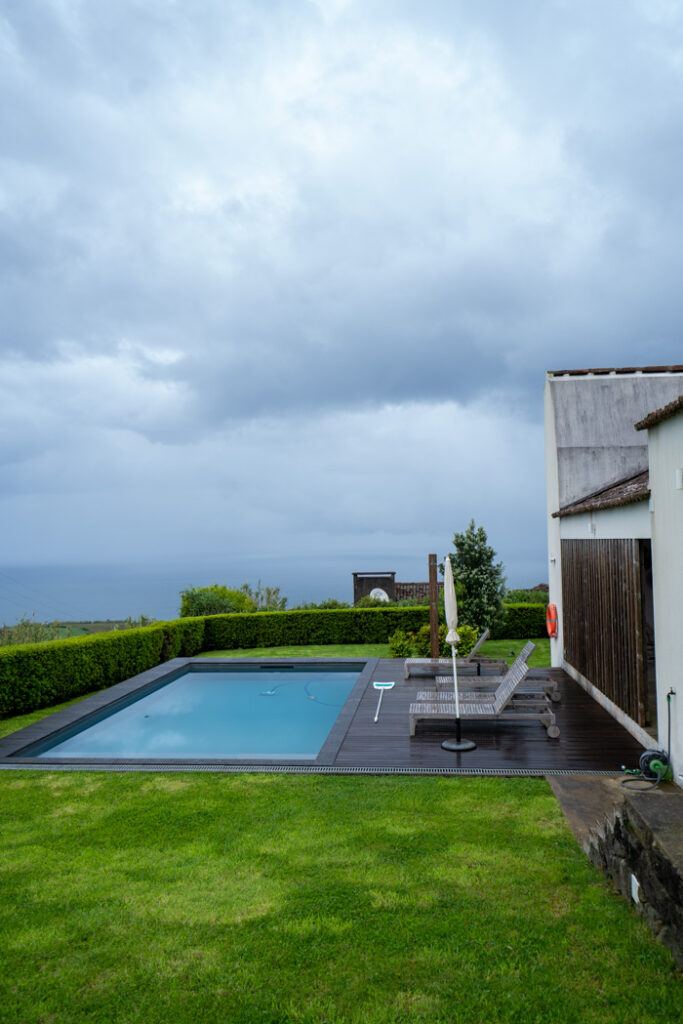 We adored this stay on the coast with its own pool, vegetable and herb garden, wood-fired oven, outdoor chill space, two bedrooms, full kitchen, and living room. It was such a charming home that had clearly recently been renovated, and made for a gorgeous coastal stay I could have spent more time at! If you have extra days, give this part of the coast more of your time. Book it here.
Days Four and Five – Hikes and Furnas
Furnas is one of the more famous areas to visit in São Miguel thanks to the bubbling landscape, thermal pools, lush surroundings, and lovely hikes nearby. We gave it two nights, but could have spent longer!
18. Miradouro do Pelado + Arnell Lighthouse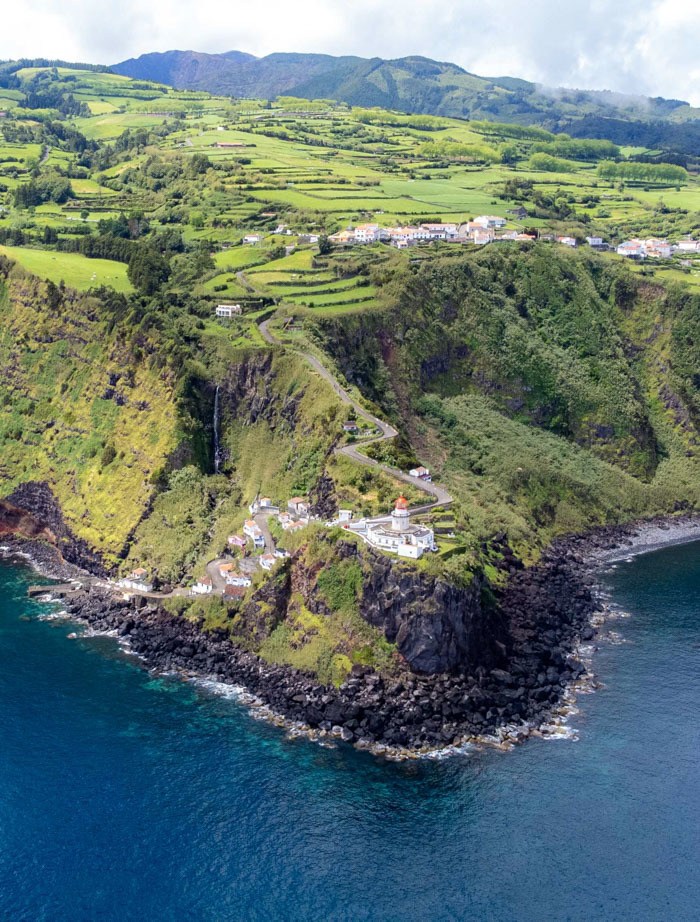 Leaving Nordeste, make your way down the coastal route to Furnas, stopping at some of the overlooks on the way. The Arnell Lighthouse is visible from the nearby Miradouro do Pelado, or consider walking down to it.
19. Porto do Nordeste
Stopping at the Porto do Nordeste, the Arnell Lighthouse is a lovely stop with a thin waterfall and a hike down to the water if you fancy it, or you can just gaze at it from the nearby Miradouro do Pelado mentioned above.
20. Cacata do Salto do Prego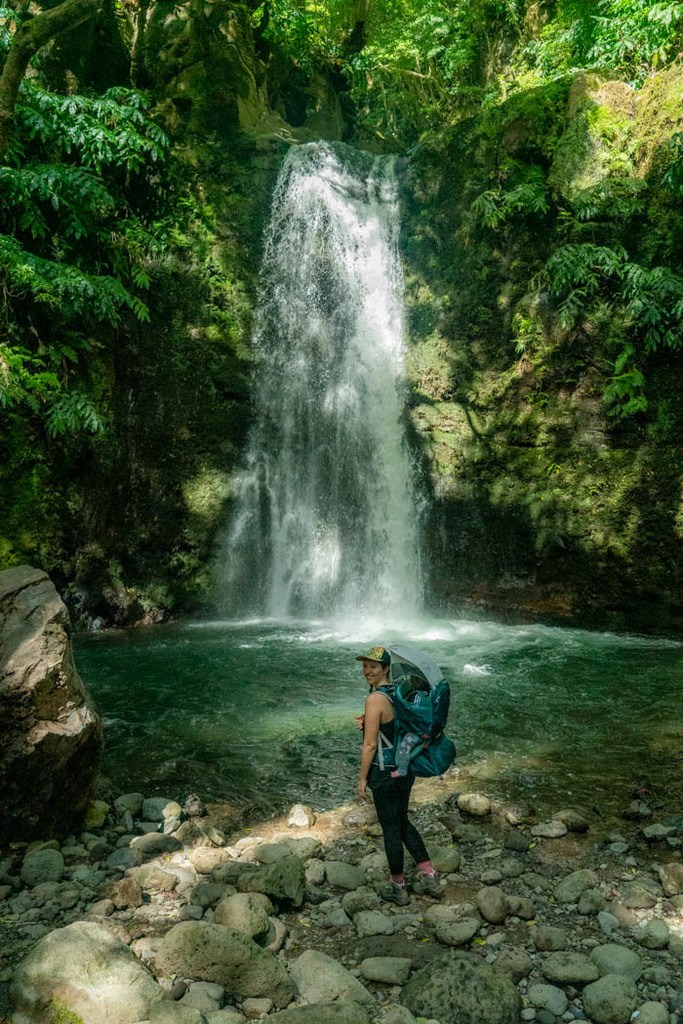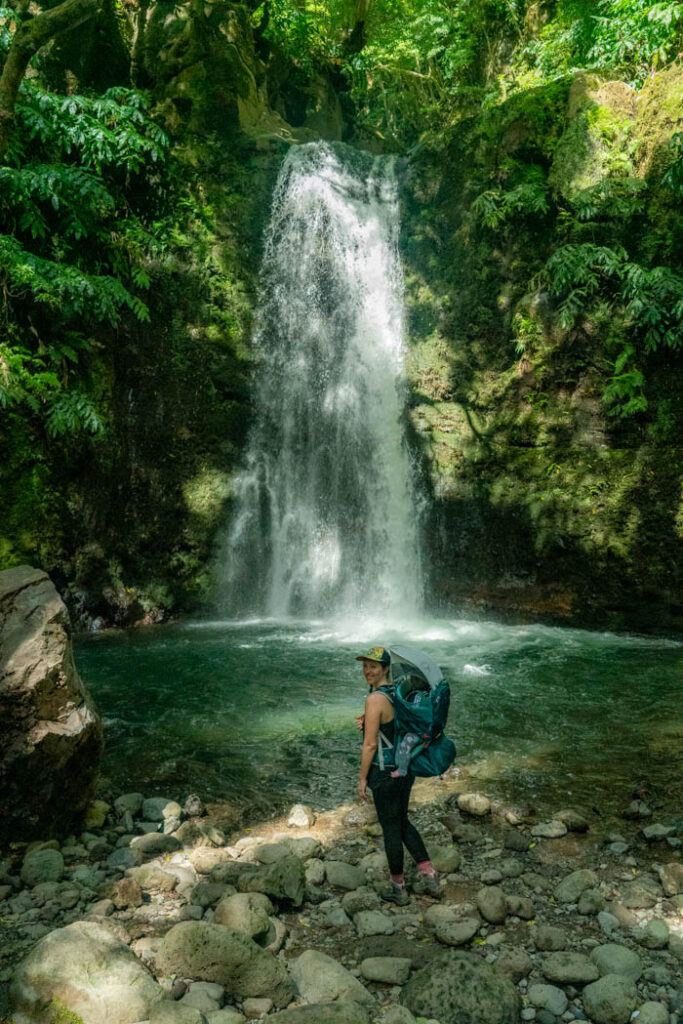 This was my favorite hike while on the island of São Miguel. First you'll pass through a quaint town before hiking along the river with several brooks and small waterfalls on the way. It's a lush trail with some brief but challenging uphills before arriving at the waterfall. I recommend heading downwards (right rather than left) rather than up to the viewpoint to see the full waterfall when you get to the end – or you could always do both.
You can also go canyoning here! Check out this tour for more adrenaline.
21. Furnas town Walk
Imagine a town built around bubbling fumaroles, with plumes of sulfuric gas heading upwards within city limits, surrounded by homes and gardens. It seems strange, but that's what you'll find in Furnas!
22. Try Cozido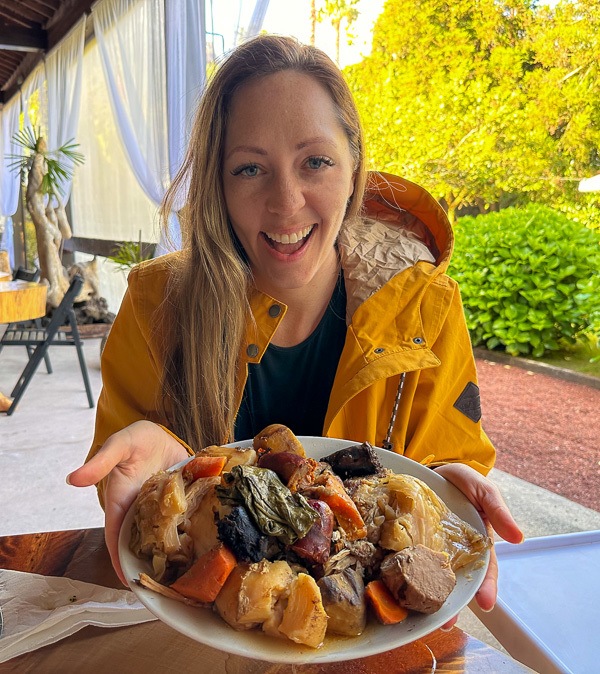 Cozido is a boiled stew that, while popular on mainland Portugal, is only cooked in the ground in Furnas. It started as a Christmas dish around 80 or so years ago, and has now become a widespread meal, with the stews being cooked daily in the ground in Furnas. You'll have the opportunity to try Cozido at restaurants around the area. We chose A Quinta Bar, which put carrot, potato, sweet potato, beef, chicken, pork, cabbage, chorizo, black sausage, and taro in theirs.
It has a bit of a sulfuric taste, but honestly I liked it more that I ate it. The meat was so tender, and the vegetables were so tender as well that my baby ended up eating a good amount of it!
There's also a tea house called Azores Essentials that cooks their tea in the ground and serves local delicacies. I hadn't realized before we arrived that the only way to go is to book a private reservation ahead of time, as they only serve one group per day. Message them here to reserve a spot!
23. Octant Furnas Spa and Thermal Baths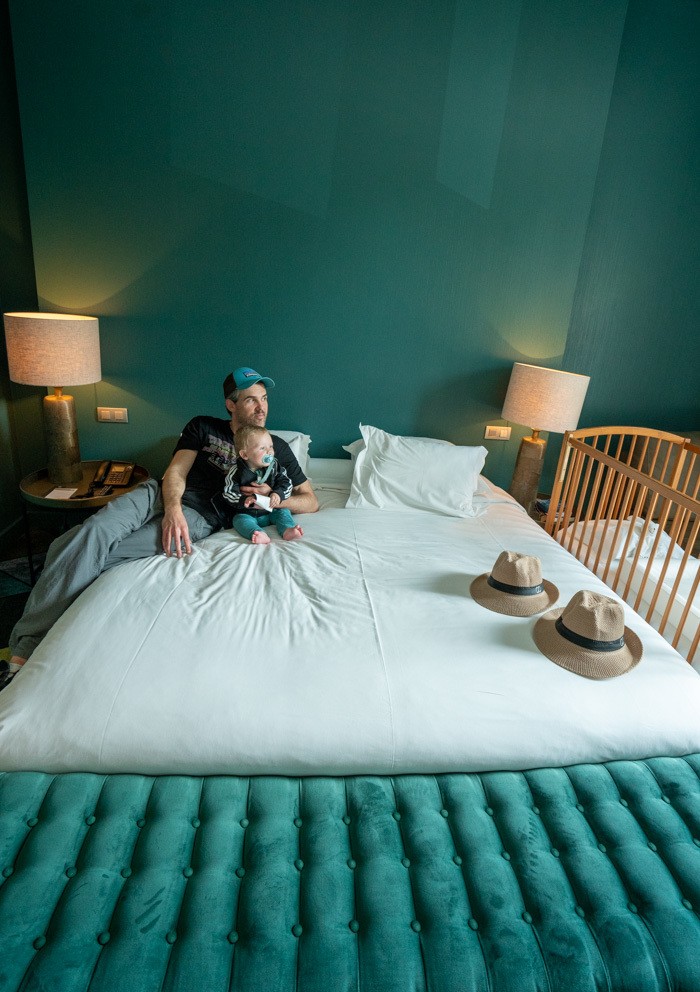 This stay was absolutely an experience for us. Not only is it beautifully designed, but it's a spa hotel with two heated thermal pools that are open 24 hours per day. The rooms were spacious and our double room was actually a suite with two bathrooms and enough room to sleep four! The spa and restaurant are both excellent, and they even had a mini bathrobe for Felix! Book it here.
25. Terra Nostra Park
One of few activities on the island with an entrance fee, this immaculate garden is worth the stop. The grounds are pristine and they also offer a hot spring pool. Entrance is €10.
24. Furnas overlook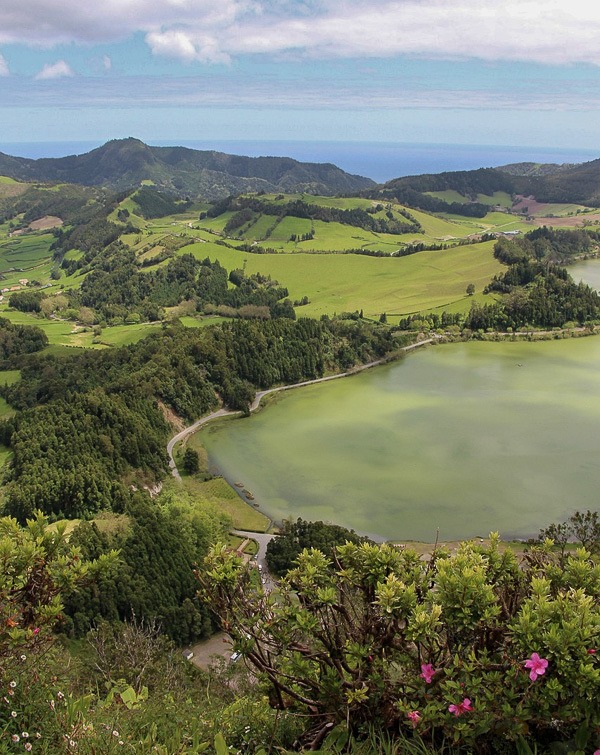 This overlook was the perfect stop on our way out of furnace as we headed west on the coast back towards Ponta Delgada. The milky green lake stands out compared to the other lakes around the island and there are several hikes you can do in the area as well as some small waterfalls.
Day Six – The Southern Coast
As we left Furnas and made our way back to Ponta Delgada, one of our last days was spent exploring the southern coast and the views along the way.
26. Vila Franca do Campo Islet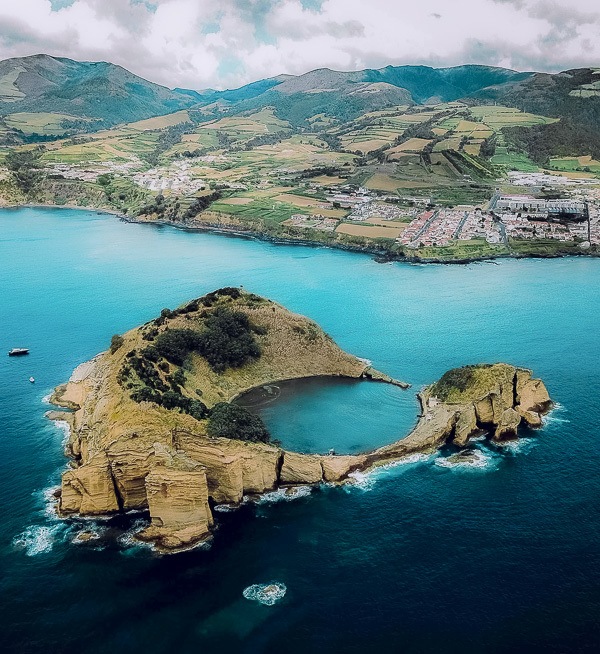 This islet is another famous view on São Miguel that's so close to the coast, it almost looks like one could swim to it. That would probably be a poor choice since it's 1km off-shore, but you can take a boat ride over. This area is famous for its biodiversity and a cap of 400 visitors may go per day. This is also a famous spot for a cliff diving.
27. Miradouro da Nossa Senhora da Paz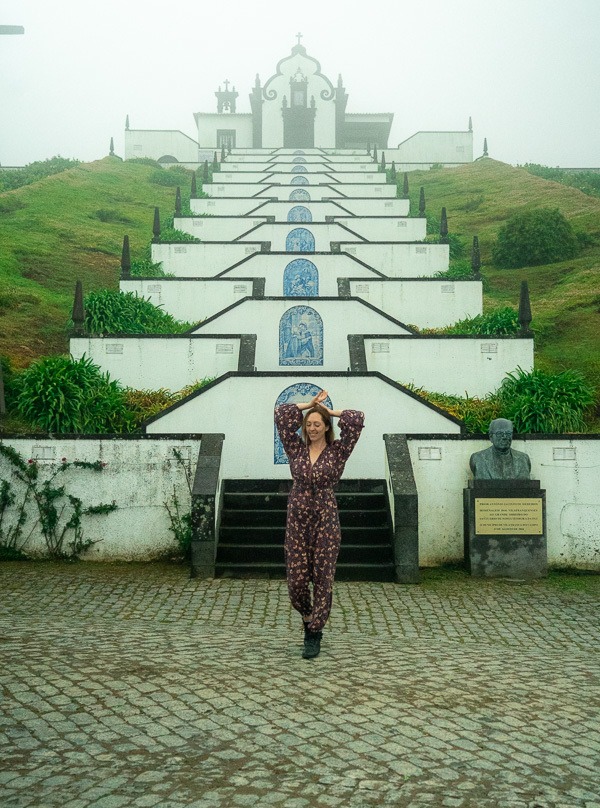 This view of town also has a delightfully symmetrical staircase leading up to a chapel. Though it was a foggy day for us, I could see how the view would be amazing on a sunny day clear to the Vila Franca do Campo Islet.
28. Praia da Pedreira
If you missed the sandy beach earlier in the week, there's a nice one in this area with a long stretch of grey sand framed by lovely seaside cliffs.
Stay – Pestana Bahia Praia Nature & Beach Resort
We spent our final day at this beach resort and though the weather wasn't in our favor for a beach day, it was still a great location and would be perfect for the summer. Book it here.
Day Seven – Whales and Dolphins from Ponta Delgada
Did you know that the Azores have resident sperm whales in addition to many migratory species, as well as dolphins that only live there? We are sea creature lovers, having swam with dolphins in Hawaii and whales in French Polynesia, and if the water had been warmer and our child a bit older, I would have LOVED to swim with them in the Azores, too.
29. Go Whale Watching
Though you can't get in the water with whales in the Azores as they're protected, you can watch them from a boat departing from Ponta Delgada. Depending on time of year, there are many different species you could see! Book it here.
30. Swim with Wild Dolphins
Swimming with wild dolphins is still one of my favorite memories, and the Azores has species that you can only find there. Tours are kept small on zodiac boats and snorkel gear is provided. Book it here.
31. Portas da Cidade
As a final goodbye to Ponta Delgada and São Miguel, I recommend walking through the town center, marveling at the church, and walking through the Portas da Cidade – three archways that serve as the gateway to the city.
Map
Here's a map with all of the stops + accommodations mentioned above:
São Miguel is one of my favorite places I've been. I constantly felt like I was in a mix of Ireland, Iceland, Hawaii, and Portugal. The people were lovely, the scenery was even more lovely, and I already can't wait to go back!