Flores island in the Azores is one of few places that had me questioning if I were in some version of the Truman Show. It was almost too perfect and pristine to be real. It felt like a movie set.
But Flores IS real. It's remote, rugged, full of waterfalls, brimming with greenery, and though a small island, one could easily spend a week or more exploring.
We had the pleasure of visiting for four days. Here's everything to NOT MISS the Island of Flores:
1. Poço da Ribeira do Ferreiro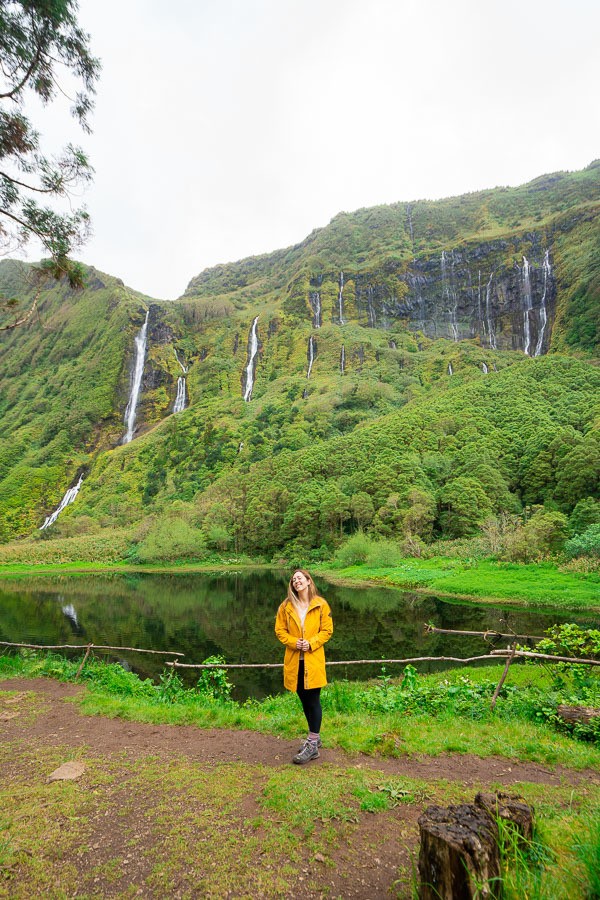 This is the waterfall that makes Flores famous, though there are MANY stunning waterfalls all throughout the island.
It's easy to see why this is so loved, with its 11 (or so?) distinct falls that cascade down into a dreamy lake with fish, white birds flying by, and calla lilies growing along the shore. It felt to me as though I'd stepped into a dream.
The hike to this waterfall less than half a mile from the parking lot, though I recommend wearing shoes with good tread as the volcanic rock path can be slippery.
2. Cascata da Ribeira Grande
Just next door to Ribeira do Ferreiro sits Ribiera Grande, an even bigger waterfall that you can also hike to. The trail will begin as a wide dirt road. Keep to the right when it forks and follow the rock cairns. The path takes about 30 minutes and ends with a stunning view.
3. Miradouro Craveiro Lopes
Want to see both waterfalls at the same time? The Craveiro Lopes overlook provides a sweeping view of the whole area. On a clear day you can see all the way to the village below. The Spot Azores webcam is located here, which is a good resource for checking fog on the island before heading out to chase waterfalls.
4. Stay in Moinho da Cascata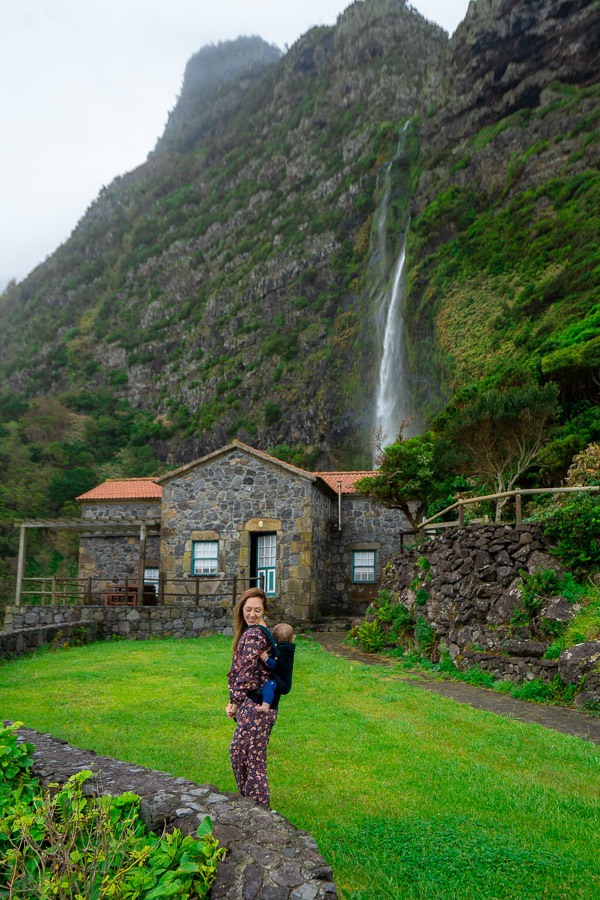 Have you ever imagined living back in the olden days, but with your own waterfall mill converted into a comfortable vacation rental? Me too, and it exists in Flores.
The Moinho da Cascata was built in the 1700s, but now has electricity, Wi-Fi, an induction stove, and four beds to choose from. It still very much feels like an old home, but with modern comforts. This one books out far in advance. Book your stay here.
If this one is full, I still highly recommend staying in the Faja Grande area for at least part of your Flores visit. It's a charming town that's close to the waterfalls and caldera lakes, and a great jumping off point for hikes (more on those below).
5. Visit the Natural Pools at the Westernmost Point in Europe
It doesn't get any more westerly than Flores island for Europe! Looking at a map, this is no surpise – Flores and Corvo are out there.
We didn't have a bright, sunny day on Flores, but if you do, the natural swimming pools here look delightful. Catch the sunset from them!
6. Fajã Grande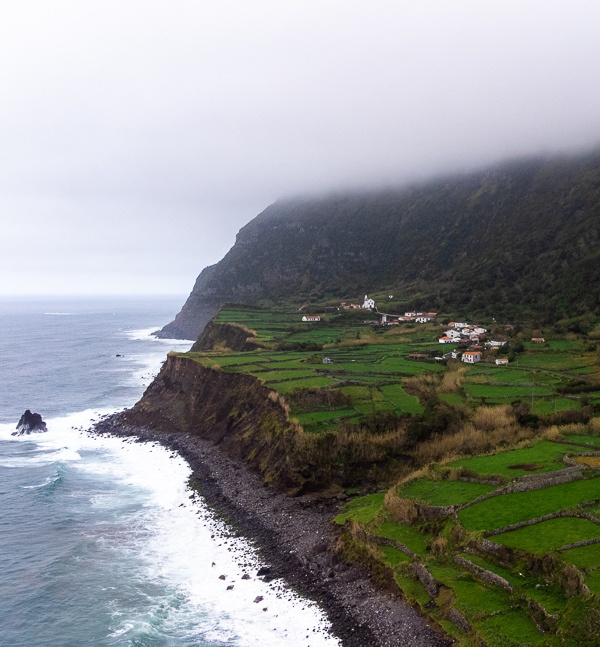 This town has charm written all over it. It's small, quaint, and dripping with waterfalls. Plus, on a clear day, it's a great spot to watch sunset. As mentioned above, I recommend spending at least a couple of days staying here.
When the weather is rough, it can really hit the western side hard. We had sideways rain for most of our stay here, but still, it was worth the experience of staying in such a lush area. I'd love to go back!
7. Hike from Fajã Grande to Ponta Delgada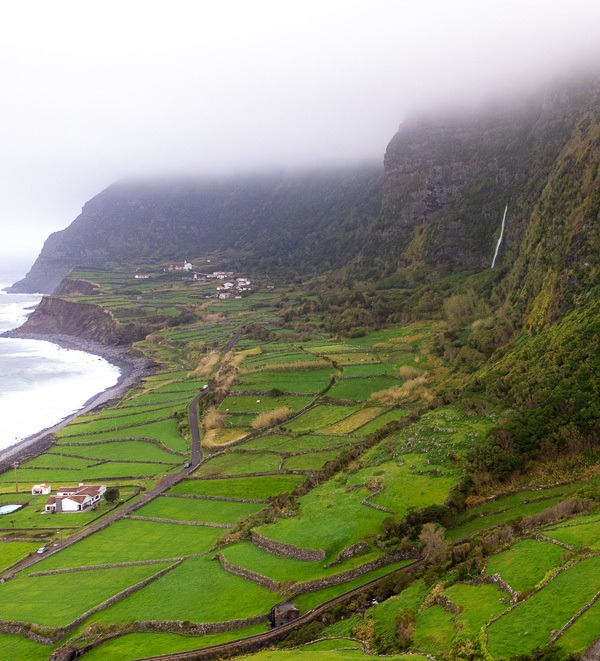 There are five main/official hikes on Flores, one of which I have my eye on for a future visit when the weather is clearer – the 12km point to point trail that goes from Fajã Grande to Ponta Delgada. The waterfalls, sea, an undulating mountain views would be incredible. Here are the other hikes:
Fajã de Lopo Vaz – 3.4km loop
Lajedo to Fajã Grande – 13km point-to-point
Miradouro das Lagoas to Poço do Bacalhau – 7.3km point-to-point
The Great Route Flores – 47 km point-to-point, however the first section is currently closed
Read more about them here.
8. Miradouro Lagoa Negra e Lagoa Comprida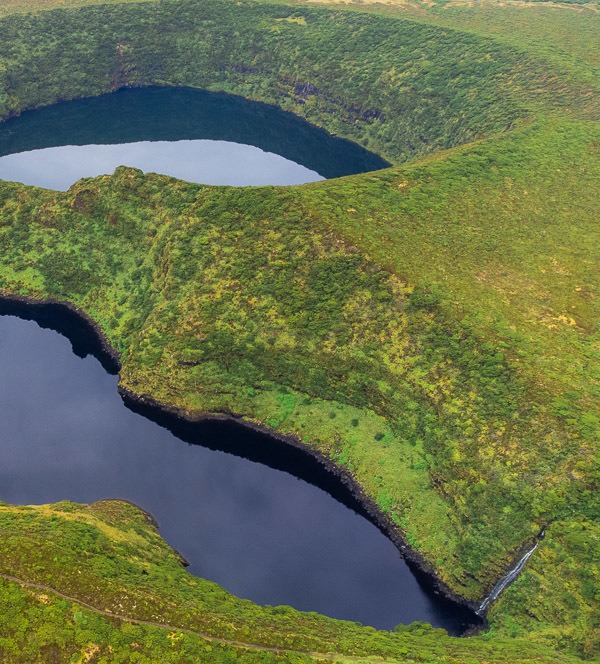 These are two of the famous seven volcanic crater lagoons in the area that sit high in the mountains of the island. They're all located fairly close to each other, and can be visited within a few minutes of each other as well.
Check the Fajã Grande webcam before heading out to be sure you'll see the lakes, as they can often be in the clouds.
9. Miradouro Caldiera Rasa e Funda (Lago Lajes and Funda View)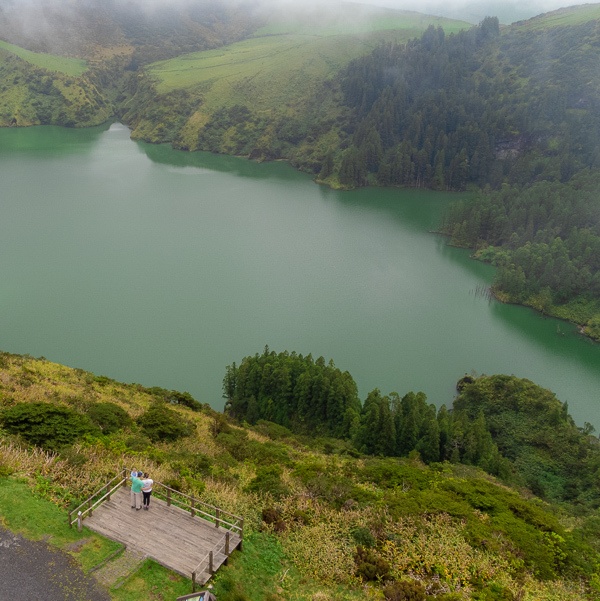 These two lagoons are an interesting contrast to the ones mentioned above, with Funda displaying an emerald green hue. This lookout gives you a nice view of each lake individually, whereas the one mentioned next is located a bit higher with a gorgeous overlook view of both.
10. Miradouro Lagoas Rasa e Funda
We would have loved to continue onwards to this overlook, but as you can see above, the clouds were sitting pretty low on the lake and we wouldn't have been able to see much. On a clear day, be sure to check it out as you can see both lakes at once from higher up!
11. Fajã de Lopo Vaz
One of few beaches on the island, this black sand, volcanic beach is gorgeous even if only for the view. It requires a somewhat steep and rocky climb down, and be sure to scan for Portuguese man-of-wars (and strong current) before jumping into the water.
12. Lunch at Bar O'Trancador
Heading south on the island, this lunch spot on the water has a personality, with baked goods, coffee, beers, and some of the best veggie burgers we had on the island. The patties were clearly home-made, and the owner was lovely.
13. Piscinas naturais de Santa Cruz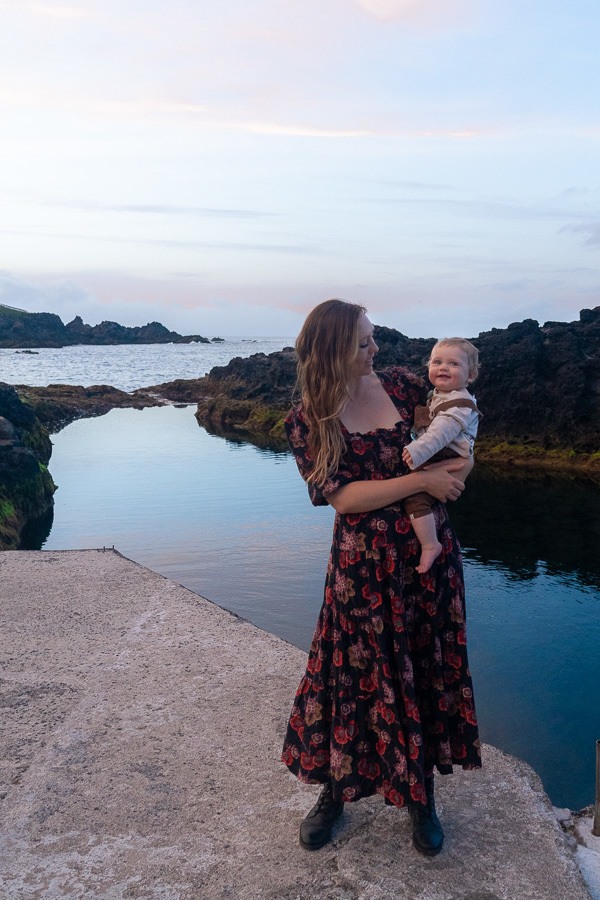 These natural pools in Santa Cruz, the largest town on the island (which isn't saying much considering the island population is only 3500), are the biggest we saw and were accessible with steps down to the water and ladders going into the pools. We saw fish, sea grass, and various other animals swimming through. it's essentially like snorkeling in a giant tide pool. I'd love to experience it on a sunny summer day!
14. Miradouro dos Caimbros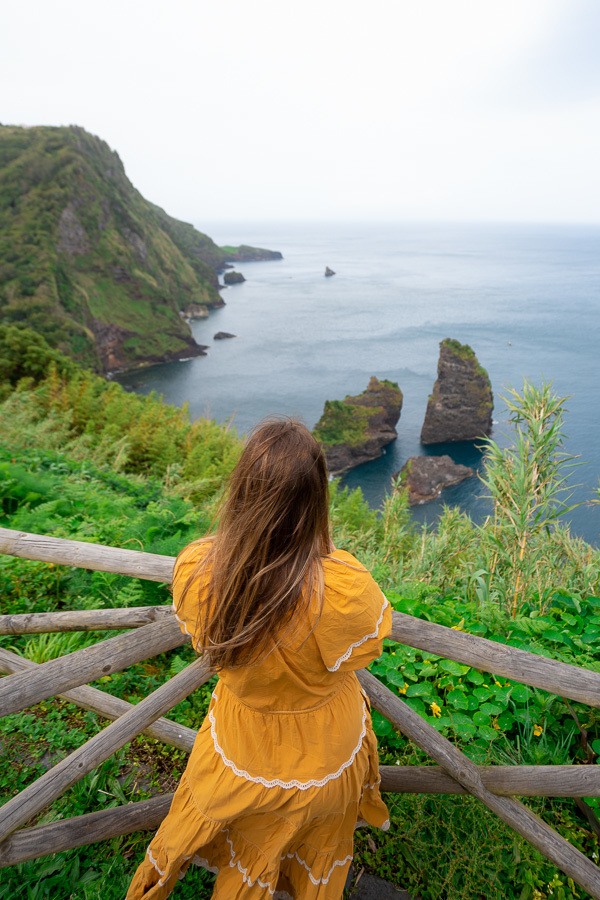 Heading north from Santa Cruz, you're in for a treat with overlooks all along the green, rugged coastline. Most of them, including this one, are quick roadside pit stops with room for a couple of cars. Be on the lookout or you could easily pass it (map with all the stops plotted below).
15. Miradouro dos Cedros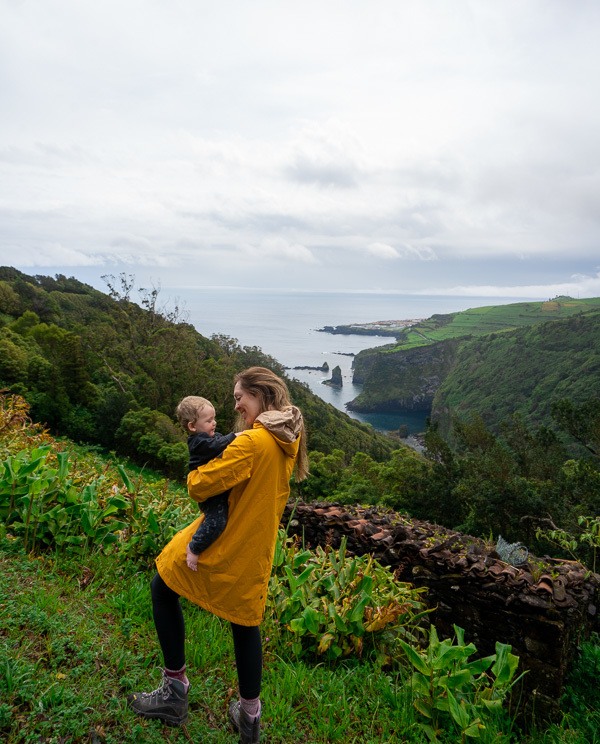 Next you'll see Miradouro dos Cedros on the right side of the road with this lovely overlook. It's a view clear to the town of Santa Cruz with several dramatic rock formations dotting the coastline along the way.
Between these two overlooks there's also a campsite with a short walk to the pointy rock pictured above, if you fancy some exploration on foot.
(Yellow Jacket linked here – I highly recommend a rain jacket!)
16. Miradouro do Ilhéu Furado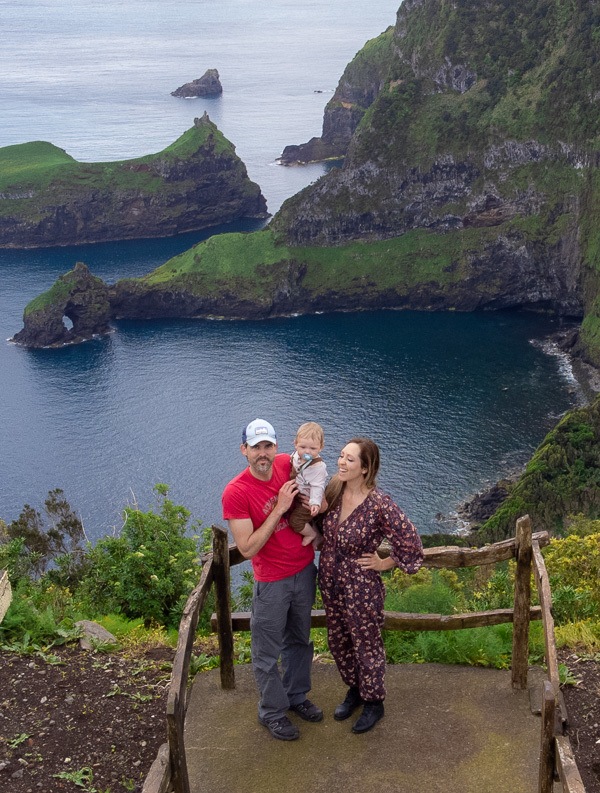 You'll turn right down a short peninsula, fringed with green cow enclosures on the way and a few quaint homes. This was one of my favorite overlooks, with this circular-shaped rock that seemed out of a Dr. Seuss book. There's also a small museum nearby with some old trinkets that's maintained by a friendly local man. Bring a few coins as a thank you if you stop in.
17. Miradouro de Ponta Delgada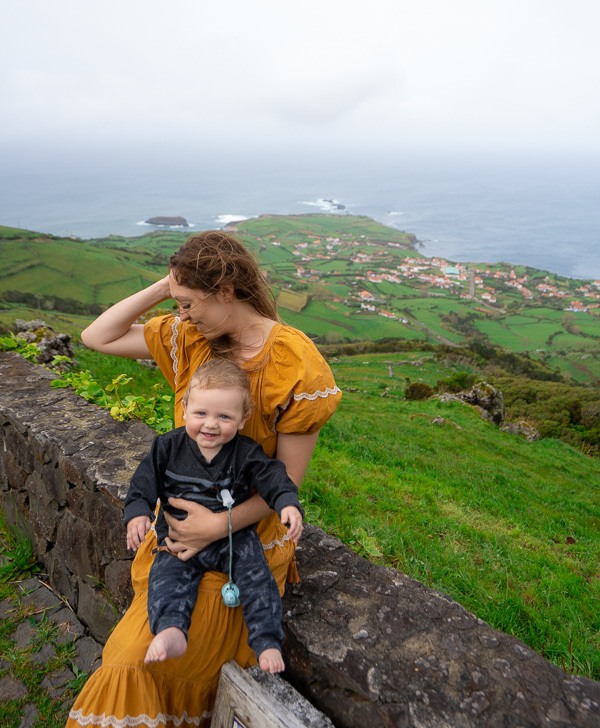 There are several miradors you may pass on the way to Ponta Delgada – stop at as many as you wish. We enjoyed this one with a view of the town and cows eating grass all the way down. The town itself doesn't have a lot going on – a couple of small bars and snack shops and a campground at the point – but it's lovely from above.
18. Miradouro da Baía de Além and Farol de Albarnaz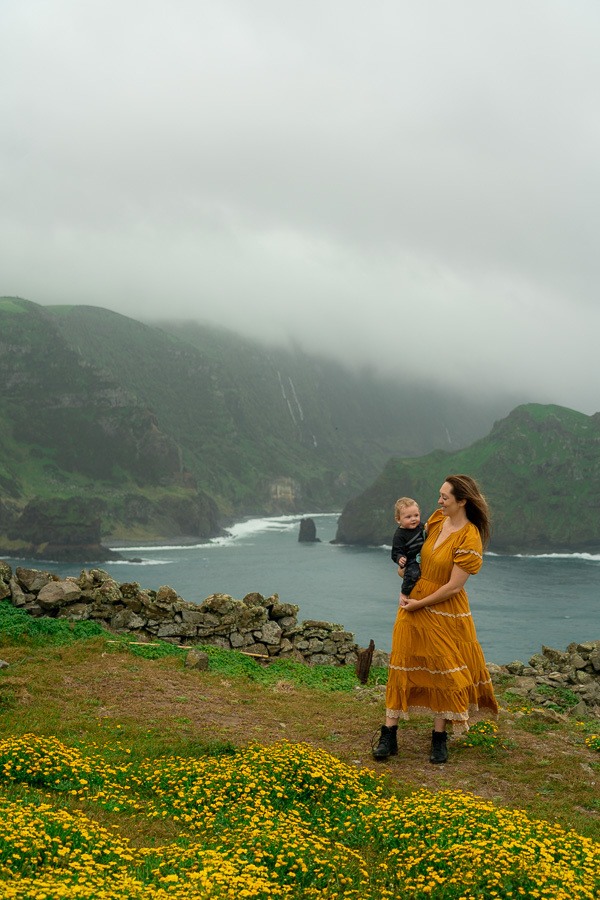 After driving through Ponta Delgada, follow the road onwards to this northwestern lookout that took my breath away. Can you see the waterfalls in the distance? It was just SO dreamy. The blooming wild flowers only added to the magic of the experience.
You'll park just in front of the lighthouse and carefully walk along the coast to the left to access this one.
(By the way, I rented most of my wardrobe for this trip – here's how you can rent designer vacay clothes, too)
19. Miradouro Pico da Casinha
Located closer to the middle of the island, this mirador has a stunning view of the taller mountain peaks on the island. This can be another one that comes down to weather and timing, depending on if you get lucky with the clouds that day.
20. Miradouro do Vale da Fazenda
If you choose to head west from the Ponta Delgada area, you'll pass by the viewpoint that gives you the pico view mentioned above from a different perspective. It was too foggy to see when we went, but on a clear day looks incredible.
21. Day trip to Corvo Island
Corvo island is the most remote in the Azores (just after Flores), and also the smallest, which makes for the perfect day trip. Not only will you see Flores from the sea as you depart, but you'll get a chance to visit this tiny island (only 17km2!). Only 430 people live there in the town of Vila do Corvo, and the main draws are the bird watching and caldera view. Take the public ferry or a day trip. Make sure it's a calm day, though, as the boat ride takes place in a large zodiac.
Map
Here's a map with all of the stops + accommodation mentioned above:
When to Go and Weather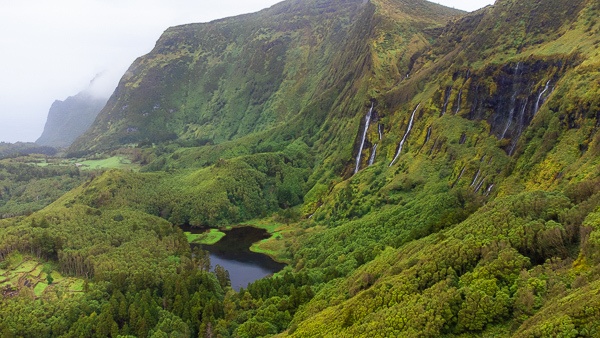 As you may have noticed, I referenced fog and weather a few times throughout my post, and that's because we encountered a lot of it on Flores! We were also visiting in early May, and summer will typically be less rainy and cloudy. That said, Flores seems to experience more weather than São Miguel, so give it all the time you can just in case a few days are gloomy or rainy.
Staying Connected
I relied on Google Maps to get around the islands that we visited, including the remote Flores. The connection was pretty good through my Nomad eSim (use the code "KRIS56JB" for $3 off!), which connected to the local Vodafone network. The rentals we had all had apple car play, which made it easy to display the map and get directions as we drove.
Nomad is running summer promotions starting until the end of July, with all of their 10GB plans on sale for 10% off. If you purchase their Europe single country plans, you will get an additional 5% off (promotion ends May 23)! You can purchase data plans from Nomad eSIM app on IOS, Android and online Webstore.
Flores was the cherry on top of our Azores trip, which also included a week road tripping around São Miguel staying in some truly wonderful places. I can already tell you the Azores are like nothing I've ever seen and I'm already planning my next trip back.