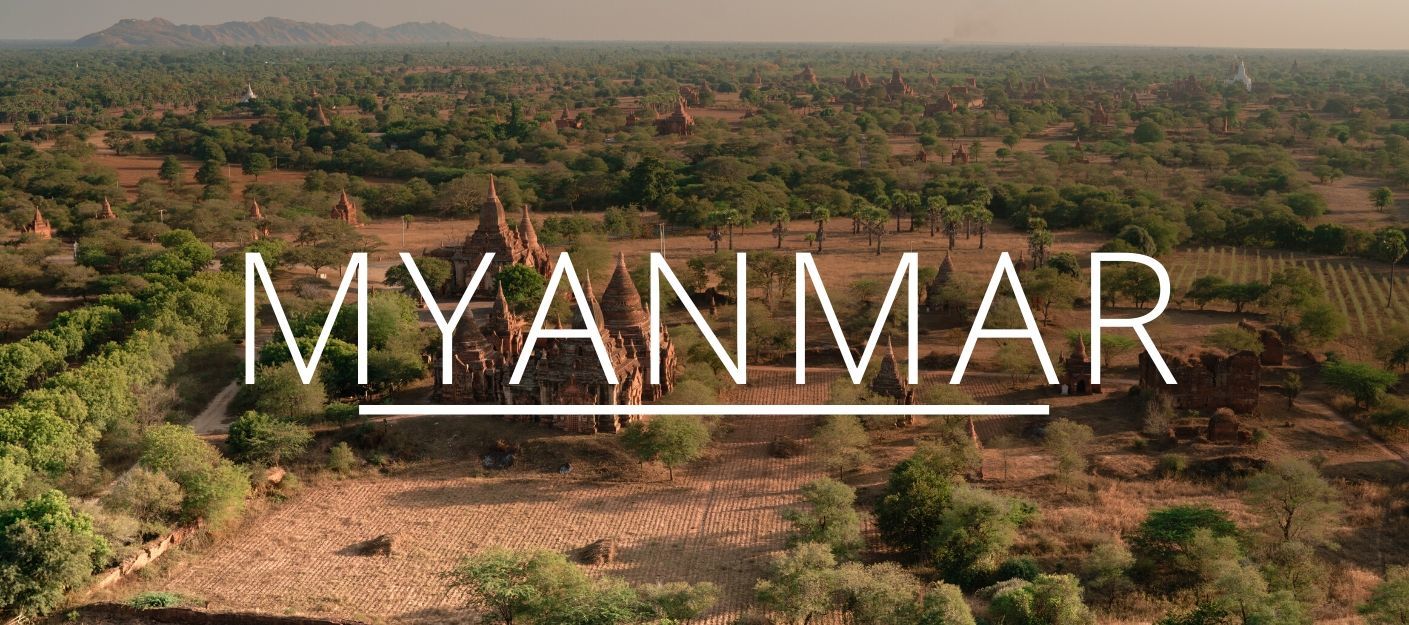 Unique in its culture and still deeply rooted in tradition, Myanmar is one of the loveliest countries I have ever stepped foot in both in terms of local hospitality and scenery. The seemingly endless pagodas in Bagan, some of which were built thousands of years ago, never ceased to fascinate me. The wonderful coastal towns with tranquility that's hard to find on the banana pancake trail gave me a glimpse of what the rest of Southeast Asia may have been like 50 years ago. The curious, warm, and friendly locals who welcomed me with open arms made me feel at home on a foreign land. Overall Myanmar has everything the traveler in me could want.
Traditions are not only preserved, but widely practiced in daily life in Myanmar. This can be seen with thanaka paste that's worn on locals' cheeks, and the longyi that's donned by both men and women. Come for the impressive and colorful history, but stay for the Burmese hospitality. It's one of those precious spots that's changing rapidly, so if you have been thinking about it, go now.
Where in Myanmar?

Myanmar
Watch my vlogs from Myanmar
Quick Tips
'Hello' and 'Thank You' in Burmese: "Ming-gah-lah-bahr" and "Cezu-tin-ba-deh"
Currency: Burmese Kyat (click here for current conversion rates)
Visa: An eVisa valid for 28 days stay is required for most nationalities. The cost is $50 (click here for more info).
Safety rating: Ranked 125 on the Global Peace Index with a score of 2.39 (USA is ranked 128 with a score of 2.40). There's existing internal political tension going on in some parts of the country, but areas affected are completely closed to tourists.
Solo Travel Friendliness: The country has only opened its door and encouraged tourism for less than 30 years with tourist numbers only growing in earnest starting in 2012. While there may be language and cultural barriers, the locals are extremely kind, friendly, and curious. The solo travel experience in Myanmar is genuine and raw, something that's hard pressed to find elsewhere in Southeast Asia. You may find the constant staring a little bit uncomfortable at times, but just keep in mind that they don't see as many tourists as other Southeast Asian countries do, and take it as a chance to say hello and make some new friends!
Climate: Dry season lasts from October – May, and the wet season starts from late May – early October. While you can visit the country throughout the year, certain places, like Ngapali Beach, can be closed during wet season due to extensive amounts of rain. Dry and wet seasons contrast greatly here.
Best SIM cards: MPT – cards can be purchased at the airport and major convenience stores
Modesty Consideration: Displaying of bare skin is generally frowned upon, and you are required to cover your shoulders and knees when visiting the temples. Dress modestly and bring a scarf or sarong with you.
Random useful tip: The yellow paste seen on local women's cheeks (and sometimes foreheads and noses) is called thanaka, a form of protection from the sun that also is simply considered a cosmetic. It is made from ground bark, and can sometimes be found at the hotel reception. Locals may also offer you some to try on!
Accommodation
Budget Solo Travelers ($5 – $14): Hostels in Myanmar generally cost a little bit more than its neighbouring countries due to scarcity. Expect to pay about $5-$10 per night in major cities like Yangon, Bagan, Mandalay and Inle Lake. Most hostels are fairly new and clean, and both local and western breakfasts are often included. Do not expect WiFi to work well, and be prepared for the occasional electricity shortage.
Mid Budget Solo Travelers ($15 and up): Most private rooms in Myanmar cost about $15 per night, which can be cheaper than staying in a hostel if you can find someone to share a twin bedroom with. If you are traveling during shoulder or low seasons, it is possible to walk into a guesthouse and bargain a price with the owner. Airbnb is available in major cities, though they tend to be on the pricier side at an average of $40 per night.
Food
Local Food Spots ($1 – $3): To be honest, Burmese food is not nearly as exciting as Thai or Vietnamese food. Staples include rice, noodles, curry, deep fried meat and fermented seafood, with lots of Indian influence. That being said, food can be extremely cheap and filling if you choose to eat where the locals eat, or at the local food markets. With as little as $2, you can get rice with 5 small plates of dishes, plus soup and fruit in a local place.
Cafes & Restaurants ($5 – $10): International fast food and restaurant chains have started operating in major cities in the last few years. You will normally find them in shopping malls and city centers. Expect to pay about $5-$10 for a full course meal.
Transportation
Getting There: The main international airports are Yangon International Airport and Mandalay International Airport. Direct flights from other Southeast Asian countries can be as low as $40. However, there are no direct flights to Myanmar from countries outside of Asia, so you would need to consider flights to Myanmar via stops in places like Bangkok or Singapore. Entering the country on land is possible but difficult from Thailand, unless you have a special permit from a prestige resort or live-aboard diving company.
Getting Around Town: In Yangon, Grab, which is the Southeast Asian equivalent of Uber, is available, though you might be better off hailing down local taxis or tuk tuks by the roadside. Always haggle and agree on a price before getting in. The local buses can be very confusing as there are no fixed stops, but it is a lot of fun if you are happy to explore the local way. In Bagan, unless you hire a private guide, or are on a group tour, you will have to rent an e-bike or a bicycle to get around.
Inter-city Traveling: This is the part where things can get a little bit frustrating. Due to bad road conditions, and frequent and long stops, getting from one town to another tends to take longer than expected. If you are taking a local bus or minivan, don't be surprised to find them stopping at restaurants, factories, and offices to deliver parcels on the way. Many buses are repurposed school buses from Korea and Japan from the late 80s and 90s, so don't expect a comfortable seat and fully working AC! VIP buses can cost upwards of USD$15. Book directly at the bus depot to save a few dollars. It sounds horrible, and truthfully it kind of is, but if you can look at the situation with a light heart and go with the flow, it could end up in good fun and you might make new local friends on the road.
Things to Do
Shwedagon Pagoda in Yangon: The iconic golden pagoda is the perfect introduction to your Myanmar adventure. Shwedagon Pagoda is an important Buddhist monument that was built sometime within the 6th-10th centuries (legend has it built 2500 years ago!), and renovation as well as expansion is constantly taking place. For a more local experience, try to get there before sunrise. The peaceful atmosphere as devoting locals gather for their morning prayers really adds to the overall experience!
Sunrise + sunset in Bagan: Bagan is the stuff of fairytales – except it's all real and open to explore. You used to be able to climb up on the temples and have a Tomb Raider-like experience, but this is no longer possible. With all temples now closed, you have to get creative hunting down the best sunrise and sunset spots. Don't worry though, I have done all the homework for you. Have a bit of budget to splurge? Bagan is one of the most incredible places to see from high up Here's how you can fly over Bagan in a hot air balloon.
Pagodas in Mandalay: I personally spent 24 hours in Mandalay, and despite online reviews stating that Mandalay is chaotic and busy, I came out totally loving it. Mandalay is pagoda central, with so many unique pagodas including one that houses the world's largest book, and one that, frankly, looks like a beautiful wedding cake. Hire a driver for the day and get to exploring!
Kakku Pagodas: Near-ish to Inle Lake, the Mwe Taw Kakku Pagoda Complex is the perfect off the beaten path alternative to the usual lake and temple tour. Imagine a corn maze of intricately decorated stupas, varying in color from white to gold, pink, and orange, all arranged in such a way that you can weave through them, getting gloriously lost in a twinkling, bell-sounding forest of Buddhist devotion. Sounds pretty dreamy, am I right?
Ngapali Beach: I'm always on the hunt for the beautiful places in Southeast Asia that aren't overrun yet, and this crescent-shaped beach above Ngapali is straddling the line, at least for now. The slightly cold water is perfect for cooling off. It is also a beautiful spot for sunset. If you are looking for a peaceful and laidback coastal town experience, Ngapali is the perfect place to be.