The campground guard grasped my hand tightly and with enthusiasm, switching from grabbing my thumb to my palm, as handshakes are done in Africa. He asked me where I'm from and when I said 'America' he closed his eyes as though he was trying to picture it.
"Does the sun come up every day in America, like here?" He asked, adorably.
I told him that it did.
"is it winter there now?" he wondered. I told him that in some parts of the country, it is quite cold. He seemed satisfied with those answers.
Then I offered him one of the 20 or so mangoes we'd bought from a roadside vendor for about $1.50, and he was so excited that he hugged me – twice.
We'd come a long way that day from the humid heat and light blue waters of the coast to the mountains that we'd been seeing in the distance for so long. The heat made way for cooler temperatures as we climbed meter after meter into Lushoto in Tanga, Tanzania, watching the arid ground turn into red farmland before settling at a quaint little farm lodge called Irente Farm Lodge.
Now all over Southern and Eastern Africa, I've become very used to friendly, curious people and in particular, children running out to say hello, but Lushoto seemed to be on another level.
As we walked on several of the those red dirt roads seeking views from up above, it wasn't just children who excitedly ran to the road to say "Jambo!" (Hello in Swahili), but the adults as well who would say hello and, "Karibu" (welcome).
It really is the nicest thing when people warmly welcome you as an outsider.
Our quest was to see what was rumored to be one of the best views in Tanzania. This took us up a few mud and dirt roads, climbing in the sun and thankful for the light breeze. I had a feeling that we wouldn't see much. The crop burning had made the sky a hazy brown, so milky you could barely see through it into the distance.
However we did find a nice patch of ferns, and some dramatic rock formations.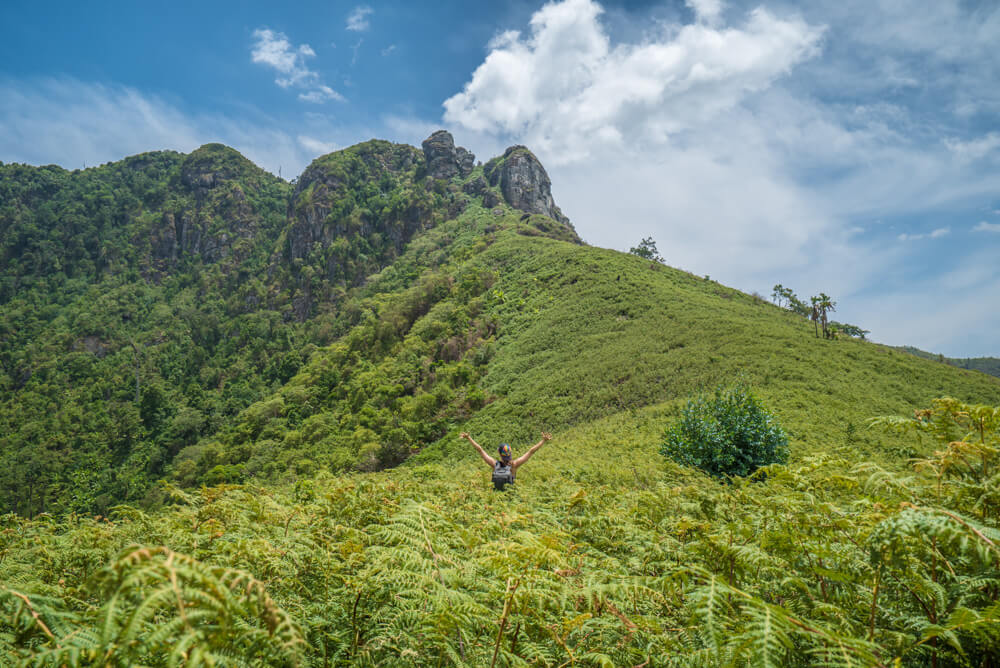 Later in the day, we tried again, walking to the Irente viewpoint for sunset. Just then, the sky opened up and in what seemed like no time at all, went from a sporadic drop here and there to a full on monsoon.
The rainy season was starting in east Africa, after all.
That night a solid sheet of water came down for two hours, leaving me wondering how good my tent really was as I hunkered down in the farm lodge, running out into the rain to stir the dinner we were cooking over a wood fire in a covered area outdoors from town to time. Of course, the other campsite guard insisted on helping me build the fire and helped watch the poike (stew) as it bubbled for a couple of hours. Don't worry, he got a helping of stew and a nice tip.
The next morning I awoke mostly dry, and we decided to make a last-ditch effort to see the viewpoint.
Third time's a charm. The rain had cleared all of the smoke and I'm happy to report, the view is truly spectacular.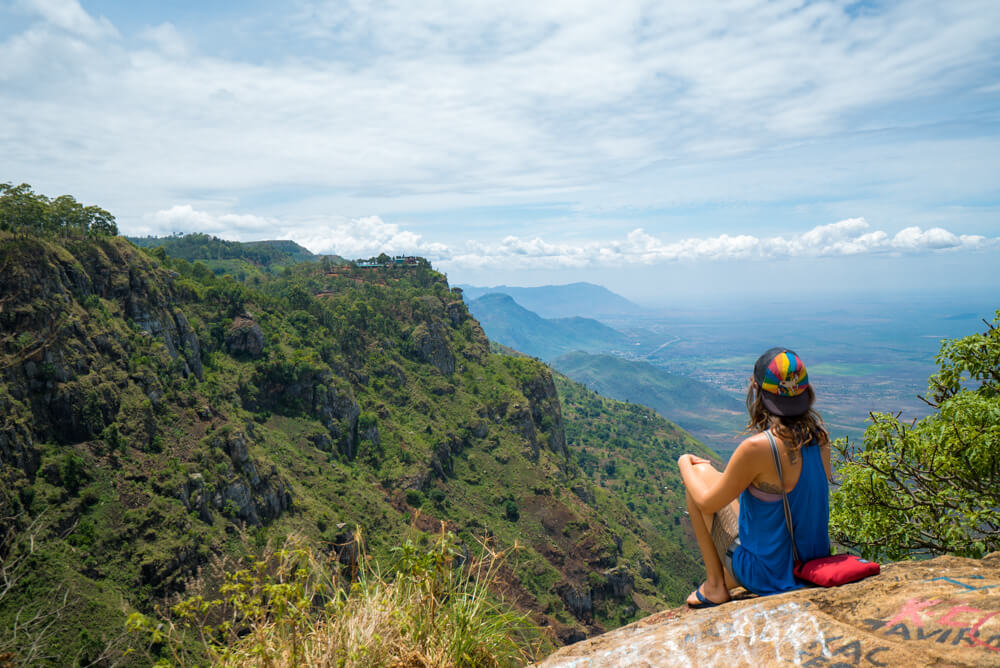 The viewpoint is easy to access from the farm on foot. It takes about 20 minutes to walk there, give or take, or you can drive there in about 5 minutes if you have a car.
You'll arrive at the Irente Cliff Lodge, and you can either pay 1000 TZS (about 50 cents USD), to cut out some of the walk and go through the lodge lobby, or you can bypass it and walk in from lower down on the road. Either way, it costs 2000 TSZ to gain access to the viewpoint, which is advertised as going to the village.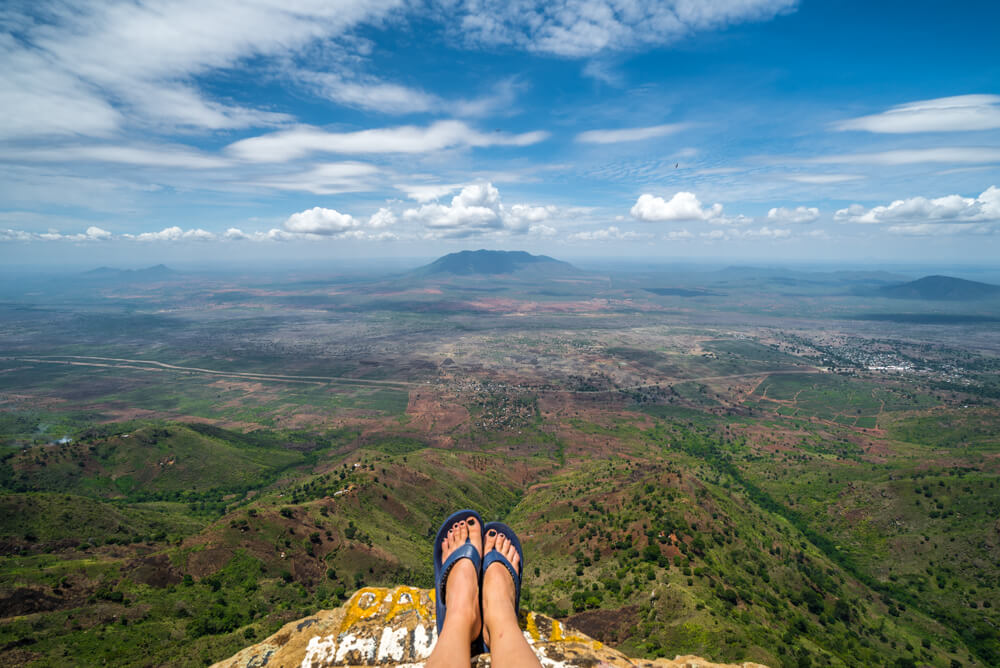 Be careful up there. It's a sheer drop from the rocks above, and as you can see, that would be one long fall!
We left town that day a lighter in spirit, thankful to have been welcomed so warmly by everyone in town, including the guard at the bank who vigorously shook my hand and even escorted me to the machine to draw my cash out, smiling the whole time.
This is potentially one of my biggest reasons for loving Africa so much – the warmth and hospitality. Yes, the people are poor and desperate and some heckle tourists for money (wouldn't you in their position?) but when it comes down to it they are kind, curious, and ever the most gracious hosts.
Lushoto, you were beautiful in so many ways.
Do it yourself:
Get there: Drive in on your own or if taking public transport, Take any bus bound for Moshi/Arusha and get off at Mombo. It takes about 4.5 hours from Dar es Salaam. Then take a Dala (local mini van bus) up to Lushoto which should take roughly one hour and cost 2500 TZS.
Stay: I camped at Irente Farm Lodge which is slightly out of town, and it set me back 15,000 TZS per night. They also have rooms and delicious food with cheese, bread, and jam that they make onsite.
See: There are several waterfalls and national parks that you can enter only with a guide, which the farm lodge can arrange. It costs about $30 per person for the guide and park entrance.