Every second Friday, Kortney, BMTM's travel fashion correspondent, shares another tip with us for fashionable and practical items to bring with you when you travel!
When I focus on packing light, I zero in bringing the bare essentials, including in the perfect travel shoes. I just want to be comfortable yet fashionable and with some trial and error, have found that the style lifeblood of my nomad wardrobe is definitely the walking shoe. It may not seem super stylish at first, but it's one of the best, and most comfortable, opportunities to define your own unique fashion statement.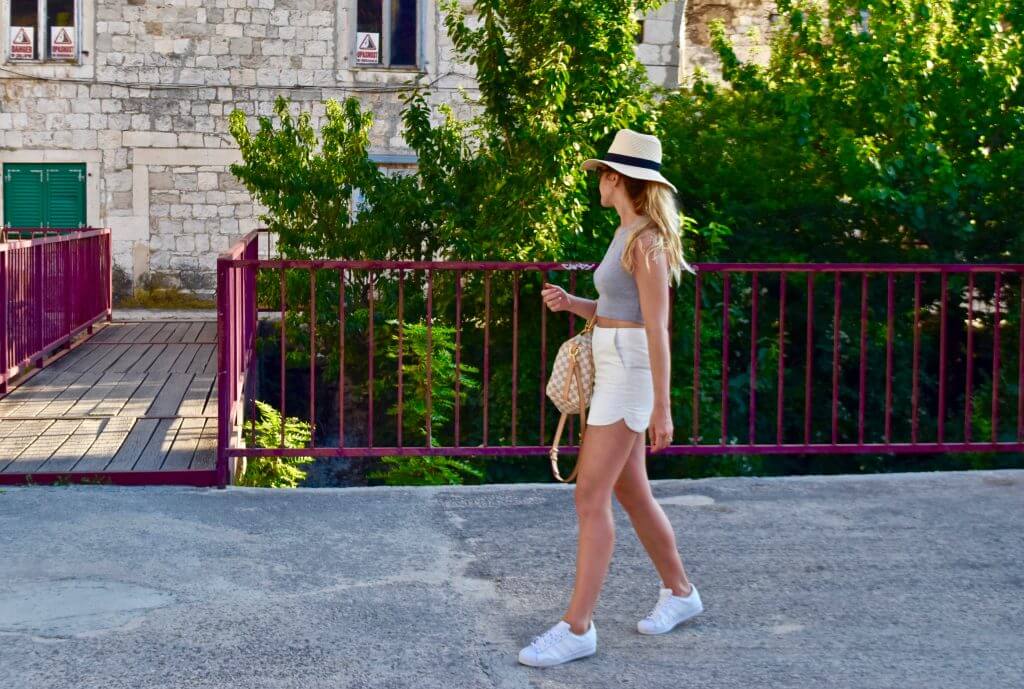 I've met several travelers who are surprised by this – they are under the impression that only heels and overly complicated gladiator sandals are the only way to be considered fashionable and Instagram-ready.
Here is my secret: Style has nothing to do with fashion and it isn't a race. It's all about allowing your vibrant personality to pour into your wardrobe choices – it doesn't have to cost a fortune, it certainly doesn't have to be designer, and you can choose chic without sacrificing comfort.
So what's the best walking shoe to have in your suitcase this year for fashion-savvy travelers? Ditch the same shoes you run in and opt for a pair of all-white Adidas or similar sneaker of choice. It goes with everything, is comfortable to the extreme and instantly brings your look from basic to the same street style supermodels in Paris wear off-duty.
Work Sneakers with Shorts or a Skirt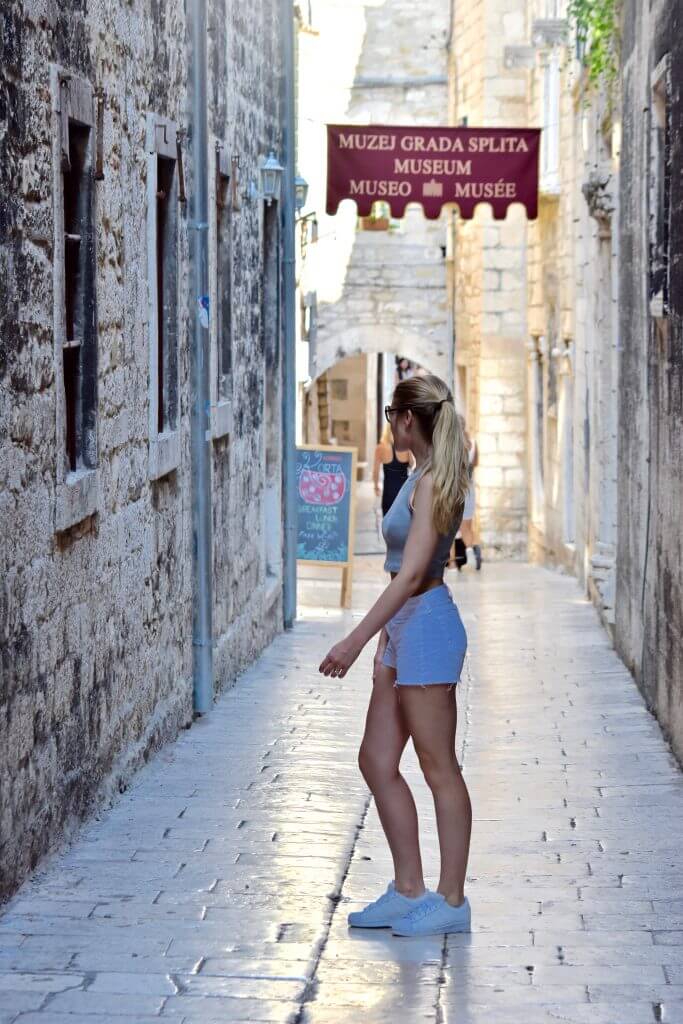 They go with both skirts and shorts – rejoice! For those minimalist packers, they could be the only pair of shoes you need.
To make your packing and style system extra efficient for this outfit, I love pairing this look with crop tops or basic v-necks – for every one pair of shorts or a skirt I have, I pack three tops.
Pair with a Chic Dress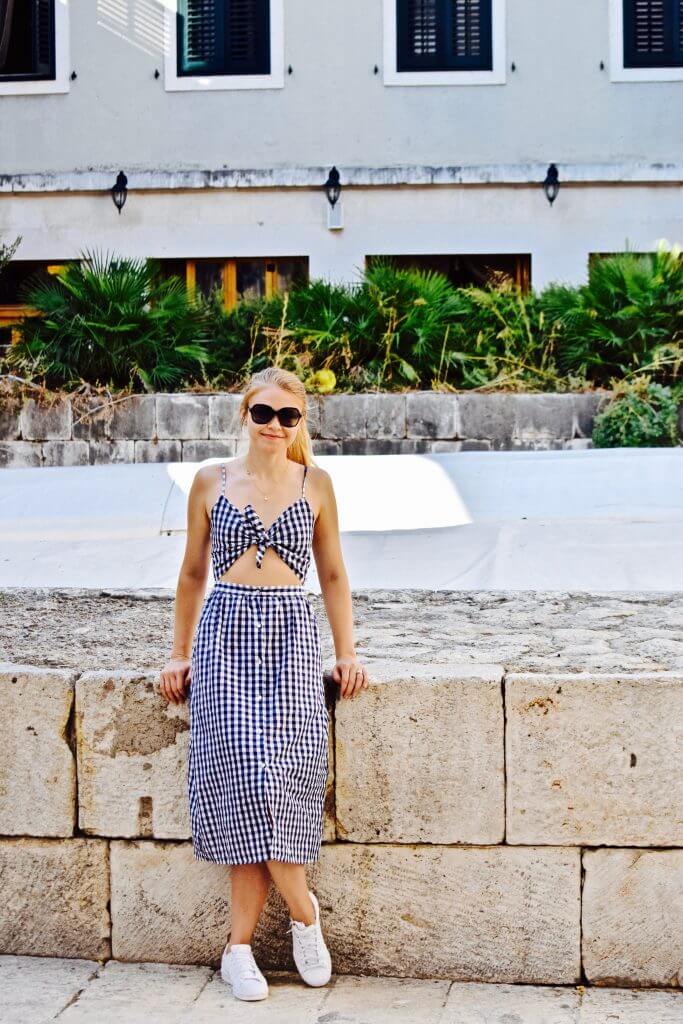 Normally I wouldn't expect sneakers would go so chicly with a dress but this trend is the total exception. From maxi dresses, silky nighttime cocktail dresses to more Roman Holiday style pieces like I'm wearing above (one of my favorite steals from Zara this season), you can combine the comfort of walking shoes without sacrificing your Audrey Hepburn vibes.
Rock them with Pants or Jeans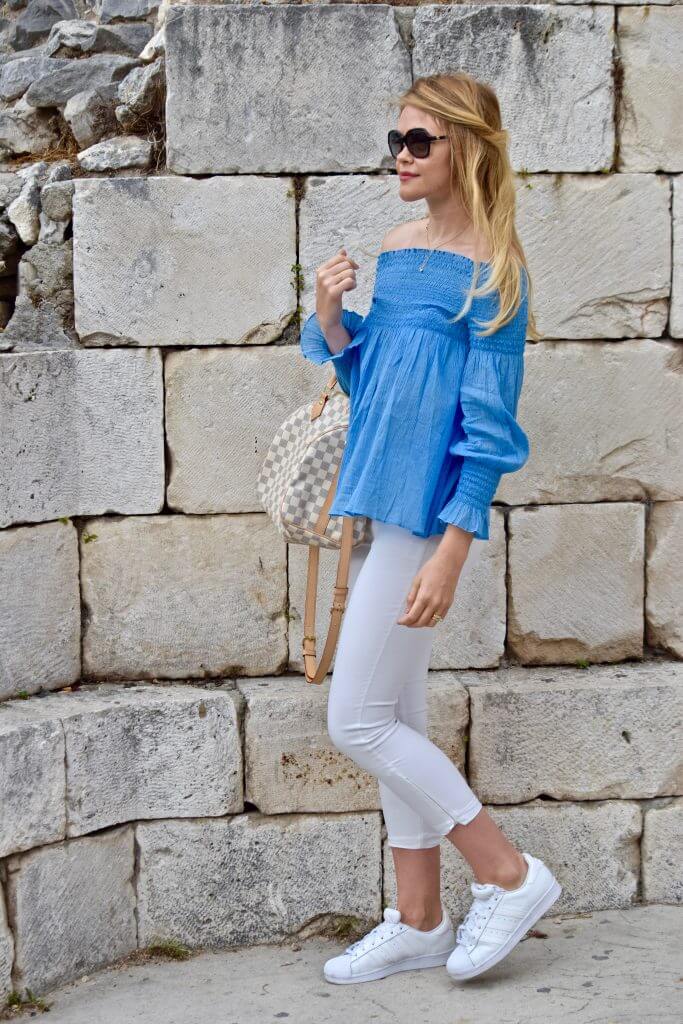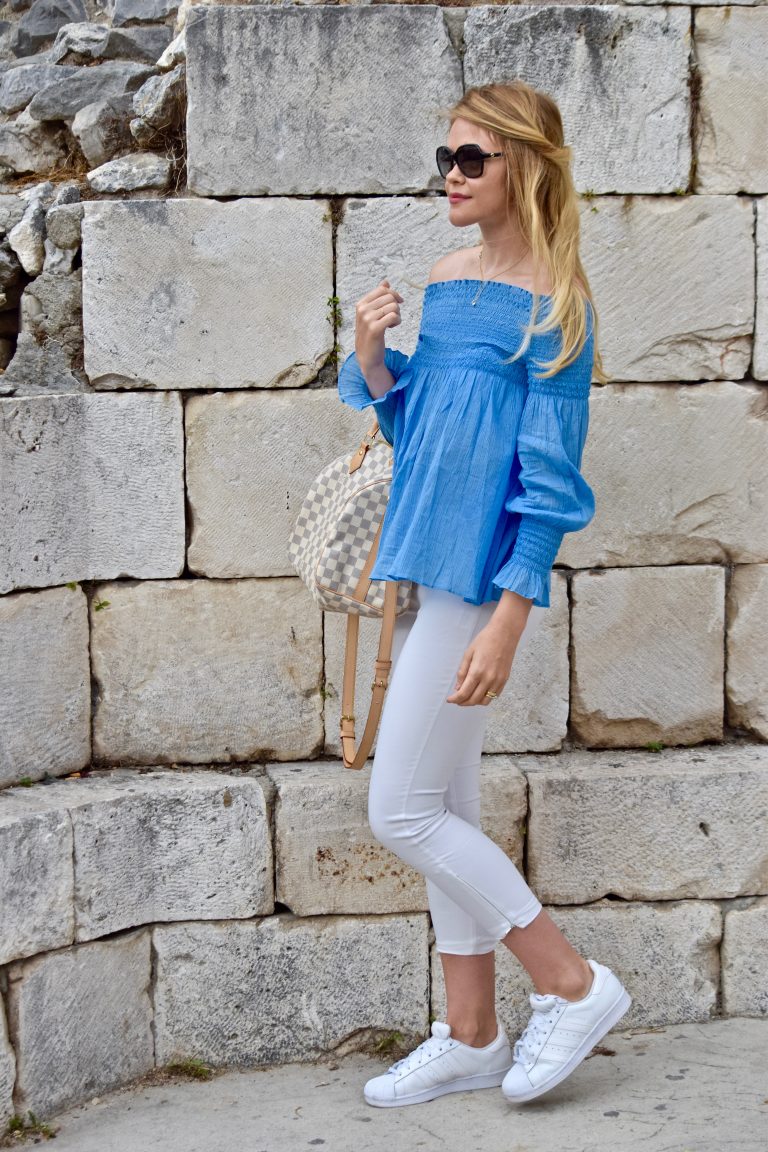 Some destinations and climates obviously don't allow miniskirts, shorts or flowy dresses. Plus with autumn quickly approaching, we travelers should be filling our suitcases with more pants and jeans. Good news: the white sneaker trend isn't going anywhere and since they are monochromatic, they work perfectly with most fall and winter outfits.
About the Author: Kortney Gruenwald of The Modern Jetsetter is a travel and lifestyle blogger who took the dive into brand-ownership and the entrepreneurial life in 2016. Since launching her blog she has traveled to over ten countries and plans to adventure through the world for the rest of her career and make The Modern Jetsetter one of the top online destinations for travel and lifestyle inspiration. You can follow her world adventures, lifestyle tips and travel style advice on her website, www.themodernjetsetter.com, or on social media: Instagram, Facebook, Pinterest, or Twitter