Has anyone ever asked you what you would pick between the beach and the mountains?
some people can answer this question without hesitation, but I've always found it impossible to choose between the two.
In the mountains, I can hike and I can ski, but at the beach, I can go for long walks, go for a swim, and dive.
What's more, each beach has its own special quality to it, it seems the only thing that they all have in common is the ocean.
That's what I love about visiting different beaches in the world. Not all of them have to feature bath-temperature water, palm trees, and coconuts. Isn't there an equal amount of pleasure in sand dunes and beachside biking trails?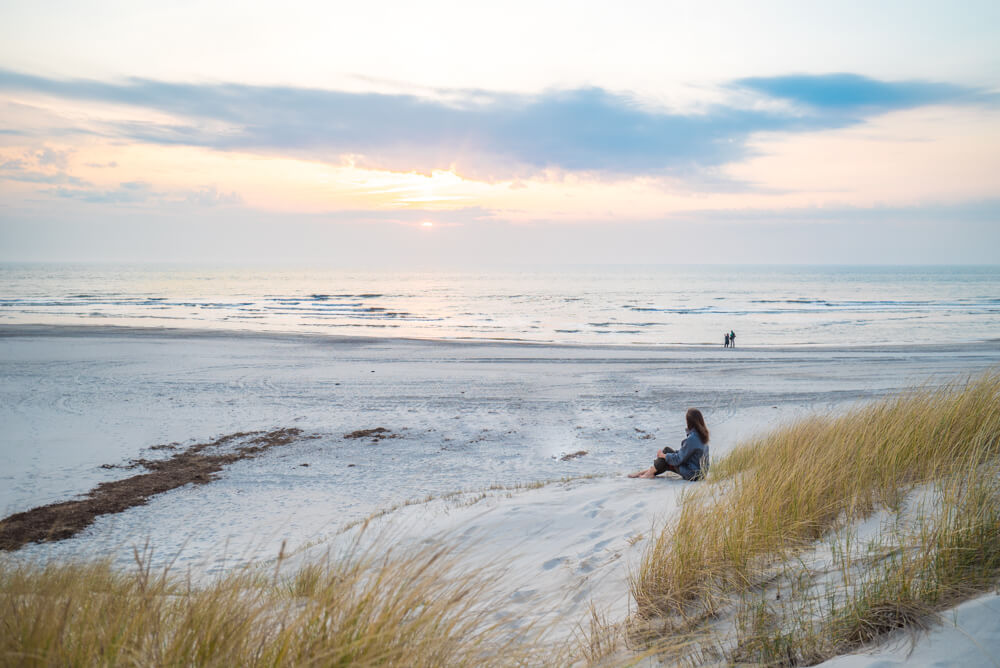 When my mother and I took a trip together this spring, we wanted to add the west coast of Denmark to our list for just such an experience.
I'd heard from friends in Germany that it's a great place to visit with a friend group, or your family, and spend a few days away from it all.
What they said was true.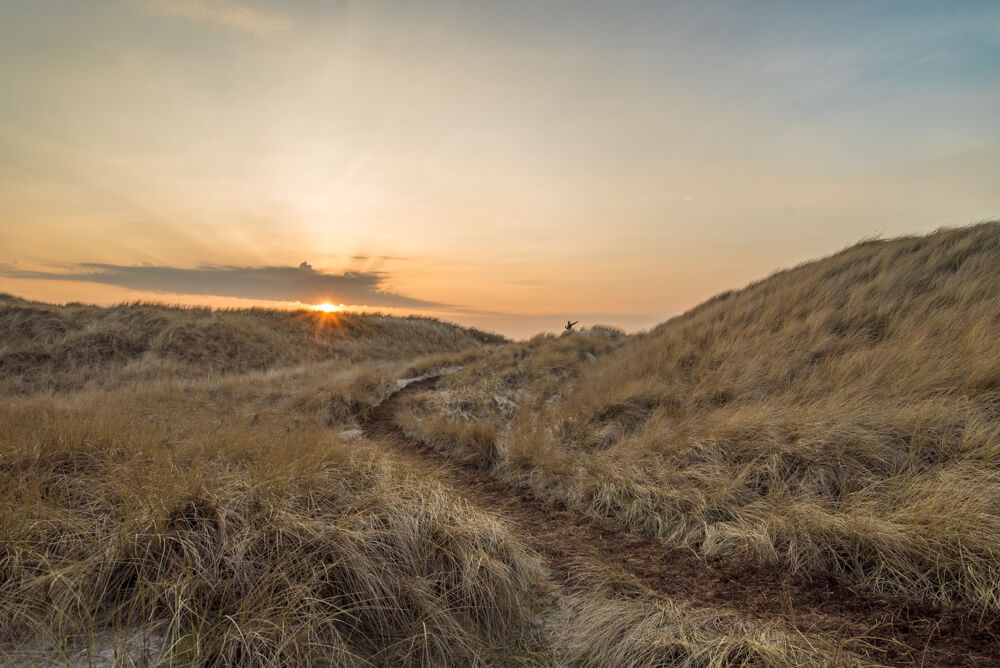 Henne Strand is a wonderland of rolling sand dunes covered in gently swaying golden grass. A few daffodils were springing up here and there too, adding another layer of gold to the landscape.
It reminded me in many ways of one of my favorite beaches in California: unspoilt in its beauty and not just a place for bikinis and surfboards. It's the kind of coastal experience that can be equally wonderful at any time of year, whether it's warm or cold.
Isn't it funny how it's almost impossible to travel somewhere new and not find comparisons between it and places you already know?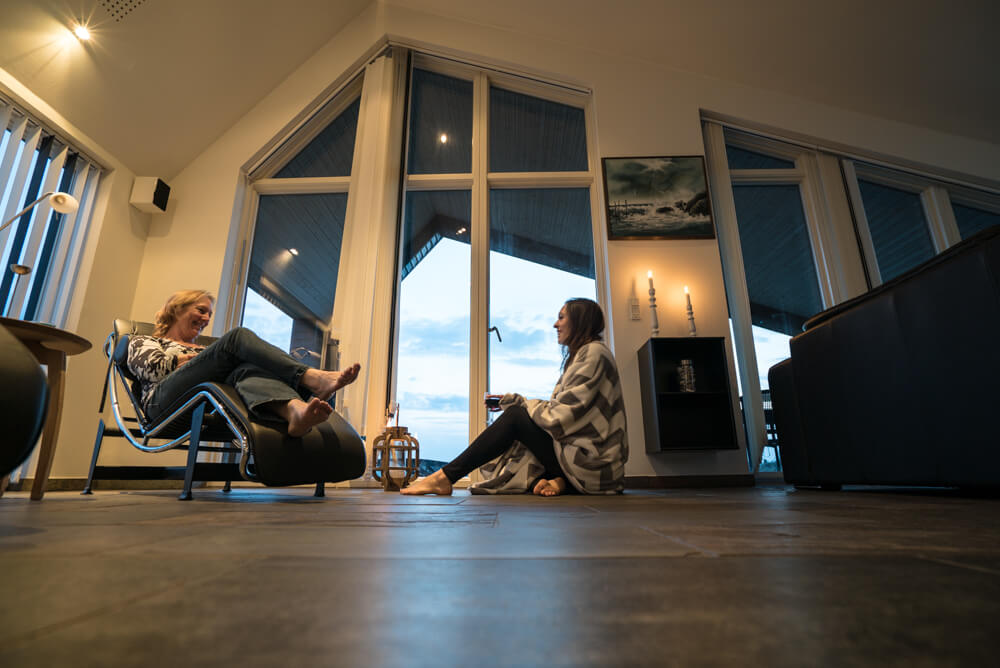 The way that the sun hung in the sky, usually with a thin veil of wispy clouds, cast a soft light across the surroundings, giving it an ethereal glow.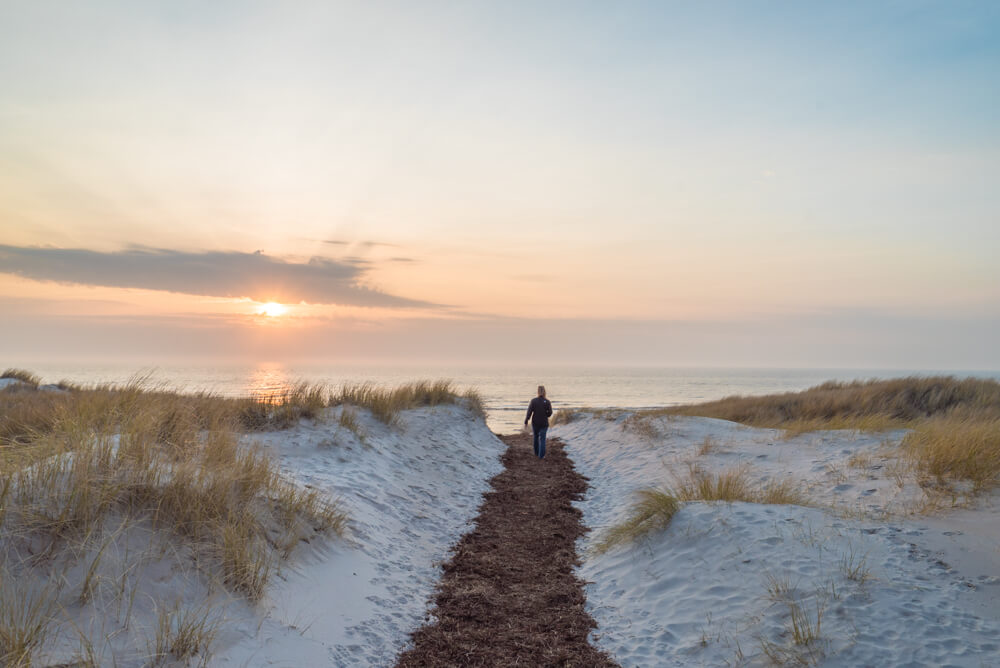 Just lovely
The best way that I can describe the week that I spent on Henne Strand is to say it was peaceful and relaxing (The Danish call it, Hygge), but I never felt bored.
Here are a few reasons why:
Cycling
I enjoyed running through the dunes and along the white sand beach, watching the sunset from the big windows in the beach house, and cycling along the many trails in the area.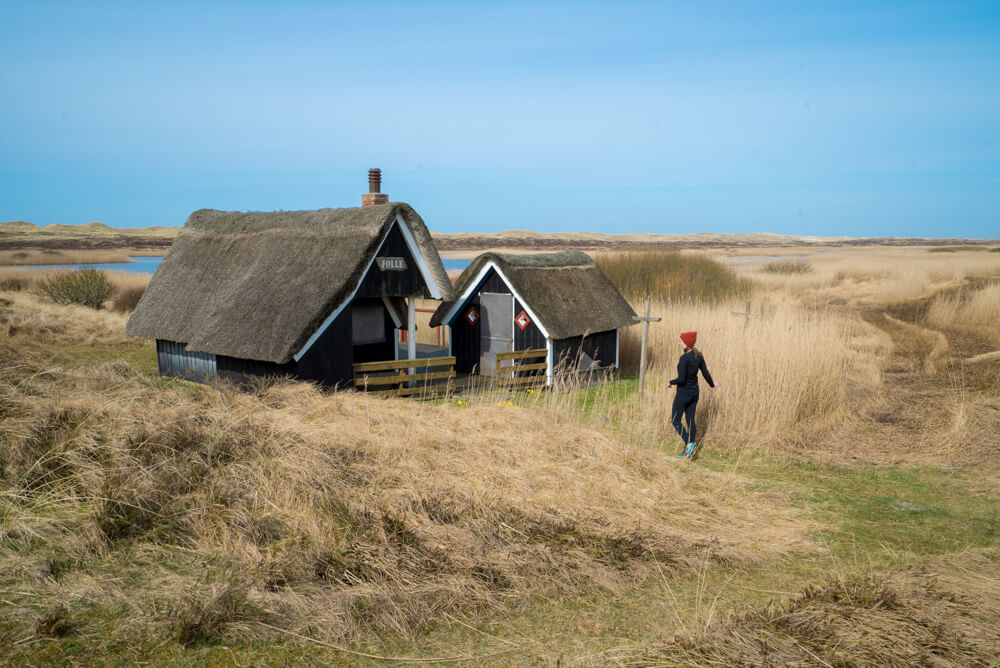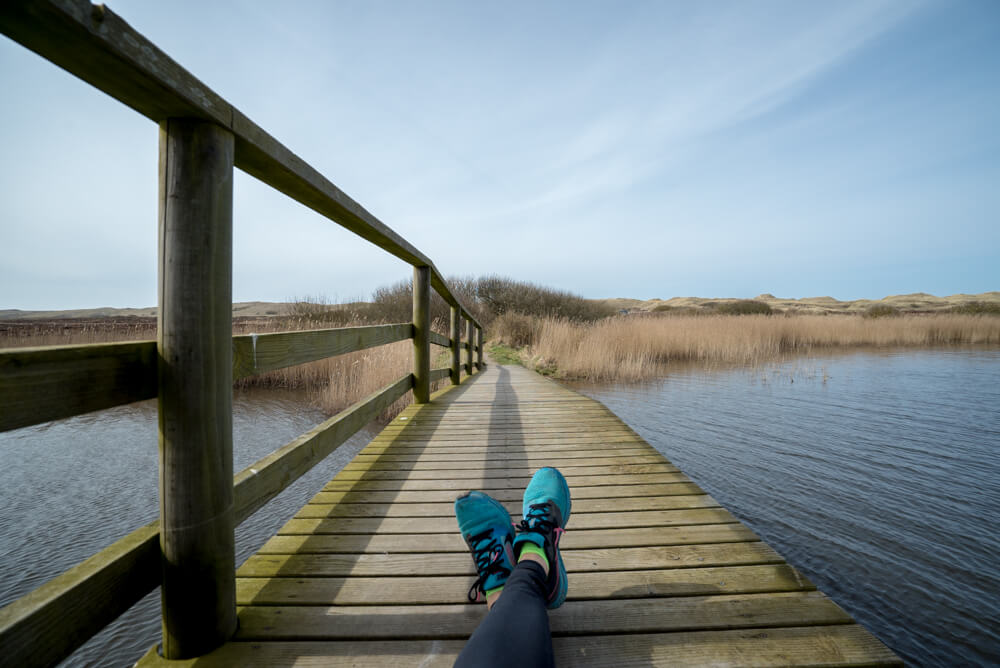 You can actually rent an electric bike in town next to Kobmand Hansen, so if you want to go even farther than you normally would, or some people in the group are more avid cyclers than the others, you can even out your pace by using the battery power on the bike or turning it off so that it runs like a regular bike.
It felt like I had bionic legs when I had it turned on, which I did for about half of the 29km bike ride from Henne strand, up to Blåbjergplantage and finishing in Nymindegab (say all of those 10 times fast).
It was fun, and I didn't have the worry about the wind picking up on my route back, because I knew I could, literally, power on through it.
If you'd like to cycle the same route, click here for a map.
Foodie adventures:
And since you're doing so much walking and cycling might as well sample the local delicacies as well, right?
To offset our bike ride, because it was a vacation after all, we stopped by the Farm Cafe for German cake: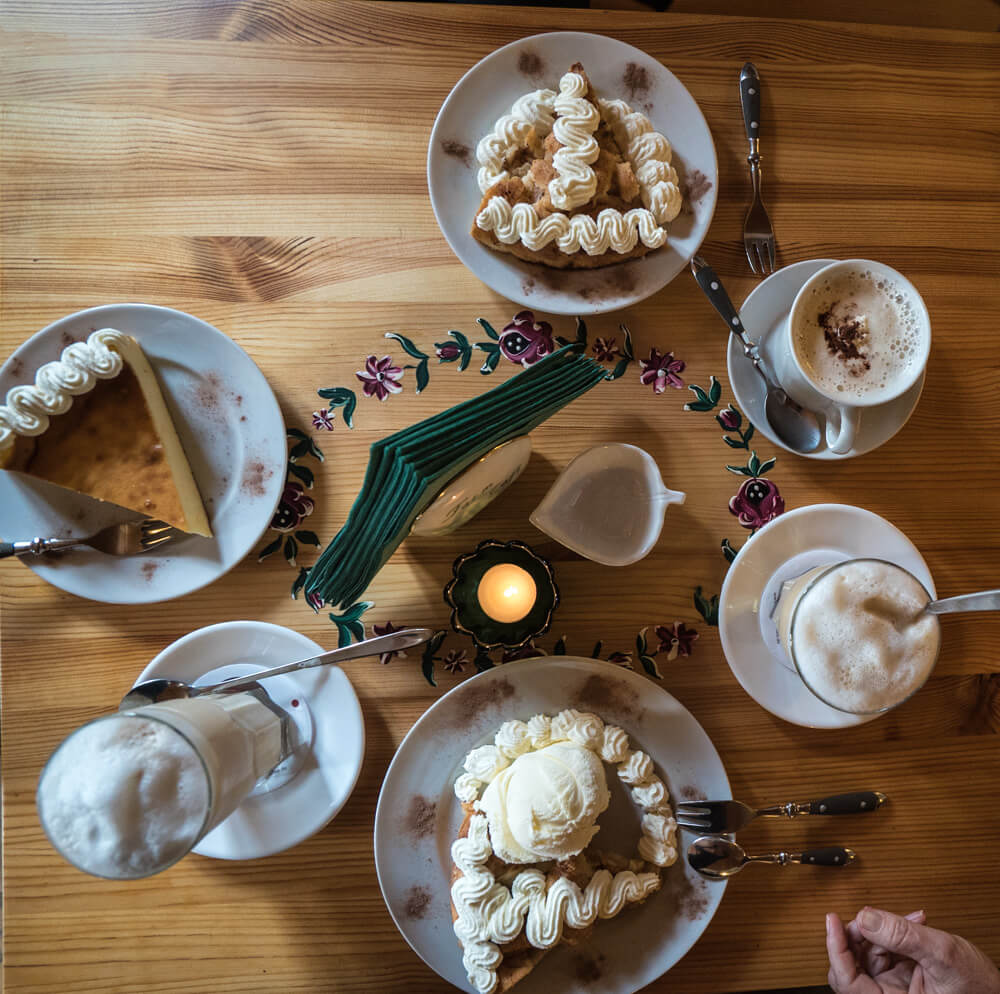 I highly recommend the Apfelkuchen (apple cake).
Equally important to savor – though you can easily stock up at the grocery store and cook for yourself at home – do at least stop by Hennemølle å Badehotel for a traditional Danish meal: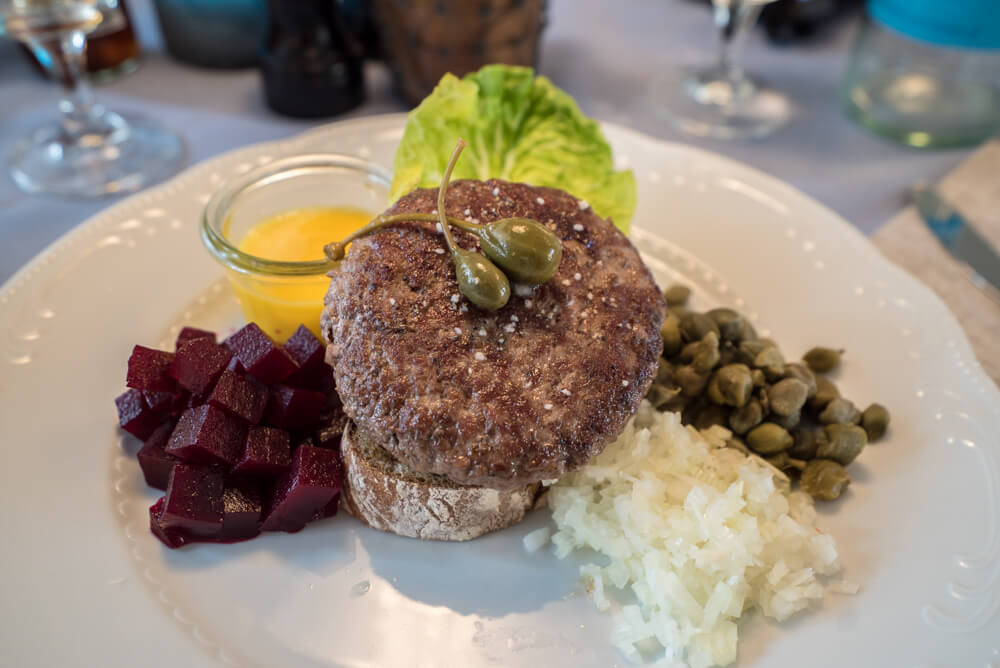 I left wondering how a burger without all of the fatty sauces, cheese, and bread could have been so delicious. It must have been the quality of the meat, the delicious beetroot that was perfectly spiced, and the saltiness of the capers. So much yum!
Spa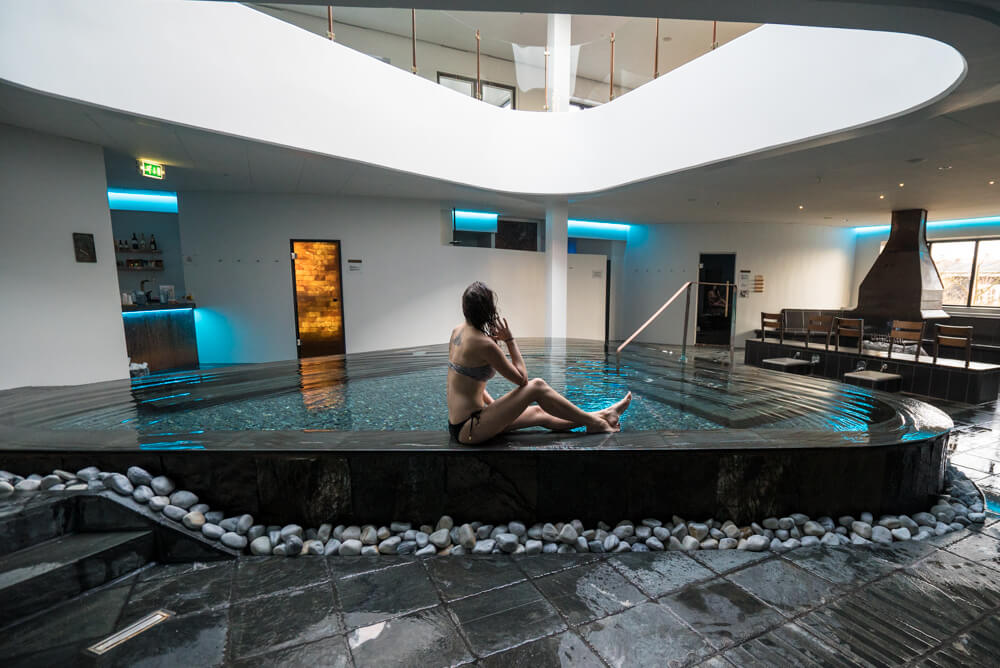 After cycling we popped into a spa nearby to relax in the grotto with changing colorful lights and water warming us up at a steaming 41°.
I'm a fan of alternating between hot and cold for my circulation, something I learned to love in Finland, which one can do there between the three different types of sauna, five pools of water at different temperatures, and my personal favorite, the pool that plays music when you dip your ears under the water.
Stay
The thing to do in Henne Strand is to rent a beach house. Most of them have enough space for 6-8 people, or more or less, depending on what you need.
Mom and I tried out two houses while we were there. You know, for research purposes.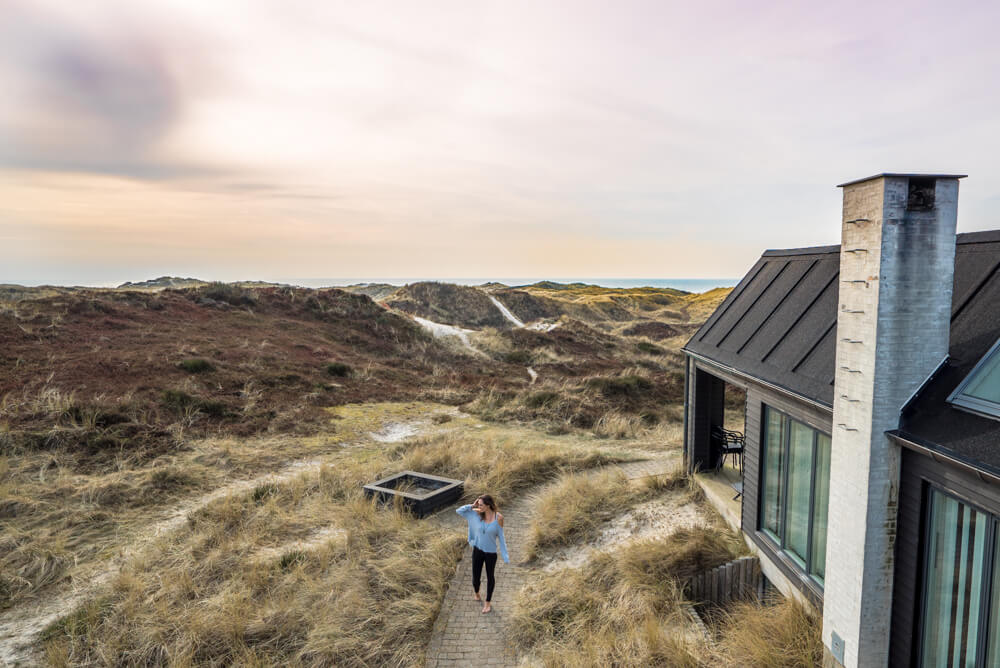 The first house we stayed is nestled in gorgeous dunes (as they all are) with a view of the sea from a little balcony on the roof. It has a porch and big windows to watch the sun as it makes its slow descent below the horizon. It's pictured above – Nr. 470 – Hjelmevej 66.
I loved the big kitchen, the play area downstairs with a pool table, and the sauna inside, which is often a feature in beach houses on the Danish coast.
The second one we stayed in had a super stylish design, room enough for 8, and it is actually a brand new construction, so we were the first to sleep there: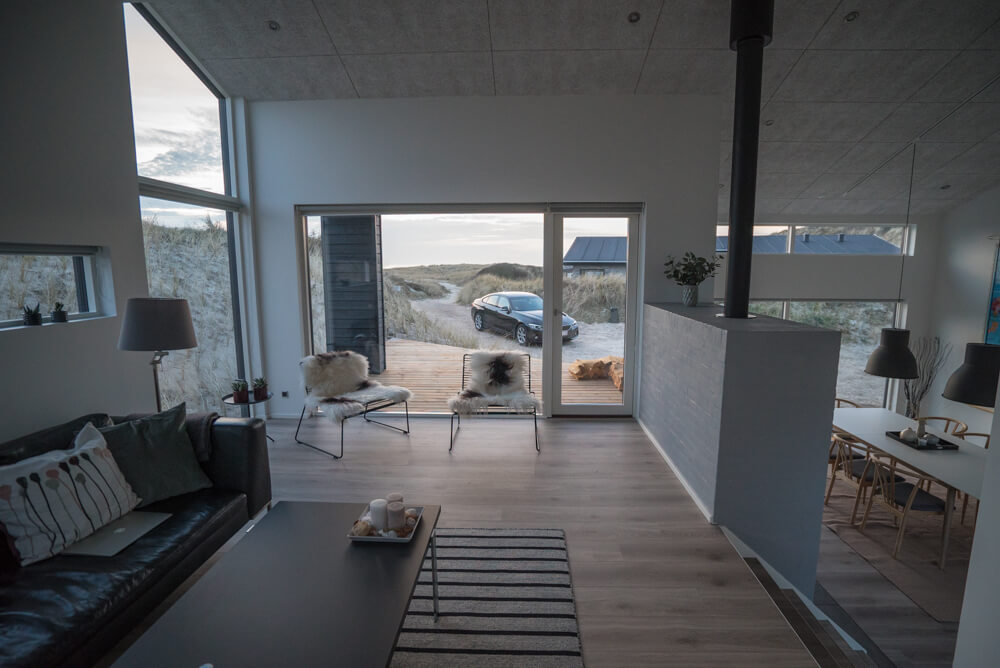 It had that touch of Hygge: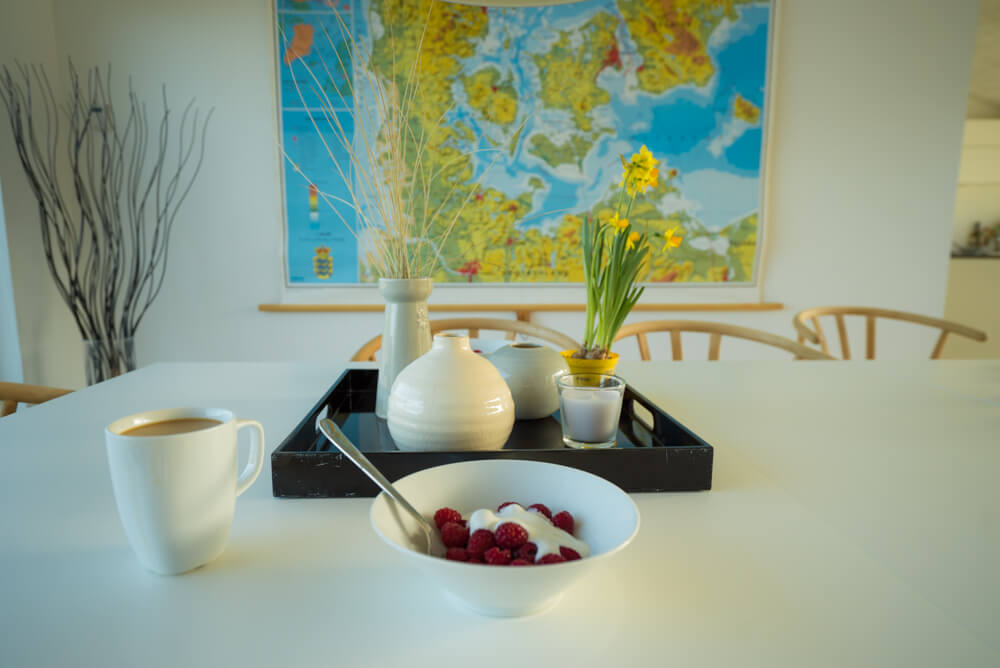 For options that range from €220+ during the low season to €600+ in the high season, contact Kobmand Hansen (yes, they can work with you in English), which has tons of rentals to choose from to suit your needs and group size. Both of the rentals featured in this article are their properties.
Getting there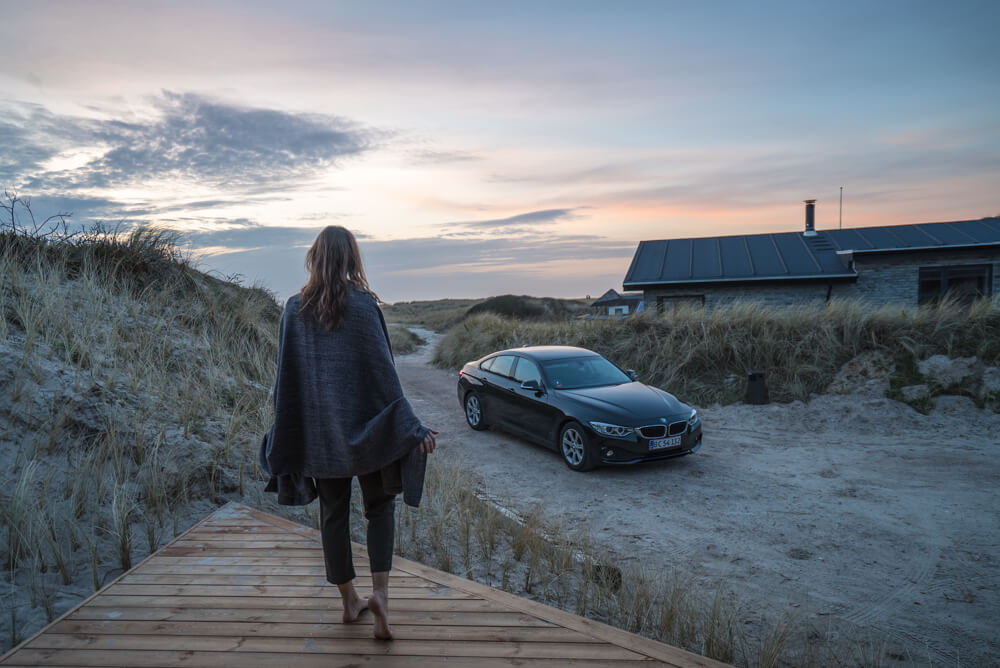 Henne Strand takes around 3 1/2 to 4 hours to reach from Copenhagen (click here for suggestions on where to stay in Copenhagen!). The best way to get there is to rent a car, which we did from the airport.
The roads in Denmark are good and most of the driving is done on the highway, so it's an easy journey and even without any Danish driving experience, I didn't run into any problems.
I was also shocked at how cheap the rental was, at only €100 for a five-day BMW! I found the price through EasyTerra, which was somehow about half the price of Expedia, my normal go-to.
Denmark, thanks for the hygge. It was a dreamy beach experience.
*This post was brought to you in collaboration with Kobmand Hansen, but opinions of the gorgeous dunes and the love I feel for this peaceful place are all my own.