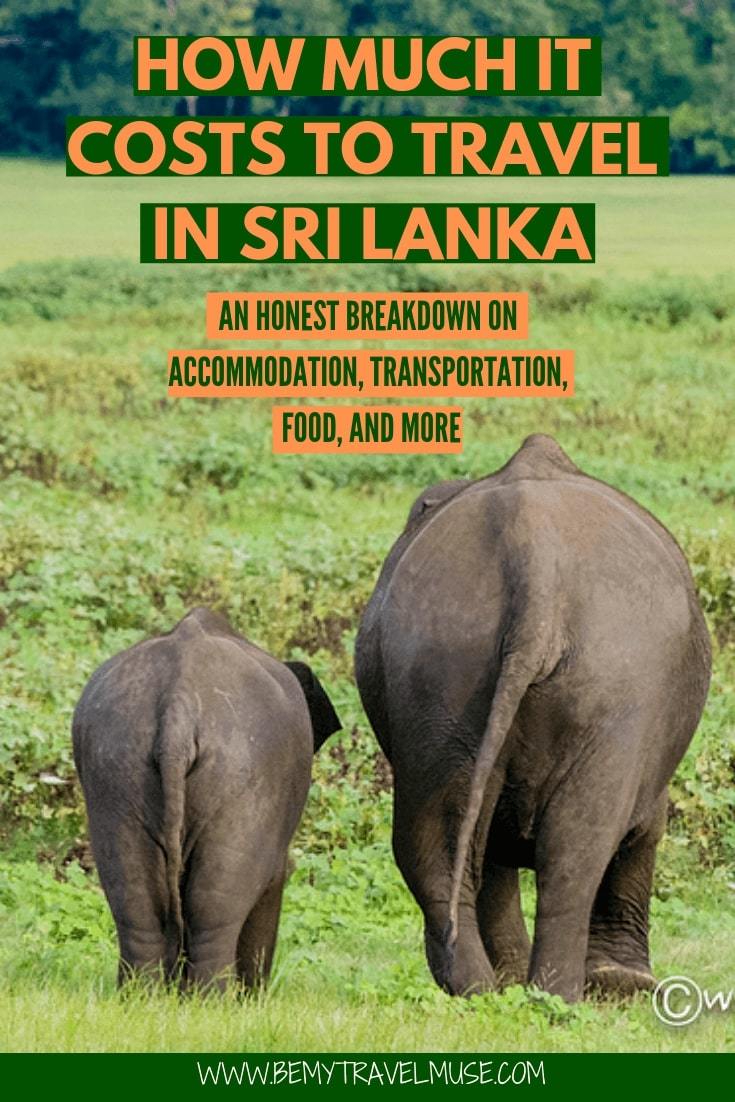 Sri Lanka is a truly gorgeous country near India with friendly people, sprawling jungles, tons of interesting wildlife, and endless beaches. I spent just shy of three weeks there and found it to be a perfectly feasible budget destination, with cheap transportation options, reasonable food costs, and decent room rates.
Like most countries, Sri Lanka can be seen on a backpacker budget, or one can spend a small fortune there. The biggest kicker was the price of activities, such as safaris, and admission into the UNESCO World Heritage sites. With each running about $40-$50 per ticket, this made Sri Lanka more expensive to fully explore. That said, skipping these activities would have meant missing out on a big reason why Sri Lanka is such a wonderful place to visit.
My daily average came out to $50/day.
This may come as a surprise since I spent about 8 months in Southeast Asia previously, averaging about $30/day and doing things as cheaply as possible. Part of that was out of necessity, but mostly, I just saw it as a personal challenge and I wanted to see if it was doable.
Now I know, and I'm simply not as willing to do things so cheaply these days. I tend to want my own room more, I want to stay in nicer places, I have been moving more quickly lately, which makes the costs add up, and just haven't been trying as hard to do everything on a shoestring budget.
That said, Sri Lanka can be done on closer to $30 per day on the days that you don't pay for expensive activities. Food, transport, and accommodation are relatively cheap.
Accommodation: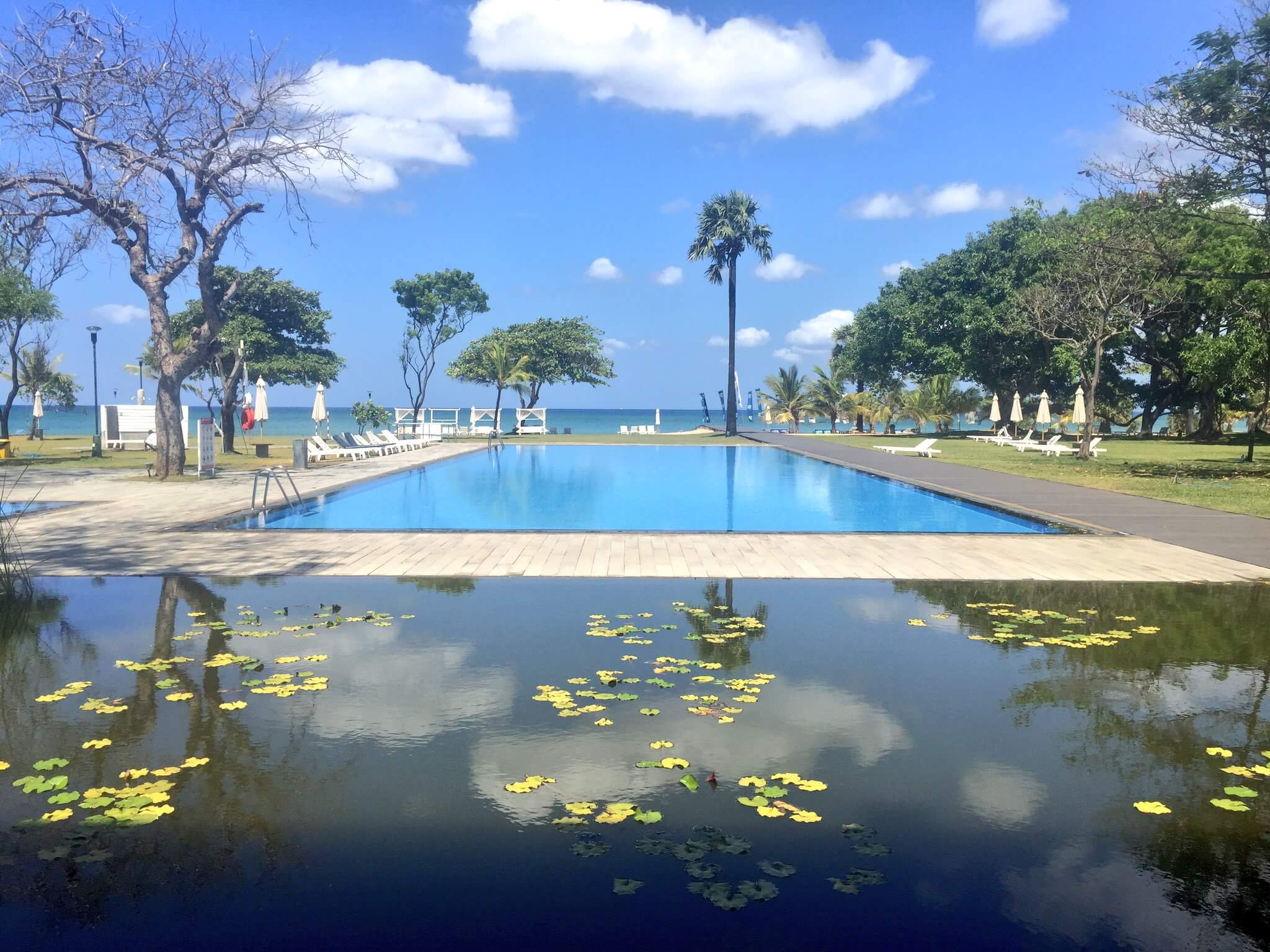 I didn't stay in any dorms while in Sri Lanka. Given I'm a solo traveler, this meant I had to book private rooms and shoulder the cost myself. I typically spent about $10-$15 per night on a room, but some nights spent a lot more wanting to stay somewhere nice. Budget accommodation was easier to find in the more touristy towns, such as Galle, than the lesser-visited places such as Dambulla.
Sri Lanka isn't as much of a backpacker destination, so the options are just not as plentiful as in, say, Thailand, where a $5 dorm room is easy to find, but you can definitely find hostels with reasonable price and great facilities in all major cities.
Hostels in Colombo: $6-$14 (book your hostel in Colombo here)
Hostels in Ella: $6 – $14 (book your hostel in Ella here)
Hostels in Galle: $8-$16 (book your hostel in Galle here)
Hostels in Arugam Bay: $7-$16 (book your hostel in Arugam Bay here)
If, like, me, you'd like to mix in a few nights of nicer accommodation, I recommend Amaya Beach Resort on Passikudah beach. and Trinco Blue in Trincomalee!
Transportation: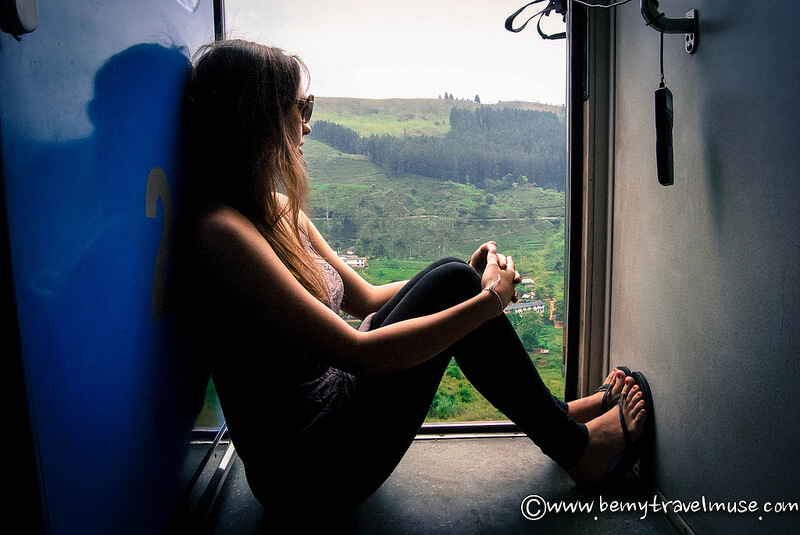 There are a lot of varying price options for transport. It's not atypical in Sri Lanka to hire a car and driver, which usually runs about $50 per day. The driver tends to sleep in the car, or your accommodation of choice will have sleeping quarters for the driver. He covers the associated costs though you tend to cover his food when he's on the clock. During my first week there, I split this with a friend who was on a much shorter trip. We explored the places the train doesn't access this way.
Otherwise, buses are a very cheap option at just a few dollars for a 6-hour ride, though they are typically packed until it's standing room only. People continue to pile into the point that they get very uncomfortable. I rarely came across one with air conditioning. Tickets are sold on board and buses leave when full.
Uber and PickMe are available in major cities – you can even order tuktuks via the apps. They are much cheaper than hailing a tuktuk off the road. A short distance ride can cost less than $0.30.
Taking the train was my personal favorite option. Pricing for the second-class cabin ran anywhere from $1.50 to $4 and was a real delight. These also sometimes run out of seats, though, meaning you may have to stand or sit on the floor.
Food and drink:
The food is delicious in Sri Lanka, but unfortunately, lunches are often a buffet that has been sitting out for a while. I was able to get around this by visiting roti stands around lunch time where the food was made fresh.
Typical lunches ran about $3-5, though it's somewhat common for a driver or tour guide to take you to much more expensive lunch places that run about $20. You simply have to say you're not interested in that type of place.
Beer was nice and cheap at around $2-$3 for a large bottle.
Cheap vs. Expensive places in Sri Lanka: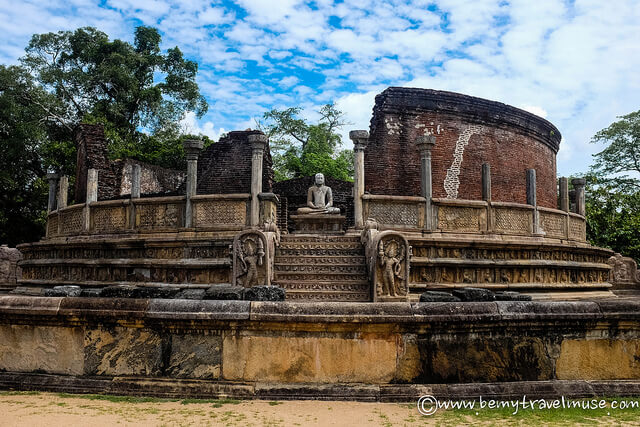 Dambulla was the most expensive simply because Polonnaruwa and Sigiriya Rock charged a rather ridiculous admission fee of around $30 each for a foreign visitor. Safaris in the area were also a bit steep at around $60 per person.
Galle, Ella, and Kandy were cheaper given they had more accommodation options and are easier to get around. Besides, most of the activities here involve visiting tea plantations or going on hikes, both of which are cheap or free.
Other incidentals:
I found that the accommodation ranging between $20 and $60 was actually no better than the rooms that cost more like $10-$15. There really didn't seem to be much reason to spend over $10 on a room in Sri Lanka, unless one stays at a luxury hotel or apartment for more like $90+.
SIM cards in Sri Lanka are nice and cheap running at about $18 for 10 gigs of 4G (on the Dialog network, which worked very well and can be purchased at the Colombo airport). Topping up only cost a few dollars as well.
Overall, Sri Lanka can be a cheap place to visit, but the cost of activities can really drive up the price. Missing out on the UNESCO sites and safaris would have really been unfortunate. Consider this when planning your trip!