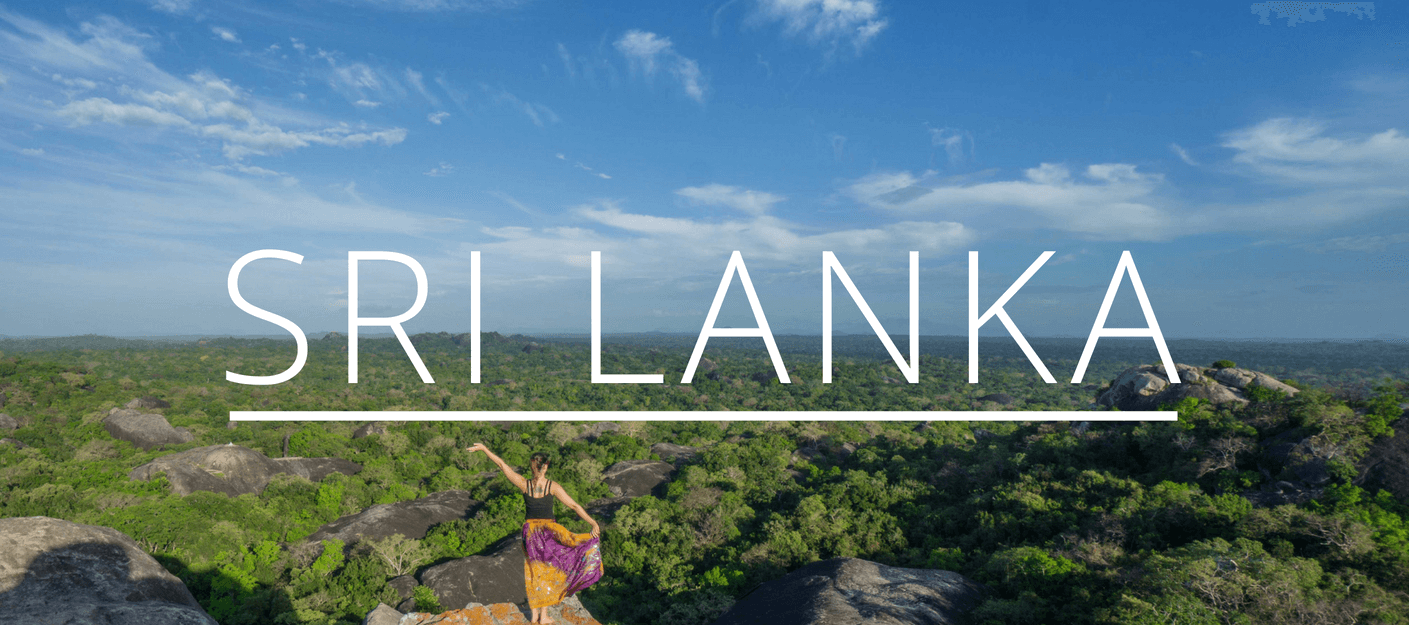 Despite the country's recent difficult past, the Sri Lanka of today is full of some of the friendliest locals I've ever come across anywhere. Just about every smile and wave hello was returned with a friendly smile back and a nod of the head.
Sri Lanka is affordable, the food is great, and the tea plantations, reminiscent of the English colonial rule, cascade through gorgeous mountains with waterfalls and purple flowers. The landscape rivals the best of any country I've been to, particularly the middle where riding the train for a mere $2-3 is an attraction in itself.
Safaris are a must-do in Sri Lanka for a chance to glimpse wild elephants, leopards, and all kinds of beautiful birds, including the national bird, the peacock. Couple that with beaches galore and the famous Cultural Triangle and Sri Lanka is a winning destination. Sri Lanka - go for the scenery, stay for the friendly vibes. Can you tell I loved it there?
Where in Sri Lanka?

Sri Lanka
Quick Tips
'Hello' and 'Thank You':

 "Ayubowan" and "Istuti" in Sinhala, and "Vanakkam" and "Nandri" in Tamil.

Currency:

 Sri Lankan Rupee (

click here

 

for current conversion rates)

Visa:

 30 day visa. Obtain an 

Electronic Travel Authorization

 

prior to departure

Safety rating:

Ranked 72 on the

Global Peace Index

 

with a score of 1.99 (USA is ranked 128 with a score of 2.40)

Solo Travel Friendliness:

While it is only recently that the 26 year Civil War ceased, tourism has bloomed quickly, and the locals embrace tourists with open hands. People are incredibly kind and friendly, I felt at home during both of my visits in 2013 and 2016. That said, pickpockets and snatch thieves are common in tourist areas so keep a close eye on your belongings.

Climate:

 Hot and humid year-round. The rainy season in the southwest lasts from May to September and in the northeast from October to January

Best SIM cards:

Dialog - cards can be purchased at the airport for cheap

Modesty Considerations:

Shoulders and knees should be covered especially when visiting the temples. Tattoos of Buddha are highly offensive so if you happen to have one, try not to have it exposed. Bikinis are allowed on the beach but cover up or at least wear a shawl when you enter a restaurant or the streets

Random useful tip:

 The language you use and best time of year to go depends on which part of the country you want to visit. If you want to see it all, aim for a shoulder season (September - November)
Accommodation
Budget Solo Travelers ($5 - $10): The first time I was in Nepal in 2013, finding a dorm was a challenge. Things have definitely changed since then, with affordable hostels on the rise especially in the popular areas like Galle. They are usually very basic but a clean bed with mosquito net and a working fan are sometimes all you need to have a good night's rest. On the beach, expect to pay around the same price range for a basic hut close to the water.
Mid Budget Solo Travelers ($15 - $30): Expect to pay around $15 - $20 for a basic private room with air-conditioning. Guesthouses that are usually family-run and cost around $20 - $30 and usually come with good home-cooked food. Airbnbs are increasingly popular, with a private room starting at $10, and an entire unit starting at $30.
Other Accommodation Options: In Dambulla, I was able to experience a unique hotel that resembles a jungle domicile with cave drawings on the outside, a little house in front done in the traditional style with hand prints and chalk drawings, and that made me felt like I was transported to Sri Lanka's past. It costs around $100, but can easily be shared by two or even three people.
Food
Local Food ($1 - $5): Sri Lankan food is delicious, cheap, and somewhat similar to Indian cuisine. Expect to find rice and curry as the staples, fruit and vegetables filled up most of your plates, and tons of spices thrown in the pots. Remember to tell the chef your spiciness endurance level! While tourists are usually provided with cutlery, I highly recommend taking the when in Rome approach – the locals boast that eating with fingers (right hand only) make the food taste even better. Breakfast can cost as low as $1 - $2; lunch and dinner cost about $3 - $5.
Restaurant ($5 - $8): The locals rarely eat at restaurants, so most sit-down restaurants cater only to tourists. This means that the menu may be adjusted slightly. They are altogether not that common in Sri Lanka, so you are most likely to find restaurants within your hostels or guesthouses. If you hire a driver for a day, you may be taken to restaurants that run about $20 so advise him/her that you want the local experience. Choices are fairly limited to what you can find from food stalls and markets, only with better quality ingredients and hygiene than some local restaurants where the food sits out for much of the day. Beer runs about $3 for a bottle.
Transportation
Getting There: Sri Lanka has 2 official airports: Bandaranaike International Airport, north of Colombo, and Mattala Rajapaksa International Airport. The former is more popular and you are more likely to land on the former. Many budget airlines fly to Sri Lanka on a daily basis.
Getting Around Town: Motor taxis are widely available in most parts of the country. Hiring a car and driver for the day costs about $20 - $50, and the ones that I've encountered were fun and honest. It's a great way to get around the country if you're on a time crunch and can split with a few others. Uber is available in major cities, and a ride from the city center to the airport only cost about $5. Bikes are available for hire in most tourist towns and you can easily find one through your hostel or the rental shops. However, fuel in Sri Lanka is expensive and would add to your costs significantly. It may sometime make more sense to take a taxi instead.
Inter-city Traveling: Buses are a very cheap option at just a few dollars for a 6-hour ride, though they are typically packed until it's standing room only. I rarely came across one with air conditioning. Tickets are sold on board and busses leave when full. The trains are also cheap and convenient, with a second-class cabin ran from $1.5 - $4. This is my favorite method of traveling in Sri Lanka! However, these also sometimes run out of seats, meaning you may have to stand or sit on the floor. This may be fine for some but if you want to make sure to get a seat, book first or second class tickets in advance.
Things to Do
Take the Train: This was my favourite Sri Lanka memory. It may sound crazy but the best seat is the doorway, where you get a front-row view of the tea plantations, waterfalls, running brooks, and misty clouds as the train crawls through them. It is also very cheap, with tickets available at $1 - $4. Taking the train, in my opinion, is less of a traveling method and more of a Sri Lankan experience on its own.
Relax at Arugam Bay: Situated on the East Coast of Sri Lanka, Arugam Bay is the perfect little hippie town, full of surfers, backpackers, and locals. Chill at one of the beach bars, spend an entire day reading in a hammock, go surfing, go swimming. Life on the Arugam Bay is simple and beautiful.
Stay in a Resort on Passikudah Beach or Trincomalee: For a more luxurious experience, book into one of the beautiful resorts on Passikudah Beach or Trincomalee. Both offer really gorgeous beaches and excellent view underwater.
See the Animals of Sri Lanka at Yala National Park: It is the most-visited wildlife preserve in Sri Lanka.  Located in the southern part of the country, it's home to scores of members of the animal kingdom. Every few minutes a new creature flew, bounded, crawled, or ran by. Everything from wild boars, to elephants, to big cats and even bigger lizards make Yala their home.
Spend a Day with Wild Elephants: Sri Lanka's endless jungle that stretches miles and miles in all directions is the perfect sanctuary to the amazing Sri Lankan wild elephants. Go to Minneriya National Park near Dambulla in the cultural triangle, and you could possibly be surrounded by more than 200 wild elephants eating, mating, playing in the water, and generally doing elephant-y things.
Visit the UNCESCO sites of Sri Lanka: In Polonnaruwa, you will see Buddha statues and carvings dated back as far as the 13th century. Then there was Sigiriya Rock, one of the most famous cultural icons that can be seen on much of Sri Lanka's tourism posters and billboards. Rising 200 meters out of the jungle, it was an impressive place to build an ancient kingdom.
Watch the Sunrise on Adam's Peak: Adam's peak (or Sri Prada) is so-named because it is believed that Adam's footprint rests at the top, if you ask a Muslim or Christian, that is.  If you ask a Buddhist, it is most certainly the Buddha's footprint and if you ask a Hindu, it belongs to Shiva. The 50000-stair climb will lead you to one of the most beautiful sunrises Asia has to offer. The hike is a bit of a challenge but trust me when I say it's well worth it!
Sri Lanka on @BeMyTravelMuse's Instagram