Are Mott & Bow jeans worth buying? Are they comfortable, versatile, and, most importantly: are they good for traveling?
I decided to give Mott & Bow's jeans and shirts a try, and put them to the test by stretching, jumping, climbing rocks, and even subjecting them to the ultimate snag. Here's what I found: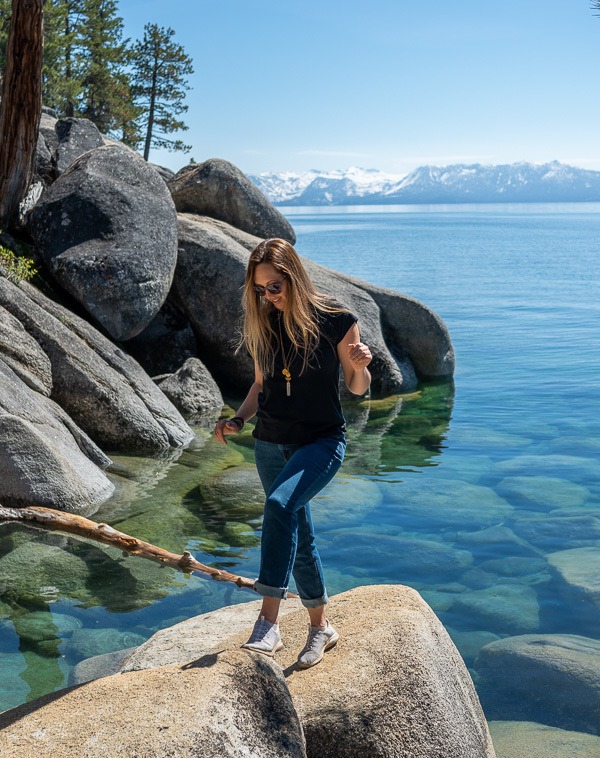 Last month, Mott & Bow reached out and asked me to test their jeans.
"Are you sure you want to ask me to do that?" I asked.
I haven't worn jeans in years. Honestly, YEARS. I typically think of them as leg prison since they can be so stiff, take forever to dry on the road, and don't even get me started on the waistline gape when one bends over.
But maybe jeans could be redeemed? I agreed to give them a try. Here's what I got:
I'm 5'8, currently weigh 150 lbs, am 10 months postpartum, and fit a size 30×30 with some room, or a 28×30 for a snugger fit (for when I feel like accentuating that booty, ya know?).
Mott & Bow conveniently offers a try-on program, which allows you to try multiple sizes and send back what doesn't work, for free.
The Deal with Mott & Bow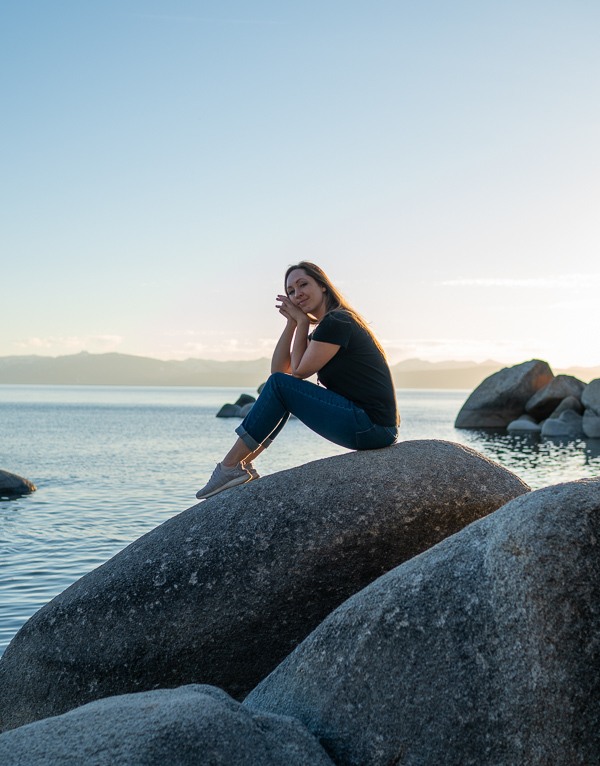 Why pick this denim over any other brand? What makes them different?
The quality and the price point.
Mott & Bow's offering is premium jeans at a reasonable price point. It's true – comparable jeans usually cost about twice the price.
Each pair is unique as well, made according to Mott & Bow's Denim Science. The jeans go through a resin application process, followed by hand scraping to replicate the distress of normal use, pinning and tying to create subtle contrasts, and washing and drying, in some cases with actual pumice rock for stone-washed jeans.
The company was founded by Alejandro Chahin, whose family started a denim manufacturing company in Honduras over 30 years ago. After moving to fashion-forward New York, he saw a gap in the market between quality and affordability, and set out to make the perfect jeans.
Mott & Bow's Boyfriend Jeans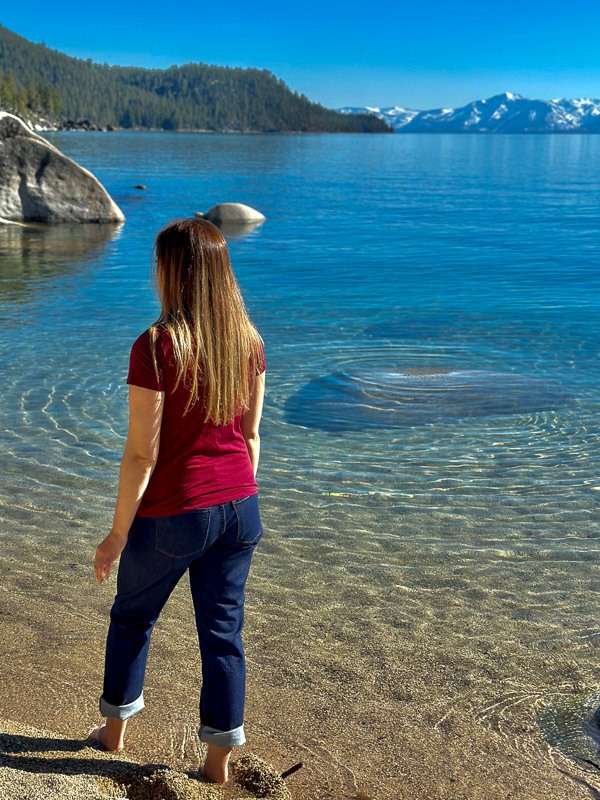 I tested out two types of boyfriend jeans – the Laight (left) and the Charlton (right). The Laight is a medium-weight jean with a substantial fabric that offers traditional denim feel with a touch of stretch for comfort, and the Charlton is made from hemp, which is more sustainable and is naturally antibacterial and antifungal!
The color and the fit of the Charlton were my favorite, though both were comfortable and — very importantly — not restrictively tight.
I put on the Charlton jeans for most of the day at home, bending over and picking up my son, prepping for the evening out, in the 45-minute car ride to the lake, and for the hike down to the water.
My biggest surprise was the comfort. I actually liked them more than my Lululemon leggings for lake days. They were more comfortable, did better on the trees and abrasive granite rocks of Tahoe, and never felt as restrictive as leggings can.
I liked the way they looked as well: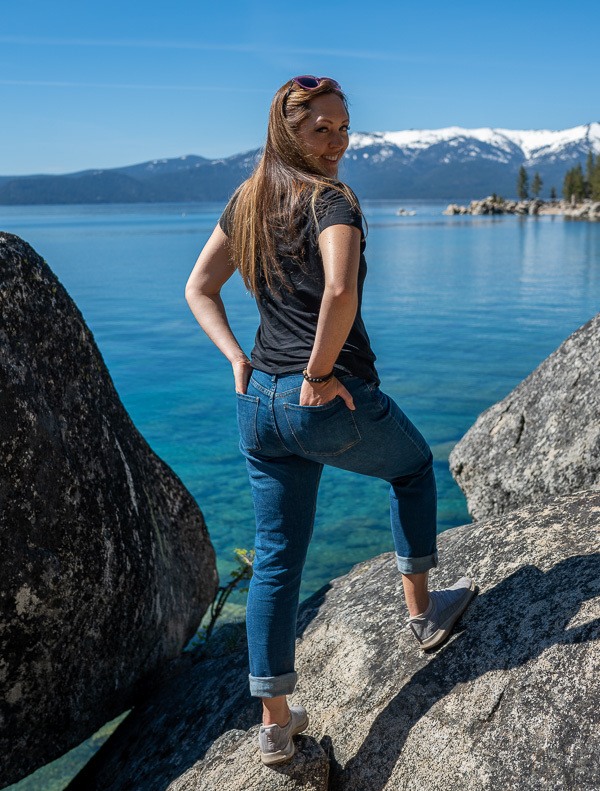 Since it's been so long since I last wore jeans, I haven't had the pleasure of wearing high-rise or boyfriend cuts. Both are so much better than the ultra tight, low rise jeans I was used to.
The looser look and feel of the boyfriend cut makes it a great adventuring jean, with room to climb and hike. The look can be versatile, as well, with the legs long enough to be left as-is, or rolled up to create a cuff, like I did.
They also did well with the rocks, not snagging or tearing, which supports the quality mission statement of Mott & Bow.
High Rise Skinny Jeans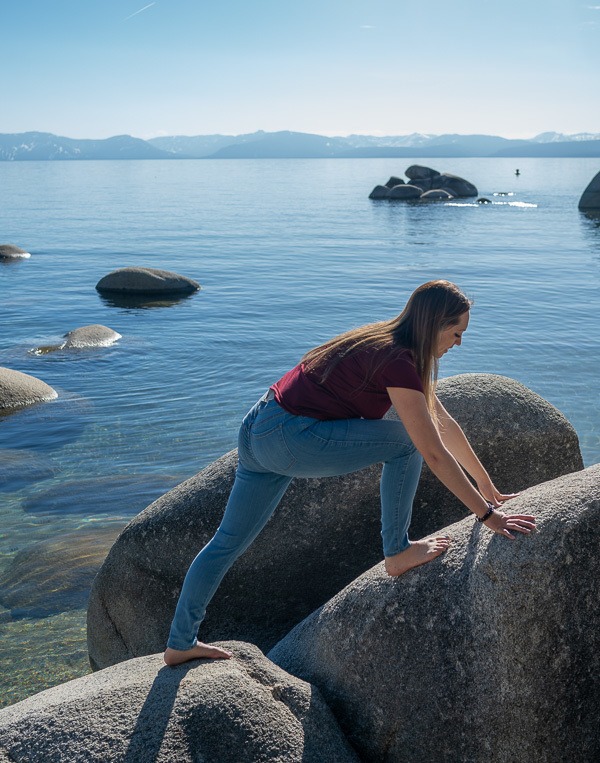 When I saw the skinny jeans, I immediately thought, 'no', those will never fit nor be flattering on my postpartum body.
But upon trying the Jane on, I saw that they could, in fact, be flattering. They could even be MORE flattering than a romper or leggings, which can sometimes accentuate the things I don't want accentuated, and flatten the butt area. Nobody wants that.
The Janes are Mott & Bow's original best-sellers with a medium-weight power stretch jean that provides a curve-hugging compression for a flattering and comfortable fit. They boast a 45% stretch.
So I put them to the stretch test, bending all the way over, climbing rocks, and hoping I didn't see the dreaded waistband gape, which I did not. They have the comfort and stretch of leggings while looking a lot better, and are a statement piece on their own.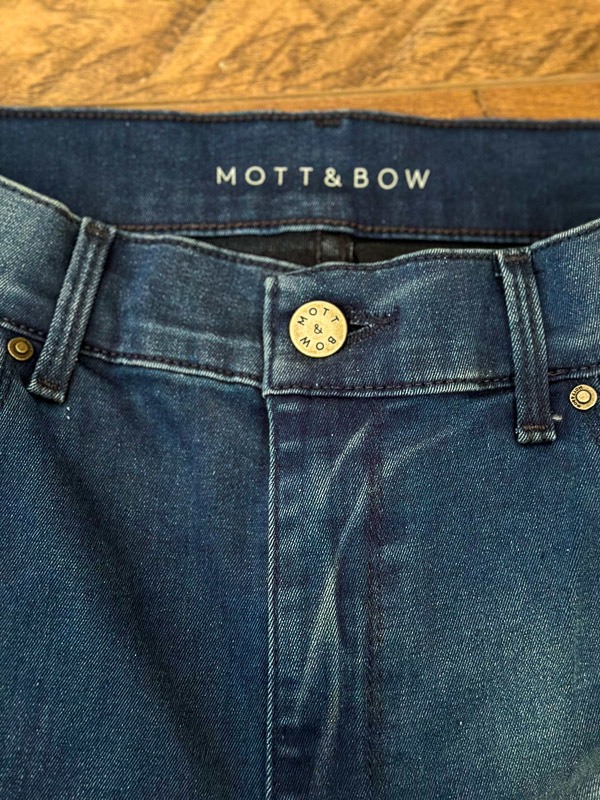 Between the two styles, I would wear the boyfriend cut for outdoors adventures, beach bonfires, and sunset hikes, and would bring the high-rise slim jeans on a trip to Europe where I could dress them up or down. They retain their shape well and could pair with sneakers, boots, or even heels. Plus, they dry easily for jeans, making them a good travel pair.
Fitted Crew Marcy Tees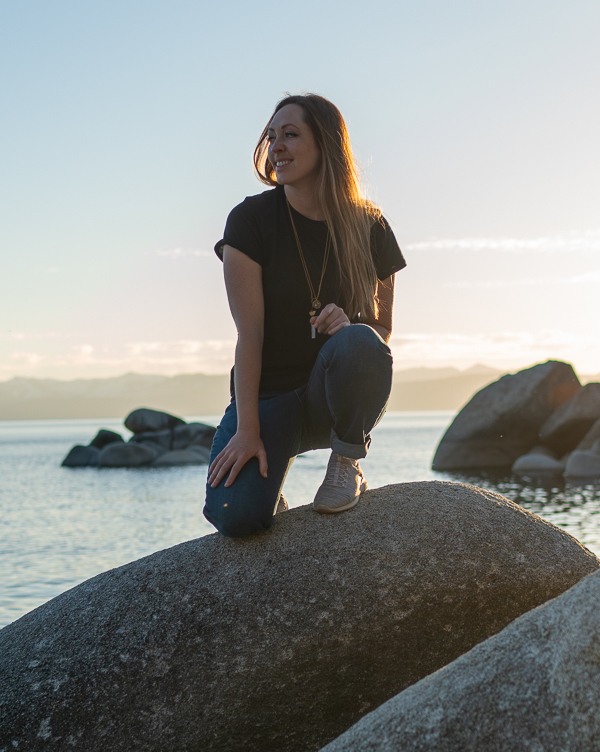 How about the shirts? I tested the Fitted Crew Marcy Tees in both a Medium and Large size. They're pre-shrunk, lightweight, and made from a 50% pima cotton and 50% modal blend.*
The large (black) was obviously a bit looser, with more of a 'boyfriend' fit, and the medium (crimson), was a slimmer fit, but still loose enough to be comfortable.
I've been wearing them with jeans as well as under overalls, with jammies at home, and tucked into shorts. The three colors (black, red, and crimson) are closet staples that are quite soft while also giving some breathing room.
Final Thoughts on Mott & Bow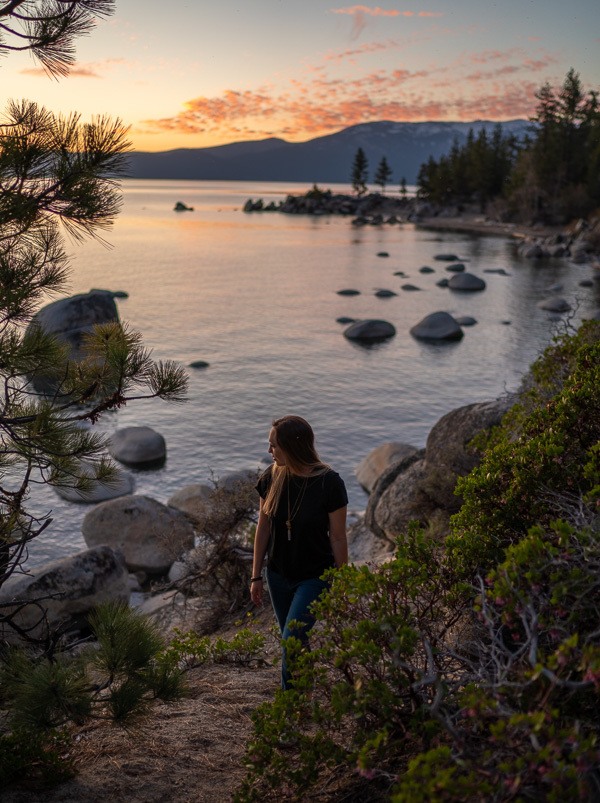 As someone who historically has not been a jeans fan, I'm impressed by how comfortable and versatile these manage to be. After swearing them off for a long time, and welcoming these jeans into my wardrobe, you'll definitely see me rocking them more on upcoming trips.
The versatility, comfort, chic look, and playful styling possibilities opens up a whole new world of effortless style that I'm in for!
*This post was brought to you in collaboration with Mott & Bow. All thoughts on styling and butt accentuation are my own!