This post was written by Ashley Yap, BMTM's Malaysia-based writer.
A trip to Bhutan is a once-in-a-lifetime experience. The beauty of the kingdom lies in its rawness, and one needs to see it to believe it.
Here is how I spent one week traveling through Thimphu, Punakha, Paro, and the Tiger's Nest, and some tips on planning your own Bhutan itinerary:
Bhutan Day 1: Land in Paro, Transfer to Thimphu, Dinner with Locals
We departed from Bangkok at 5am, and landed in Paro at 7:15am. The flight took a little over three hours (Bhutan is one hour behind Bangkok), and I was glad to have booked a seat on the left side of the aircraft, because this view was the best welcome to the kingdom: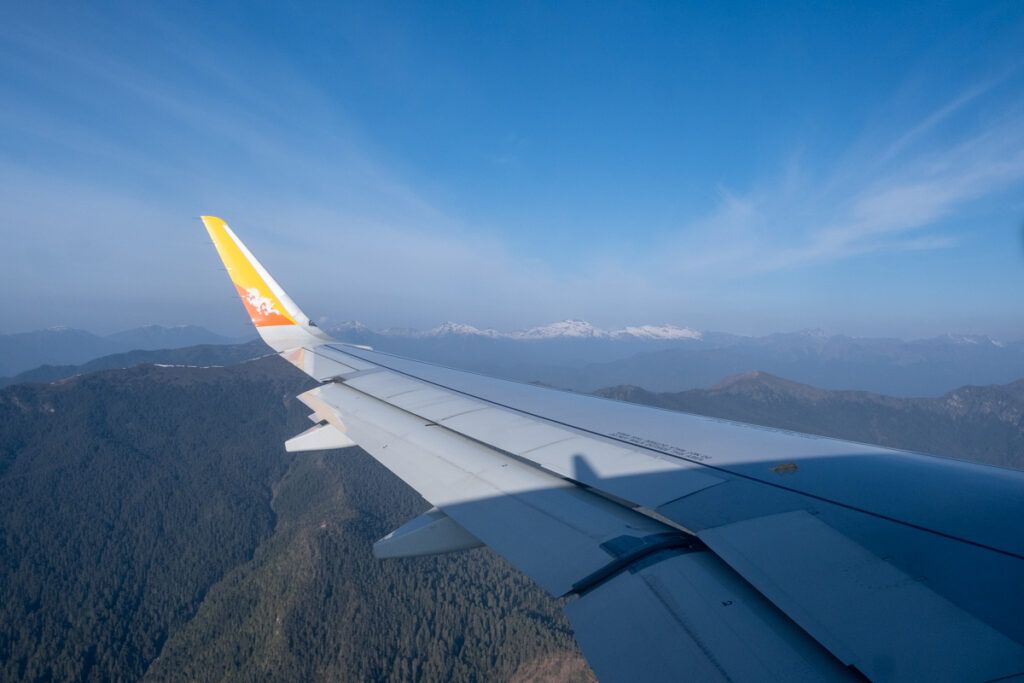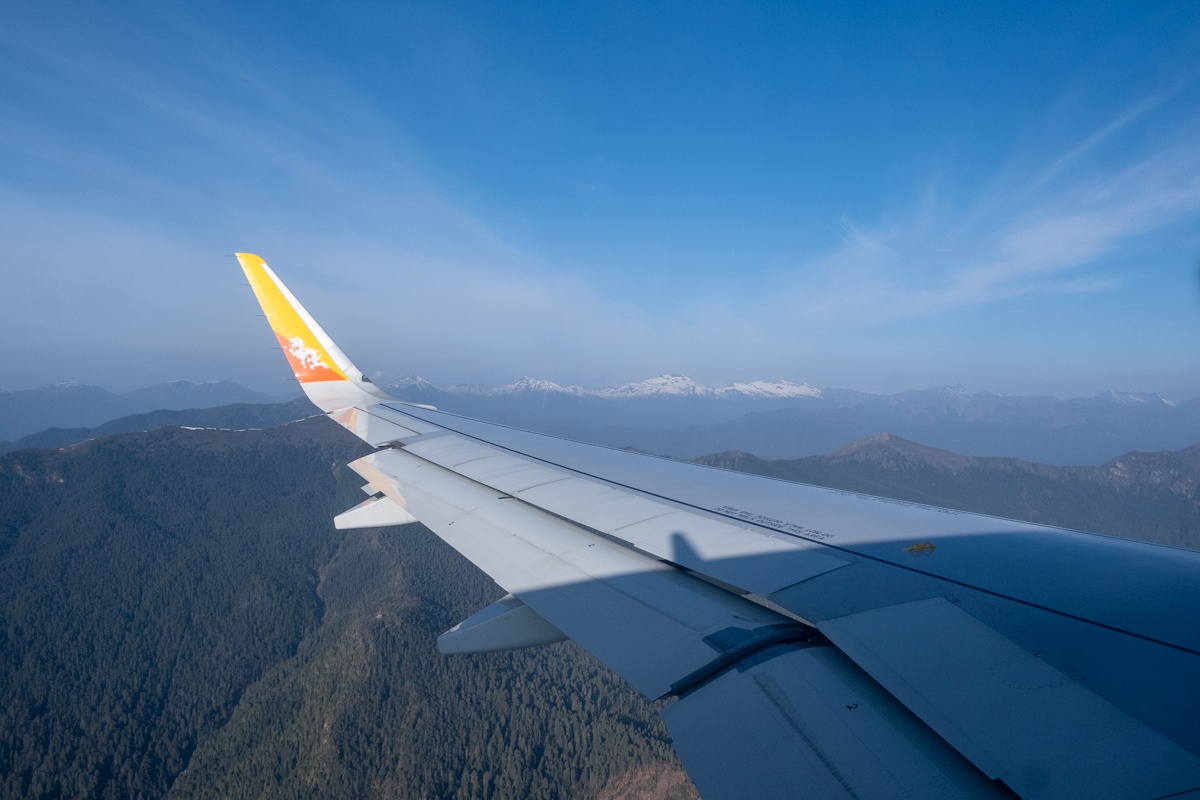 The landing was exhilarating — after all, Paro International Airport has one of the toughest landings in the world.
We got some local currency (Bhutanese ngultrum) at the airport before meeting our tour guide, Nima, and driver, Phuentso. They greeted us with a khata, which is a white fabric scarf that conveys well wishes and respect. We also drank ara (at 8 in the morning, no less!), a locally brewed wine from Palang, in a wooden wine container. I love that we had such an interesting start to our trip!
We drove for an hour to the capital, Thimphu, and checked into our first hotel, The Pema. After a quick refresh and lunch, we made our way to Takin Preserve, where we saw Bhutan's national animal, a takin (TAH-keen), which resembles a goat and a cow. A large area of the forest is gated to protect this extremely rare mammal.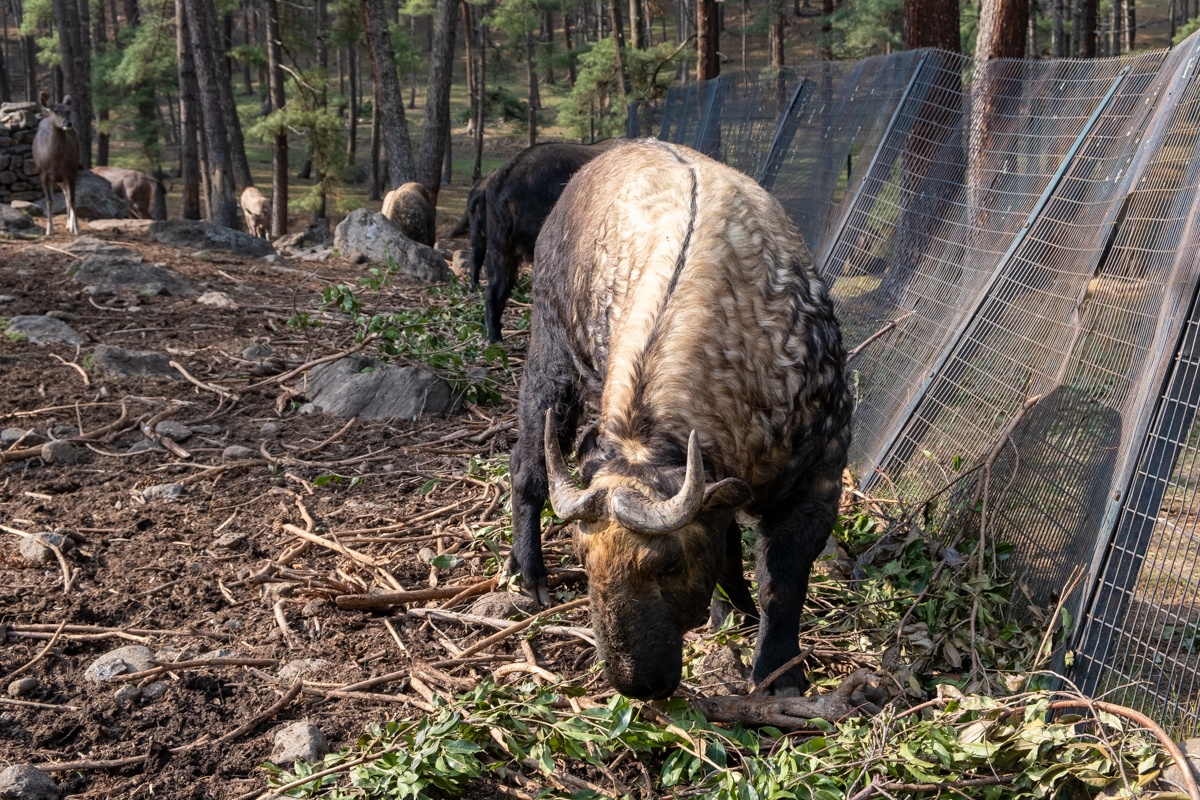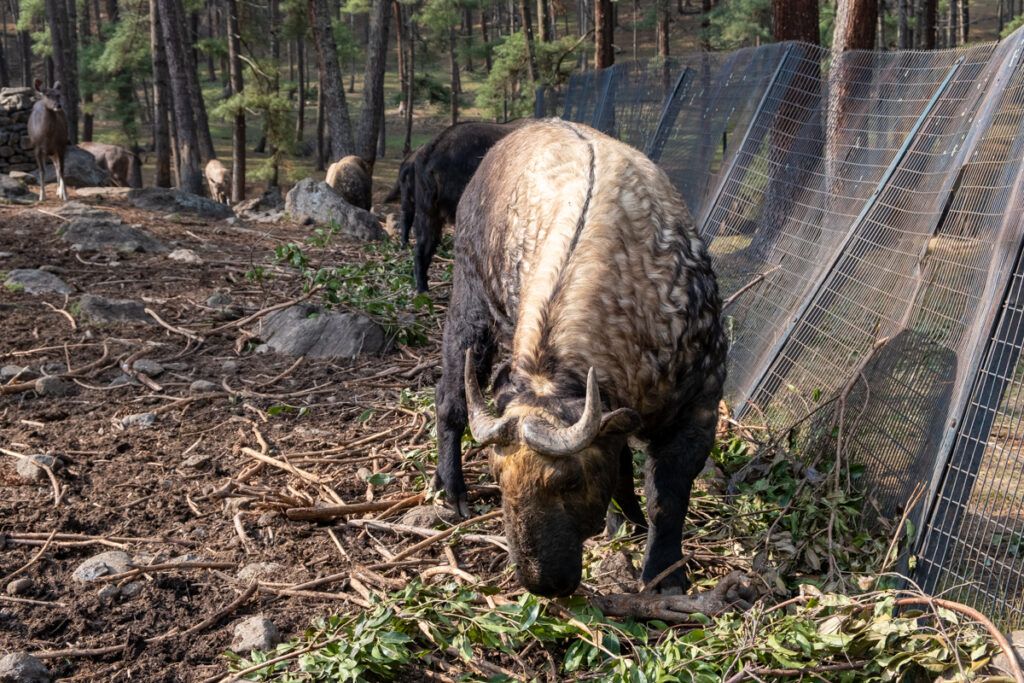 Next, we visited a farmers market, where incenses, spices, yak's cheese, fresh vegetables, and fruits were for sale. Nearby, there is a craft bazaar where you can buy yak fur and wool products.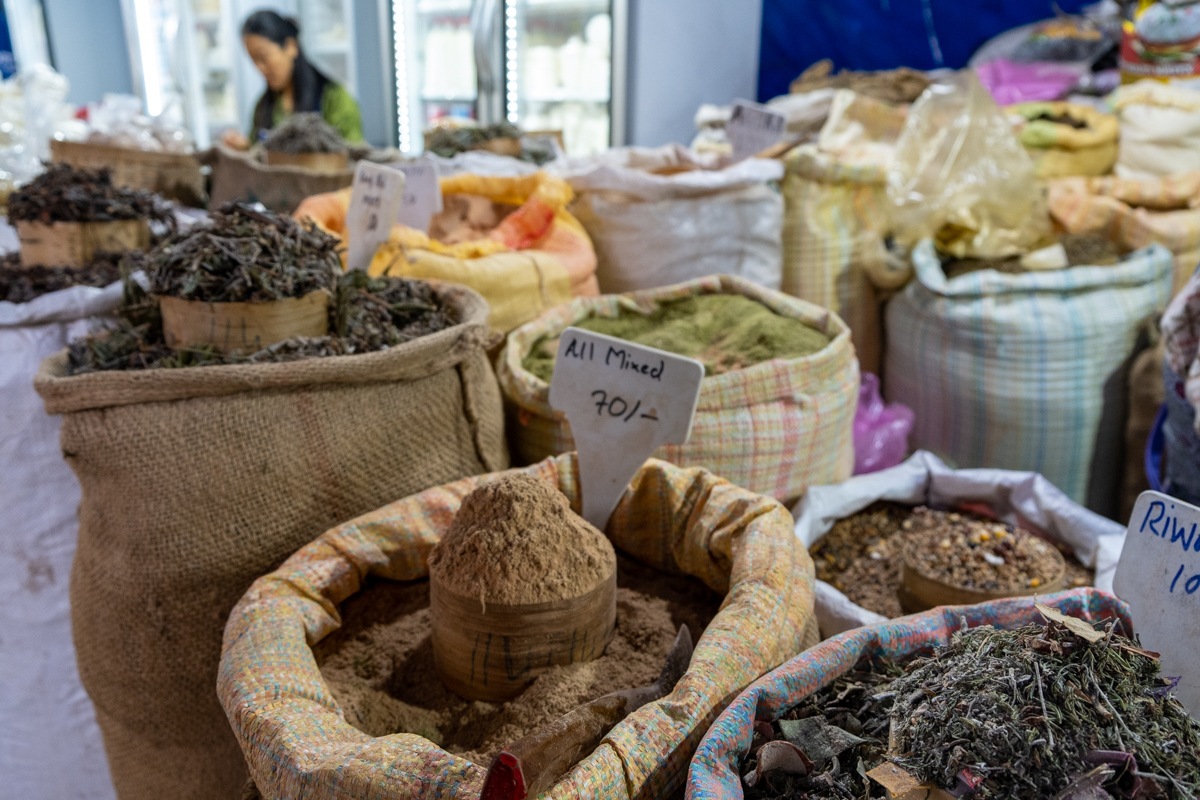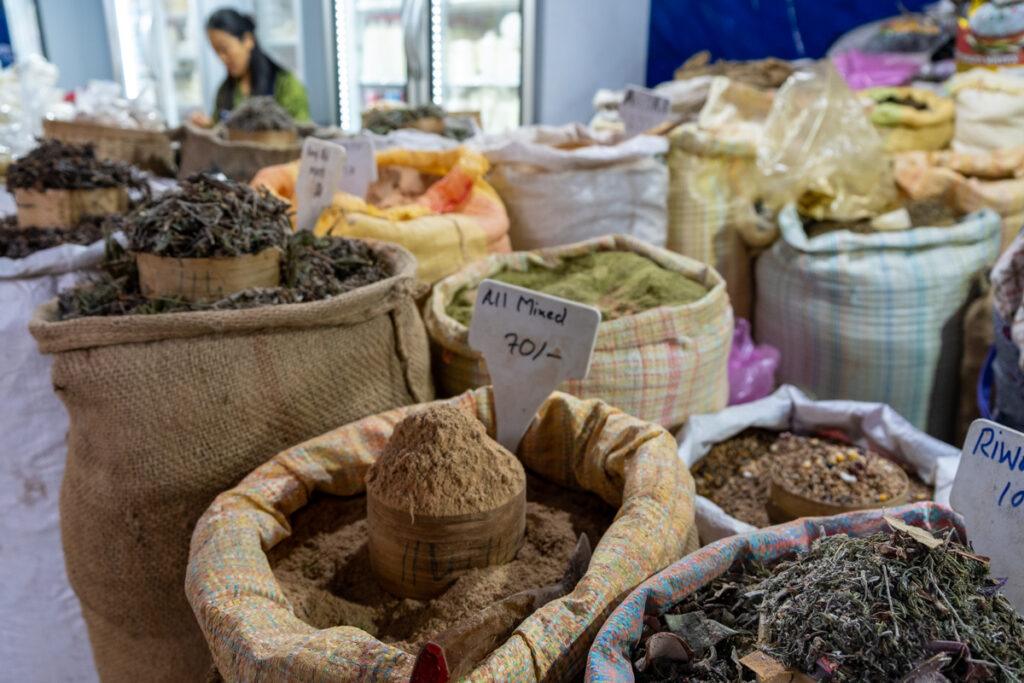 Thimphu is a small and lovely place, and we spent some time strolling and watching locals playing archery. It's an impressive sport loved by all Bhutanese, in which men shoot at a target over a hundred meters away with traditional hunting bows. They sing and dance each time the target is hit, and a bright color cloth is put around the shooter's waist as a reward, as shown below: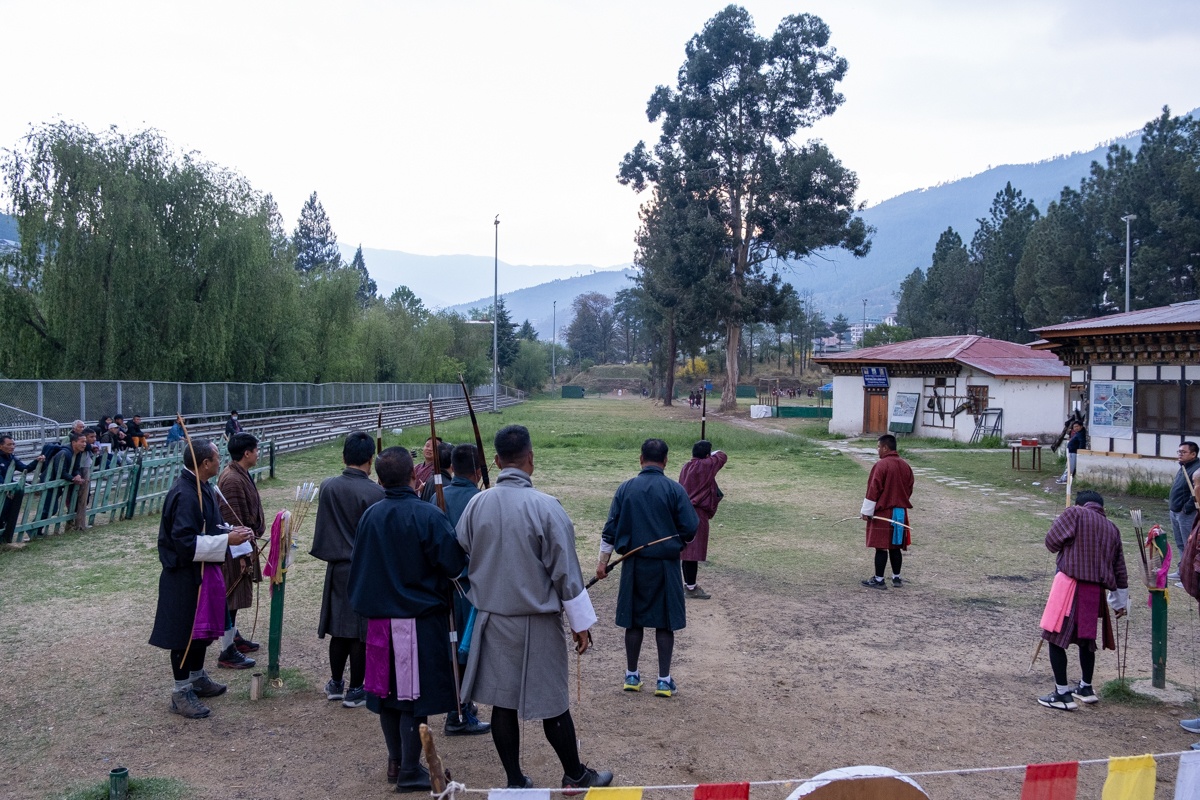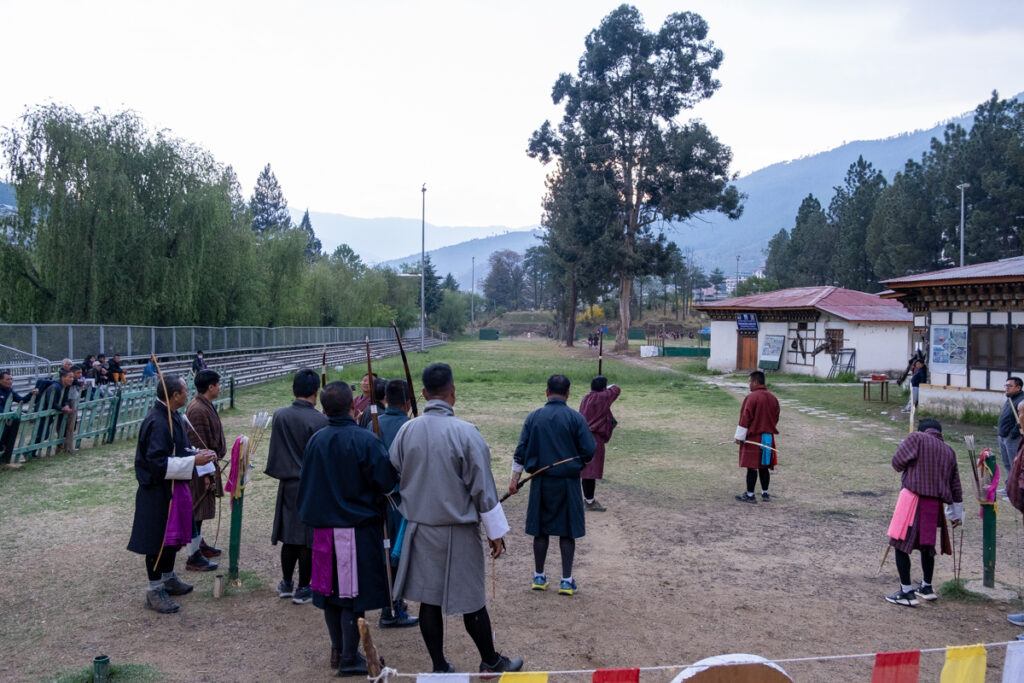 The founder of our tour operator, Kinley, generously invited us over to his home for dinner. This is something he tries to do with guests who are interested in interacting with locals, a very unique feature other tour operators do not offer.
It was a lovely night with authentic, delicious Bhutanese food, and amazing conversations with residents from different backgrounds. I even got to meet a published author who is also a top blogger there, who gave me his new book.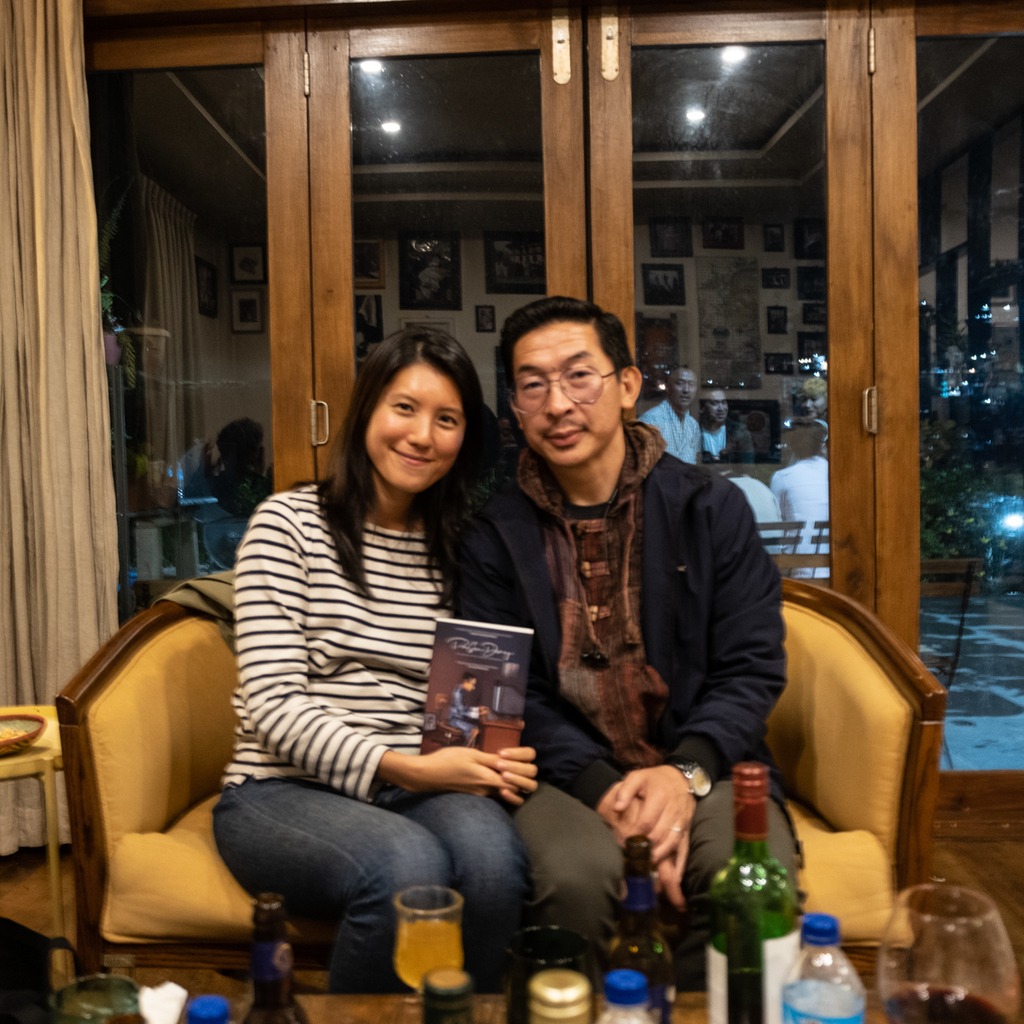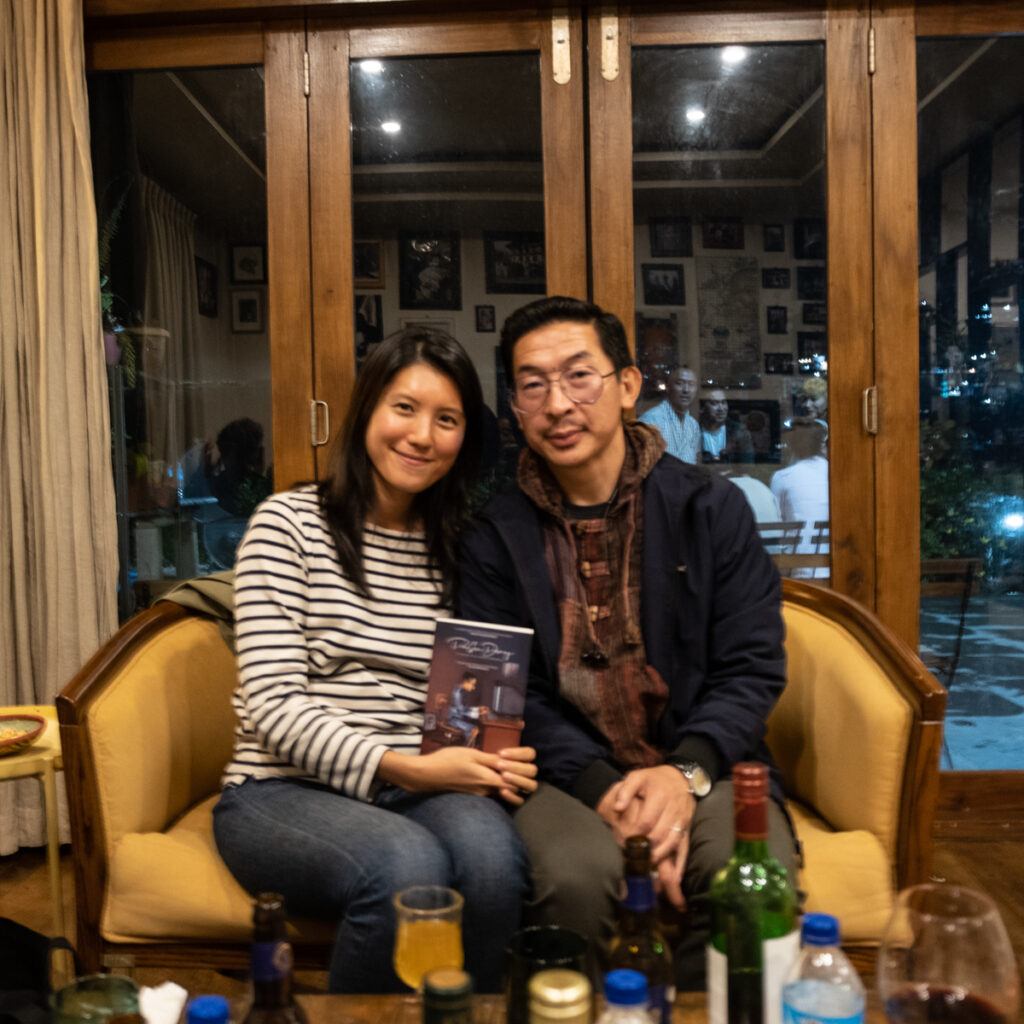 Bhutan Day 2: Transfer to Punakha, Lungchutse Hike (Dochula Pass), Chimi Lhakhang
We started the day with a meditation class with a local instructor. After breakfast, we checked out of the Pema and drove to Lungchutse to begin our first hike of the trip, from Trashigang Goemba to the Dochula Pass.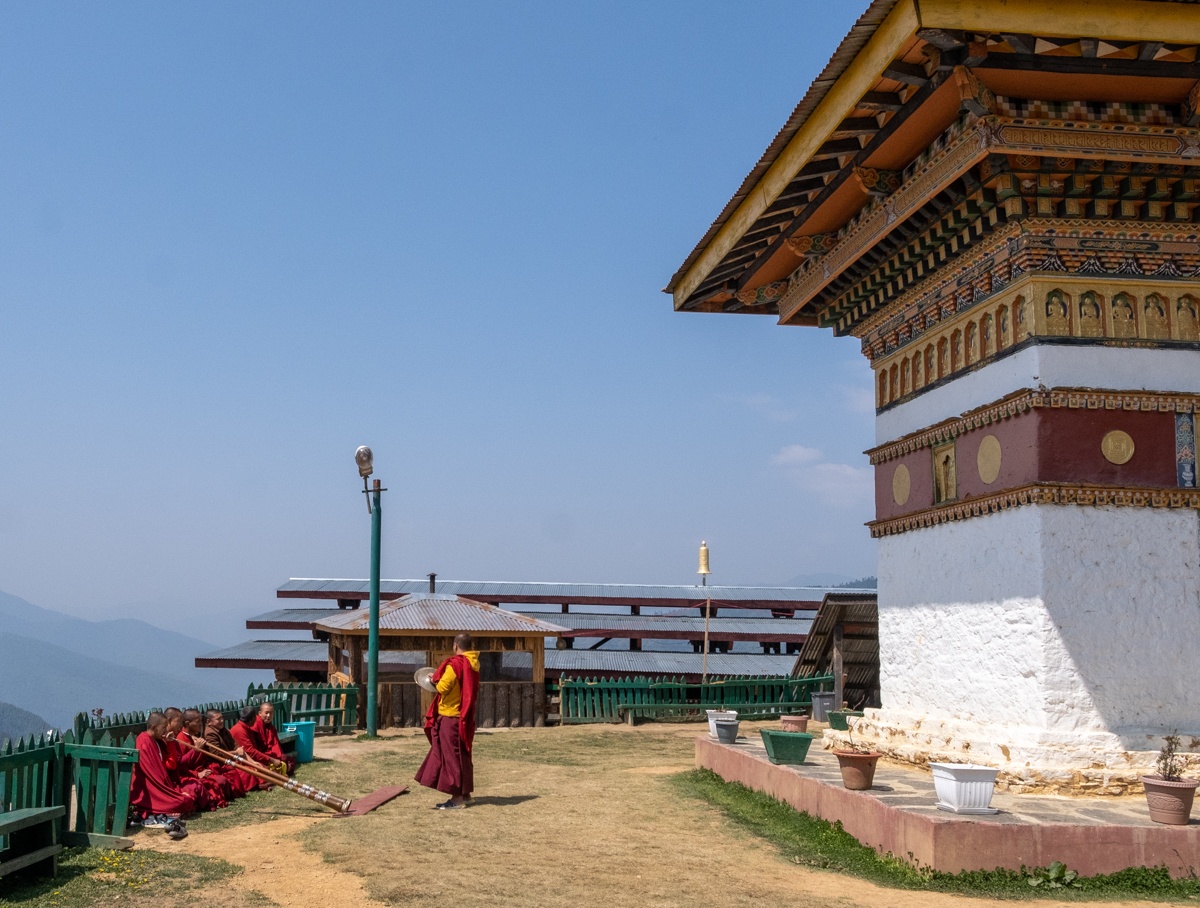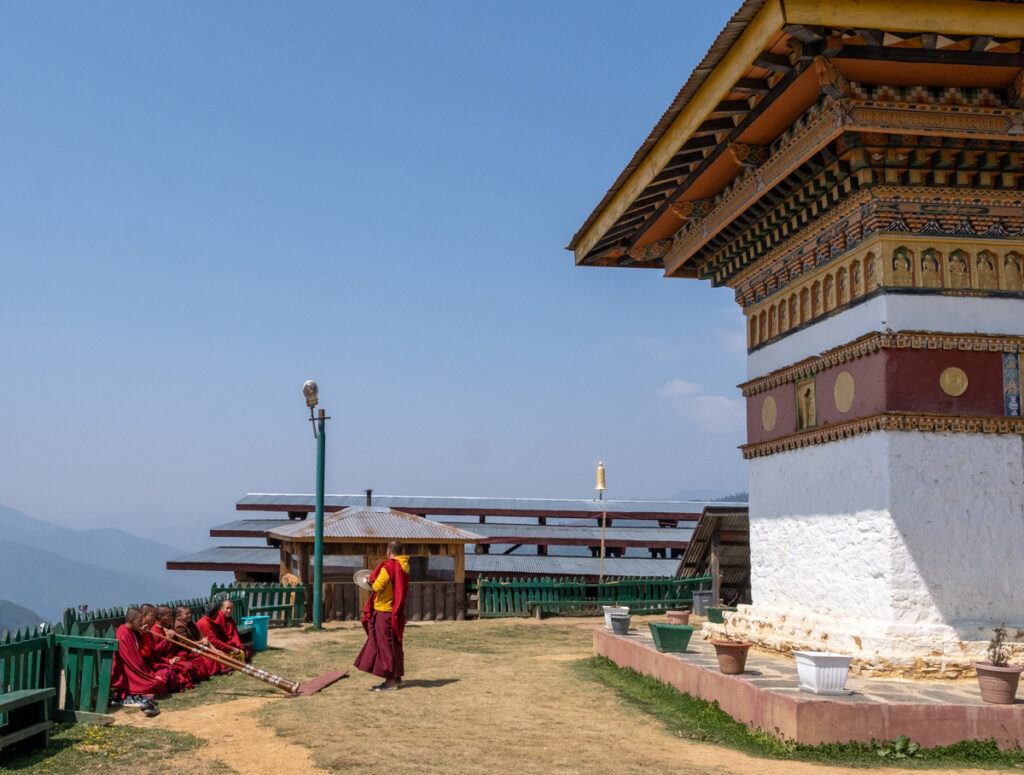 This was such a clever arrangement by our guide, as we got to enjoy two different hiking paths and get accustomed to the elevation. We later saw that many other tour operators parked their car at the Dochula Pass and took their guests on an out-and-back hike, or just skipped the hike altogether. I am glad we got to enjoy Lungchutse without any other tourists.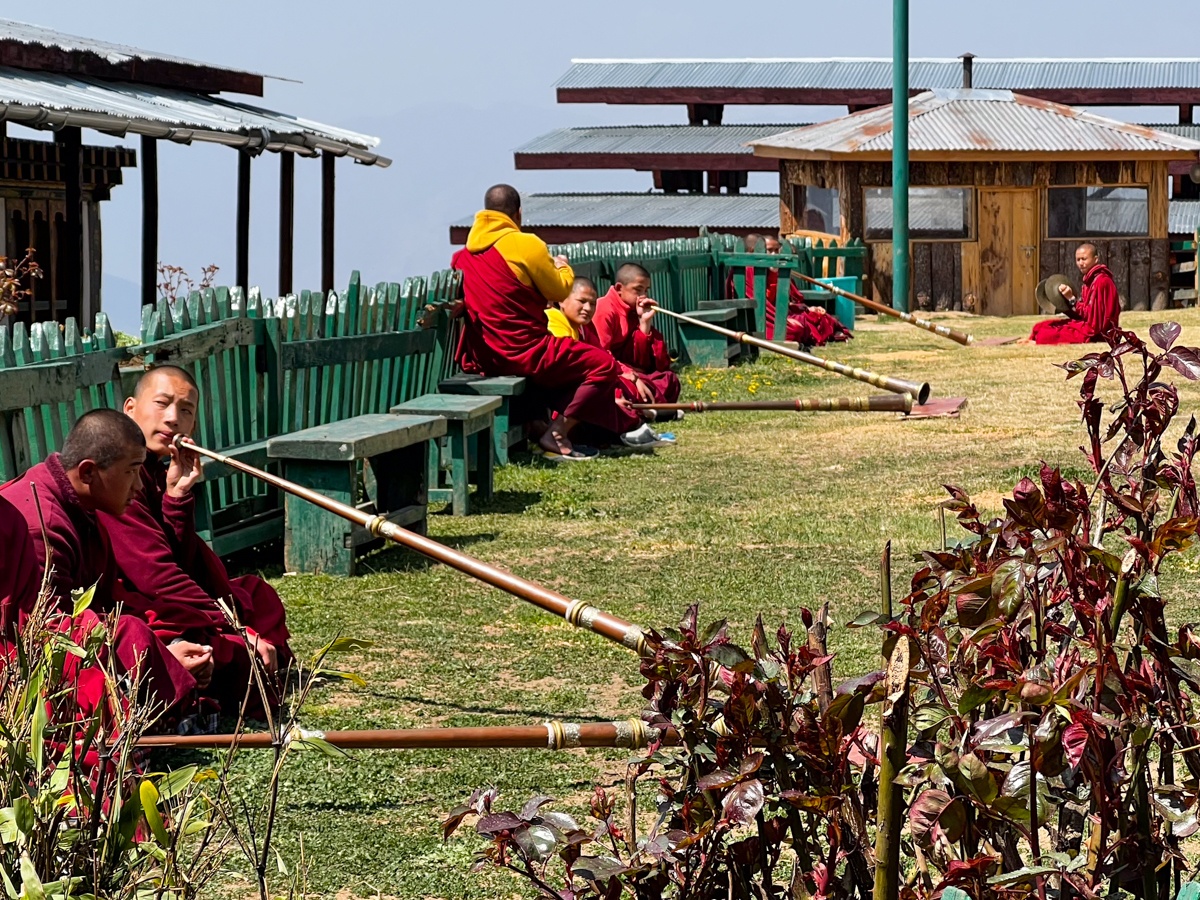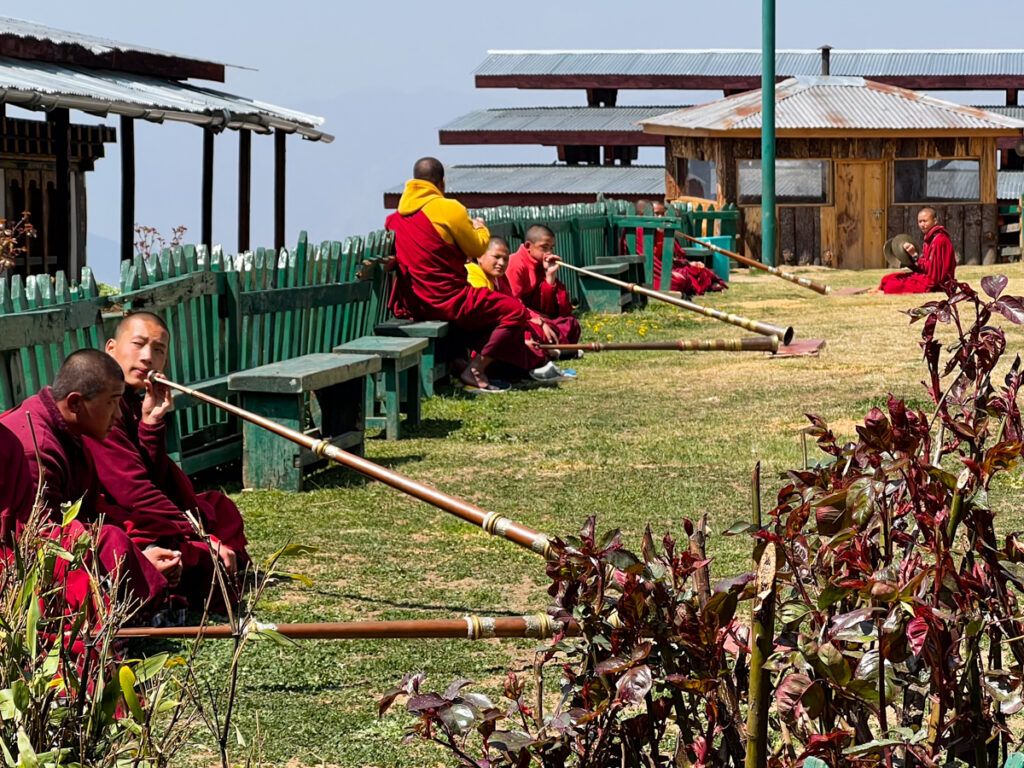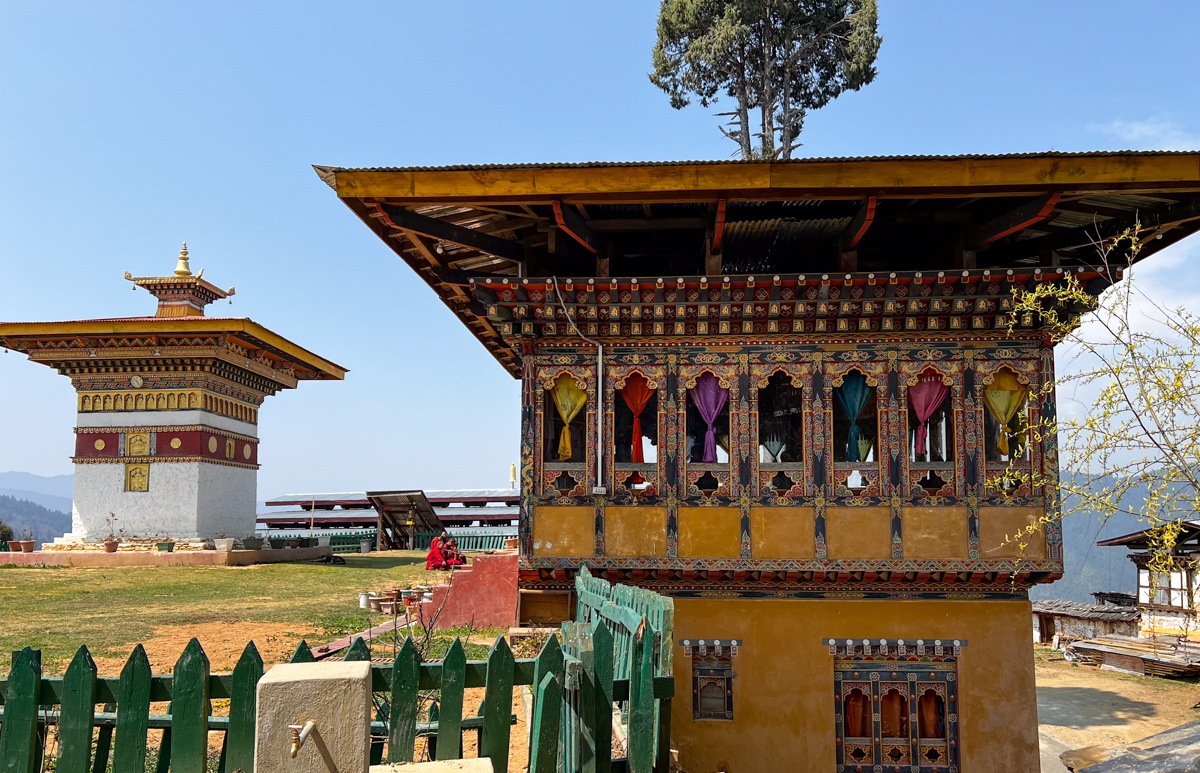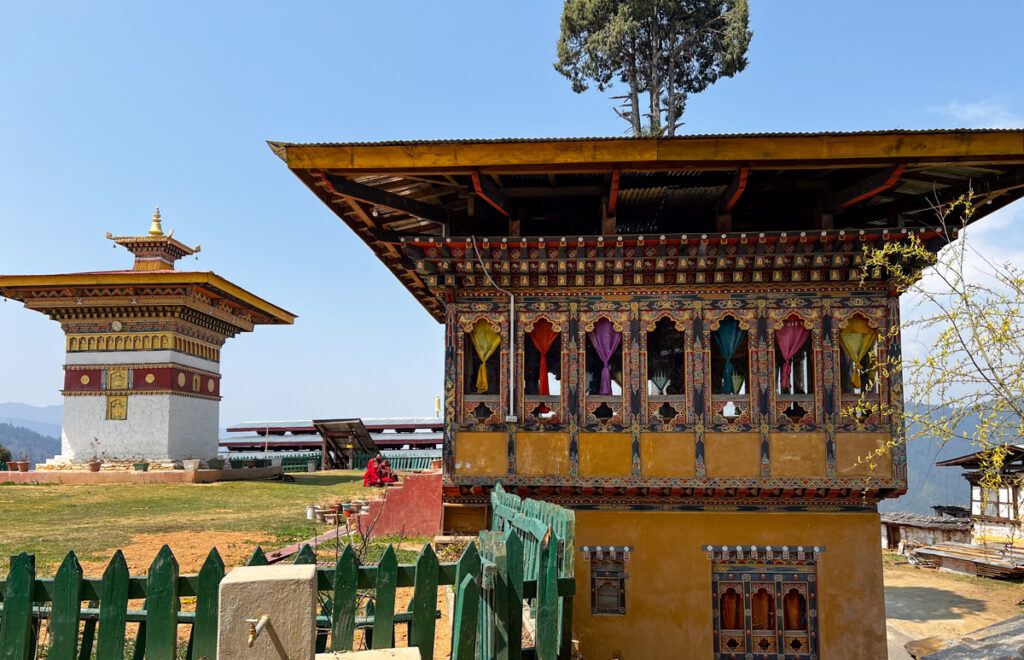 The hike itself was a gentle two hours, with an elevation gain of about 470 meters. I was captivated by the tall pine trees, the bright rhododendrons, and hemlock forest. There was so much beauty everywhere we looked. The only sound we heard were the birds chirping and the gentle wind brushing through leaves, which was lovely.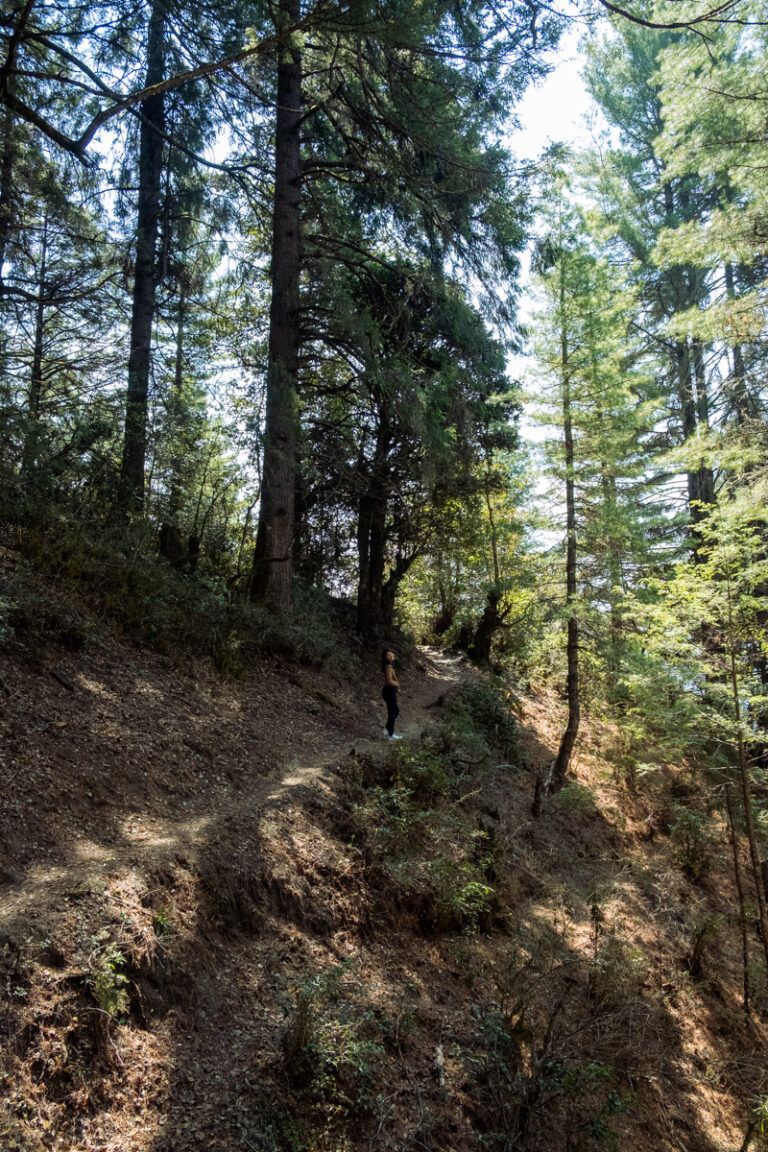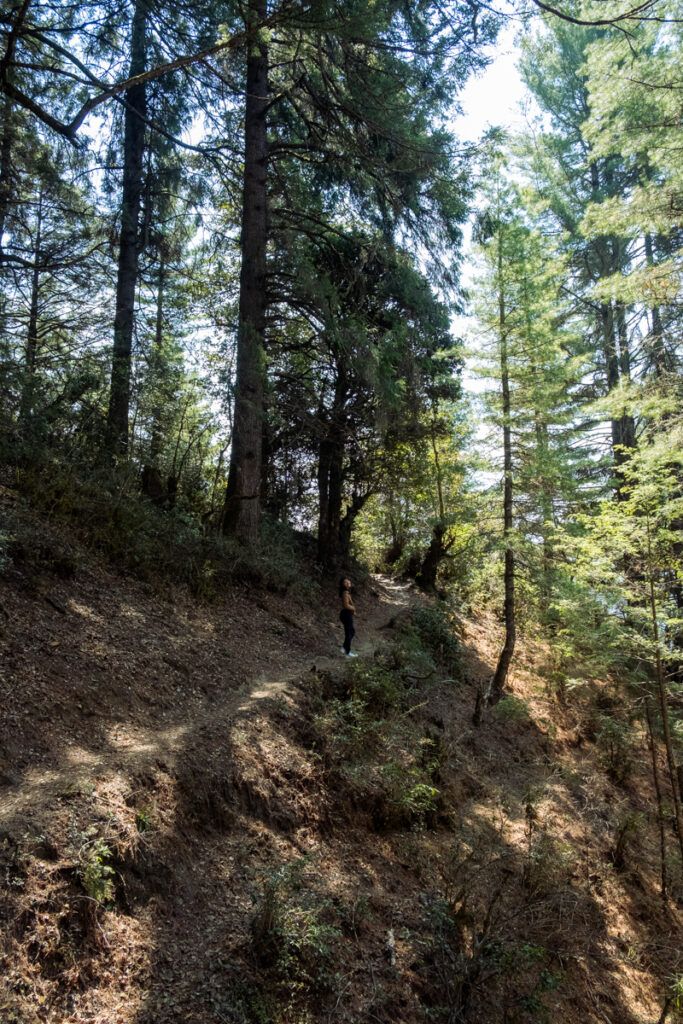 We arrived at Lungchutse Temple on the hilltop, overlooking the Himalayas. With gratitude, we enjoyed a cup of milk tea prepared by the monks, took in the views, and meditated in the quiet, cooling temple before making our way down to the Dochula Pass.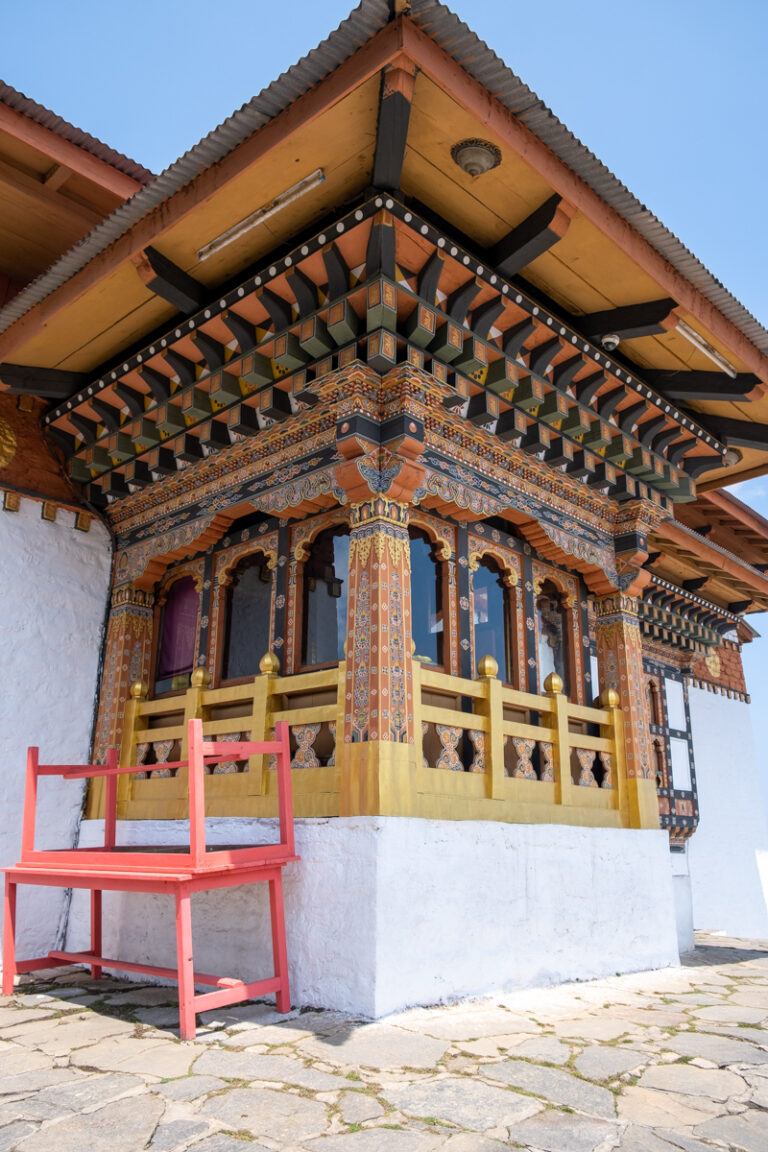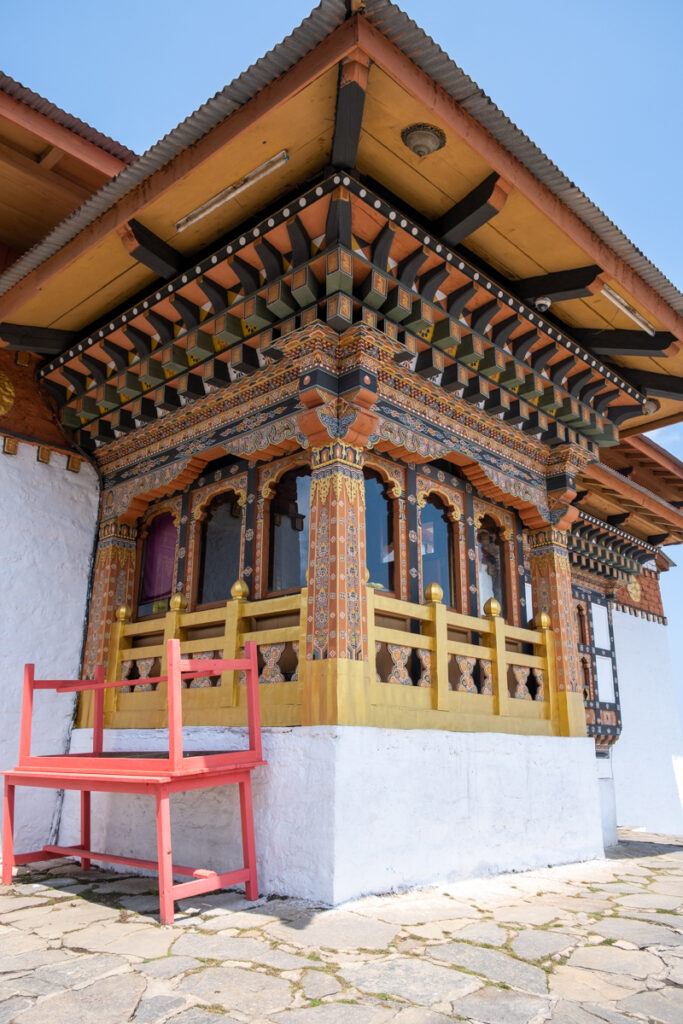 It was here where I started to grasp how spiritual and gentle the Bhutanese are. I watched as our guide made an offering by splashing a few drops of water at the forest before drinking. Colorful prayer flags, which hang from one tree to another, offer karmic merit to all sentient beings. There's a strong sense of "we are one" that I can't help but admire.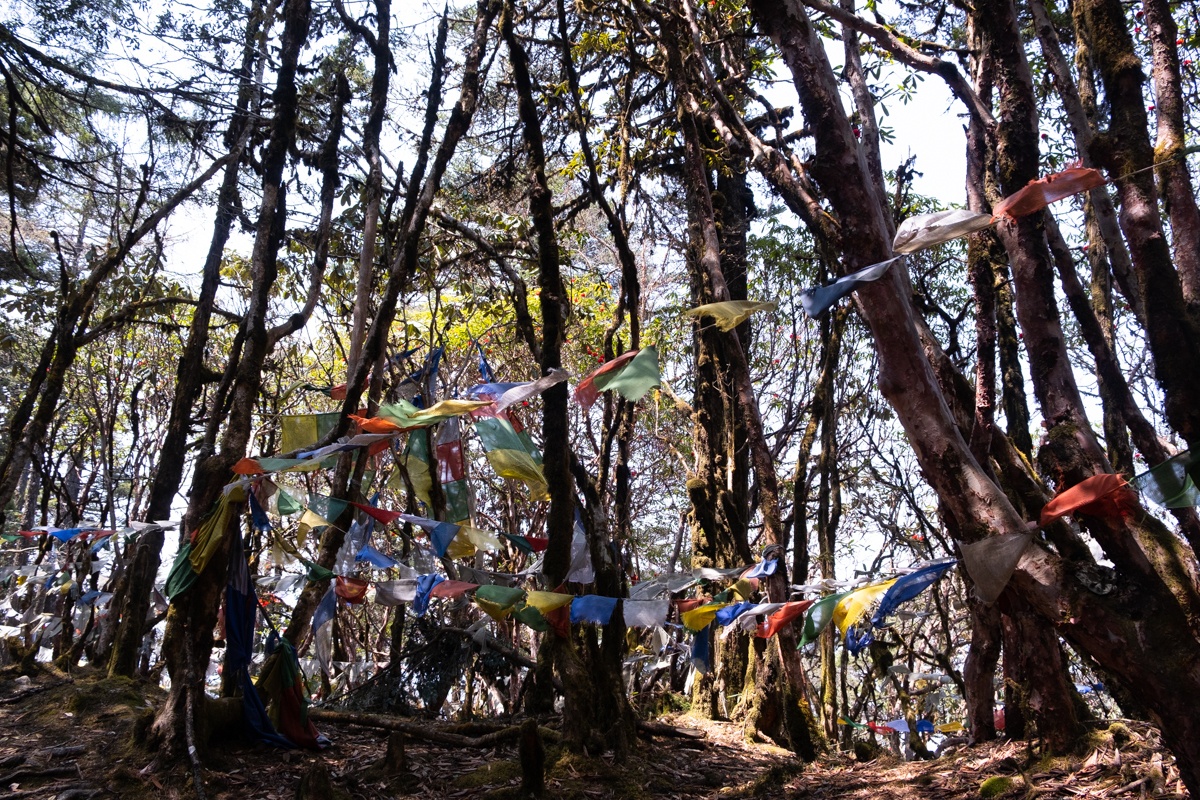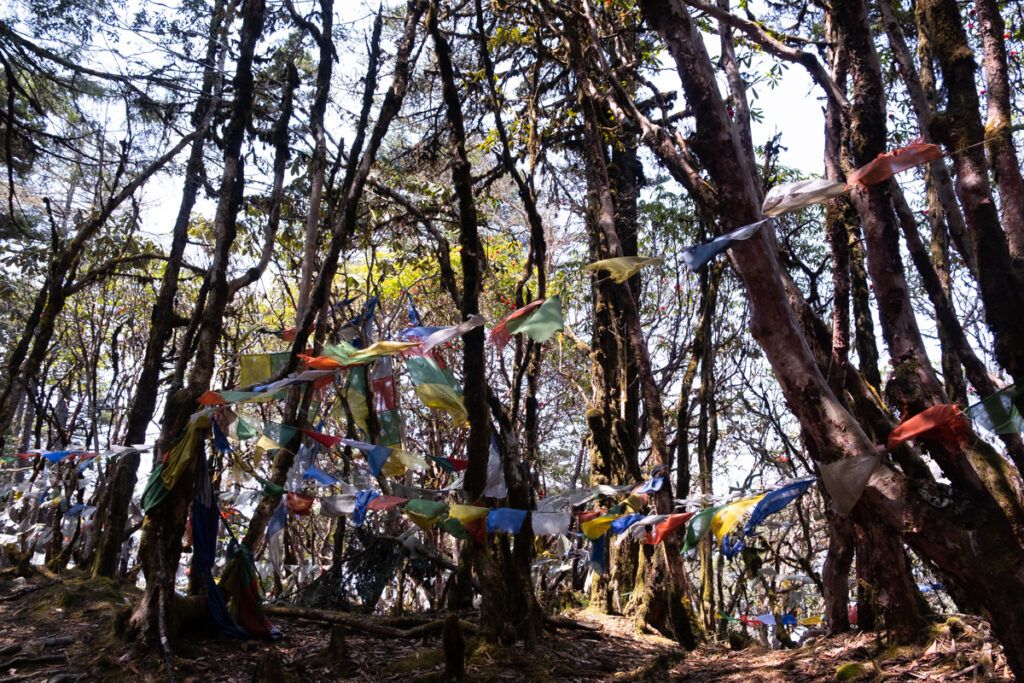 Before arriving at the Dochula Pass, we passed a big clearing with a yak-herders camp. I had never seen yaks before, and it was a wonderful opportunity to observe them relatively up close.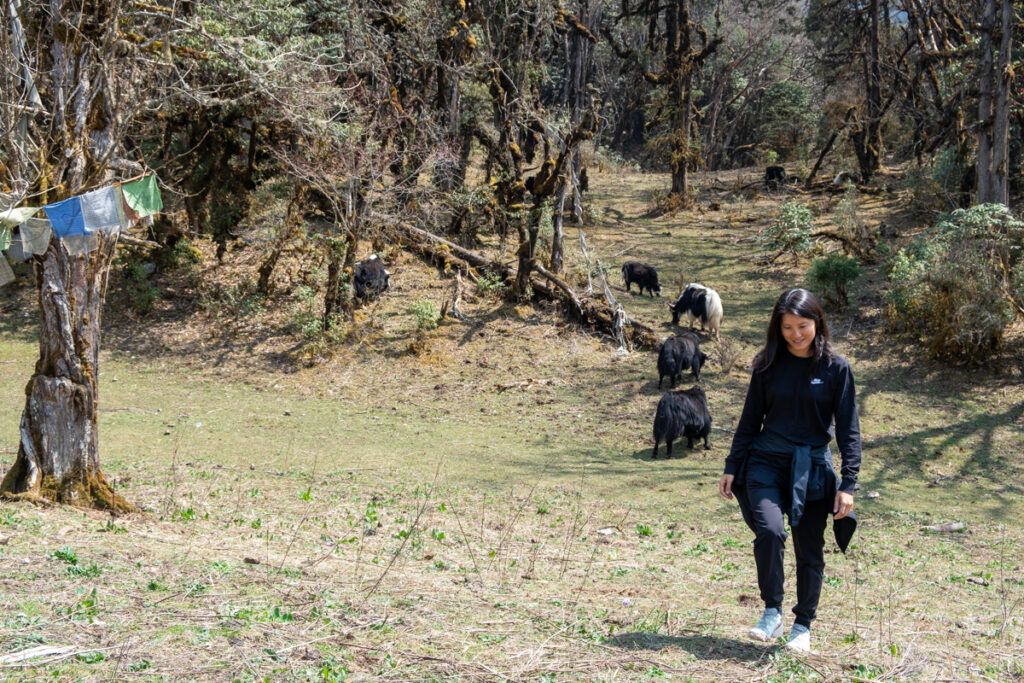 After about an hour hiking down, we arrived at the majestic Dochula Pass. One hundred and eight stupas, called the "Druk Wangyal Chortens," stood atop, in memory of the Bhutanese soldiers that were killed by Indian rebels in 2003. We had lunch at a café nearby, before making our way to Chimi Lhakhang, the fertility temple.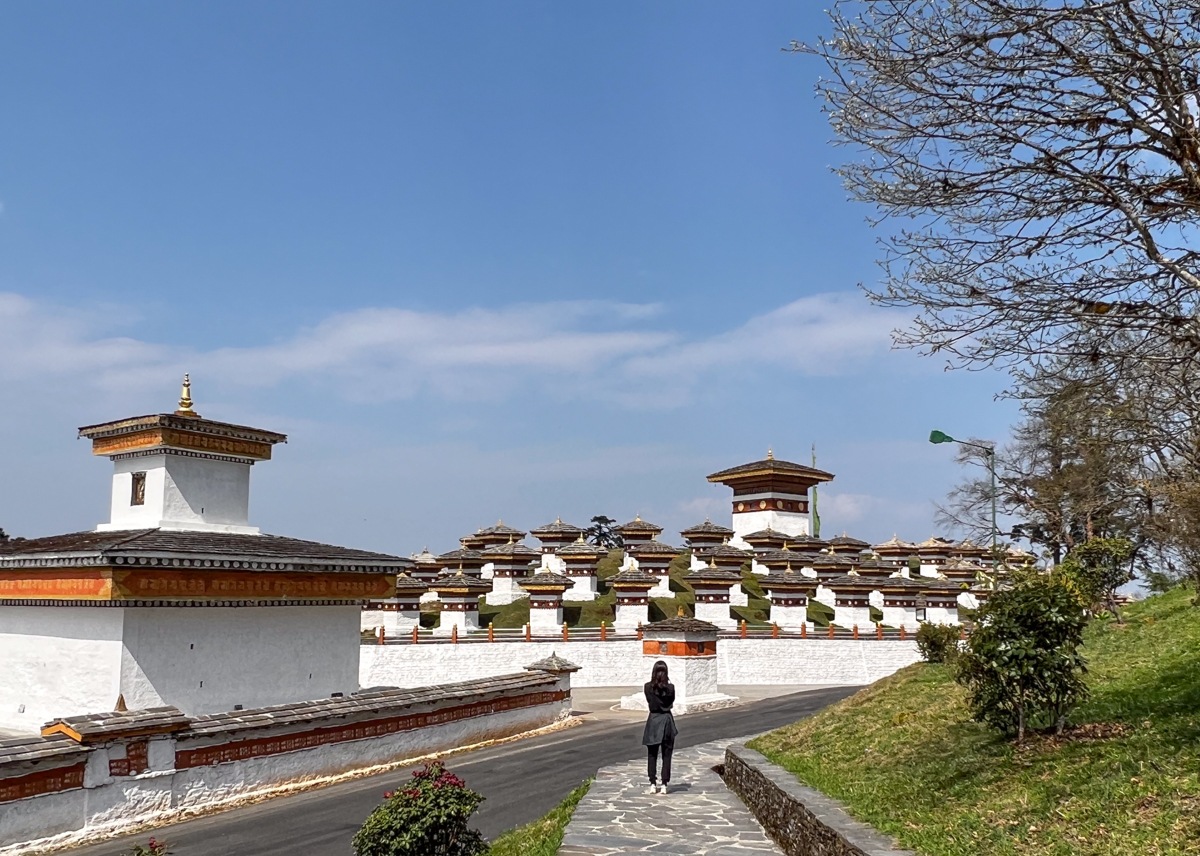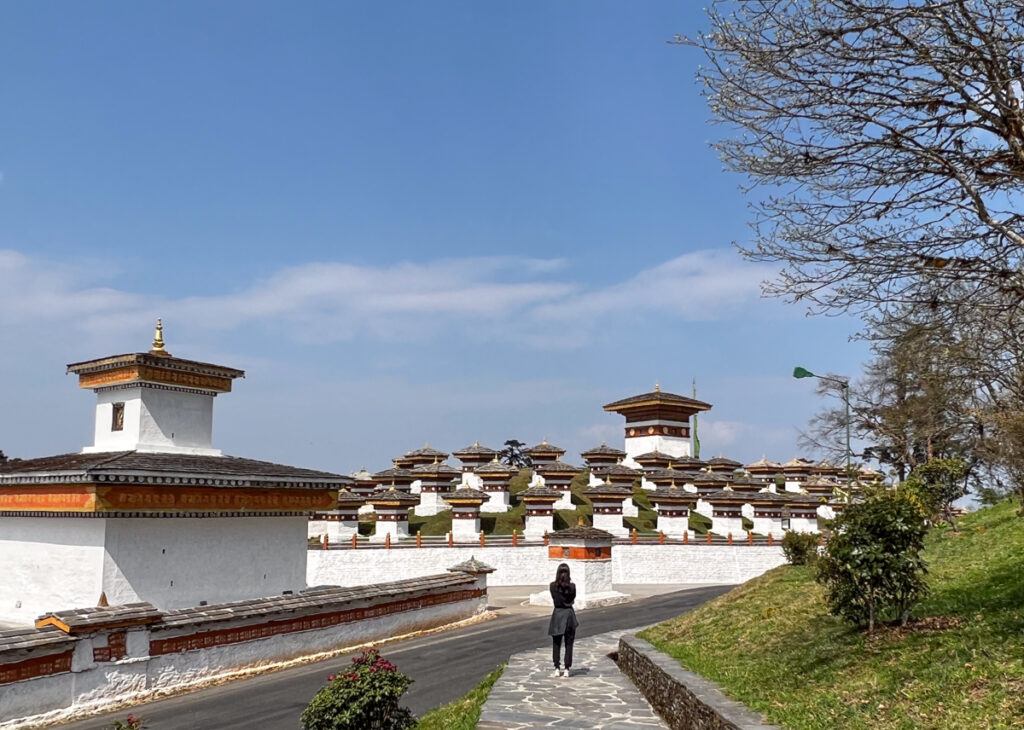 Chimi Lhakhang is one of the most visited temples in Bhutan. It was built in 1499 by Ngawang Chogyel, known as "the divine madman." He brought Buddhism into Bhutan from Tibet, with unorthodox philosophies, including controversial humor and sexual connotations.
It is impossible to ignore the phallus paintings and sculptures all over the village, but it was an opportunity to have a better understanding of this cultural aspect of the country. We walked around the windy valley filled with handicraft shops selling phallus sculptures and paintings and were amused, to say the least.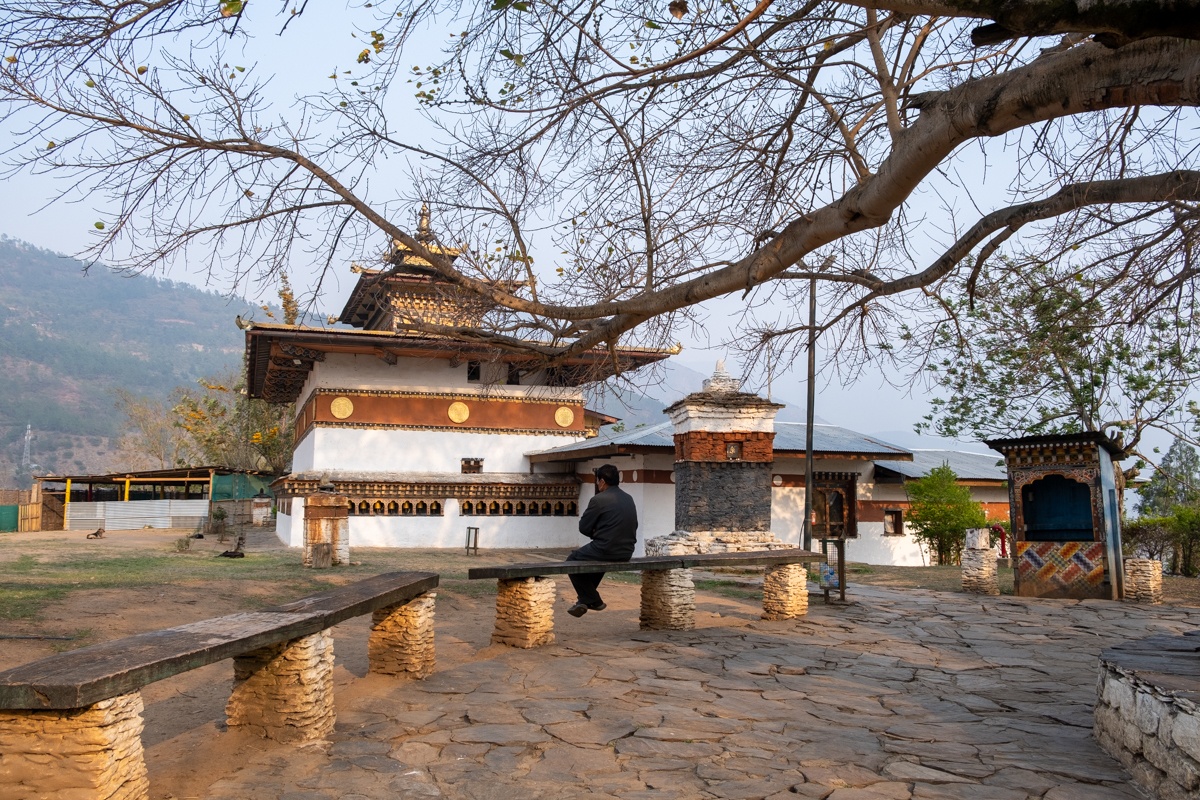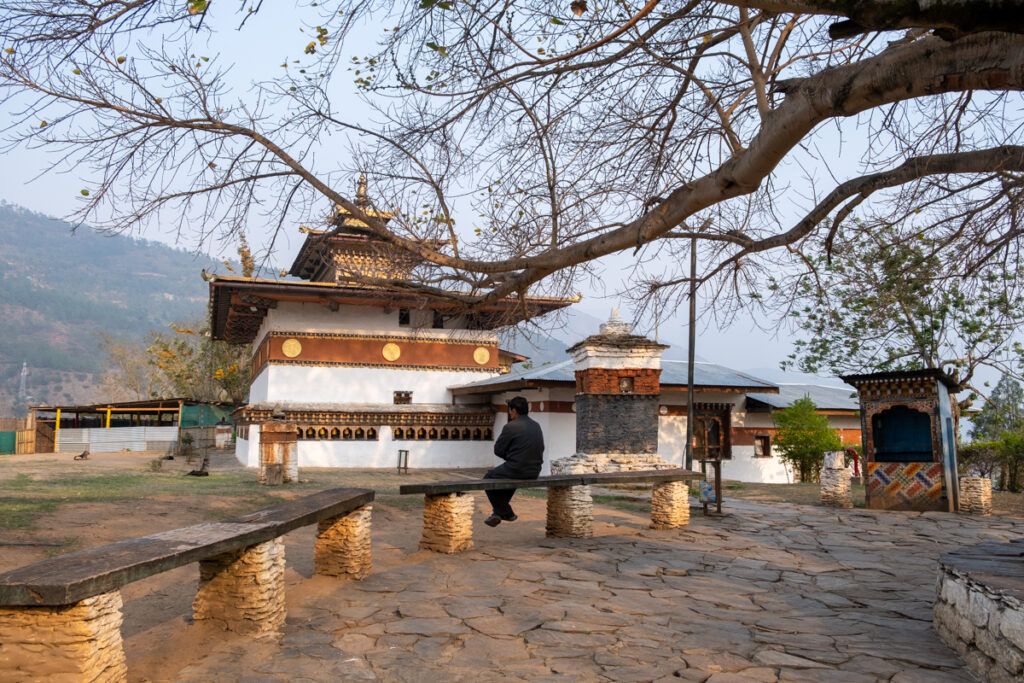 Couples who have difficulty conceiving make pilgrimages to this temple in Punakha to perform an unusual ritual, in hopes to be blessed with children. This involves carrying a a giant wooden phallus and walking clockwise around the temple three times.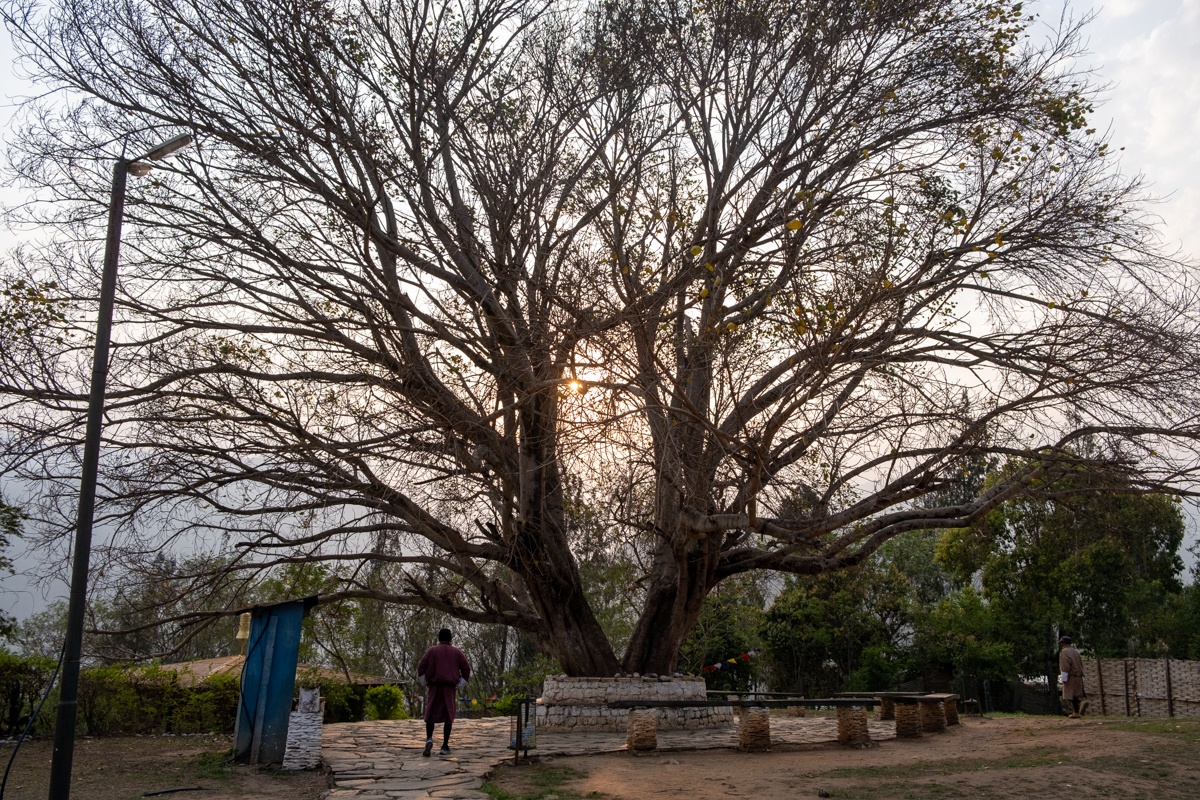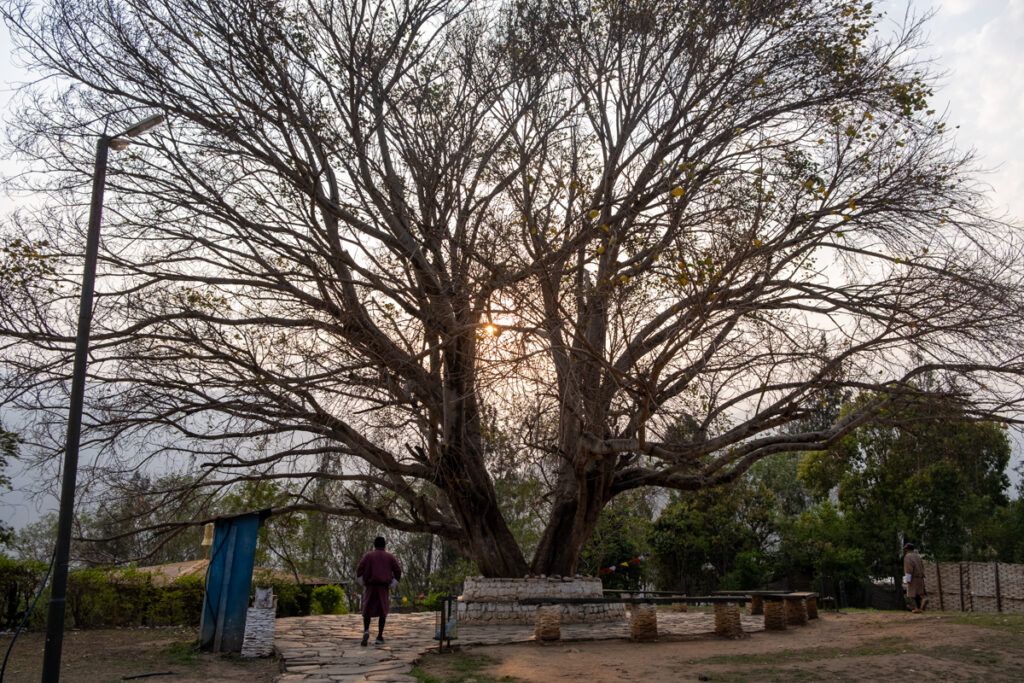 Our guide showed us an album filled with photos of couples with their children after being blessed at this temple.
The day ended at a lovely farm, Dhumra Eco Resort, and an early night in after a delicious, all-organic dinner.
Bhutan Day 3: Khamsum Chorten Hike, Punakha Dzong, Suspension Bridge
We began the day with a scenic hike to Khamsum Yulley Namgyal Chorten, a stupa built to ward off evil spirits and bring peace and harmony to all living beings. It was an easy 40-minute stroll along an upward trail that overlooks beautiful paddy fields all over the valley.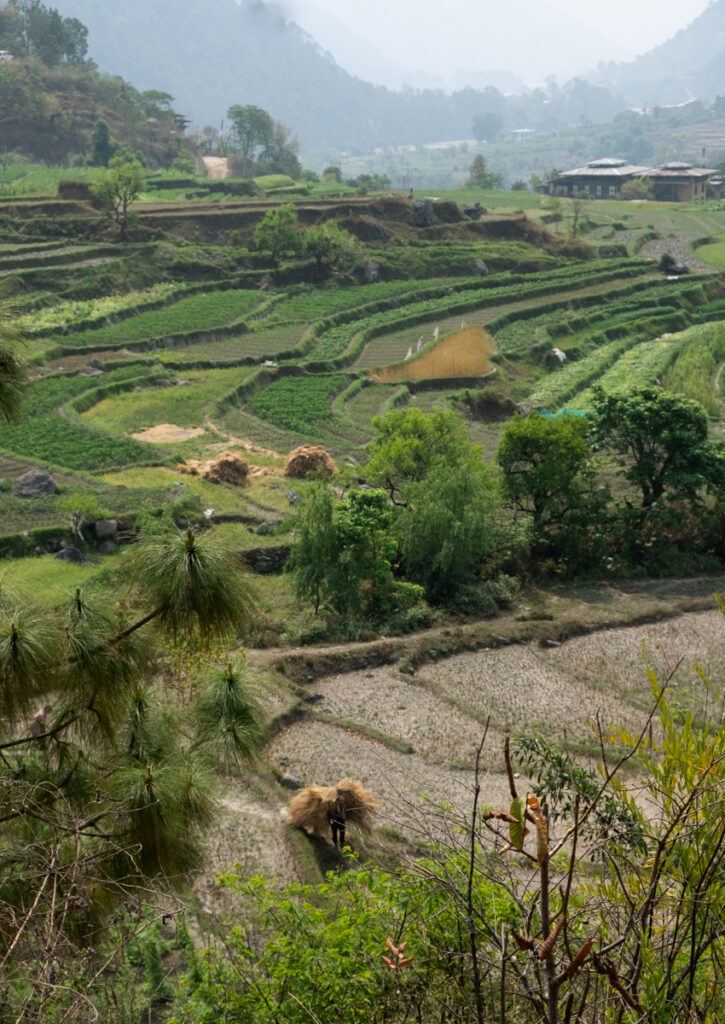 Our guide's eyes lit up when we arrived at the stupa. One of the highest-ranked lamas in Bhutan happened to be visiting Khamsum, and was giving blessings to visitors. Our guide insisted that we receive blessings from the lama, and we happily obliged.
On the top floor of the stupa, we enjoyed 360-degree views of the valley. I felt like I was in a painting.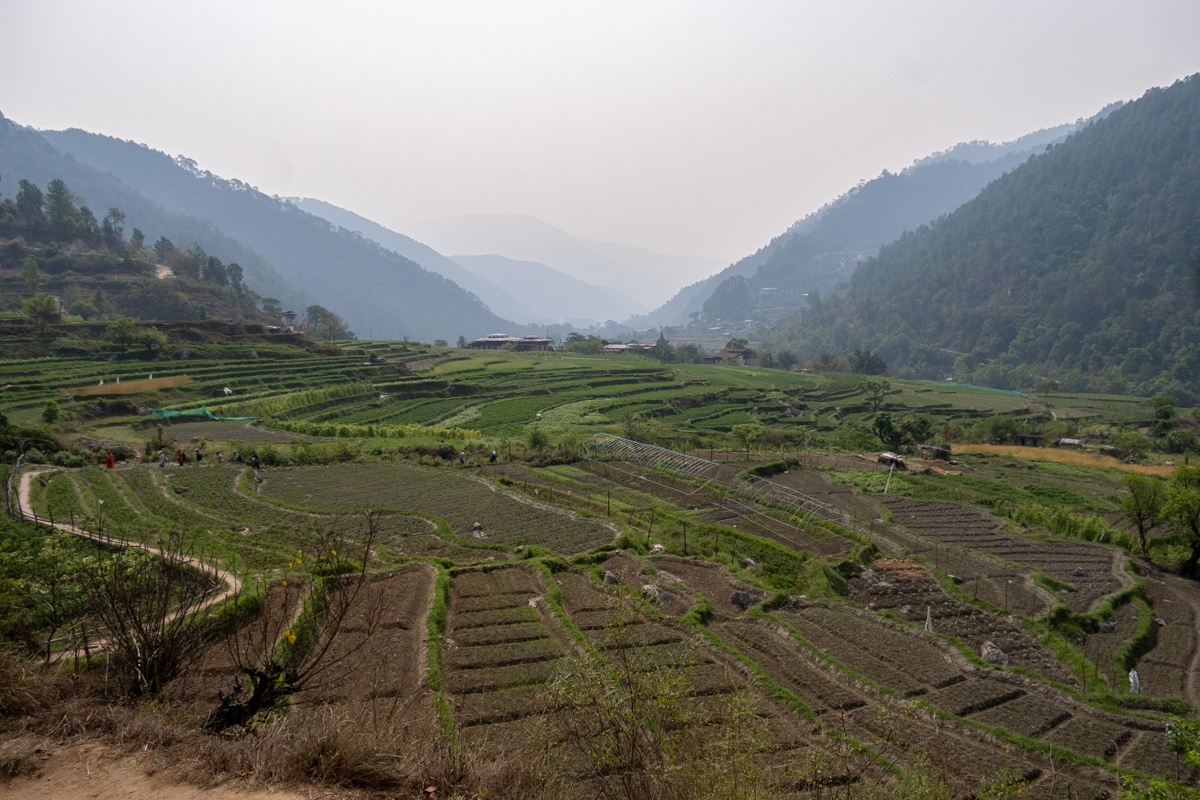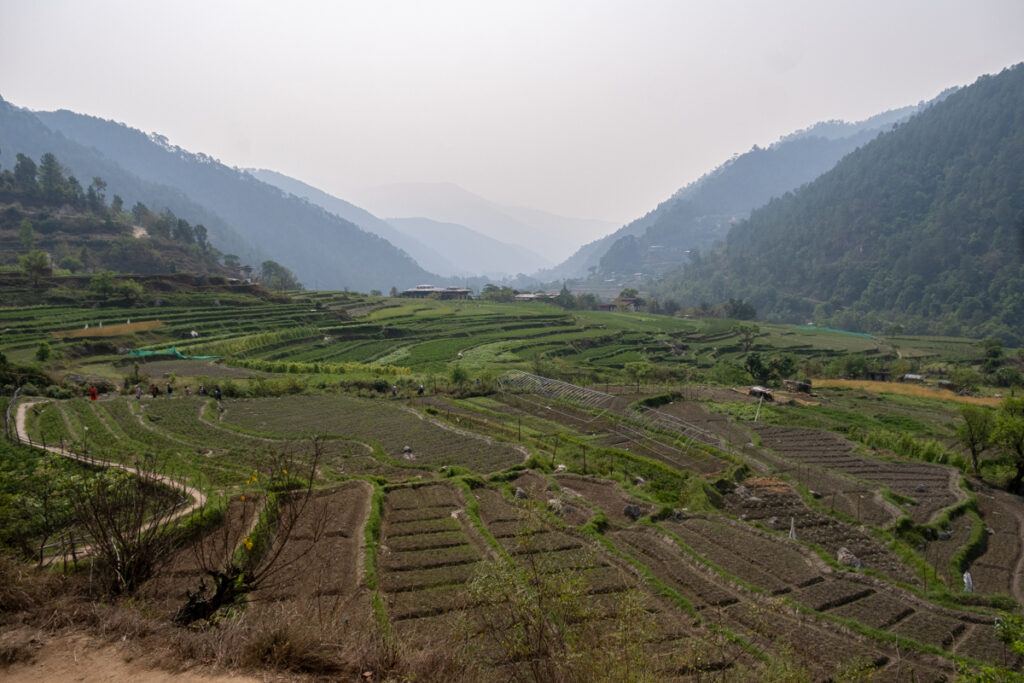 After lunch, it was time to visit arguably the most impressive dzong (fortified monastery) in Bhutan, Punakha. Officially known as Pungtang Dewa Chhenbi Phodrang, the administrative center was constructed by Zhabdrung Ngawang Namgyal in 1637–38. It is the second oldest and second largest dzong in the country and holds immense significance to Bhutanese.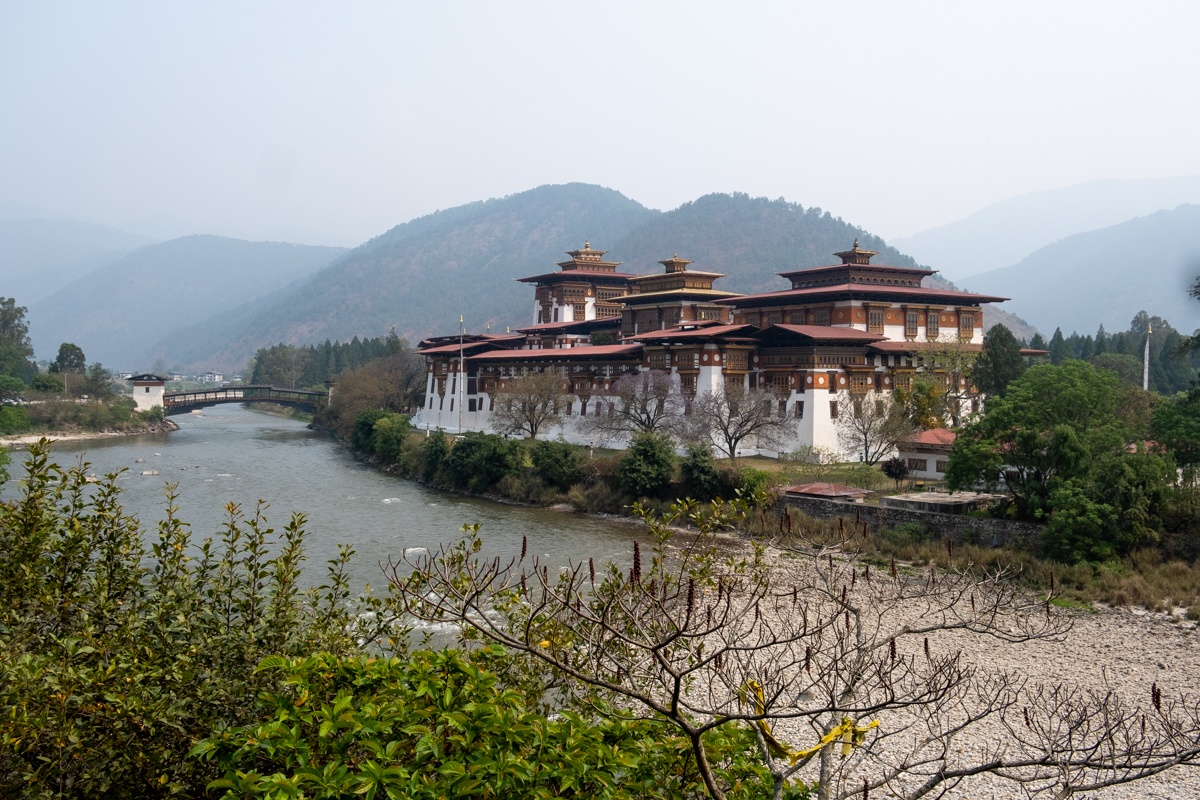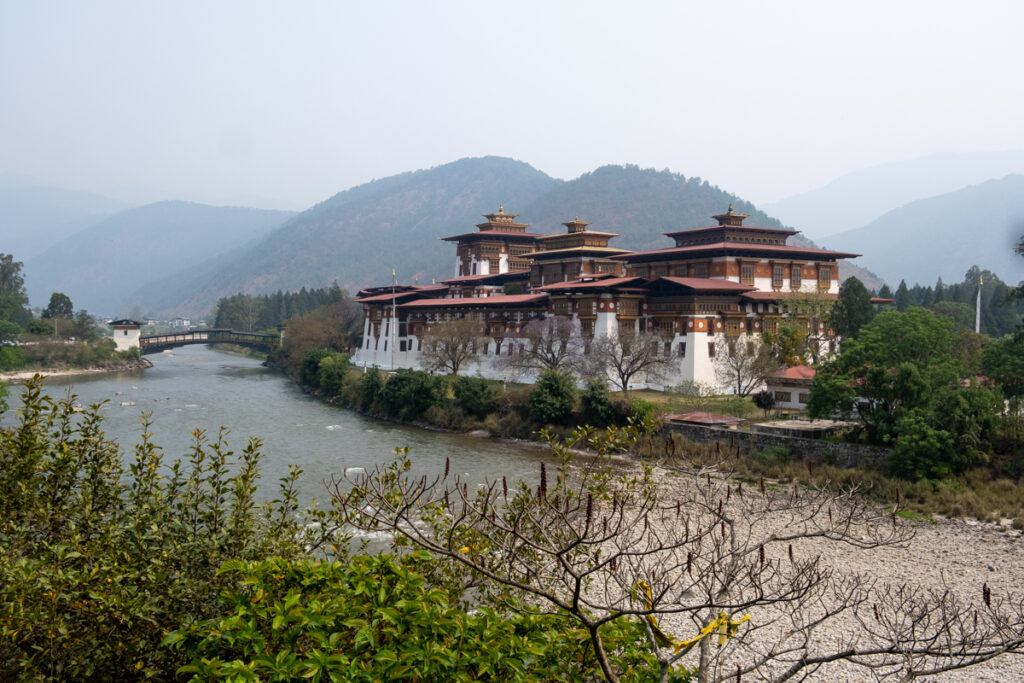 The first Bhutanese king was crowned here, and the royal wedding of the current beloved king and queen, Jigme Khersar Namgyal Wangchuk and Jetsun Pema Wangchuck, took place in this very dzong. It also houses the biggest thangka (Tibetan Buddhist painting) in the world!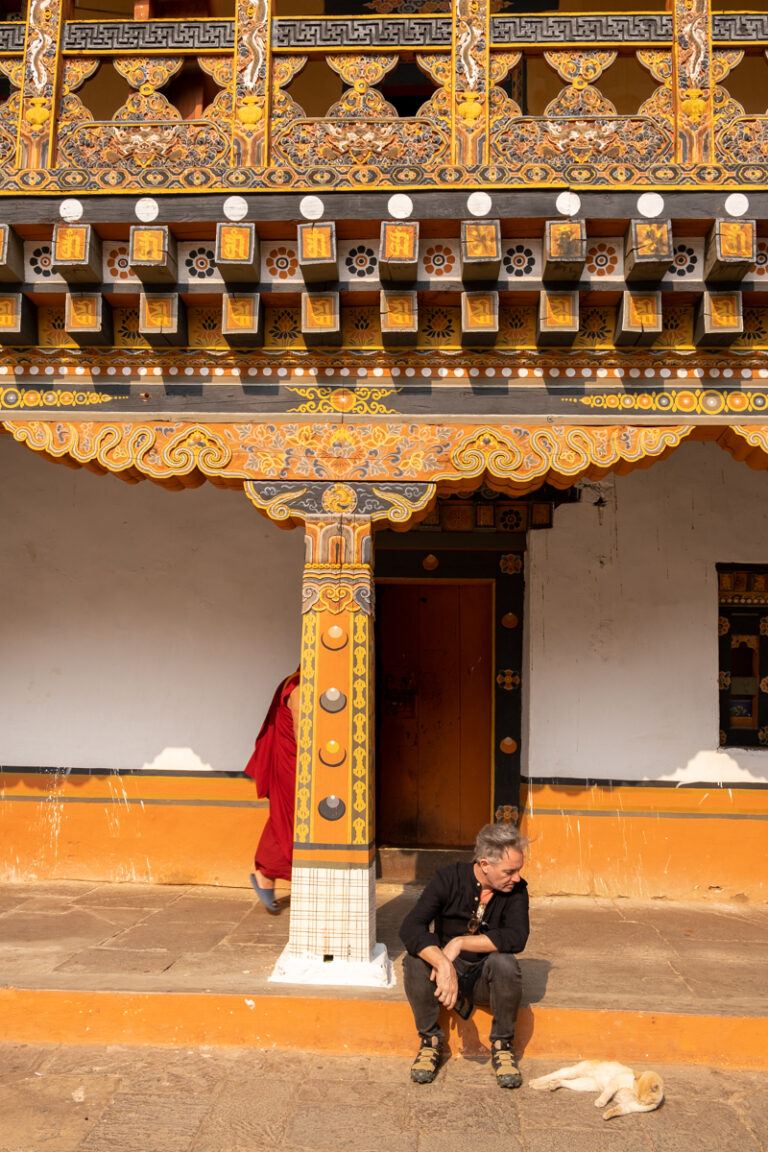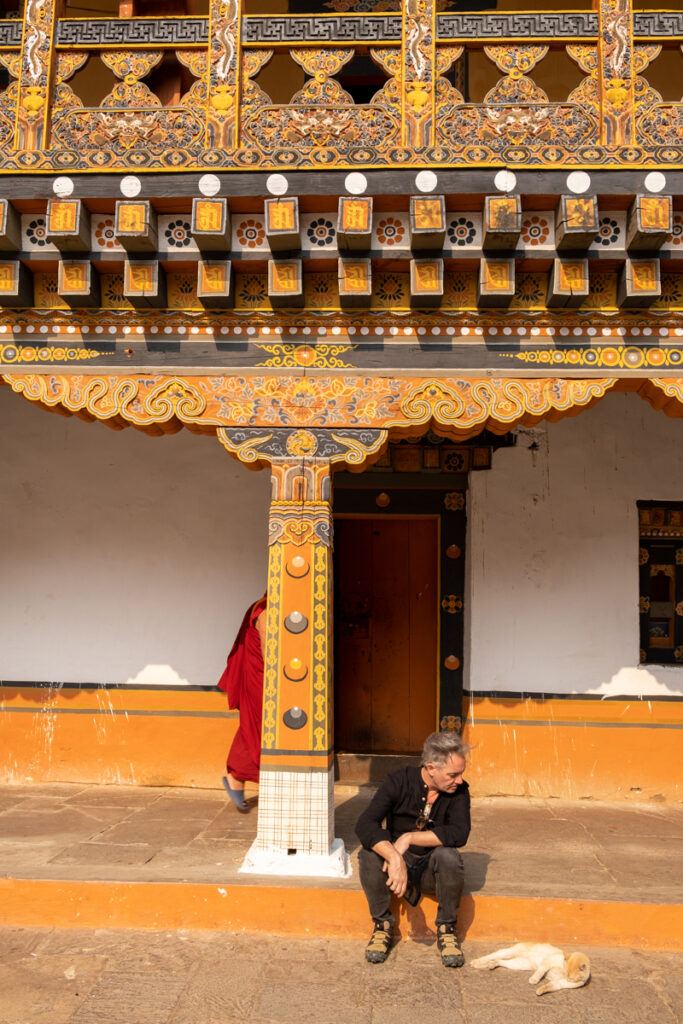 A walk around the dzong left us utterly impressed, especially by the massive beehives hanging on the buildings after cross the bridge — it was such a cool sight! We spent some time wandering the large courtyard, which had gorgeous woodwork and a beautiful banyan tree in the middle, while learning more about Buddhism as well as Bhutan's history from our guide.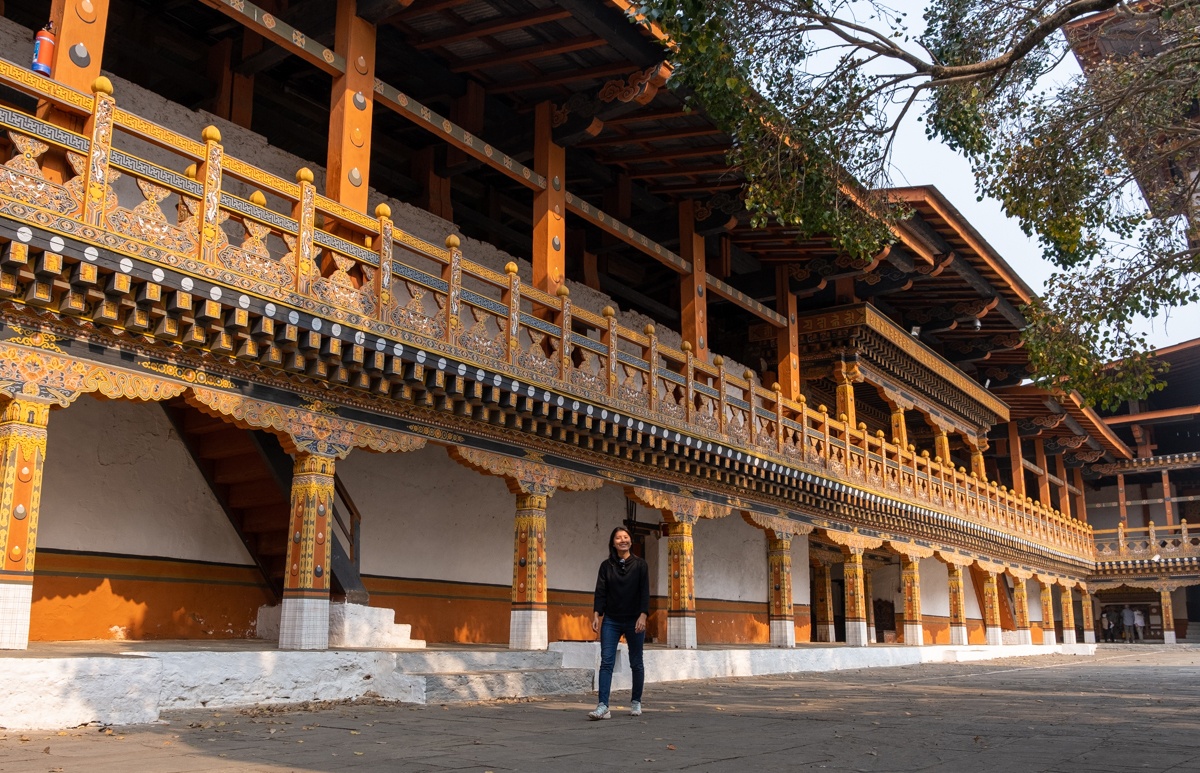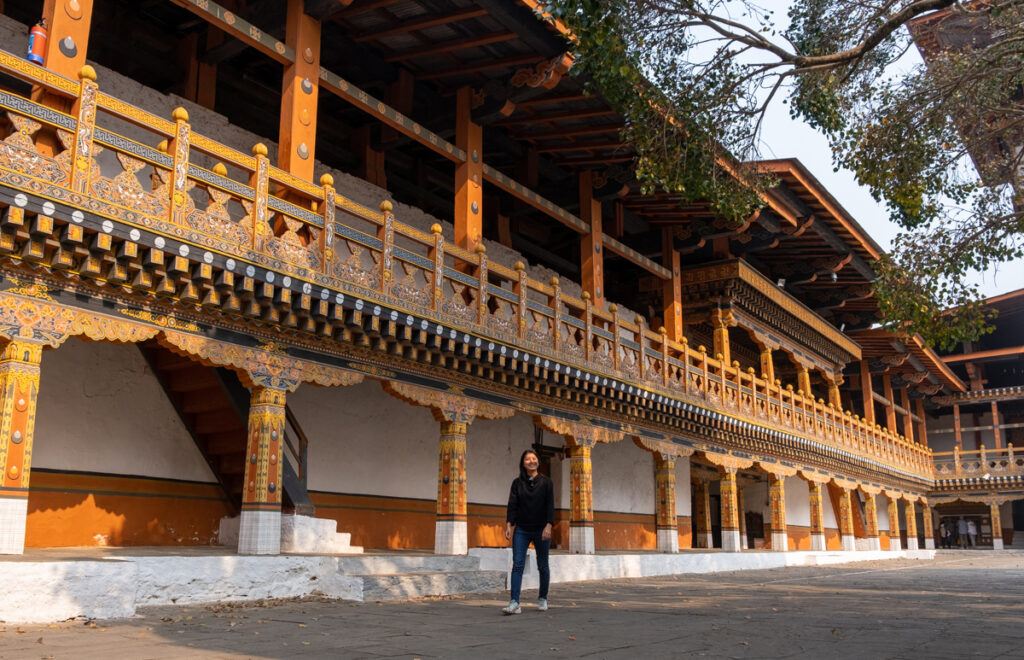 The day ended with a visit to the Punakha Suspension Bridge, the second longest such bridge in Bhutan and one of the oldest in the world, swaying above Po Chu River. It is draped with what seemed like thousands of colorful prayer flags, and was quite a thrill to cross!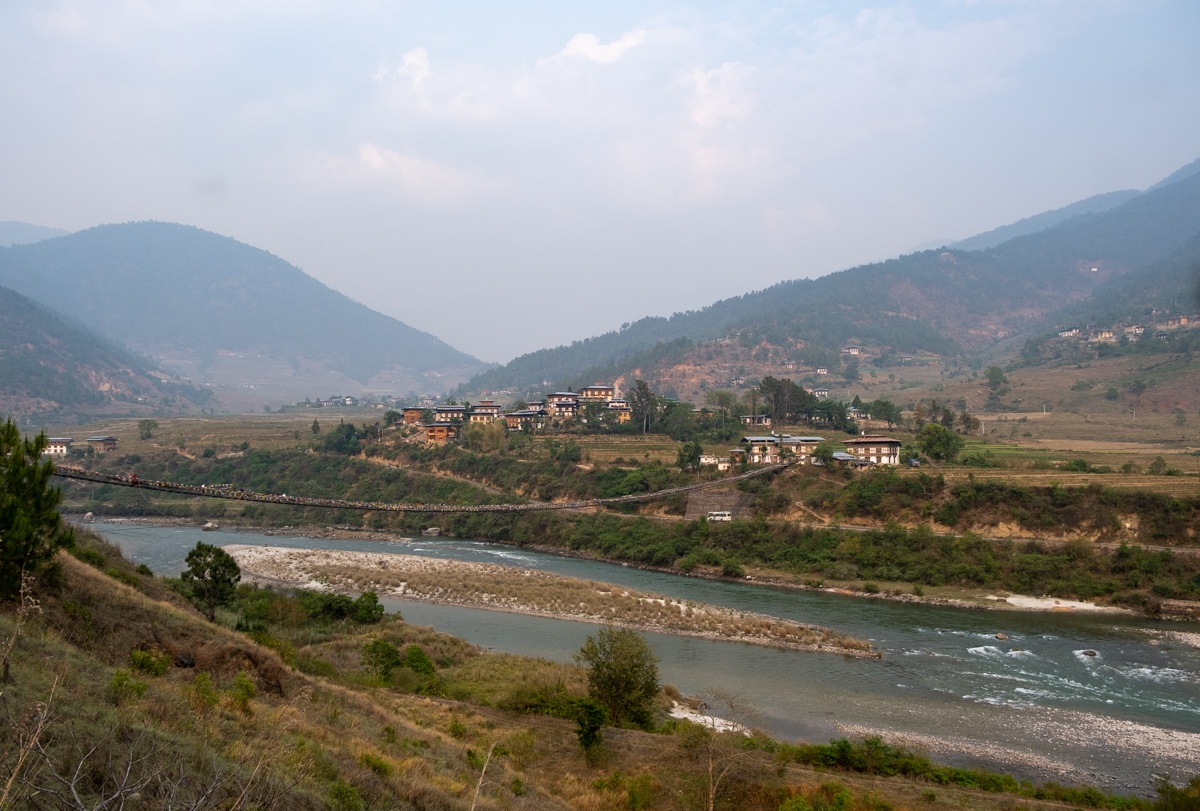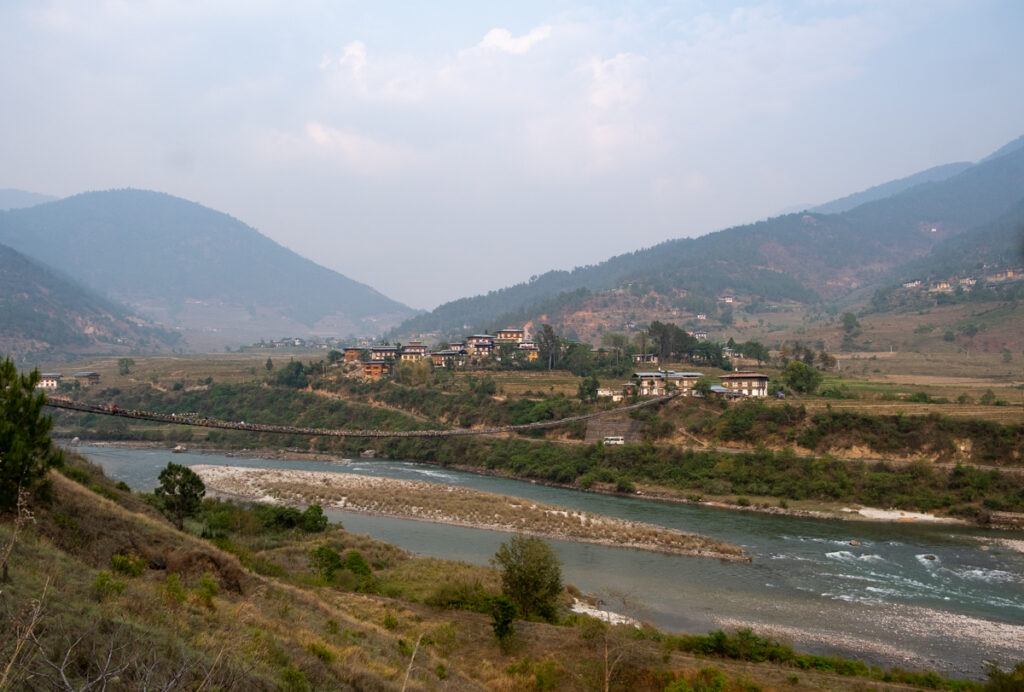 On our way back, we met a group of chatty young monks who were absolutely hilarious. The short moment we shared while crossing the bridge over the golden sunset together is a memory I will hold dear for a long time.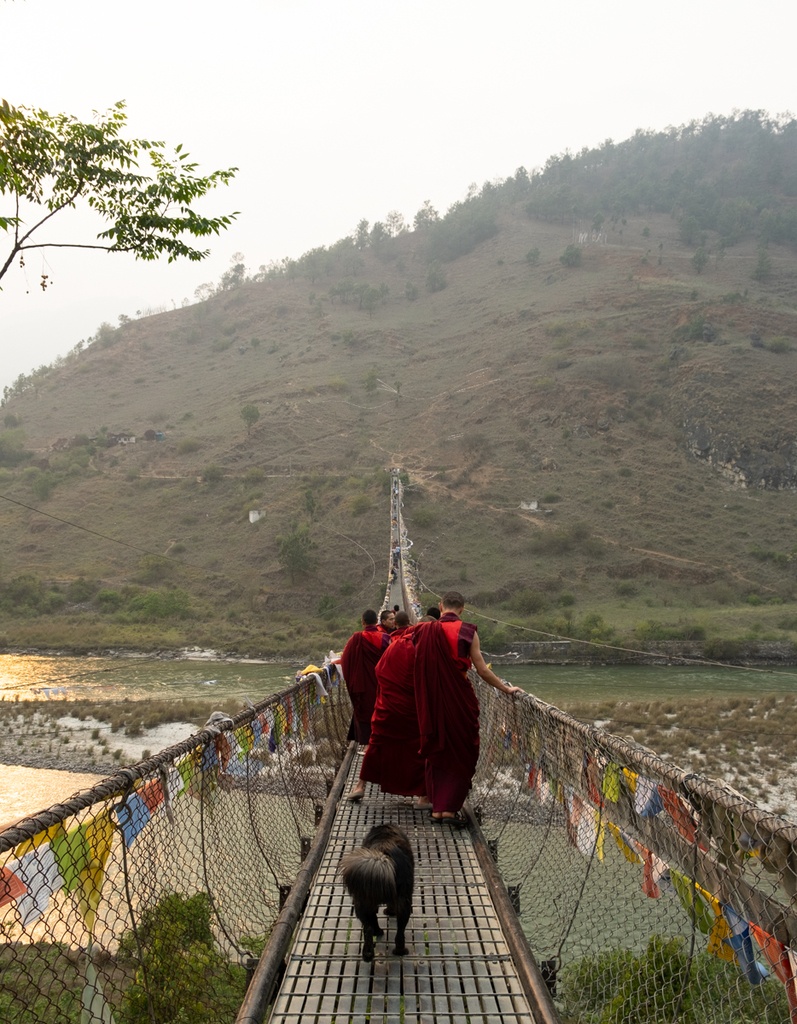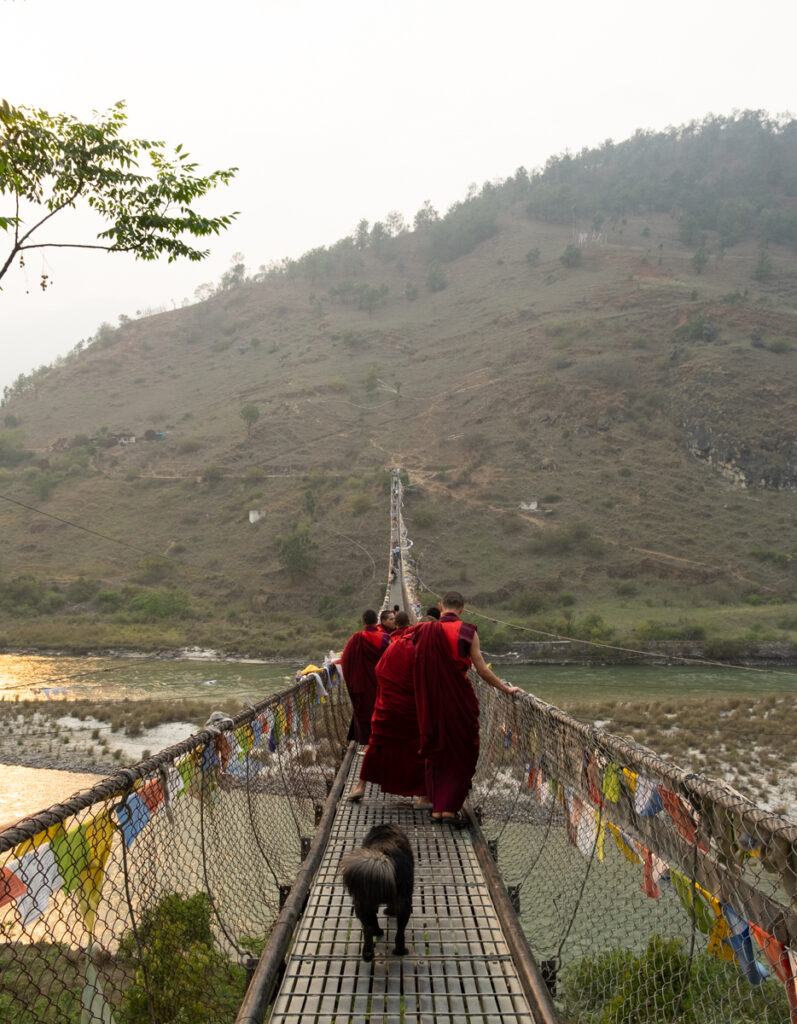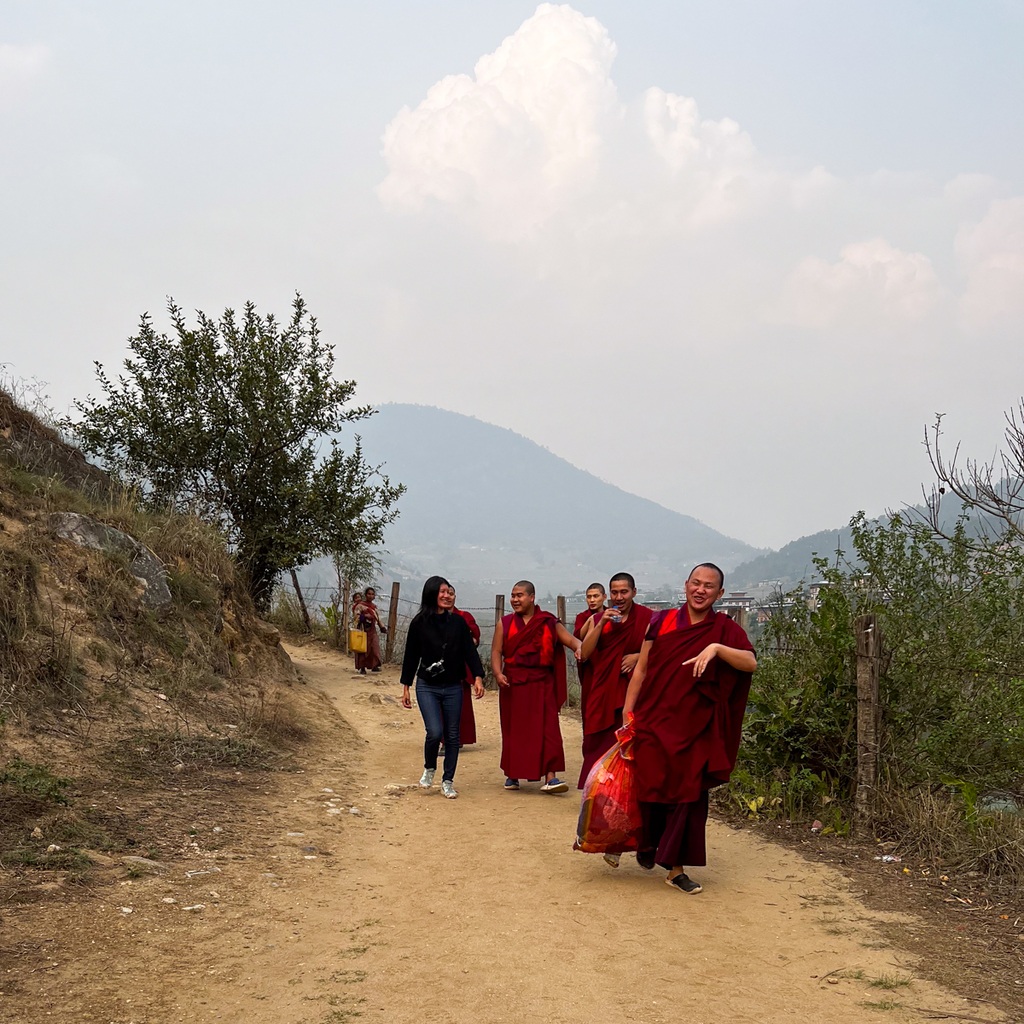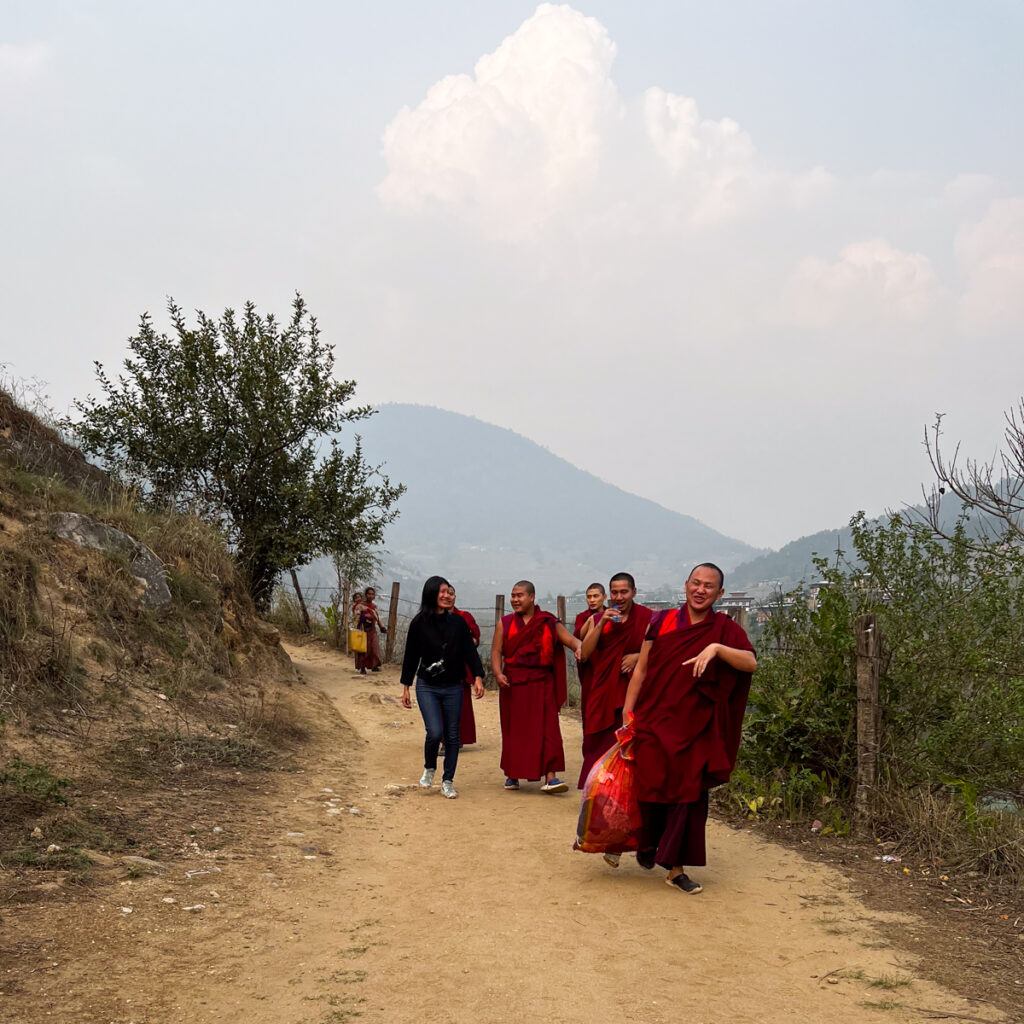 Bhutan Day 4: Transfer to Phobjikha, Gangtey Monastery, Gangtey Nature Trail
From Punakha, we drove three hours to Phobjikha in Wangdue, a quaint village that quickly became my favorite stop of the trip. There we paid a visit to Gangtey Monastery, established in 1613.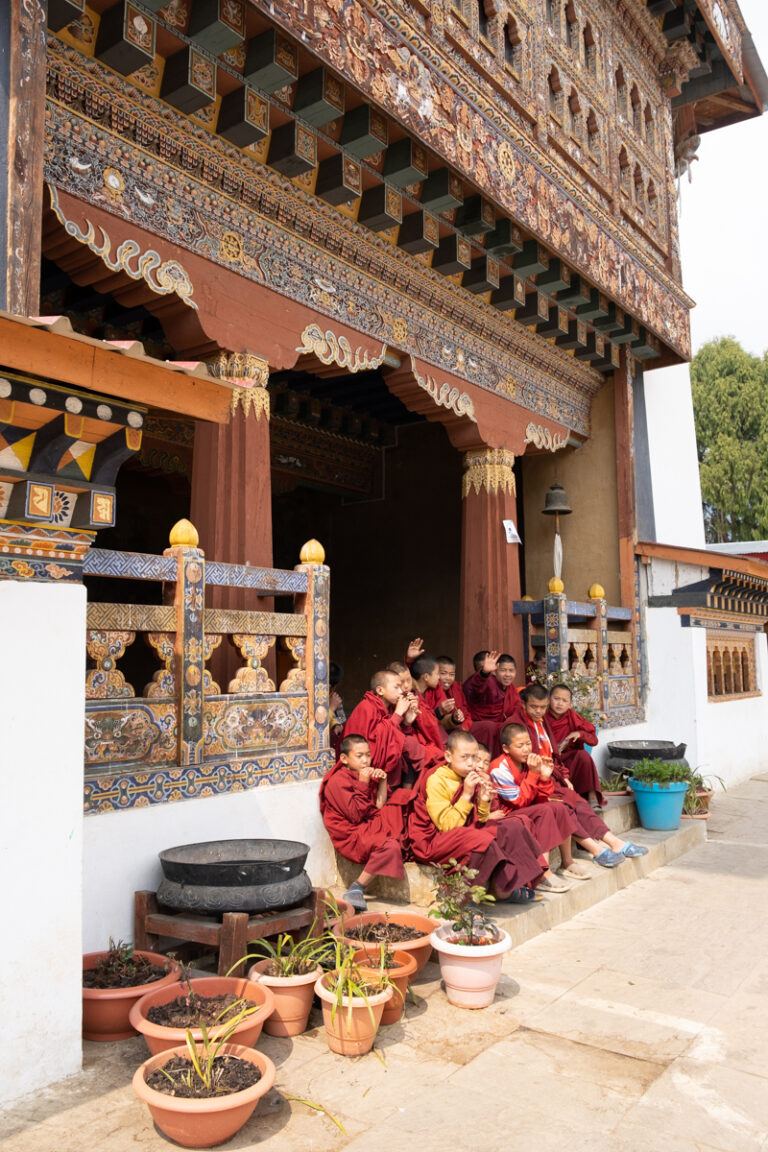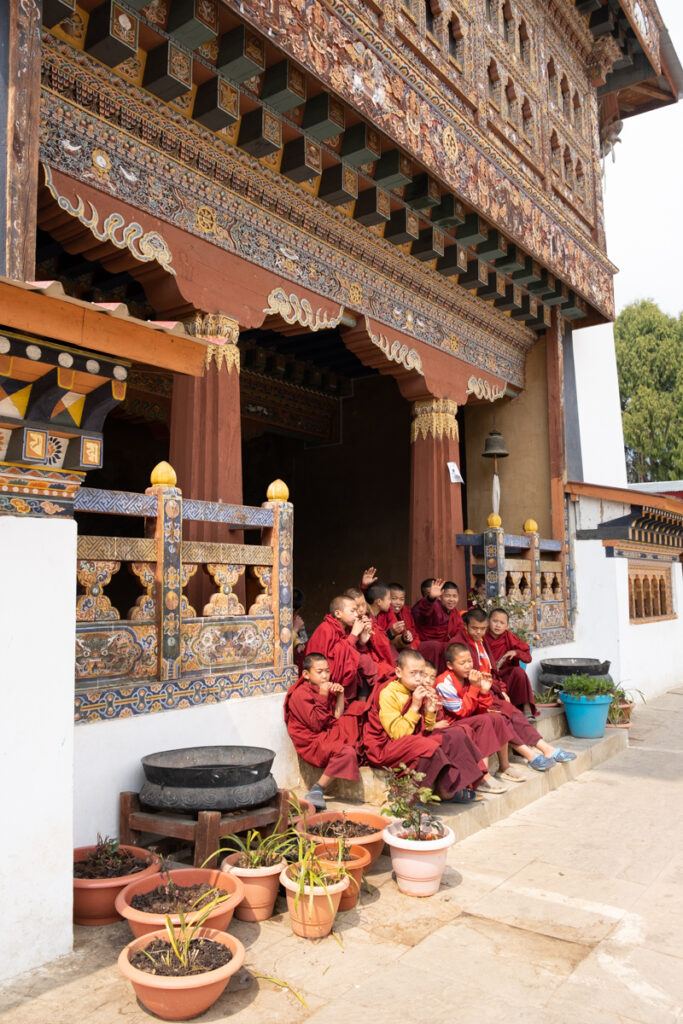 It is said that each winter, as the black-necked cranes arrive in the village from Tibet, they would circle the monastery three times on arrival, and again when returning to Tibet. The monastery did have a very calming and grounding atmosphere, and we paid our respects before beginning our favorite hike of the trip.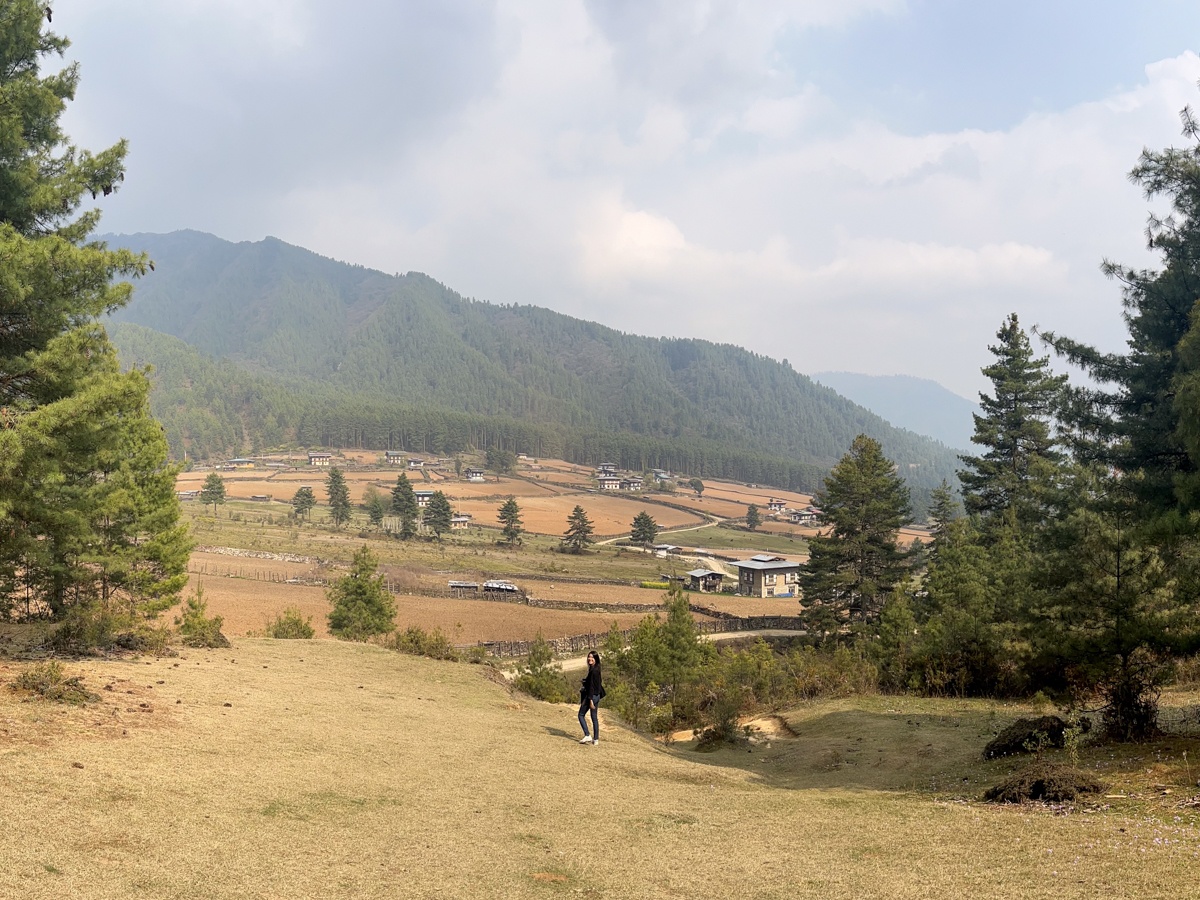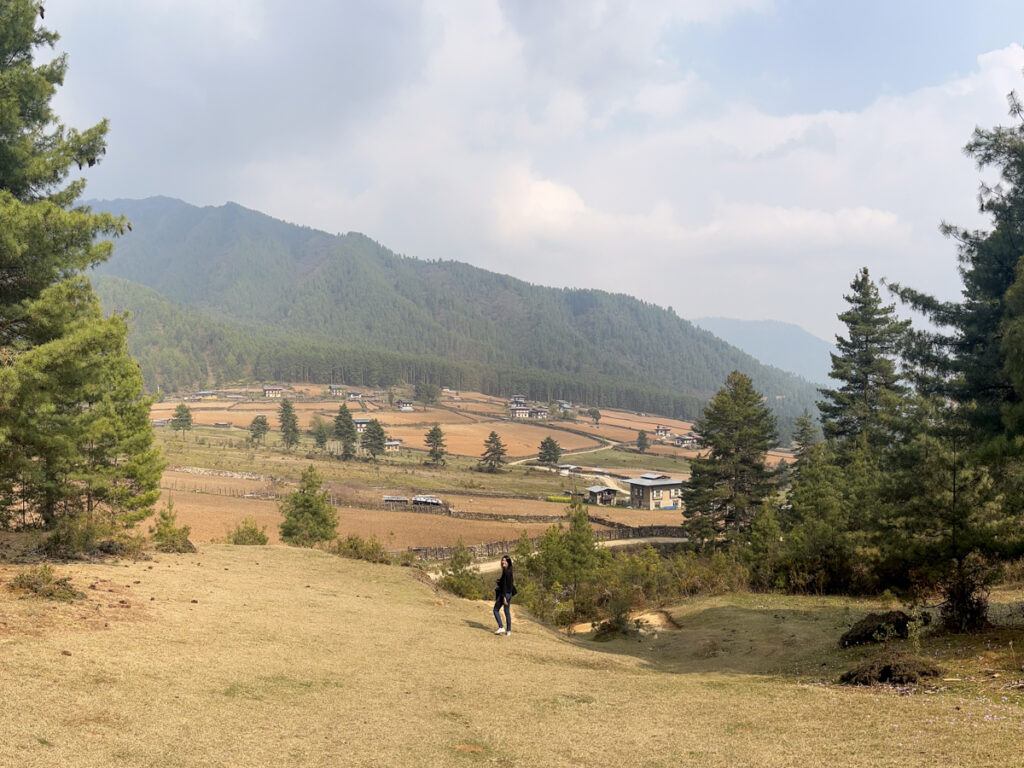 The Gangtey Nature Trail is a lovely 1.5-hour hike from Gangtey Monastery to Phobjikha Valley. Though it's a pretty popular trail, we did not see a single other tourist during our hike. From the monastery, it begins with a quick stroll through a small village, then to open, flat terrain that leads you to the end of the valley.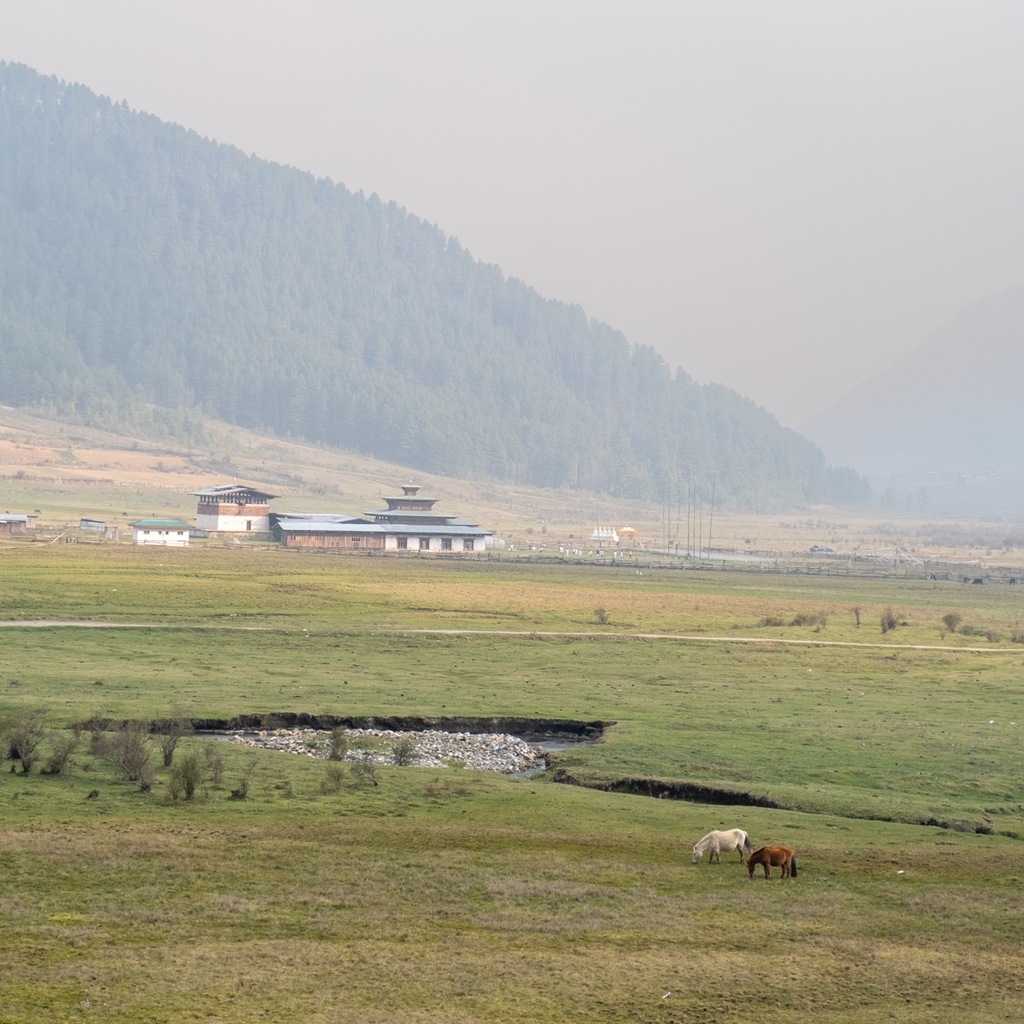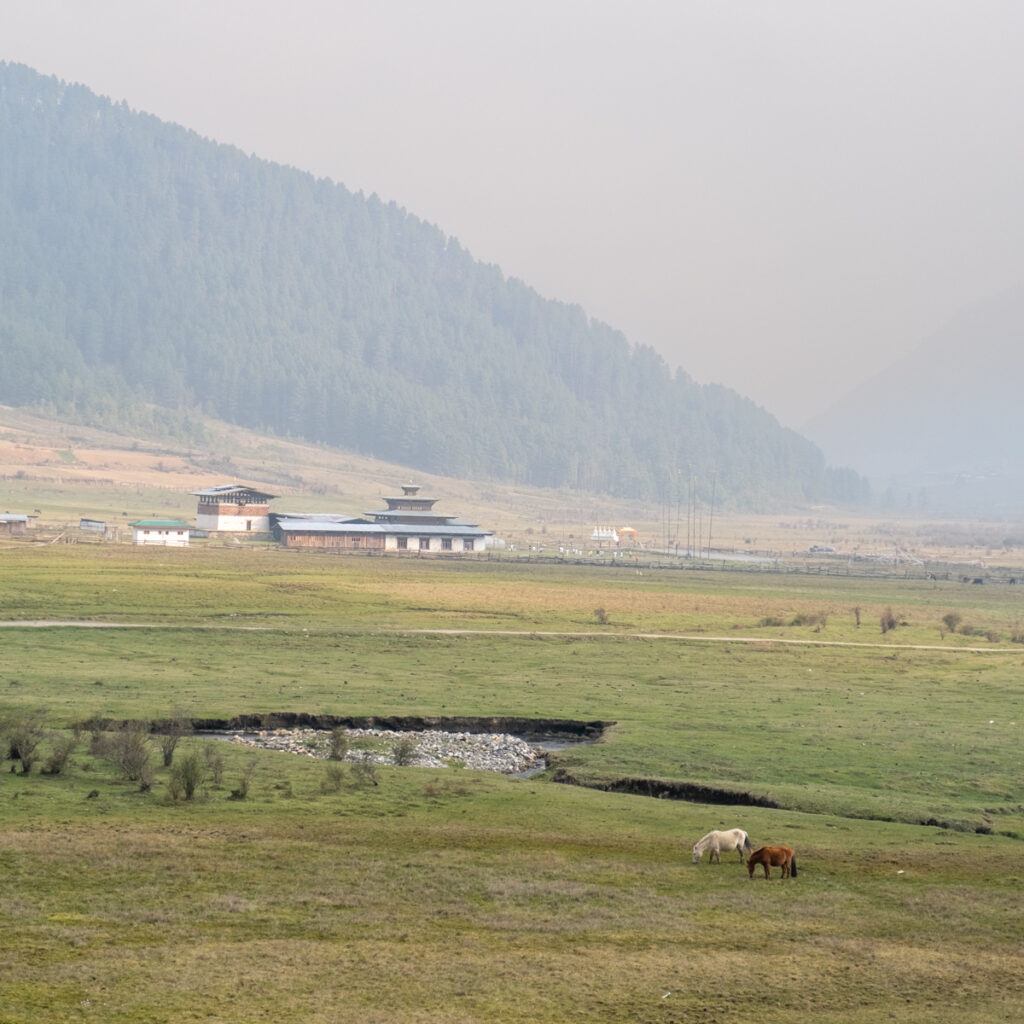 We walked through a gorgeous pine forest (the soft sunlight gleaming through it was breathtaking), marveling at birds, horses, cows, and even yaks in the distance. Water gently fed small streams as a few villagers waved hello from their farmhouses. It was like a scene straight out of a Studio Ghibli movie!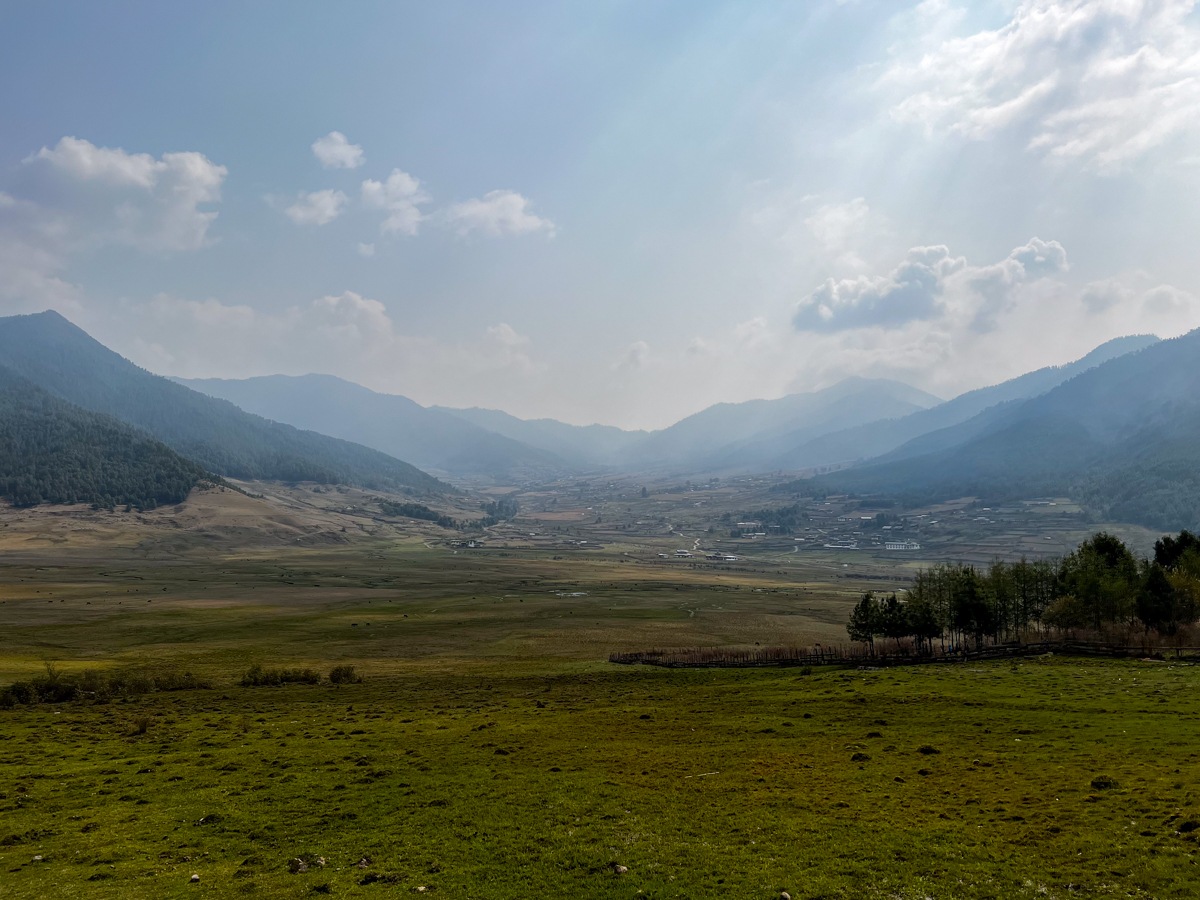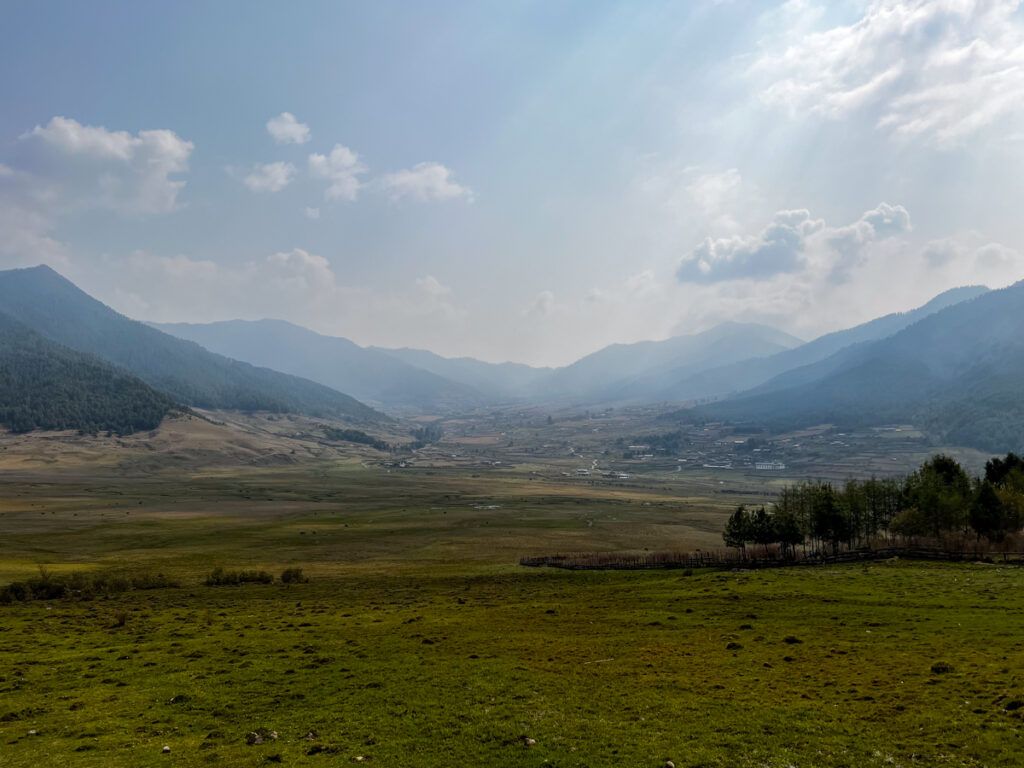 When I recall my time in Bhutan, memories of this short hike come to mind first. I don't remember feeling this at peace and carefree in a long time. I highly recommend including this trail in your Bhutan itinerary, and if you are visiting in winter months, you may even chance upon the black-necked cranes yourself!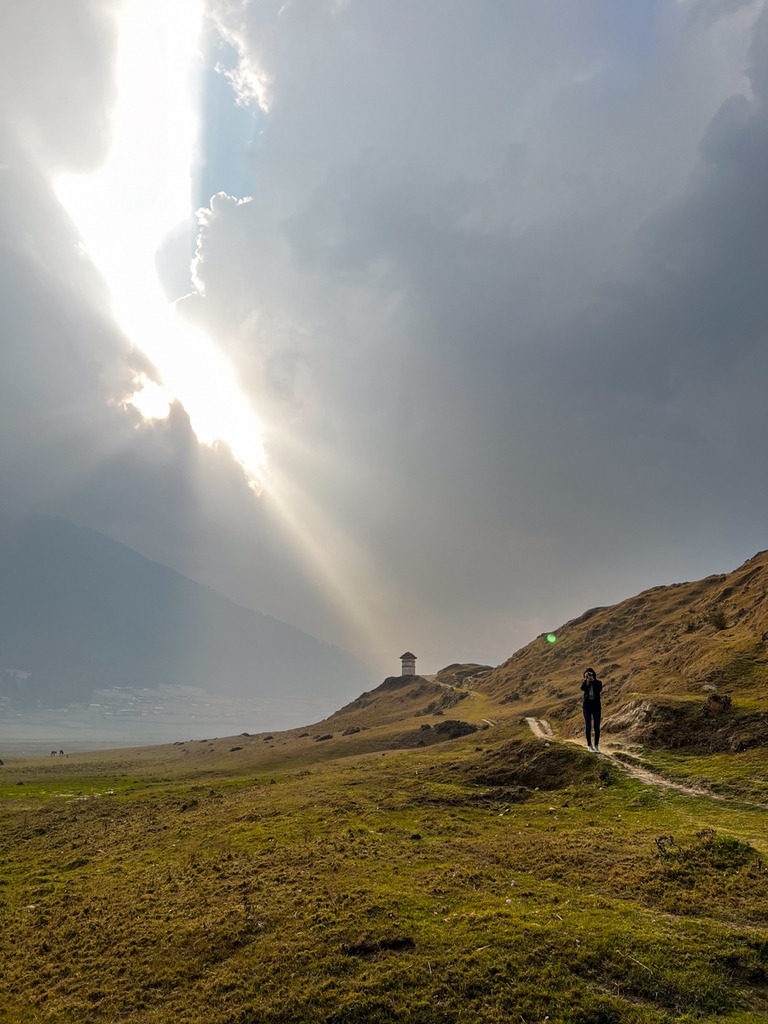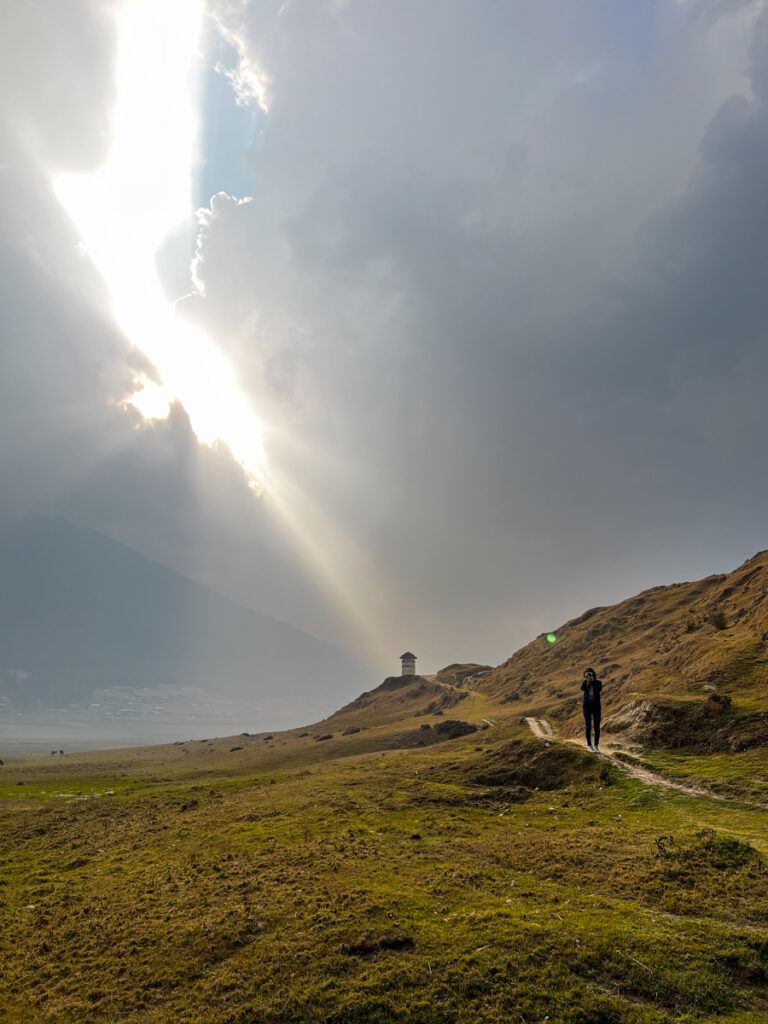 Our driver met us at the end of the trail, and we drove to Dewachen Hotel and Spa, where we enjoyed a splendid massage before ending the night.
Bhutan Day 5: Drive to Gaselo Village, Hanging Out with the Locals, Birthday Celebration
I should mention here that during your trip in Bhutan, a chunk of your time will be spent in the car, getting from one place to the other through mountainous roads. Most drives are very scenic and enjoyable, and people generally drive slowly, as we share the roads with cows, dogs and the like.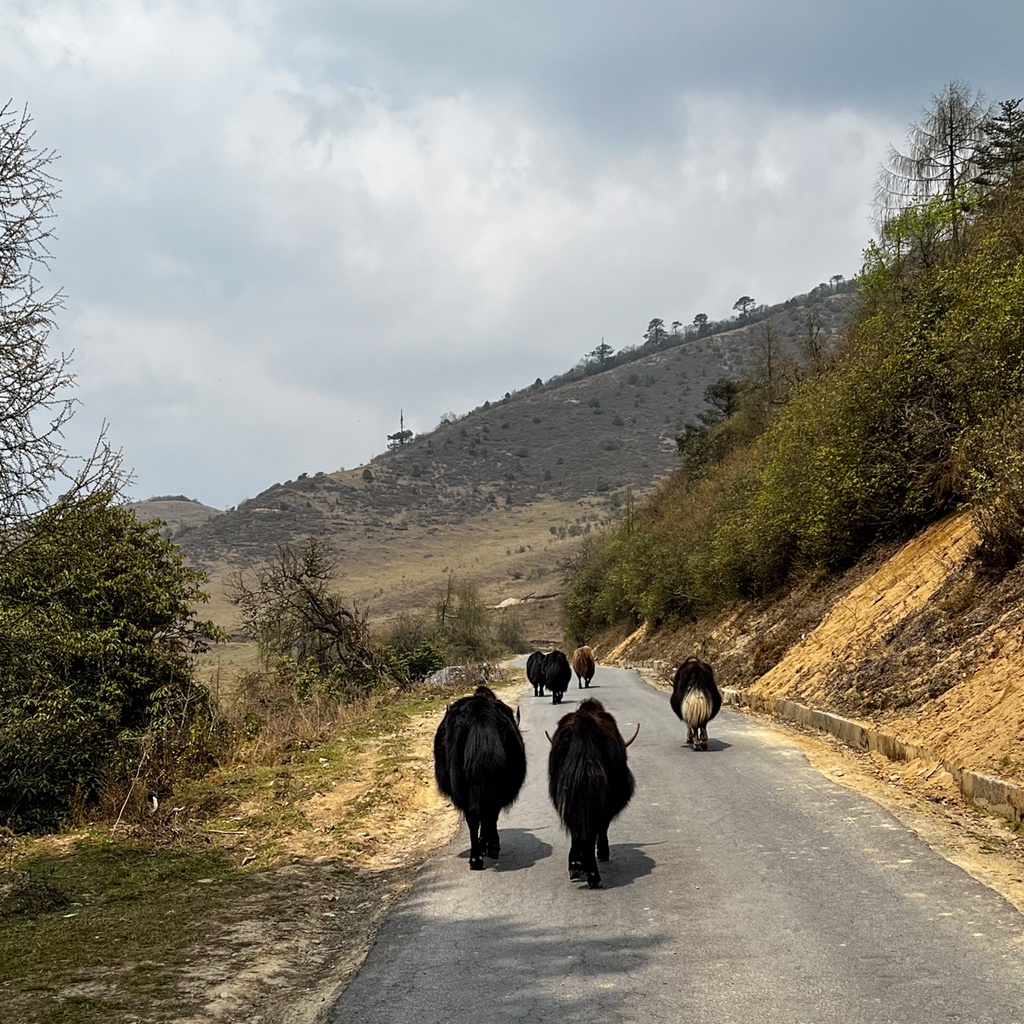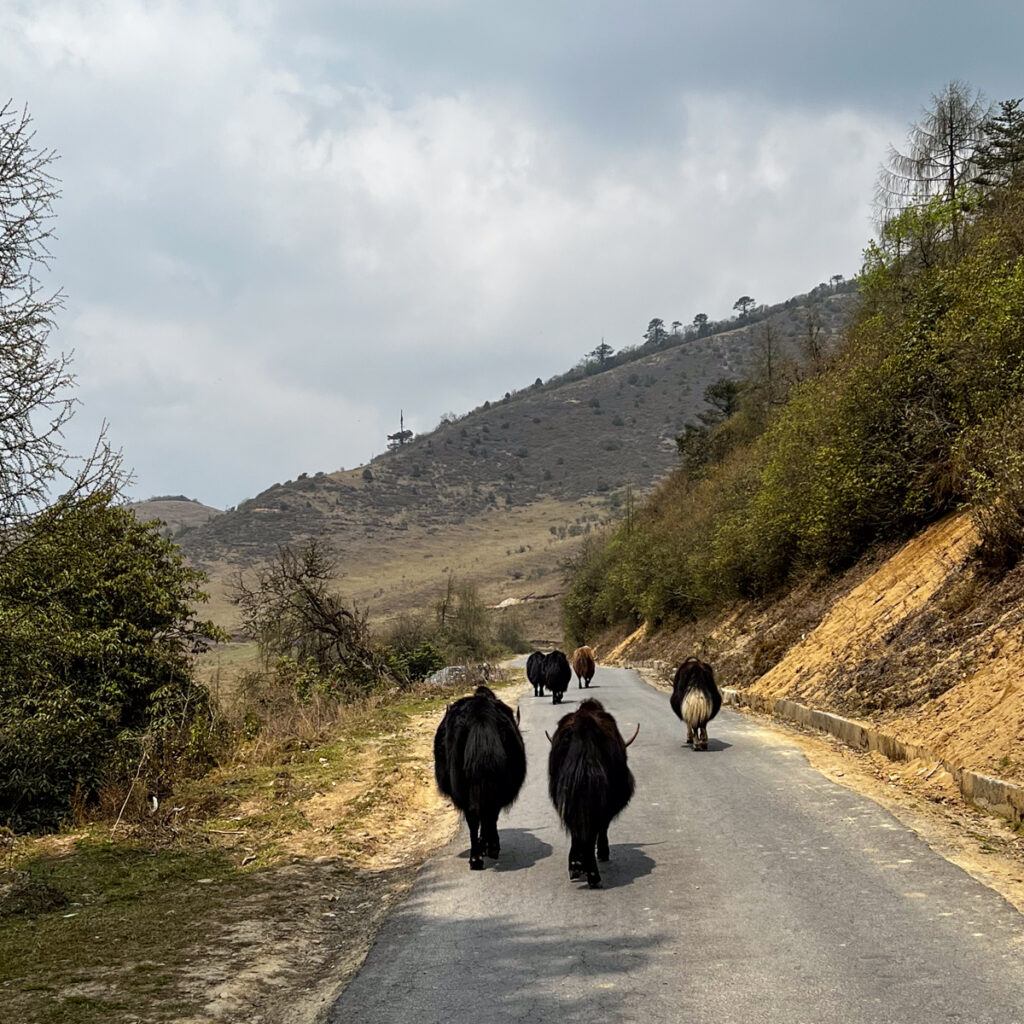 On our way to Gaselo Village, we stopped a few times to take photos and/or to play with the dogs. We arrived at a local's home for lunch, and even had the pleasure of touring the house.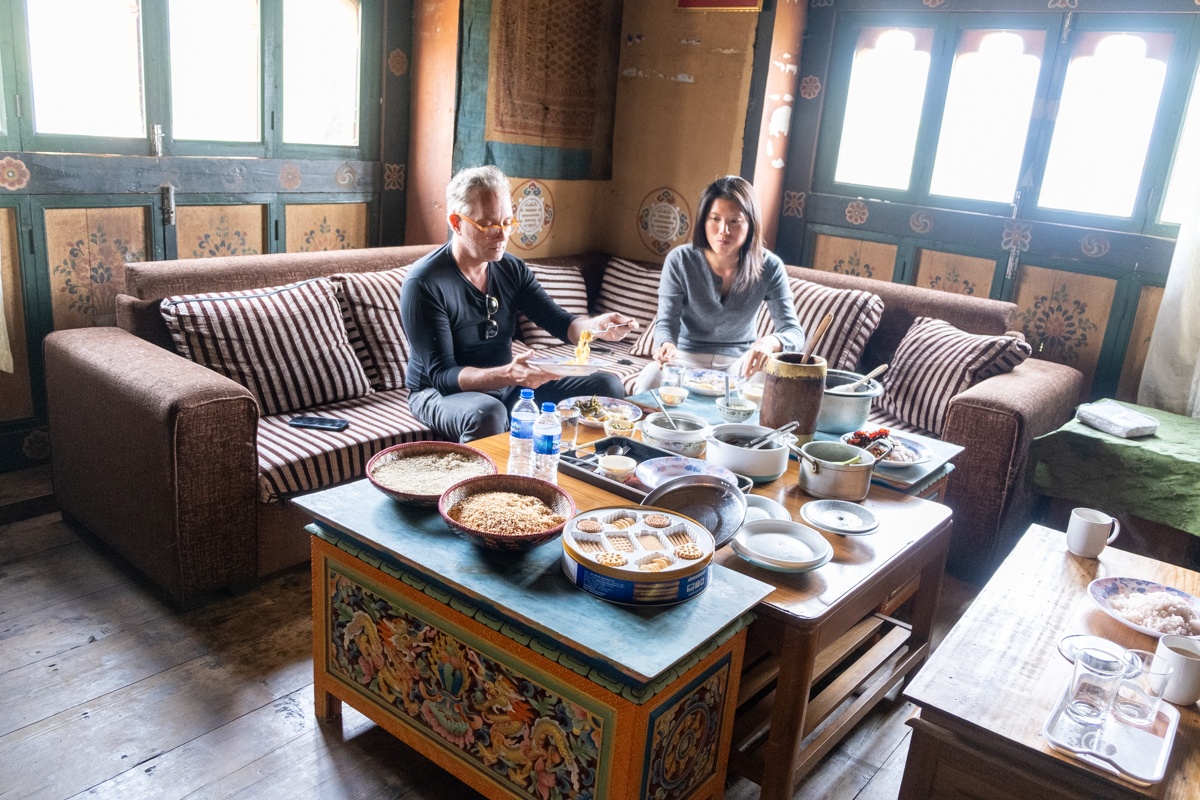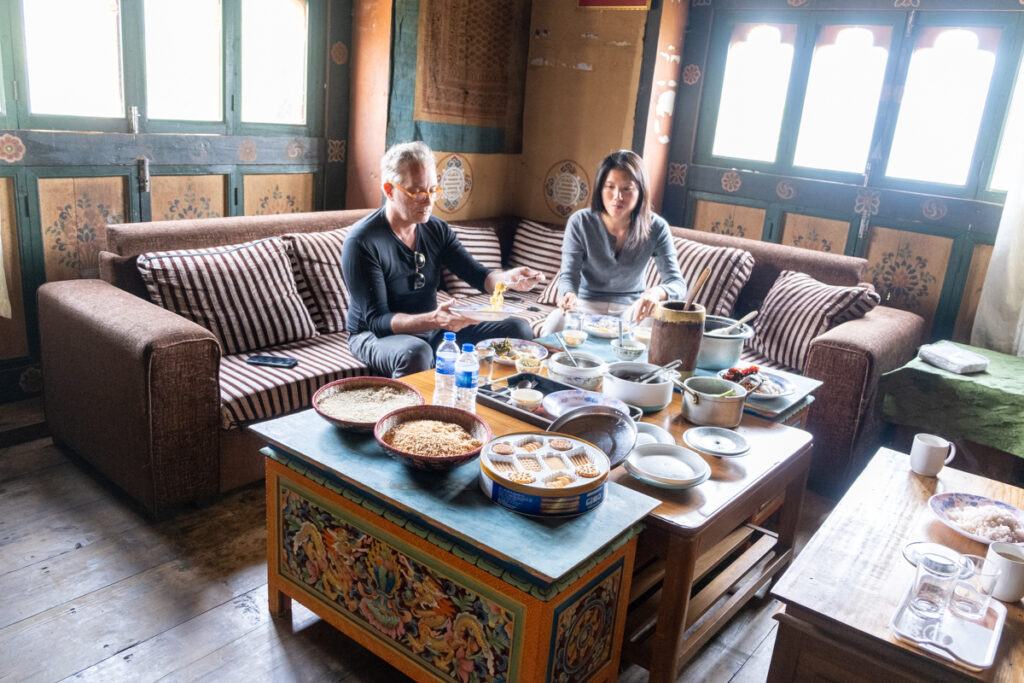 We also had a go at archery, and it was as difficult as I imagined it would be! While this sport is predominantly played by men, more and more women are participating, and I was encouraged by our guide and driver to give it a shot. I managed to finally release an arrow after several tries, much to everyone's amusement.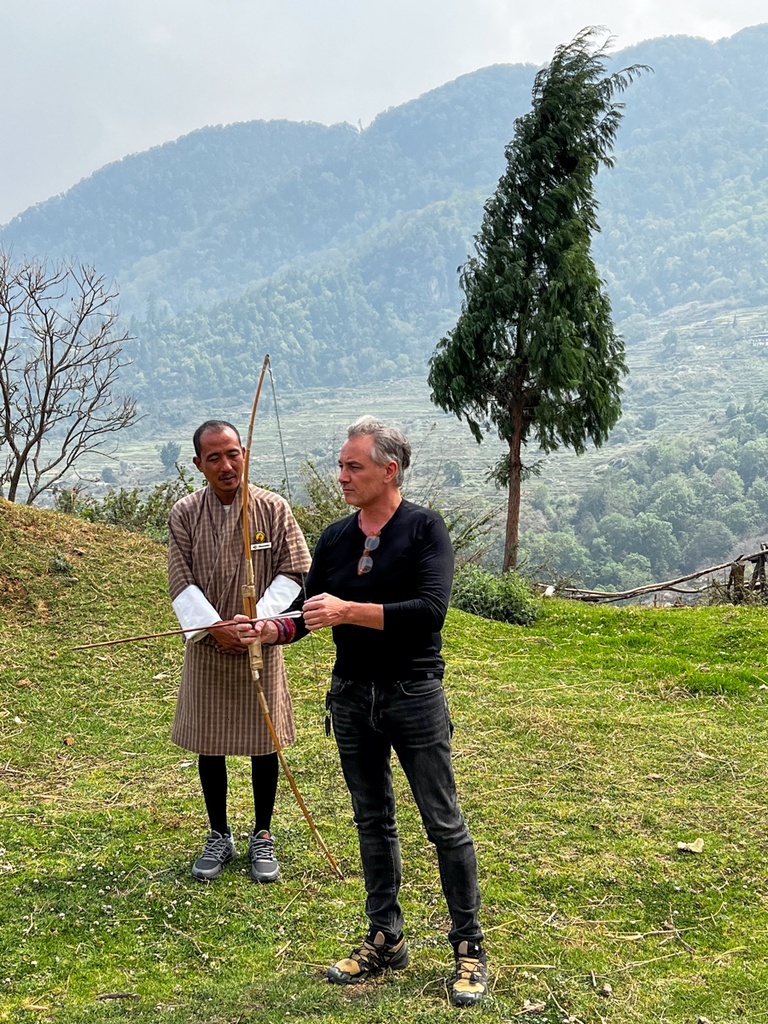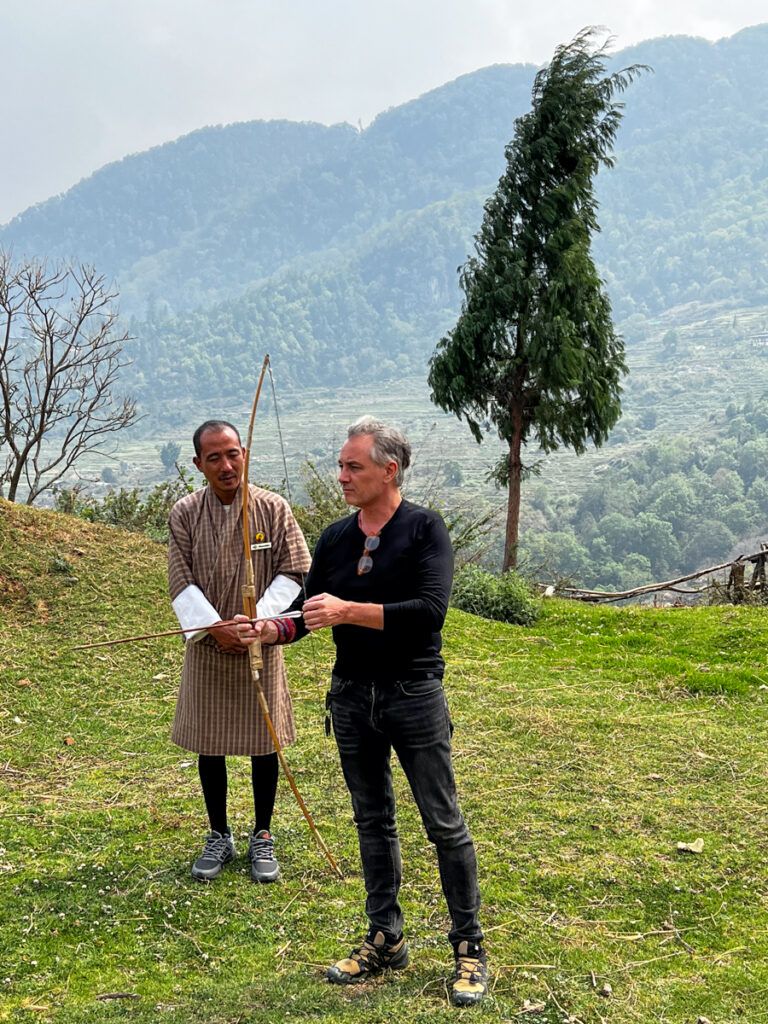 It was a relaxing afternoon spent wandering through paddy fields in the valley, soaking in the views, and hanging out with the locals, who happily let me help out in the fields. I felt content to be spending my birthday this way, but little did I know that a big surprise awaited.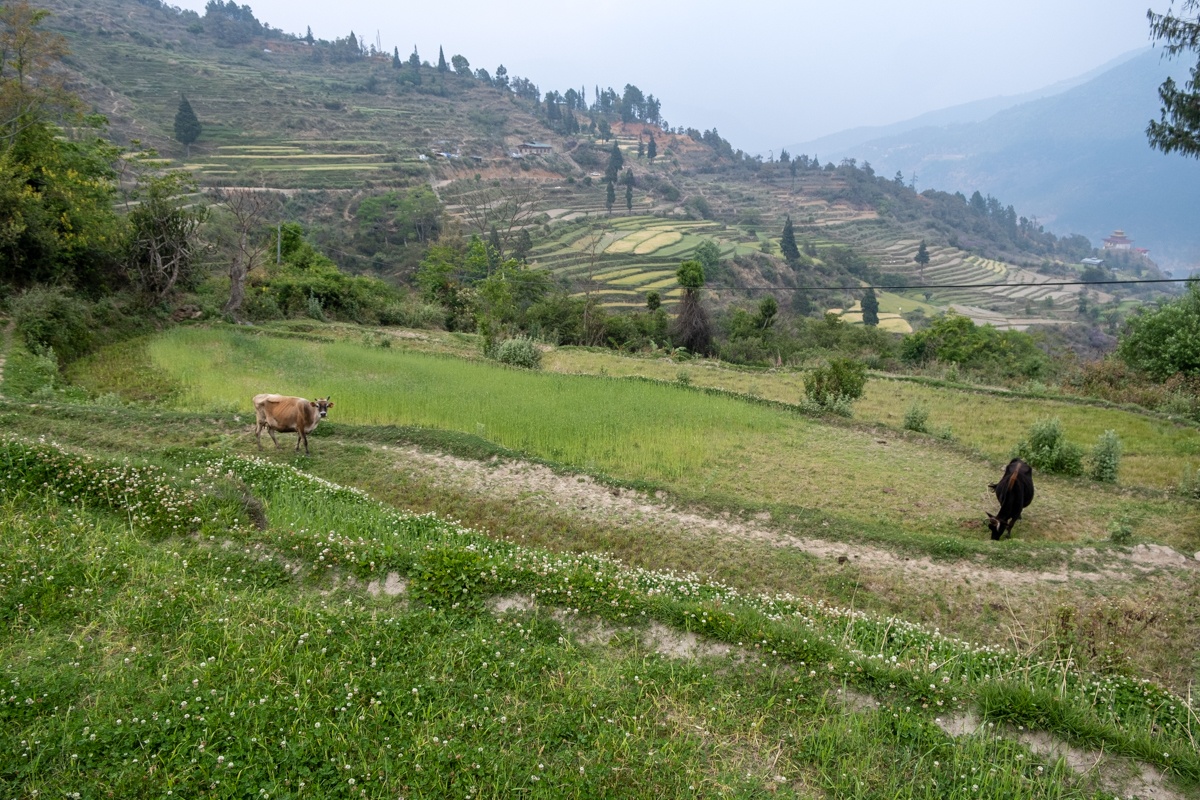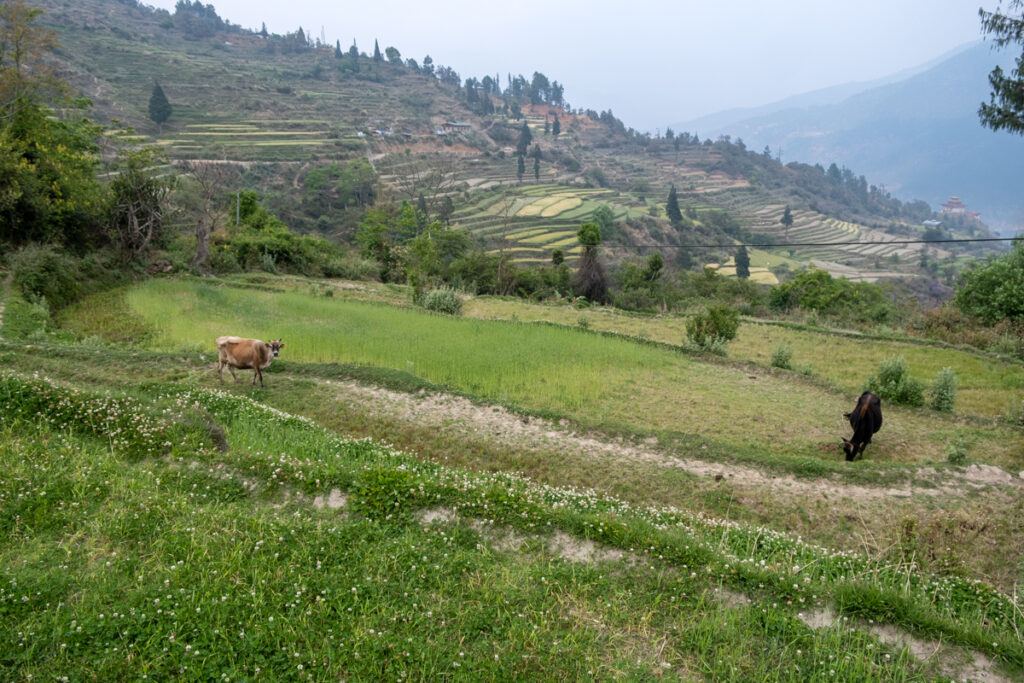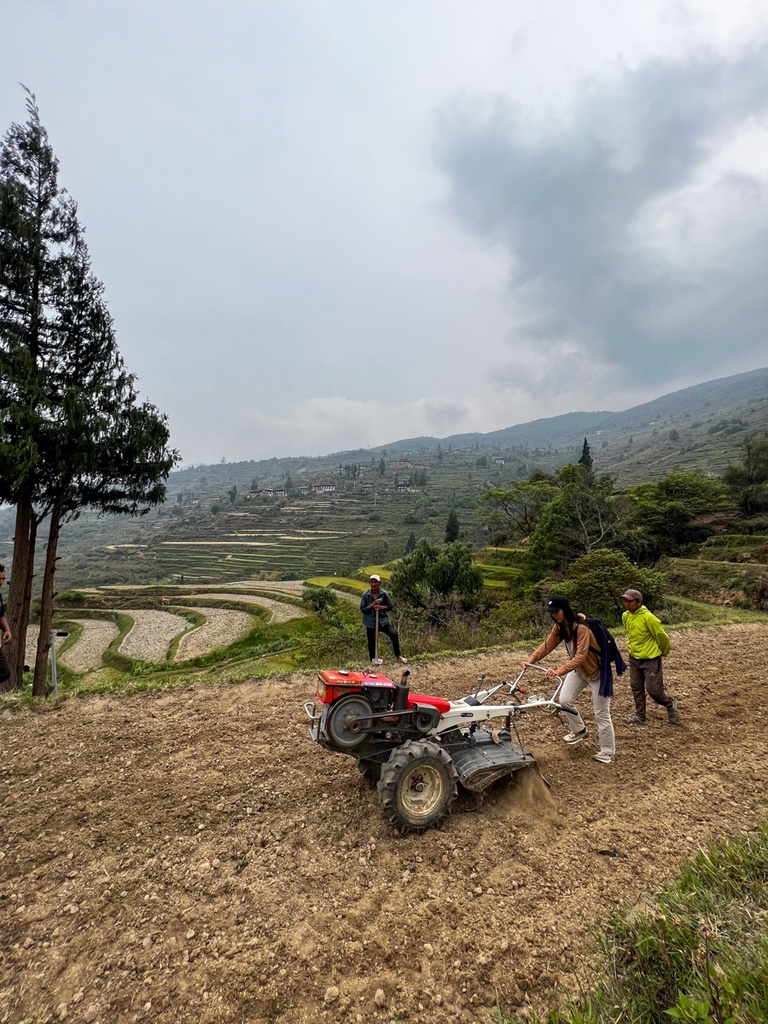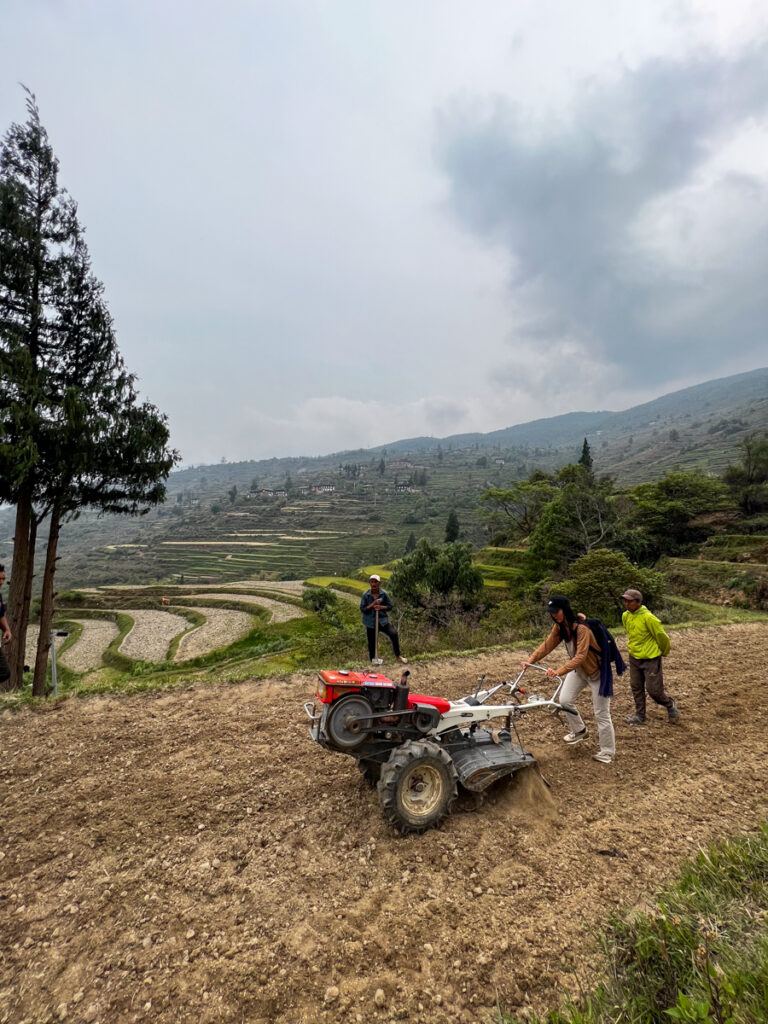 After checking into Gaselo Eco Lodge, I was told to get ready to go to another monastery. What the guide forgot to tell me was that it was the beginning of my birthday celebration, Bhutanese style.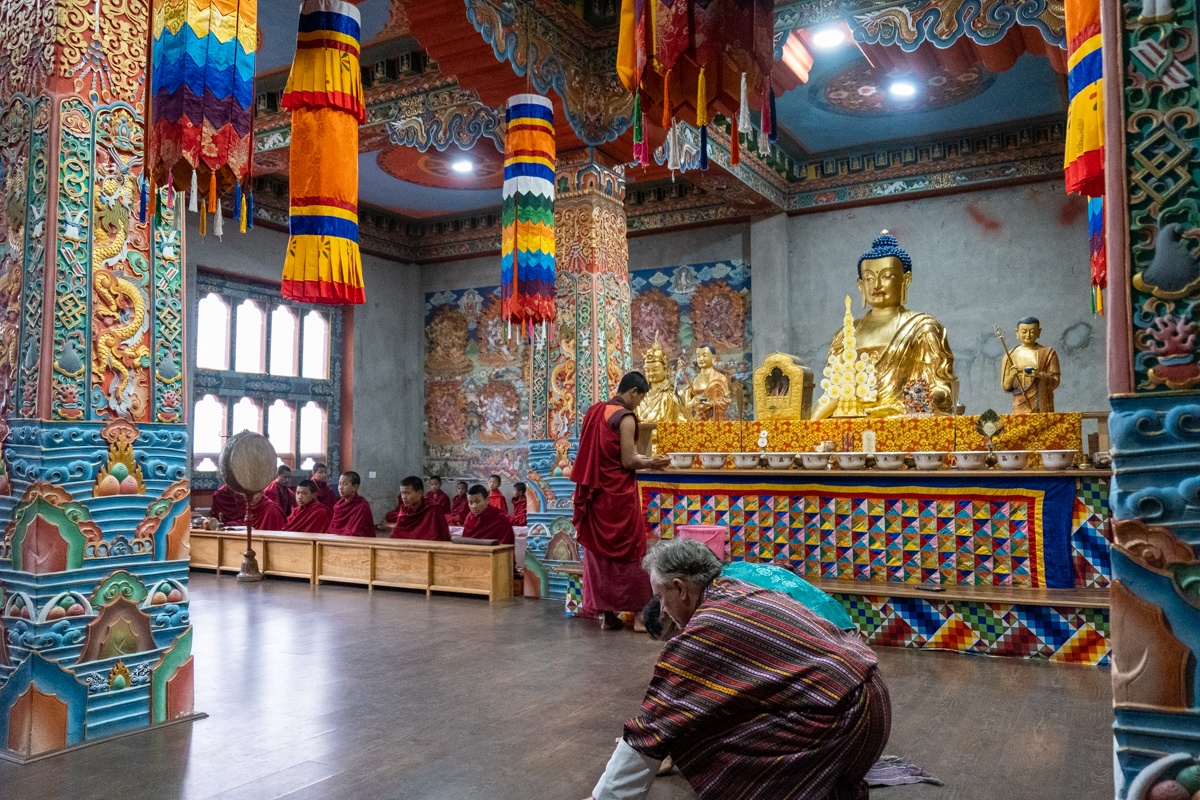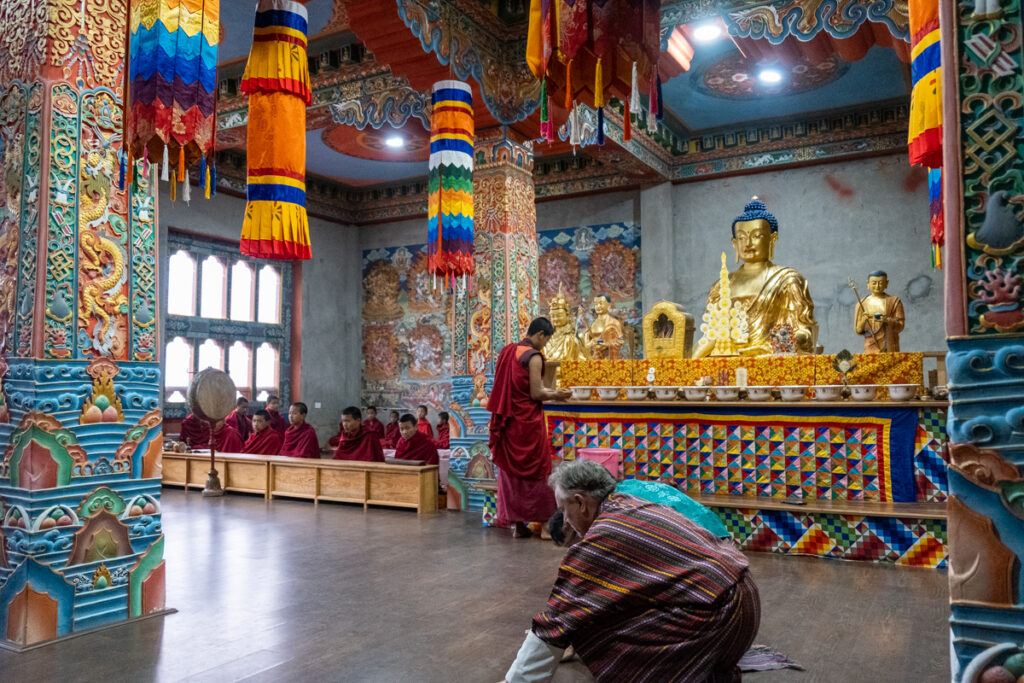 With the help of a few kind villagers, my husband and I changed into a gho and kira, the traditional Bhutanese dress for men and women, respectively. About 30 young monks entered the monastery as I attempted to comprehend what was going on.
A birthday celebration in Bhutan consist of a chanting ritual at a monastery. Butter tea, sweet rice, and cakes are prepared as offerings and are to be shared with the monks. It was truly the most special birthday party I've ever had, and I am so grateful for our guide's effort to make this birthday girl very, very happy.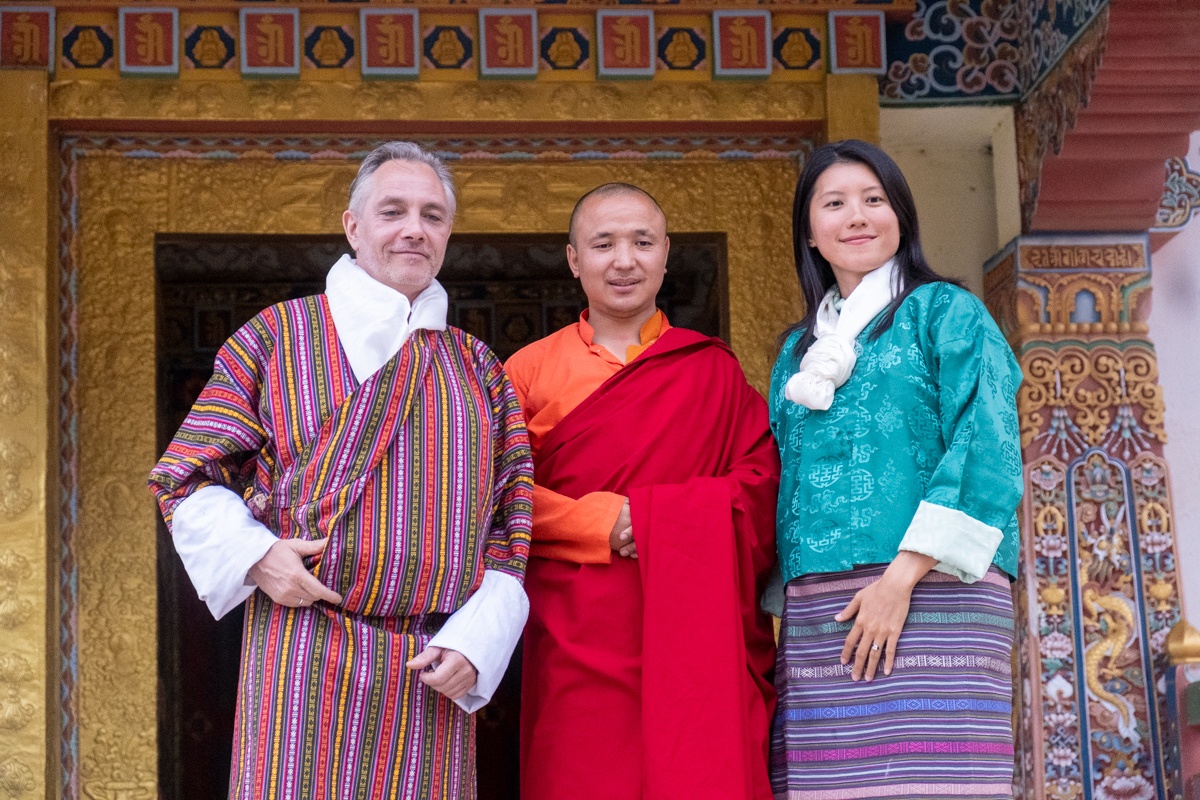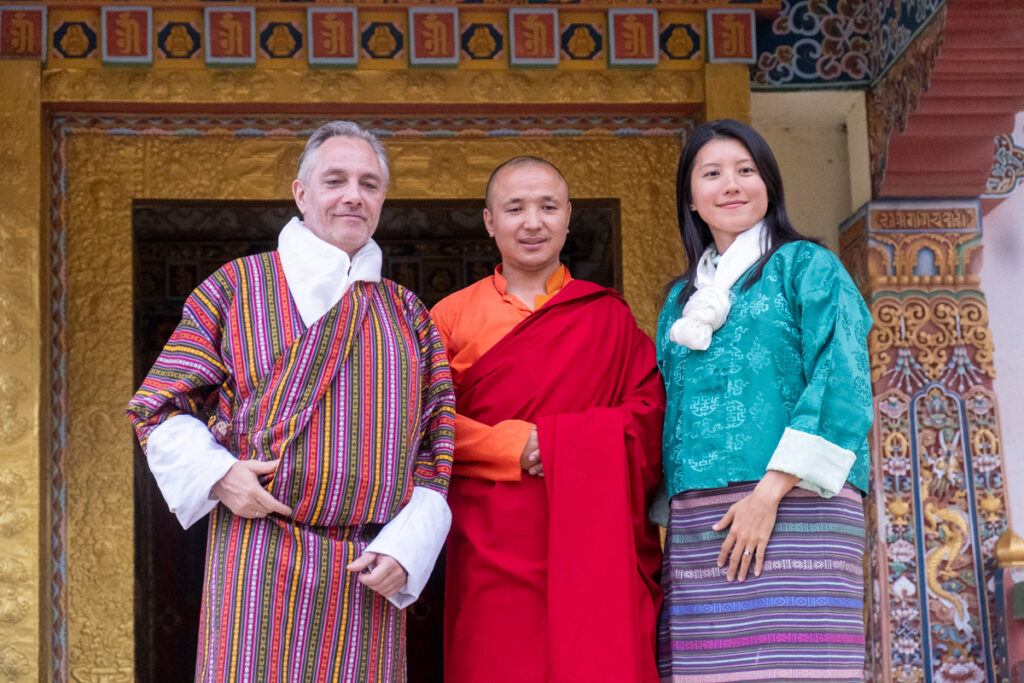 Bhutan Day 6: Drive to Paro, Stroll in Paro Town
The Tiger's Nest awaited us on day 7, so we decided to take day 6 easy, with a slow morning at the eco-lodge, followed by yet another three-hour drive back to Paro Town. We checked into Tiger's Nest Camp, and had a glimpse of the Tiger's Nest (Bhutan's most iconic monastery) from our door.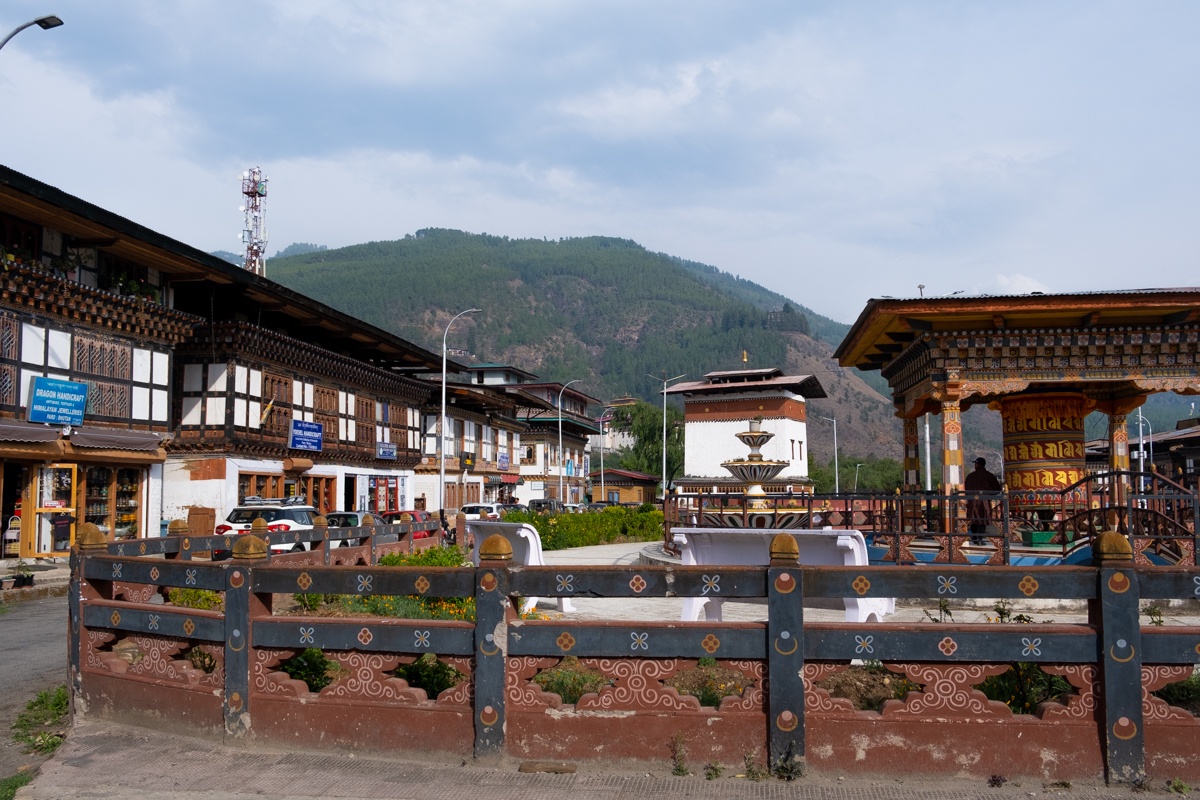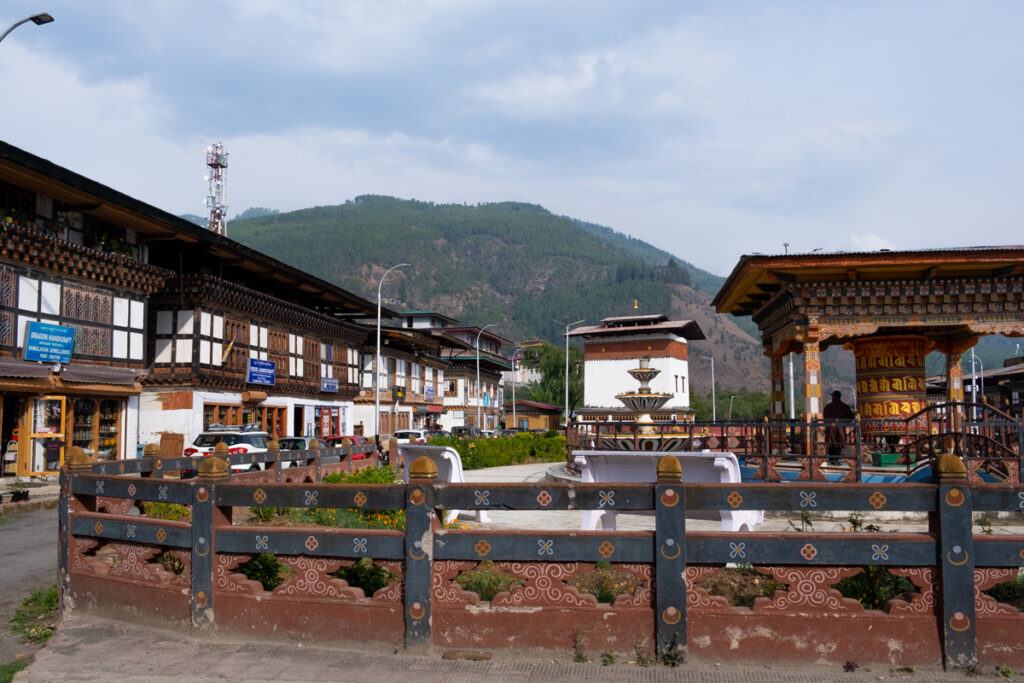 We decided to spend the day shopping for souvenirs. Bhutanese art and crafts are fabulous. We enjoyed shopping for paintings, brass sound bowls, and wooden objects.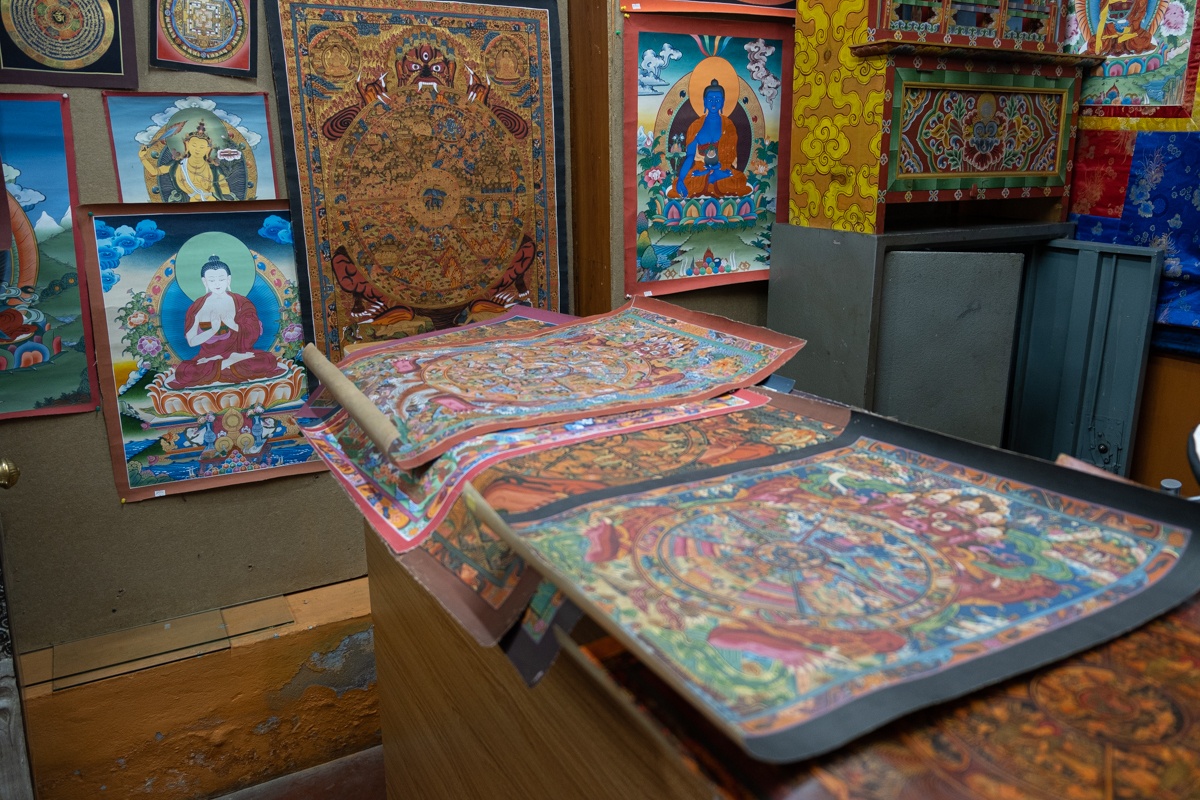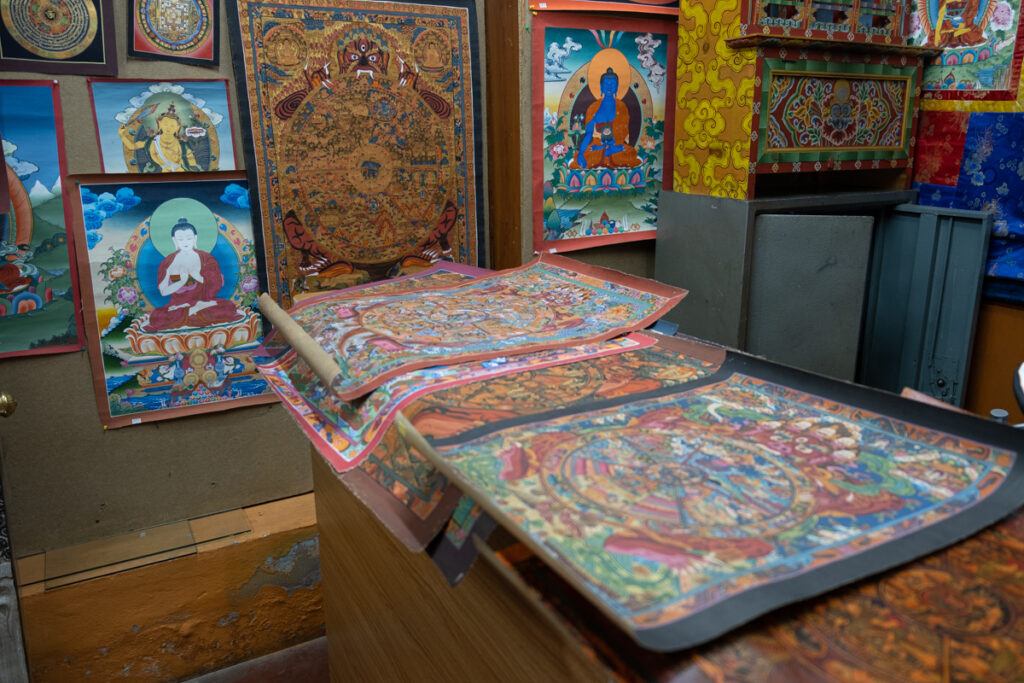 Bhutan Day 7: The Tiger's Nest, Hot Stone Bath
It's the day! A first trip to Bhutan is not complete without a hike to the Tiger's Nest, and I am thankful to have had it as the grand finale of our trip. By this time, we were fully acclimated to the elevation and felt ready for the hike.
Tiger's Nest, also known as Paro Taktsang, clings to the rocks 2,950 meters above sea level, and is truly a sight to behold. During the COVID lockdown, tour guides and drivers were hired by the government to build stairways leading up to the monastery, making both ascent and descent slightly easier.
The visit there runs about 7-8 hours in total, with 3-4 hours of it hiking, plus some time for touring the monastery (no photos or videos allowed inside!) and taking snack breaks.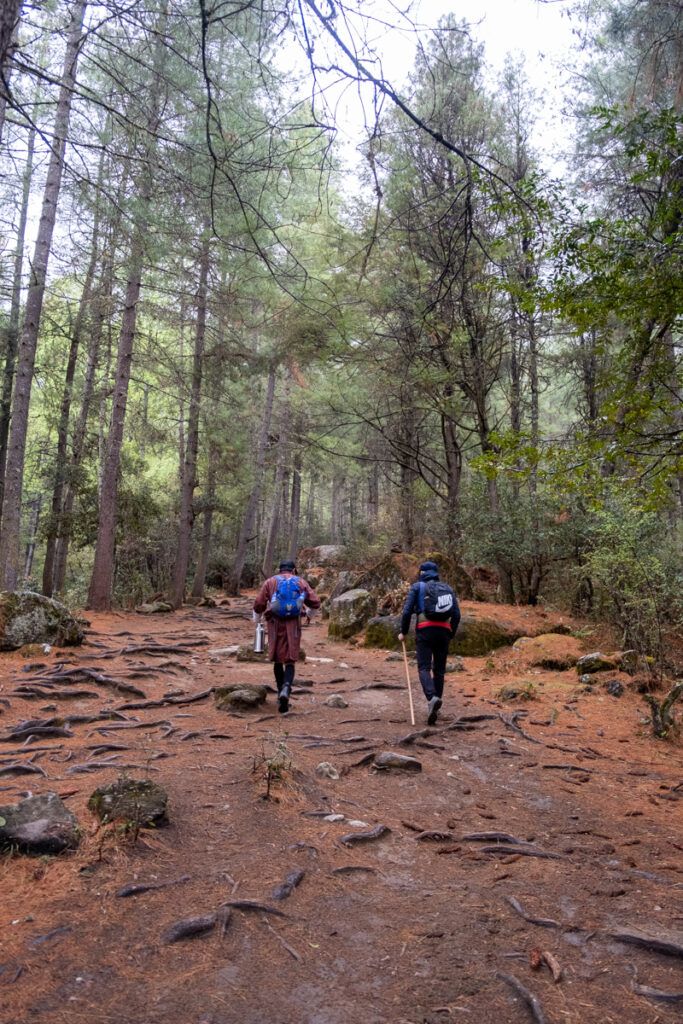 We began our hike at 7am. It was pretty chilly, and the Tiger's Nest was covered by the clouds. I worried that luck was not on our side, as it rained the previous night. Our guide was not deterred, and amused us with "five more minutes" every five minutes.
The hike itself was moderately challenging, as it is a constant upward trek, with 800 meters of elevation. Our guide prepared a hiking pole for us, which helped tremendously. My advice is to take plenty of small breaks and don't forget to enjoy the views! We loved watching the birds especially.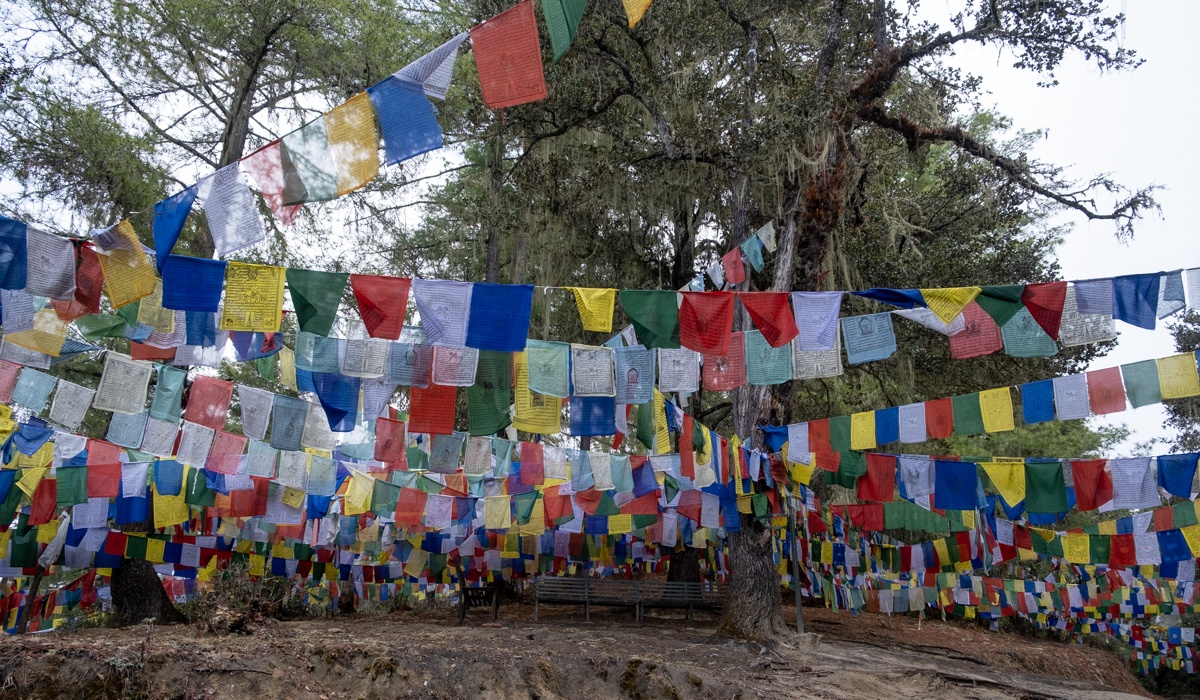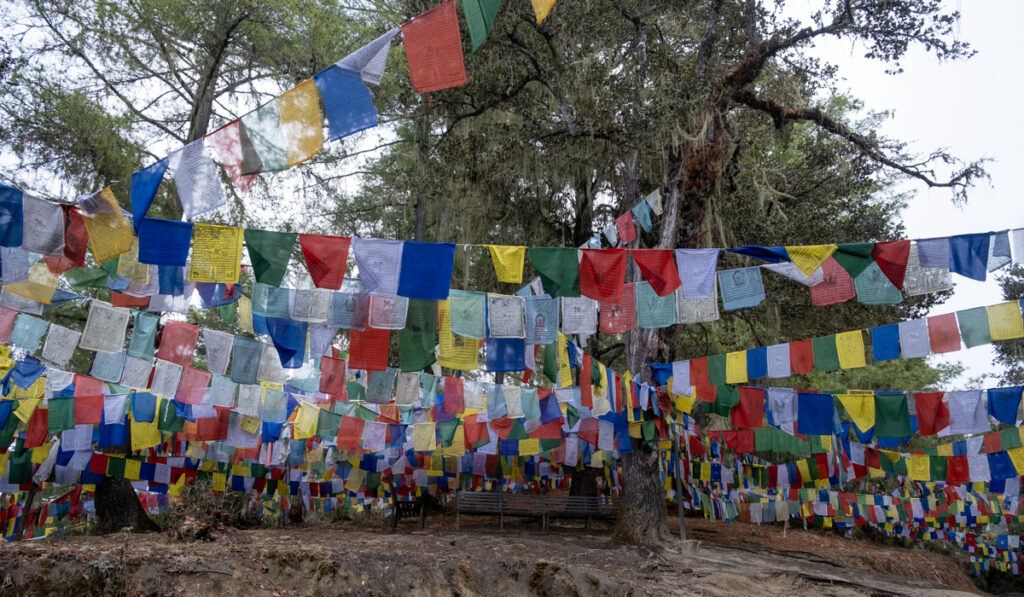 The Tiger's Nest was one of the first things about Bhutan I had learned about, and it felt surreal to finally see it with my own eyes. The sky did clear up, thankfully, and the monastery was even more magnificent up close.
It was worth waking up early for the hike, as we barely saw anyone else on our way up — but can't say the same for when we descended. It is definitely the most popular spot in Bhutan!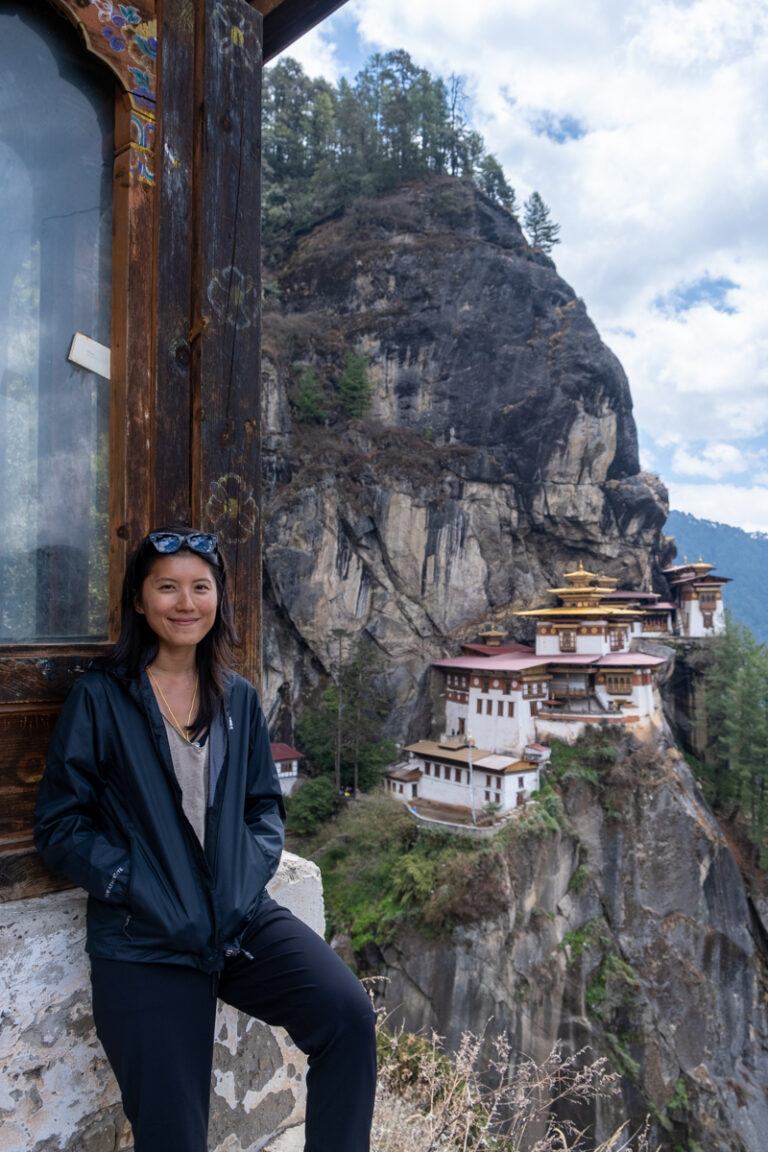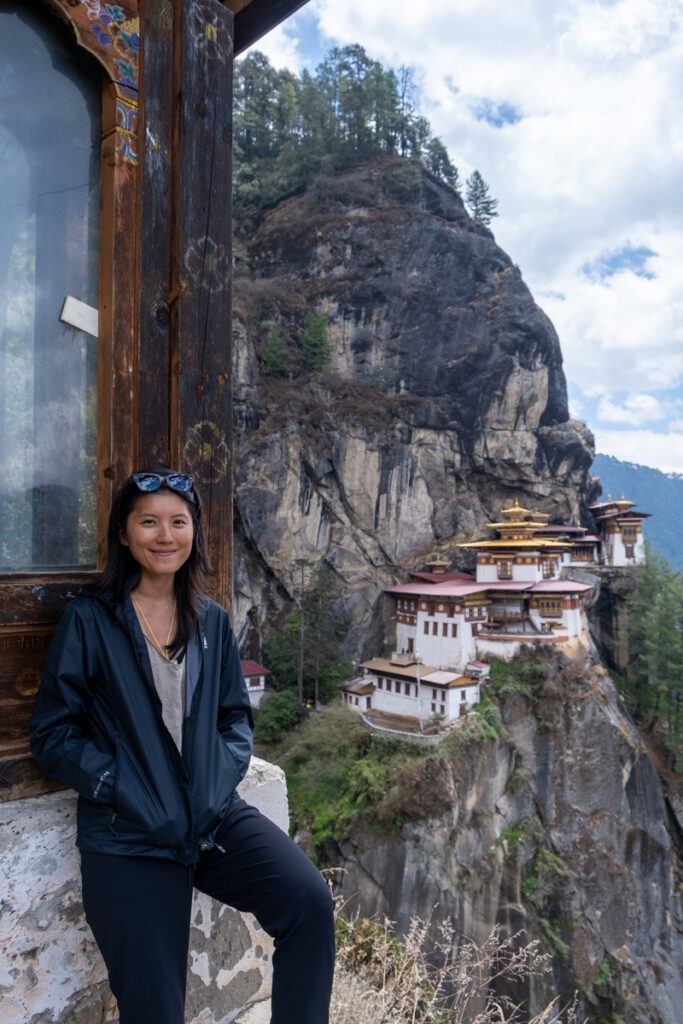 We did a relaxing hot stone bath at a bathhouse in the evening, which was the perfect ending to the day. However, I recommend staying at a hotel with its own hot stone bathhouse (Tiger's Nest Camp has one) and booking a session for the evening after the hike, so you can go straight to bed right after.
Bhutan Day 8: Departure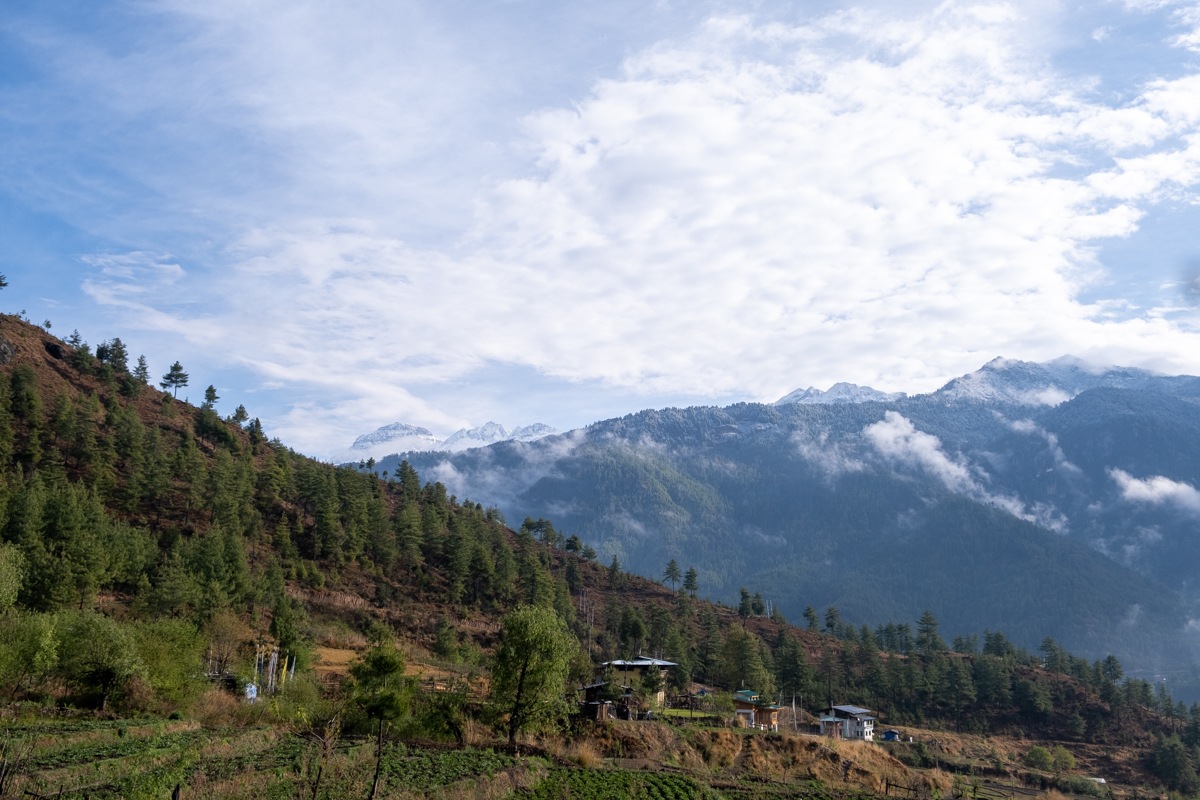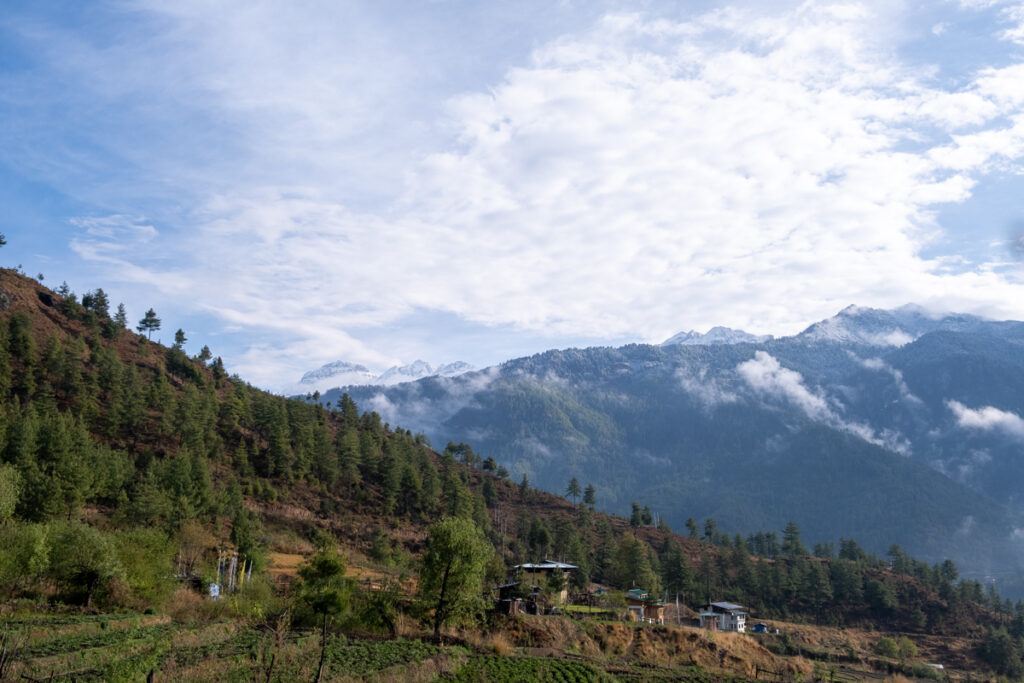 One last look at Bhutan, and it was time for departure. It was truly an unforgettable experience, and I hope I will have the opportunity to return someday.
Picking Your Bhutan Tour Operator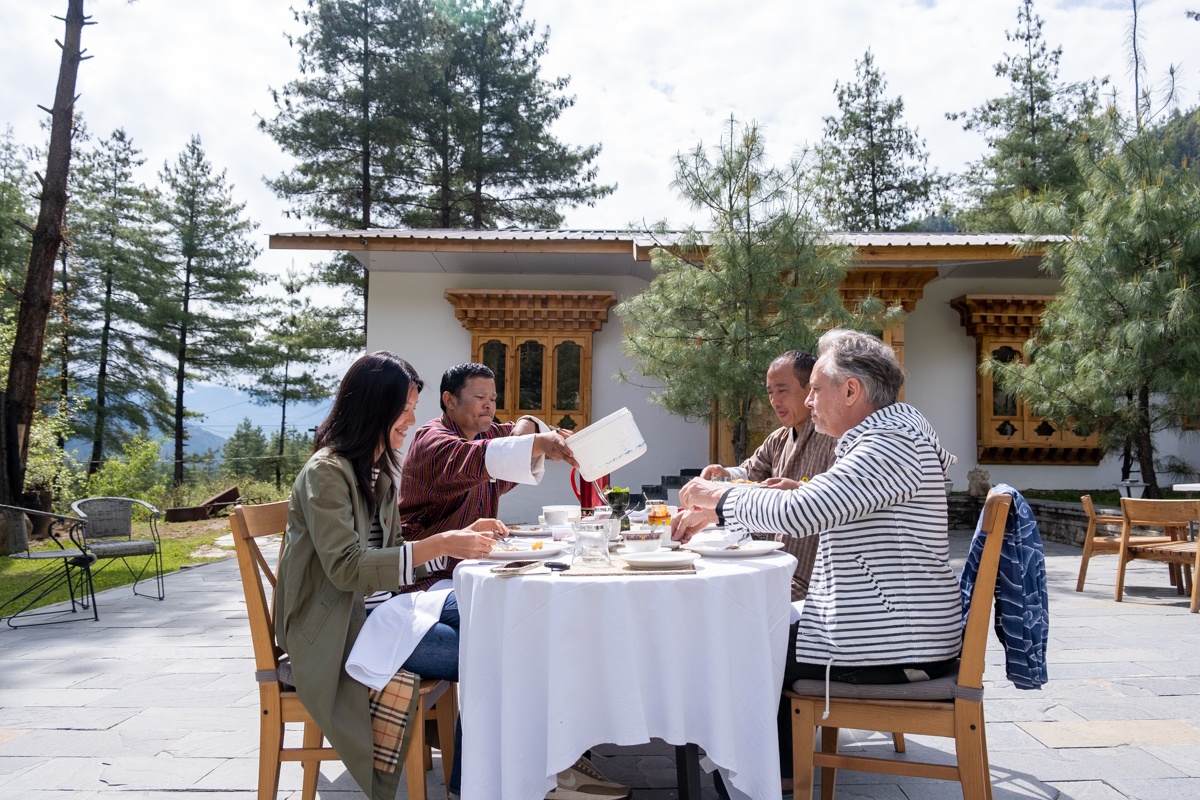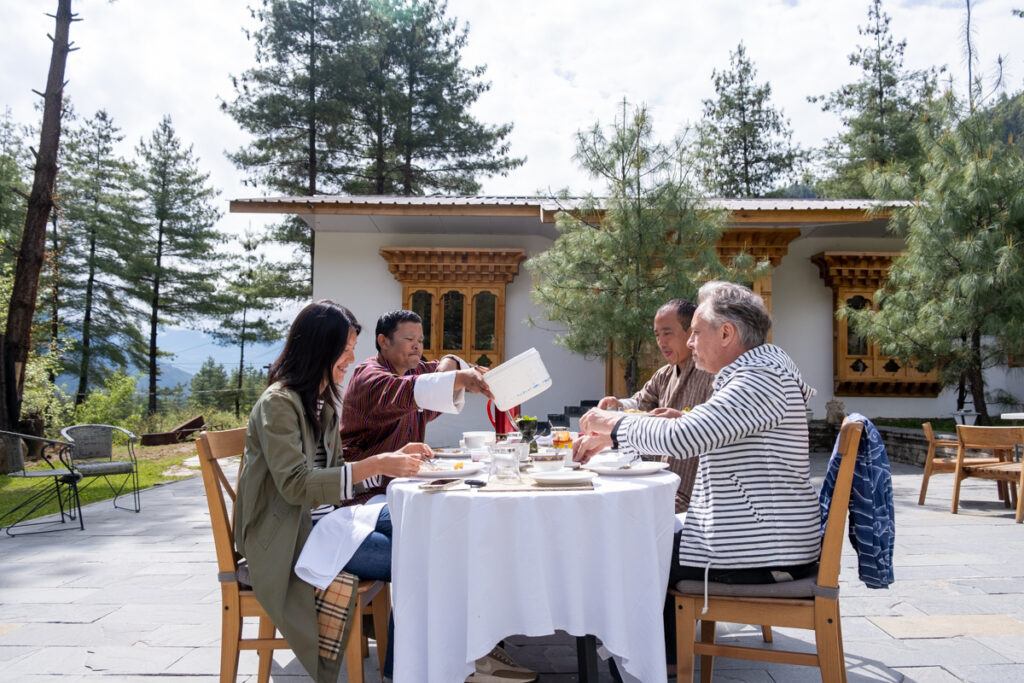 There are thousands of tour operators in Bhutan, so how do you pick one for your trip to the kingdom?
Most tour companies offer a very similar service, but a few things about Breathe Bhutan stood out to me. I wrote to several tour operators with the same request: a blend of the must-sees and opportunities to experience local life. Breathe Bhutan was the only company that responded with a proposal to have meals at a resident's home, to participate in ceremonies (and it cleverly kept the birthday event as a surprise), and to spend an evening hanging out with Bhutanese people. It even proposed to take us to experience Bhutan's nightlife!
On top of that, everything was managed seamlessly. The company organized our visas, flights, accommodations, and itinerary. A complete packing list was also provided, which demonstrated the amount of attention paid to small details. We only needed to pack our bags and show up at the airport.
By the end of our trip, our guide and driver felt like friends, and we felt honored to not only observe but participate in Bhutan. I highly recommend organizing your trip with Breathe Bhutan!
Best Time to Visit Bhutan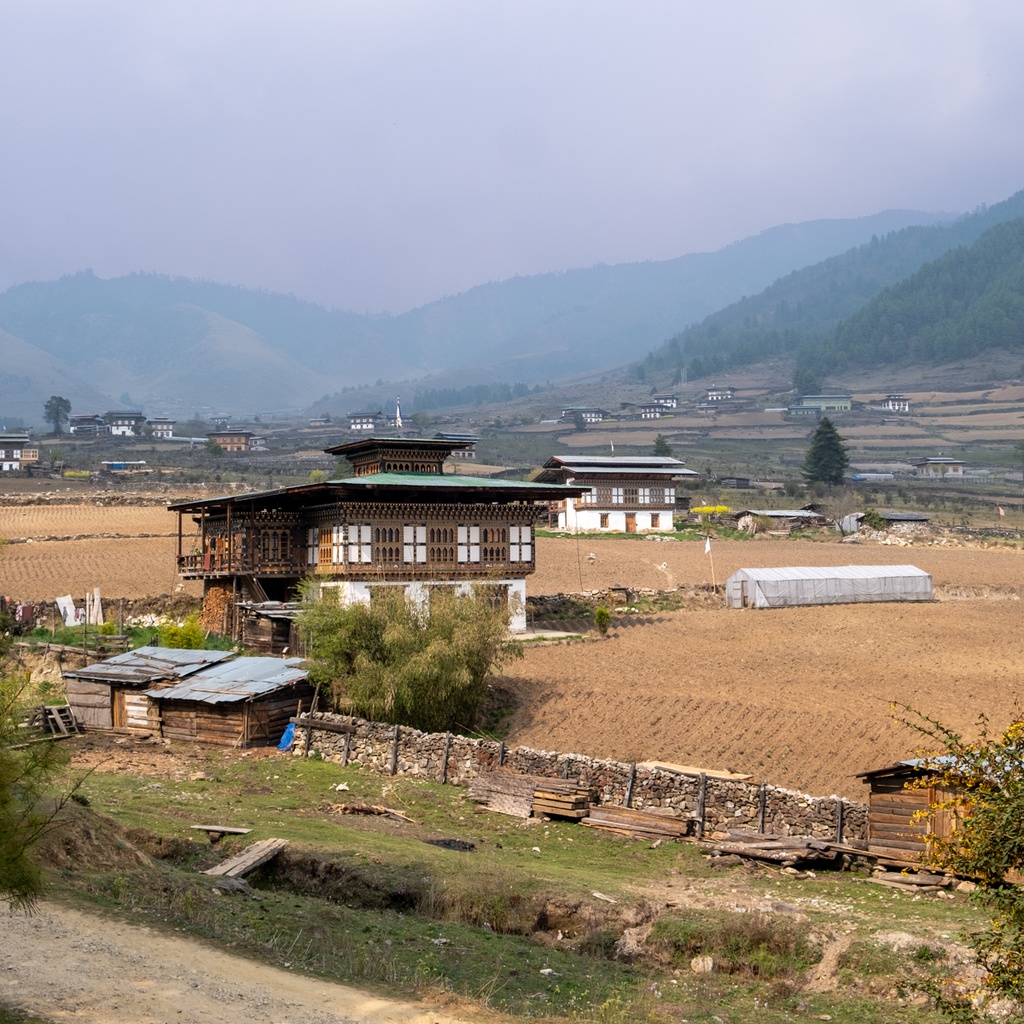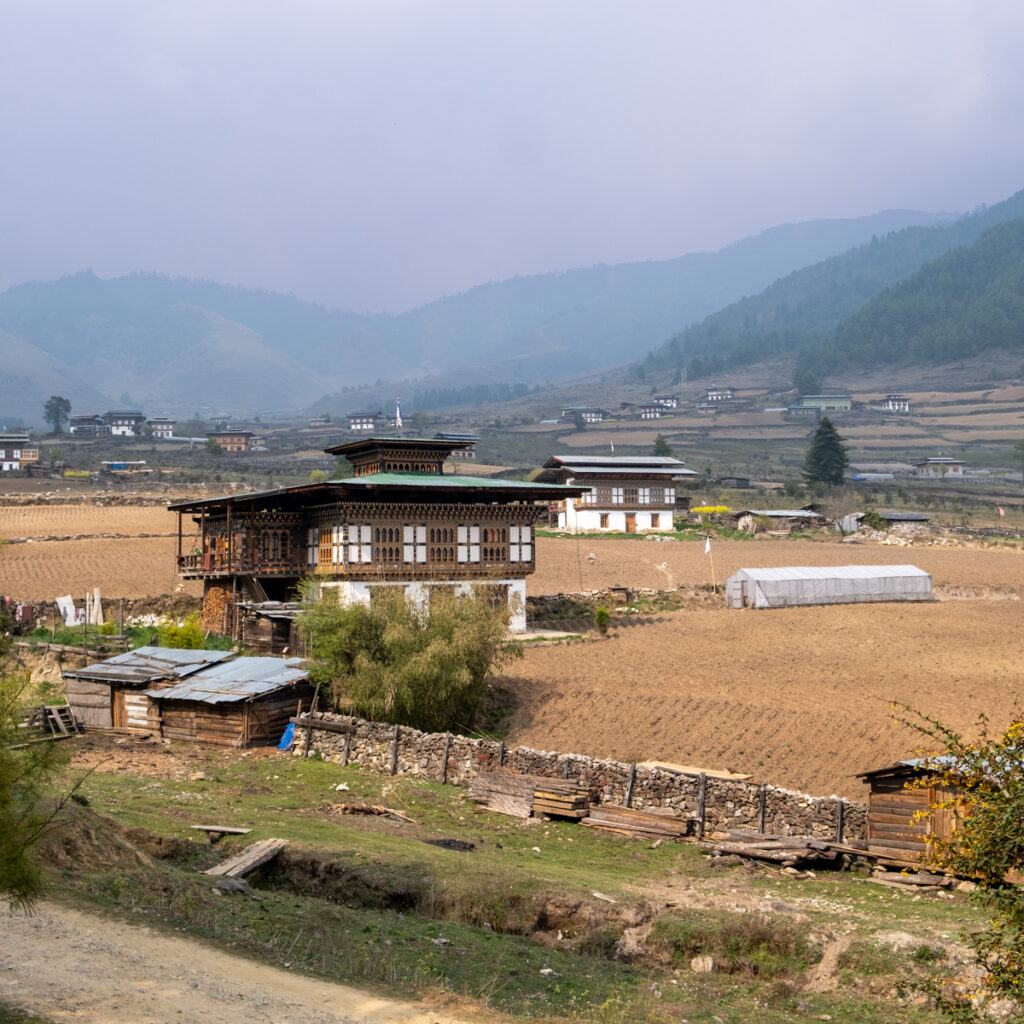 The best months to visit Bhutan are April and May and September to November. We visited in late April and loved the blooming flowers and pleasant temperatures.
What to Wear in Bhutan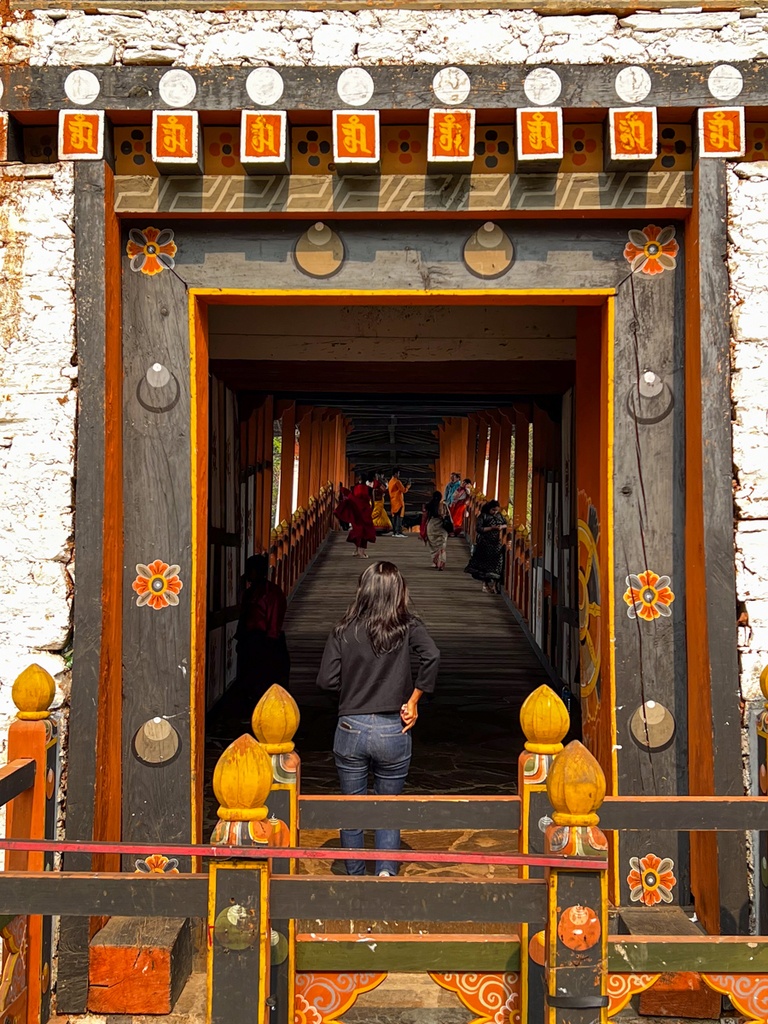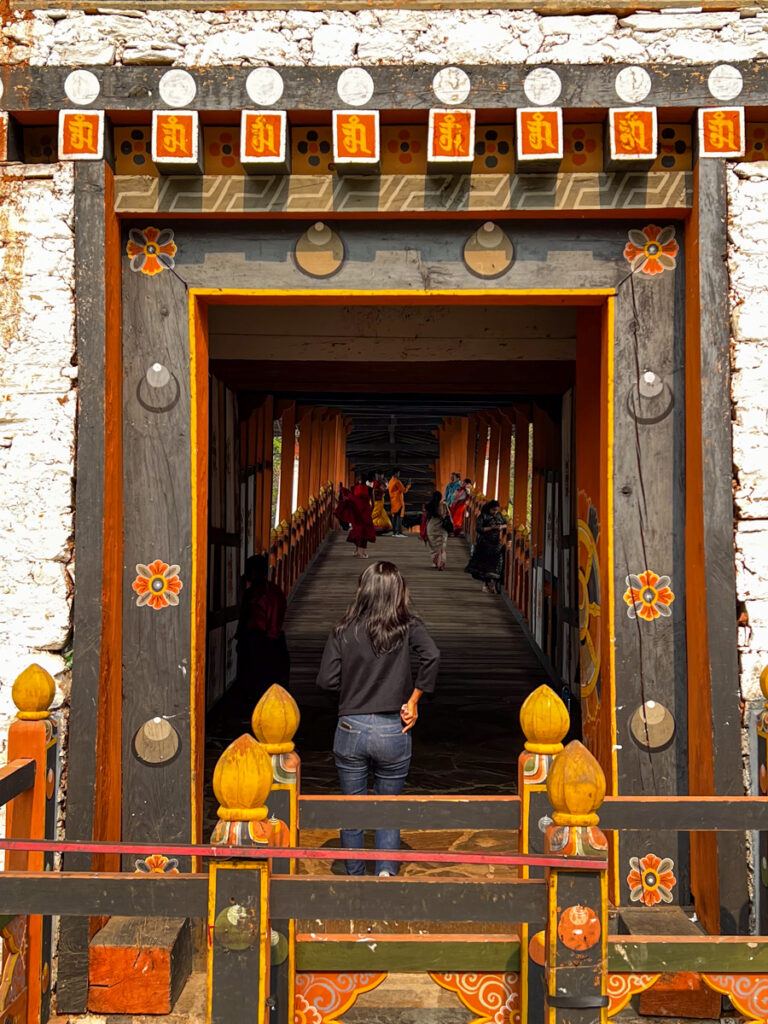 Expect drastic temperature changes throughout the day, so be clever with layering! Pack simple, breathable clothing along with some good jackets and you will be fine. You will be walking a lot and will need to take your shoes off when entering monasteries, whose floors can get quite cold. So pack comfortable walking shoes and thick socks. The Bhutanese dress conservatively, and you are expected to dress appropriately when visiting dzongs. Long sleeves and pants are the way to go!
Here's my Bhutan packing list:
I also recommend bringing a reusable water bottle. It was surprising to see the wide use of plastic in Bhutan, and as tourists, we should do our part to minimize our waste.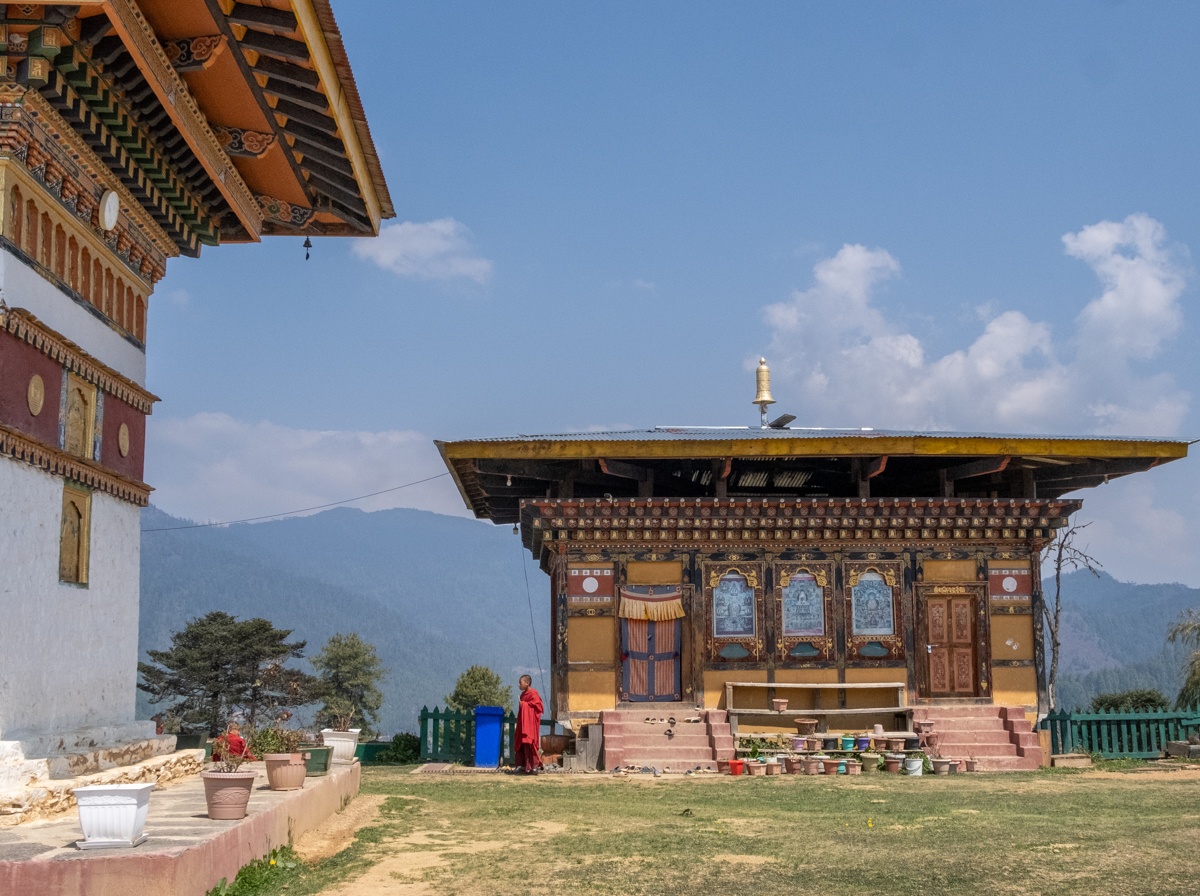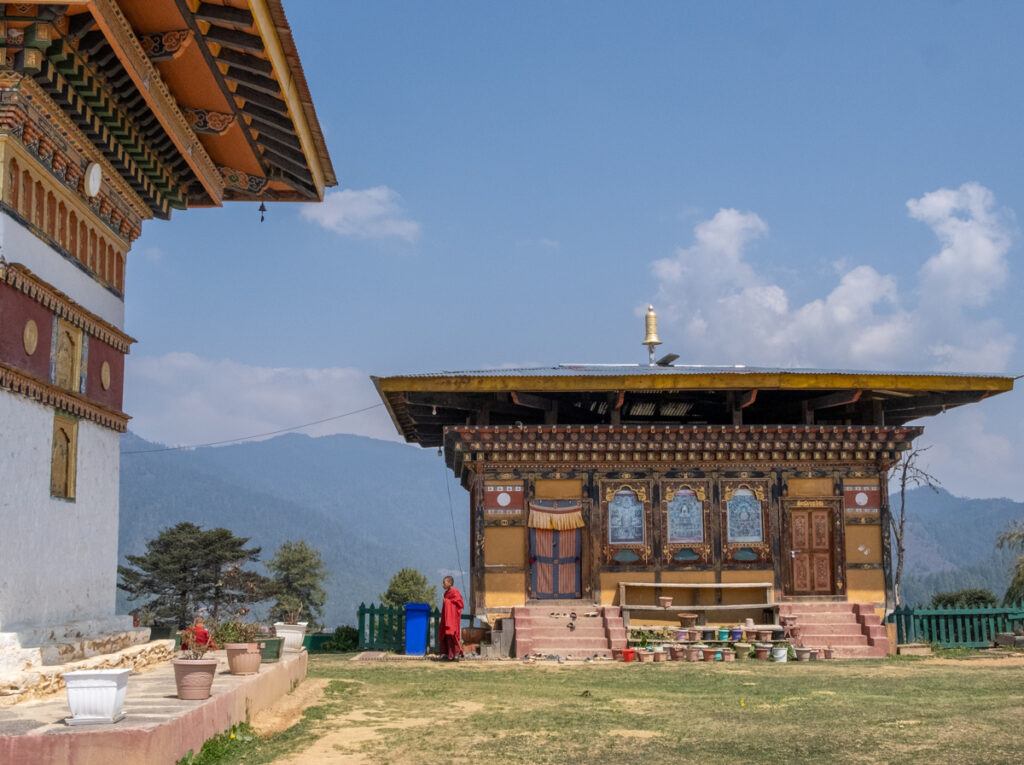 What else would you like to know about planning a Bhutan itinerary? Let us know in the comments below!
*This post was brought to you in partnership with Breathe Bhutan. All opinions on the tour operator and the Kingdom of the Thunder Dragon are my own. Your trust comes first!