This post was written by Ashley Yap, BMTM's Malaysia-based writer.
Planning a trip to Bhutan is an exciting endeavor. After all, you are traveling to one of the most unique countries in the world, in terms of history, culture, policies, and things to do.
On all my trips, I love a good mix of guesthouses and mid-range hotels, so as to have a taste of a variety of accommodations (and to keep my budget in check!). However, when I was researching our Bhutan trip, I quickly realized that there's not a lot of information and reviews of hotels online, so I didn't know what to expect. Luckily, our tour operator, Breathe Bhutan, did the legwork and proposed a list of places to stay.
After checking out eight properties, here are all of my favorite places to stay in Bhutan:
1. Dhumra Farm Resort, Punakha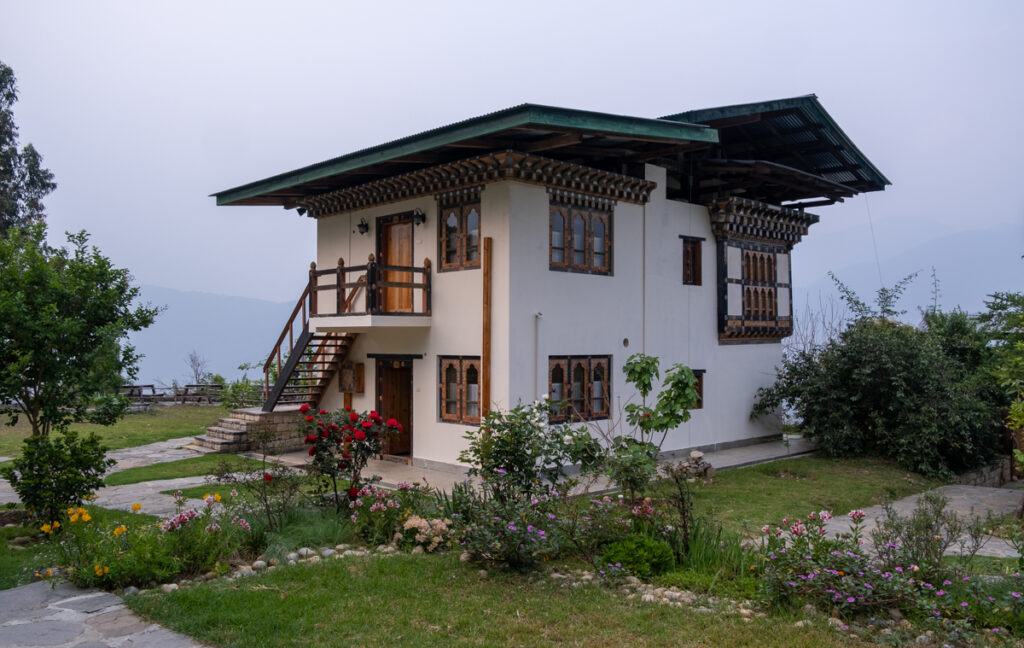 Dhumra is a lovely, women-run farm resort located in Punakha. A steep and narrow 15-minute drive up a hill is required to get there, but it is well worth the effort. From the property, you get a bird's-eye view of the Punakha dzong (fortified building) and the Mo Chu River, which make for a beautiful sight to wake up to. We enjoyed sipping tea at the outdoor seating area while admiring the majestic dzong from above in the evening.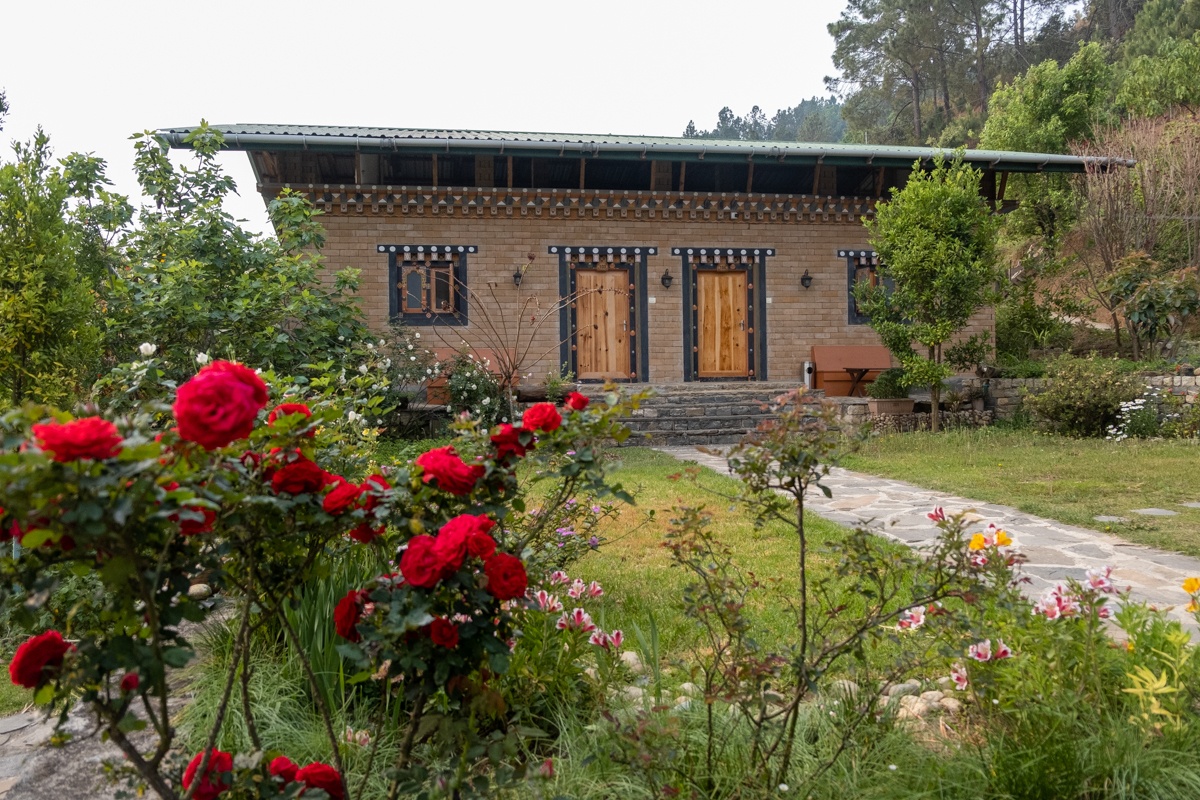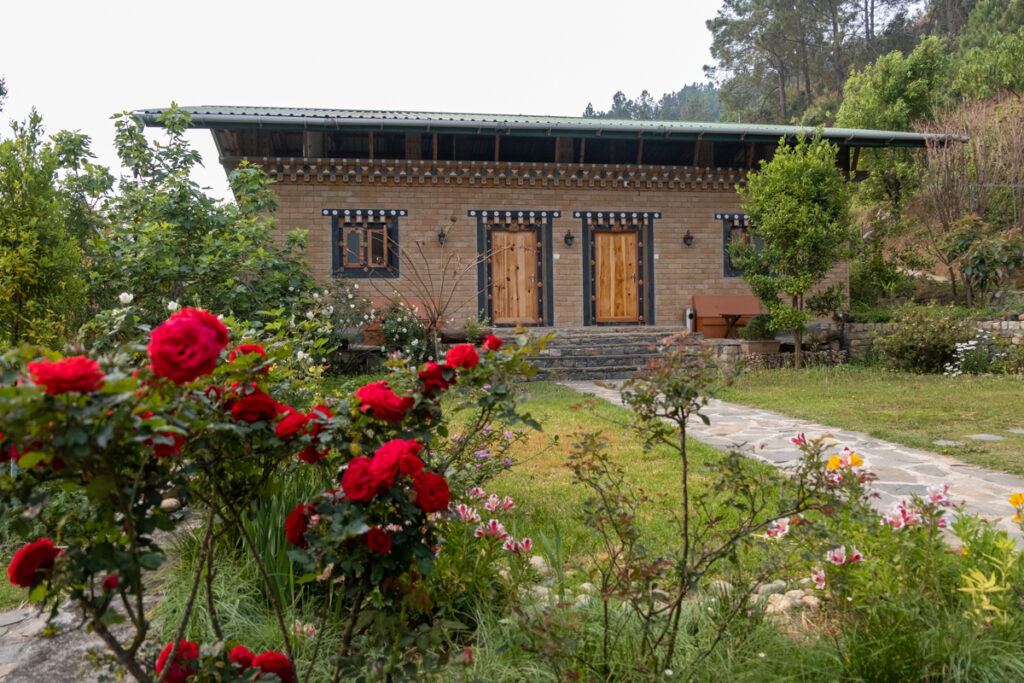 As Dhumra is a farm resort, we were naturally excited about the food. Breakfast and dinner are included, and they were delightful. I think we ate the healthiest meals on our trip here! Almost everything on the table was grown on the farm, with generous portions — we had a table full of several dishes to share between the two of us at every meal!
The service is excellent at Dhumra. We felt that each of the all-female team members was dedicated to ensuring that our stay was as pleasant as could be. It also helped that there's only a handful of rooms (I counted six), making our stay an intimate experience.
2. Gaselo Eco Lodge, Gaselo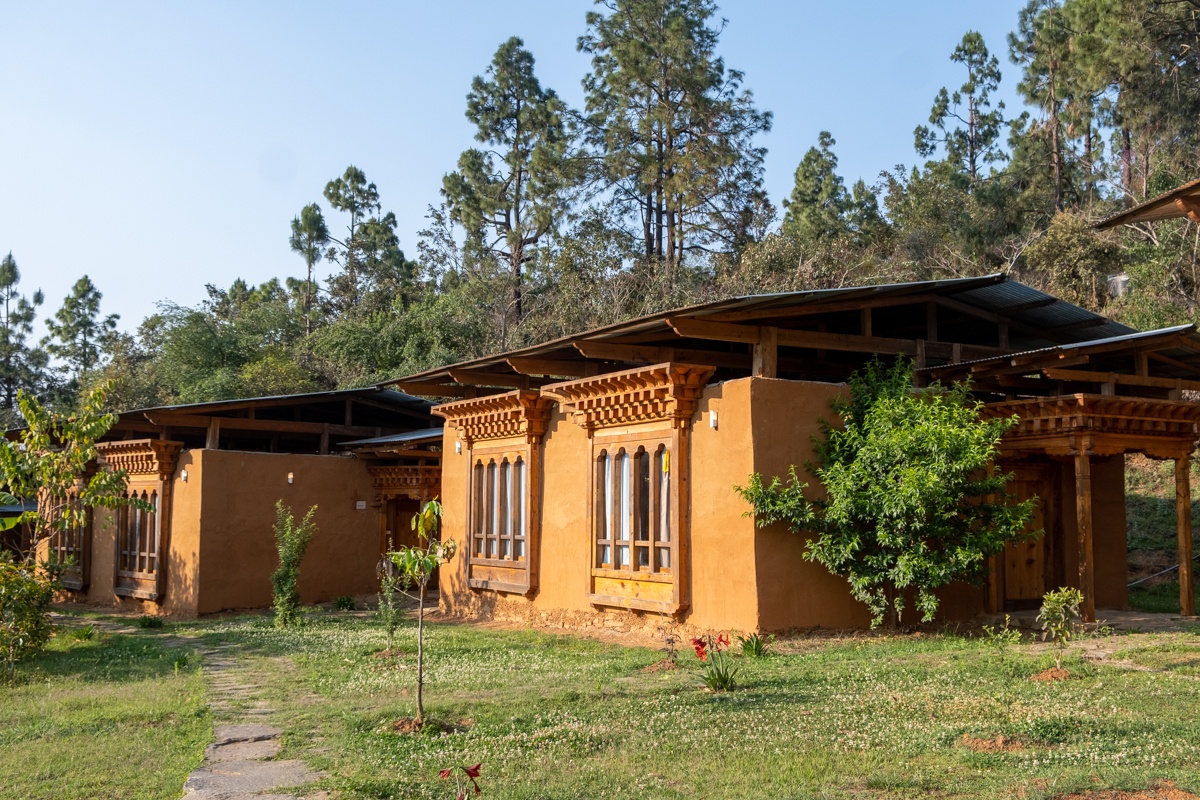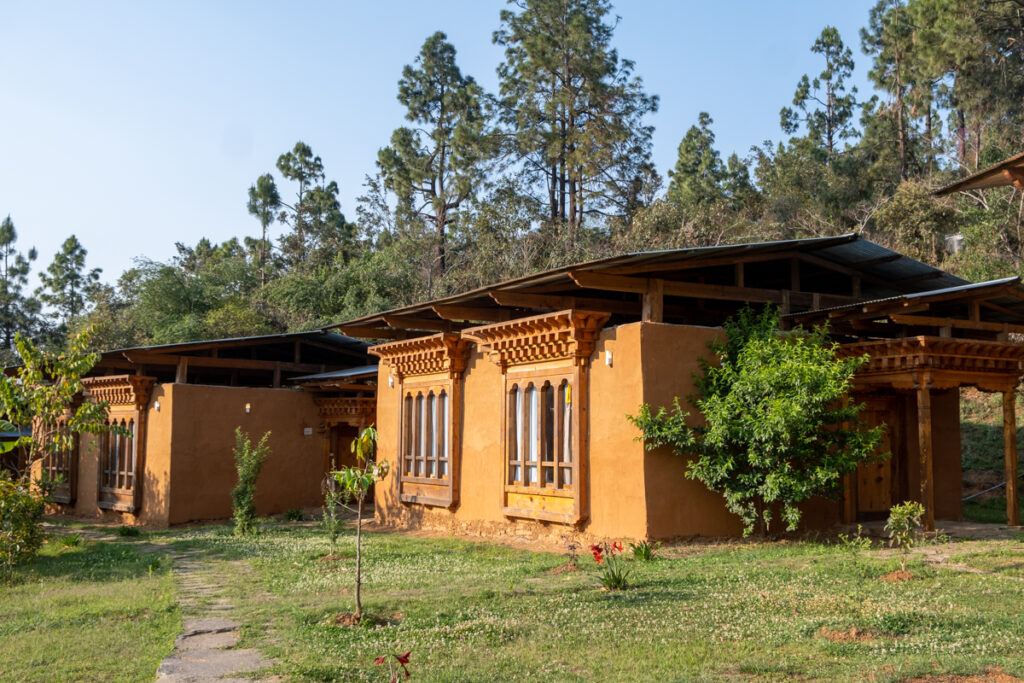 This was my favorite stay in Bhutan for several reasons. Gaselo Eco Lodge is a family-run property located in the Phobjikha Valley, which houses one of the most impressive monasteries we visited on our trip, namely the Gangtey Monastery. Aside from the monastery and a hike through the valley, there's not a whole lot to do in the area, which made it the ideal place to experience local life.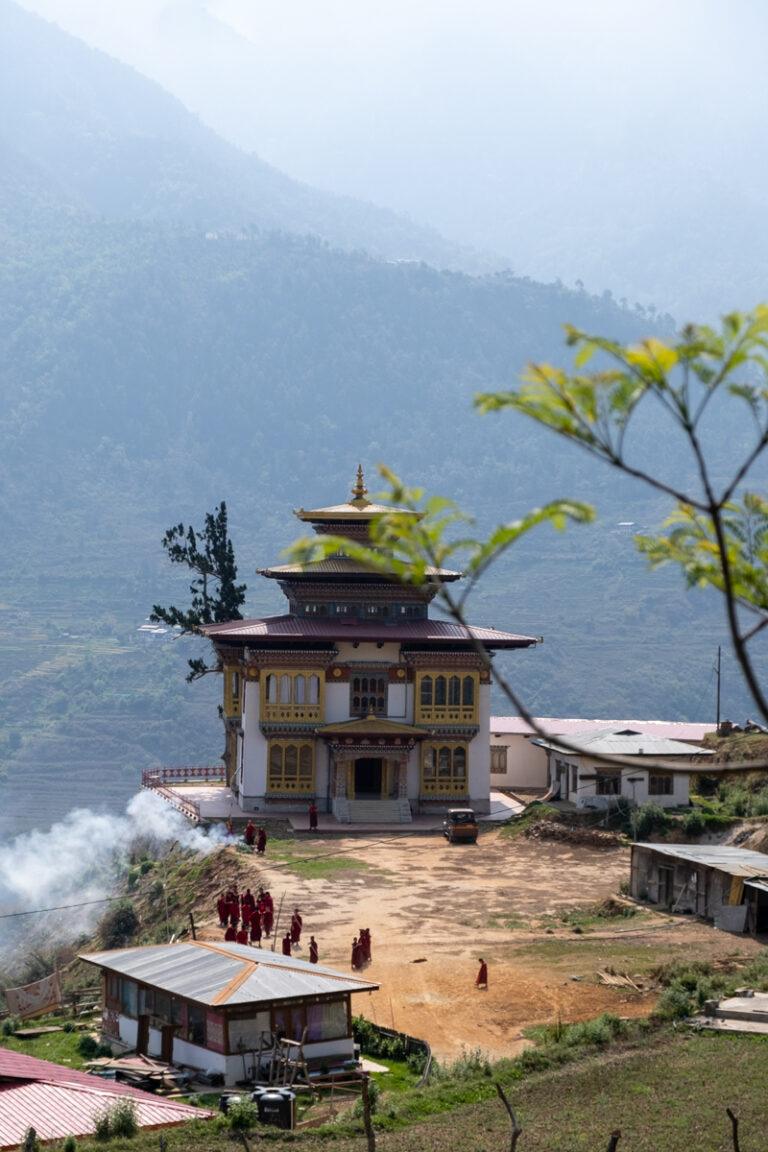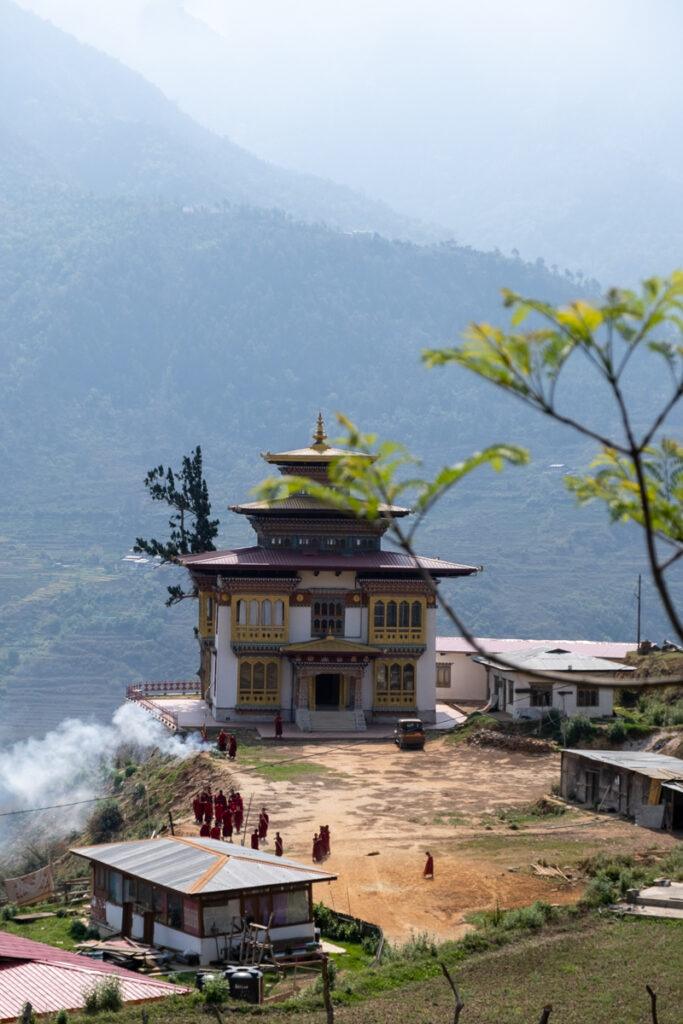 Gaselo Eco Lodge overlooks paddy fields, rows of mountains, and a small monastery tourists typically do not visit. It is quiet and peaceful, and radiates a unique, mixed fragrance of flowers, pine, and incense. The lodge is strategically located to receive gentle and consistent breezes from the valley. From the lodge, you can watch the young monks perform rituals in the morning and play football in the evening. Our host, Sangay, was a very kind man who brimmed with pride as he showed us around the property.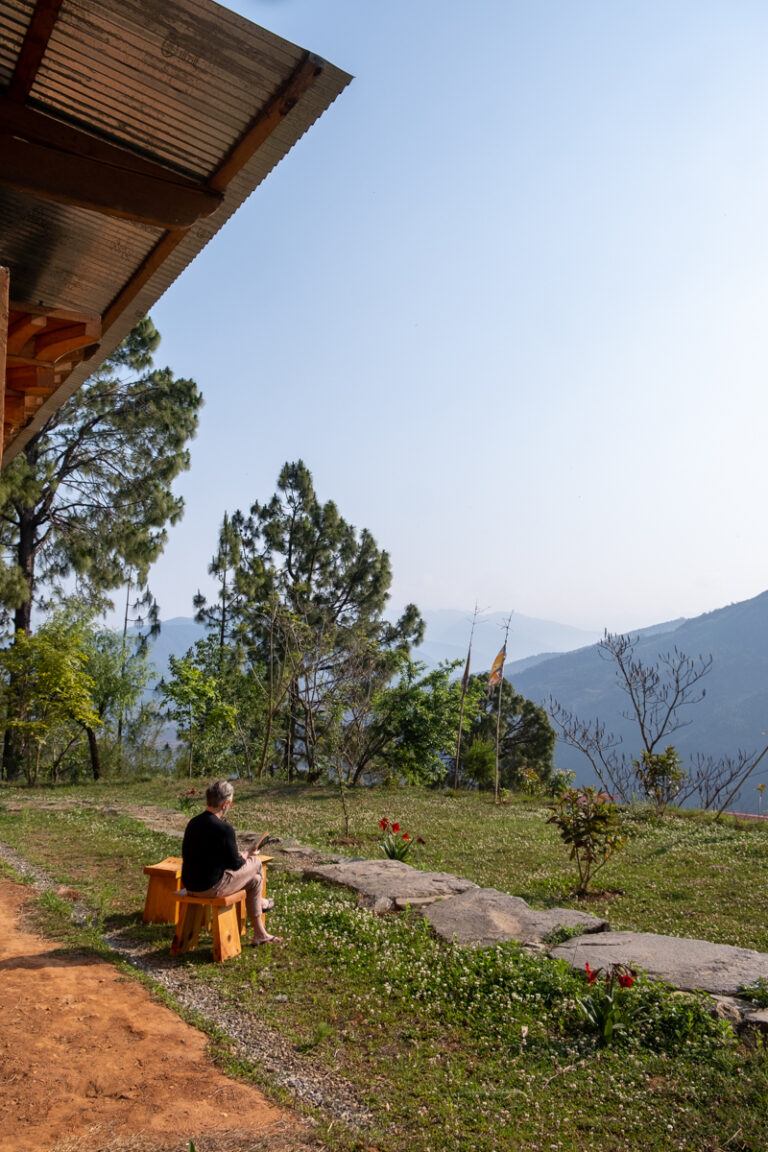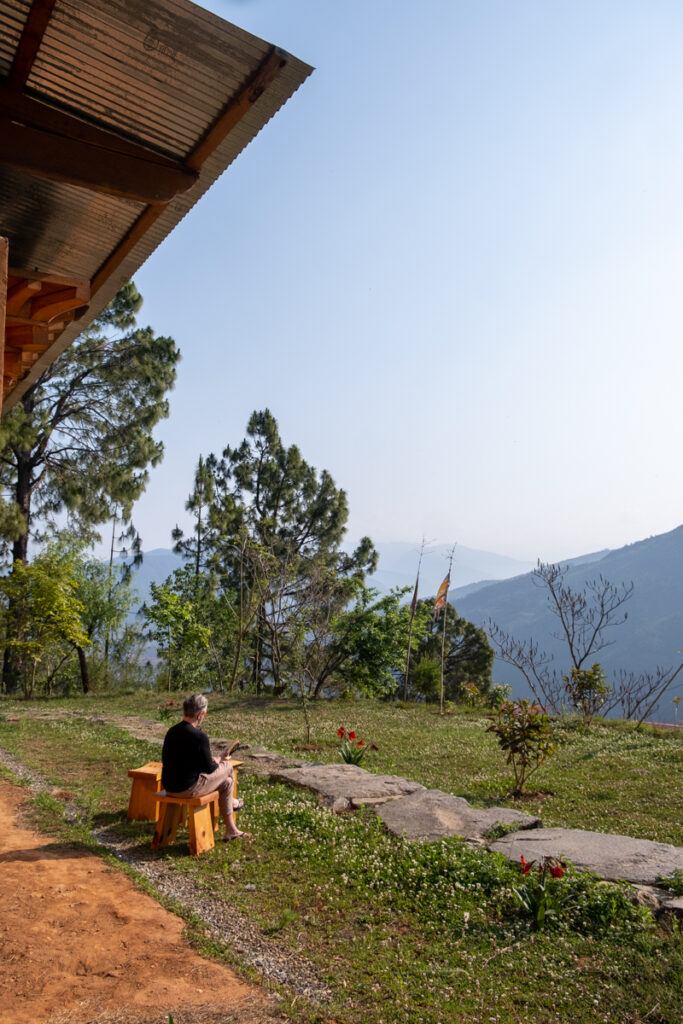 We had such a peaceful stay at Gaselo. On our last morning here, we woke up to beautiful sunlight, meditated, read, and enjoyed a hearty breakfast spread prepared by Sangay. I think I left a piece of my heart at Gaselo.
3. Dewachen Hotel & Spa, Phobjikha Valley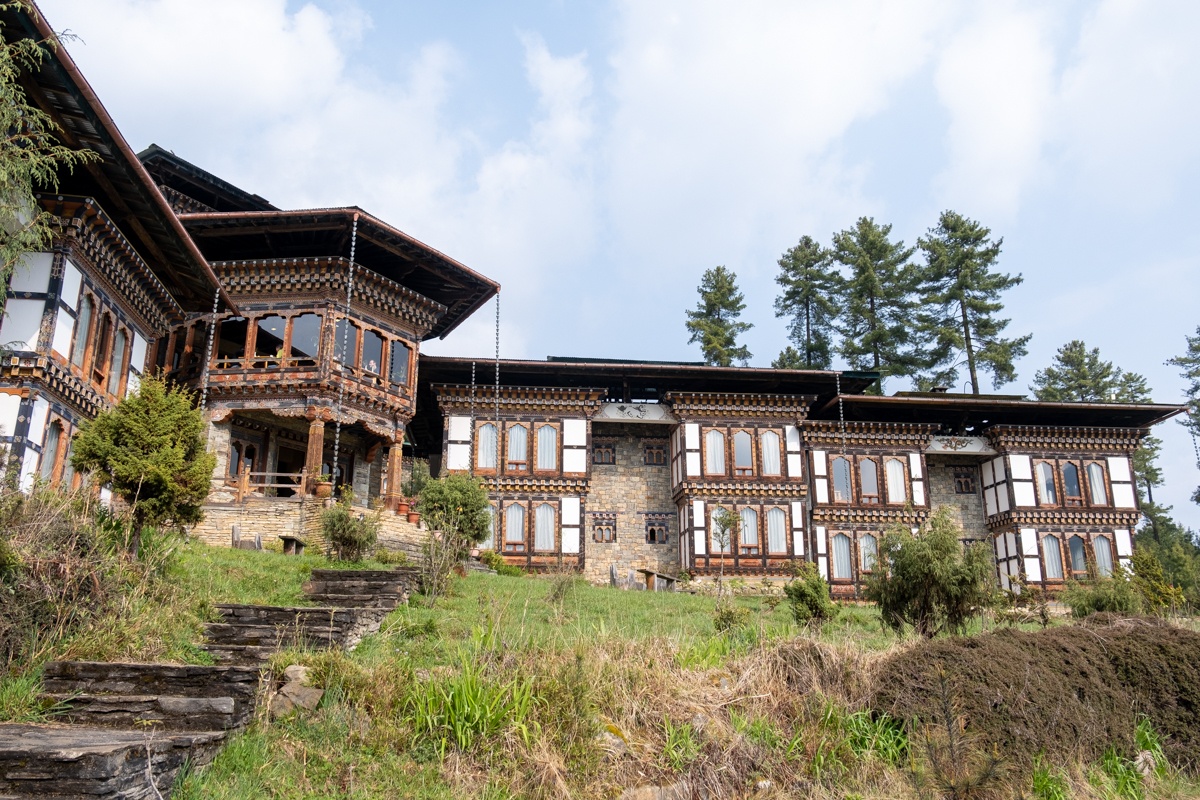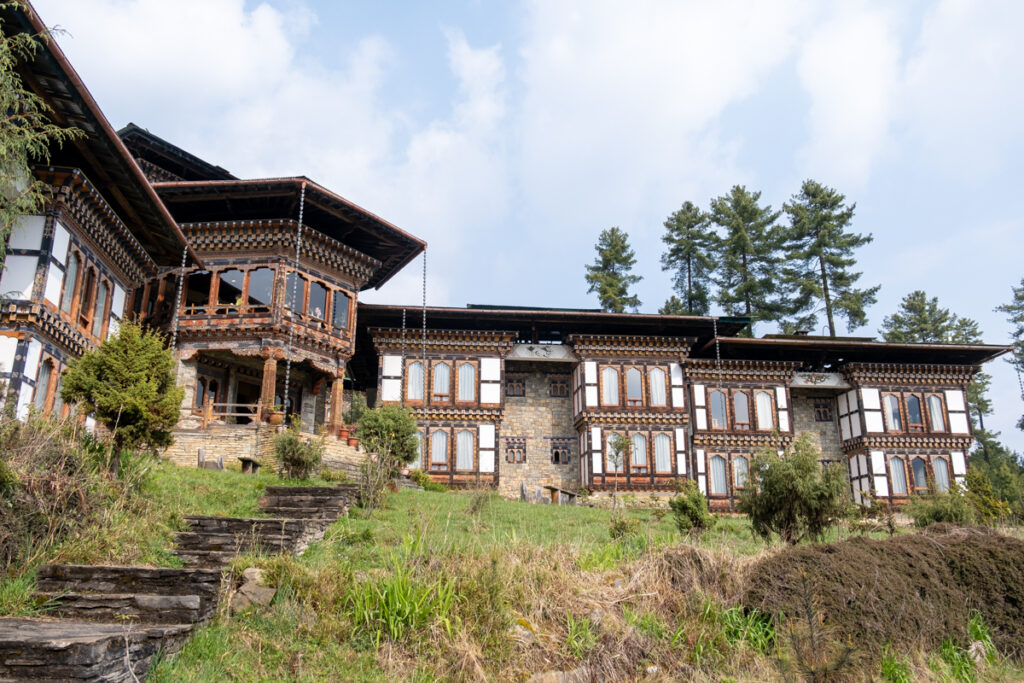 Encircled by pine forests in the hidden valley of Phobjikha, Dewachen Hotel & Spa is a gorgeous property with 16 bedrooms, a restaurant, a spa, and a hot-stone bath facility. We booked a signature massage in the evening and absolutely loved it.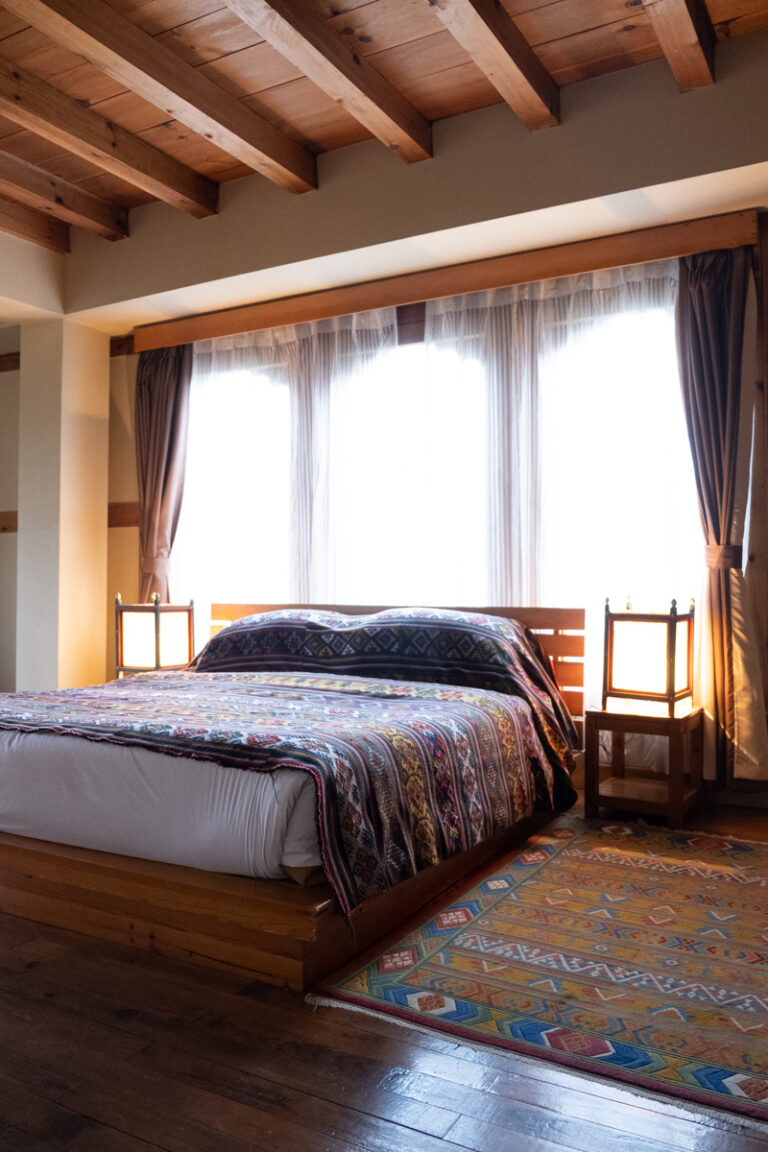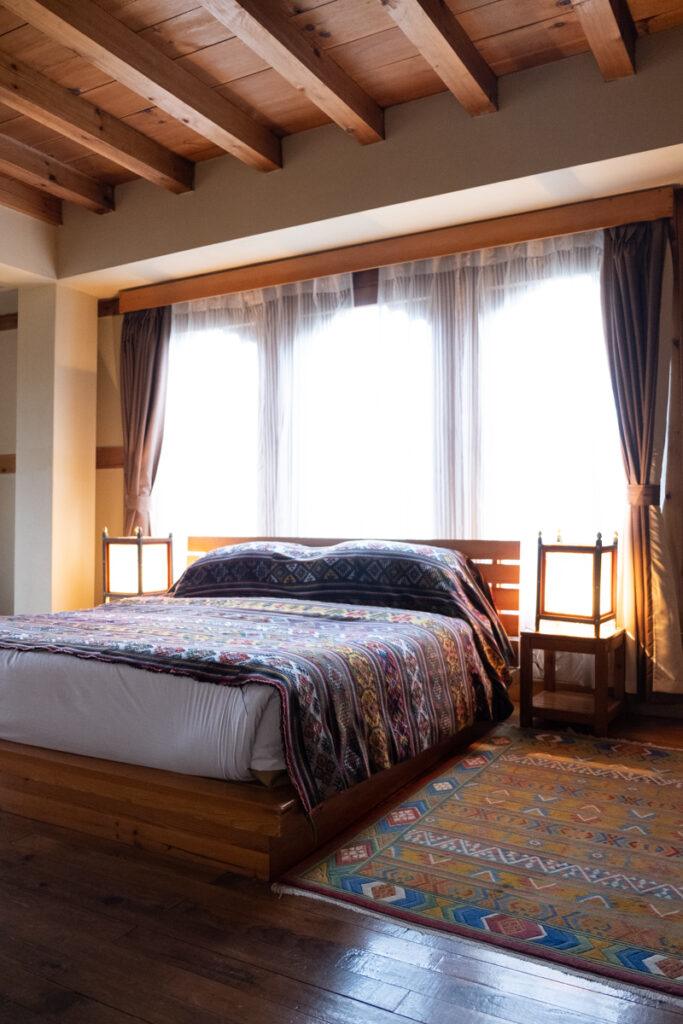 Dewachen seems pretty popular, as we got to meet several other travelers at breakfast (on the other hand, we were the only guest at Gaselo Eco Lodge). It's a quick, ten-minute drive to the trail from Gangtey Monastery to Phobjikha Valley, and a five-minute drive to the Black Neck Crane Center.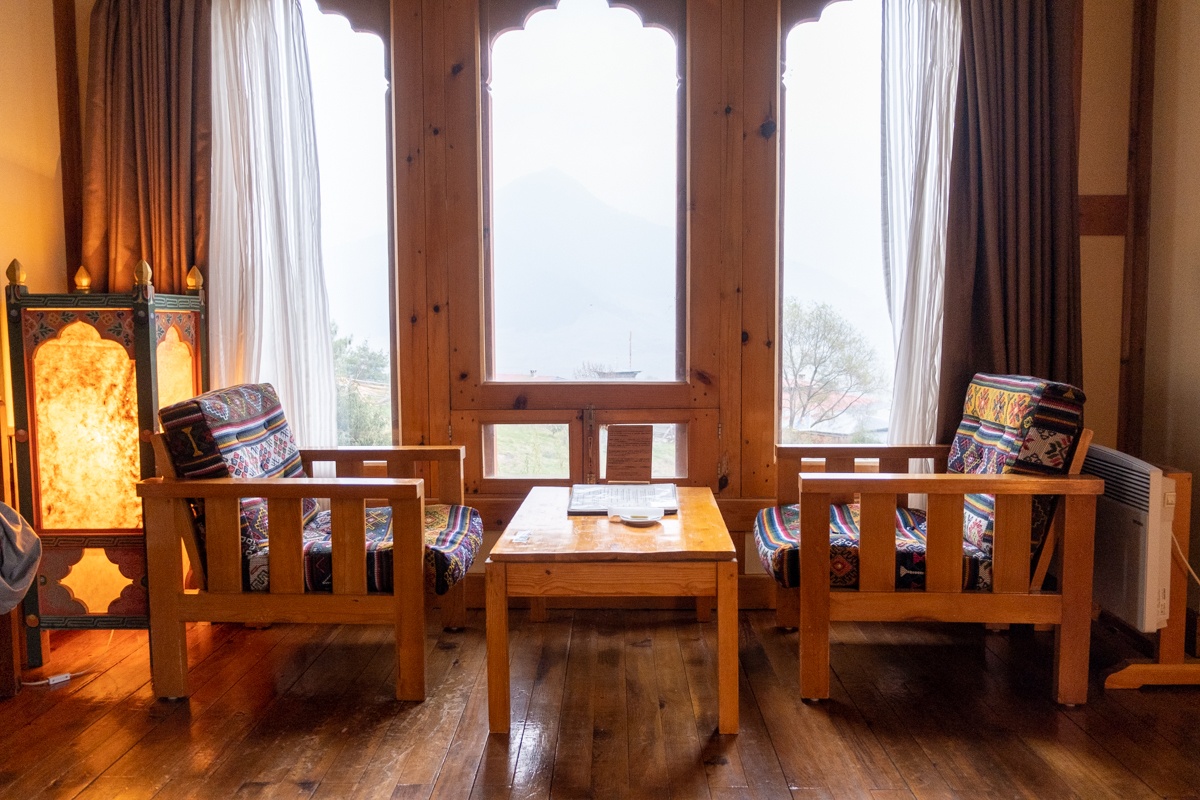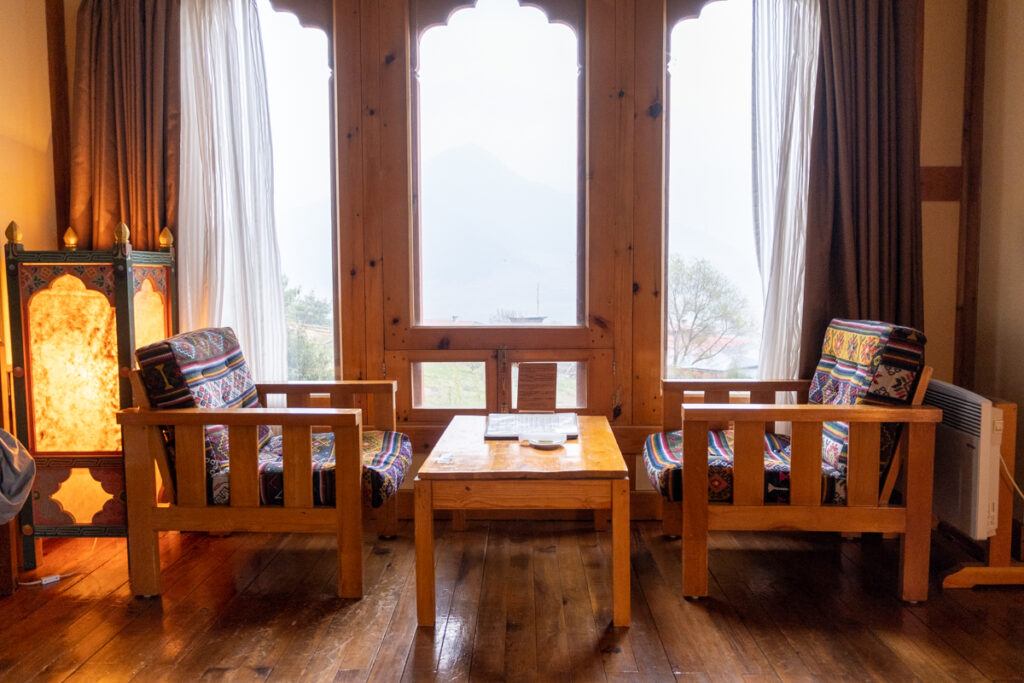 Our room was very cozy, spacious, and clean. We were not the biggest fan of the buffet-style breakfast and dinner, but it was not a dealbreaker at all. I'd recommend at least a night's stay here (and treat yourself to a massage — you will want one after all of the walking and hiking!).
4. Tiger's Nest Camp, Paro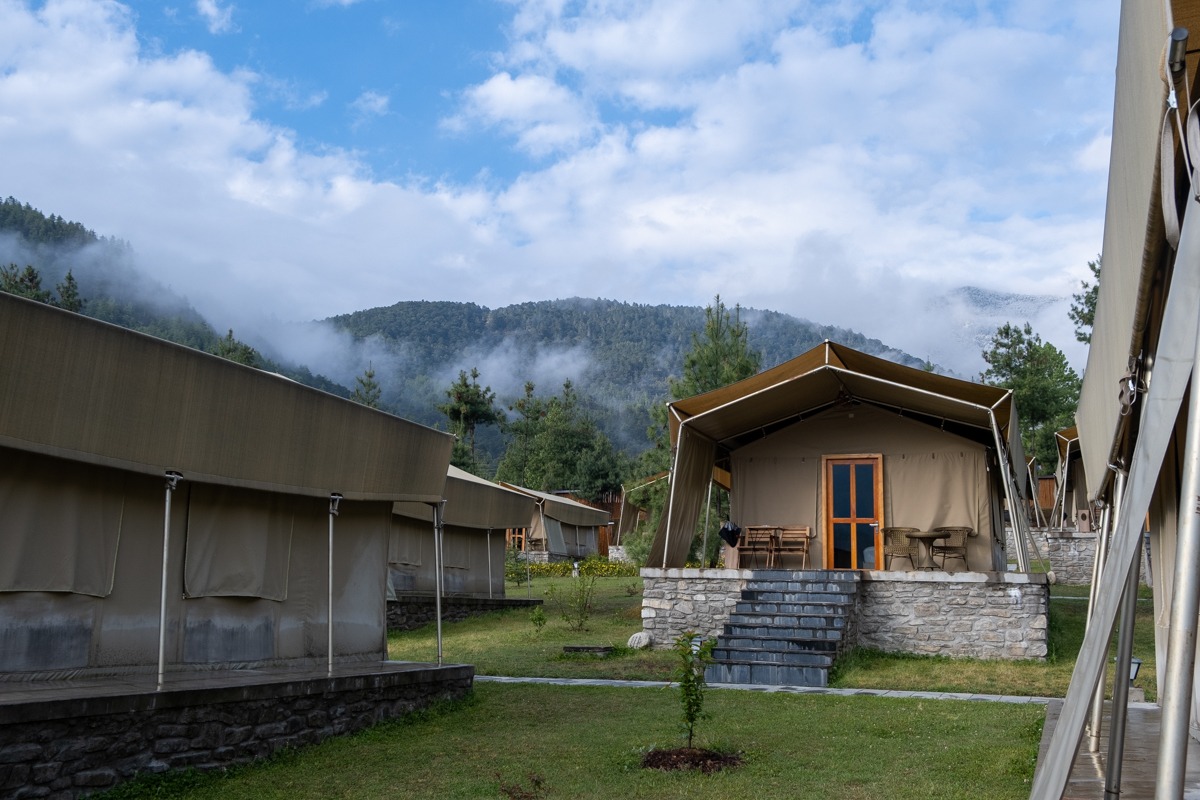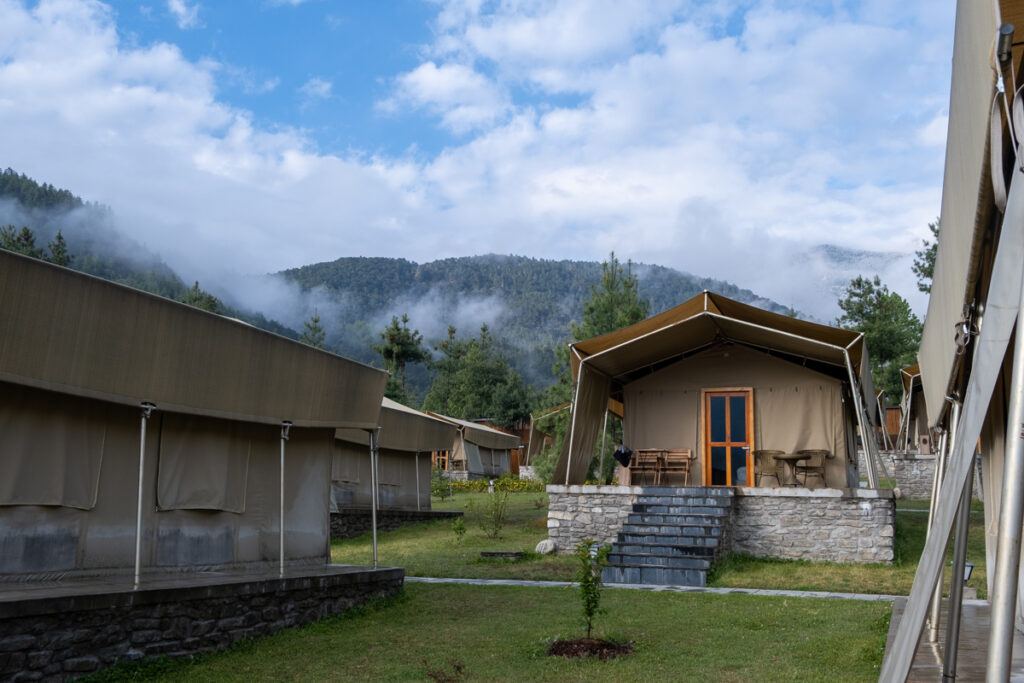 We were so impressed by Tiger's Nest Camp! The tent setup had us in giggles for our final adventure in Bhutan — hiking to the Tiger's Nest — yet everything was glammed up just right so as to make us feel comfortable and well-rested. All 15 glamping tents at the property get an unobstructed view of the Tiger's Nest, and I have to say that it was the perfect motivation for our hike.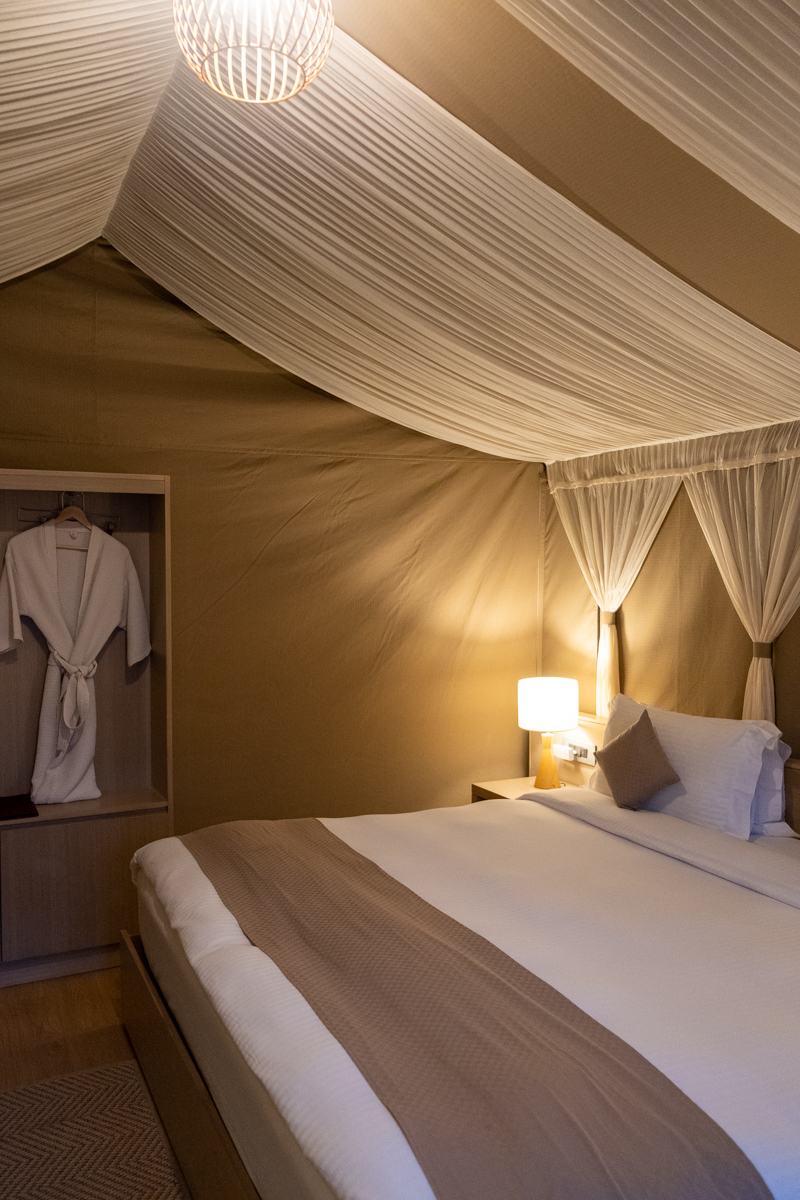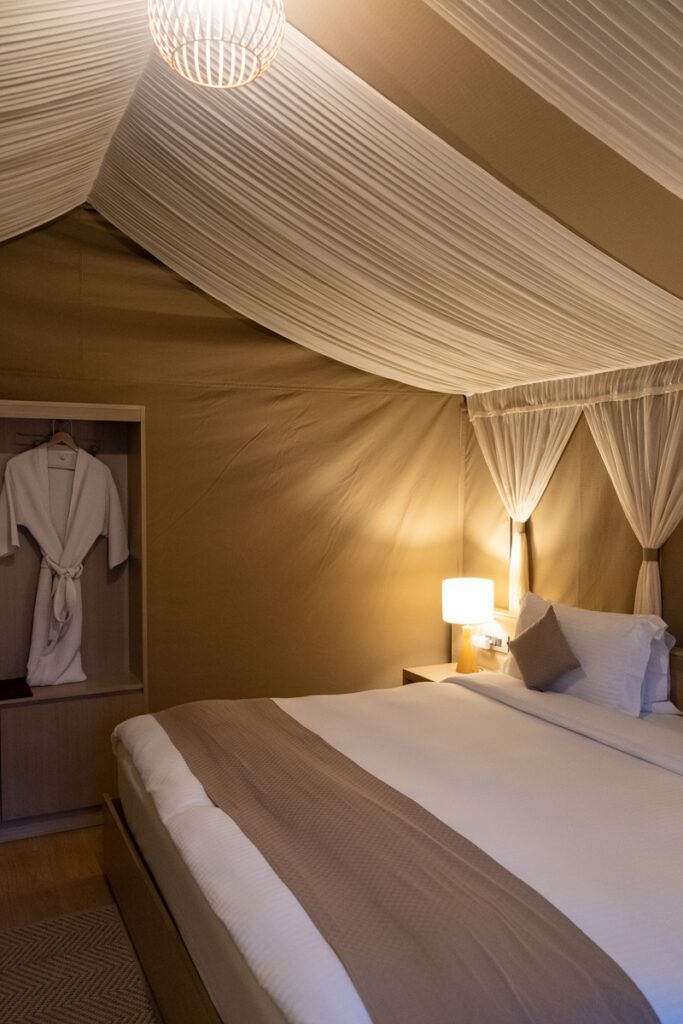 The entire property is pristine: everything was clean, tidy, and well thought-out. We were most impressed by the ideal balance of traditional Bhutanese elements and modern facilities. The service was excellent, and the staff were very accommodating. We planned a local-style breakfast with our tour guide and driver on our last morning in Bhutan, and the staff very kindly set up a table at the sunniest spot just for us.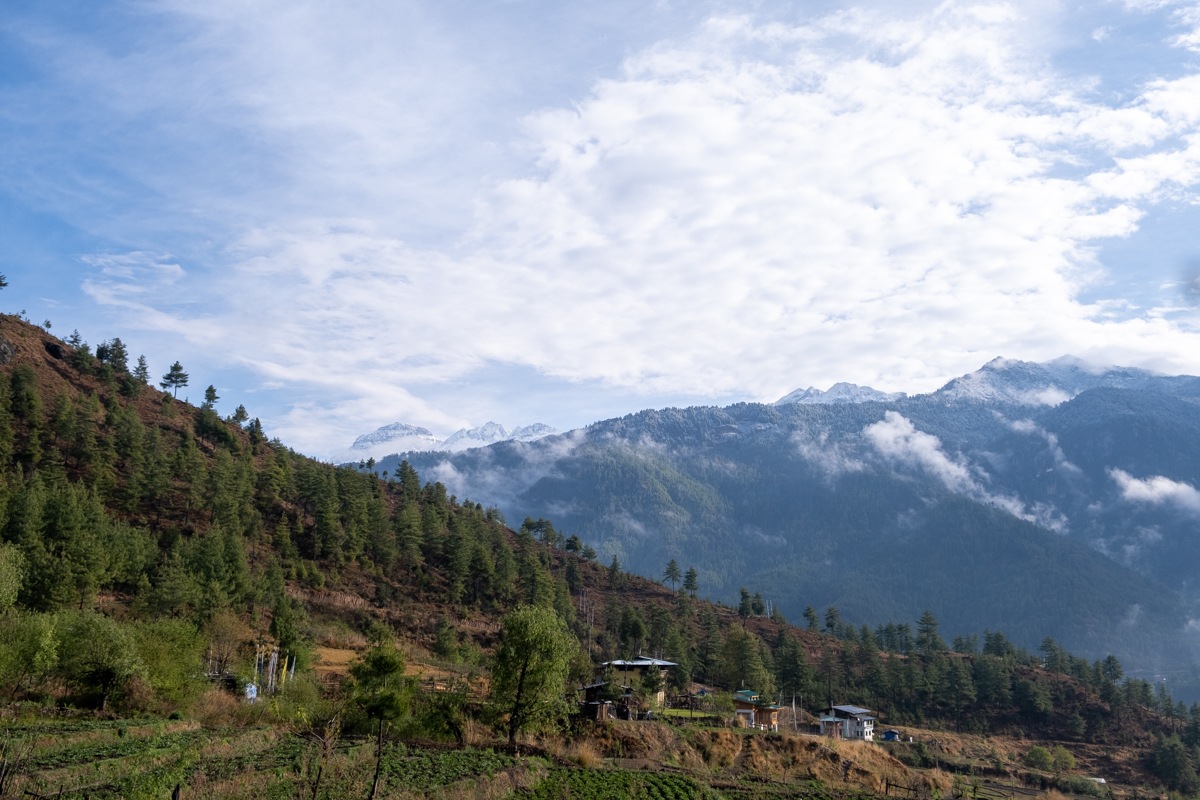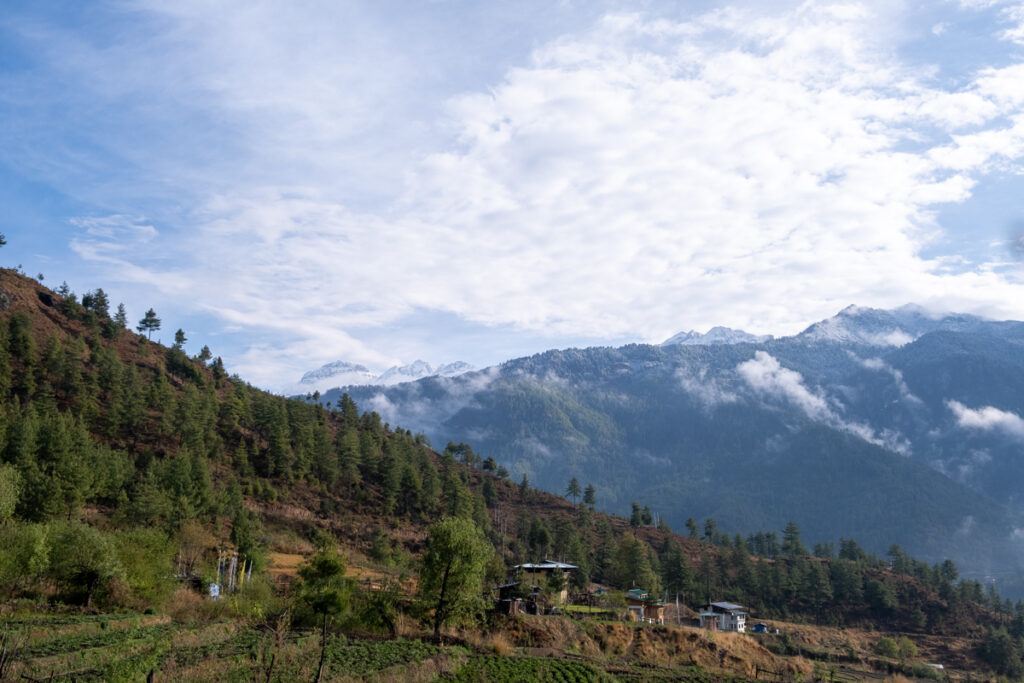 Tiger's Nest Camp is 15 minutes from the Tiger's Nest trailhead, and 20 minutes from Paro International Airport. It is the perfect place to stay for your last trip leg in Bhutan.
5. The Pema, Thimphu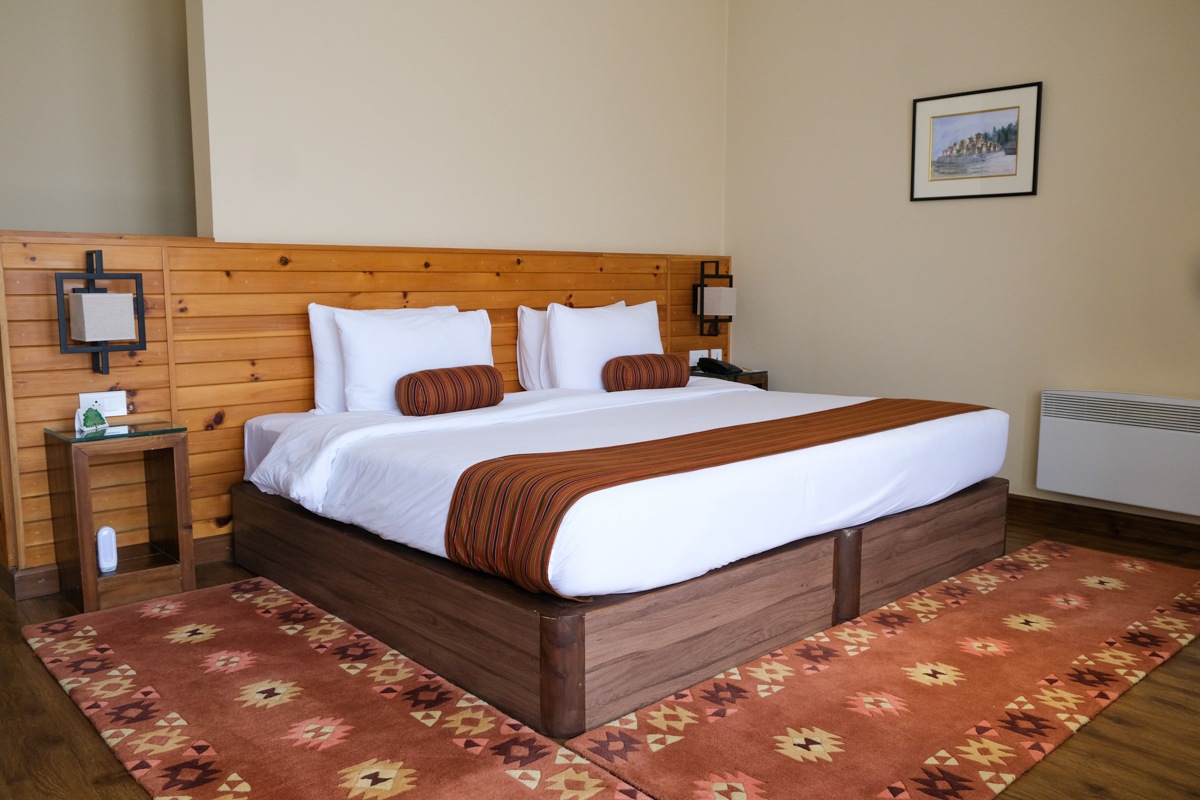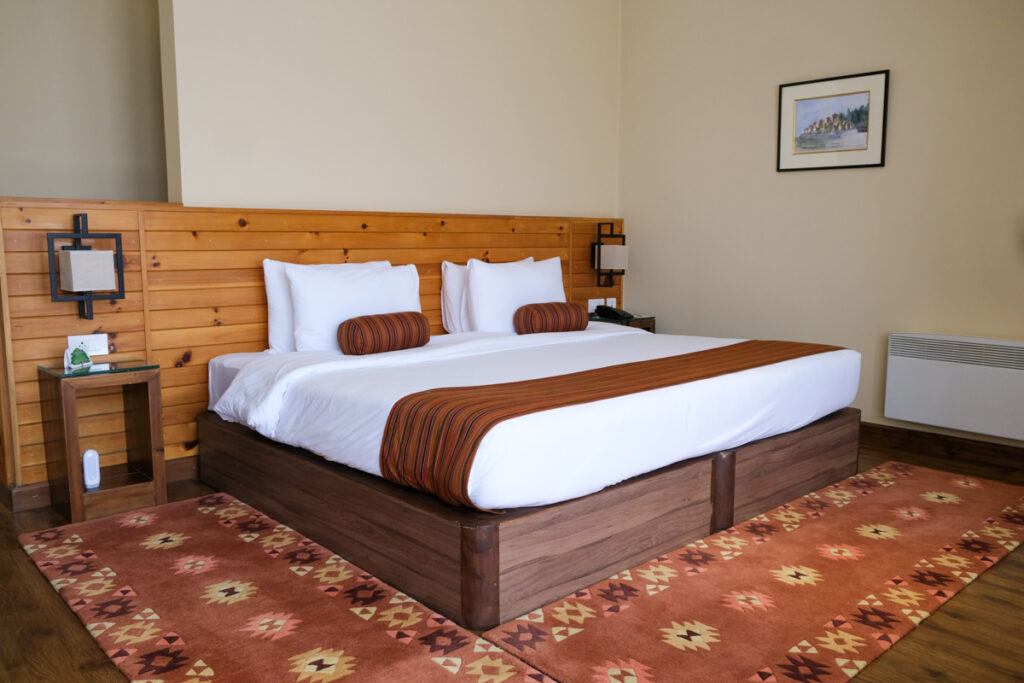 The Pema was the most commercial stay we had in Bhutan, and was also our first accommodation after landing in the country. After a red-eye flight, a spacious, clean, and fuss-free bedroom was most welcome. The four-star boutique hotel boasts two restaurants, Bhutan's first roof-top bar, a spa and a fitness center.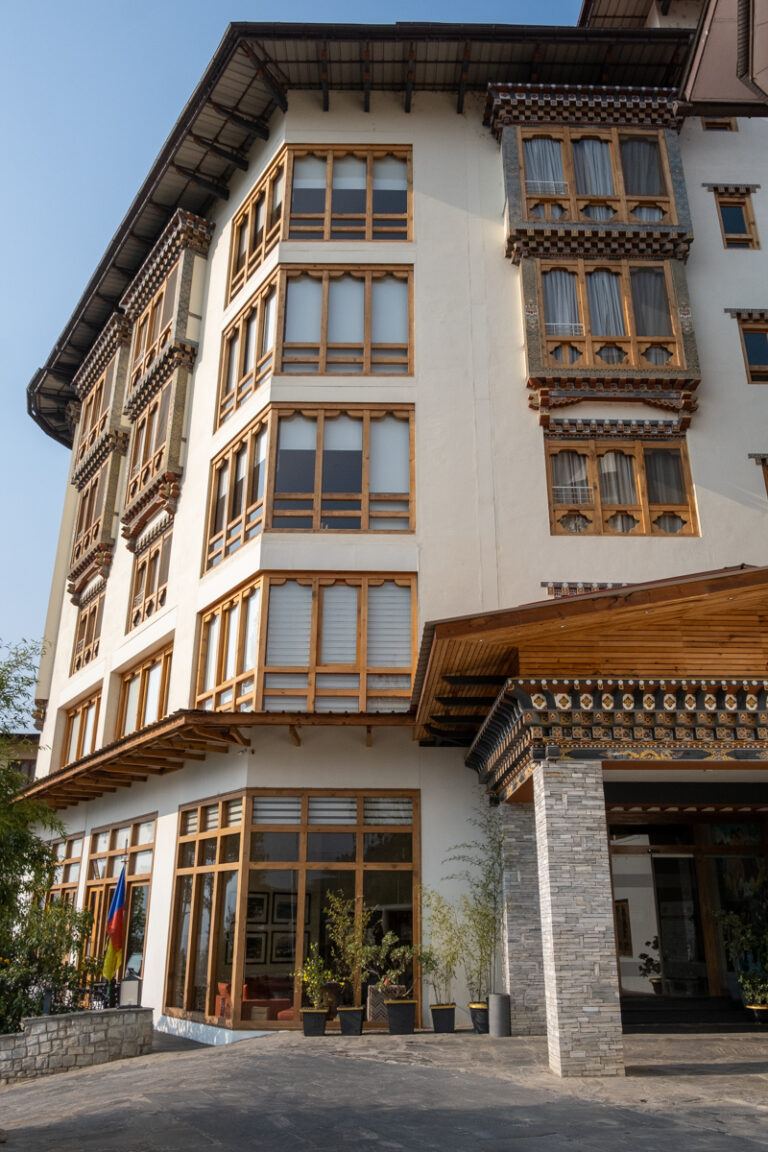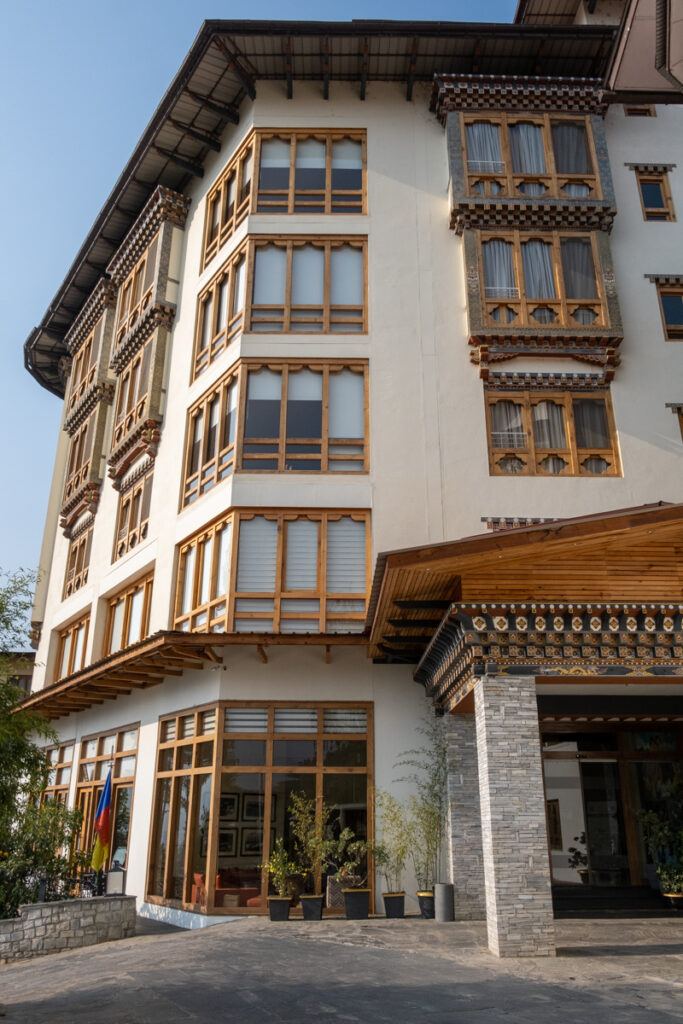 I enjoyed the staff's professional yet friendly service, and appreciated the attention to detail. Upon checking in, the receptionist must have noticed how tired we were and kindly offered to send our breakfast straight to the room. We were also surprised by a goodie bag of local snacks alongside a hand-written welcome card in our room.
6. Amankora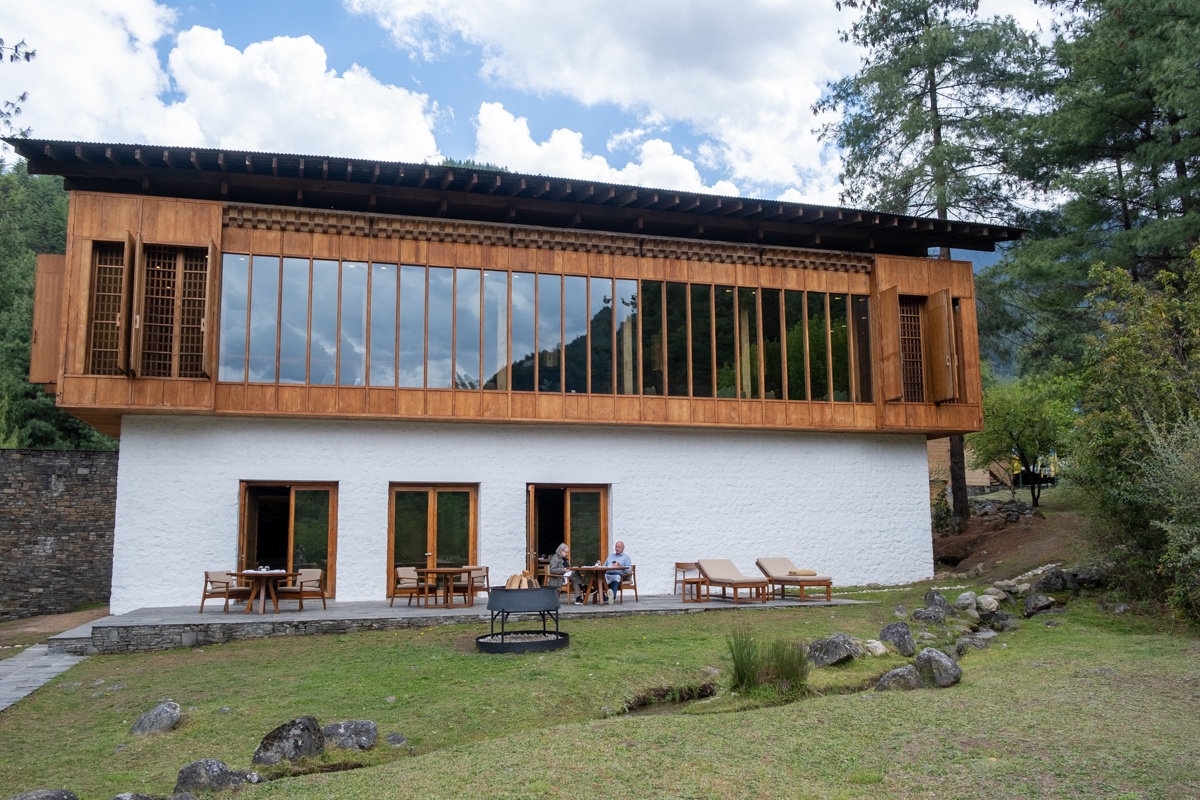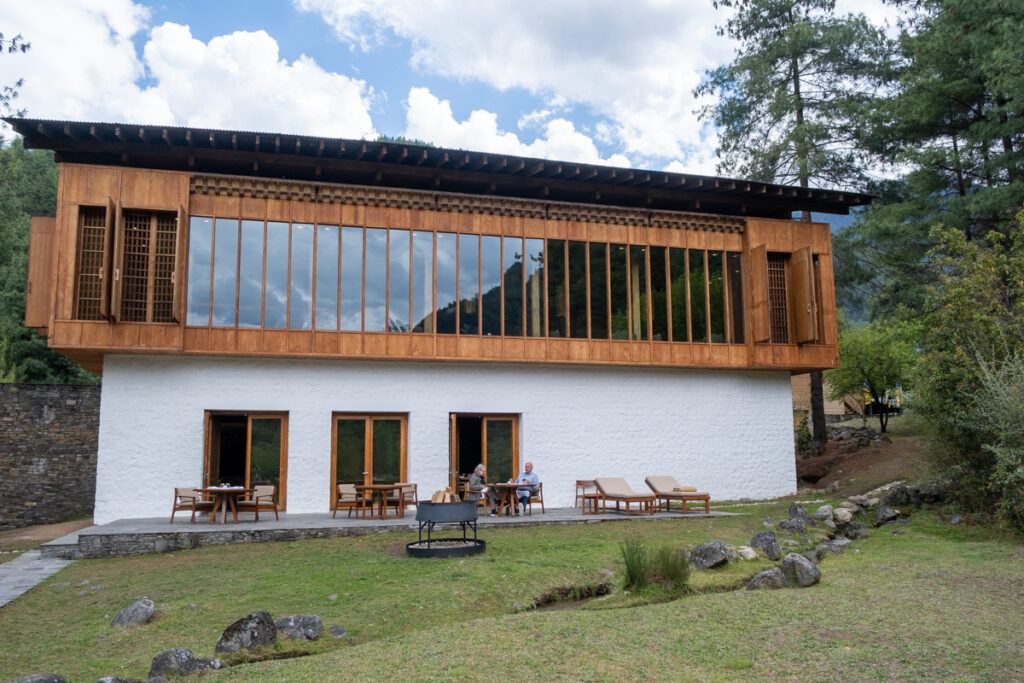 If you have the budget and would like to treat yourself to a luxury stay in Bhutan, look no further than Amankora. With 34 resorts around the world (five out of which are in Bhutan), Aman Group is known for its holistic, organic and discreet sanctuaries that offer guests an elegant and unforgettable stay that no other places can match. The brand story simply fits Bhutan just right, and it is evident in the sensitivity and authenticity in the resort's adoption of Bhutanese architecture and design.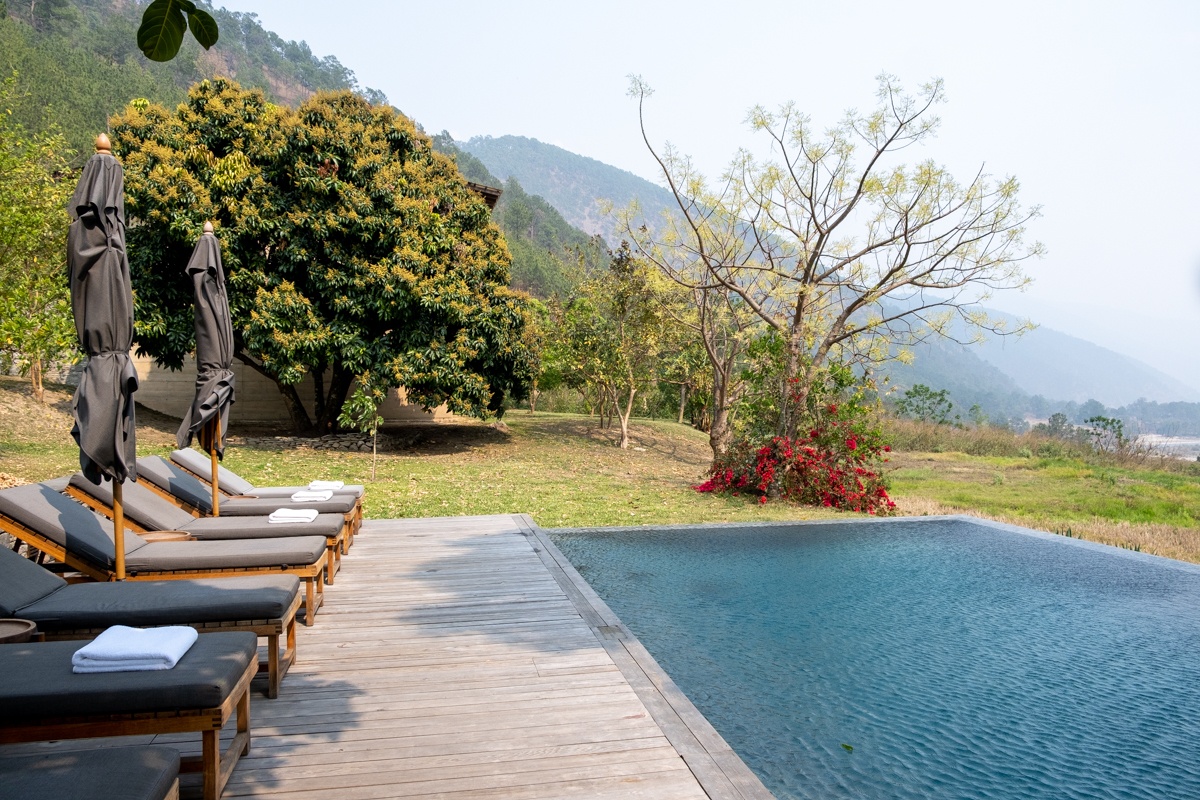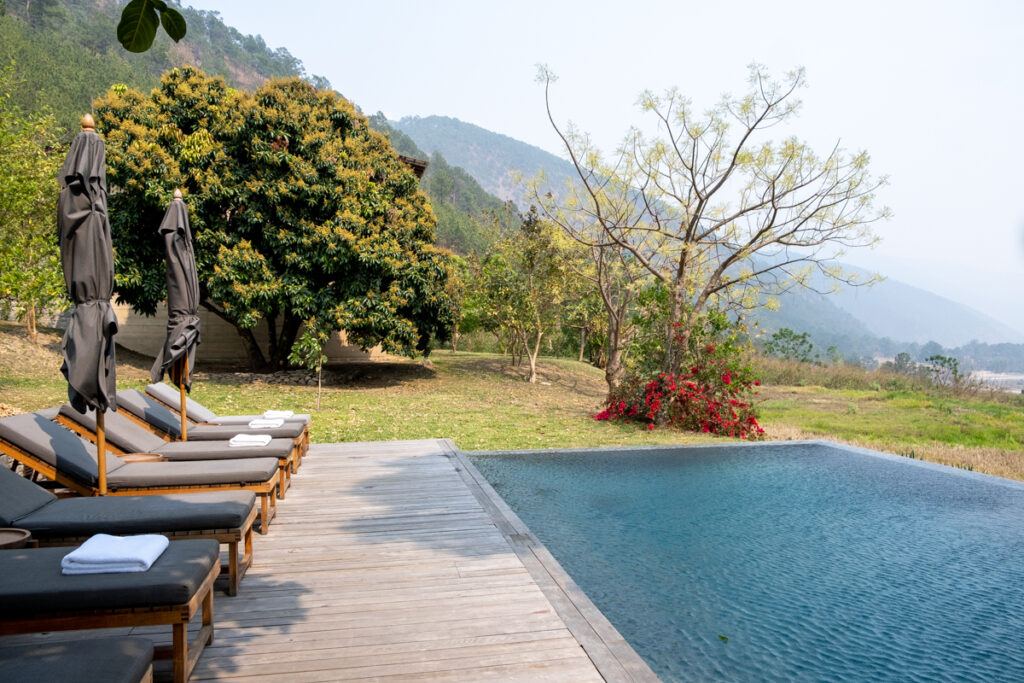 With five properties in the country, you can embark on a journey entailing a combination (or all, why not?) of the lodges. If you plan on staying for more than seven nights at its properties, Amankora offers a complimentary tailor-made itinerary with road permits, private transport, and a driver and guide included.
After visiting three Amankora resorts, I've concluded that my favorites were those in Paro and Punakha. As all five lodges share the same room layout and design, I'd recommend picking one or two to splurge on, and spending the rest of your Bhutan journey at local guesthouses or hotels. It is possible to organize a stay at Amankora with your tour operator.
I am so grateful to our tour operator, Breathe Bhutan, who understood the accommodation experience we were looking for in Bhutan and planned everything perfectly for us. I look forward to returning to this beautiful country and experiencing more of what Bhutan has to offer soon!
*This post was brought to you in partnership with Breathe Bhutan. All opinions on the tour operator and hotels are my own. Your trust comes first!