Last month, I wrote about the Top Ten Meals in Southeast Asia. And I got a great response! But one thing I kept seeing? "I wish there were a version of this for vegetarians." As a non-veggie, I sometimes completely forget that there are a vast amount of people who eschew animal protein! So I decided to give the readers what they want: the best vegetarian dishes in Southeast Asia.
Vegetarian Dishes in Southeast Asia: A Guide
Useful phrases:
Jay (Thailand)
Means no animals or animal by-products
Chay (Vietnam)
Buddhist restaurant/food stall. Buddhists in Vietnam are vegans, and on the 1st and 15th of the lunar month many people eat vegetarian. 
Baw sai nâm pa (Laos)
It means 'without fish sauce' in Lao, and it's important to know because almost every "vegetarian" dish includes fish sauce!
Vegetarian (Philippines)
Most Filipinos are fluent in English, so you can just ask for vegetarian food in English!
Tanpa daging (Malaysia)
"Without meat" in Malay
Tha Ta Lo (Myanmar)
It translates to 'lifeless,' or in this case, anything that used to breathe. Because Buddhism is so prevalent here, finding vegetarian options isn't as hard as you'd think
Aht saight (Cambodia)
"Without meat" in Khmer
The Top Ten Vegetarian Dishes in Southeast Asia
1. Larb Jay — Thailand or Laos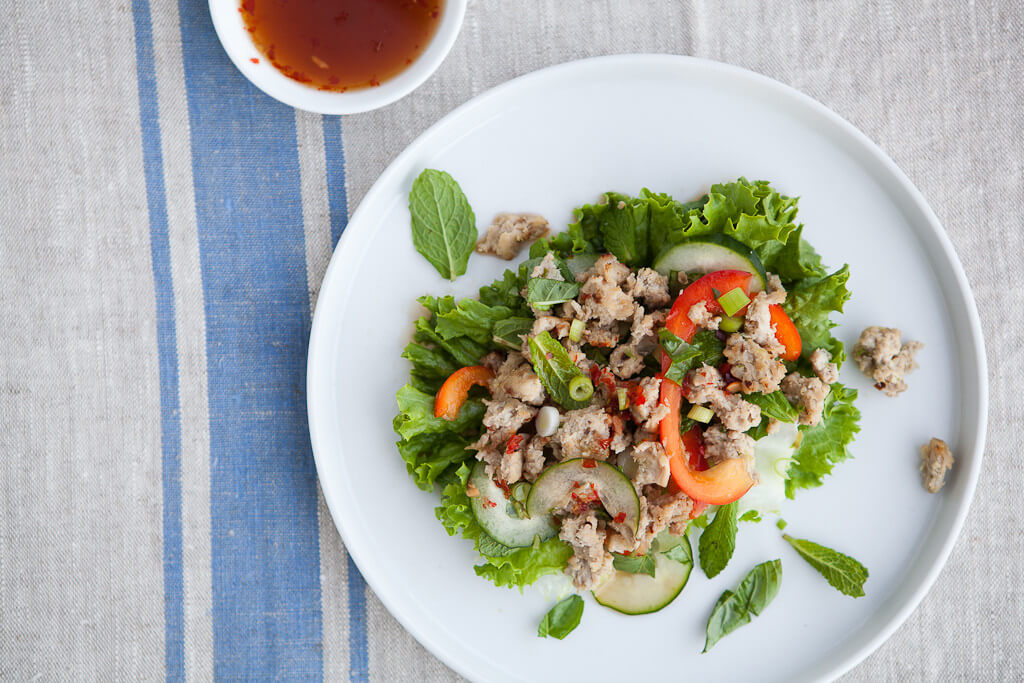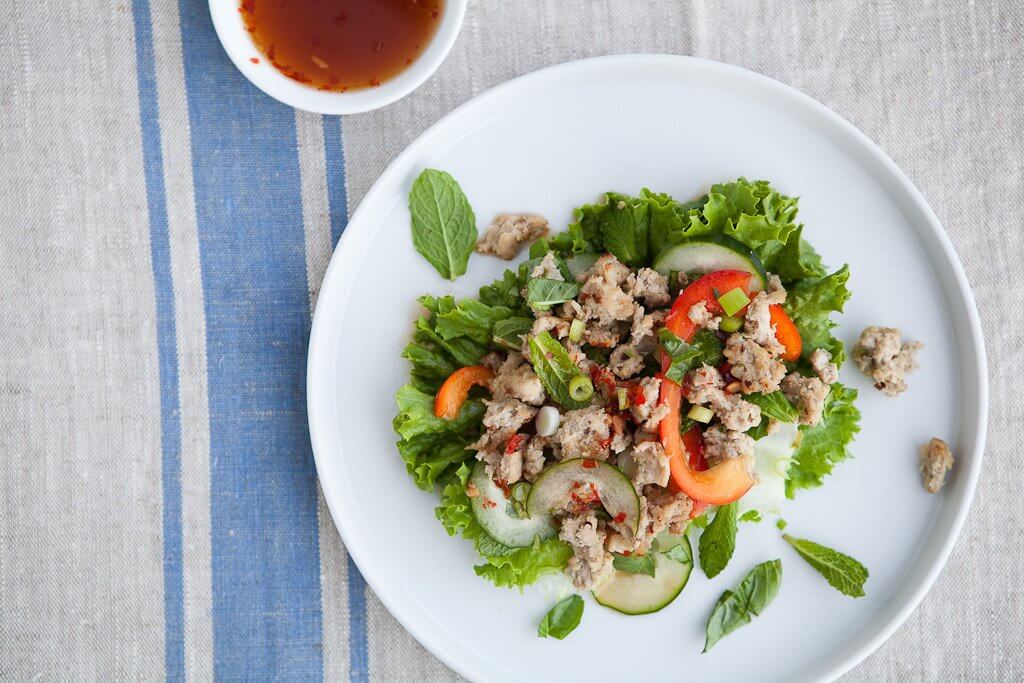 A Northern Thai and Laotian staple, larb almost seems like lettuce wraps — seasoned meat is served inside lettuce leaves (usually as an appetizer). However, you can order this "jay" style, which means that no animals or animal byproducts were used in the cooking process (including stocks and sauces). Instead of meat, tofu is fried up with chilies and a whole host of seasonings like cloves, star anise, cinnamon, and more to give it a healthy and deep kick that your tastebuds will remember for a long, long time.
2. Sambal Goreng Tempeh — Indonesia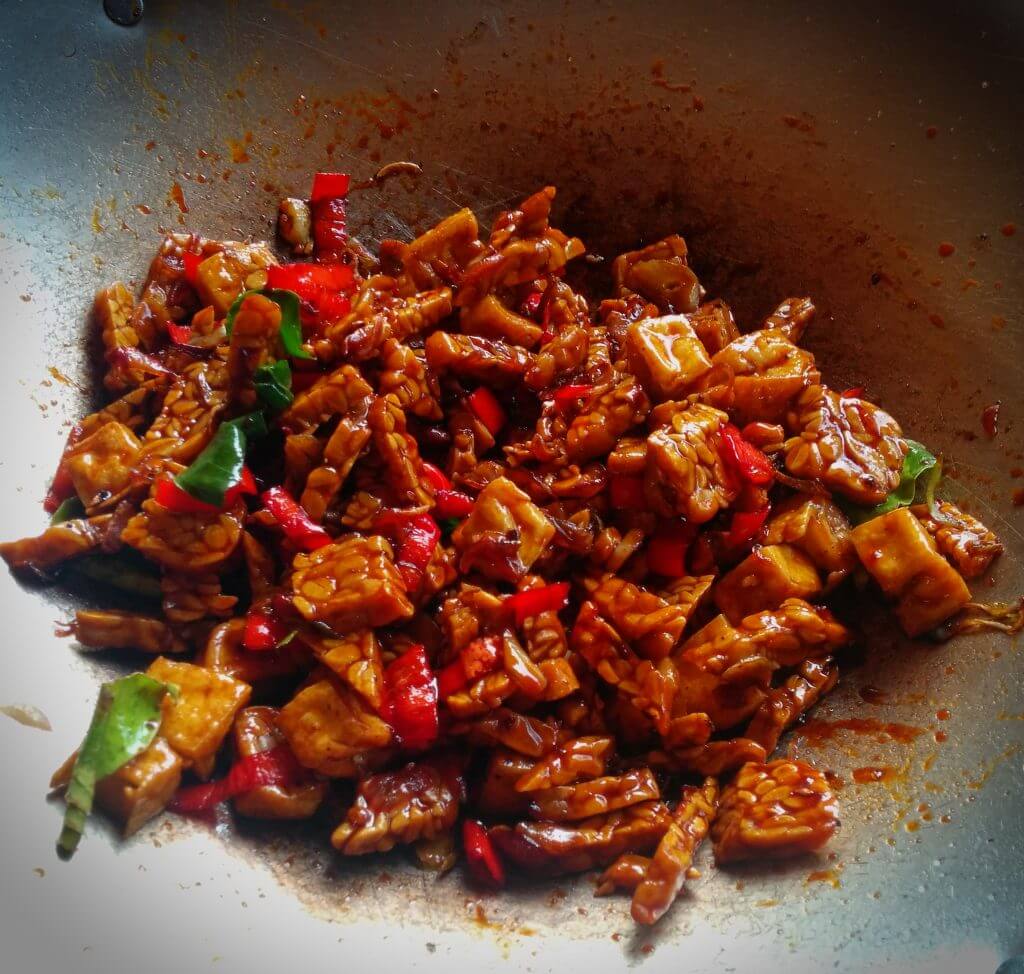 Tempeh — fermented soybean paste — is not usually on anyone's list of favorites. But in Indonesia, they take tempeh and elevate it to new heights! They start off by frying the stuff in a wok. Then they throw in sambal, Bali's ubiquitous chili-garlic sauce to bring the fire, and temper it with kecap manis, or sweet soy sauce. The result is a swoon-worthy meal that even carnivores will devour like a steak.
3. Jaew Mak Khua — Laos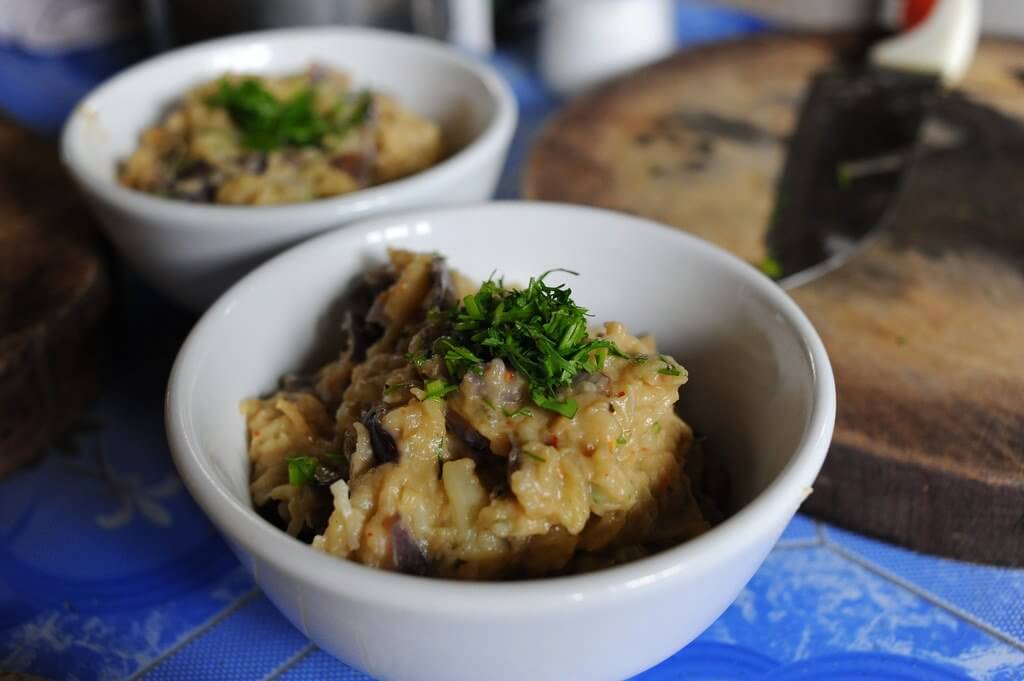 This eggplant-based dip isn't just vegetarian… it's found everywhere in Laos. Carnivores and veggies alike will love this smoky, earthy dip with the perfect hit of spice. In Laos it's served with sticky rice and eaten with your hands — making it literally finger-licking good.  
4. Tahu Sumbat — Malaysia
In English, it's 'fried tofu stuffed with vegetables.' On your plate, it looks like little tofu tea sandwiches. It's a crispy fried tofu pillow with an assortment of julienned vegetables: carrot, cucumber, water chestnuts, bean sprouts, and sometimes cilantro. These thinly-sliced veggies are stuffed into a little slit in the fried tofu. The whole thing is served with a deliciously spicy-savory chili sauce that will have you coming back for bite after bite of fresh, crunchy, fiery goodness.
5. Pho Chay — Vietnam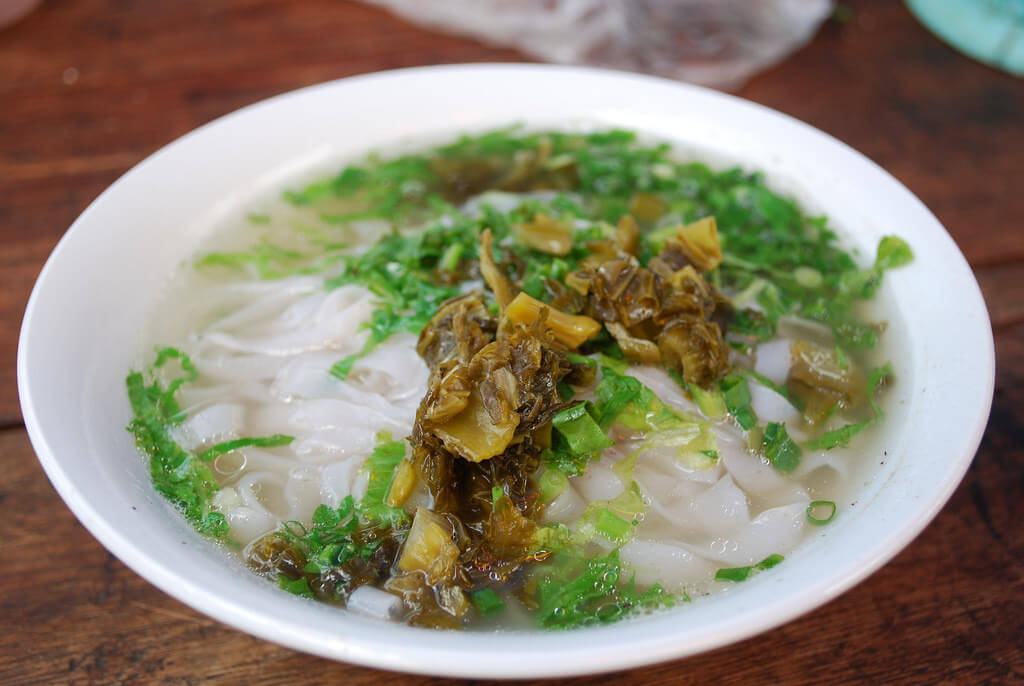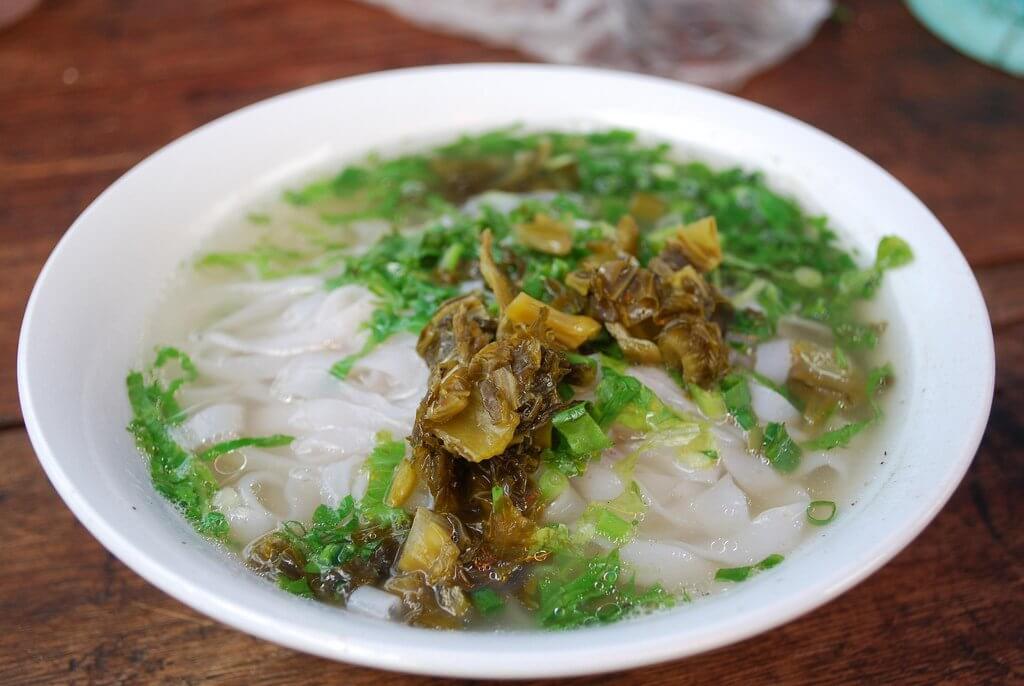 Being veggie doesn't mean you need to skip out on Vietnam's most famous soup! There is a vegan version of this that can be found at restaurants in Vietnam's major cities. Instead of meat broth (which pho is famous for), this version steeps spices, mushrooms, and other herbs in hot water for a while to infuse the broth with umami heartiness sans meat. It's the closest you can get to the real deal!
6. Khao Piak Sen — Laos
This is the ubiquitous Laotian soup. It's found on just about every menu in the region, though many times the broth is animal-based. However, at vegetarian restaurants (many can be found in Vientiane), this is often served with a vegetable-based broth instead.
7. Lahpet Thok — Myanmar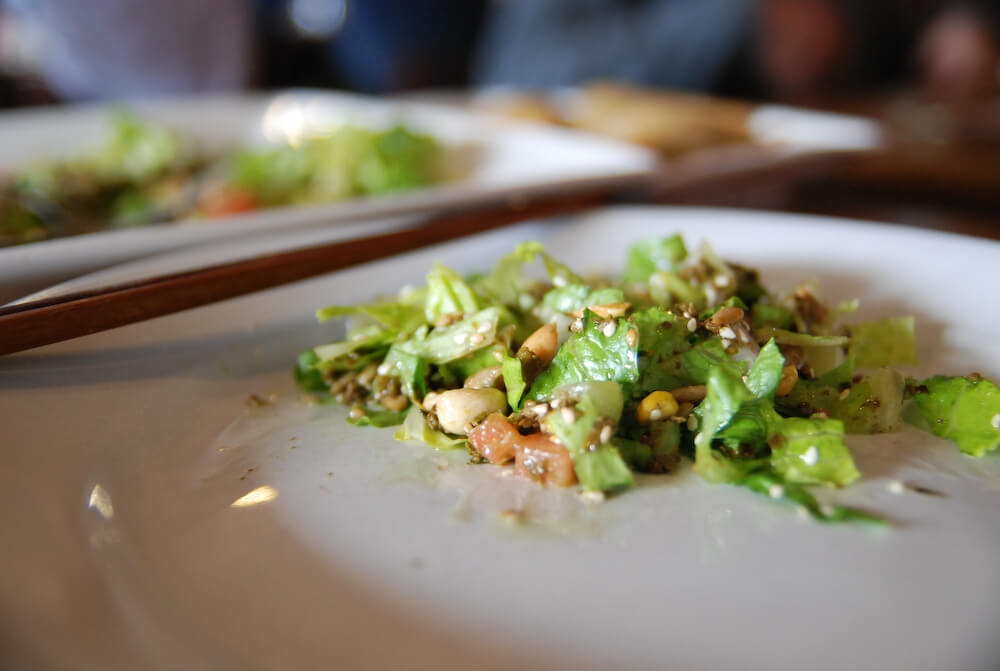 Vegetarians sing the praises of Burmese salads, and none gets more recognition than the fermented tea leaf salad, lahpet thok. If you aren't used to fermented foods, the flavor might take a little tastebud adjustment. But usually after a couple of bites you'll be vegetarian foodie heaven. The tangy earthiness of the tea leaves is tempered with fresh tomato and cabbage, and loads of texture comes from peanuts and dried peas. Garlic, chili, and lime help punch the other corners of your palate for a satisfying trip to flavor town.  
8. Vegetable Amok — Cambodia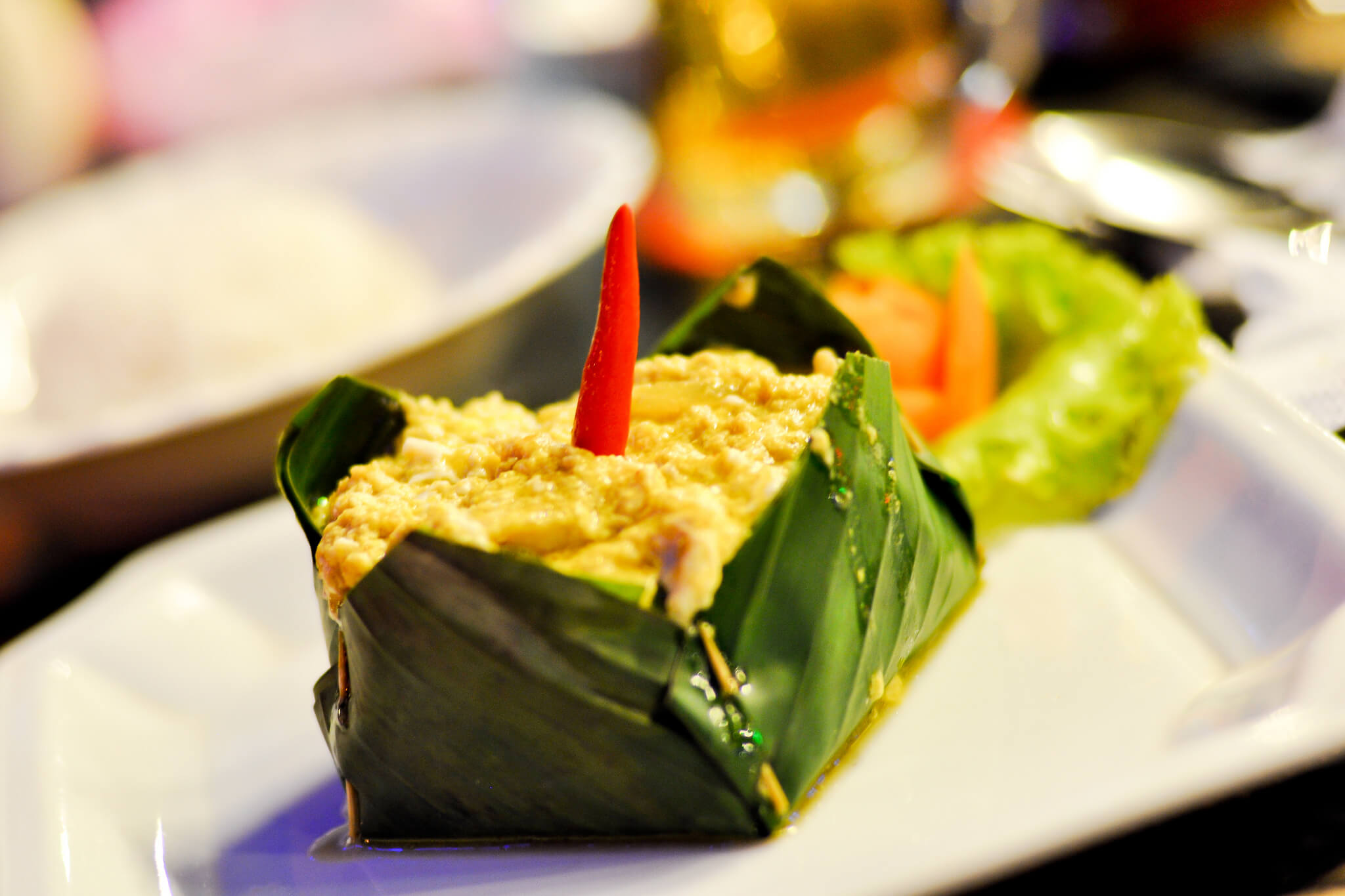 In my last post, I went into raptures about the flavorful, famous Cambodian dish Fish Amok. It turns out, there are usually vegetarian versions of this as well! Many restaurants in Cambodia's major cities feature that same tangy, sweet, thickly delicious yellow curry sauce with tofu or vegetables instead of fish or chicken. Be aware that traditional recipes for amok curry sauce will usually include shrimp or fish paste — it's nearly impossible to avoid in Cambodia.
9. Com Ga Chay — Vietnam
Com ga may be one of Vietnam's most famous dishes. It's Vietnam's answer to chicken and rice, but packed with loads of sweetly spicy ginger. Instead of chicken in the "chay" version of this famous dish, wheat tofu is shredded, seasoned and fried to replace the animal meat. The result? You might not even realize it's not chicken!
10. Mango Sticky Rice — Almost Everywhere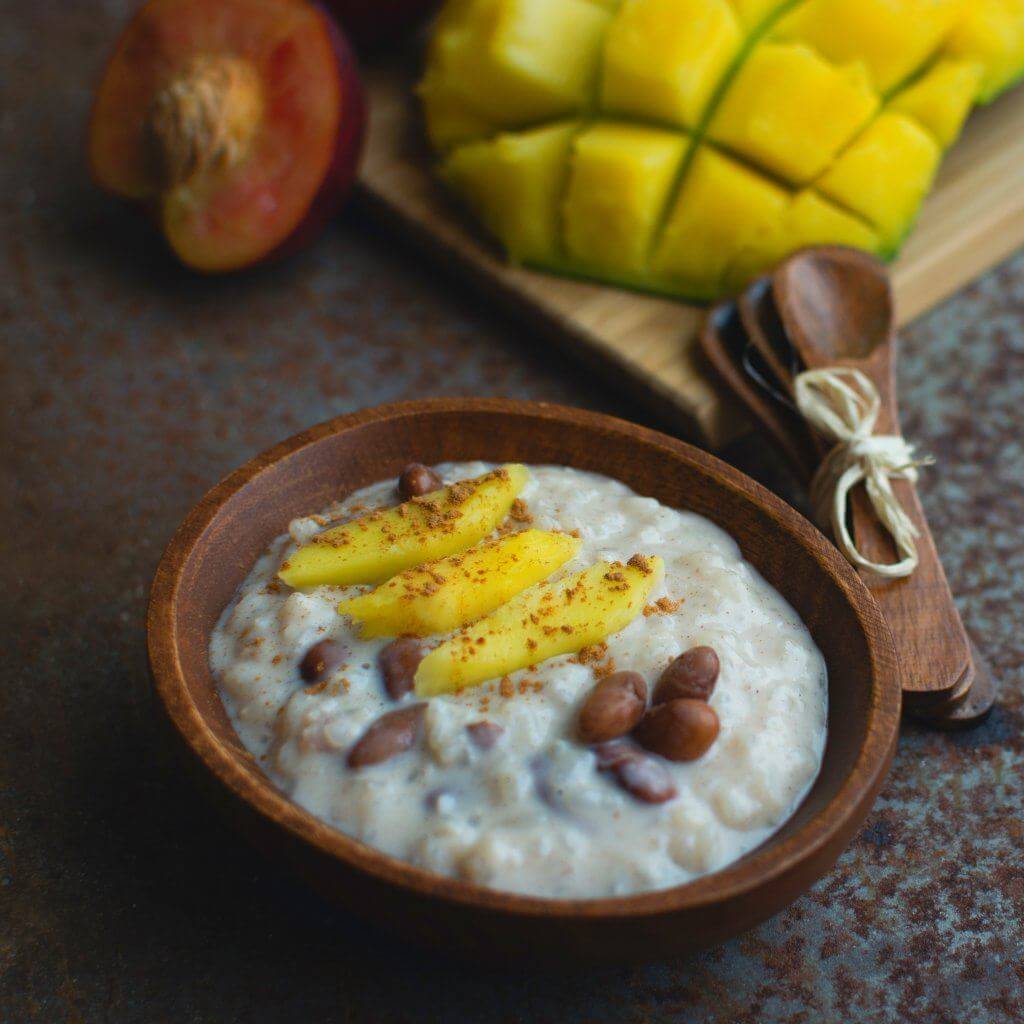 Nearly every Southeast Asian country has a version of mango sticky rice on the dessert menu. It's a classic sweet treat: coconut milk-soaked rice is a sweet pillow for fresh, delicious mango. Best of all? It's entirely animal-product free, so even vegans can dig in without guilt.
While researching this article, I found lots of vegetarian and vegan alternatives for many Southeast Asian favorites: curries, banh mi, hotpots, and laksa all have meat-free alternatives. Which makes Southeast Asia an excellent option for vegetarian travelers!
What are your favorite vegetarian dishes? Any Southeast Asian dishes I missed that should definitely be on this list? I'd love to hear about it in the comments so I can try them on my next trip!