How do you picture Rwanda?
I'd struggled to imagine what Rwanda must be like before going there myself. I'd seen the movie, Hotel Rwanda (which was loosely based on reality and shot in South Africa so that gave me very little go on), but that focused on one of the darkest moments in the history of the area and left little to my imagination as far as current affairs, landscape, and things to do in Rwanda.
Upon entering the country, what I found was rolling hill after rolling hill covered in farmland or tea plantations that made way for dense jungles, vast lakes, and massive volcanoes topped with snow. It's one of the greenest and hilliest places I've been, and it seemed like every time I got in the car I was in for a ride with hundreds of twists and turns. That was hard to complain about, though, when the scenery was so beautiful and the surroundings cleaner than anywhere else I've seen in Africa, and much of the rest of the world, for that matter.
Can you think of anywhere else with a ban on plastic bags and a mandatory few hours of community service every month? It's impressive!
If you find yourself there, know that it's a small country that doesn't take much time to traverse, but there is still a wealth of activities. These are some of the best things to do when in Rwanda:
Kigali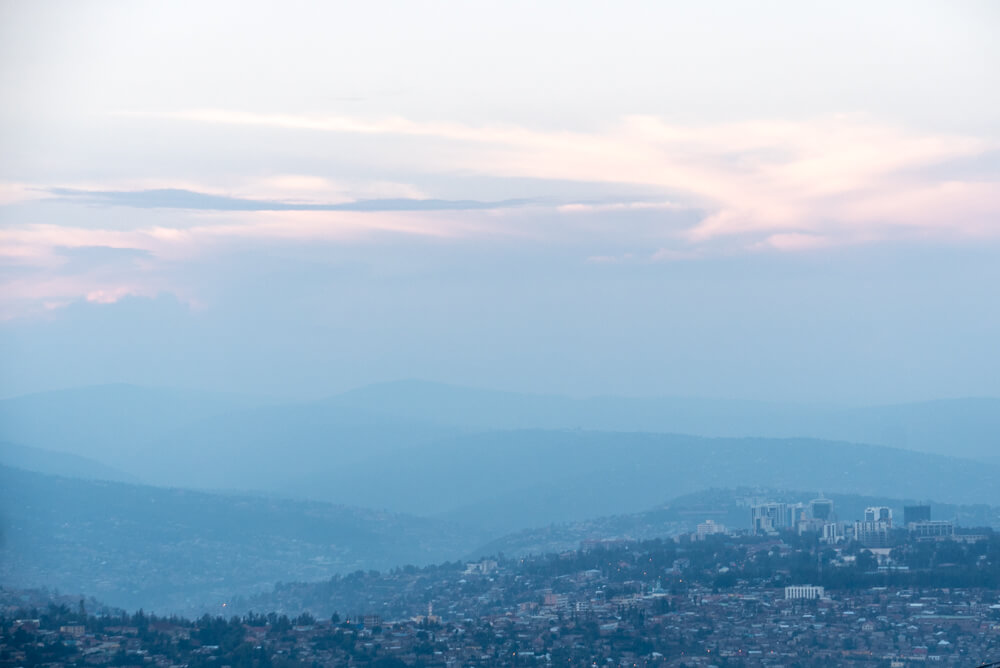 Kigali impressed me with its cosmopolitan cuisine and cafes, the sidewalks and street lights – a rarity in East Africa – and the super cool arts and design scene. I spent a few days in the city mostly stuffing my face (eat at the salad bar at RZ Manna during the week! So good!) and exploring a bit of the history as well.
Kigali Genocide Memorial Centre
The Kigali Genocide Memorial Centre is the most popular attraction in Kigali, and for good reason. It's very well-done, and helps to explain the Rwanda you see today while addressing the dark past.
The Rwandan genocide of 1994 is one of the bloodiest mass acts of violence in modern history with an estimated 1-2 million people losing their lives in a span of only 100 days from April to July.
The struggle was borne of a complicated past. Rwanda changed hands a few times before finally ending up under Belgian rule. During the colonial period, the Belgian administration applied contemporary Darwinian theories, which gave the Tutsi minority a favorable position. This essentially laid the foundations the genocide to follow by creating inequality amongst the locals, in which the Hutus rebelled against the Tutsi and Belgian elite. The conflict finally ended in with the aid of the United Nations Security Council. 
Since then Rwanda has made strides in unity, with Rwandans identifying themselves as one culture rather than Hutus and Tutsis, has become the #1 country for the amount of women in politics, and has implemented the Vision 2020 plan which has helped bring over 1 million Rwandans out of poverty. Obviously this is an incredibly abridged history which cannot possibly encompass all of the complexities and happenings, which makes the genocide center a worthy stop if you're interested in learning more.
Hôtel des Mille Collines
The famous inspiration for the Hotel Rwanda, and a place of refuge for nearly 1300 people during the genocide, the Hôtel des Mille Collines is now a place to 'see and be seen' in Kigali.
It's a 4-star hotel which you can choose to stay in when in Kigali (though I stayed at a mansion in the hills for a mere $25/night via Airbnb).  Alternatively, it's free to walk into the lobby, just $5 to hang out by the pool, which is a popular daytime activity, or just grab a Virunga Mist beer poolside.
Chimp Trekking in Nyungwe Forest National Park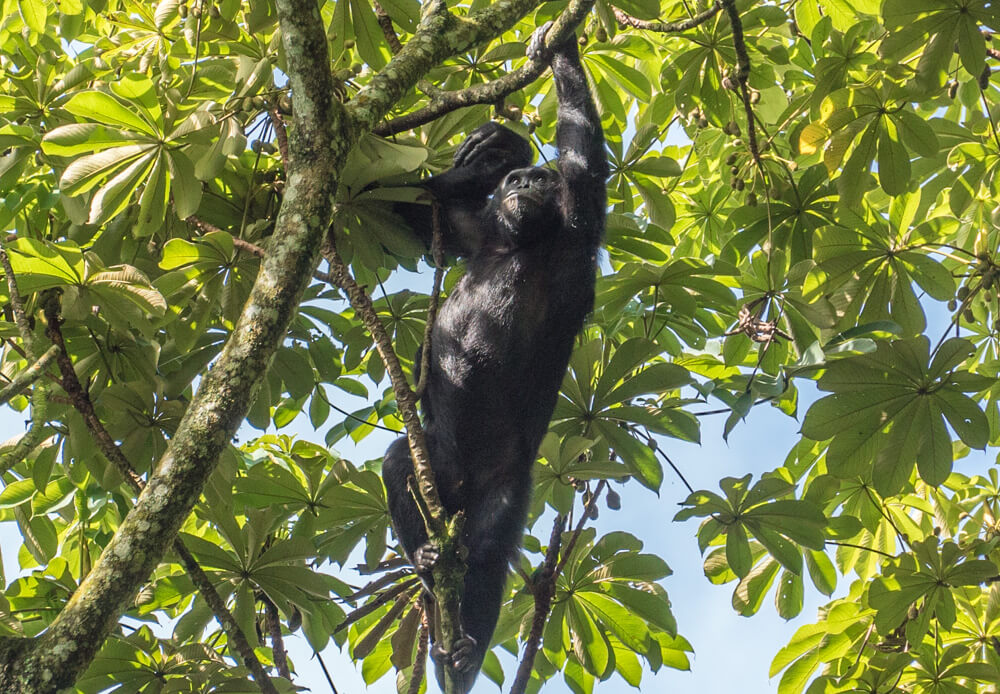 Chimpanzee trekking is a must-do when in Rwanda considering that they're only found in central and west Africa and sadly, their numbers are dwindling. Priced at $90 It's also a pretty cheap activity compared to other primate trekking in the region (trekking to see the gorillas in Rwanda will set you back $750).
The trek starts at 5am from the visitor's center just outside the park where you'll pick up your guide and drive for another hour through the tea plantations while the sun rises.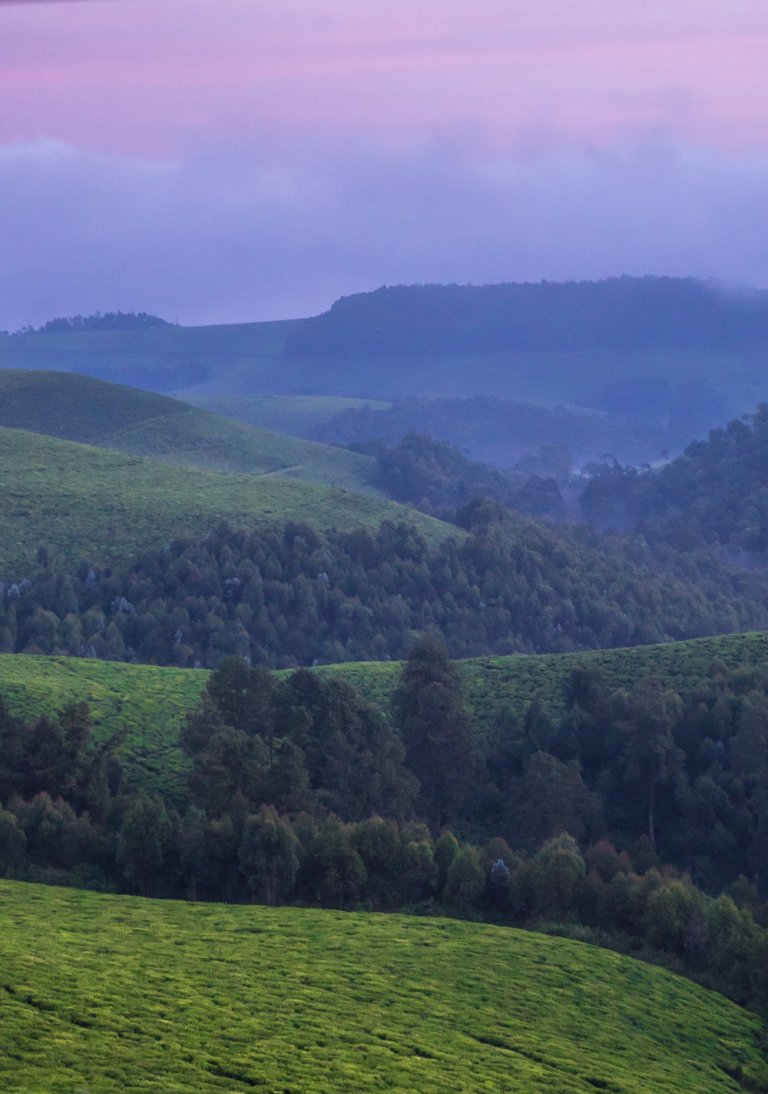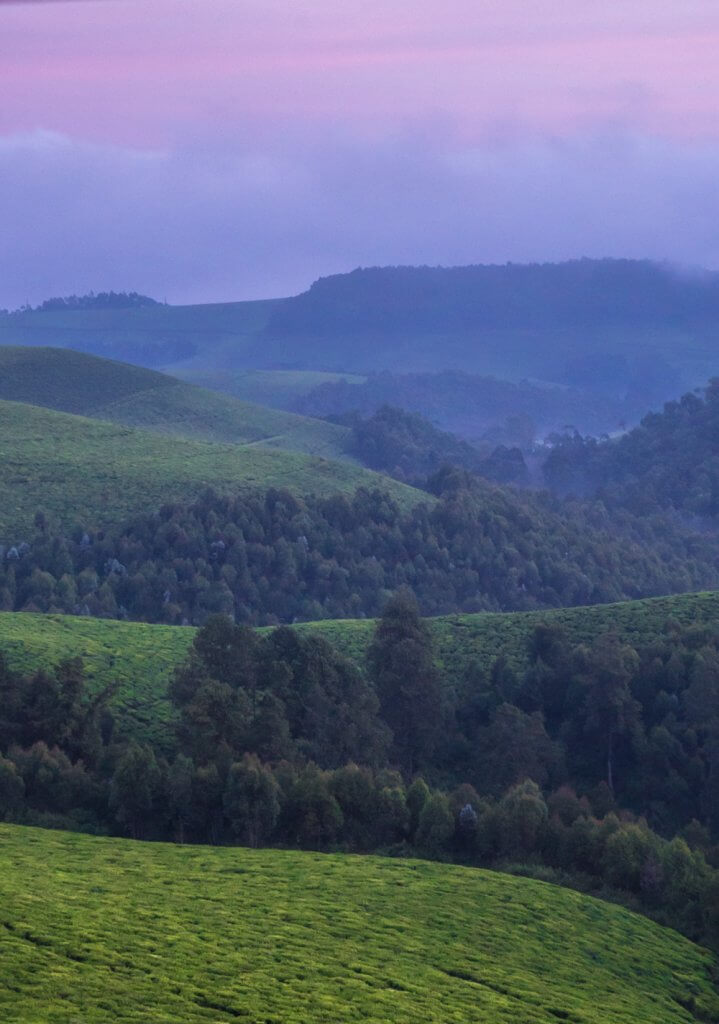 From there, grab a walking stick, tuck your socks into your hiking boots to avoid bites from the cutter ants, take a snack and start the hike through the jungle. The trackers will have already been in the jungle searching out the chimp families, and will radio your guide with their whereabouts as you progress.
Once our group found them, they were running around us through the forest, calling to each other and swinging from the trees. It was quite the sight! Though we did have to move quickly to find them and stay with them, it was worth it to see a family hanging out together, eating fruit, and enjoying the beautiful jungle.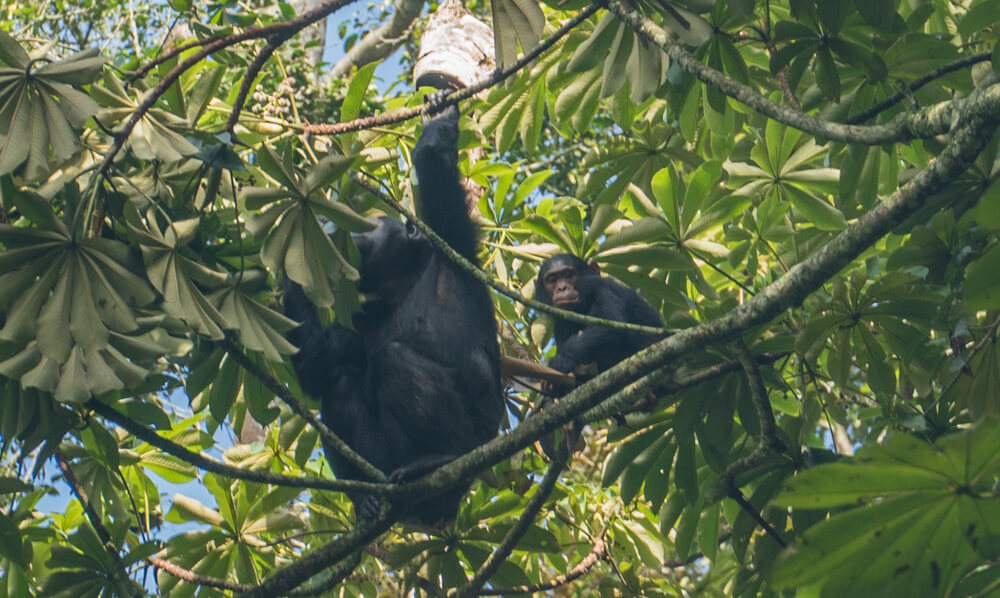 Trekking costs $90 per person and you will need to have your own car, or book a car with a driver to take you to the start of the trek from Kigali. It's best to book ahead of time in the tourism office in Kigali to secure a spot as this is a popular activity.
We camped in the campsite nearby which had a covered camping area and a spot for cooking over a fire plus firewood, at a cost of $30 per tent. There are also tours that can take you there and usually include a few national parks, but not having tested them myself, I can't recommend any here.
Lake Kivu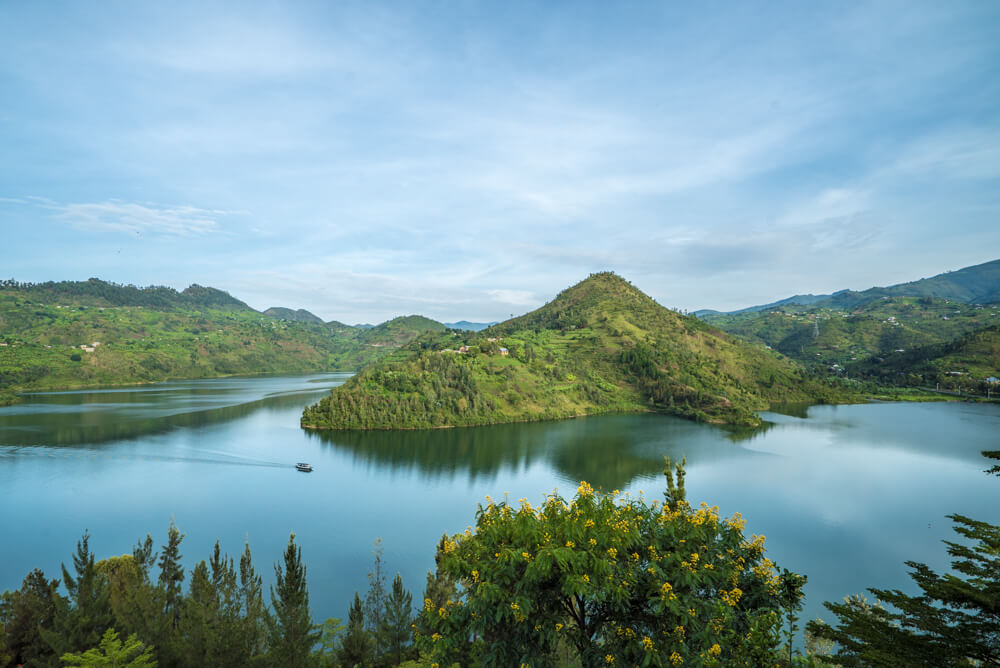 The days I spent on Lake Kivu were my favorite part of Rwanda, from watching the sunsets and sunrises to taking a little boat tour, it was so relaxing and beautiful. What's not to love about something that looks this beautiful?
Kibuye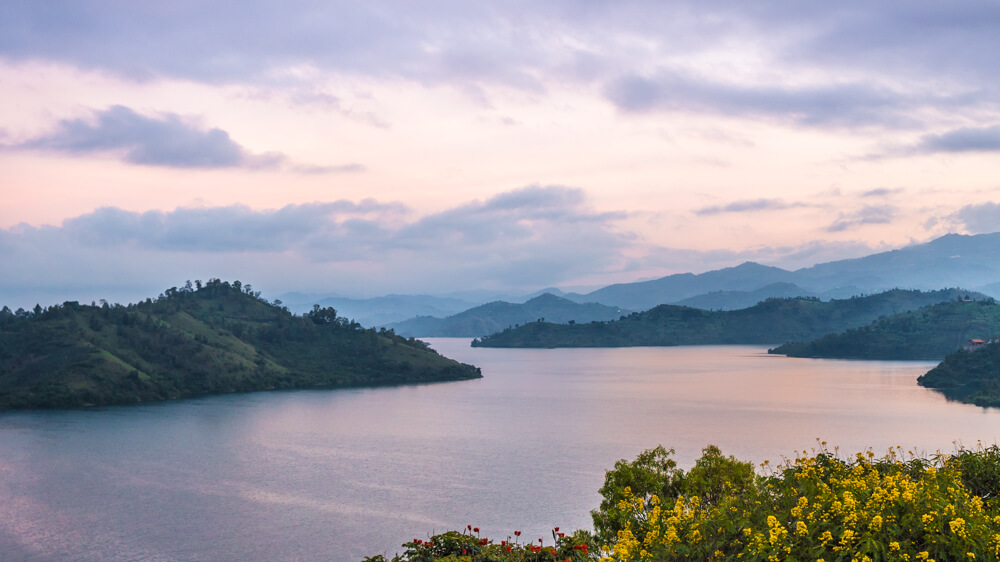 In Kibuye, the best activity is taking a boat around the various islands for 4-5 hours, stopping at a few of them and swimming, hiking through the guava trees and watching the bats, and marveling in awe at the beautiful lake.
Prices vary, but if wandering around town you're bound to get an offer or two. I met a few others at my guesthouse who overheard me talking about wanting to take a boat tour and invited me to join for a total of 20,000 Francs for the boat which took 6 of us but had space for more. We tipped an extra 5,000 making it just a few dollars per person by the end of it. What a bargain!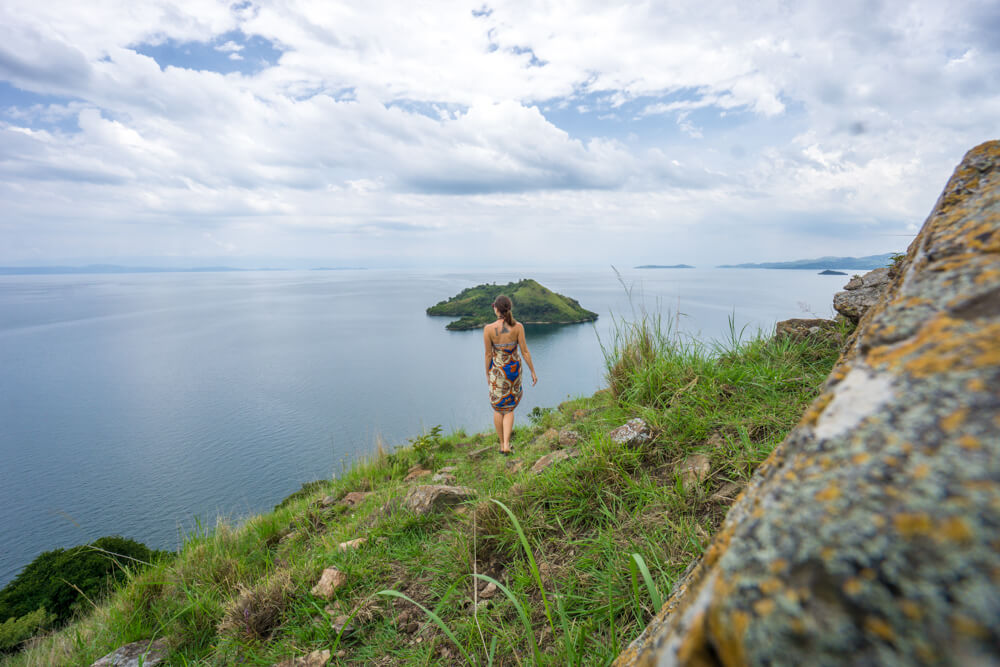 For a social atmosphere and the amazing views you saw in the photos above, I recommend Home Saint-Jean where I got a basic ensuite room for around $27 per night with breakfast included, which is a pretty good price by Rwandan standards.
Gisenyi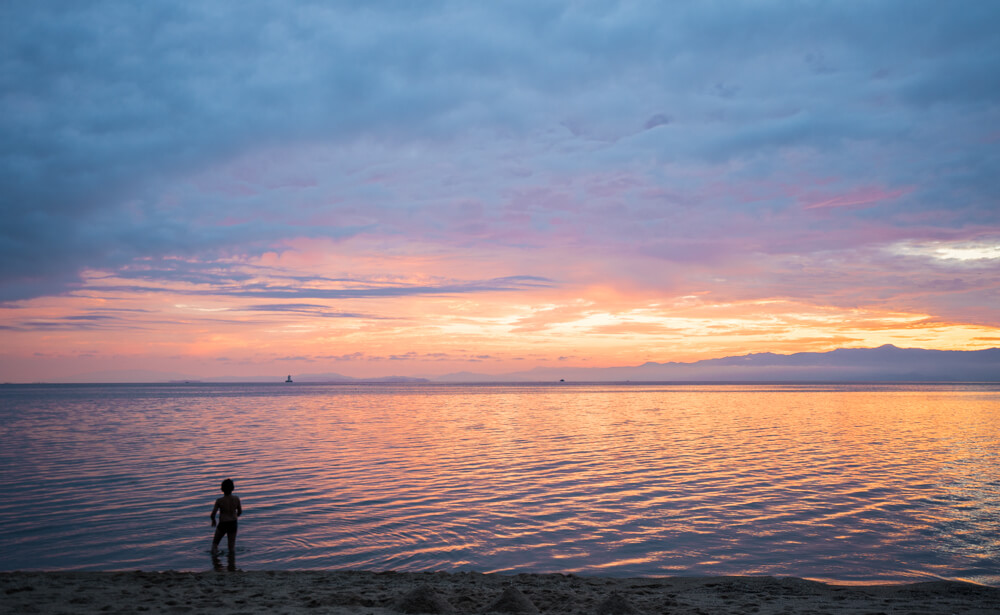 On the north end of Lake Kivu, it's also worth stopping by Gisenyi to see yet another view of the lake. A popular activity around here is the coffee plantation tours, and it's also the jumping off point for those who are interested in heading into the Democratic Republic of Congo to see the gorillas and volcanoes there.
Personally, I spent a lot of time at Calafia Cafe, which anyone who loves healthy food and has spent a while in Africa will truly appreciate. The beetroot sandwiches and home grown kale had this California girl dancing!
I also enjoyed hanging out at my guesthouse, Paradise Mahide, which is locally owned and beautifully situated on the lake. The rooms run about $80/night but you can camp on the lawn on the lake for closer to $10.
Park National de Volcans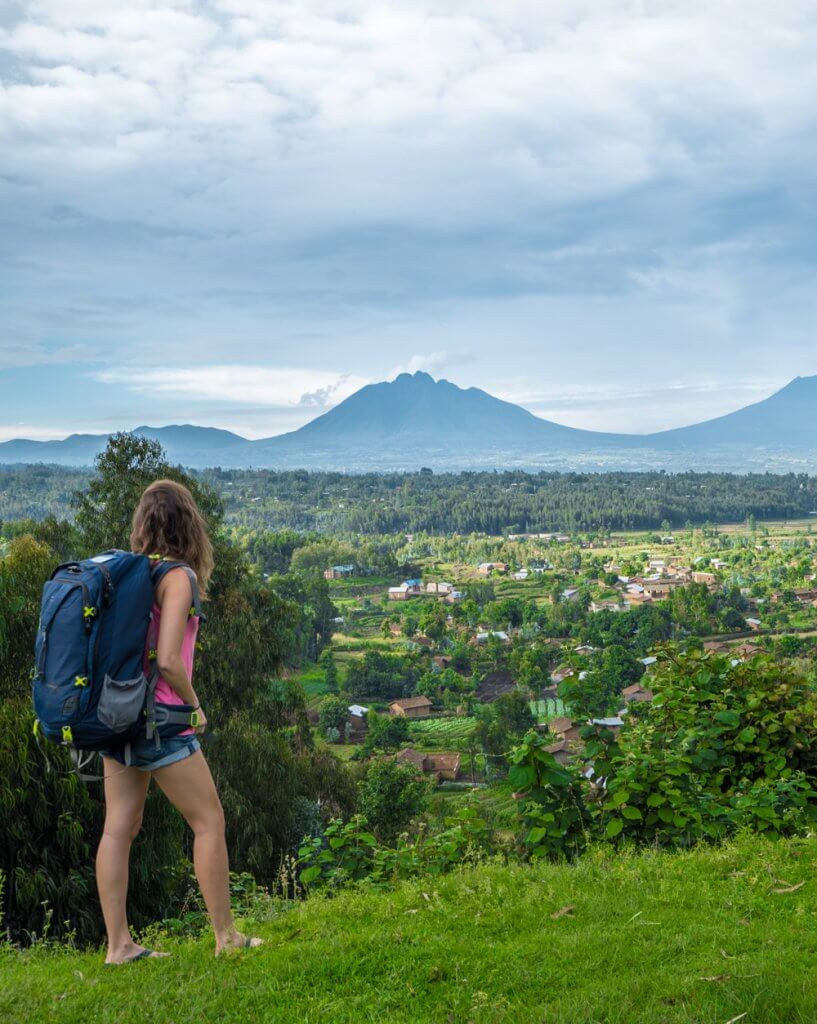 This park has some of the most beautiful landscape in Rwanda and is the spot you'll head to if you go gorilla trekking. The photo above was taken on the drive from Lake Kivu to the border with Uganda, with a view of the park.
Mt. Bisoke
If you love hiking and have the time, take a day trek up to Mt. Bisoke to see a volcano crater filled in with water.
Unfortunately I ran out of time and couldn't do this one, though I would have loved to. If you go for it, you'll have to pay $75 for the experience, which requires a guide, and be sure to bring along a jacket because it gets cold up there! It's reportedly a tough and steep hike but for those who love the outdoors, I've also heard it's worth it.
Gorilla Trekking
Gorilla trekking only takes place in the DRC, Uganda, and Rwanda. With only 800 gorillas left in the wild, it's a rare opportunity to see this majestic primate up close. This is also important to book ahead of time as it's a popular activity and the amount of tourists allowed on a given day is limited. Since it costs $750 and I was on my way to Uganda where it runs $600 to $450 depending on the month (April is cheaper), I decided to wait.
If you won't be going to Uganda or the DRC, however, consider spending the money to do this. Seeing wild gorillas is one of my top travel experiences to date.
Akagera National Park
Akagera National Park is Rwanda's safari destination, with lions, elephants, hippos, zebras, and many other animals including over 500 bird species. It shares a border with Tanzania but unlike its neighbor, park entrance fees are affordable at $35 per person per day and only $7.50 per car. Safari rates with a car and driver, if you don't already have your own, are a pretty standard US$175 per half day (5 hrs), and US$275 for a full day. Click here for more info from the national park website.
Since I had just spent 11 days between the Ngorongoro Crater and the Serengeti in Tanzania, I did not visit this park, but I can imagine it's a worthy stop if you have the time and interest, and probably less popular and crowded than its southern and eastern cousins as well!
—
My time spent in Rwanda was eye opening. I wouldn't have expected that much greenery, those dreamy lakes, and the cleanliness that I found there. Then again, I'm not sure what exactly I did expect, so what I found there impressed me regardless.
It's not a big place, and it doesn't need the weeks and weeks that I'd suggest for Tanzania and Uganda, but it's definitely a worthwhile place to explore while between the two. Rwanda, it turned out you were full of adventures.