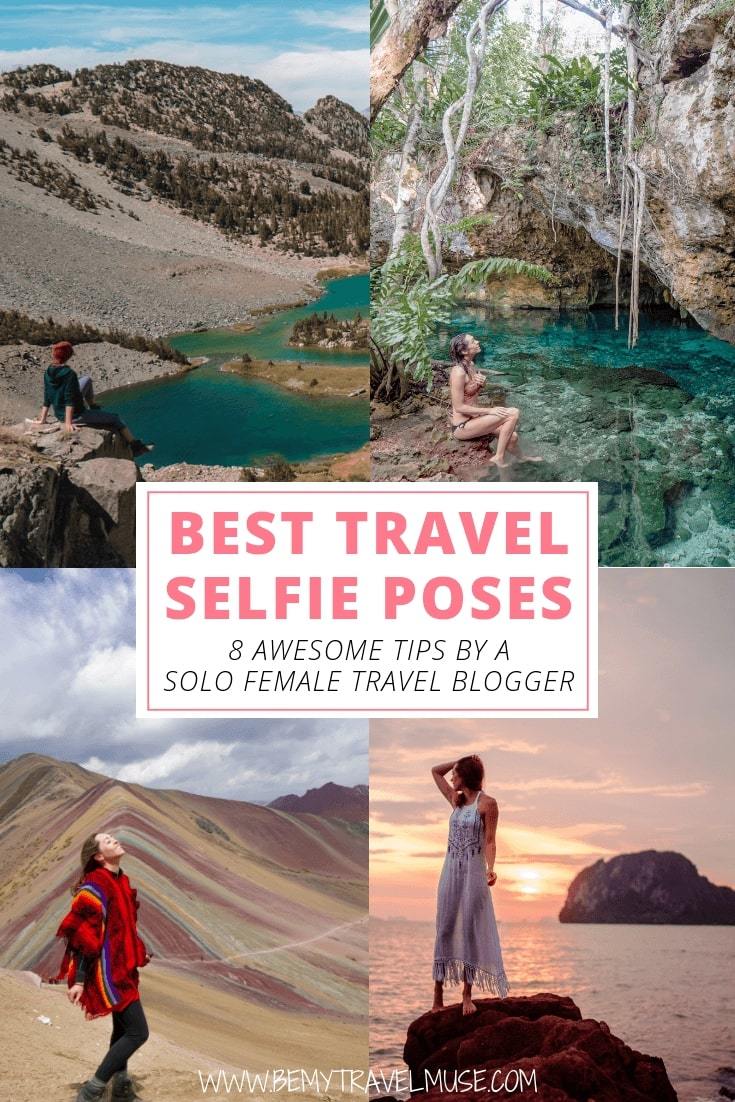 What are the best ways to pose in front of the camera without looking totally staged, fake, or awkward?
I put this post together after years of struggling to look and FEEL natural in front of the camera. At first all I was comfortable doing was showing it the back of my head – but then that's all I had pictures of – my messy brown hair.
Sound familiar?
It took me a while but now I know the hacks and I'm here to spill the beans. I want you to have FUN with the experience of taking photos, and to help you be your own photographer – No Instagram husbands needed.
The following are some of the best poses for amazing selfies that don't look like selfies:
The Eight Best Travel Selfie Poses
1) Tiny Human
You probably already know – when comparing a landscape photo with nobody in it to one with a human subject, the latter is just a lot more interesting!
So set up that tripod, get a remote or sync it with your phone, and get into your surroundings. As a tiny human I don't have to worry much about what I do with my face or my posing too much, but I am adding scale and a human interest element to my photo. Try this one out first – it's the easiest!
2) Classic Facing Away
This one is all over Instagram – just face away from the camera and toward your environment. You can do the #followmeto with your hand behind you (partner needed, or hand model, whatev), or just face away while looking at a gorgeous view. All you really need to think about is how the back of your head looks and maybe, how your outfit works with your environment.
I urge you to branch out and not only do this one. It's great for making others feel like they could be there, but we want to see your pretty face! So let's move on.
3) Move
To get over the awkwardness of taking my own photo (trust me, it still feels awkward sometimes!) I like to move. I'll walk forward, then back, or just pivot between my two feet to simulate walking, or I'll twirl, dance, or throw my hands up. Dancing and movement in a photo can convey so much joy and energy, and it totally helps me to remove stiffness in my posing and my body. Plus, it makes it so much more FUN. Ready to give it a try? Put your camera on burst mode and move!
4) Use Your Hands
What do I do if it's not a movement shot? I can still insert some movement and the look of a candid shot by running my hands through my hair, playing with my skirt or shirt collar, or putting a hand on my cheek.
Give your hands something to do in the photo and it'll look more natural – easy!
5) Props
View this post on Instagram
The way that we involve props can be twofold: Either a prop can be part of a photo, or it can be what we use to put our camera on to take the photo when we don't have a tripod.
I've used rocks, tree stumps, water bottles, my backpack, and chairs as tripods many times. It can often give me a creative angle that I wouldn't have thought of otherwise! So experiment with your camera placement. What angle will different props give you? Does it look cooler when the camera is down low vs. up high? What about right at eye level?
A prop is also perfect for using in the photo. It gives your hands something to do. It makes the pose obvious rather than awkward. I suggest using whatever is at your disposal. Grab a pair of sunglasses, an umbrella, a coffee mug, a hat, or something vibrant to wear, and make it a part of your photo. Props often help me know how to pose when I'm otherwise not sure. Like the other things we've tried, they help me be less awkward in photos.
6) Creative smiling
View this post on Instagram
I often feel odd just looking at the camera, hands at my side, smiling like I used to in middle school or in family photos. There's no need to be boring or to stand awkwardly in photos anymore. There's also no need to only show the back of your head. I admit, this one was hard for me to get used to at first. I felt so much more comfortable facing away from the camera, but then none of my photos had my face in them, and that's kinda sad, isn't it? Are you kind of the same too? Do you wish you could face the camera more to show your uniqueness? The easiest way is to display your smile. It's approachable, lighthearted, and so nice to look at! Smile up at the sun, fake laugh until you're actually laughing at yourself and your own silliness, combine movement and smiling like in the examples above, or scrunch your nose in that way that only you do best. There's no wrong way to do this!
7) Lean and take the camera low for long legs
View this post on Instagram
Want to make those legs look longer? I like to find something to lean on, like the tree in the photo above, or a staircase to stretch across, in order to make my legs look long.
Take the camera somewhat farther away to avoid any unflattering angles, and take it low for a killer legs shot.
8) Look Fierce
View this post on Instagram
It's time to get real: Posing like a runway model with a serious face is probably the hardest pose out there, other than a headstand while holding your breath underwater or something. It can feel awkward and it might take more tries to get it right. It could also be that your first time doesn't yield your fave results. BUT I have some tips to make it doable. It can come off fierce and smoldering rather than angry or totally blank. Try the following:
Smile then keep your eyes in the same position but drop your mouth shape.
Smirk: Raise an eyebrow, and/or just smirk slightly.
Use a mirror first: Get the look you like then keep it as you wander over to the camera.
My favorite: Pretend like that camera just gave you the best sex of your life. It's amazing how well this works!
Tell yourself you're a queen and pump up your self esteem – it helps so much.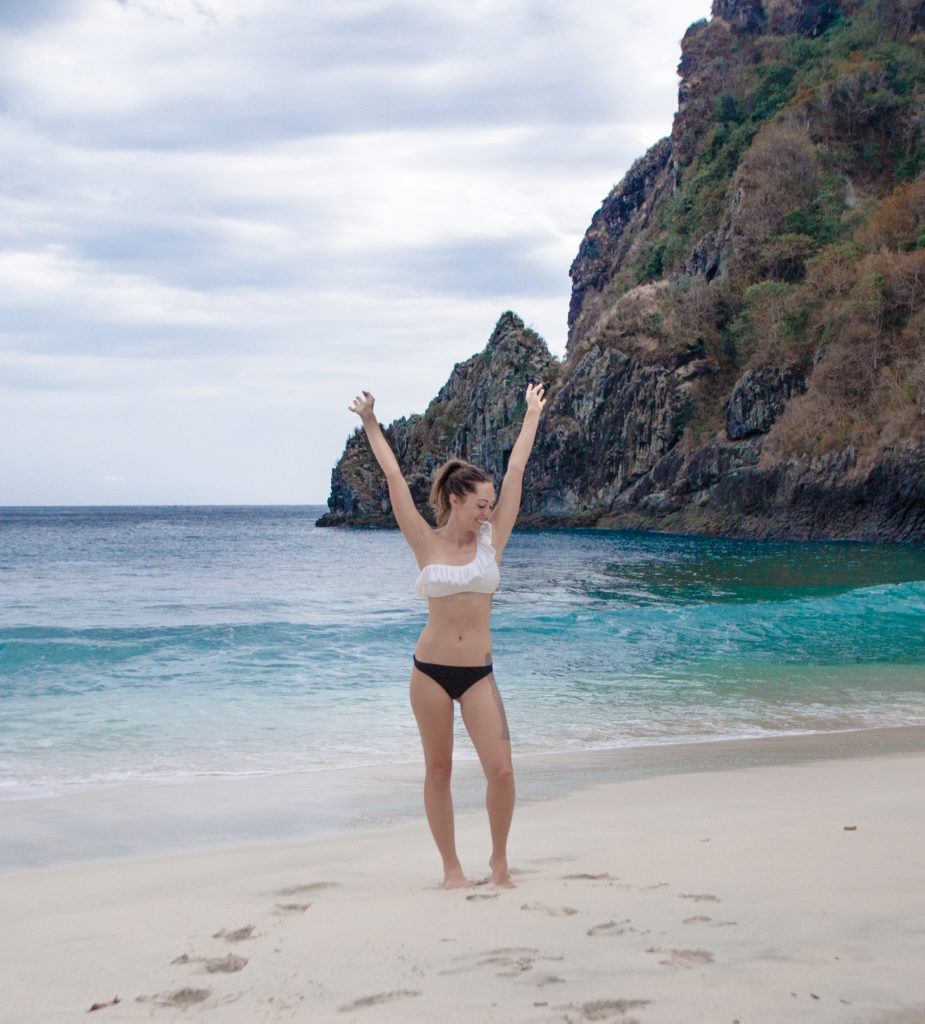 When it comes to posing for photos, we can take something that used to feel awkward and make it tons of fun. While it may take some time to get used to it and not every photo session will yield amazing photos (that's just life!) this artistic form of self expression has helped me increase my self confidence and have even more fun with photography when I travel.
If you want more guidance and support, check out my 5-day email challenge with daily tips and hacks that expand upon these points to get to the next level – over 800 photographers have already done it, and it's totally free. You can join here: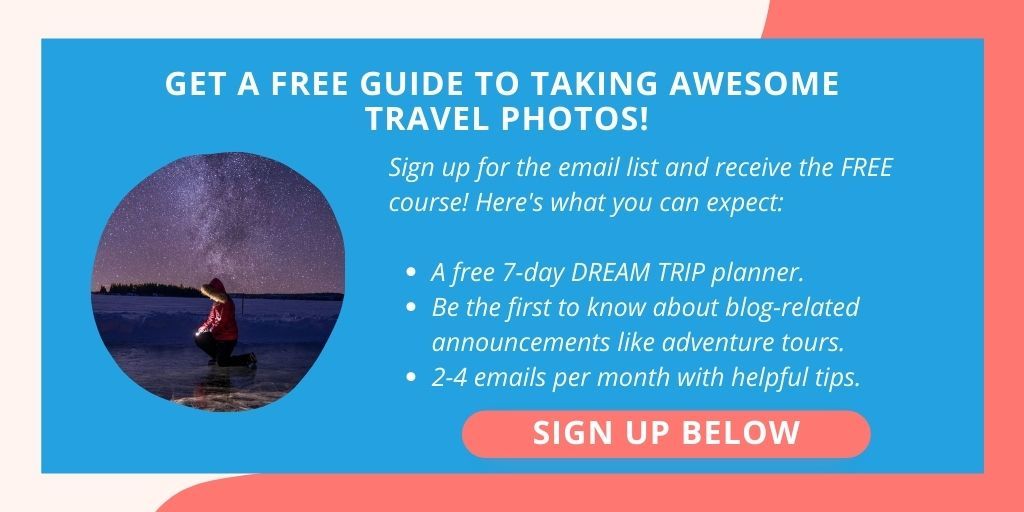 Happy snapping. I can't wait to see what you create!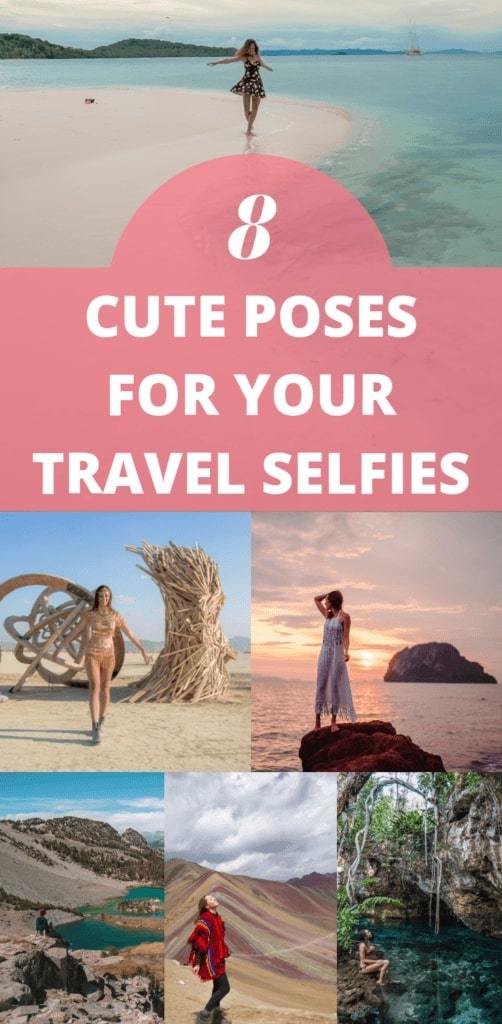 READ NEXT: