Utah is a playground of geological wonders, and December's quieter crowds and snow-kissed landscapes offer a magical setting for outdoor adventures. With iconic canyons and lesser-known gems alike, the state beckons with activities that are uniquely enchanting in winter's embrace.
In this guide, discover the best things to do in Utah in December, from peaceful overlooks to exhilarating hikes and unexpected adventures.
1. Little Wild Horse Canyon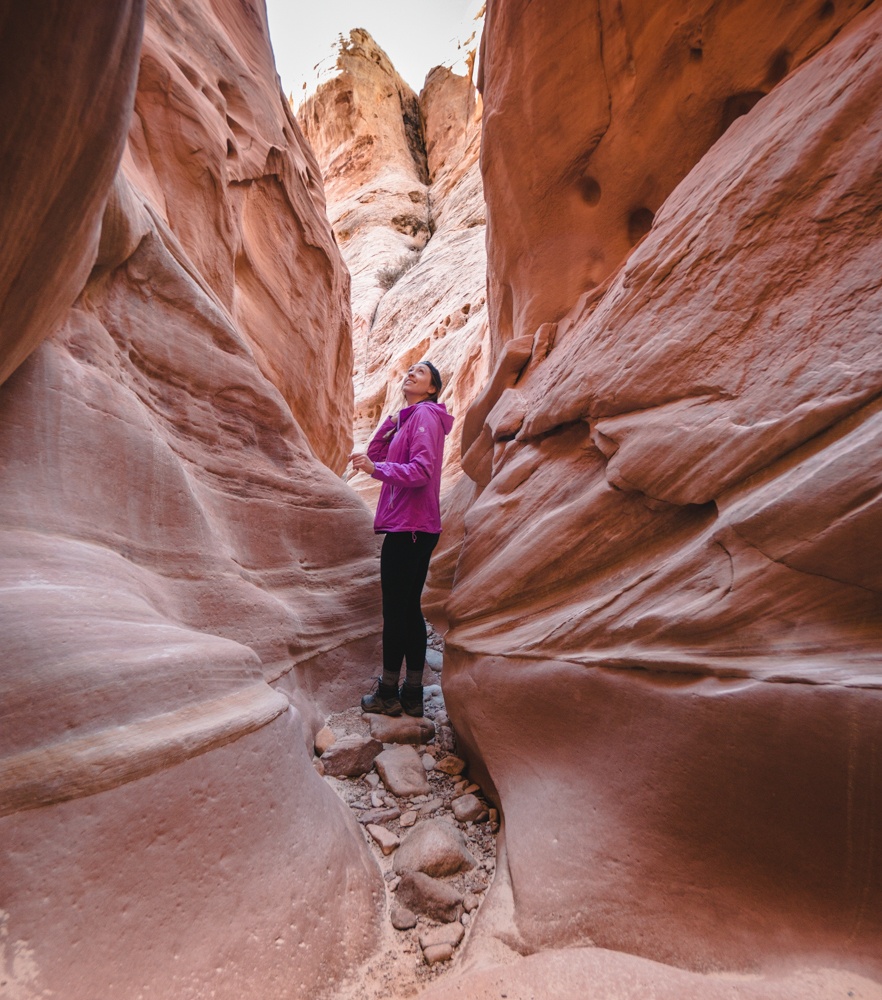 In December, Little Wild Horse Canyon becomes a serene wonderland, largely devoid of the crowds you'll find in warmer months. The cooler weather provides an entirely different hiking experience, with frozen water features adding to the canyon's otherworldly beauty.
While summer poses the risk of flooding, this monnth offers safer conditions for you to explore this Utah secret. Located near Goblin Valley—an awesome destination in its own right—this slot canyon is perfect for those wanting a quieter winter adventure.
If a Utah road trip is in the cards for you this winter, Little Wild Horse Canyon definitely deserves a spot on your itinerary!
2. Needles Overlook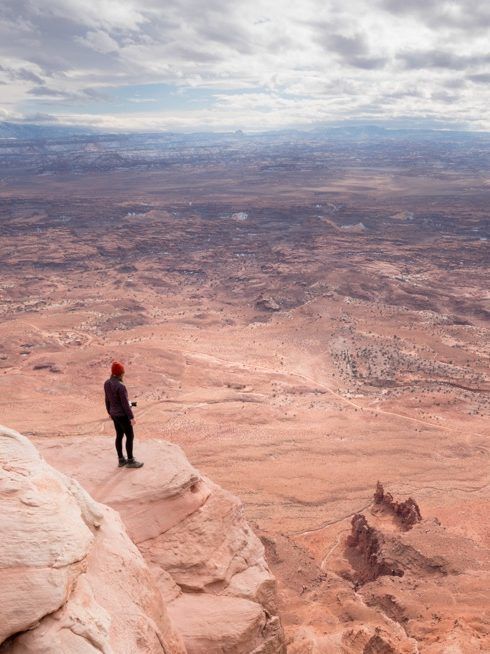 Imagine taking in sprawling vistas of Canyonlands National Park — but without the constant click of cameras around you. Needles Overlook is your spot. The lower visitor numbers in December mean you can enjoy one of Canyonlands' most jaw-dropping views, and there's a chance you'll have it all to yourself.
The overlook is accessible by car, and the scene becomes even more ethereal with a light dusting of snow, making the red-rock formations pop against the white backdrop.
3. Dead Horse Point State Park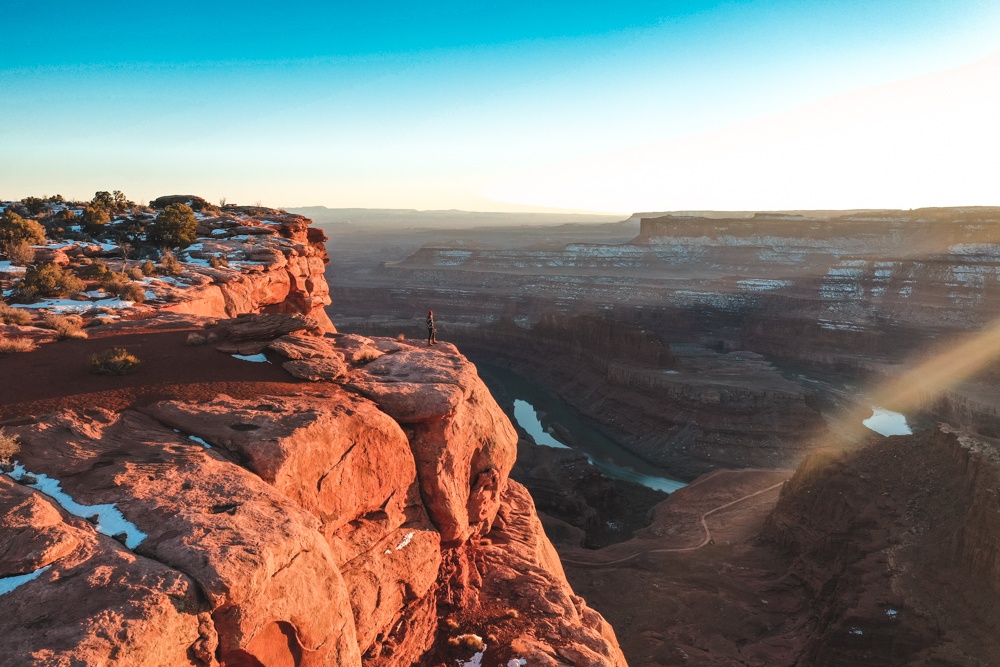 For a Grand Canyon–like experience without the masses, head to Dead Horse Point State Park in December. The crisp winter air enhances the clarity of the sprawling canyons below, offering picture-perfect views that rival any summer visit. Drive straight up to the viewpoint and, if you're up for it, explore the park's hiking trails blanketed in a soft layer of snow. The solitude and scenic landscapes make this a must-visit this time of year.
4. Bryce Canyon National Park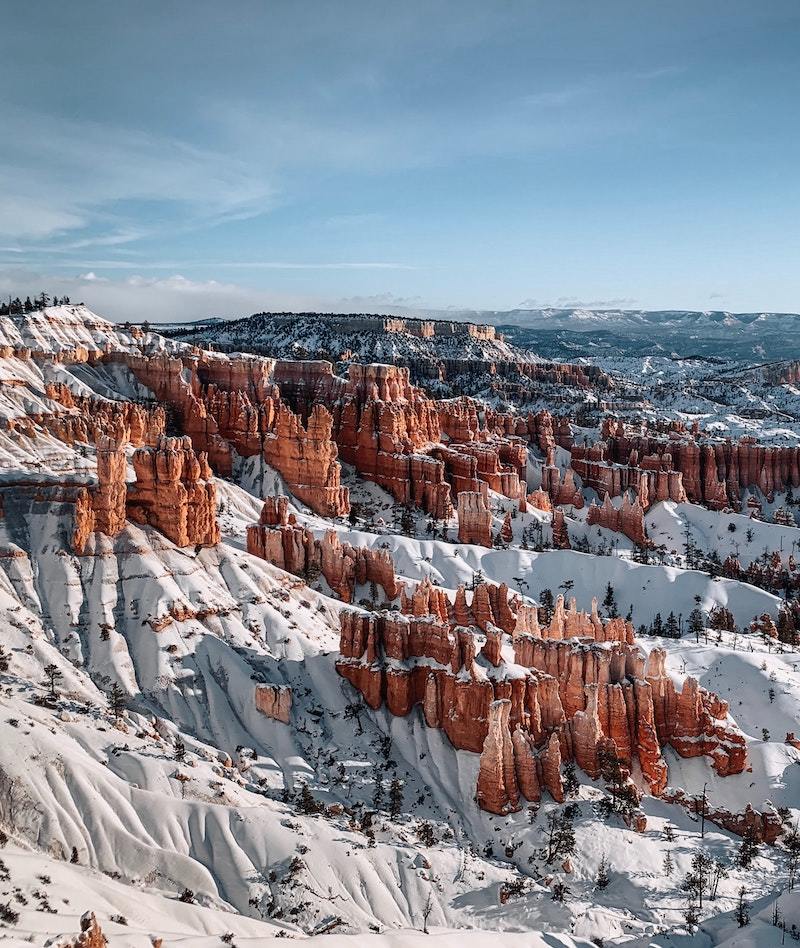 There's no season quite like winter to enjoy Bryce Canyon National Park. The iconic hoodoos look even more surreal with a crown of snow, creating a mesmerizing contrast between the earthy reds and the pure whites.
While many consider this a destination for other seasons, December offers a range of snowy activities. From snowshoeing and snowmobiling to cross-country skiing, Bryce Canyon is a hot spot for cold-season fun. Plus, fewer visitors mean you can savor the beauty in relative solitude.
Bryce Canyon made our list of the best national parks to visit in the winter, so check that out if you're keen on getting outdoors as much as possible this month!
5. Bentonite Hills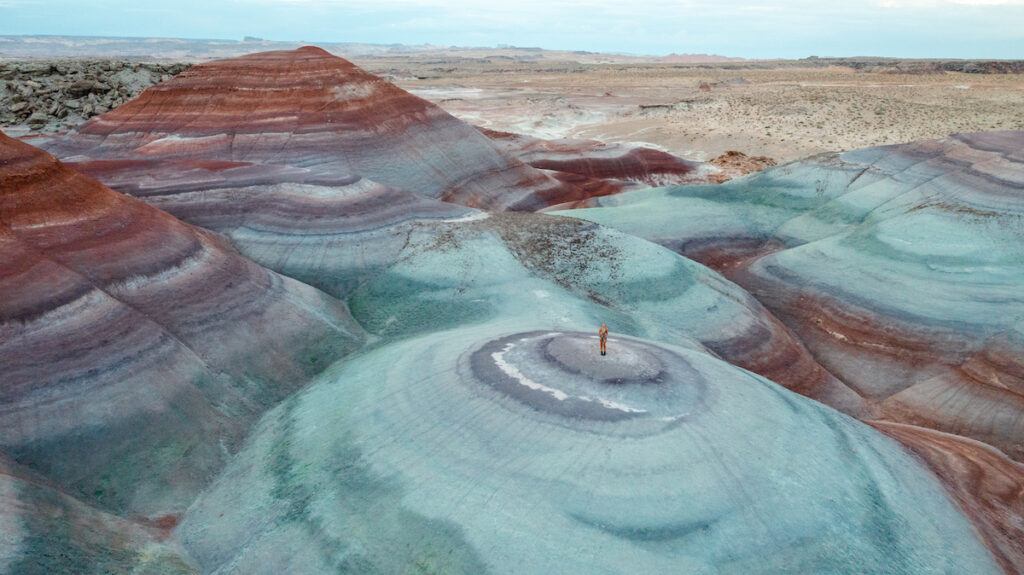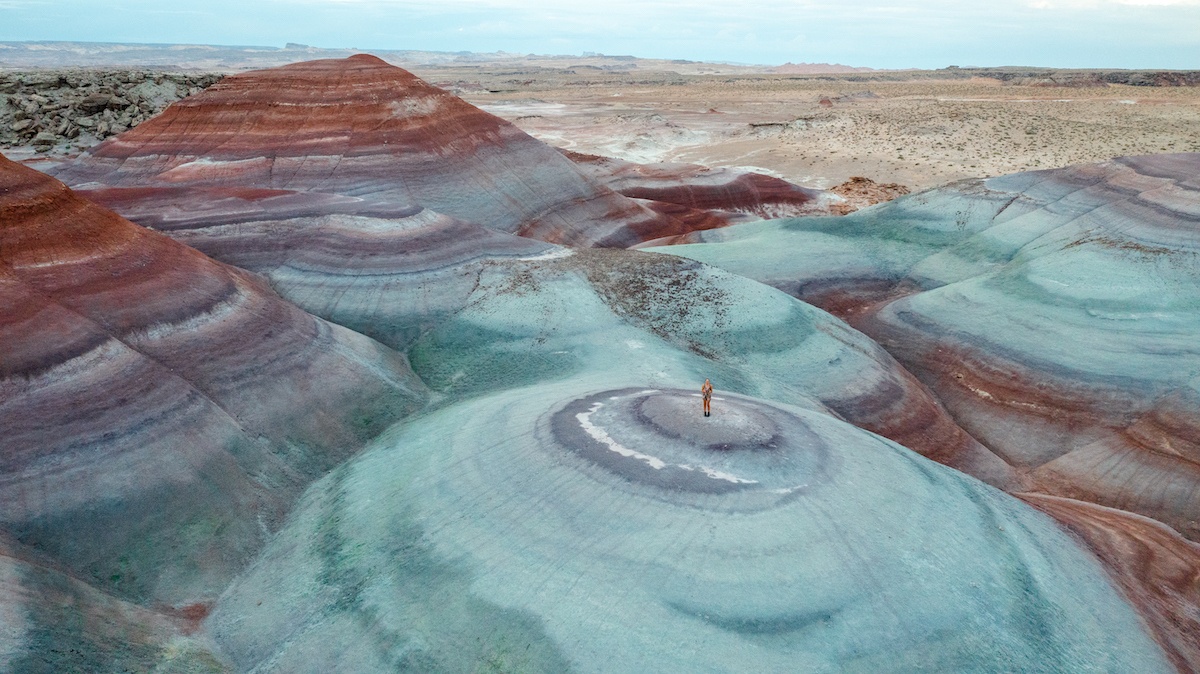 Bentonite Hills, often compared to Martian landscapes, are even more intriguing in December. On your way to the famous Temple of the Sun and the Moon in Capitol Reef National Park, the snow-kissed, multicolored hills provide a dramatic backdrop for winter photography.
Road conditions can change during this month, so always check the latest updates before venturing out. But if you're looking for a spectacle that's out of this world, Bentonite Hills is the place to be this month.
6. Goblin Valley State Park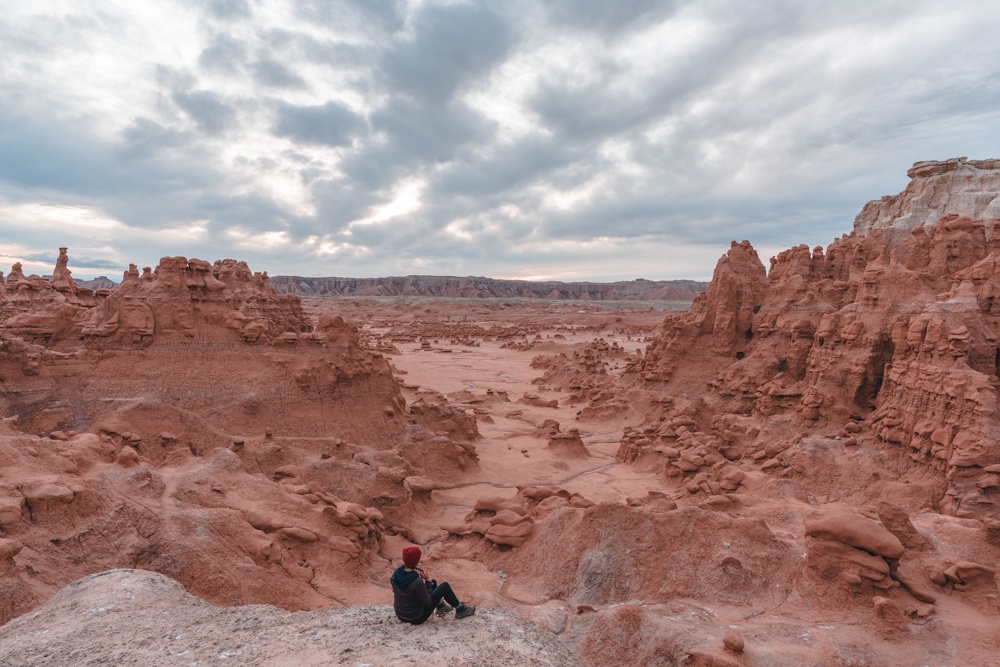 December brings a quiet charm to Goblin Valley State Park. Here, the mushroom-shaped hoodoos take on a frosty appearance, sometimes resembling bizarre snowmen in a winter wonderland. The park has two yurts available to rent, making it a great location for a cold-weather getaway.
One of my favorite things about this spot is that it's a relatively unknown hidden gem in Utah. Visiting this month means it'll be even more tranquil than normal, and that's saying a lot, considering it never gets too crowded here. This is the ultimate pick for solitude!
7. Bonneville Salt Flats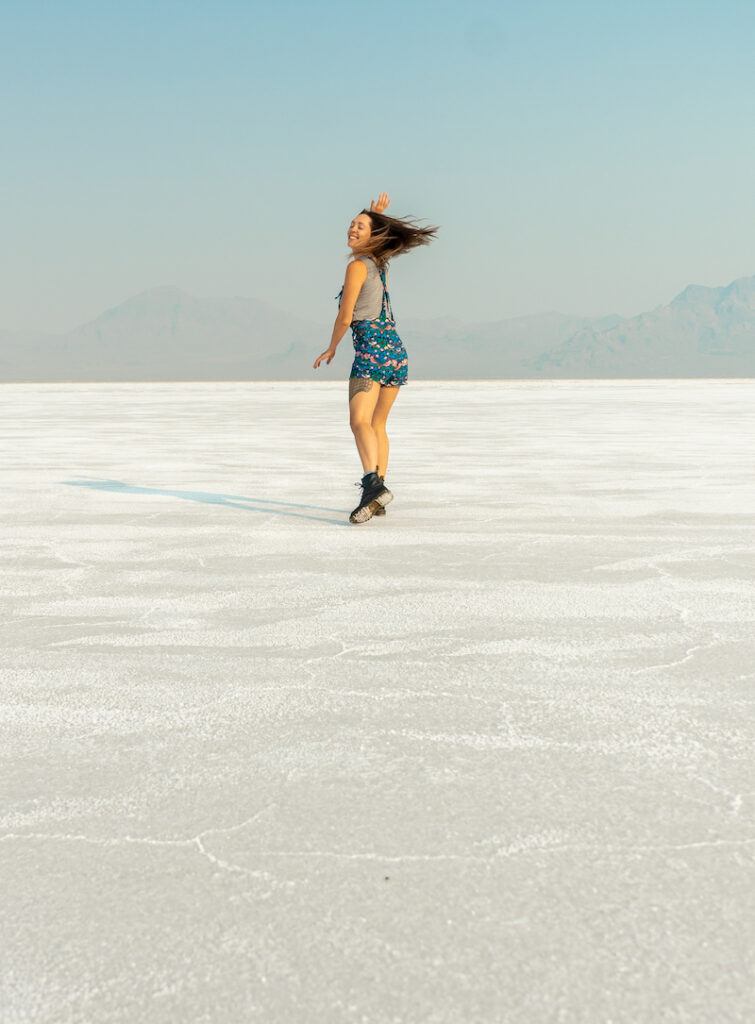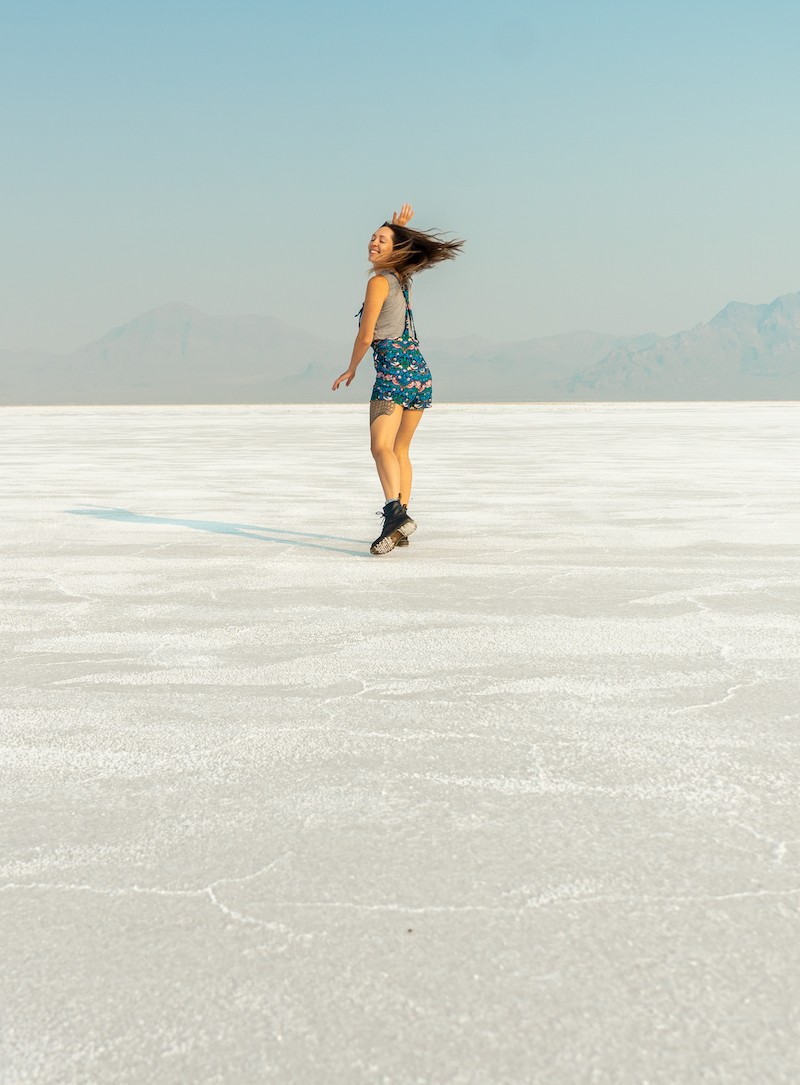 In December, the Bonneville Salt Flats offer a different kind of wintry spectacle. While summer sees cars zooming down the salt crust, this season offers its own quiet allure. Racetrack Playa is usually the safest area to explore, especially considering the risk of getting stuck in wetter conditions. Although you won't be setting any land speed records, walking on this snow-like salt bed provides a serene, almost otherworldly experience.
8. Natural Bridges National Monument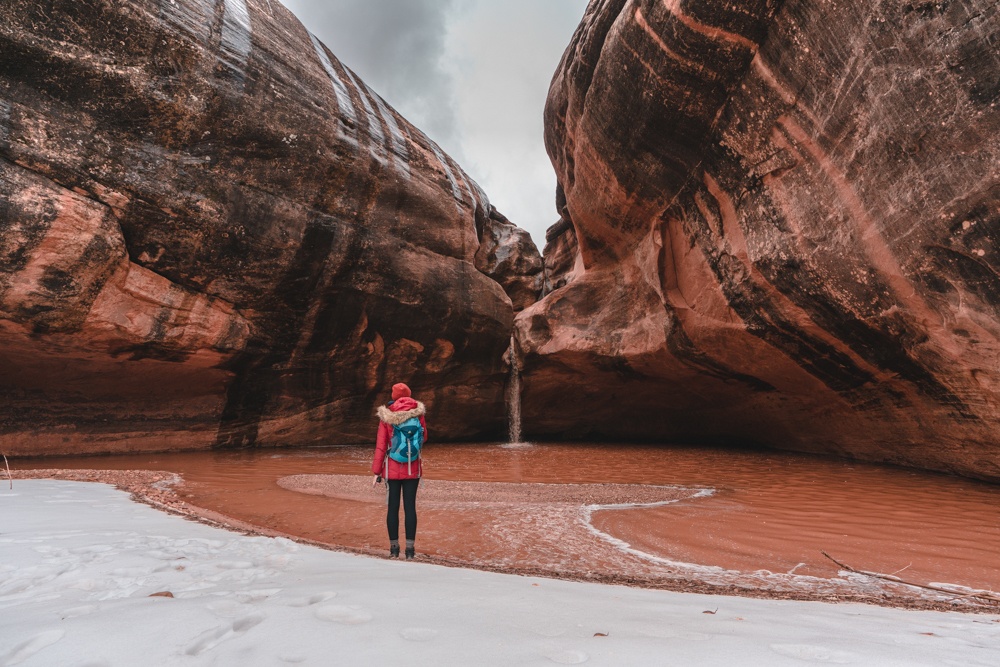 I visited Natural Bridges National Monument in the wintertime and was amazed by its stunning natural architecture. The monument features three prominent bridges that you can hike to, either individually or in a loop. December's icy conditions, especially on the trail to the shade-draped Sipapu Bridge, mean it's a good idea to pack shoe spikes. The visitor center is a valuable resource for up-to-date trail conditions.
If you're seeking a winter hike that offers both solitude and natural beauty, this is your spot. Plus, Kachina Bridge is often more accessible and leads you to a seasonal waterfall, a hidden gem.
9. Ice Castles in Midway
For a fairytale December outing in Utah, don't miss the enchanting Ice Castles in Midway. These award-winning works are meticulously crafted by artists and are only open in the colder months. As you wander through the frosty labyrinth, you'll encounter elaborate sculptures and playful playgrounds of ice, making it a great choice for families with little ones. After exploring a bit, warm up with a cup of complimentary hot chocolate, completing your festive experience.
10. Arches National Park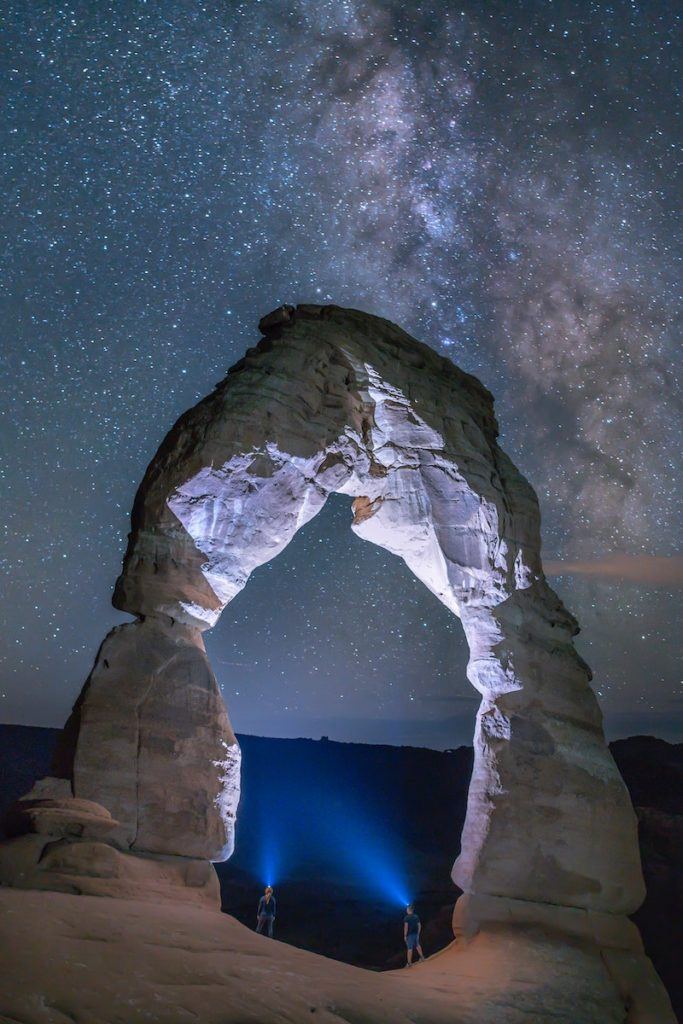 There's something particularly magical about Arches National Park in December. While amenities like guided tours might not be available, the park's hiking trails remain open, offering an intimate experience you won't get in busier months. Even more captivating is the stargazing; thanks to its high altitude and remote location, Arches is a globally recognized site for astronomy enthusiasts. Embrace the chilly nights and witness a breathtaking night sky.
11. Monument Valley Stargazing
If you can't get enough of stargazing in Utah this December, don't miss out on Monument Valley. This is one of the best places to see the twinkling night lights this time of year. I recommend taking a guided tour, as it gives you the benefit of having a guide with a telescope for maximum viewing opportunities. Take it from me: you'll never look at the stars the same way again after this!
12. Mystic Hot Springs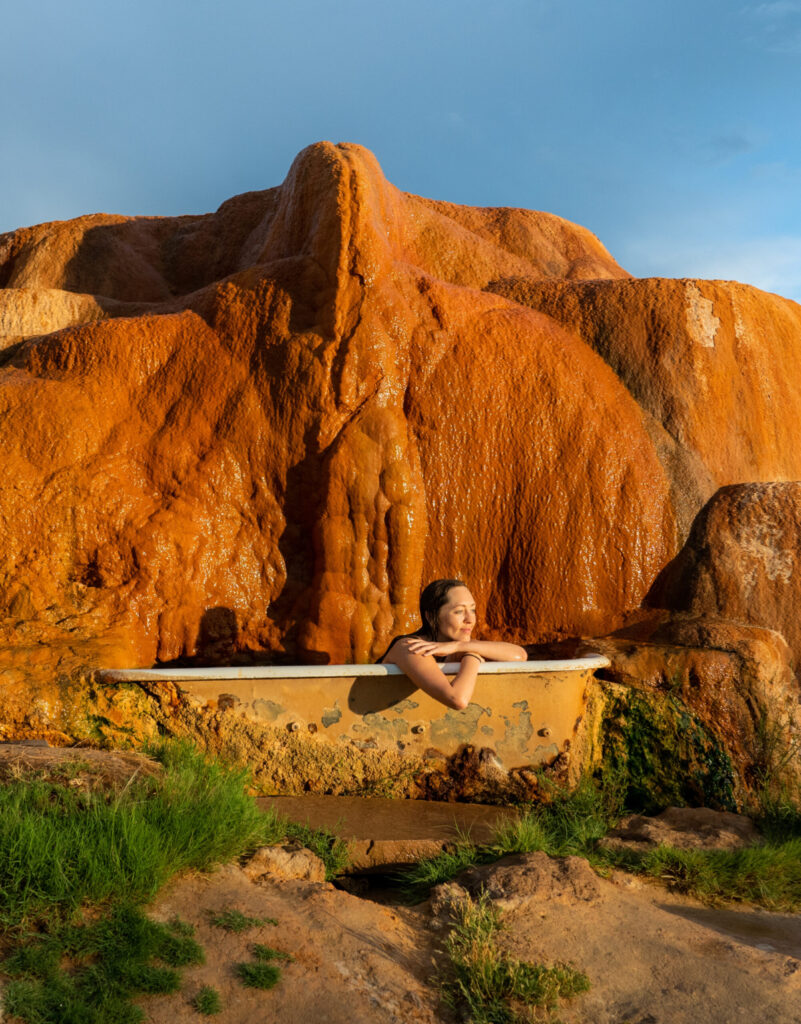 Though I haven't had the pleasure of visiting Mystic Hot Springs in the winter months, I can imaging it's just as beautiful as any other time of year. If you're lucky enough to see snow on the ground during your December visit, the steam created will surely add to the overall magical vibe of this place. Check out my full guide to Mystic Hot Springs here.
13. Homestead Crater
You probably already know that I'm a dedicated hot springs enthusiast. If Mystic Hot Springs is too remote for you, Homestead is a stellar choice because it's close to Salt Lake City. Imagine soaking in a geothermal hot spring concealed within a 55-foot limestone dome — an experience you can only get here.
This hidden gem offers a unique winter respite with constant water temperatures ranging from 90° to 96°F. Apart from the obvious allure of a warm soak in a frigid month, you can also partake in swimming, snorkeling, and even stand-up paddleboard yoga. It's a subterranean escape that's perfect for a December getaway in Utah.
***
So, ready to grab your gear and set out to experience the awe-inspiring landscapes, cosmic stargazing spots, and warm, underground retreats this December? Whether you're an avid hiker, a nature photographer, or simply looking for some cozy winter escapades, this list of the best things to do in Utah in December has something for everyone.