Full of pockets, lockable, featuring RFID-blocking technology, and durable, are Baggallini bags worth buying and bringing on trips?
A few months ago Baggallini reached out to me and asked me to photograph their bags for an upcoming campaign. I brought them along on our trip to Japan and ended up using several of them as we went. Since then, I've continued to bring them on trips and when I've shared about them on social media, my DMs and comments are full of women singing their praises.
"I've had my Baggallini forever and it's still going strong!" is what I see the most often.
Here's everything to know before you buy one, including which one I recommend and use the most:
Baggallini Features and Things to Know:
First and foremost, this isn't a sponsored review. Baggallini did give me bags to photograph, but did not ask me to write this review. I just think they're cool and worth sharing.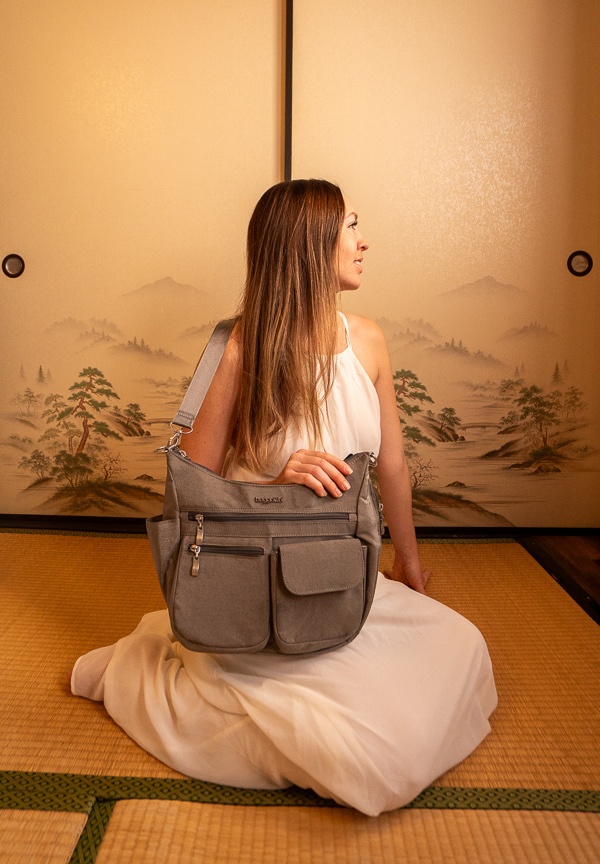 Baggallini straddles the line between style and function without being flashy. For me, the materials are quite casual and not something I would use if I wanted to appear dressed up, but when I'm traveling that's the opposite of the vibe I want to give off. One of my key safety principles when traveling, particularly alone, is to still express my style but in a non-flashy manner.
That's what Baggallini, I believe, is going for – function and durability for travel with most of their bags in the $50-$110 range.
Here are some key features:
Material: 100% Polyester (Nylon)
Pockets: Almost all of the baggs have LOTS of pockets, and some have extra wallets inside as well.
Security: The baggs have RFID protection, which prevents scanning credit cards and passport data. Some baggs also have clips for inner wallets so they're hard for thieves to remove.
Durability: These are built to last, with scratch resistant materials and metal clasps and closures.
Colors: Mostly neutral colors, including black, grey, navy, tan, royal blue, and cream.
Versatility: Many of the baggs can be expanded with zipper expansions, and can be slid onto a suitcase handle via an extra flap on the back.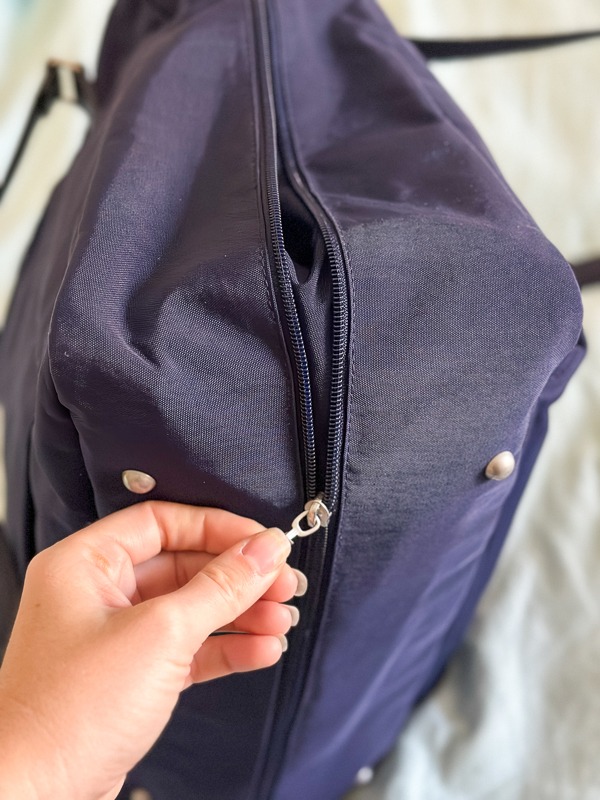 Which Baggs I Love
Baggallini sent me eight baggs to photograph. Out of all of them, my favorites were the largest and the smallest ones, though the in-betweens could be perfect for you depending on how much you like to bring out with you during the day:
Modern Pocket Crossbody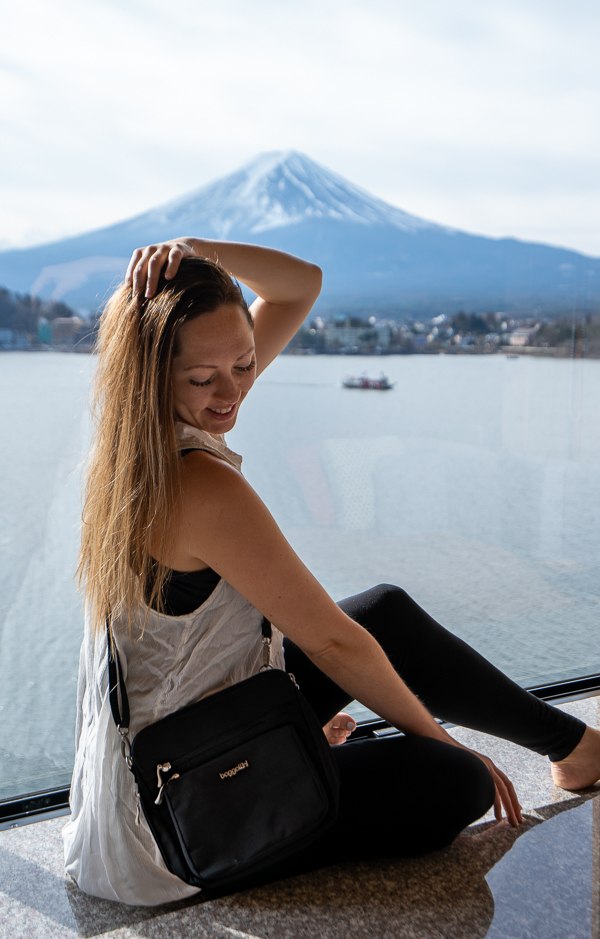 The Modern Pocket Crossbody is the perfect smaller (8″ W x 8 3/4″ H x 2″ D) day bag for when you only need to bring the essentials. I prefer a cross body bag, especially one with stronger metal clasps like this one, for added security and comfort. The strap is also adjustable and the purse has four pockets, including a hidden one on the back.
I would probably use this one traveling solo in Europe or Southeast Asia where a little more vigilance around purses is wise. It's not that you have to worry everywhere in Southeast Asia, but bag snatching when the straps are weak happens often in Vietnam's big cities. A smaller bag is also easier to keep track of and hold onto in crowded areas.
This one comes in SO MANY colors, and I'm obsessed with the rainbow zippered version.
Expandable Modern Pocket Large Hobo
Very similar to the Modern Pocket, the larger expandable hobo has a zipper in the middle that can allow for a 2-inch expansion. This bagg is 12" wide, 12" tall, and 3" deep (5" expanded) and comes with a grab and go phone/wallet pocket.
Large Carryall Tote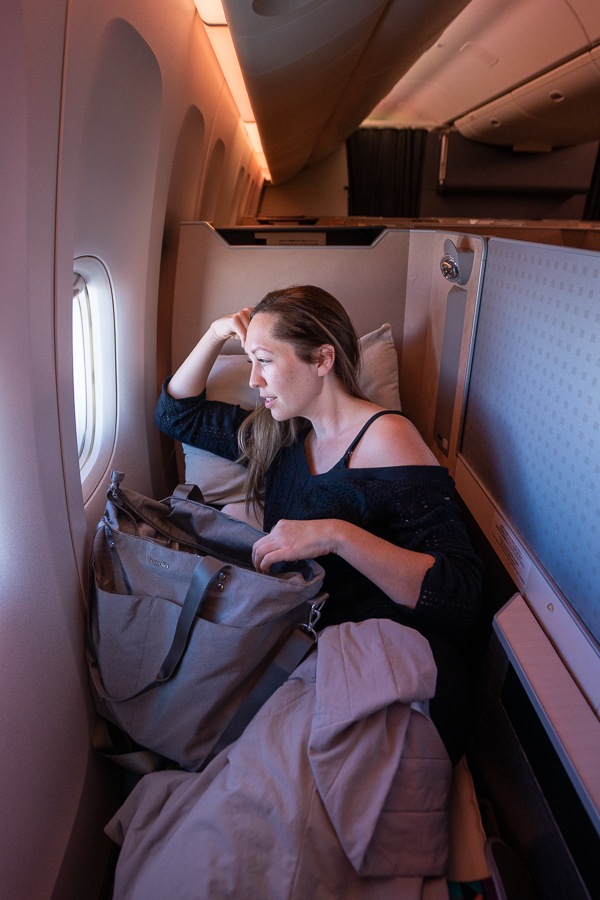 This tote ended up being the perfect carry-on bag for our trip to Japan. We had to pack carefully since we took all public transportation, and this felt like a Mary Poppins bag with endless room. The top could also be folded out or in to create extra room. There were inner pockets for drinks and one zippered pocket, but otherwise this is just a large bag without a lot of extra frills. I liked the simplicity and durability.
It's indeed a large bag, but will fit in the overhead bin and unless you overstuff it, should also fit under the seat in front of you.
Women's Everywhere Crossbody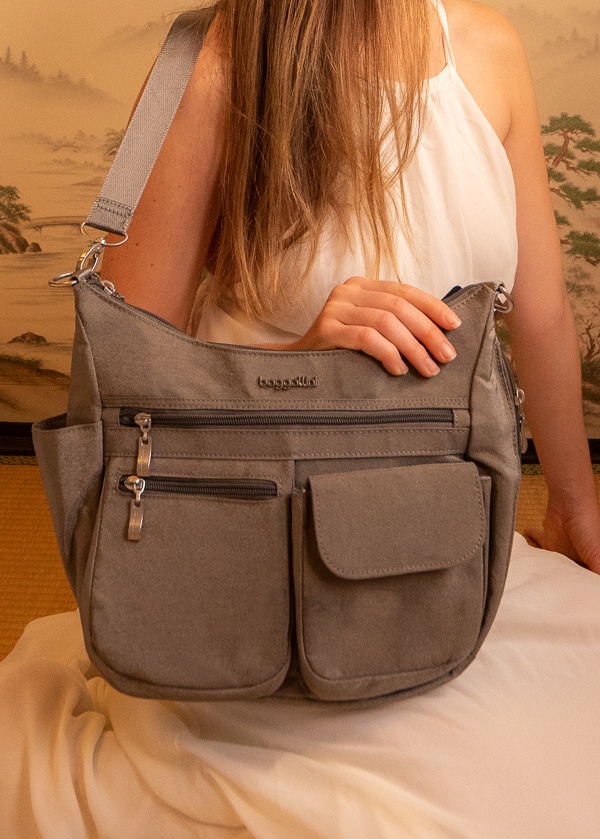 If you're looking for a slightly larger-but-still-small purse with pockets galore, the Women's Everywhere Crossbody delivers. It measures 11″ W x 9″ H x 4 1/2″ D and has two outer zippers, a drink sleeve, an outer buttoning pocket, an inner clip-in phone/wallet holder, and adjustable cross body strap. Pictured above is the sterling shimmer color.
3-In-1 Convertible Backpack With RFID Phone Wristlet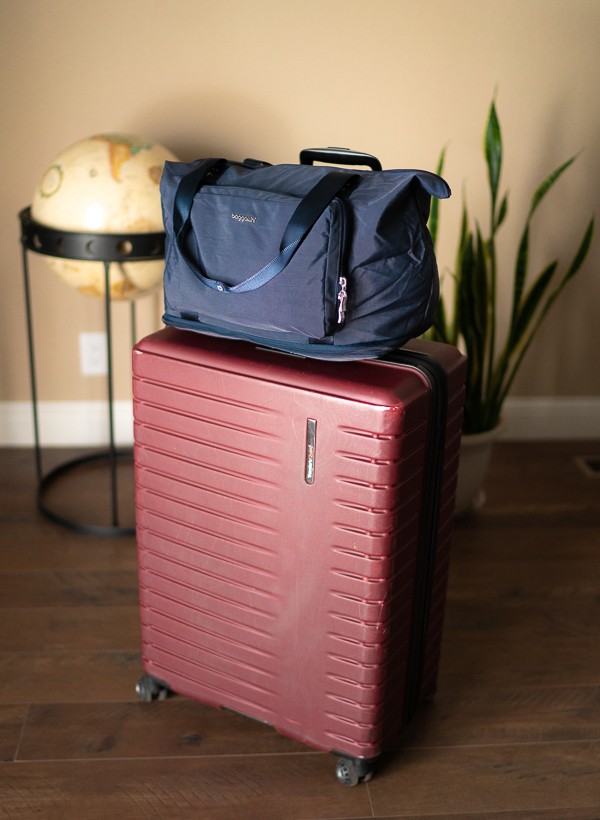 Out of all of the baggs, the most useful as a carry-on would be the 3-in-1 convertible backpack. I have a similar bag here, but it's more of a duffel that I wish were the backpack. I like the extensive pockets of the convertible backpack, the back flap that allows it to slide onto a suitcase handle (this is KEY!), and the possibility of wearing it as a backpack. Sometimes a duffel just doesn't cut it and can feel heavy on the shoulders, so the option to change it up is great!
My Experience with Baggallini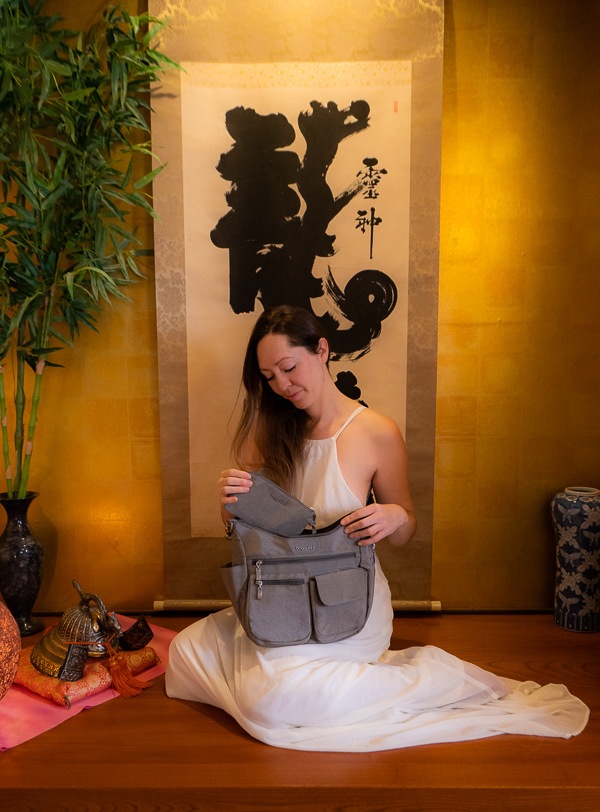 This is a great travel bag, and the fact that so many of my audience members reached out saying they'd had theirs for a decade plus speaks volumes. Sometimes, when I'm hired to photograph products, I don't always hold onto them or will just pick a few to keep. In this case I'm still using and loving the Large Carryall Tote and kept the duffel as well (though I wish it were the convertible backpack!)
Since I've started using them, I've noticed not only do they hold up well, but they don't stain easily, don't scuff or snag, and the zippers don't wear down or get stuck. The nylon material is great for a travel bag. It cleans easily and I'm not worried about it getting roughed up during travel. IMHO, this is a great travel bag that doesn't break the bank.
*Some links in this post are affiliate links that support this site at no extra cost whatsoever to you. Everybody wins! Although I was provided the bags, I was not asked to write a review and this is not sponsored by Baggallini.