The Azores are a group of nine islands in the middle of the Atlantic Ocean that can experience several seasons in one day. Even on the sunniest, brightest days, having a rain jacket along is a good idea. They say the only predictable thing about the weather in the Azores is that it is unpredictable, and I found that to be true.
The Azores are a stunning, outdoorsy destination, and I wanted to feel prepared while also coming home with photos I would love. Here's my essential Azores packing list:
Rain Jacket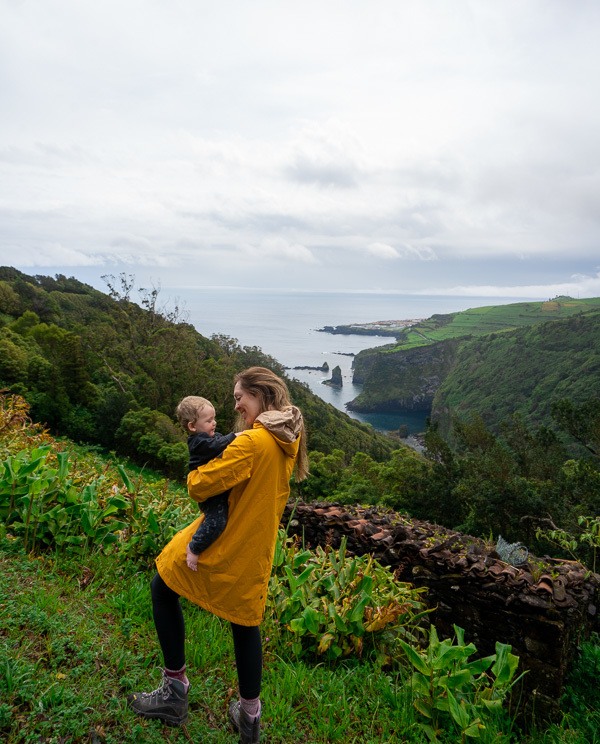 The Azores are incredibly lush and green, brimming with waterfalls. There's only one way for a place to be that way – lots of rain. The Azores experience a good amount of rain throughout the year, with July and August being the lightest months. Still, a quick shower often comes without warning, and can happen at any time.
The Yellow Eddie Bauer rain jacket I brought was perfect. It wasn't too thick, which helped keep me cool i the humidity, and protected well against wind and rain – two things you can experience often in the Azores.
Hiking Clothes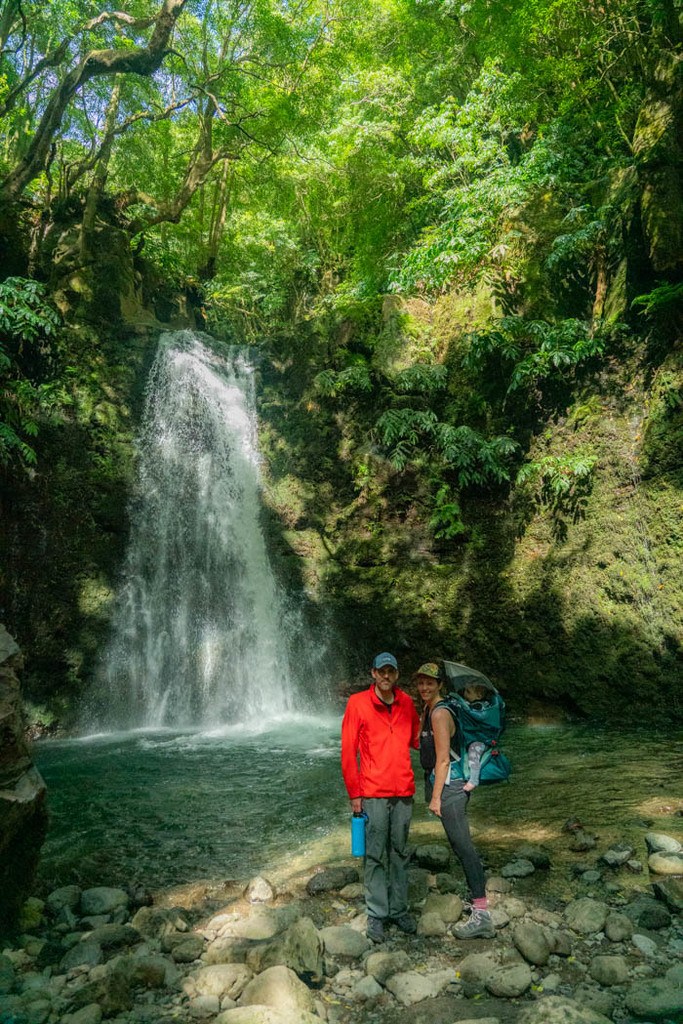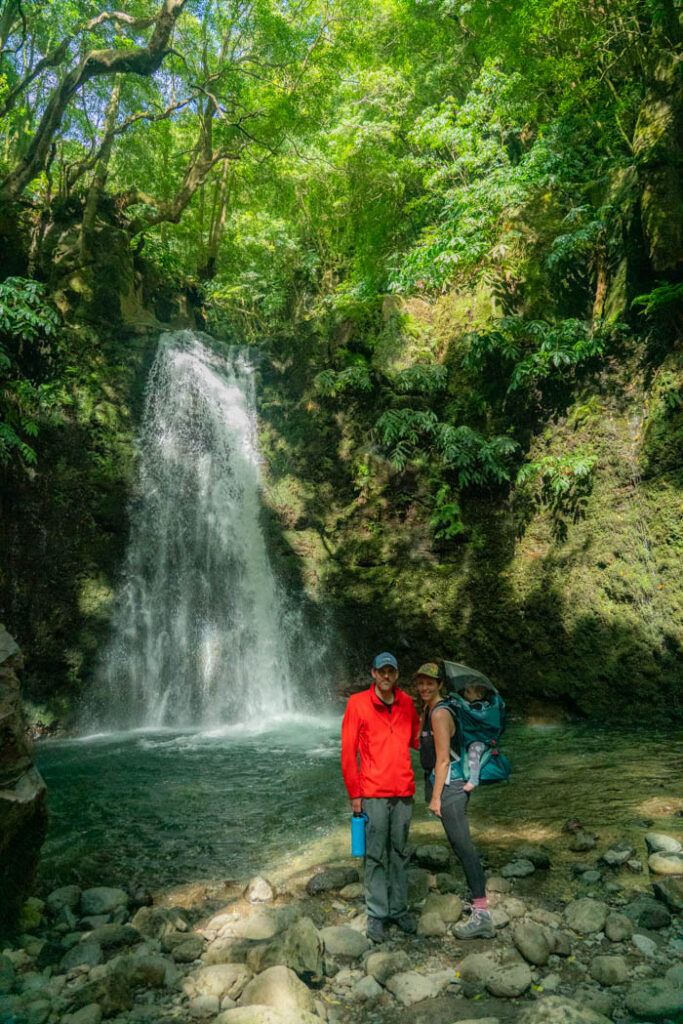 The Azores is a hiking destination. Even if you only do the short ones to the Boca do Inferno on São Miguel to the short waterfall hikes in Flores can be muddy and/or slippery, and sometimes on mossy volcanic rocks. You'll want hiking boots with tread to stay upright. I like Merrell hiking boots and have had mine for a couple of years now.
I'd also suggest:
2 sports bras
2-3 pairs hiking socks
2 pairs hiking leggings
2-4 T shirts or layering tank tops
The rain jacket mentioned above
For those with kids, we love the Osprey Poco LT (full review here)
Dresses and Rompers
For the most part, the Azores are pretty laid back and you won't see super fancy outfits or heels much there. That said, a few key rompers and dresses really made my wardrobe and photos pop.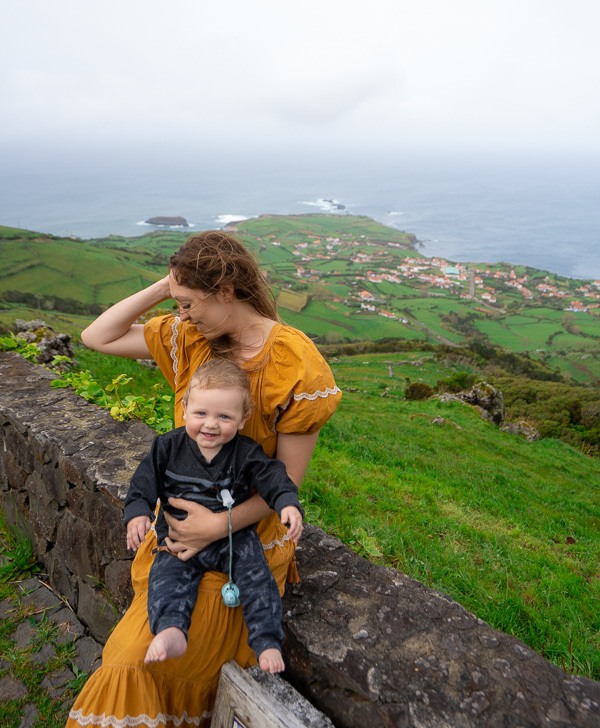 This Ulla Johnson dress was one of my favorites to capture the whimsical, rural feel of the Azores. It worked so well with the wildflowers on Flores, too! The lace details and puffy sleeves on this Ulla Johnson dress really added to the whole thing. I loved wearing this.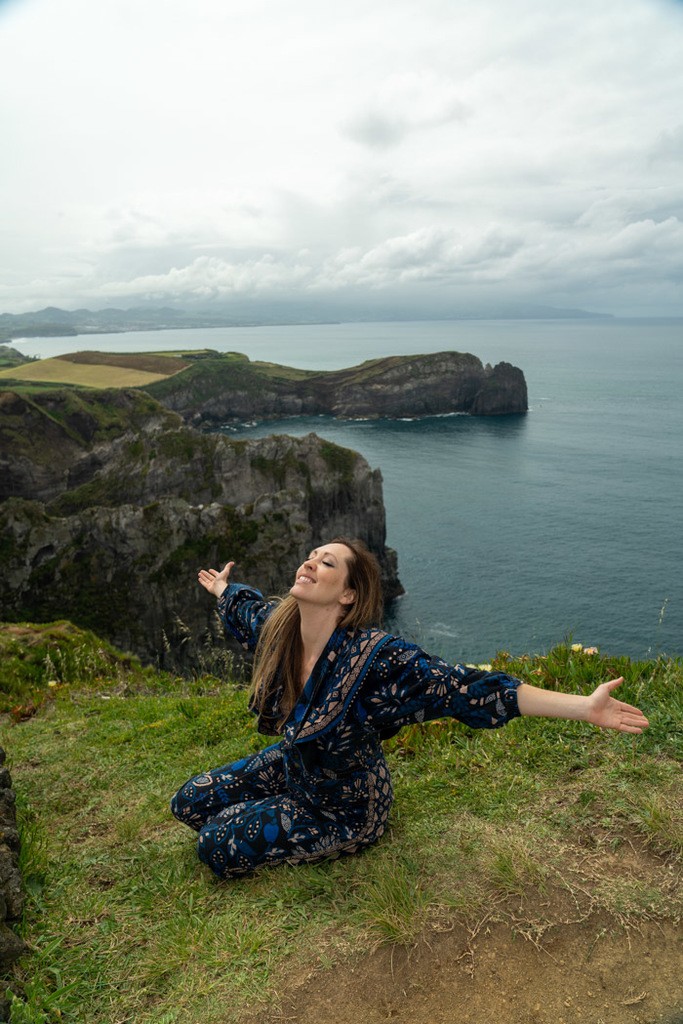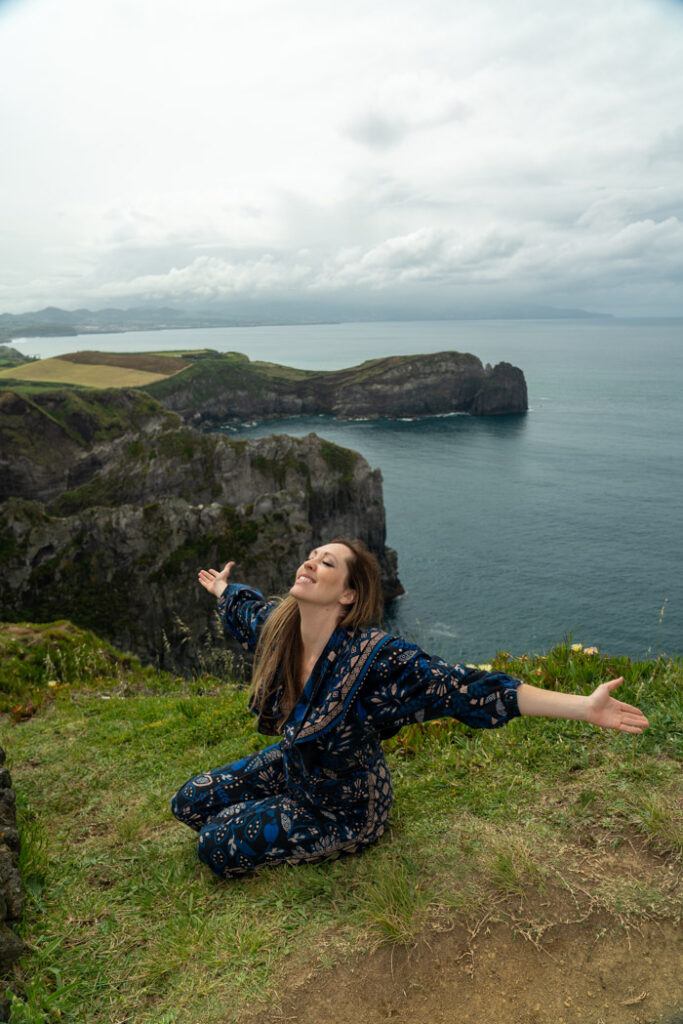 This Farm Rio romper was also perfect for a mild day. It's made of a thicker material, which kept me warm without being too hot on one of our more overcast, windy days. Plus the ruffles were so much fun to wear. It's on sale here.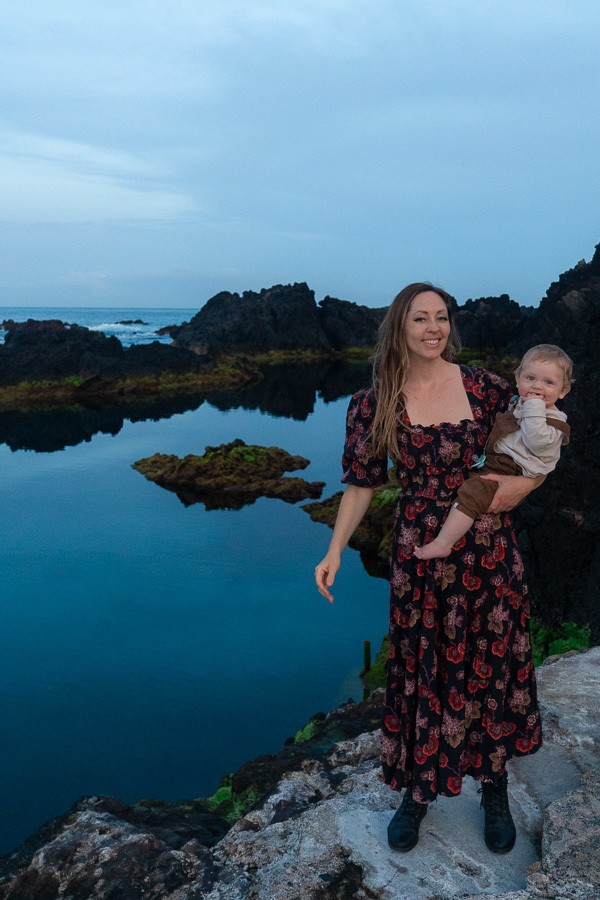 I rounded out the outfits-that-match-the-destination with a floral Sea New York and Area Stars dresses, both of which were breathable while still providing some sun and wind protection.
I realize these are on the high end, and that's why I rented them for this trip! You can read more about how I do that with Rent the Runway.
Layers and Comfies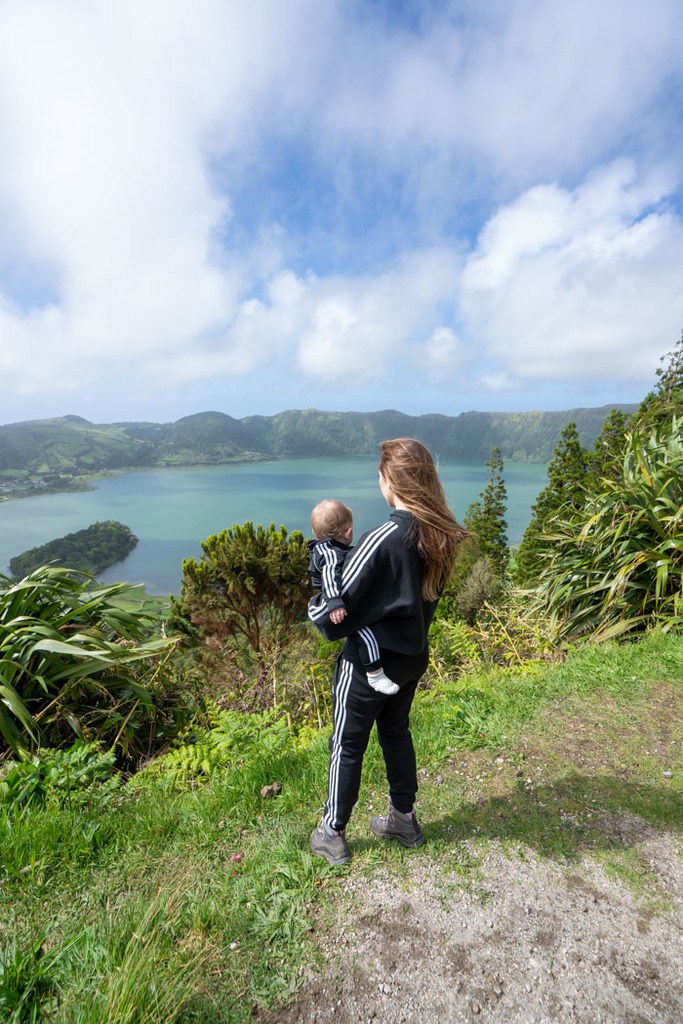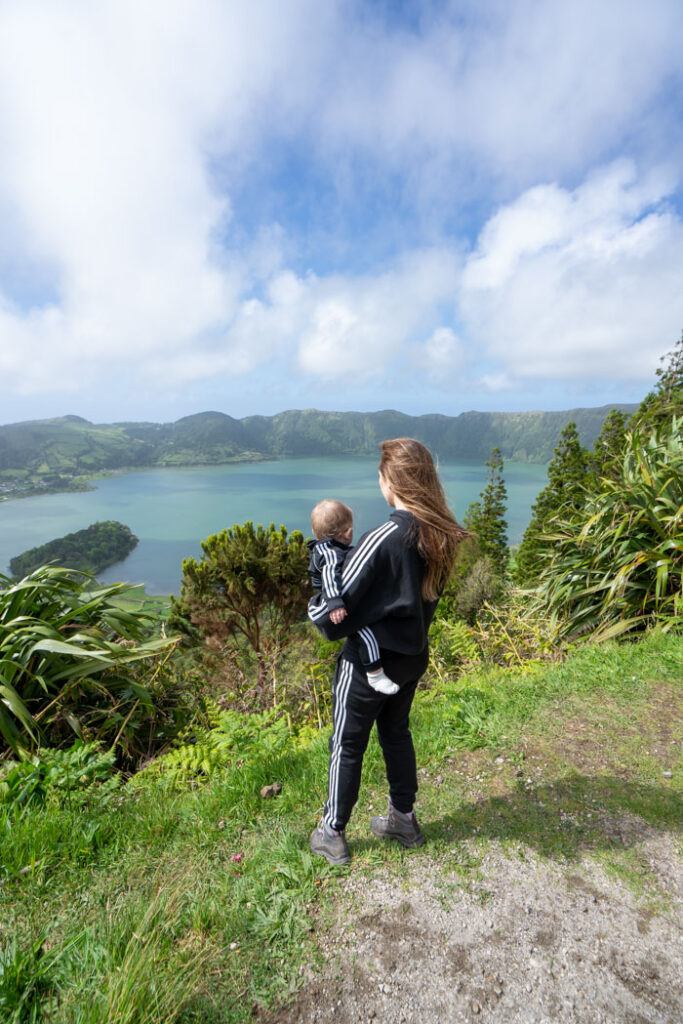 But the comfies are also KEY, friends. I mostly wore my adidas tracksuit on transit days or when the weather was variable. I also lived in my bamboo sleepies (which we all match in, corny as it is. Read my full little sleepies review) when we were at the vacation rentals and hotels, which are awesome on the Azores.
Swim Suits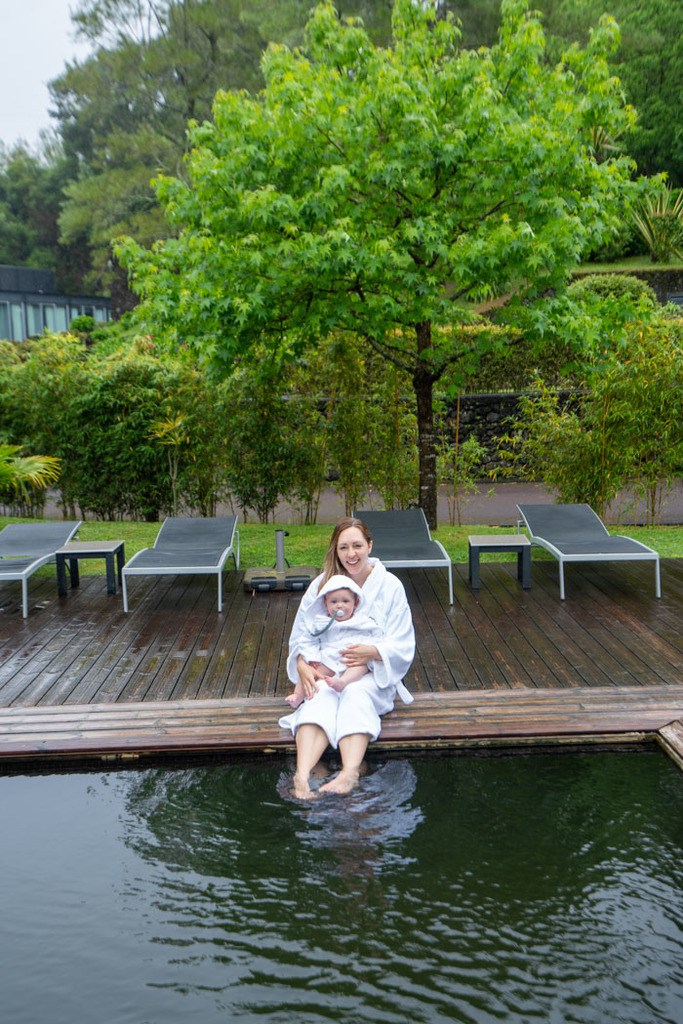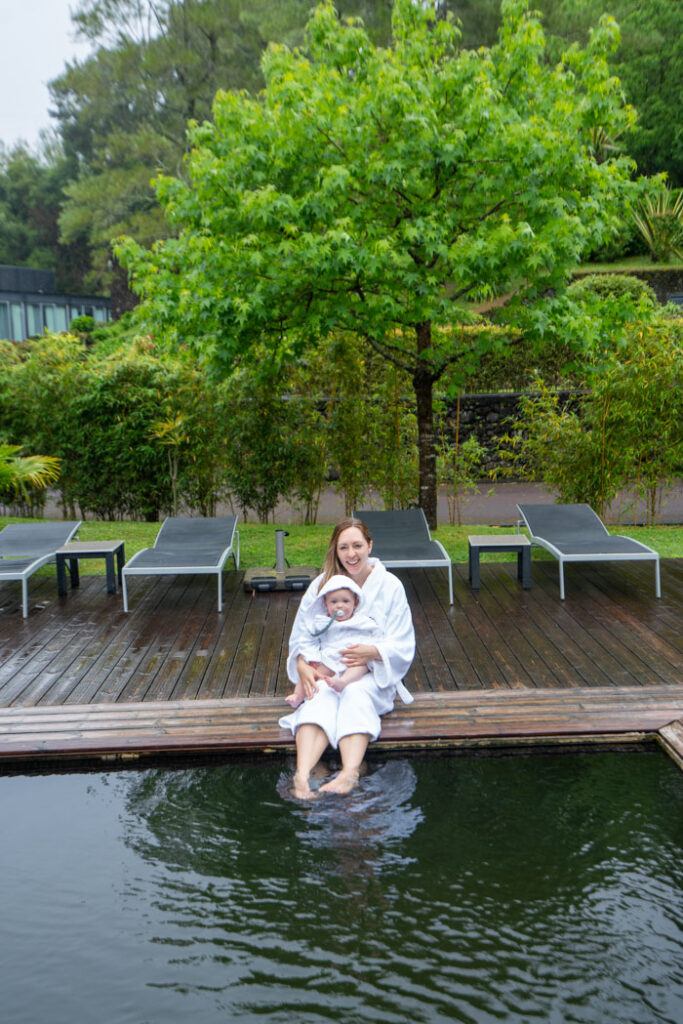 Even if you're visiting in a cooler month, there are hot springs on some of the islands that definitely make bringing a swimsuit worth it. We also had a pool at one of the places we stayed (see them all here) that would have been very nice in the summer, plus keep in mind there are natural pools all around most of the islands. Some of the waterfalls are so memorable too!
I also recommend bringing a pack towel in case you are between accommodations like we were when we road tripped São Miguel. That's what kept me from getting into the water at one of the waterfalls – I didn't have a way to dry off!
Weather Considerations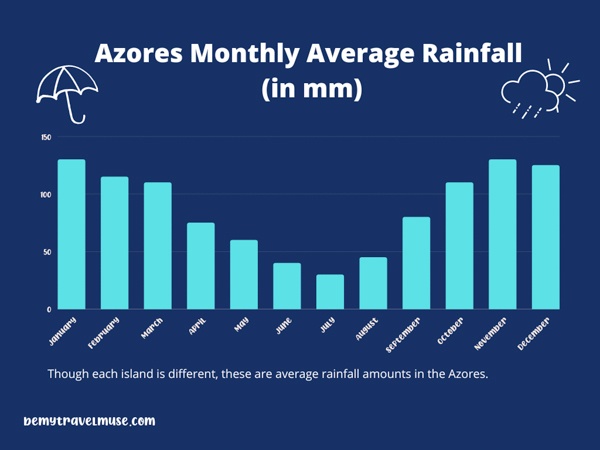 Although the Azores are sub-tropical that doesn't mean you're going to feel hot (usually). These islands are quite humid, and enjoy consistent temperature year-round, it's really the wind and rain that can make things feel a bit cooler.
Expect more sunshine in the sunny months, but always keep in mind that the weather can change and rain is probably inevitable at some point on your trip. Read more about when to go to the Azores and their typical weather here.
I loved the Azores for the adventure and the beauty, this packing list honors elements of both, while helping you come home with photos you love. Enjoy those magical islands!