I'll be totally honest here – I wasn't really sure that I was going to like visiting the Alps in the winter. I'd hiked all over them in the summer and thought they were breathtakingly beautiful, but after experiencing a couple of incredibly frigid days in Berlin, I was hesitant to take a mountain holiday.
Up until 2016 when I visited Austria, I'd chased summer and never really experienced winter. I suppose most people from the US and Europe grew up with snow, or ski holidays, or both. I'm not one of those people, however, and I had only been to the mountains behind Los Angeles in the winter a couple of times, and never to ski. But you can't travel and experience the world in only one season, and it was time to get out of my comfort zone and give winter a try.
I realize now what I was missing out my whole life. Winter doesn't have to be scary and cold – it can actually be tons of fun, and it's insanely beautiful! I don't know why it took me til my 29th year of life to figure this all out.
In January of 2016, I visited the Austrian Alps and came to find that living in a snow globe world is magical, after all. Here are my favorite Austria winter activities:
12. Take a skiing lesson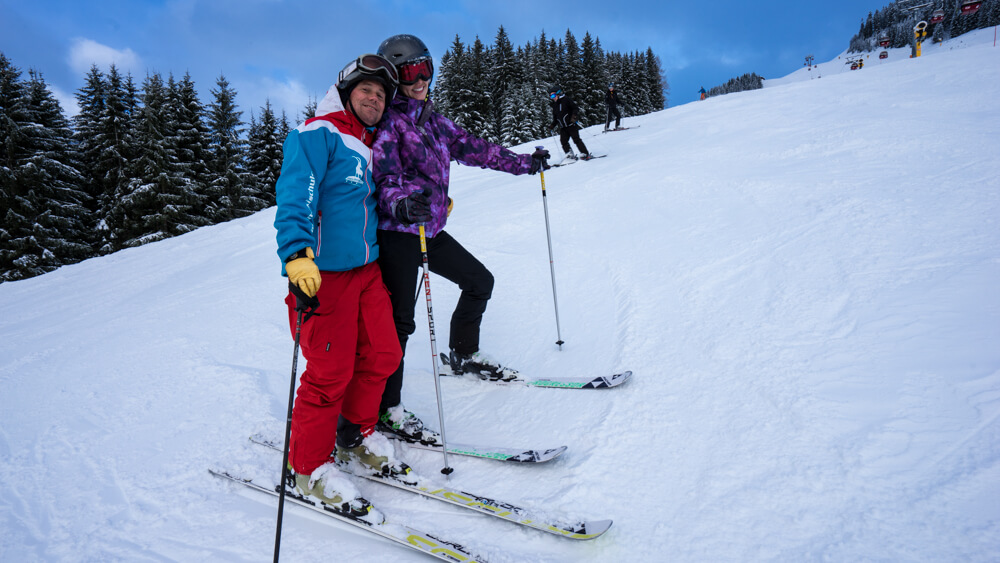 I learned how to ski in Austria, and thanks to the variety of slopes, it was a good place to get instruction while my friends hit the slopes more suited to their various skill levels. My instructor, Zaki, was super patient and experienced, helping me to advance from beginner to blue slopes quickly. Only a week later, by the time I reached Finland, I was already hitting the red slopes, and I owe it to learning how to ski properly from day one.
I got my instruction and rentals from Alpin-Skischule and I liked this place in particular because the young owner is a sharp entrepreneur, and I always love seeing that kind of thing from people my age, plus all the people who work there are so cool and laid back. Cherry on top is that the gear is super nice.
11. Try Après-ski
If skiing isn't your thing, you don't have to ski first to enjoy après-ski (I won't tell, promise). Après-ski in Austria is really its own phenomenon. It's basically a mountain hut that serves up drinks and German schlager songs with hilarious, repetitive, and sometimes PG-13 rated lyrics. The most ridiculous awesome après-ski place that I found in Austria was the Goat Stall, which started out as just that – a goat stall.
10. Go sledding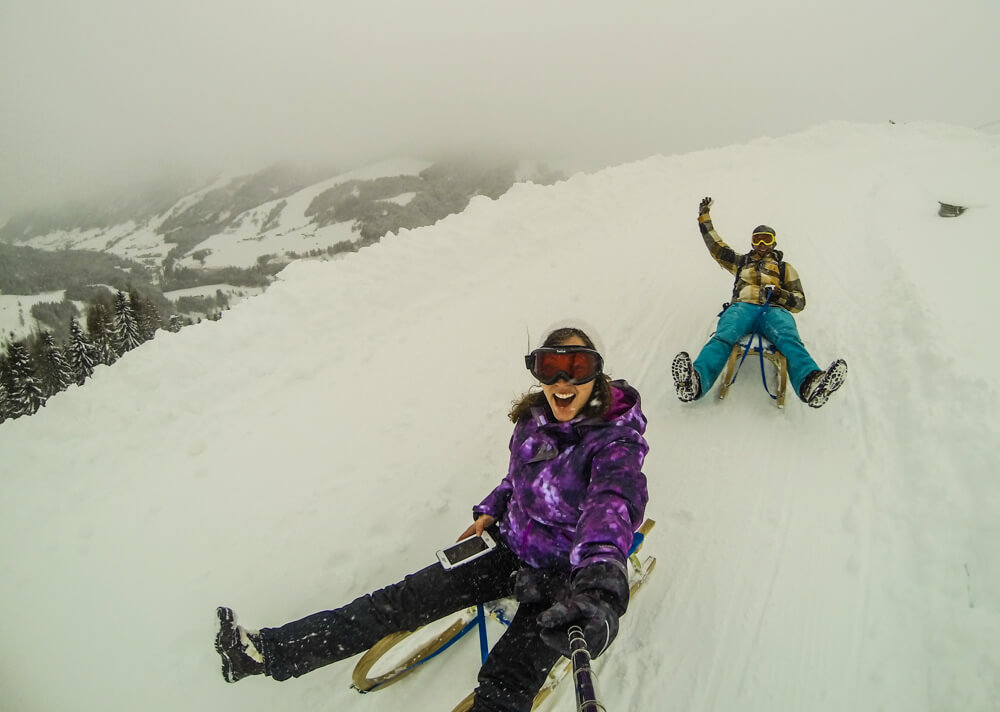 I had no idea that it was possible to take a gondola up to the top of a mountain and sled down! That was a game-changer when I came across that possibility in Leogang. Apparently there are also tracks in Hinterglemm and Innsbruck.
I thought it was an excellent use of the lift ticket after a long day of skiing when my legs were too tired to keep me going, but I wasn't done having fun.
9. Showshoe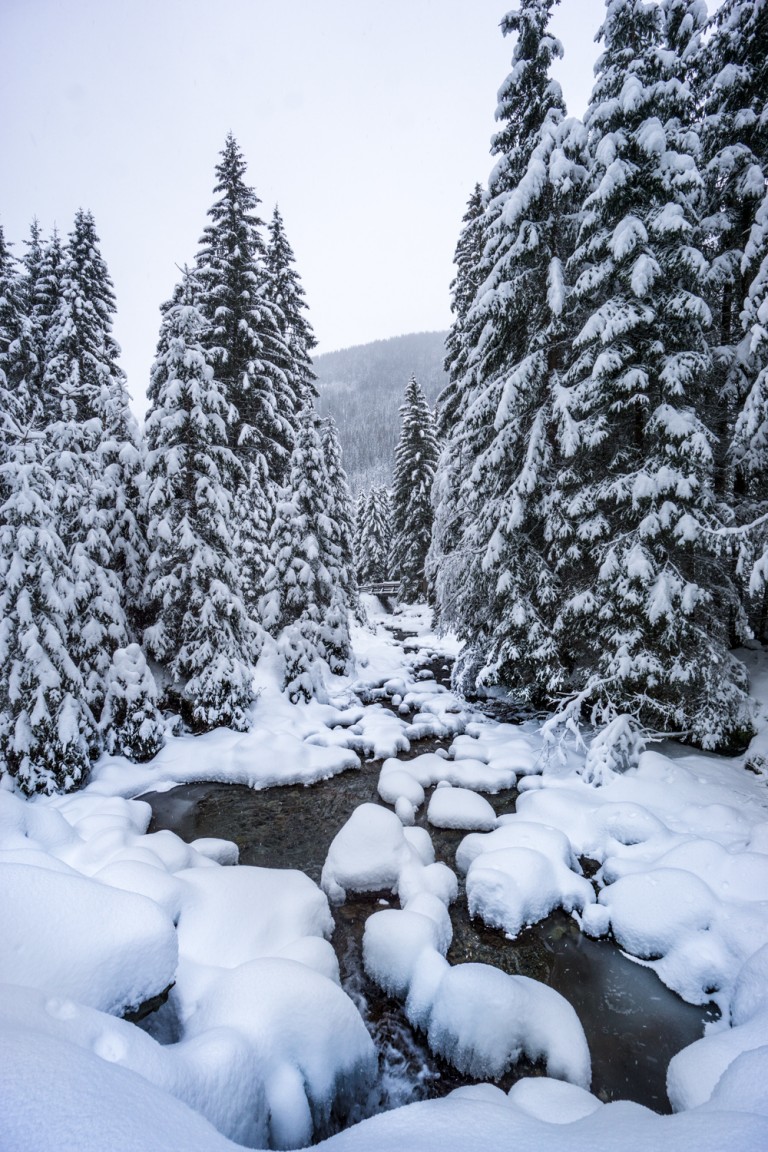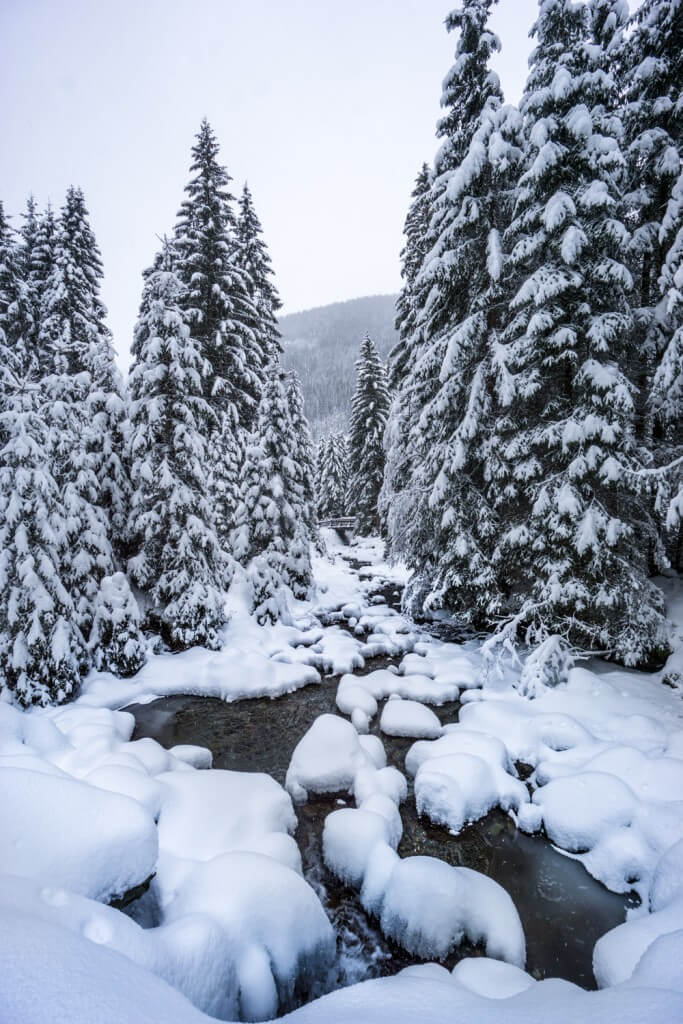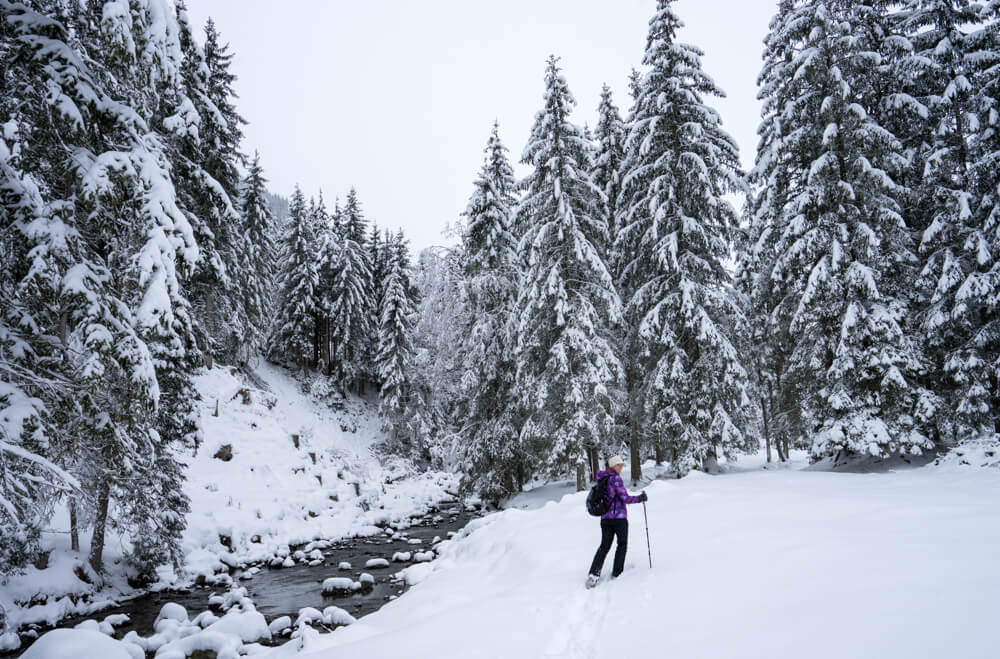 Snowshoeing is another way to get a nice break from skiing. I was in Austria for nine days, so I wasn't skiing for all of them, and I also find that it's nicer to ski in the morning and find other activities to do in the afternoon. You can rent some snowshoes and just take a walk in the snowy wilderness, or join a free organized hike, like the ones Saalbach offers.
Best of all, the hike can take you here:
8. Hang out in the treetops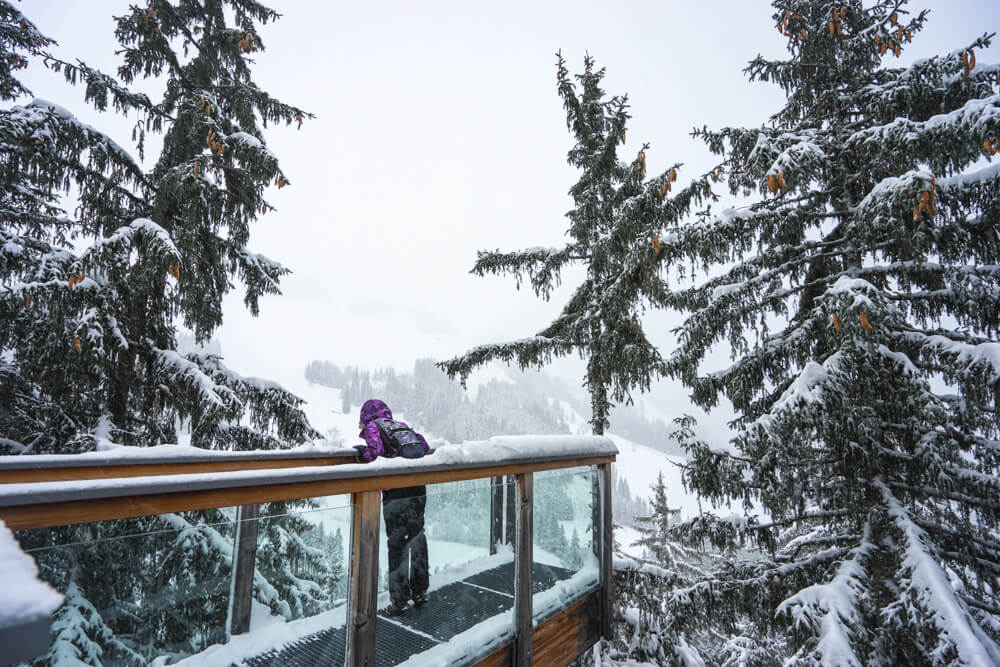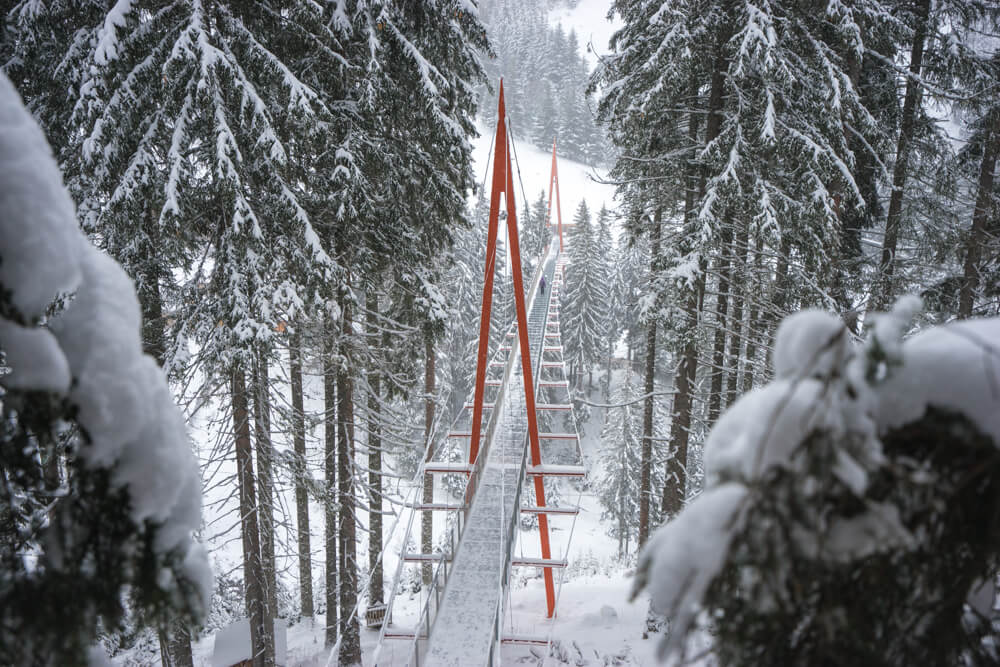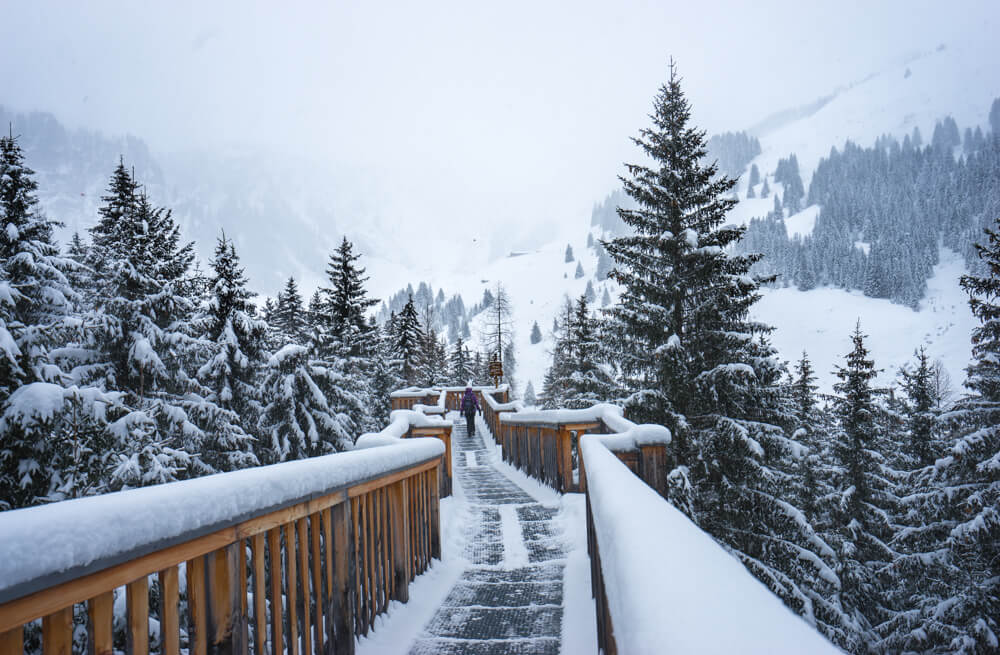 This is Austria's 'Golden Gate Bridge,' followed by a tree walk. It's open all year round, but in the winter, I had it all to myself – apart from Steve, who took these awesome photos.
It was an awesome day, and we could even sled back down after, which we took advantage of (of course).
7. Be part of the family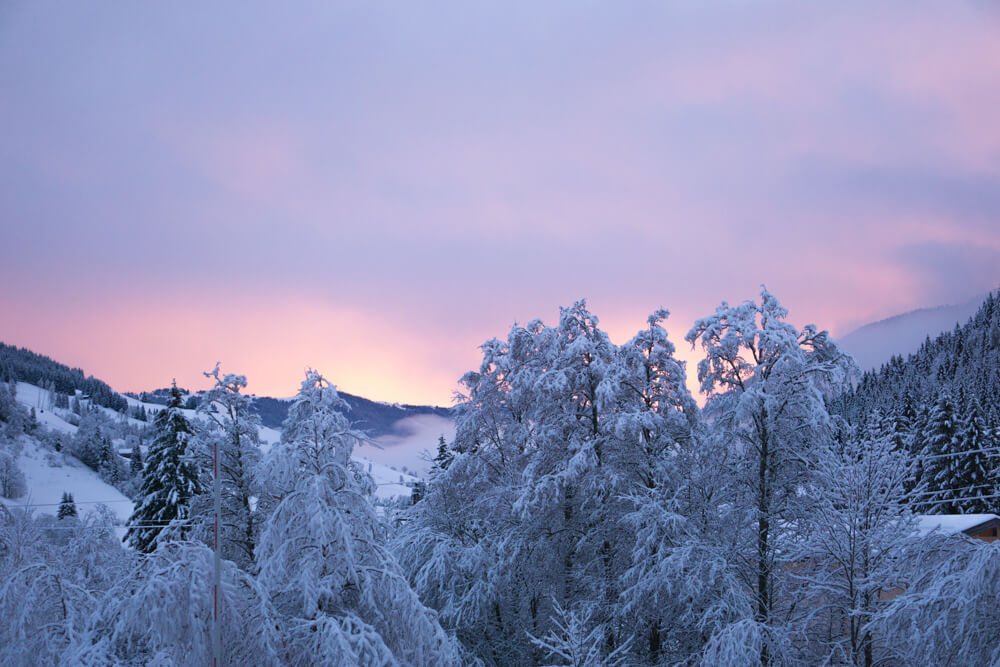 One of the best parts about choosing Austria for a winter holiday is the feeling you get when you're there – it's warm and cozy, and I found that the locals were really kind and friendly, especially when I tried to speak German with them.
While skiing in Saalbach-Hinterglemm, I really loved staying at Lengauer Hof, where the owner, employees, and even other people staying there, were so friendly with each other. The rooms are nice and big, the food is great, the view is beautiful, and right from the hotel you can go snowshoeing and sledding on the mini slope next door.
6. Try Biathlon
Biathlon is a sport that involves Nordic skiing, which is on a flat track, then shooting a rifle at five targets. If the shooter misses a target, she/he has to go around the track one more time for every target missed. I had honestly never heard of this sport before, but it's big in Austria, especially in Fieberbrunn.
Nordic skiing was confusing to me after learning Alpine skiing, but I sure did love the target practice part of it.
5. Eat all the things!
Austrian food sticks to your bones. You seriously cannot go hungry while dining on Austrian food. My personal favorite was Xandl Stadl in Hinterglemm which serves a plate with grilled chicken, steak, pork, sausage, fries, and salad for, if memory serves, only €14. The food is farm-to-table and during the summer, the animals graze in the beautiful Alps. It was some of the most tender meat I've ever had.
It's a family-run hut that has rainbow lights and rows and rows of tables in the snow, plus a dance floor with a guy in a goat suit waving his arms to the songs. There's a 'beer selfie' station where you take a selfie as the machine pours you a beer, and even some sound-proof goat stalls when you walk in. To get back down to town, have a seat and sled down the hill, it's fun!
4. Hang out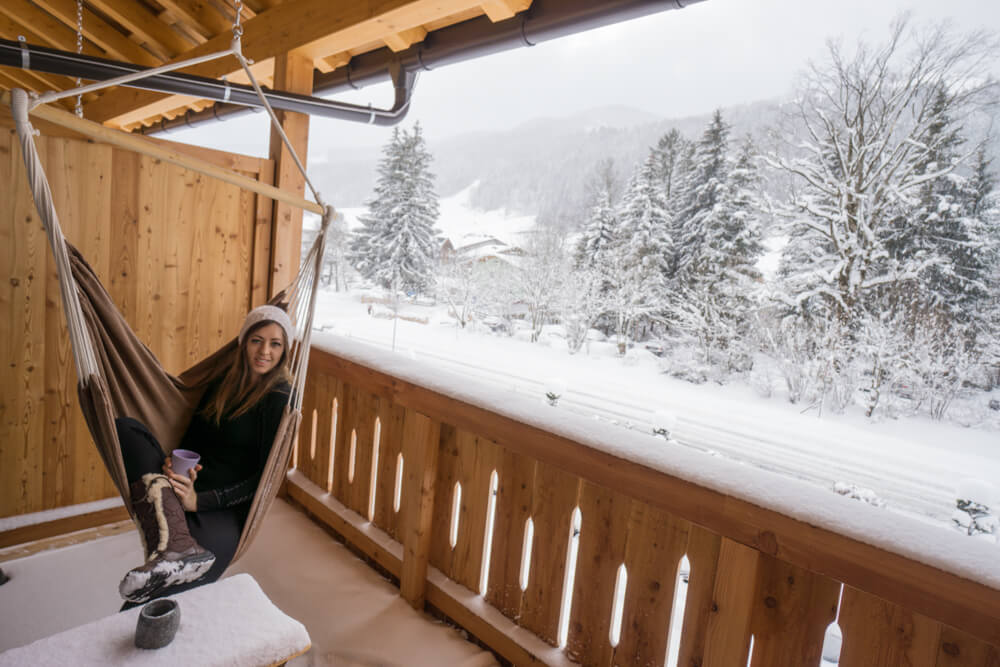 Chances are good that if you go to Skicircus in Austria, you'll want to take advantage of the whole resort and visit the three different areas that recently connected to make it the largest ski resort in Austria (you can read my full review of it here).
In Leogang, the place to stay is definitely mama thresl. It's super funky, incredibly well-designed, and is genuinely just a fun place to hang out. Ha! Get it?
3. Explore the largest ice caves in the world
The Werfen Ice Caves are only about an hour away from Salzburg and sit within the Alps. They are the largest in the world and span 26 miles under and through the Hochkogel mountain. Exploring with a guide is a must, as the labyrinth is difficult to navigate on your own.
This 6-hour tour will take you not only to the ice caves, but makes a stop at the Hohenwerfen Castle, which sits on a hilltop and is a famous landmark.
2. Hit up a rooftop pool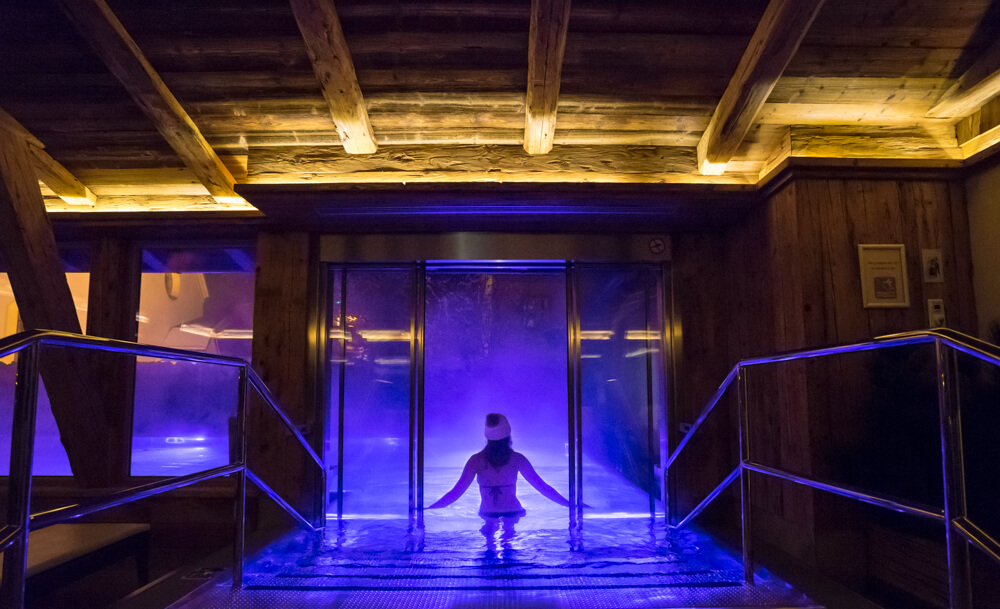 In Fieberbrunn, another area of the Skicircus known for off-piste (backcountry) skiing, there's another place you can't miss – Hotel Alte Post. What set this place apart was the spa which is two stories of the hotel and has this super cool rooftop pool that opens from a heated room inside to the outside, where snow was falling and the neighboring church bells were ringing.
It also had rooms with nothing but beds and headphones so that you can chill out after the pool or sauna.
1. Go on a horse-drawn sleigh ride in Ramsau am Dachstein
This is an activity I would have loved if I was coming from Salzburg. When it comes to experiencing a winter wonderland in Austria, this activity is an absolute dream. This tour lasts 8 hours and takes you through snow-covered meadows and forests, with gorgeous views along the way.
***
If you have more Austrian winter activities to add, let me know in the comments! I can't wait to come back, this time with better ski skills, and conquer those mountains.
Read Next:
*In the spirit of full disclosure, some of the companies above provided me with a free stay or service; however, I was not required to write a review as part of this. I wrote this because I chose to highlight those who provided an awesome adventure, and all opinions are my own, as always.