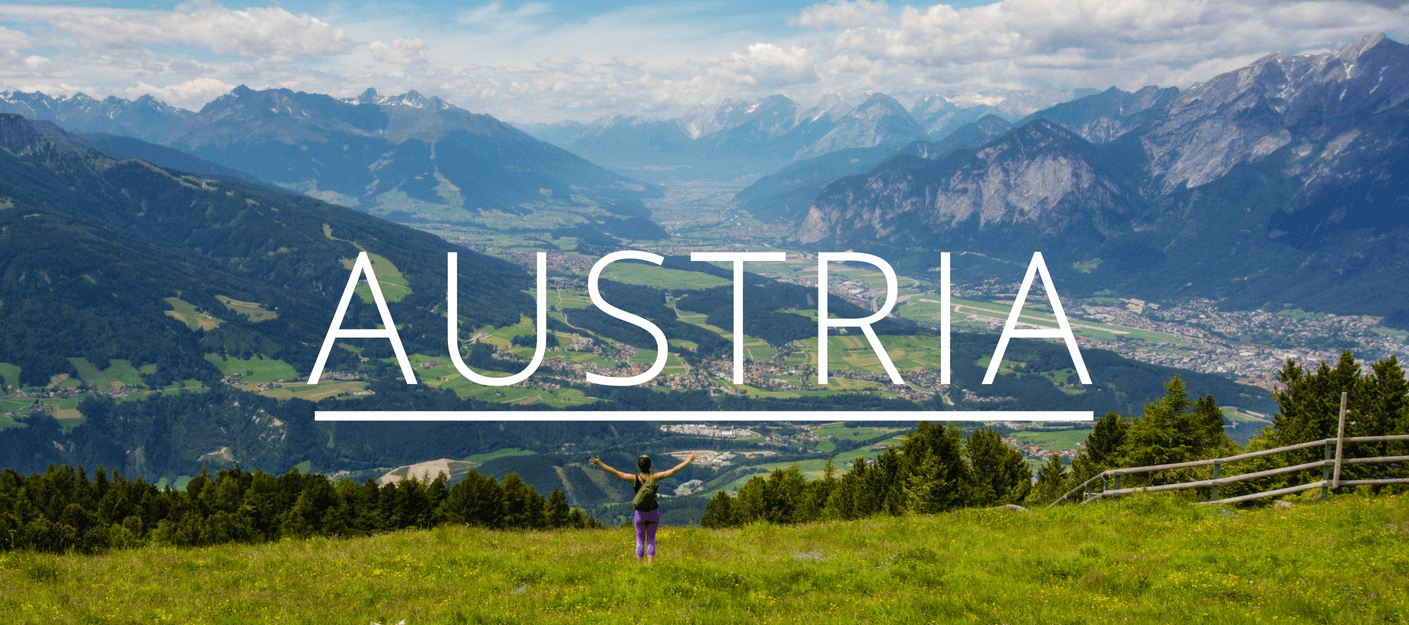 Austria, your are so darn beautiful. I just can't get over it. 
Austria really is perfect to visit any time of year, and it's an outdoor-lover's dream. In the summer, it's perfect for hiking and mountain biking, and in the winter, of course it's perfect for skiing. With the gorgeous Alps running through the country and hundreds of beautiful valleys to explore, I've fallen more and more in love with it with each visit. 
The other special thing about the Austrian Alps is the feel. The hotels are usually just 30-60 rooms, the villages are quaint and cozy, the food is excellent, and as compared to North America, the skiing is actually much cheaper, but on hundreds of kilometers of slopes and in a really beautiful setting. 
Where in Austria?

Austria
Quick Tips
'Hello' and 'Thank You' in German:

 "Hallo" and "Danke"

Currency:

 Euro (

click here

 for current conversion rates)

Visa:

 90-day Schengen visa on arrival for most nationalities (

click here

 for more info)

Safety rating:

 Ranked 4 on the 

Global Peace Index 

with a score of 1.29 (USA is ranked 128 with a score of 2.40), meaning Austria is one of the safest countries in the world

Solo Travel Friendliness: Austria is one of the easiest European countries to travel in. It was one of the stops I traveled to following my grandma's journal, and I was pleasantly surprised to learn that the people go about their lives in more or less the same fashion as they did before - friendly and respectful. Crime rates are low, too.
Climate:

 Summer is warm and crisp, autumn and spring are temperate and winters are cold, experiencing snow and freezing temperatures

Best SIM cards:

 Vodafone – cards can be purchased in person at any phone shop. Bring your passport

Random useful tip:

 If you really want to impress an Austrian, say, "Oachkatzlschwoaf", which means 'the squirrel's tail.' It doesn't have any deeper meaning but is just something that is unique to Austrian German and is difficult to say
Accommodation
Budget Solo Traveler ($20 - $30): Similar to Iceland, hundreds of hostels in Austria are run by the HI Network, so if you are planning to stay exclusively in hostels in Austria, sign up for the membership to save $4 - $5 a night. Most hostels offer lockers to store your personal belongings, free Wi-Fi, and breakfast. Camping is available throughout the country, facilities are great, with many places offering laundry services, shops and snack bars.
Mid Budget Solo Traveler ($50 - $100): Hotels are plentiful throughout the country. Expect to pay about $50 - $60 for a simple double room outside of the touristy areas, and $60 - $70 in the busier towns. In the winter, there are hundreds of ski resorts to choose from, so it's not exaclt easy to make a choice! I personally recommend Skicircus, a laid back ski resort which offers 168 miles of slopes split among 3 different ski areas, and Lengauer Hof, a cozy place that offers good food and great hospitality. A double room at Skicircus starts at about $140, and at Lengauer the price starts at about $200, both of which can be split by 2 or 3 people.
Food
Local Food ($3 - $10): Austria dishes are hearty and inexpensive. A full meal with soup and (sometimes) dessert may cost only about $5 - $10. Keep an eye out for daily deals and lunch specials. Kebab and sausage stands are widely available at $3 - $5 per meal. At cafes and bars, expect to pay about $7 - $10 for a light meal. Coffee is pricey (about $3 - $6 for a cup) but excellent. Supermarkets are good place to get light snacks or sandwiches at $2 - $4. Make sure to check out the bakeries for some stunning pastries and desserts.
Restaurant ($10 - $15): You seriously cannot go hungry while dining on Austrian food, especially when in a restaurant. A plate with grilled chicken, steak, pork, sausage, fries and salad costs about $15 - $20 at a farm-to-table restaurant. Wiener Schnitzel, a delicious breaded and pan fried cutlet made from veal, is Austria's national dish, and it is available at most restaurants. Tipping is a practice in Austria at about 5% - 10%. Beer is inexpensive and delicious, with a glass costing about $2 - $6.
Transportation
Getting There: The main international airport is Vienna International Airport, though there is no shortage of other international airports around Vienna that are well connected to most major international flights. The country's central location in Europe makes it easy to get there from its 7 surrounding countries through buses and trains.
Getting Around: In Vienna, you can rent a bike from CityBike for free. This is perhaps the best and cheapest way to get around the city. It is also very safe to bike around the city as there are designated bike lanes for cyclists. Most major cities of Austria are well connected by buses, trams and underground trains. If you are staying longer than 3 days, obtain the pass to ride for cheap.
Inter-city Traveling: Intercity trains are punctual and comprehensive, covering most parts of Austria. Unless you are doing a lot of intercity traveling in 3 days, individual tickets are actually cheaper than the one-country pass. Buses are a cheaper option, with a ride from Vienna to Munich costing about $24. There are six airports in Austria, and domestic flights start from about $25.
Things to Do
Admire the Architecture of Vienna: The capital of Austria is filled with beautiful architecture, musuems, galleries and the likes. Spend a day wandering through the history centre, the catherals, and of course, the castles. When you can no longer feel your legs, sit down at one of the many coffee houses and spend the rest of your day people watching.
Hike Krimml Waterfalls: The tallest waterfalls in Austria are located on the Krimmler Ache river in the High Tauern National Park, close to the town of Krimml. The path up to the panaroma view is well maintained so it would make a relaxing hike that takes about 1.5 hours.
Ski (or Learn to Ski): When I asked a friend what makes skiing in Austria unique when compared to other Alpine ski areas, he said without hesitation, "It's cozy." And he was absolutely right. The hotels are mainly small and family-run, the food is wholesome, the locals are friendly, the snow condition is gorgeous, there's fresh powder to ski on pretty much everyday. Skiing enthusiasts will find themselves home in Austria.
Enjoy Other Winter Activities: You can take a gondola up to the top of a mountain and sled down (it's so much fun!), take a break from skiing and go snow-shoeing , and even hang out at the tree tops at Austria's very own Golden Gate Bridge. To end the day, you can chill at a rooftop pool, that opens from a heated room inside to the outside
Hike the Longest Barefoot Trail in Austria: Hexenwasser (Witch Water) in Hochsöll is not only famous for its witches and fairy tales, but also offers spectacular scenary. The hike is relatively easy, and is perfect for a beautiful and relaxing day out.
Austria on @BeMyTravelMuse's Instagram