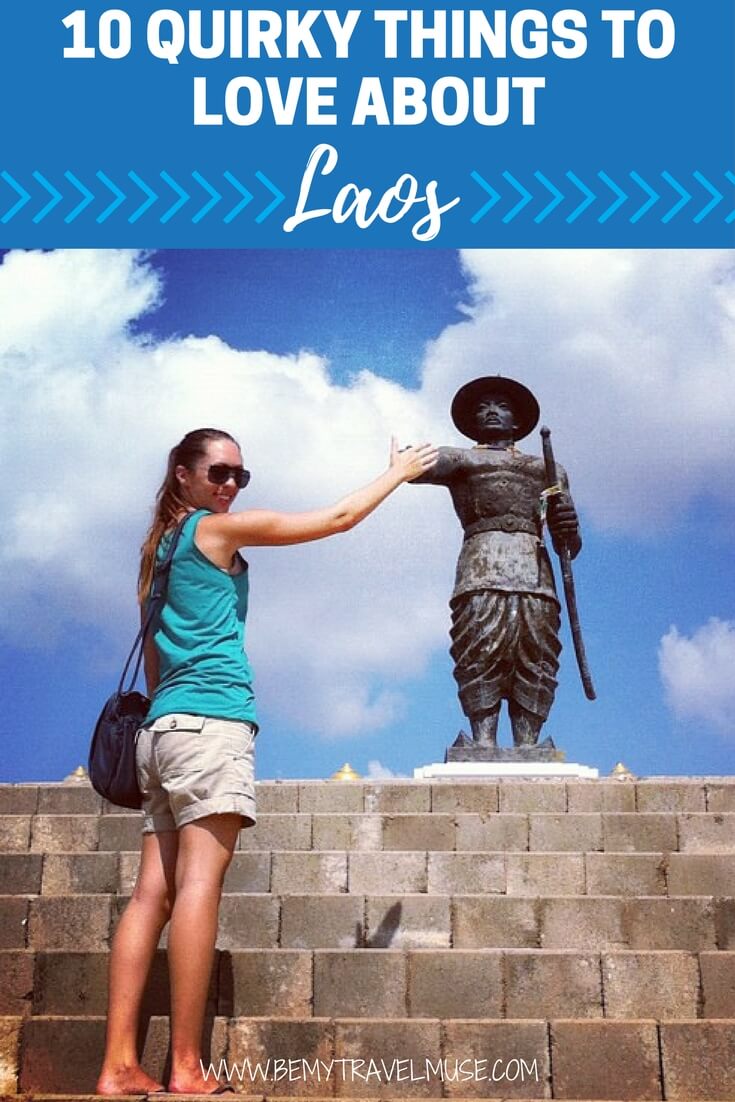 1) Sai ba dee!
Everyone, from random ladies passing by, to little children, to monks walking down the street in their bright orange regalia, calls out this beautiful hello.
2) Awkward table and chair heights
Maybe it's because I'm lanky, but I never did find a table nor chair that was tall enough or quite the right match to fit my legs under. It seemed there was never more than an inch or two between the chair seat and table, so I spent a lot of my time in Laos much like the hunchback of Notre Dame.
3) Live Engrish singers
Walking around the Mekong in Vientiane, I overheard a woman with a truly incredible voice singing songs by Adele, Lady Gaga, and Leona Lewis, hitting every pitch.  I came closer, but there was a little something off.  The chorus words were mostly right, but the rest of the words were mumbled.
It was just about the cutest thing I'd ever heard.
4) Bars close at 11pm, clubs close at 3am, but bowling in Luang Prabang, complete with $2 rum, keeps rocking until 5am.
I'm not sure why.  I don't really get it.  It's best not to question such things.
5) "5 minutes"
When people say things operate on Lao time, I totally get it now.  Booking a ticket can easily take two hours, you will find shop owners asleep rather than heckling you from the street to buy their wares.
Laos is extremely laid back, and taught me a little bit about patience.
6) Chilies drying in the sun
Saw these everywhere.
Accidentally ate one once.  I have just one thing to say about that: FREAKING OUCH.
7) Bad haircuts
I stopped into a shop, feeling the crispy ends of my hair after getting entirely too wind-whipped motorbiking the Bolaven Plateau.  I showed the girl with my fingers how much to cut off, and watched in horror as she gave me a super blunt cut, moving directly from right to left, unable to communicate that I wanted Megan Fox-esque layers.
Letting this one grow out.  Dear 6 pound 7 ounce baby Jesus, please let this grow out quickly!
8) Sleeper busses you'll never fit into
Also? You'll be spooning your neighbor over the bumpiest roads in all of Southeast Asia.
9) Che, hammer and chisel – Laos is communist and proud.
Many tourists jumped on board and bought the shirts as well.  I might just get shanked if I wore that in the states!
10) Baguettes here, there, everywhere!
Blame the French influence – I couldn't get away from the carb overload!
On a serious note, Laos was one of the most breathtakingly beautiful countries I've been to.  My three weeks there were magical.  If you're even remotely considering visiting, I'm telling you to GO, go for sure.  It's a spectacular place with spectacular people.
Have you been to Laos? Did I miss any quirky things to love (other than delish Beerlao?)
Click to read more posts about