When I first added Bonaire to my southern Caribbean cruise, I couldn't help but wonder: Aren't all Caribbean islands the same? Salt in your hair, sun on your skin, and — wait, is that a flamingo? Yep. Because I was very wrong. This is Bonaire, and what you expect is not what you're going to get — and trust me, that's a good thing!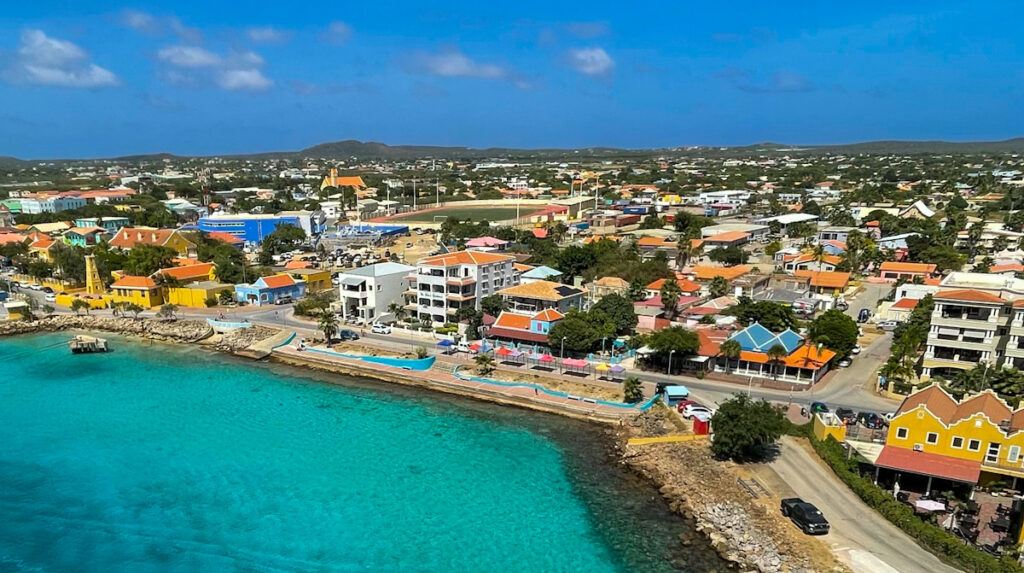 Bonaire is a Dutch island territory located in the southern Caribbean Sea, just off the coast of Venezuela. It's approximately 114 square miles and home to about 20,000 people. Its nearby neighbor, Aruba, in comparison, is only 69 square miles and has 100,000 more people.
Like Aruba, the official languages of Bonaire are Dutch and Papiamento, although English and Spanish are also widely spoken, but that's about where the comparisons stop. While Bonaire is small, there's a lot to explore, so let's dig in, and you can decide what you want to check out first.
Bonaire's Flamingo International Airport (BON) is located on the southern part of the island, approximately 2.5 miles south of the capital city, Kralendijk; the cruise port, the way I arrived, is located in the heart of the capital.
Kralendijk (CRAW-len-dake) is a small, picturesque town located on the western coast of the island. It has a population of around 3,000 people and is known for its Dutch colonial architecture, pastel-colored buildings, and charming streets.
Arriving in Bonaire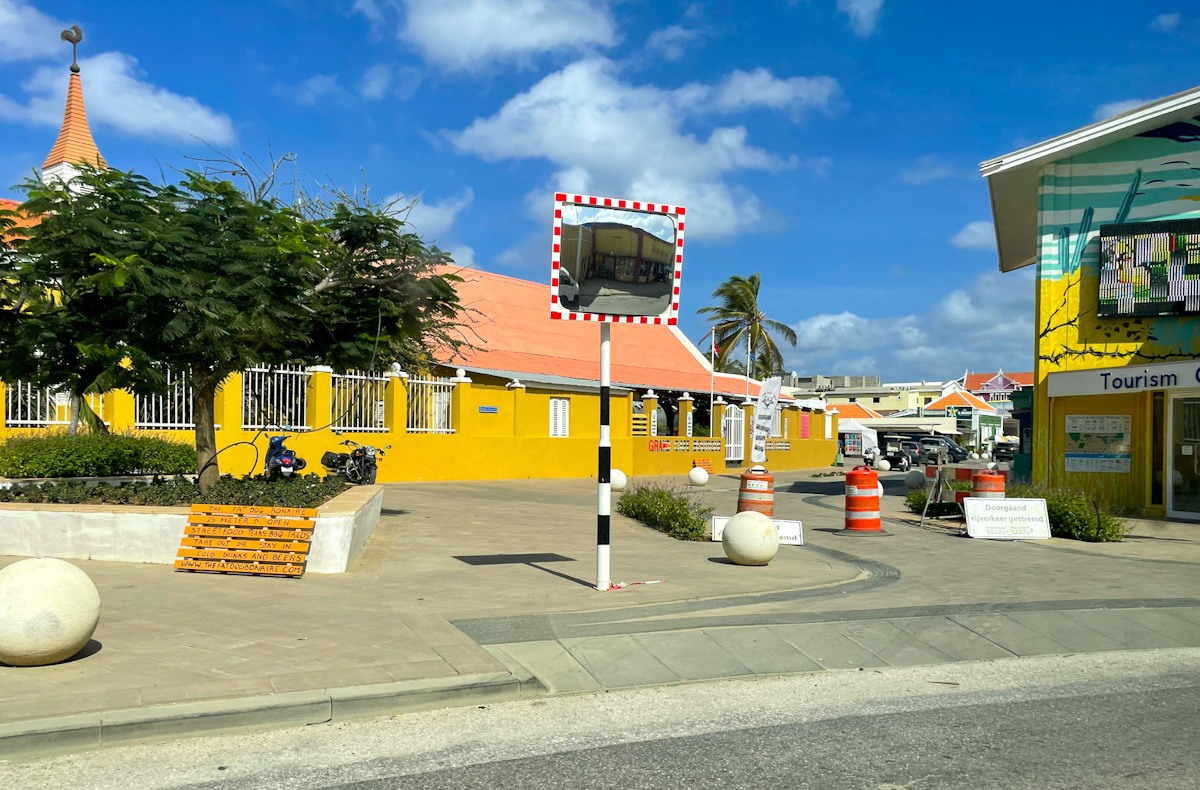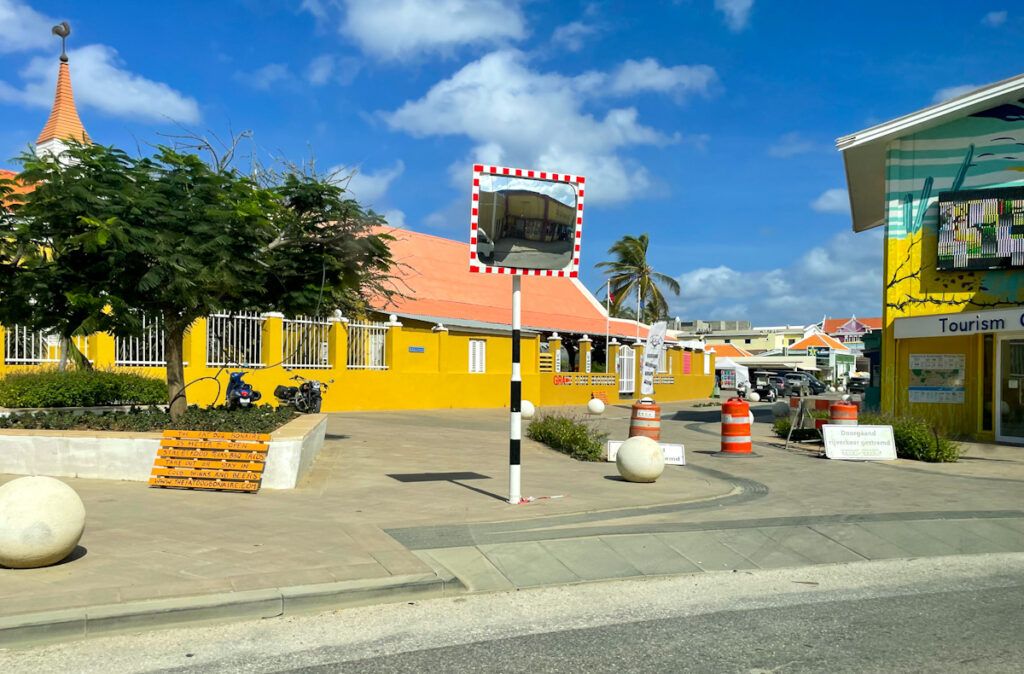 The town has a relaxed and laid-back atmosphere, with many small restaurants, cafés, and shops lining the streets. When I arrived, I very much got the impression that time had stopped here. There are no high-rises stretching toward the horizon, and although tourism is a huge part of the economy, even the cruise port lacked the usual showy entrances that most islands have. (Also, the water is by far the most electric blue I've ever seen in my life!)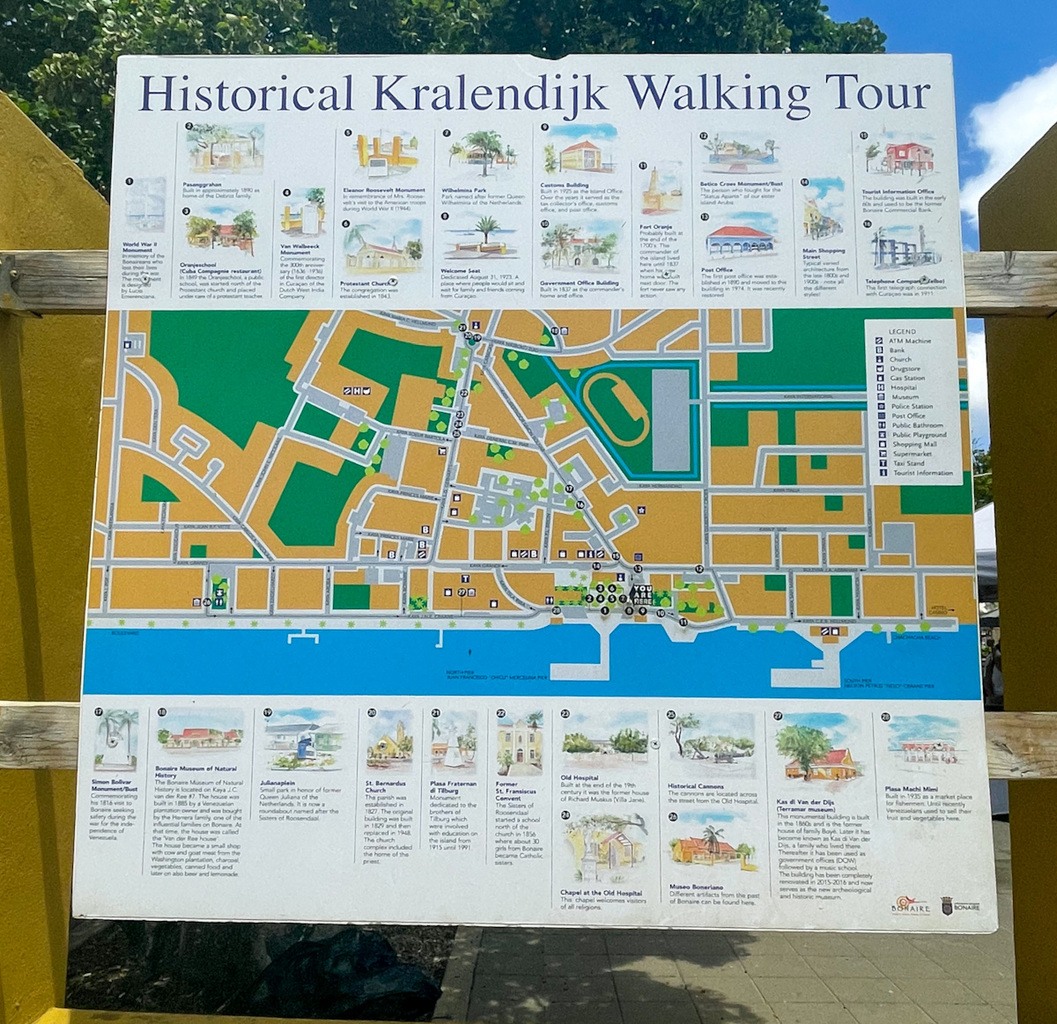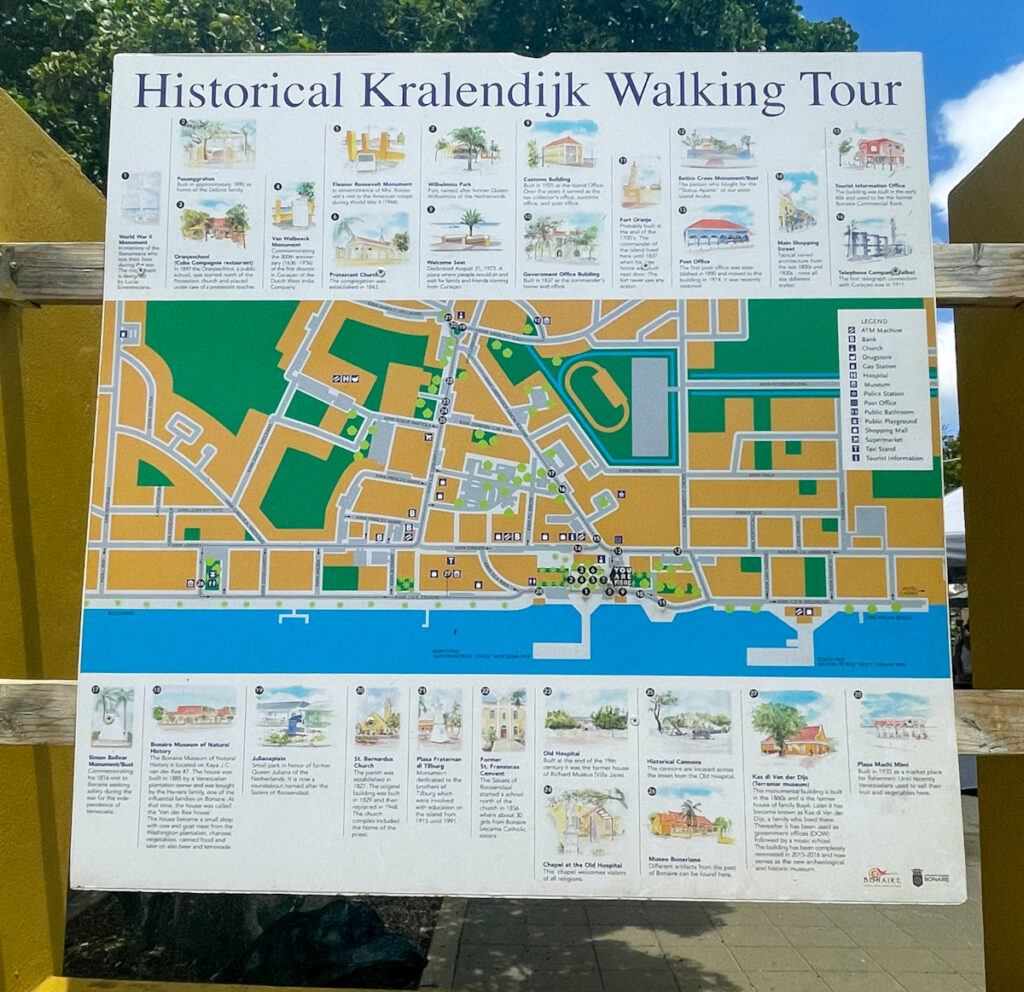 From the cruise port, you're less than a five-minute walk from downtown. No one hassles you or tries to sell you souvenirs. There are just a few taxis offering tours around the island, and you can tell these people are all friends, just relaxing in their seats, waving hello.
Wildlife and National Parks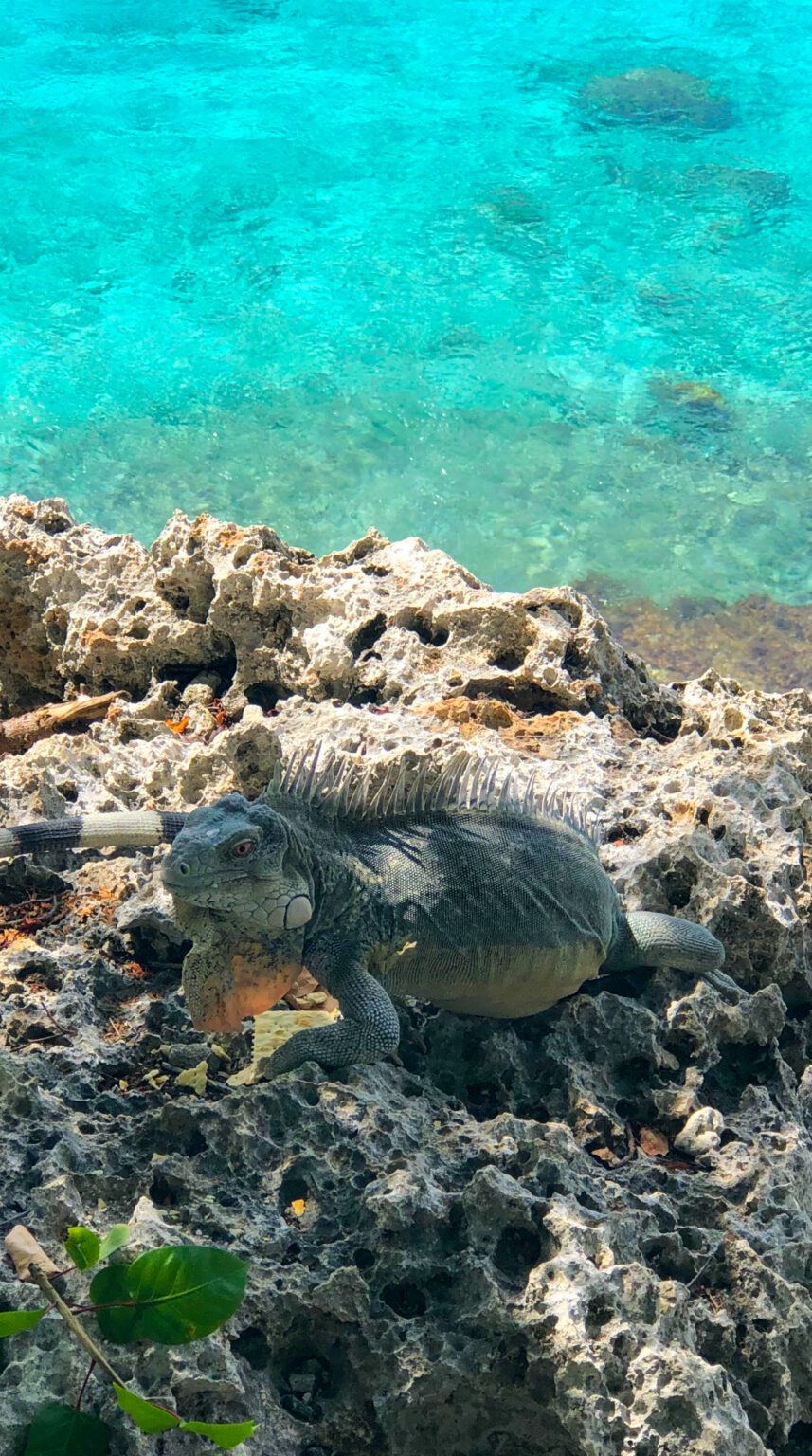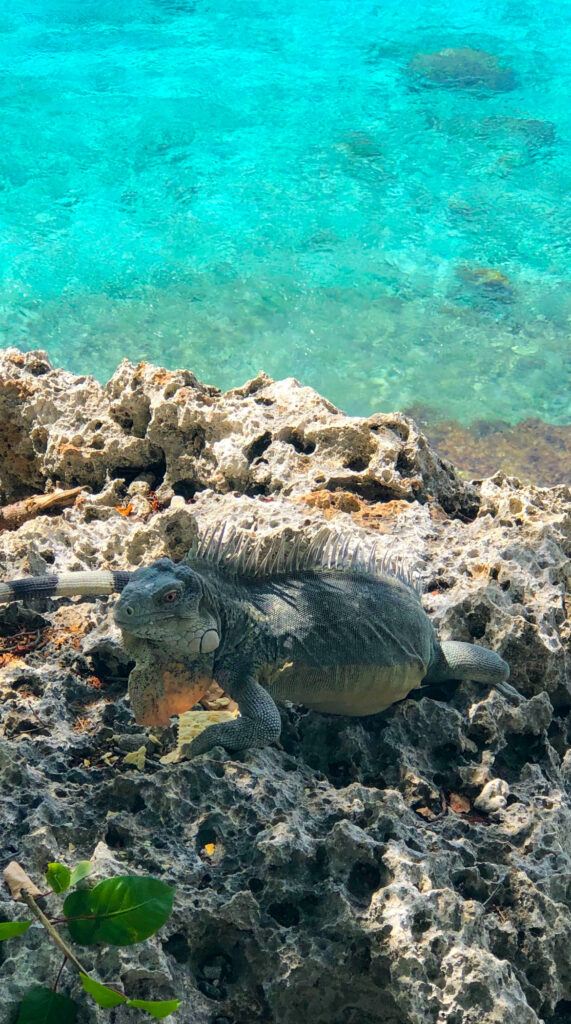 The air in Bonaire is as crisp as the sparkling sea — and that's definitely thanks to the national parks. Washington-Slagbaai National Park, located on the northwestern part of the island, is the largest protected area on Bonaire, covering approximately 33% of the total land area. The park is home to many endemic and endangered species, such as the Bonairean parrot, the iguana, and the yellow-shouldered Amazon parrot. Park visitors can hike through its rugged landscape, take in panoramic views of the island, and observe the wildlife.
Bonaire Marine Park, established in 1979, covers approximately 27% of the island's territorial waters and protects its coral reefs, seagrass beds, and other marine ecosystems. It is home to more than 400 species of fish, as well as sea turtles, dolphins, and other marine life.
In addition to the national parks, Bonaire is also home to several other protected areas, such as Lac Bay, a shallow lagoon on the eastern coast that provides an important habitat for flamingos and other bird species.
To enter the parks, visitors are required to pay an admission fee, which goes toward the conservation efforts of the park. It's recommended to visit with a guide or on a guided tour, to ensure that you're following the rules and regulations of the park, as well as to learn more about its ecology and conservation efforts.
Donkey Sanctuary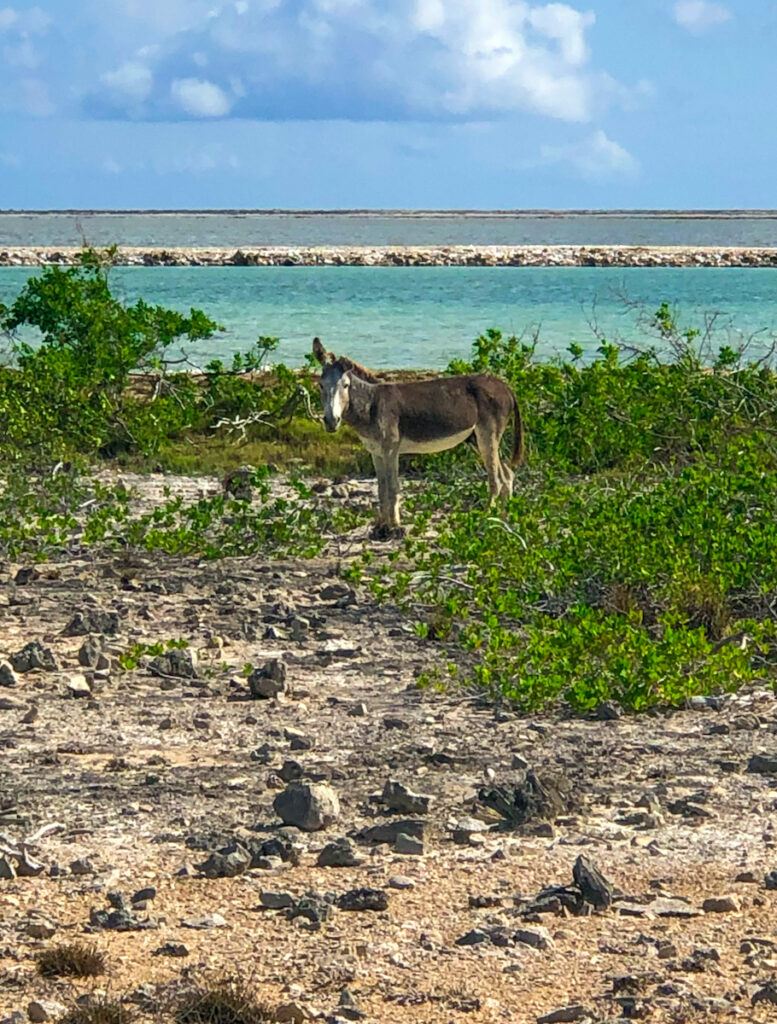 Although wild donkeys roam the island, you can also visit Bonaire's Donkey Sanctuary for an up-close and personal experience with one of the island's famous and friendliest four-legged friends.
Bonaire was once home to thousands of donkeys, brought to the island by the Spanish in the 17th century. These hardy animals were used for transportation and work, but with the advent of modern vehicles and machinery, they were no longer needed, and many were abandoned or left to fend for themselves in the arid and unforgiving landscape.
The nonprofit organization, located near Belnam on the south side of the island, was established in 1993 by Dutch nationals Marina Melis and her husband Ed Koopman, who were alarmed by the mistreatment and neglect of donkeys on the island.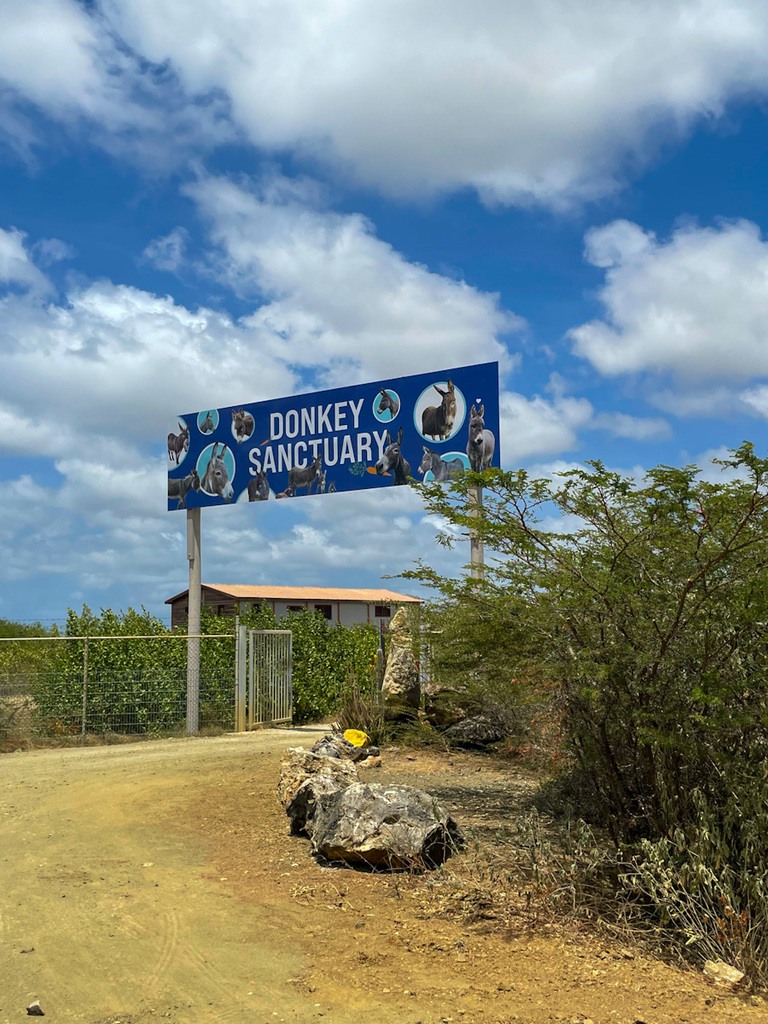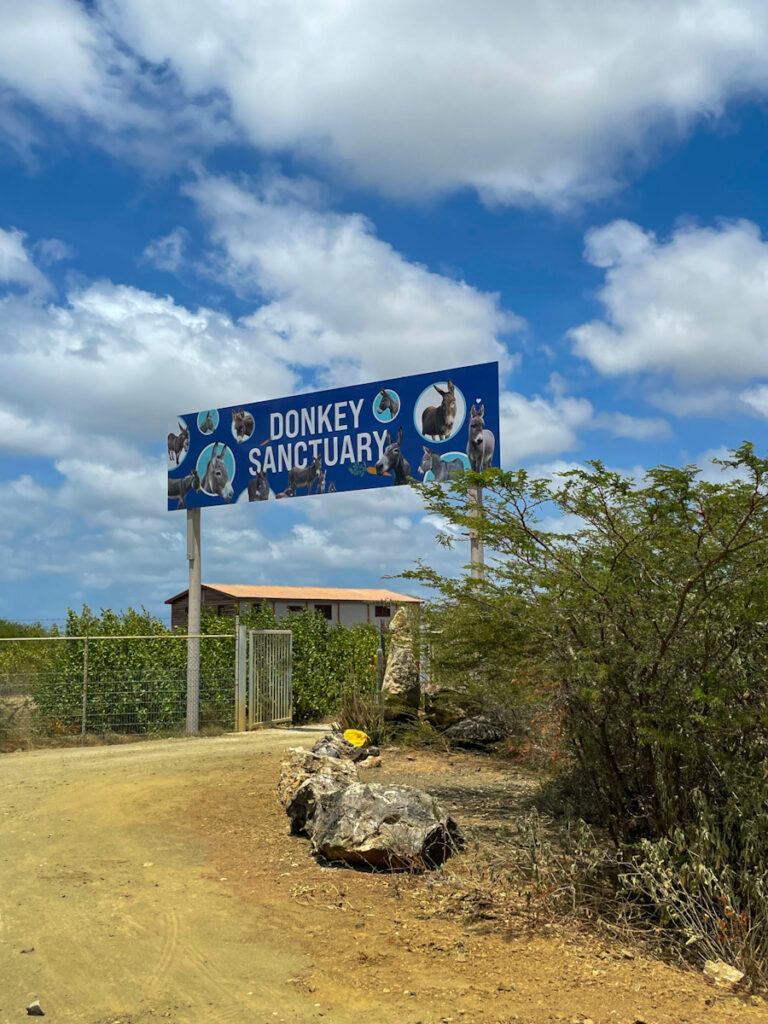 Today, the Donkey Sanctuary is home to over 600 animals who have been rescued from neglect, injury, or mistreatment. It provides a safe and comfortable environment for them, with plenty of food, water, shelter, veterinary care, and affection.
Visitors can take a guided tour of the facility, where they can learn about the history and behavior of donkeys, as well as the work being done by the sanctuary to protect and care for these animals. You can also interact with the donkeys, feeding them carrots or simply petting them.
The Donkey Sanctuary also operates a mobile clinic that provides veterinary care to the wild donkeys living in remote areas of Bonaire. This outreach program is an important part of the sanctuary's mission, as it helps to prevent and treat injuries and illnesses that might otherwise go untreated, ensuring that the wild population of gentle hee-hawing donkeys can live out happy lives on one of the Caribbean's happiest islands.
Landsailing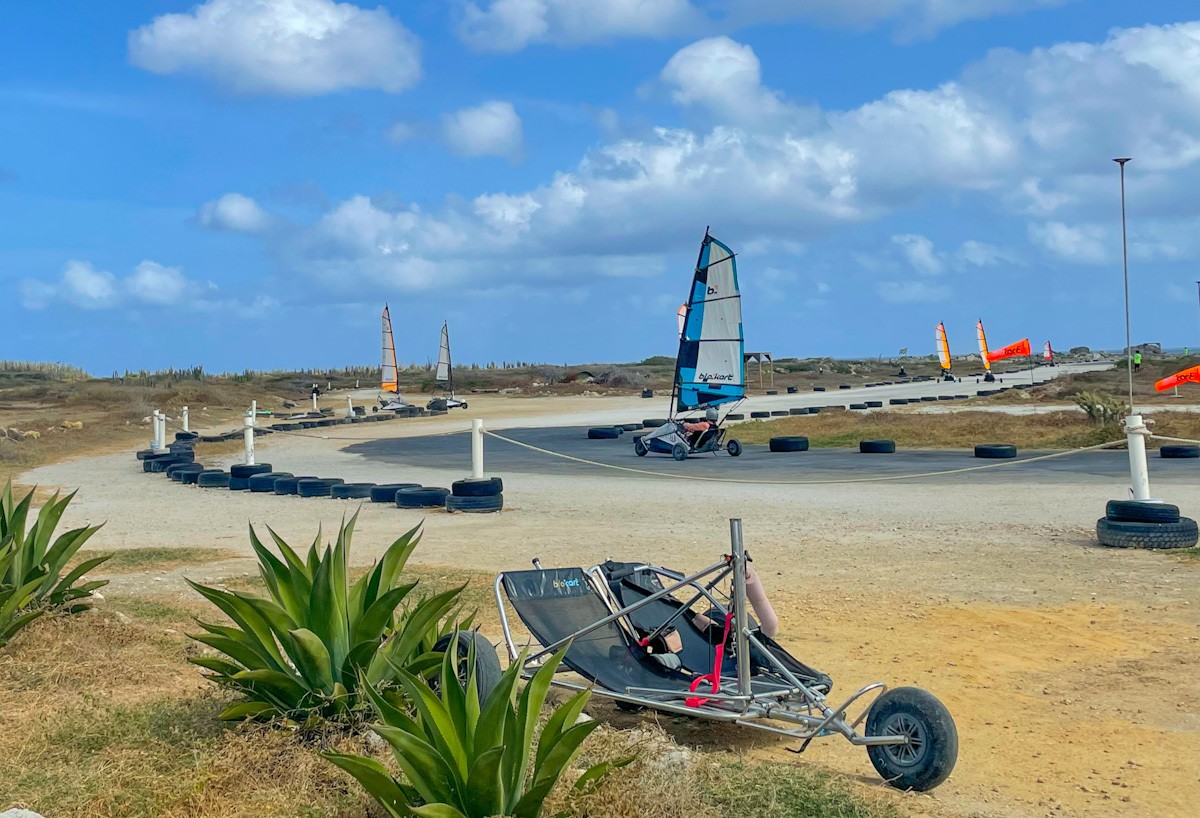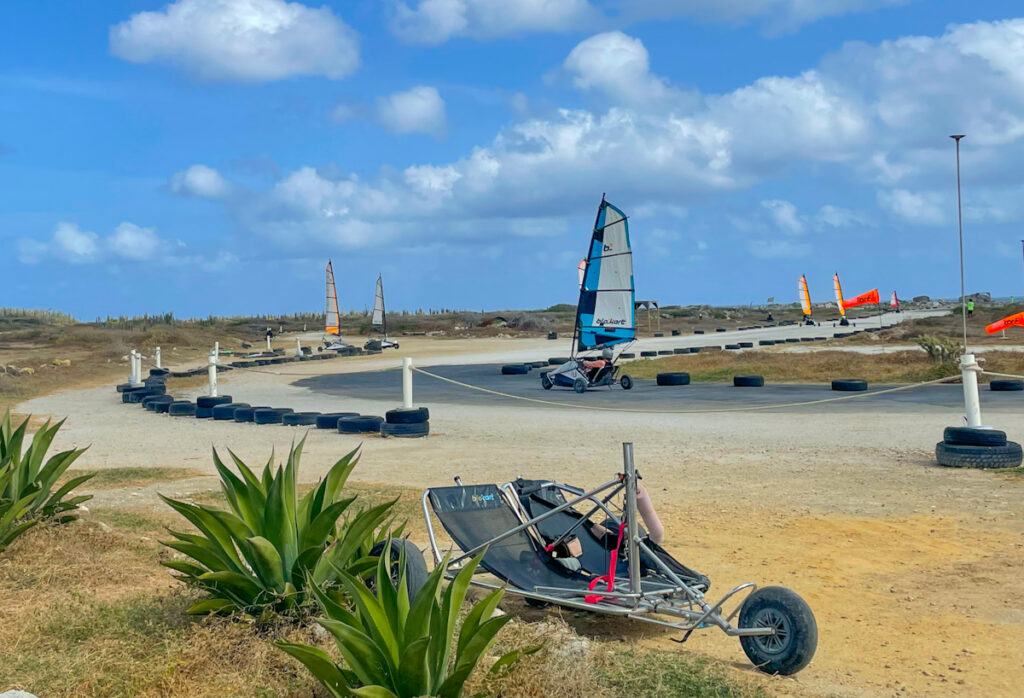 If you're an adrenaline junkie like me, then you have to check out landsailing. I grew up windsurfing with my dad, so I was desperate to check out landsailing, something I'd never heard of in the States. I highly recommend this excursion. You won't regret it!
Landsailing involves riding in a specially designed vehicle with a sail attached and powered by the wind. While there are several companies on the island that offer landsailing tours and rentals, I choose Bonaire Landsailing Adventures, which has the largest track in the world.
And even though I have windsurfing experience, it's not necessary in order to learn how to do this. The people who work there are great and more than happy to explain everything. They also stay out on the track with you, so if you accidentally run off the track and into the rocks, like I did, they'll be there to get you back on the road. So don't let that scare you!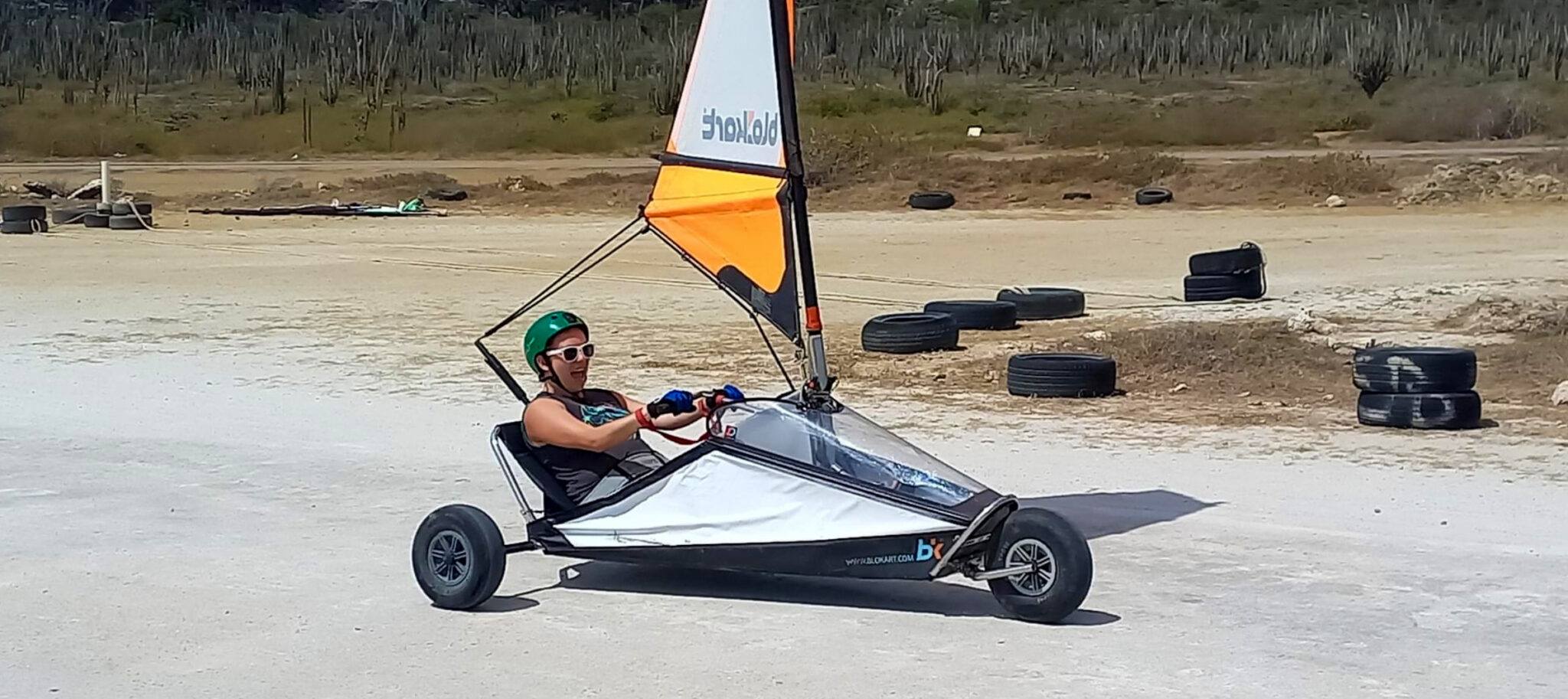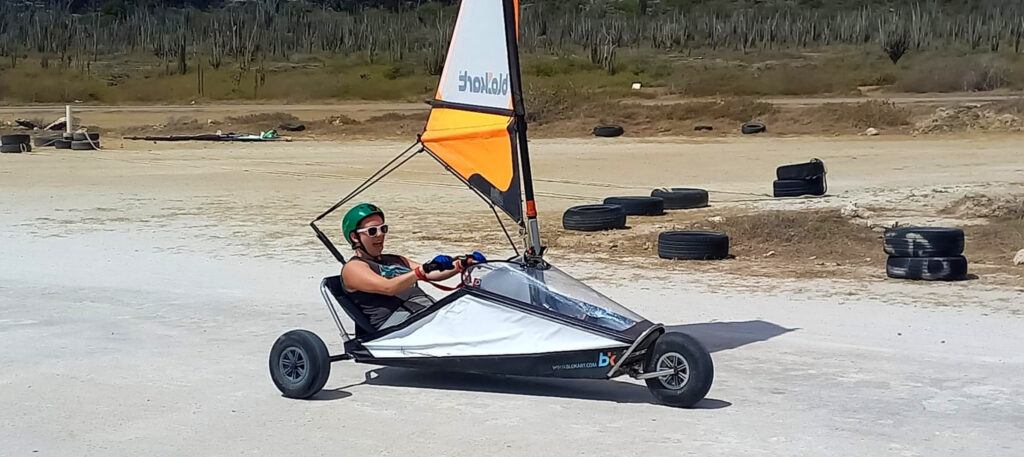 You can control your speed, so I went as fast as possible. (I told you I'm an adrenaline junkie.) Although falling is rare, you're essentially kept in a little cocoon of a safety enclosure so you can't get hurt. Plus, the helmets help.
If you're nervous, just know that my 75-year-old parents did this and had an absolute blast. My mom inched along; my dad sped past and flipped over — and was totally fine. Oh — and they take photos of you, give you a card to download them, and they're completely free!
Not only was this experience incredibly fun, but the tour will take you to the eastern side of the island, a drive that allows you to also spot wild goats and donkeys.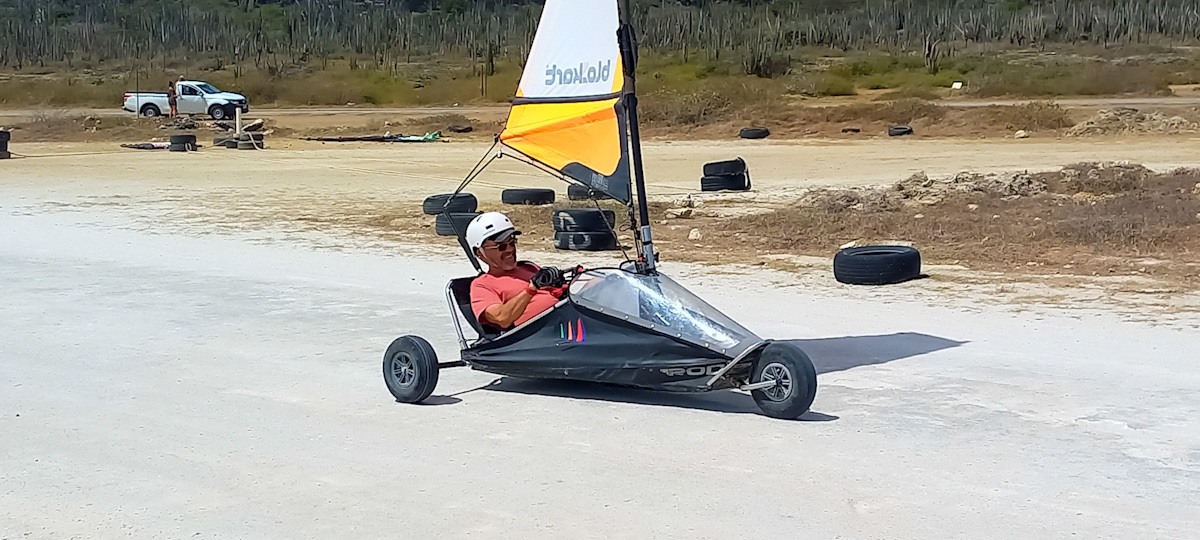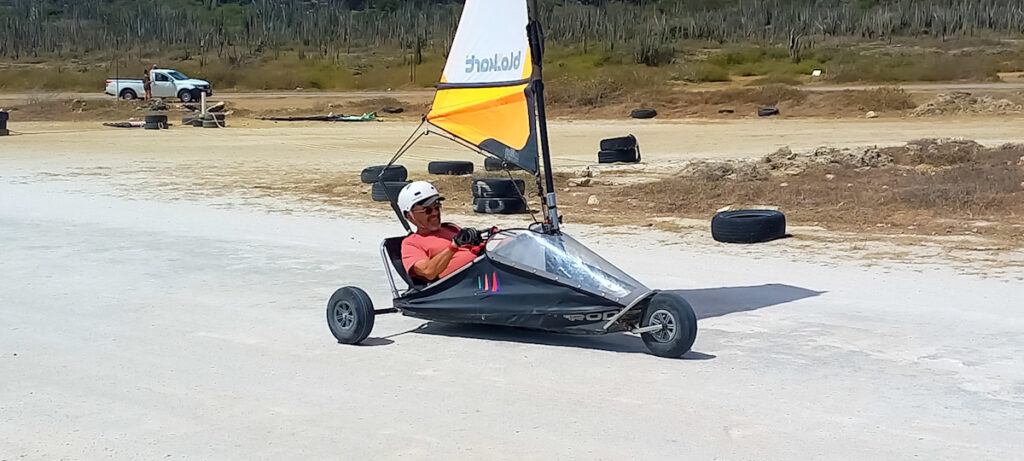 Windsurfing and Kiteboarding
And if the ocean is calling your name and you'd rather try out windsurfing and kiteboarding, then go for it! The calm waters and consistent trade winds — the same that will fuel your landsail — make Bonaire a popular destination for these sports. Lac Bay, the most popular place for both, is protected by a barrier reef, which creates a perfect lagoon for beginners and experts alike. There are several windsurfing and kiteboarding schools located here that offer lessons and equipment rental.
Diving and Snorkeling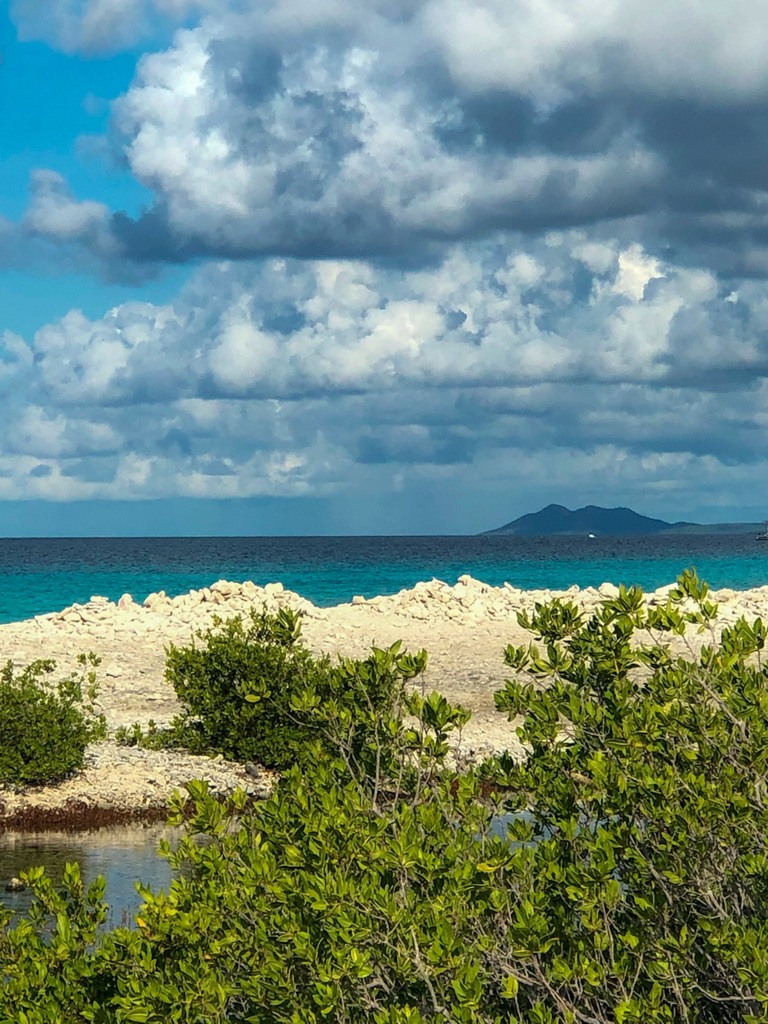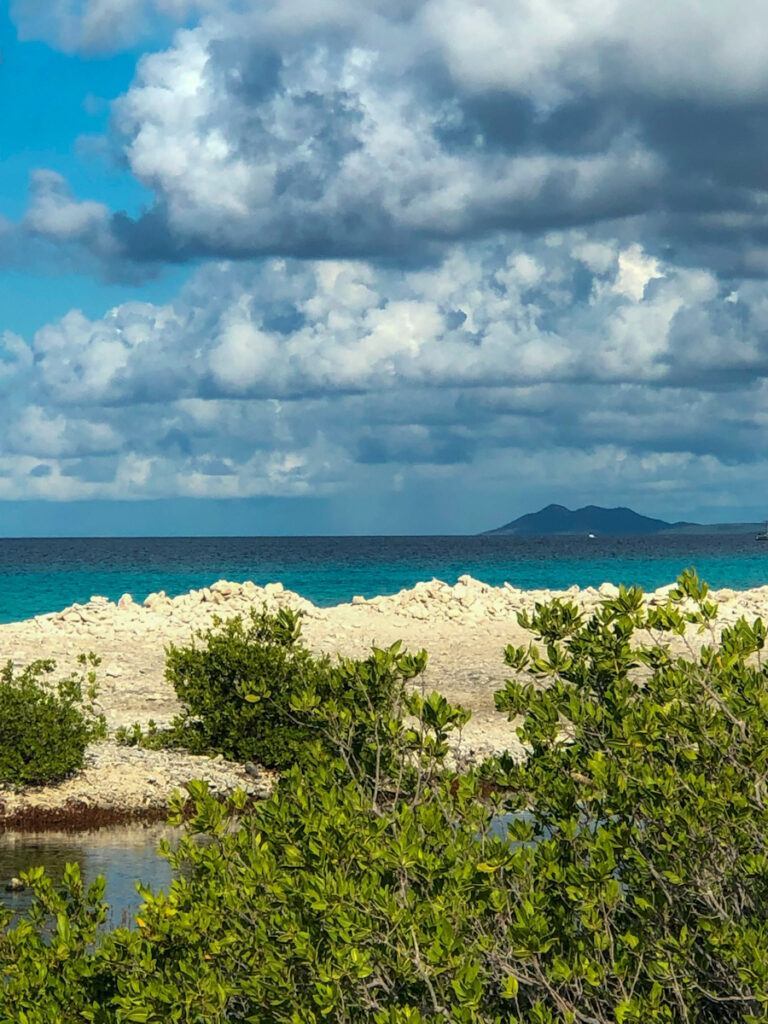 Bonaire is known for its pristine coral reefs and is one of the best dive destinations in the world. Whether you're a certified diver or a beginner, there are plenty of opportunities to explore the underwater world. And if going deep under the surface is a bit too much, then check out the island's snorkeling — you'll still be able to see what the ocean has to offer.
Here are some of the top spots to go diving and snorkeling on the island:
1. Bonaire National Marine Park: This covers the entire coast of Bonaire and is a protected area for marine life. There are over 80 dive sites within the park, ranging from shallow reefs to deeper dropoffs. Snorkeling is also possible in some areas.
2. Klein Bonaire: This uninhabited island off the coast is a popular destination for diving and snorkeling. The waters surrounding the island are home to a diverse range of marine life, including sea turtles, rays, and colorful fish.
3. Salt Pier: This is a unique dive site located in the southern part of the island. It was used for salt mining operations and is now home to a variety of marine life, including schools of fish and seahorses.
4. Hilma Hooker: This dive site is named after a sunken cargo ship that lies on the ocean floor. The shipwreck is home to a variety of marine life, including barracudas, groupers, and moray eels.
5. Red Slave: This dive site is known for its large coral formations and schools of colorful fish. The site is named after a red slave ship that wrecked in the area in the 1800s.
Going to the Beach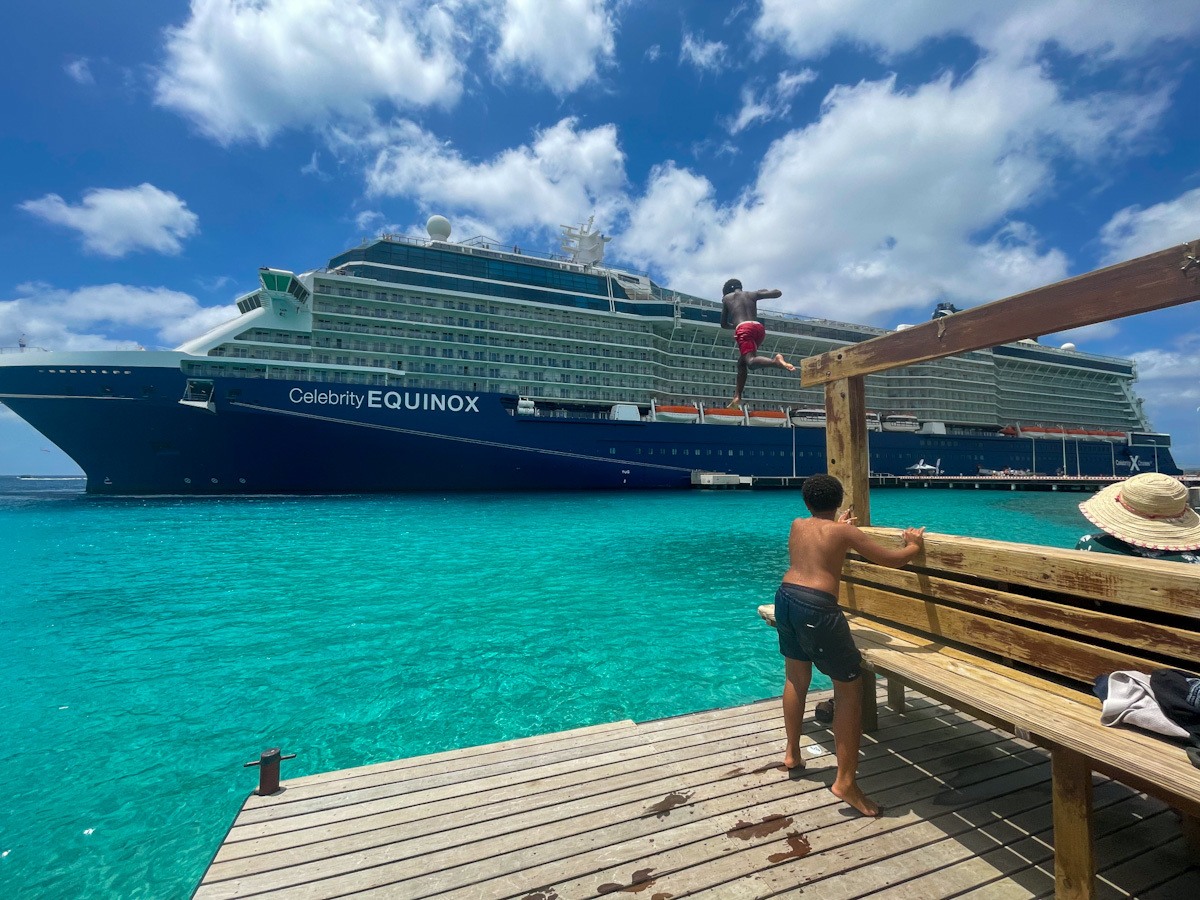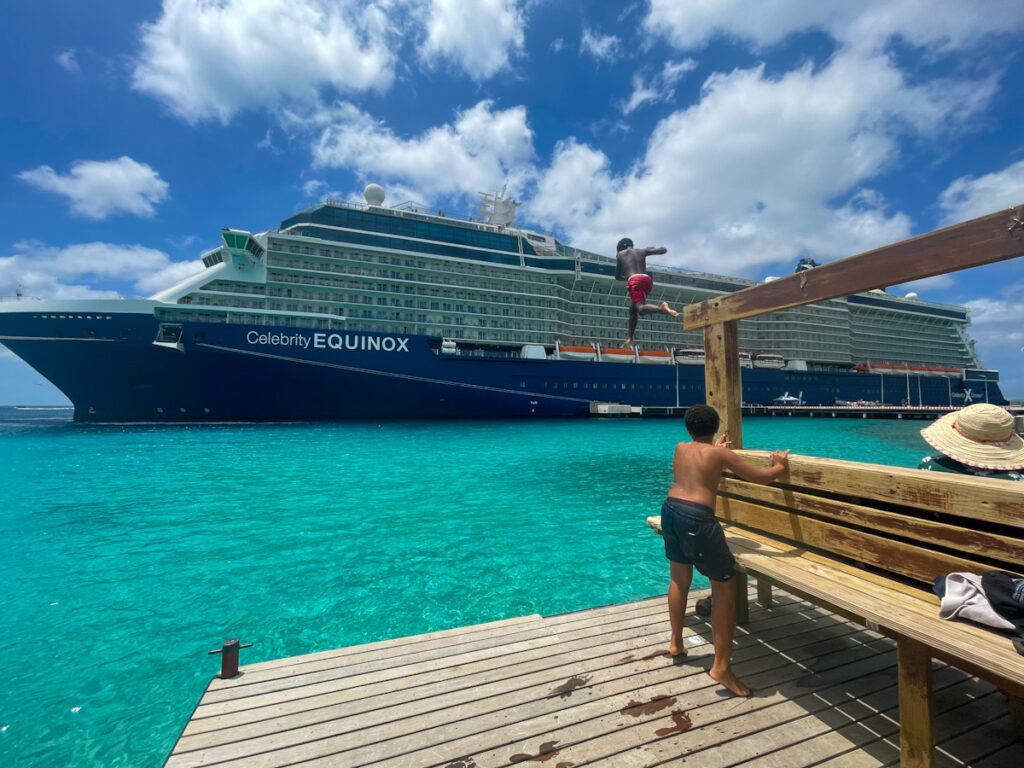 If you'd rather have a more low-key time, check out of their many beaches. The translucent turquoise sea will reel you in for a refreshing dip. Here are some of the most popular beaches:
Sorobon Beach: Located on the east side of Bonaire, this is a pristine stretch of white sand that is perfect for swimming and windsurfing.
Bachelor's Beach: This is a quiet, secluded spot on the western side. The beach is known for its clear waters and coral reefs, which are ideal for snorkeling.
Te Amo Beach: This small, secluded beach is located on the southern end of the island. It is a hidden gem.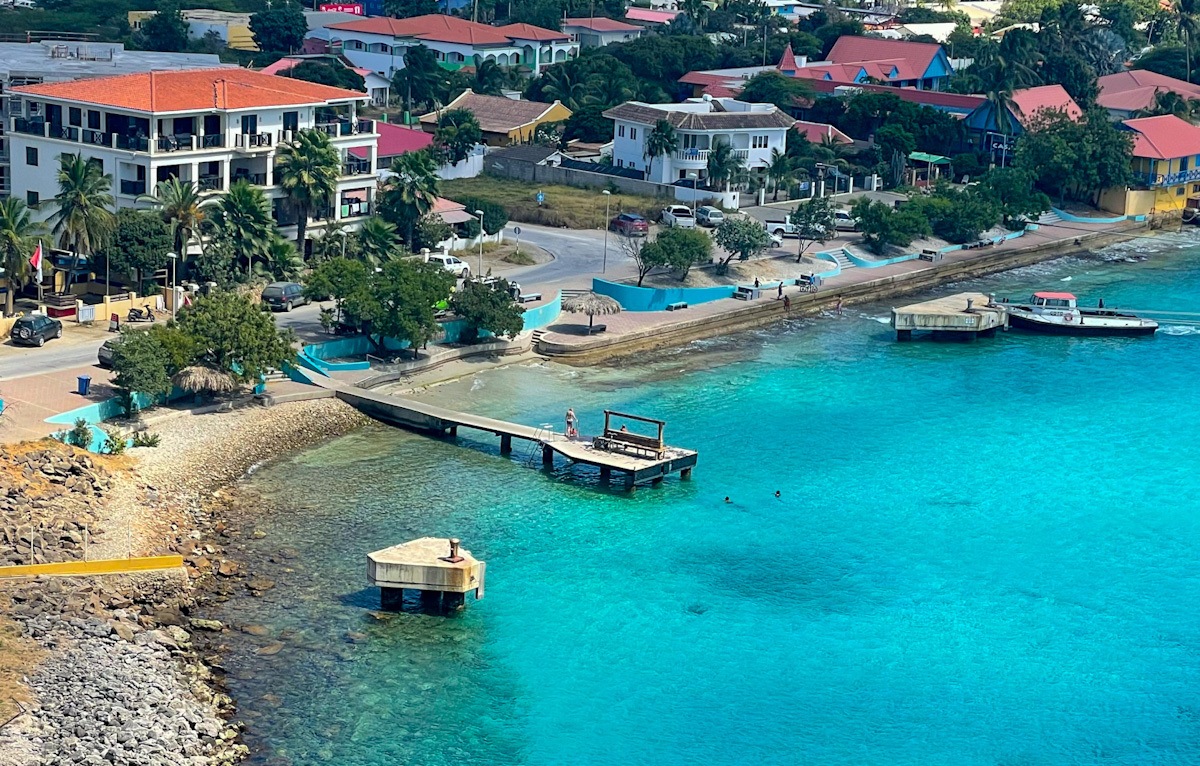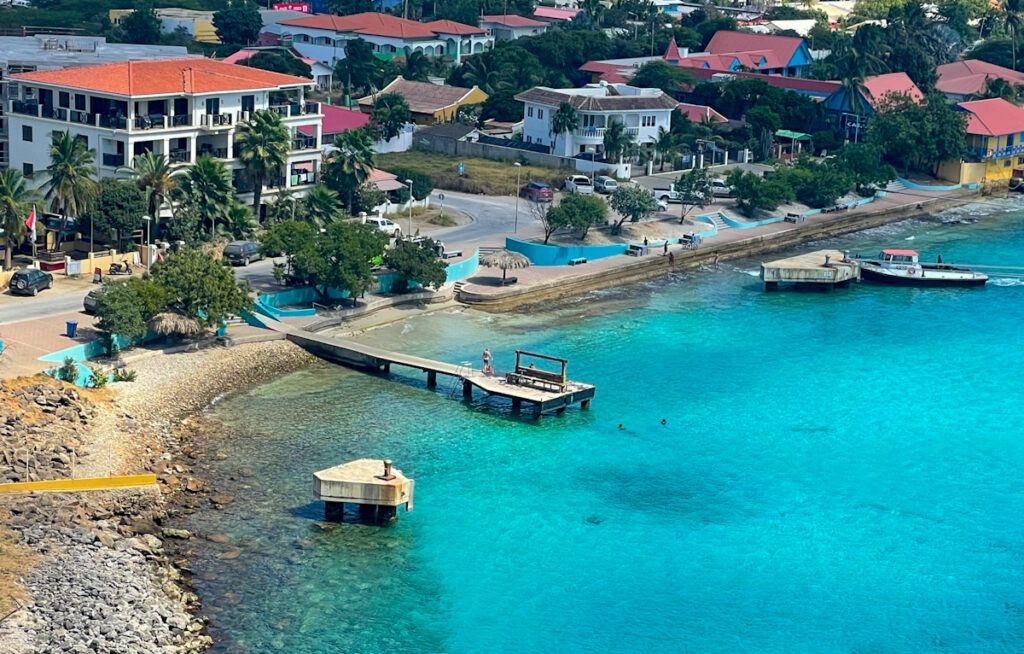 The Bonaire Bay Pier, where I visited, is located in the downtown area of Kralendijk, just a short walk from the Cruise Terminal Pier. It's the only place in the Caribbean where you can swim this close to a cruise ship. The tourists and locals are incredibly friendly, and the water is deep enough to jump off the dock.
Flamingos and Salt Flats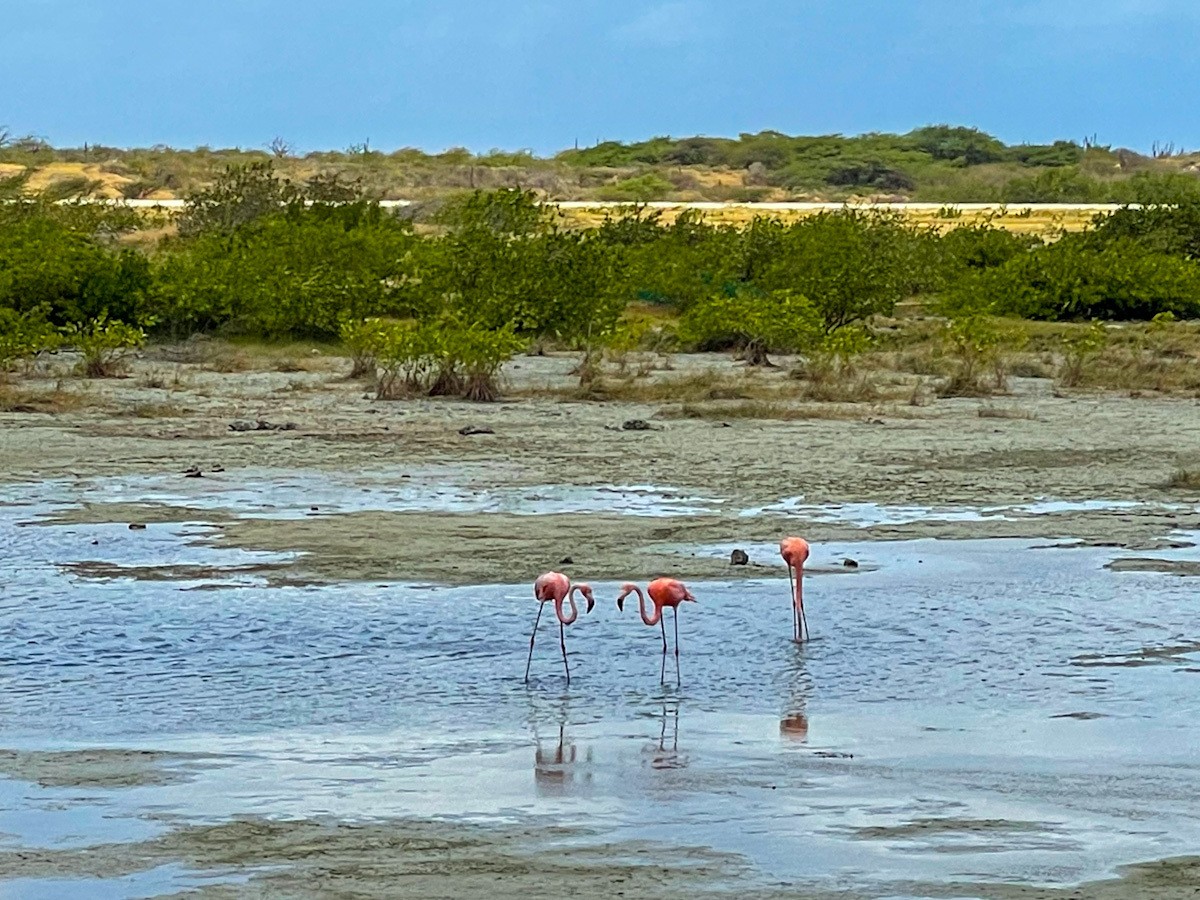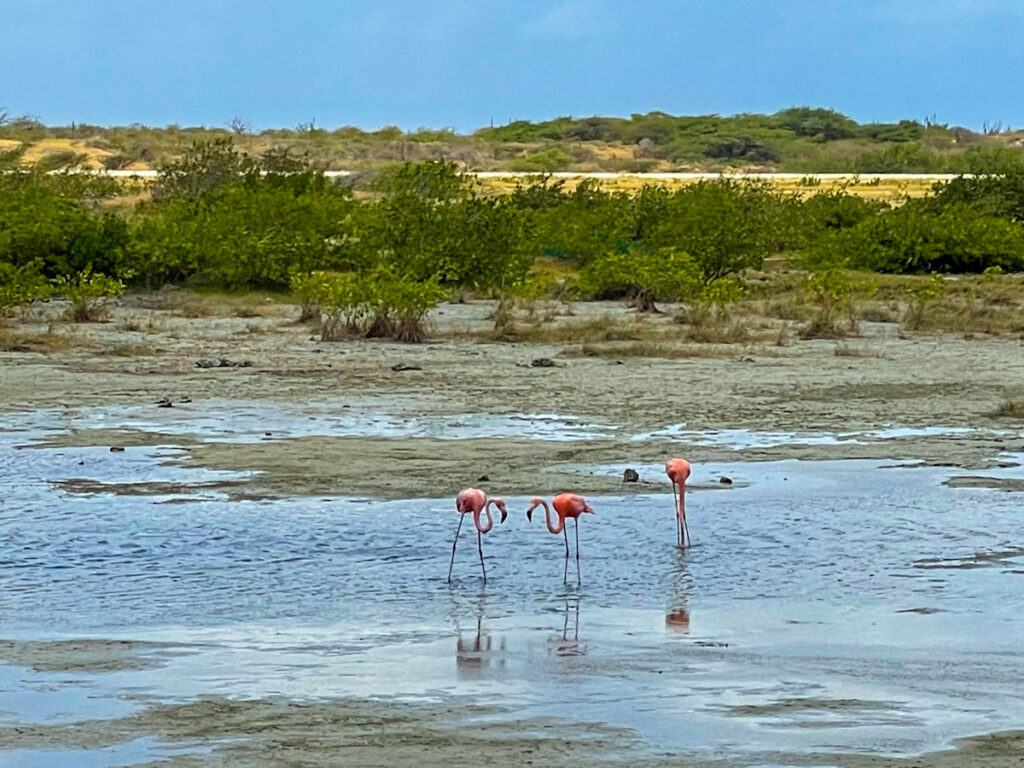 The Pekelmeer Flamingo Sanctuary is a must-visit destination for nature lovers, established in 1969 as part of a conservation effort to protect these native birds, which have become a symbol of the island's natural beauty and wildlife. Now, over 15,000 of them live comfortably in the protected area, and visitors can watch them frolic in their natural habitat. Make sure you check the skies, too: spotting a flying flamingo is a rare but awesome sight.
The salt pans of Pekelmeer provide an ideal habitat for flamingos, as the shallow waters and mud flats are rich in the algae and crustaceans that these birds feed on. The flamingos use their long legs to wade through the shallow waters, filtering out food with their beaks.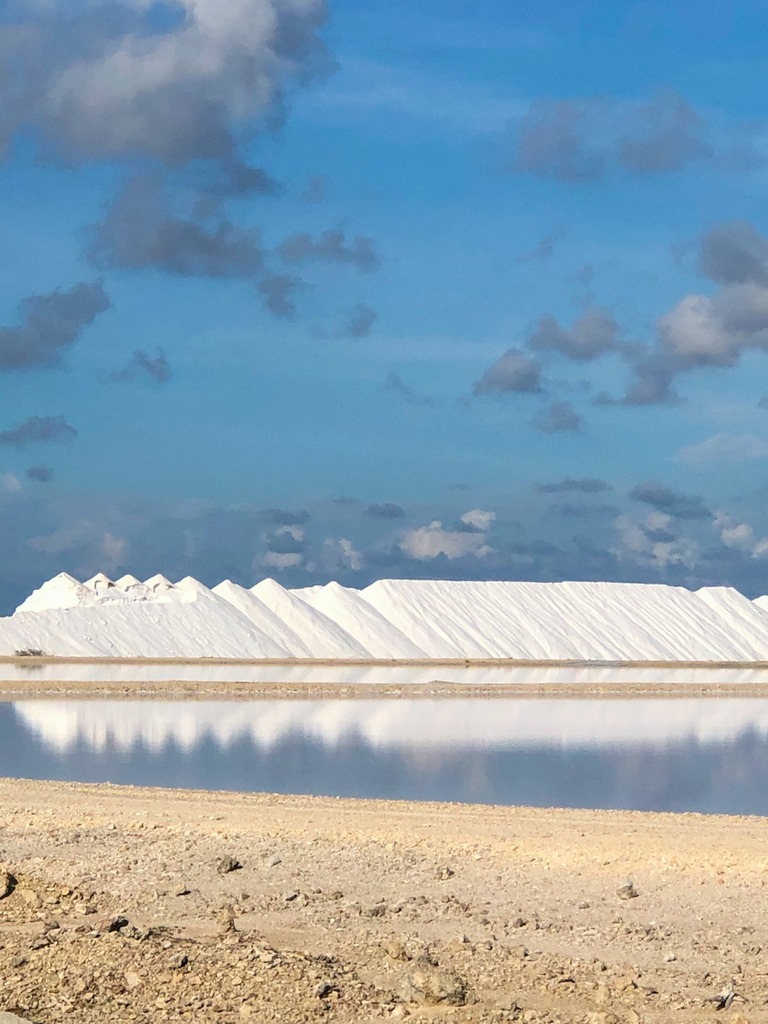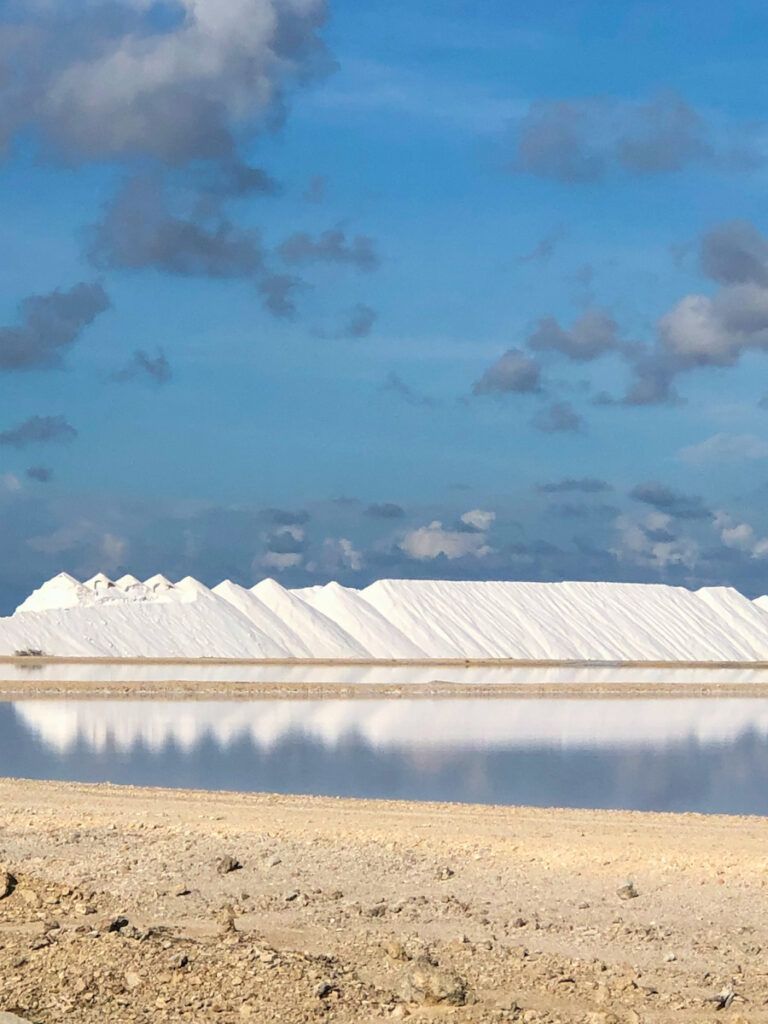 The salt flats are a series of interconnected, shallow seawater ponds that left behind a layer of salt crystals after they evaporated. Located in the southern part of the island, they cover an area of approximately 15 square miles and are a prime example of the island's unique geography and geology.
Visitors can take a guided tour of the area, where they can learn about the history of salt production on the island, as well as the unique ecosystem that has developed around the salt flats, which are home to a variety of plant and animal species attracted to the salty water and the small crustaceans that thrive in it.
In the 19th century, the salt pans of Pekelmeer were used for salt production as an important part of Bonaire's mining industry. However, the mining operations had a negative impact on the flamingo population, and the birds were often hunted, with poachers selling their feathers to the fashion industry. Today the salt flats are still an important source of income for the island's economy, but now they're just as important as the flamingos.
In fact, one of the most popular times to visit the Bonaire Salt Flats is during the annual Flamingo Festival, which takes place in January or February. This festival celebrates the arrival of thousands of flamingos to the flats and features music, food, and cultural activities.
Pro tip: The taxis outside the cruise port offer a variety of tours of the island. I met a very nice taxi driver named Felix Cicilia, known by the locals as Papy. I explained that I didn't need a tour of the whole island, but instead just desperately wanted to see some wild flamingos. Not only was he super chill, but he accommodated my dream—and my time crunch—to see wild flamingos by taking me to a lesser-known spot behind the airport! And I was able to get closer to them than I would have in the national park. It was even worth stepping on a cactus and getting a thorn that lived in my foot for the next three weeks. Being nice and friendly to locals goes along way! Definitely say hi to him if you see him!
Where to Stay
Bonaire offers a variety of accommodation options to suit every traveler's needs and preferences. If you're not traveling by cruise ship, consider which town you'd like to stay in and what kind of place you'd like to sleep at.
Kralendijk, the capital of Bonaire, is a popular area for tourists. It has a variety of hotels, resorts, and vacation rentals, as well as restaurants, shops, and nightlife. Here are some Kralendijk lodging options:
Divers Paradise Bonaire is a budget-friendly hotel that caters to divers. It offers comfortable and clean rooms at affordable prices, with rates starting at $109 USD per night.
Captain Don's Habitat, not far away, offers a range of accommodations, from oceanfront bungalows to standard rooms, and is located on the waterfront, providing easy access to some of the island's best dive sites, including the Bonaire National Marine Park. Rates start around $165 USD a night.
Divi Flamingo Beach Resort & Casino is a beachfront resort that offers a range of amenities, including a casino, spa, and several restaurants. It offers rooms and suites with varying prices, depending on the season, with rates starting around $229 USD per night.
If you'd like to get out of the tourist zone, then head to Sorobon, a secluded area on the east coast, known for its beautiful beaches and windsurfing opportunities. There are fewer places to stay here, though, so keep that in mind when looking.
Sorobon Beach Resort offers a range of accommodation options and is the best for tourists wanting to stay here. Prices start around $250 USD per night.
Sorobon Boutique Hotel is a little further from Sorobon Beach but has a more intimate vibe than the resort. The rates are similiar, though, starting at $244 USD per night.
Belnem, a residential area located on the southern part of the island, is known for its luxurious villas, tranquil atmosphere, and proximity to some of the best dive sites. If you'd like to get outside of the capital but stay on the east side, this town is for you.
Delfin's Beach Resort, a luxury ocean resort, starts at $139 USD a night.
Regardless of where you decide to stay, Bonaire is small enough that you can hit all the beaches in one day, so pick a spot that caters to what you're looking for and use that as you base for the rest of your adventures!
What to Bring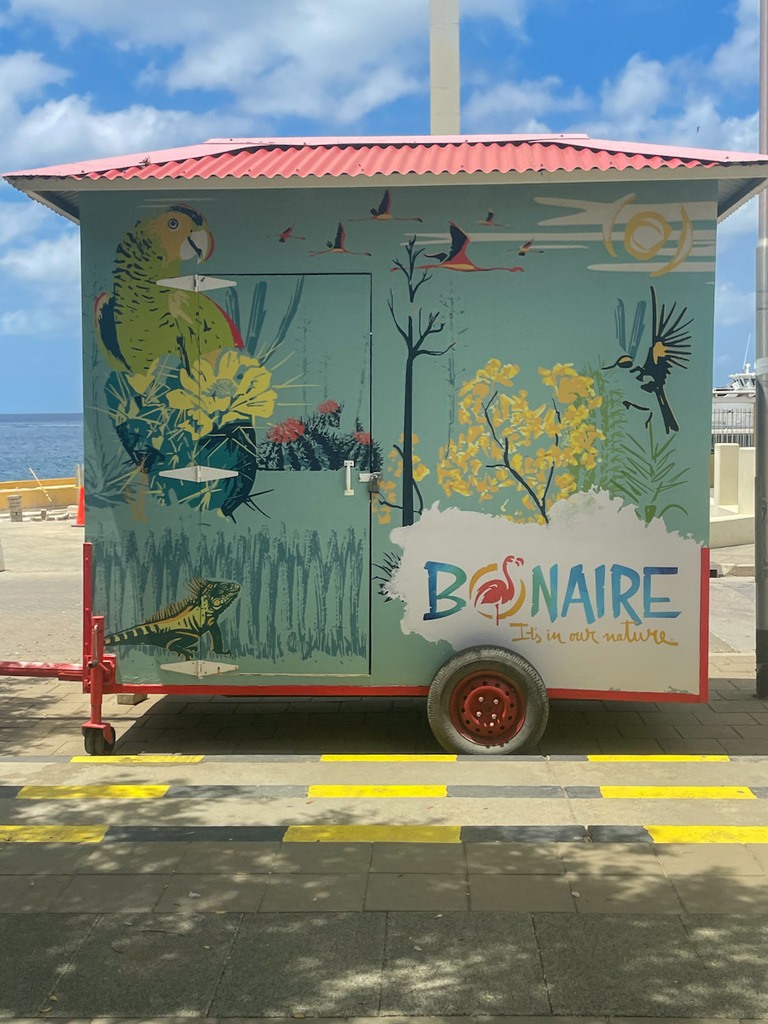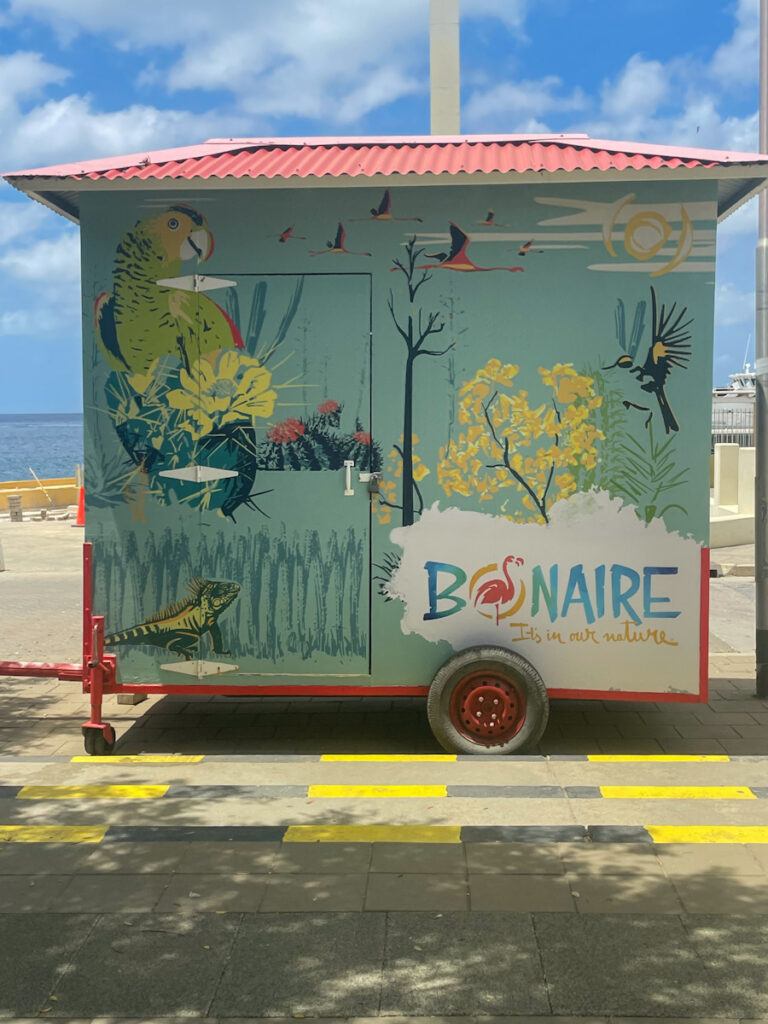 1. Sunscreen: Bonaire has a hot and sunny climate, so it's important to protect your skin from the sun's harmful rays. Bring plenty of sunscreen with a high SPF and apply it regularly.
2. Lightweight clothing: Pack lightweight, breathable clothing that will keep you cool in the tropical climate. Shorts, T-shirts, and sundresses are all good options.
3. Swimwear: Don't forget to bring your swimsuit!
4. Snorkeling gear: If you plan on snorkeling, consider bringing your own gear, like a mask, snorkel, and fins. Alternatively, you can rent gear on the island.
5. Comfortable shoes: Bring comfortable shoes for walking and hiking. These waterproof sandals are ideal for getting around the island and going in the water. Some of the beaches can be rocky, so be careful going in barefoot!
6. Cash and credit cards: While credit cards are widely accepted on the island, it's a good idea to bring some cash for smaller transactions and tips. Their currency is USD.
7. Travel adapter: Bonaire uses the same electrical outlets as the United States, so if you're coming from another part of the world, bring a travel adapter to charge your electronics.
***
Bonaire may be small, but it delivers a big punch in adventure, wildlife, and ocean views. You won't regret adding this to your next trip.
What do you want to experience first?