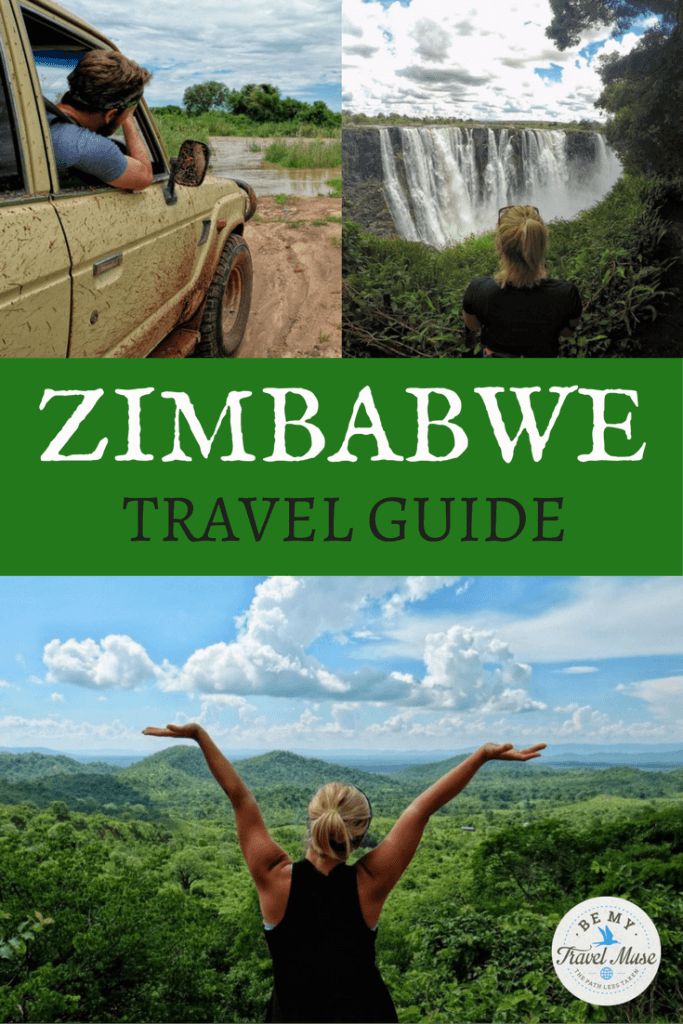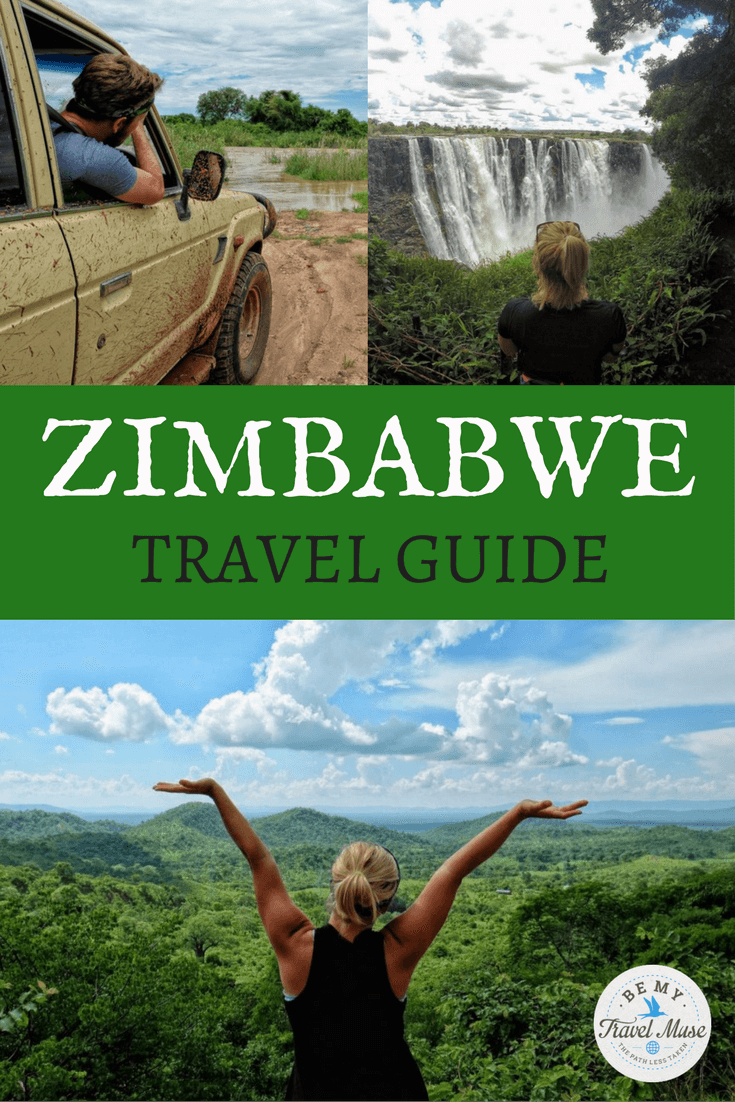 You really shouldn't travel to Zimbabwe. You won't have a good time…
This is what we were told only two weeks before we planned to travel to Zimbabwe, and not just by one person, but by multiple people. It put a seed of doubt in our heads, and when we looked at government safety warnings for Zimbabwe online, things didn't sound much better.
Zimbabwe in recent years has become increasingly unstable politically. We had been warned of fuel shortages that would leave us stranded in towns and of being fleeced by police for every dollar we had.
We've come to find that what you hear from others and what you experience are two entirely different things. We were five months into our overland trip across Africa and feeling fearless, so despite the advice, we continued on with our travel plans to Zimbabwe.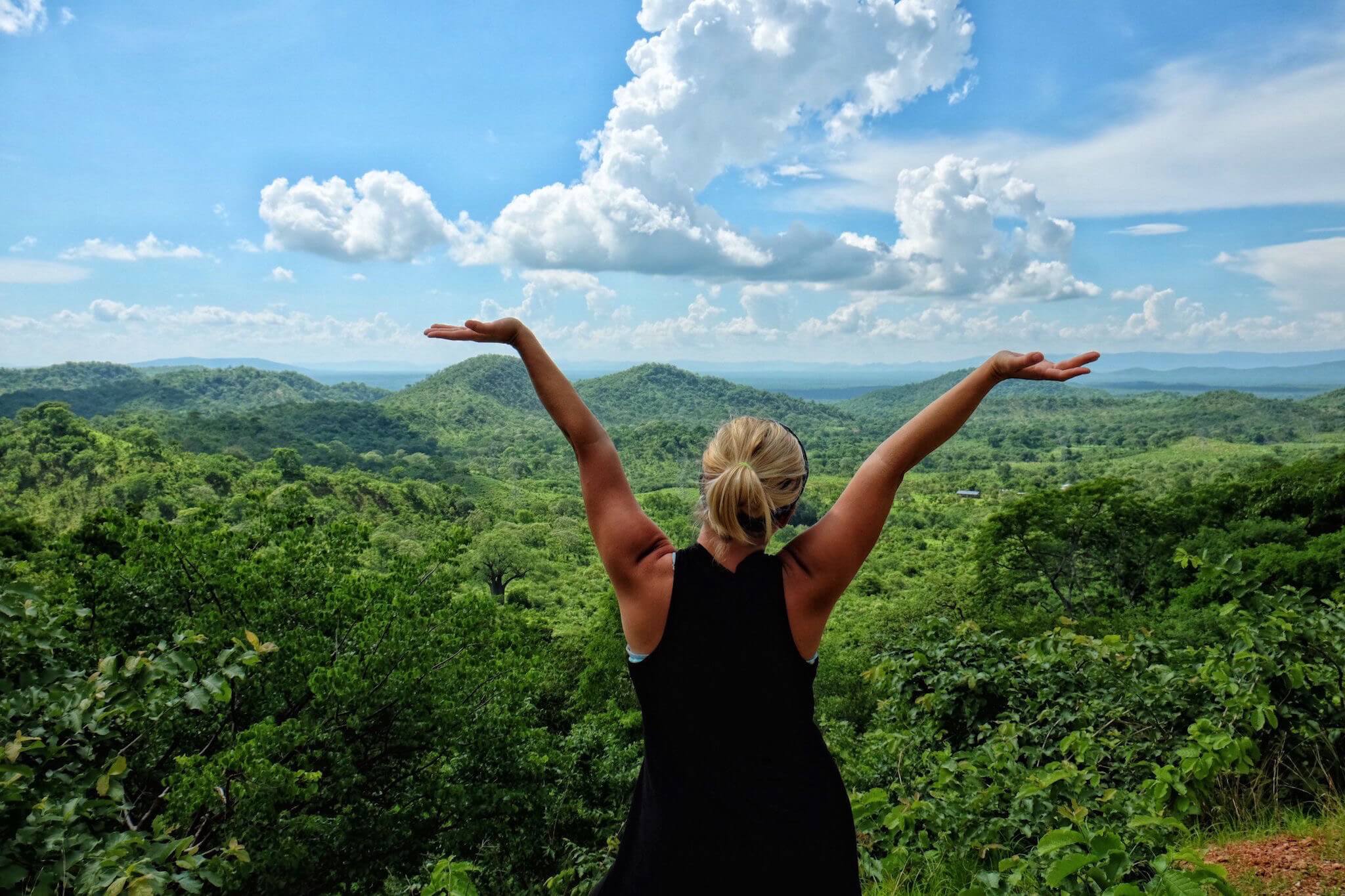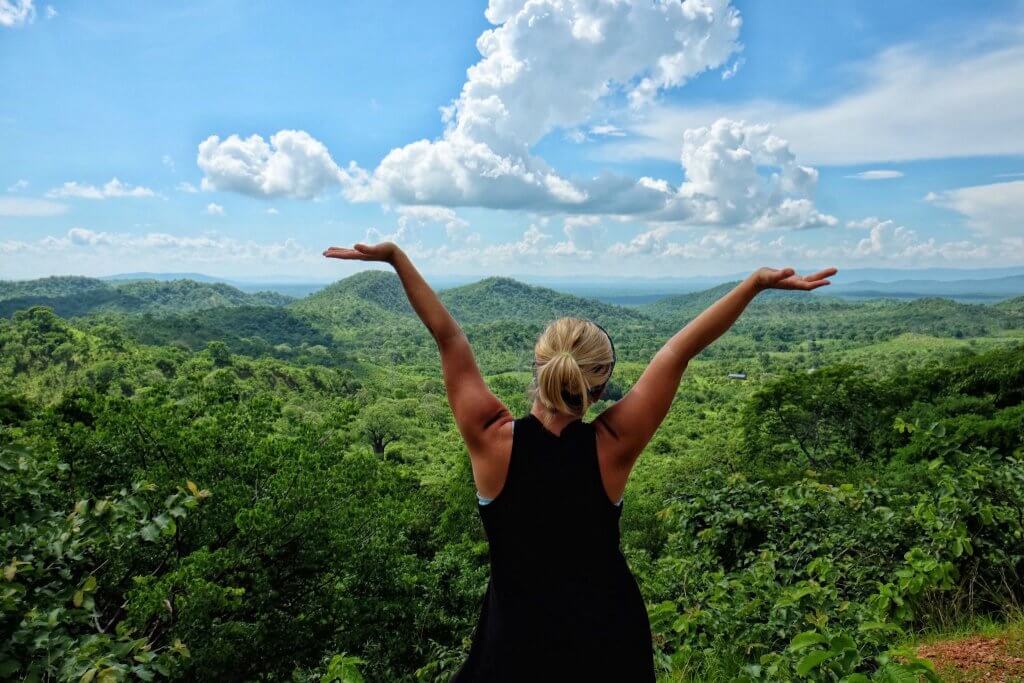 Forming our own opinion
The day we crossed the famous bridge over Victoria Falls to Zimbabwe we were greeted by friendly border agents. The process was easy by African standards, and the border police waved us on our way with a smile. It didn't take long for us to begin enjoying Zimbabwe.
After all, taking in Victoria Falls from the Zimbabwean side is the only way to see that falls properly in our books, and having high tea at the Victoria Falls Hotel made us feel as we'd been set right in the middle of a movie set with Queen Elizabeth as the main star.
After our first week in Zimbabwe, we were starting to give a second thought to the warning we had been given regarding the country:
Corrupt Police Officers: We were repeatedly warned that the police were well known for conducting shakedowns on tourists. We'd even heard reports of them arresting motorists on accounts of not having enough cash to pay their on-the-spot fines.
Bad Roads: This should pretty much be expected anywhere in Africa, but asides from the main roads, Zim is supposed to have the worst.
Cash Shortages: With serious economic uncertainties in the country it has been increasingly difficult for the government to get their hands on USD. Which, is the only stable currency used in Zimbabwe after the total collapse of the Zimbabwean dollar.
Fuel Shortages: Fuel all around the world is purchased with USD. So, when a country has shortages of USD it makes it very difficult for them to purchase oil. The result is empty petrol stations while the fuel sits on the borders waiting to be bought.
Political Instability: Have you ever heard of Robert Mugabe? He's Zimbabwe's first and only president for almost four decades now. He leads a regime of corruption and driven a formerly prosperous country into the ground. Many people aren't too happy with him.
Crime: With poverty often comes crime. We had been told that opportunity theft was a very common occurrence in Zimbabwe and that locals can hassle tourists looking to swipe their valuables. It's the same story you pretty much always hear in developing nations, except this one is worse due to Zim's economic ruin.
Our Experience in Zimbabwe
We decided that despite all that, we'd brave leaving the tourist haven of Victoria Falls and form our own opinions. Our plan was to drive around Lake Kariba, the largest man-made lake in the world. Spending 18 hours on the roads and driving some 800kms we were certain that if Zimbabwe had any safety concerns, we would  most likely come across them. It would be an uncertain adventure by all accounts.
The lake is the Northern most border of Zimbabwe and divides the nation from Zambia. The man made part comes from the mighty Zambezi having been dammed for one of the largest hydroelectric plants in the world supplying power to both nations.
The region is the iconic Africa that you picture in your head – villages, bad roads, baobabs, rivers, mountains, prehistoric fossils, and amazing wildlife.

This is a place that is good for the soul.
It took us 800 kms, multiple days, and 21 hours of driving to make it around the lake.
The roads were about 90% mud with only one stretch of single-lane, paved road. The paved road was so full of potholes after villagers had removed the concrete for to make bricks for their homes, we were actually wishing to be back in the mud.
Our first day we took the backroads to Binga. A place that was once a popular destination for those looking to rent houseboats and go fishing on the lake, but now feels like a scene from an old dilapidated eighties movie. We were expecting something more, but instead, it took us two hours to track down gas, food, and accommodation. Luckily we managed to find a beautiful campsite at the Masumu Lodge.
The next day we took off towards the Musango Safari Camp. Things started to look up as the drive exceeded all expectations. We drove on single track roads through remote villages. Villagers would stop dead in their tracks and stare as we drove by, as seeing tourists in this area was rarer than a blue moon.
The road conditions continued to deteriorate, but as they grew worse the beauty of the region grew too. We climbed and descended mountains and valleys that were lush and filled with indigenous bird and wildlife. We watched elephants crossing the road, flycatchers feeding their young, hippos basking in the rivers, fish eagles flying overhead, and herds of impala grazing alongside the road.

By the time we had made it to our safari camp on the lake, our truck was 60 liters shy of making it back out to our end goal. The nearest village nearby didn't even have a shop, let alone a gas station. So, using the bush network we were able to procure our 60 liters of fuel for $120 from a nearby local crocodile farmer. To put this in standard terms we paid $7.65 a gallon.
Ouch! We never claimed that Africa was cheap.
Despite the fuel setback, we were in the Africa we dreamed of and completely on our own.
The next day was a muddy hill climb up a mountain as the night before gave us massive rains. Whole sections of the road were missing and deep pits of mud put our 4×4 to a test. Thankfully, we made it up over the mountain and continued our stunning drive.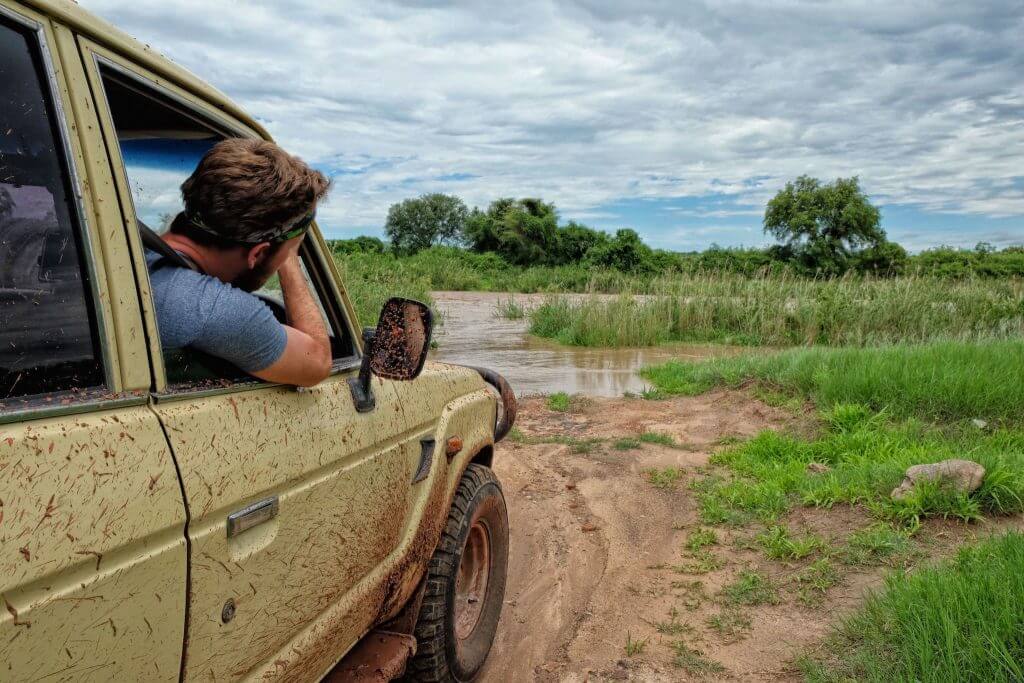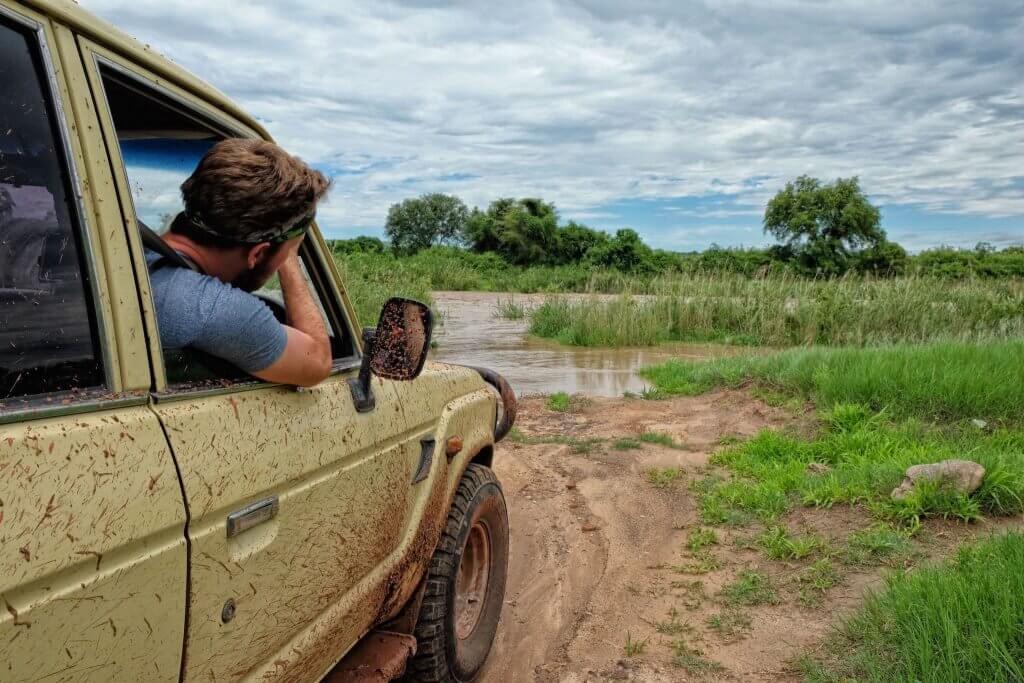 By the time we had finished the journey our truck was a different color and we were exhausted. We pulled into Kariba, a small town in Zimbabwe where the lake ends and the Zambezi River continues. We set up camp at Warthogs Bushcamp along the Lake for $6 a night and immediately went to the bar. Sitting down to a meal of sadza, relish and beef with two Zambezi Lagers we felt that Zimbabwe had treated us right – it would be hard to leave.
Our Report on Zimbabwe
Police Corruption: Not one single police shakedown. We had two encounters with the police. Both instances they were polite, checked our license/registration and waved us on.
Road Network: The "back" roads are indeed bad in Zimbabwe, but most travelers will not be driving on them. The paved roads we did drive on were in decent condition.
Cash Shortages: Cash shortages are a factor when traveling Zimbabwe. However, they should not deter you. Many tourist destinations (like Vic Falls) took credit card, including the national parks service. We were also able to bring in cash from outside the country. So, with proper planning, it shouldn't be any issue.
Fuel Shortages: We found and were told that fuel in recent months is readily available throughout the country. It is only in more remote locations where they are still having fuel shortages.
Political Instability: Mugabe is not going to be getting any "best president" awards from his citizens. However, we found that Zimbabweans are simply waiting for Mugabe's time to come to an end and hoping for a peaceful transition to a new system. The optimism that many citizens displayed was surprising. To keep up with the current political situation check here.
Crime: Petty theft is a problem everywhere in the world, but one that we never experienced while in Zimbabwe. We left with everything we came with and had a great time.
Why You Should go to Zimbabwe
The Wildlife
Do you remember Cecil the lion? Zimbabweans were proud to call him theirs until he met his ultimate demise. Don't worry though – the game in Zimbabwe does not stop with one male lion! They have numerous game parks throughout the country, some considered the best in all of Southern Africa. With parks such Hwange, Mana Pools, Matusadona, and Matobo Hills you're sure to find plenty of wildlife.
The History
It's particularly difficult to pick a timeframe to refer to when it comes to Zimbabwe. Should it be prehistoric? There have been numerous paleontology sights found in Zimbabwe. We were lucky enough to visit one found by Steve Edwards. Or what about the former Kingdom of Zimbabwe home to the largest ruins in Africa. Or what about what was the colonial heart of Africa? Visitors can have high tea at the famous Victoria Falls Hotel while watching bungee jumpers on the Victoria Falls Bridge. A hotel that since it's inception has seen dignitaries from all around the world including kings, princes, presidents, and prime ministers. Even a young Queen Elizabeth's photo hangs on the walls of the institution.

The People
It's extraordinarily difficult to put western standards on Africans. With a high unemployment rate, Zimbabwe is struggling. Despite the poor economic situation the Zimbabweans we spent time with were surprisingly upbeat and friendly. We talked to a number of locals about the struggles of their country and they all still seem to have a glimmer of hope in them.

The Adventure
While Zimbabwe does come with its travel woes, it also comes with stories. We certainly didn't want to nearly run out of gas and pay $120 for 2/3 a tank, but it does make for an interesting story that we will never forget. Nor were we expecting to climb a mountain in our car in the African rainy season with washed out roads, but we did and it was by all accounts an adventure.
Victoria Falls
It is a well-known fact that the best place to see Victoria Falls is from Zimbabwe. They are a magnificent sight that will easily take your breath away. One that the Scottish explorer David Livingstone described as "scenes so lovely must have been gazed upon by angels in their flight." It is a quote that is inescapable when visiting the falls, both due to their beauty and the marketing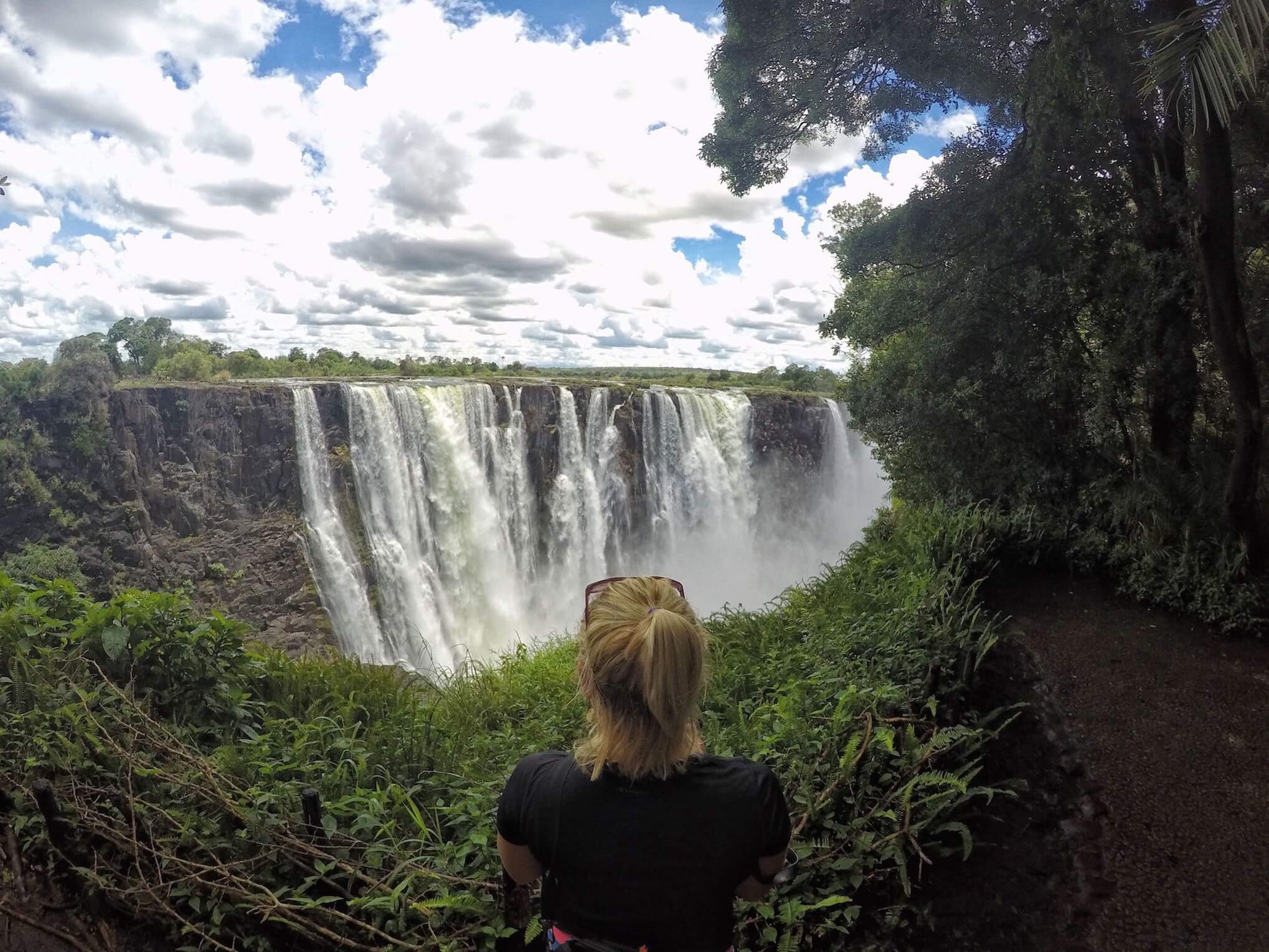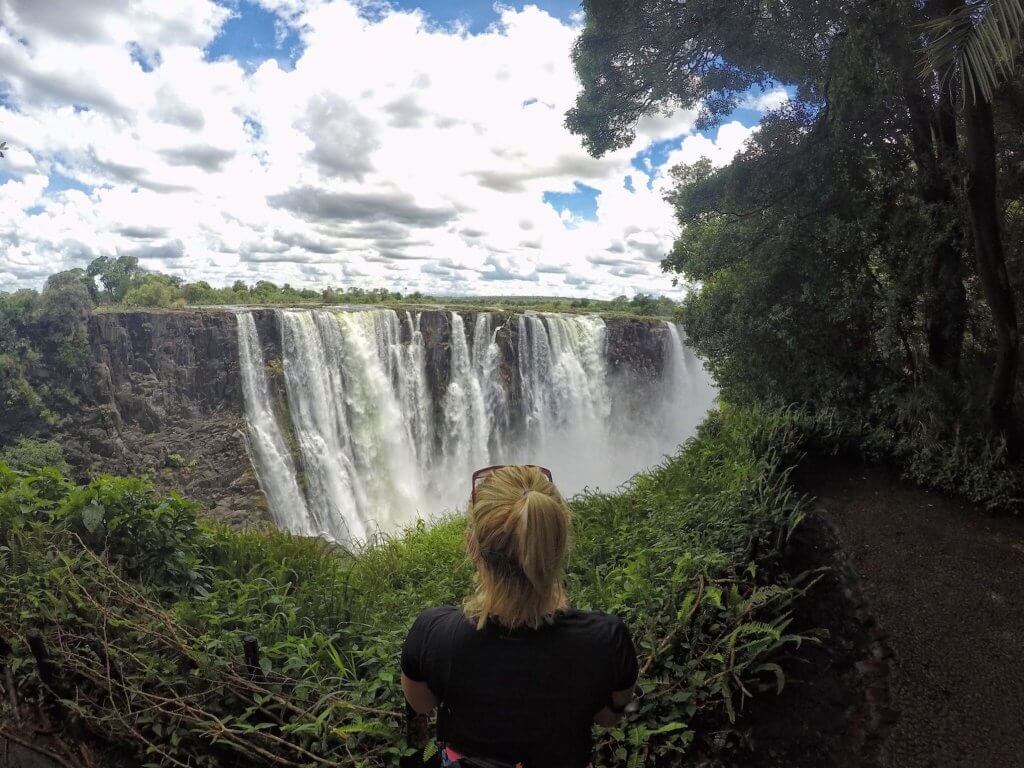 Travel Info On Zimbabwe
30 day visas are available to many nationalities on arrival at the border. Americans have the cheapest visas at $30, while the Canadians and Brits have it the worst at $75 and $55 respectively. More info on visas here.
If you are self-driving be prepared to pay for a road tax ($30), third party insurance ($30) and a road access fee ($10). The border was straight forward and easy.
Fuel should be available at border towns and the major cities of Zimbabwe. Be prepared to pay by cash, while some major cities will accept credit card.
Bring enough USD for your visit before you enter. If arriving from Livingstone, visit the Barclays Bank they change cash for an fair exchange rate. Always be prepared, it will be difficult to find a reliable ATM anywhere in Zimbabwe besides Vic Falls, Harare, and Bulawayo.
The three main languages in Zimbabwe are English, Shona and Ndebele. We had no issues with English.
The town of Vic Falls is expensive. The town has some of the highest prices in Southern Africa.
About the author: Natasha is a five-foot blonde that believes she was made short so she could fit in air, train, car, and bus seats comfortably while traveling. She lives out of her backpack and documents her travels on The World Pursuit, along with her partner, Cameron. She has traveled to over 50 countries across 6 continents. You can now find her traversing across Africa with a 1989 Land Cruiser named Charlie.