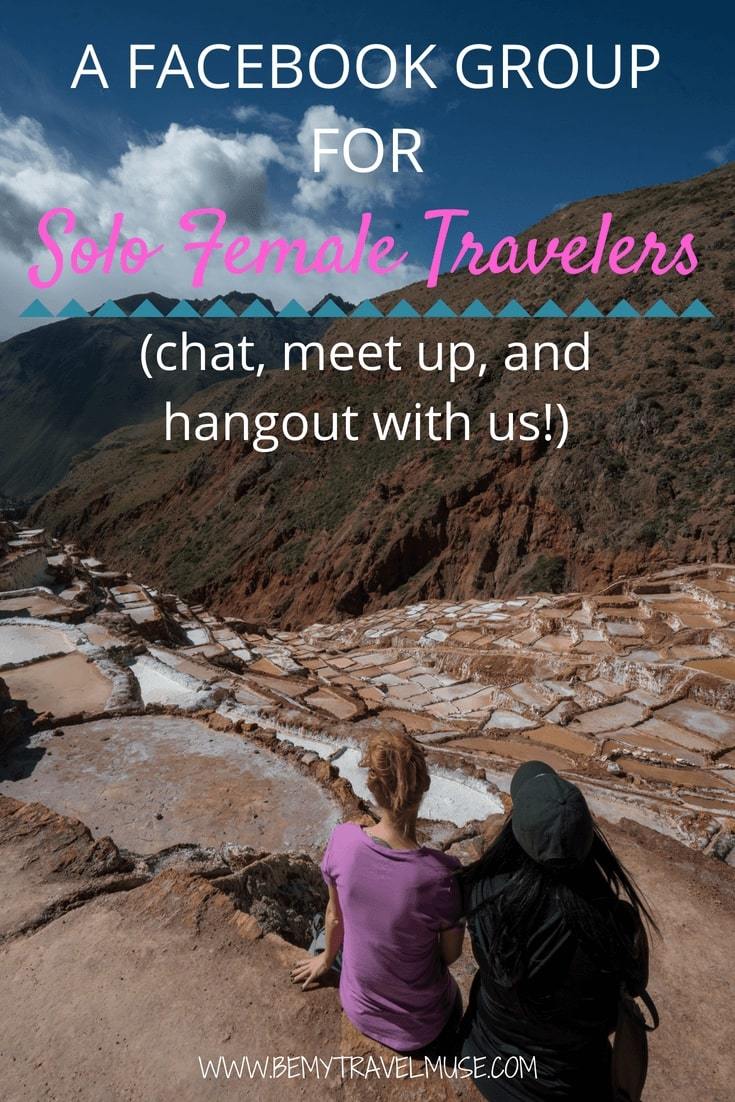 Traveling solo is awesome, yes, but a lot of that hinges on meeting and hanging out with other travelers.
Sometimes that's easy, but there are still times when I just wish I could open up my phone and tap into some network of people who I know are cool and down to hang out. Over the years a few of you guys have expressed the same to me. You've asked, do you know of any place where solo female travelers can connect with each other? I haven't had a good answer for that and I often wished for a resource as well.
Kind of like a Tinder but for solo female travelers who are just looking for adventure buddies. Like, not in the bedroom, adventure buddies.
Then I realized, wait, it already exists right here! We have thousands of people in this community already. When I think about all of the solo female travelers across the social networks connected to Be My Travel Muse, and how many women each of you know, I realized we just need to make it easy for you guys to connect.
I already know from my online interactions, meet ups, and especially the group trips, that the people who read and follow this blog and are part of the community are really cool, very smart, and quite adventurous – Exactly the type who I want to be hanging out with abroad.
Does it sound like what you've been looking for? Join here!
Who this group is for:
Solo female travelers
Girls who are thinking about traveling alone
Girls who are traveling with their friends, but who also want to meet up with other awesome people
Girls who are generally just afflicted with Wanderlust
Women of any age from anywhere in the world are welcome. It's also fine if you've never traveled solo before or aren't even sure if it's for you. We want this to be inclusive. If you identify as female and want to be a part of it, you are welcome.
*Why female only? The internet can be an unfriendly place. I think it's important for people to have interest-based groups where they can safely share what they're experiencing. This particular group is for women who travel, and for women to feel comfortable posting about their travel plans, so we need to keep it female-only.
What to expect from this group:
This isn't just another Facebook group without something new to share. This is a place for you to connect meaningfully with other solo female travelers, and hopefully, to find cool women to travel with from time to time! Here's what to look forward to:
Regular Facebook lives with me where we will cover travel and general life-related topics, some of which will be very personal.  We want this to be a safe space for everyone to discuss how they're feeling. Some videos will be practical, a chance to talk about your plans and get feedback, and some will just be about telling a story.

We want to feature various members of the group regularly, so let us know if you want to be part of this!

A place where you can ask for suggestions on a place where you're going or are right now.
A place where you can post your travel plans and see if other members of the group will be there.
A place where you can look for support if you're not getting it from your circle of friends and family.
A place where you can share some of your favorite travel hacks and learn from others.
A place where you can connect with other solo female travelers wherever you are in the world.
A place where we can organize meet ups.
A place where I will post my travel plans and see if any of you want to meet up with me!
I really wish there had been a network like this when I started traveling. A place where I could express my fears, talk about my plans, and get to know other people in the same situation. I can think back to how it was before I started traveling, when I was the only person who had these dreams and everyone around me looked at me like I was nuts. I hope this can be a resource for those who are in that situation, and for those who want to find a travel buddy.
See you soon on Facebook live!