Black Rock Desert is one of the most remote areas in the world. You may know it as the famous home of Burning Man. But have you ever thought about what it looks like without anyone else around?
I've never camped out there alone, and I was both intrigued and intimidated by the idea. The Black Rock desert is over 2 hours from the nearest large town, Reno, spread across 1000 square miles of wilderness. It was selected for Burning Man because of its remoteness, and its magic.
I had to know what it would feel like to be out there totally alone, so I made a plan to head out there alone and camp overnight.
I've visited Black rock many times before, nine times for the annual Burning Man event, and twice with a small group to stargaze.
From those experiences I know a few key things:
There is no water or shelter anywhere nearby.
The cell signal is weak at best.
It's entirely likely that you can go all day without seeing another person pass by, so you'd better be radically self-reliant.
The wind can be crazy strong, and there's no way to really know from any weather predictions what could have been out on the playa itself, which is a dried up lake bed.
Speaking of, the playa is not always dry, and this being the spring, there was a risk of it being too wet to drive on.
It's also a sensitive environment so I needed to leave no trace.
But apart from that, I also knew that it was likely I would be the only one out there for miles. I wanted the peace and solitude even if it meant I would have to deal with some harsh conditions. The incredible sky would be my reward.
But it's just the type of camping that makes me feel alive.
Let me introduce you to my partner in crime, Bruce.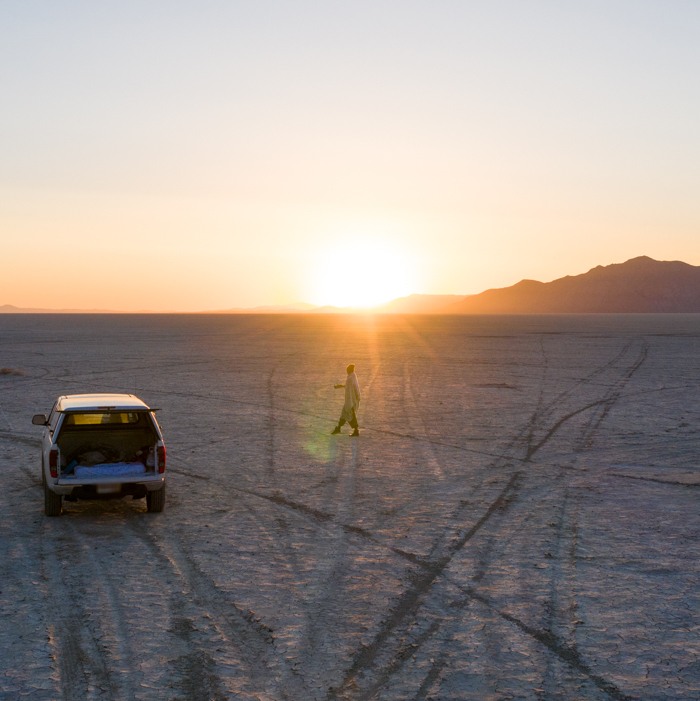 A camper van would be cool, I admit, but I love that Bruce can take me down 4WD roads. He's an old truck with the perfect sleeping situation in the bed with a cover. I can fit a twin mattress in there and bring all of the supplies that I need. It's amazing to be able to arrive and not have to set up camp, and equally amazing to just drive off the next morning like I was never even there.
My prep was easy and simple, I have camped before, and many times alone, to boot. But camping alone in an established campsite is one thing, and to be totally out there alone without any services is another.
The biggest question I had was, would it feel creepy to be out there alone?
I arrived in time to settle in and enjoy Golden hour. I had partially gone out there to photograph some new designs for Wanderbabe Clothing, and to make this behind the scenes on how I take my own travel photos:
Then as the sun started to set, the wind picked up and I felt grateful that the lake bed wasn't totally dry and dusty yet. The winds were topping 20 – 30 mph.
Yet again, I was very pleased to be in a truck and not a tent.
I was also quite pleased with my new tripod, the first one I had ever dropped over $200 on. It proved it to be worth it when I could still take my nighttime time lapses. After all, I'd gone out there for the stars.
And once darkness fell and I could see all around me, the stars showed up in their dazzling glory, with just the faint light of Gerlach in the distance, looking like the promised land.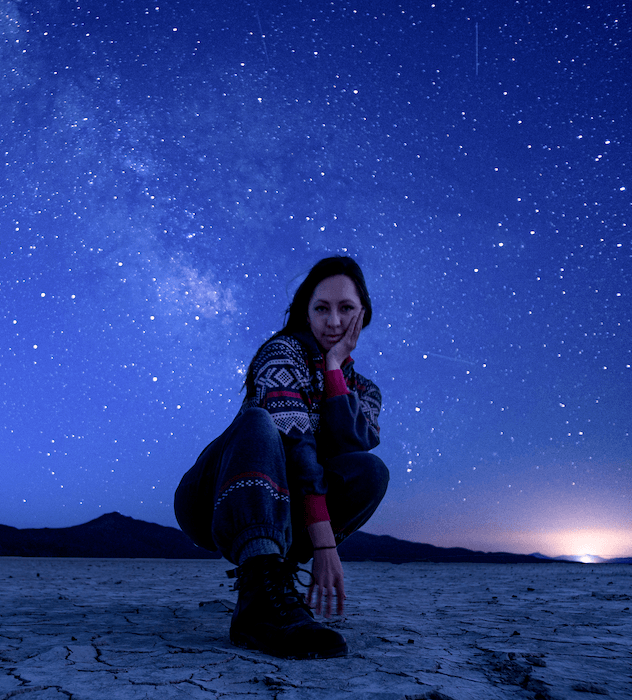 I used to challenge myself to get uncomfortable all the time. I've camped in the middle of nowhere before, solo rappelled down a canyon wall after, hiked at night alone in bear territory, and so much more. But, it's been a while, and I had to find out who I am again.
Sitting there I remembered the feeling of fear mixed with excitement.
Solitude can be like a drug for me. I crave those moments under the stars – just me to build an impression of it, colored by no one else. I feel like I commune with mother nature, and return to my primitive roots. Yet simultaneously, it feels closer to a higher consciousness or godliness.
When it's this quiet, I'm confronted with everything and nothing at the same time. Does that make sense? It's total peace, but it can drive a mind wild, too.
And I like that challenge.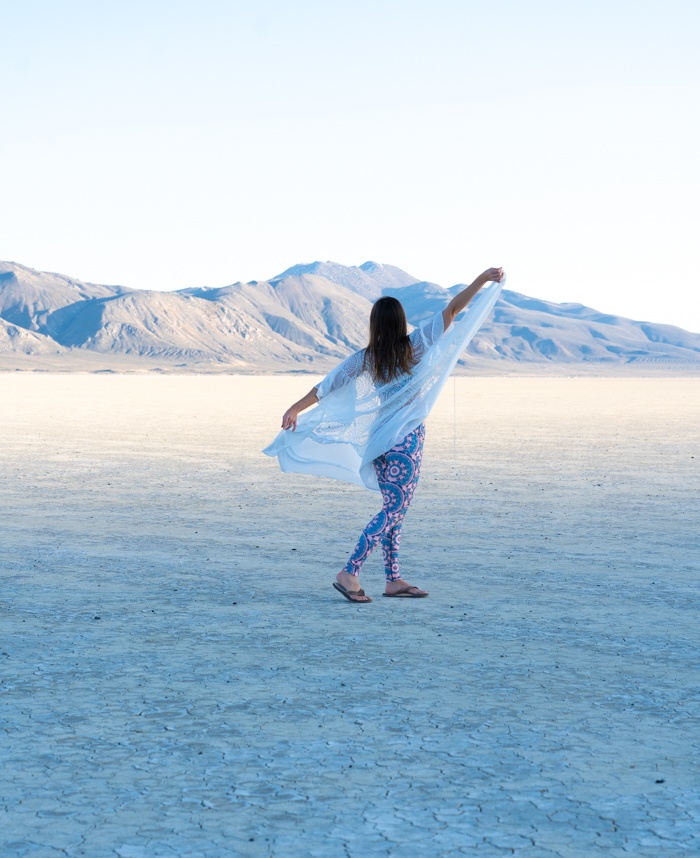 Although it was colder, and windy here, than I bargained for and I didn't get much sleep, when my alarm went off to catch the sunrise I knew I had to slip on some gloves and go for it. It was down to 26°F, but the wind had finally died down and I remembered from my previous Black Rock experiences that the sunrise is the best part.
And this one did not disappoint.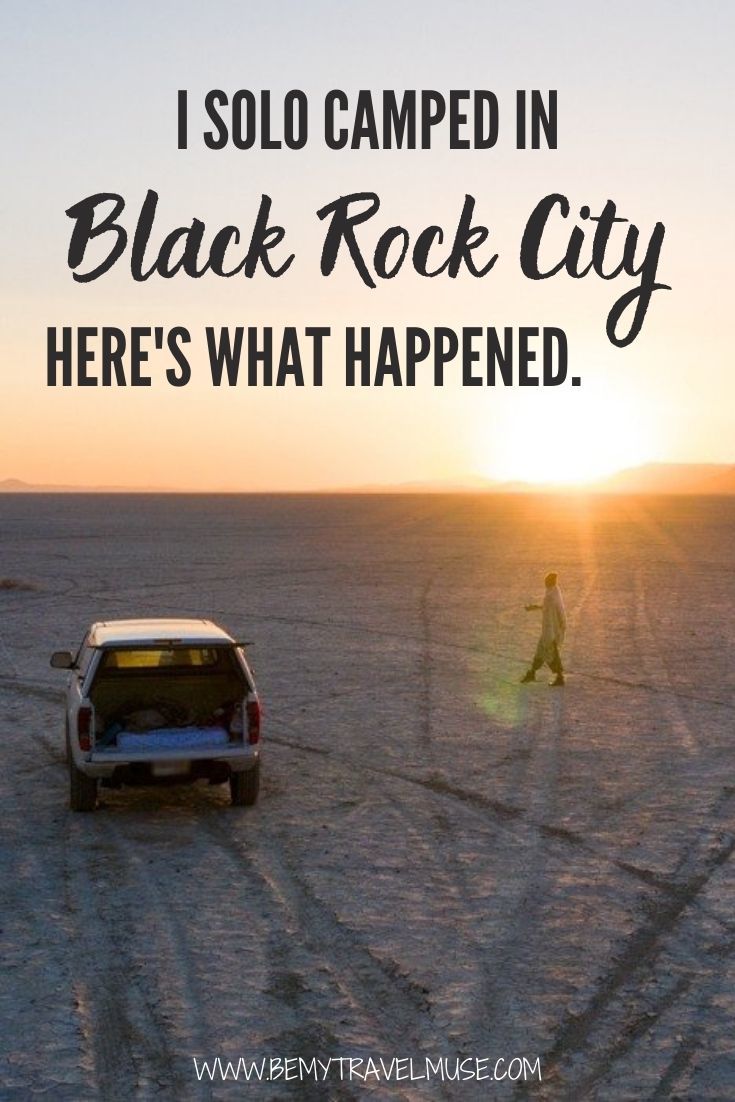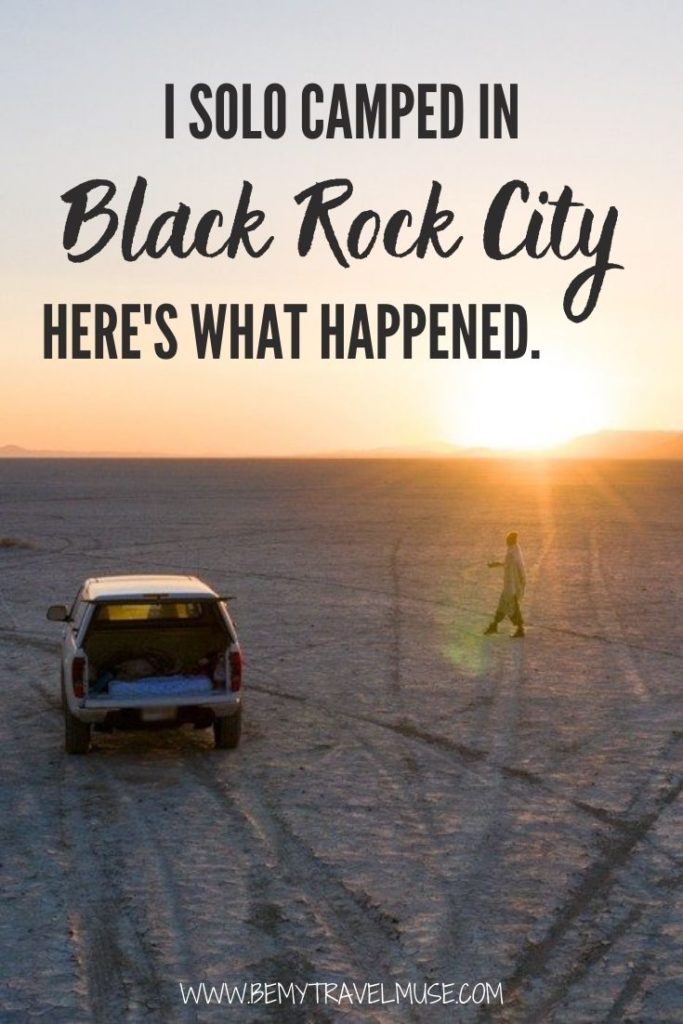 I drove home that morning thanking the desert for another beautiful moment of introspection and peace – things that are so much harder to come by these days. But there's something magical about it out there, and like it always does, it reminded me of who I am.