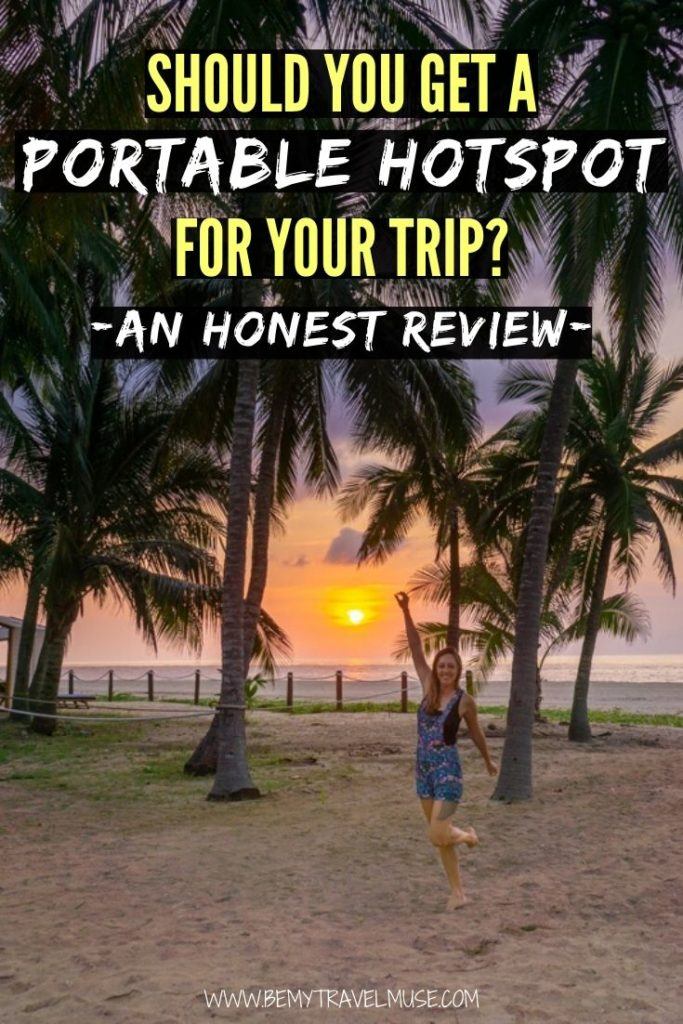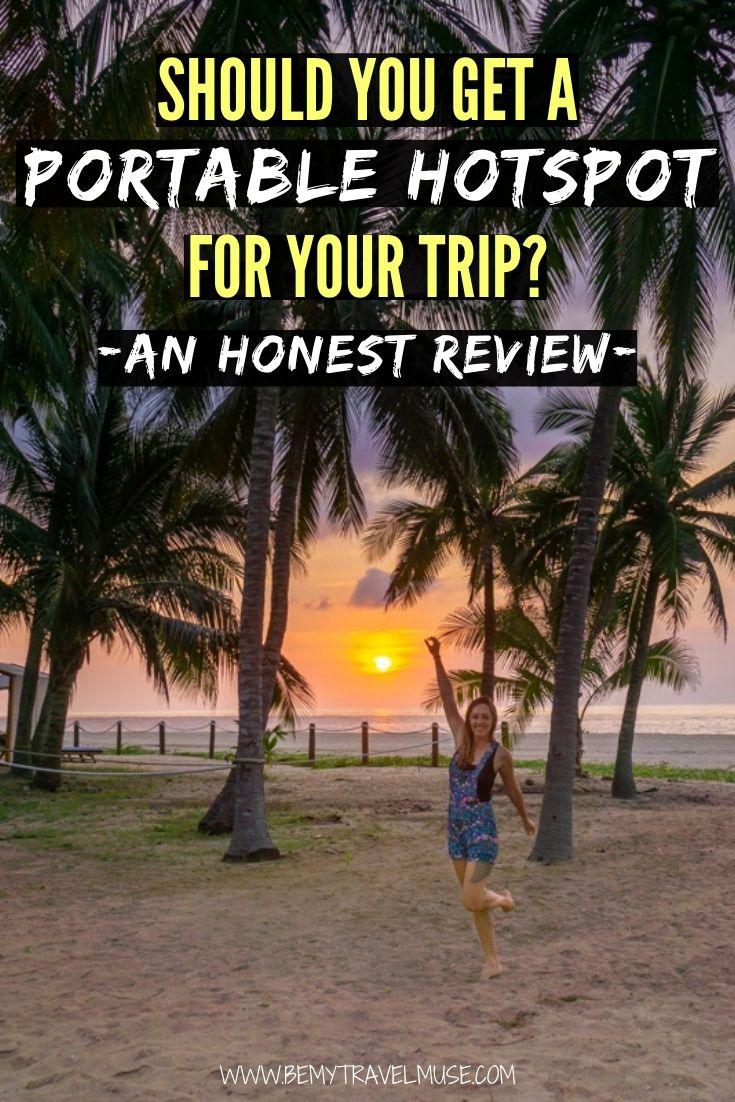 A few years ago a pocket WiFi/mobile hotspot/portable hotspot company reached out to me and asked me to test their service.
I wanted to like it — I really did — but it didn't work very well, and usually the WiFi where I was worked better. That was saying something, because the Internet was abhorrent in Patagonia at the time – still kinda is.
So I shelved the idea for a while, usually choosing to get local SIM cards or pay up for Verizon's $10 daily plan while abroad.
The problem is, sometimes the SIMs are pretty expensive, very difficult to get because of my location, or the shop is closed the day of the week I have free (weekends are tough). As someone who works on the road and really likes using Uber abroad to avoid taxi scams, being connected is important to me.
So it was time to revisit the portable hotspot option. In this post I detail when it's a good idea to get one, when it's not, and which one I used on my recent trip to Mexico:
My Experience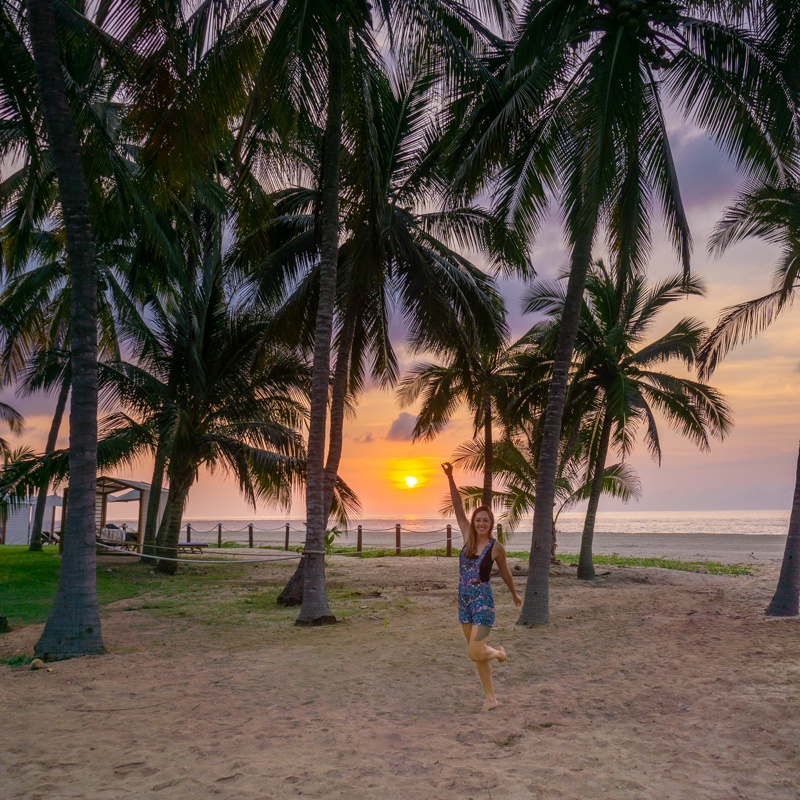 I'm writing this post from Sayulita, Mexico, where I've been using a Vision Global WiFi device for the past week.
The hotspot device has been useful for several things:
It's much faster than the WiFi where I am staying.
The Unlimited 4G Advance Plan allows me to use a full gigabyte per day before it slows me down, which means I would've already blown through my Verizon data by now if I activated the travel abroad package.
When the power goes out, which happens every now and then, I can still work if I need to. The WiFi goes out but my device stays on.
I was able to use it immediately upon landing at the airport, used it to hail an Uber – which I had to exit the airport (and go away from airport WiFi) to do – and saved lots of money that way. I also didn't have to look around for a Mexican SIM card, which would've been difficult in the small town I started in.
For my purposes here, the device was quite useful. Would it be useful for you, as well? I don't think it's perfect for every situation. Read on for the pros and cons.
Should You Get One?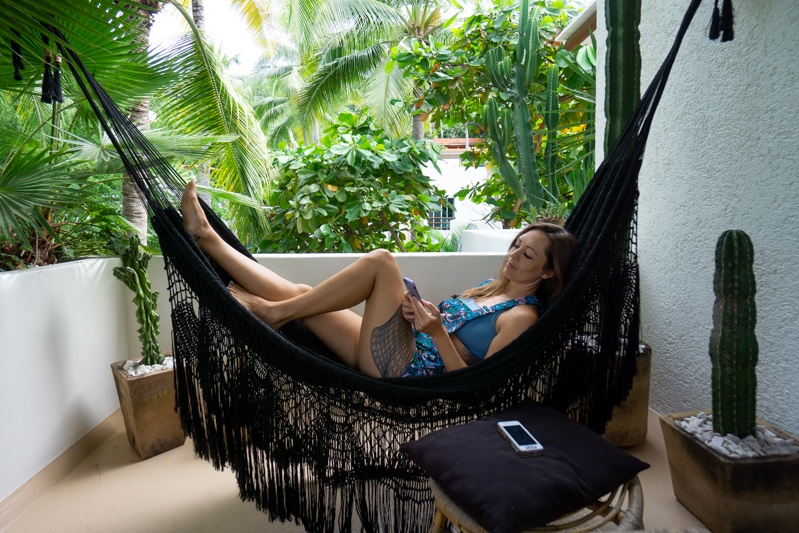 The first thing to ask yourself is how important connectivity is to you. From the beginning of my travels, particularly my solo travels, being connected has been a priority. Having the ability to map things out, to contact my Airbnb host if there's an issue with check in, and to call an Uber, which is available in more countries than you might think, has gotten me out of more than one sticky situation.
Then there are times when I didn't have that option. I remember a late, dark night trying to find my guest house in Bali, choosing not to buy the overpriced SIM card at the airport. I was lost for almost an hour. It's not something I would want to repeat! With WiFi I could have just called them on Skype. 
Now is it possible that you could just activate the travel package on your home plan every now and then and use WiFi abroad? Yes, if you only want to use it as a fallback in emergencies and are cool with potentially slow WiFi in your hotel. Surprisingly, even in countries where you think it will be fast, it can be pretty slow if a lot of people are using it.
I don't like using my home plan for two reasons: I'm paying extra but it still uses my data package that I have already paid for, and the international plans, like T-Mobile's, often give you much slower speeds and to me that would be pointless.
So would a Vision Global WiFi hotspot make sense for you?
I made this flow chart to help you figure it out: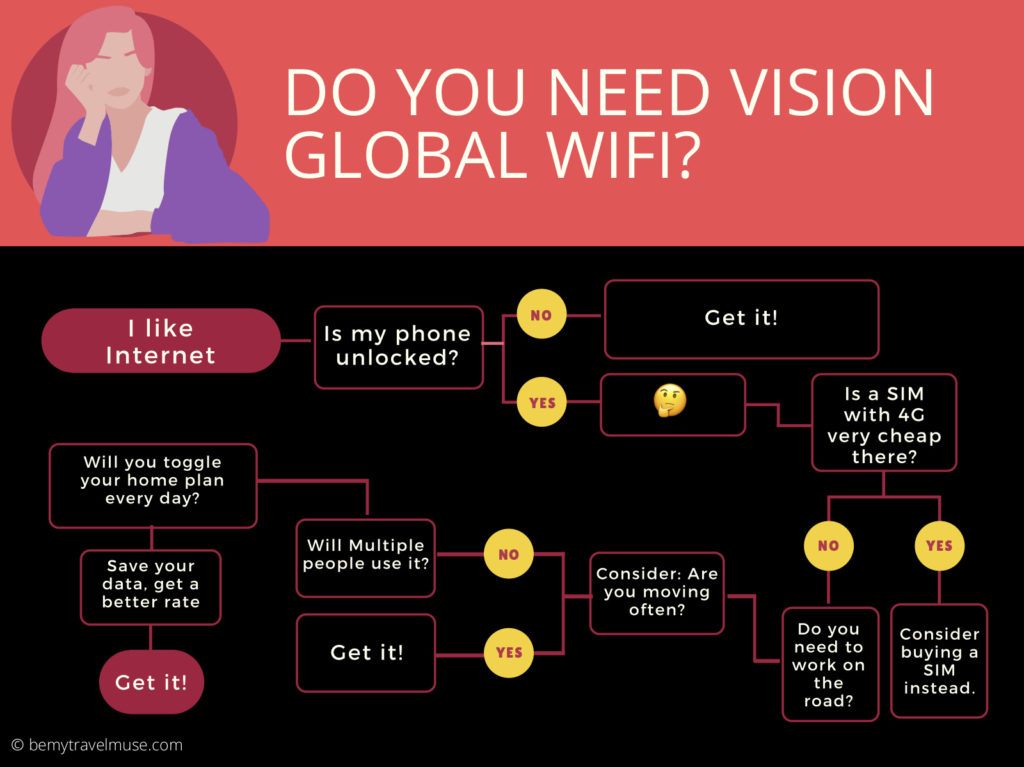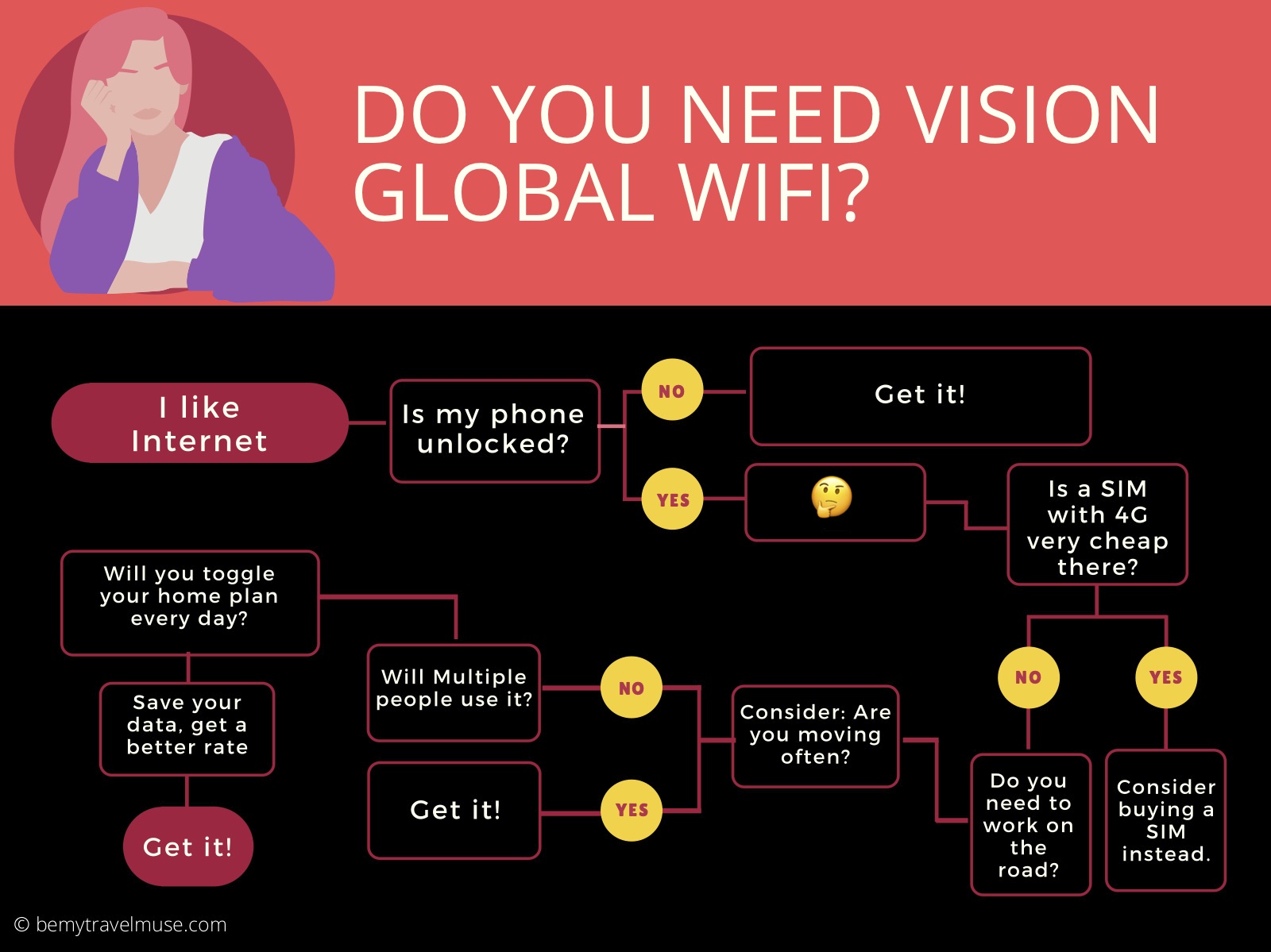 Some other situations that you might want to consider include how quickly you are moving through countries. On a big European trip, I would definitely recommend this product because data in Europe is expensive and getting a new SIM card or putting on more data in every country can get pretty annoying.
On the other side of the coin, if you'll spend an entire month in Vietnam, get one of their big data bundles because it's both fast and cheap. Where you are matters.
Also consider how late you're arriving. If you have a late night flight but still want to get an Uber, it might be worth having the connectivity, at least for part of your trip.
Vision Global WiFi
Now let's talk about this particular hotspot.
Vision Global WiFi provides connectivity in over 130 countries around the world and you can select where you want to take it and see what the price would be. There are 3 plans available for different data needs, which include the Unlimited 4G Basic Plan (500MB/Day), Unlimited 4G Advance Plan (1GB/Day) and Unlimited 4G Max Plan. The company also offers plans for multi-country hop for Europe and Asia. On average it's about $10 per day. You can pick up and return the device at the Los Angeles International Airport or at their office, or simply get it delivered to your doorstep if you are in the United States.
I like how easy it is for multiple people to connect to the device, I also like that it works better than the WiFi in Mexico. That said, don't expect to get signal anywhere that cell signal isn't available. Since the device works off a SIM card, you can't be using it in the middle of the Amazon rainforest!
However this device worked much better than the first one I tried, and provided connectivity to me everywhere that I could pick up cell signal in Mexico. I will use it again if I'm traveling through Europe, visiting a country where WiFi is bad and data is expensive, headed to a small town or landing on a Sunday, or just want to ensure that I will have a fast enough connection to get work done.
Overall I like this option so much better than using the travel package on my phone, and look forward to having another option when getting a local SIM is annoying or unavailable.
FOR BMTM READERS ONLY: Vision Global WiFi is offering all BMTM readers a 20% discount. Click this to find out more.
*This post was brought to you in collaboration with Vision Global WiFi, however I always write a genuine review of the products I test. Your trust comes first!