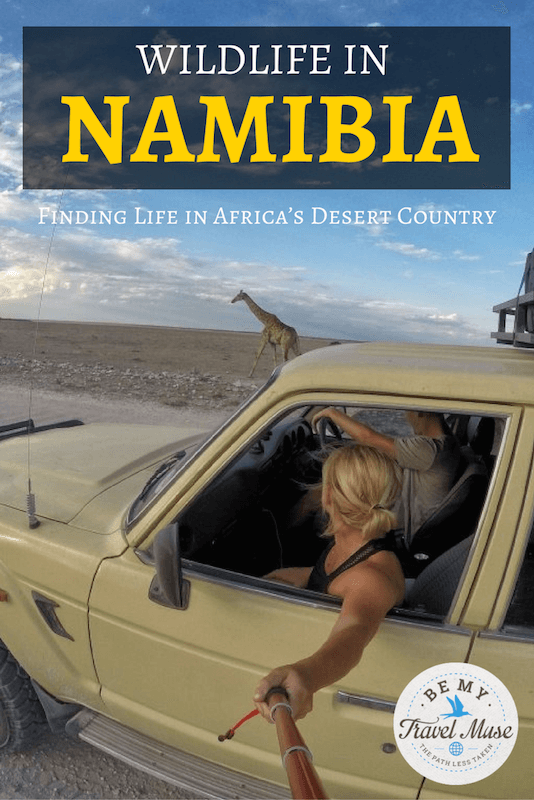 When I think of Namibia I think of red hot dunes slowly shifting with the winds. I think of great natural wonders like Fish River Canyon and the Skeleton Coast. I think of sandboarding and adventures across the desert while gazing at the ocean. There is one thing that doesn't always necessarily come to mind when I think about Namibia, though, and that's the wildlife.
If you're coming to Africa for the wildlife you may think about giving desert-like Namibia a skip. I never knew that any creature could survive in such harsh and inhospitable conditions, but I couldn't have been more wrong. The wildlife in Namibia is nothing short of incredible. At times when we weren't even looking, we saw cheetah, oryx, wild horses, seals, and flamingos. Who says you have to go on an all out expensive African safari to see some animals when it's all waiting for you in Namibia?
Go to Namibia for the sand dunes, canyons, and oceans , but stay for the animal sightings. Here is a guide to finding the best and more diverse wildlife in Namibia: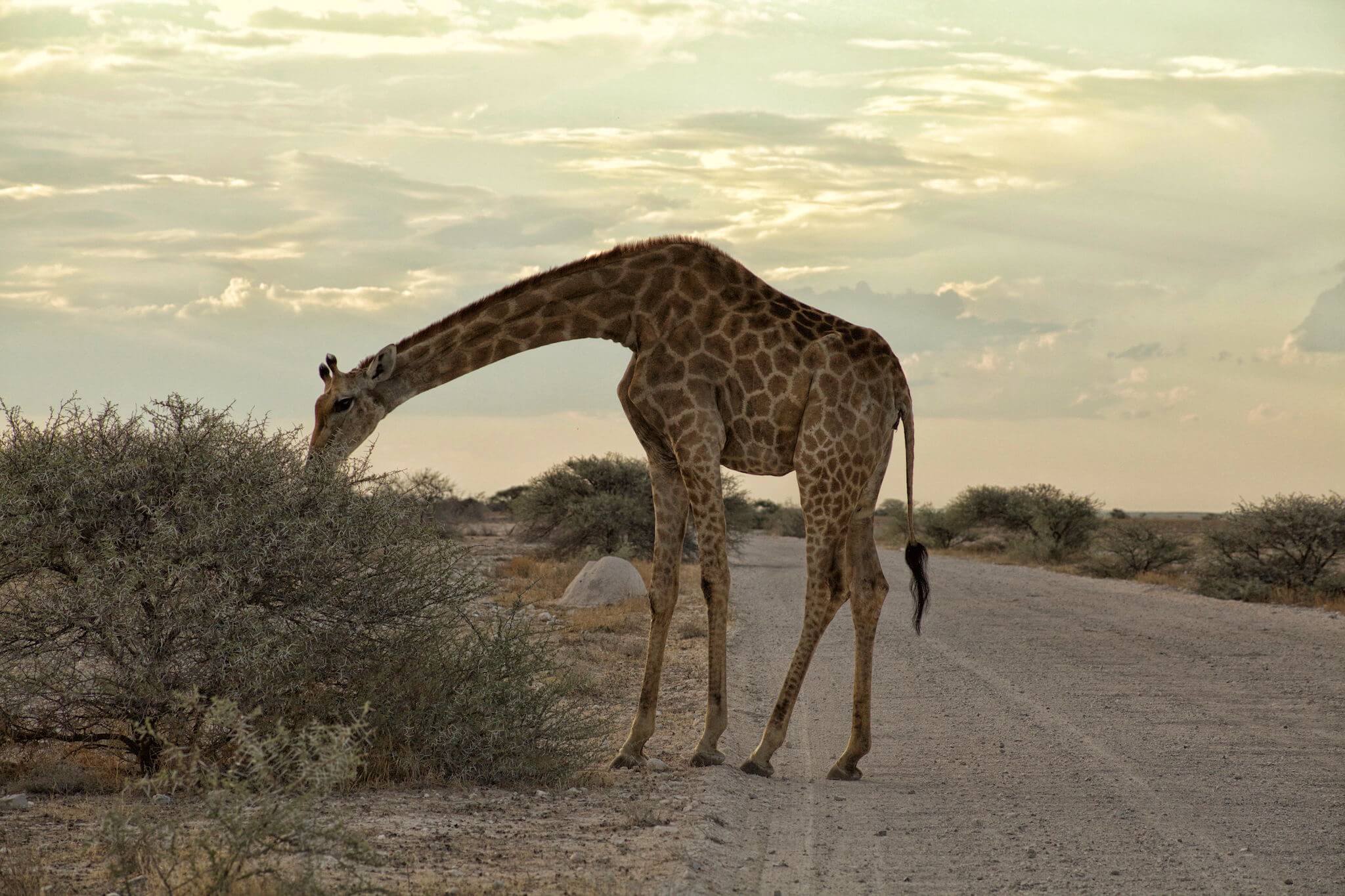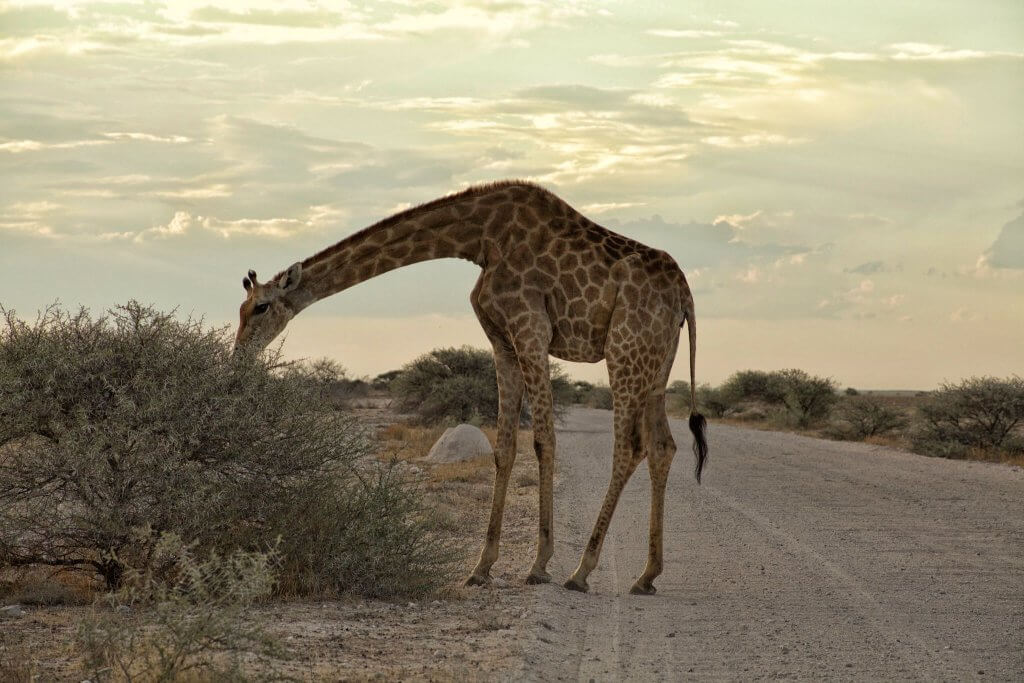 The Wild Horses of the Namib
Shortly after seeing Fish River Canyon, the second largest canyon in the world, we made our way to the strange German town of Luderitz. Luderitz is small town located right between the desert and the ocean. From Luderitz you can explore the Luderitz Peninsula. It is chalk full of wildlife, where you can find oryx, brown hyena, jackals, flamingos, springbok, and more.
However, it is the marine that is the star of the show in Luderitz. Visitors can spot the rare Haviside's Dolphin. Whales such as the minke, southern right, fin, and pygmy right can also be spotted in season not far out of Luderitz Bay. Our personal favorite in the area is the massive penguin colony on Halifax Island.
125 kilometers outside of Luderitz is the tiny mountain town, Aus.  Just outside of Aus is Garub which is nothing more than a wheel in the desert. It is there you can find the feral horses of the desert, as it is the only place to drink for kilometers.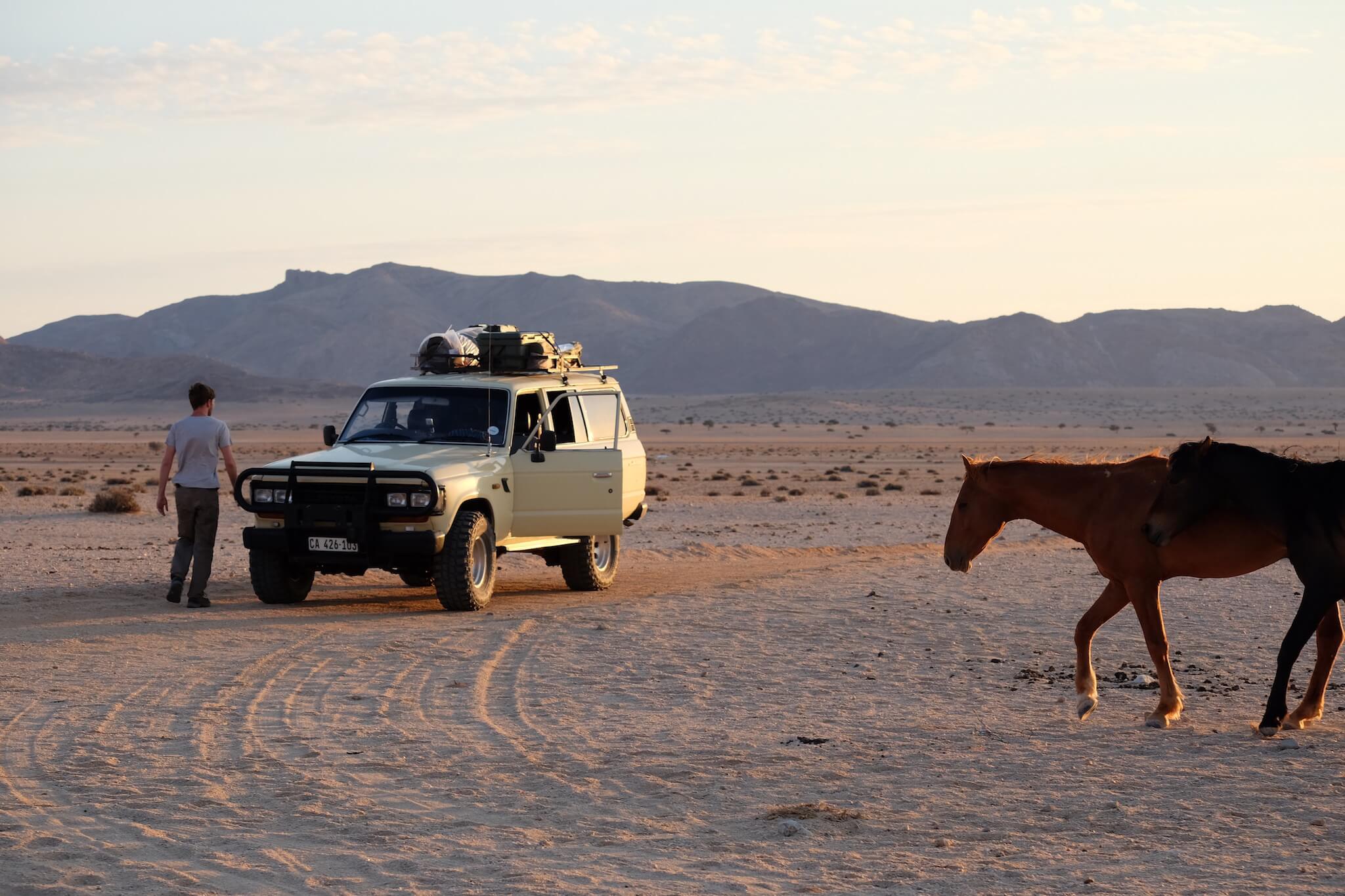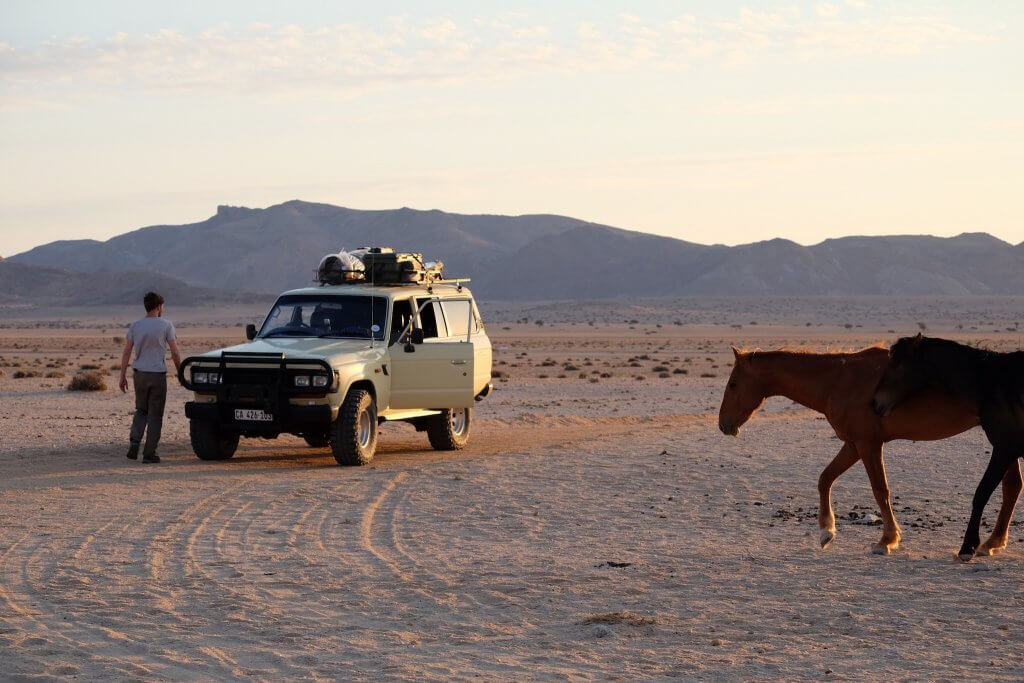 You may be thinking that horses aren't exactly wildlife, but seeing the horses that have been untamed by humans and surviving in the desert is truly special. We came up on them late in the afternoon and watched them from a distance. We must have peaked their curiosity because about 50 of them started trotting towards our direction. It was apparent these horses were hungry and suffering from the drought and saw us as a source of food. Although, they were wild the horses were still so tame, calm, and with a completely different demeanor than the average stable horse.
Good to know: The wild horses haven't been so wild these past few years. Namibia is going through a major drought so the Gondwana Klein Aus Vista lodge has been donating hay to keep the horses alive.
To see the wild horses I suggest staying nearby at Gondwana's Klein-Aus-Vista camp or at an Airbnb in Luderitz.
The Gemsbok of the Desert
I came to realize that what is most astonishing about the Namib desert are the species that live and have adapted to the brutal forces of nature. We drove far into the NamibRand Nature Reserve with one of the local guys showing us around to see just that. He was telling us about his family, his life in Namibia, and his favorite foods before he started screaming "A cheetah! Look, there's a cheetah!" We couldn't believe our eyes – there in front of us was a real life cheetah in the middle of the Namib desert. He sprinted across the road in the blink of an eye, before we could even realize what had happened.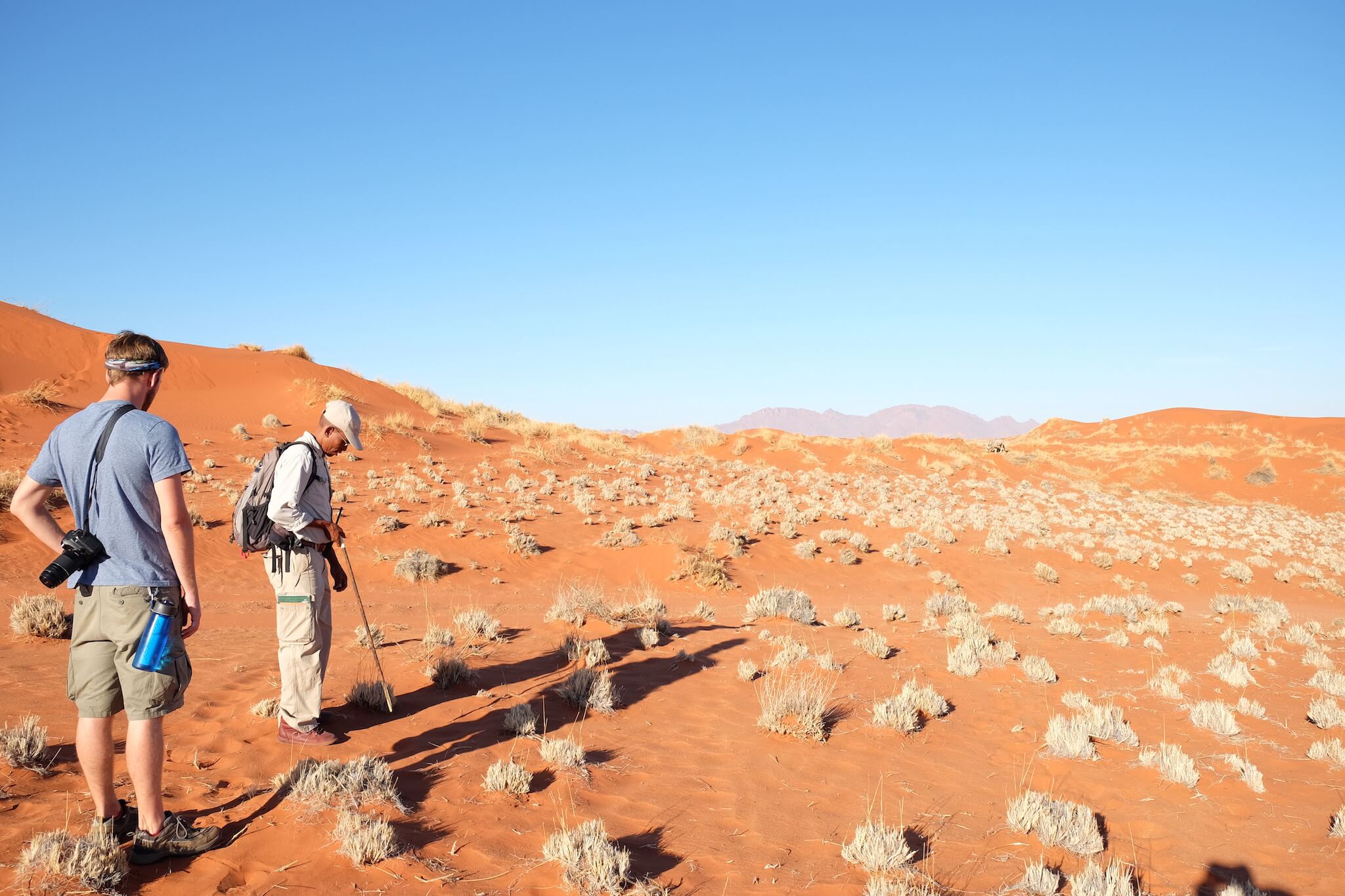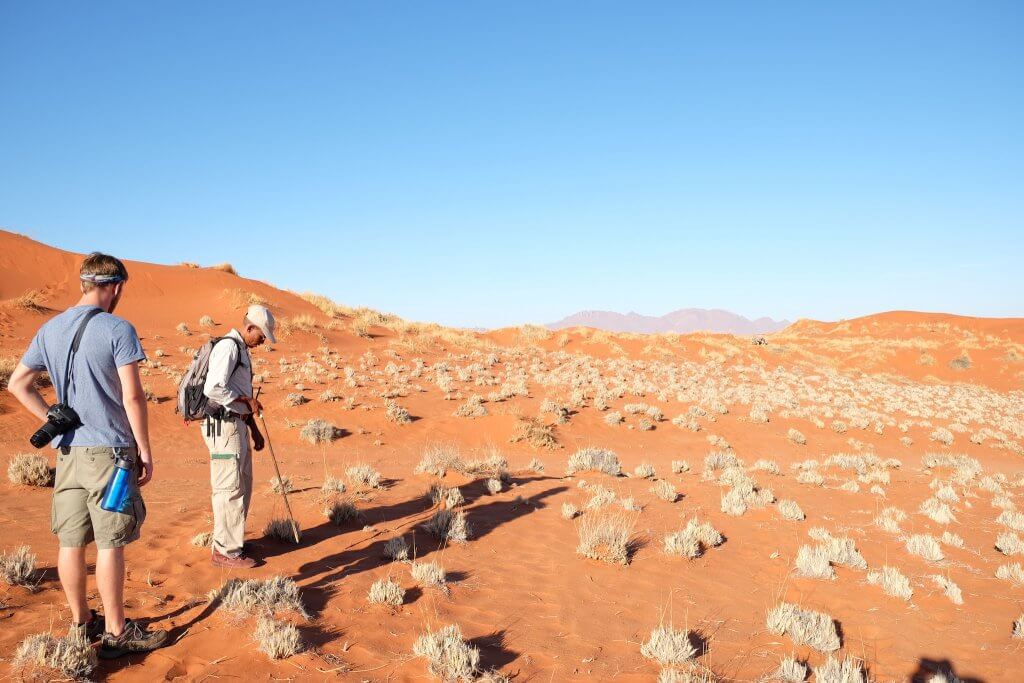 Our next seven days in the desert were filled with zebra, snakes, hyena, springbok, white mongooses, and thousands of gemsbok.
Gemsbok (or oryx) are beautiful gray antelope that look like they were painted perfectly with black and white strips. They have massive horns which they use to fight one another and are very skittish creatures. I saw my first oryx near the Fish River Canyon and thought it was the beautiful animal in Africa. Before I knew it I was in the desert seeing thousands! The national animal of Namibia should be the oryx!
As if cheetahs, zebra, and springbok aren't enough we were even informed that there are desert giraffe and elephant in the Namib desert. We never saw them with our time there as they are quite rare, but they can be found in Damaraland to the North.
Good to know: To truly get a glimpse of the desert landscapes and wildlife I recommend staying for at least two days and truly get to know southern Namibia and the desert. 
Stay: To see the wildlife in the desert I suggest staying on the incredible NamibRand Nature Reserve.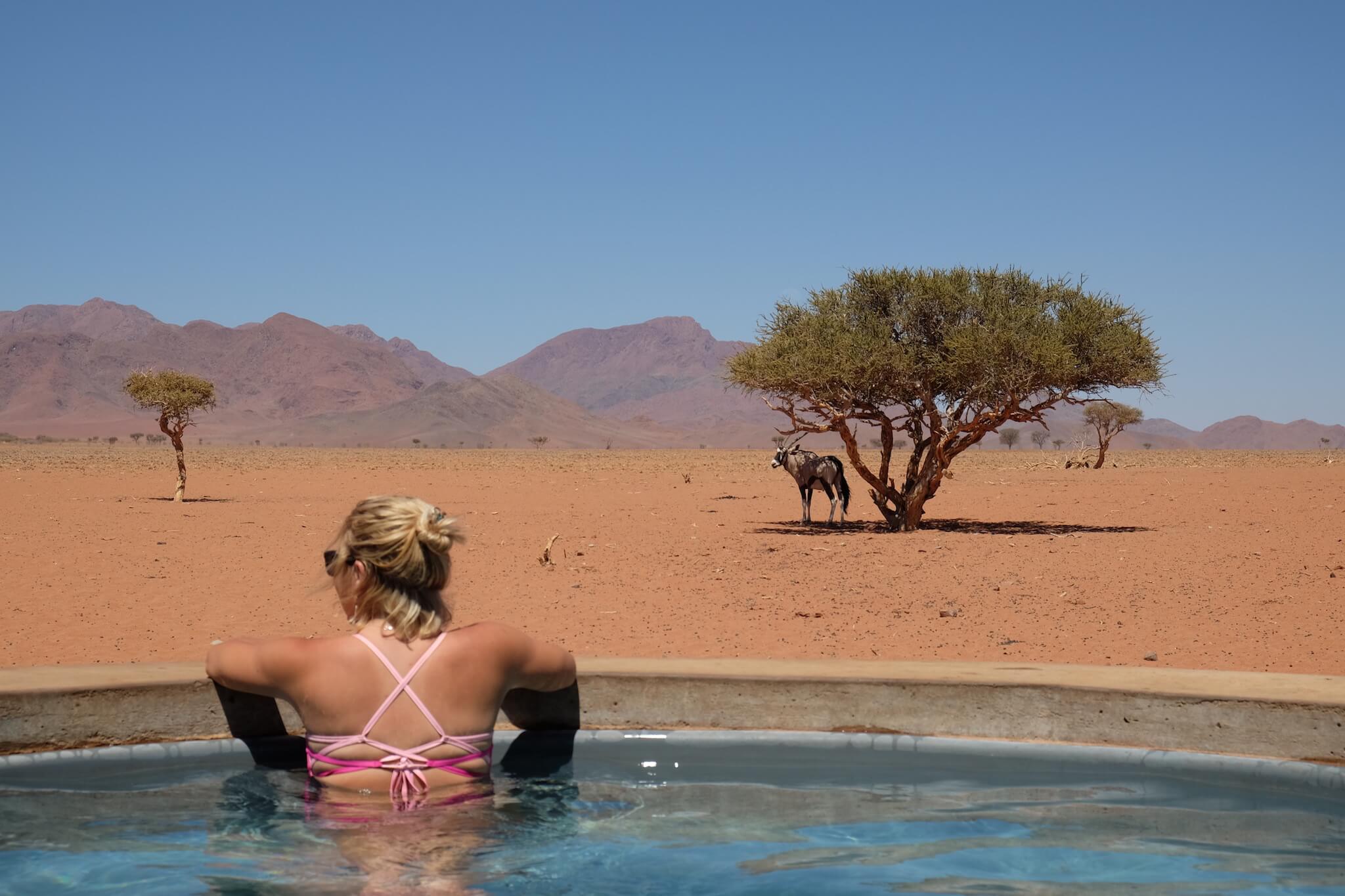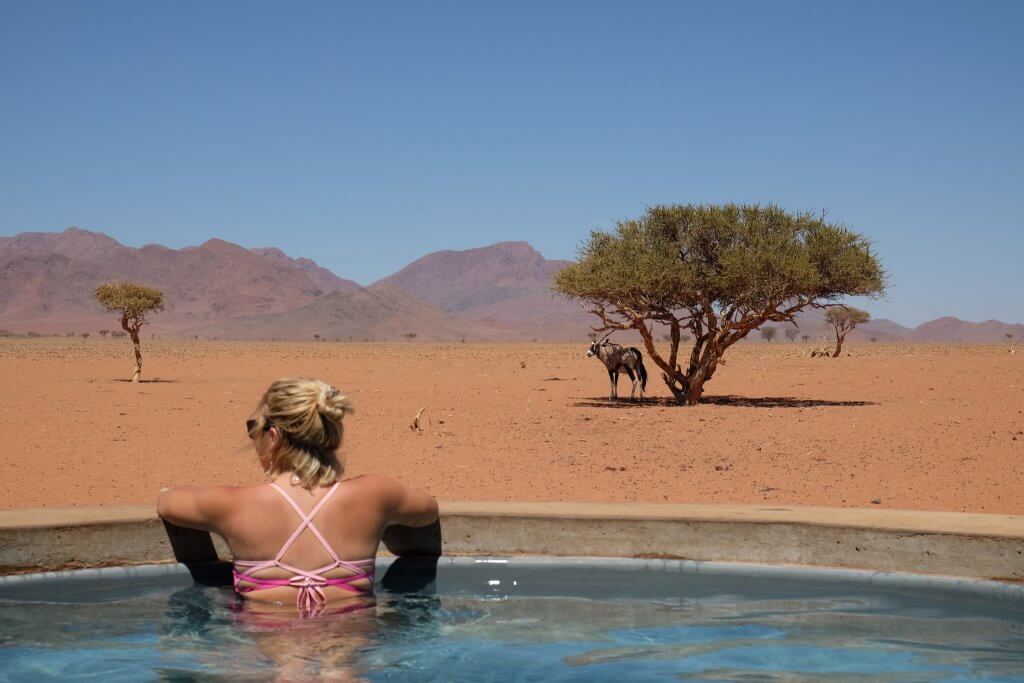 The Flamingos on the Coast
Swakopmund is the highlight of many travelers' Namibian road trip. Like Ludertiz the city is set right in between the ocean and the desert making it the perfect adventure destination. Sandboarding, four wheeling, paragliding, and skydiving are very popular options here. Once you are exhausted from all the activities head south to Swakop's sister city, Walvis Bay.
Walvis Bay is Namibia's main port down and there isn't a whole lot going on there. However, there are a few things going for it and one is the chance to see thousands of greater and lesser flamingos. These pink birds call Walvis Bay home all year round.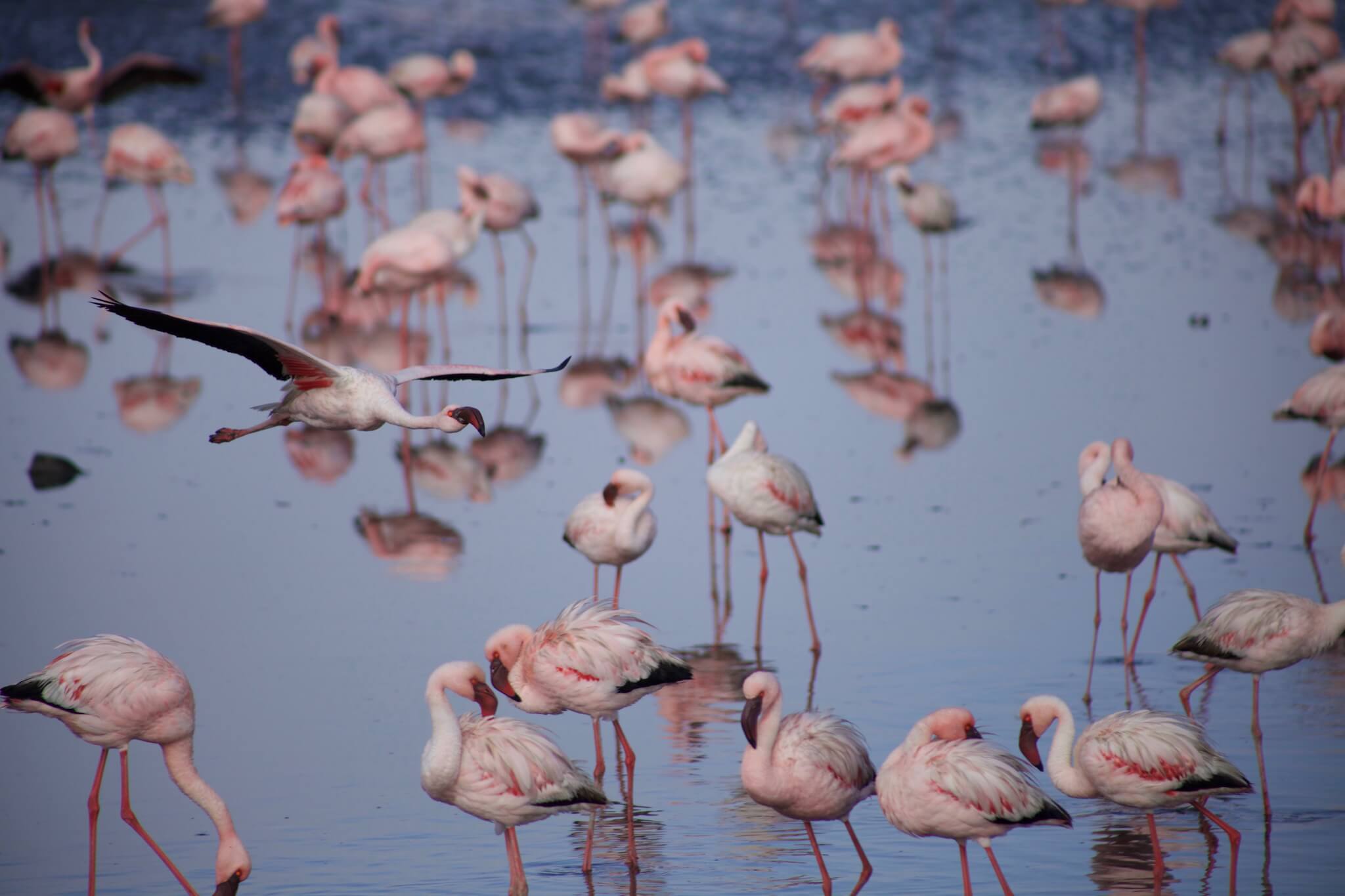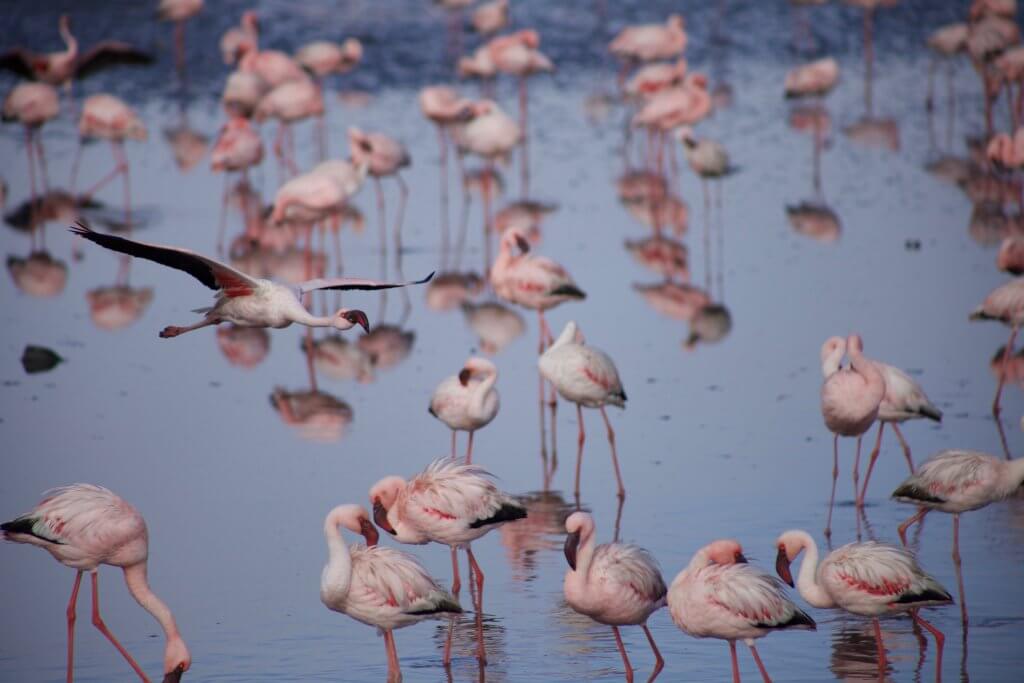 We ended up staying for four days in Walvis Bay and watched the sun rise and set with the flamingos. Their "honks" became a common sound to hear and watching them feed all day was more than entertaining. The flamingos are steps away from the shore so you get a chance to get up close and personal with them here. Walvis Bay is also famous for the massive great white pelican that can be found in the bay and along the massive salt flats just south of town.
Good to know: Swakopmund is one of the biggest cities in Namibia. From coffee shops to hardware stores you should be able to find just about anything you need in Swakop. For a real treat keep driving past Walvis Bay to Pelican Point. More bird wildlife and stunning salt flats are to be seen here. 
Stay: To see the wildlife in Walvis Bay I suggest an Airbnb rental in either Swakopmund or Walvis Bay.
The Seals of the Skeleton Coast
120 km north of Swakopmund is the Cape Cross Seal Reserve. Here you can find one of the largest colonies of Cape Fur seals in the world! We debated long and hard about making the special trip to see the seals and subjecting ourselves to the smelliest place in Namibia, but eventually decided that we couldn't miss the sight even if it was just a bunch of smelly seals.
As soon as we arrived it was obvious we had made a great call. I could have never of expected the sheer number of seals that were at the reserve. Not just thousands, but tens, possibly hundreds of thousands of seals were here flopping around, "honking" at each other, and basking lazily in the sun. We visited in mid-November which unbeknownst to us was breeding season, so that meant thousands of newborn pups too! Some of the pups were only a matter of hours old. If traveling Namibia in November it is an absolute must.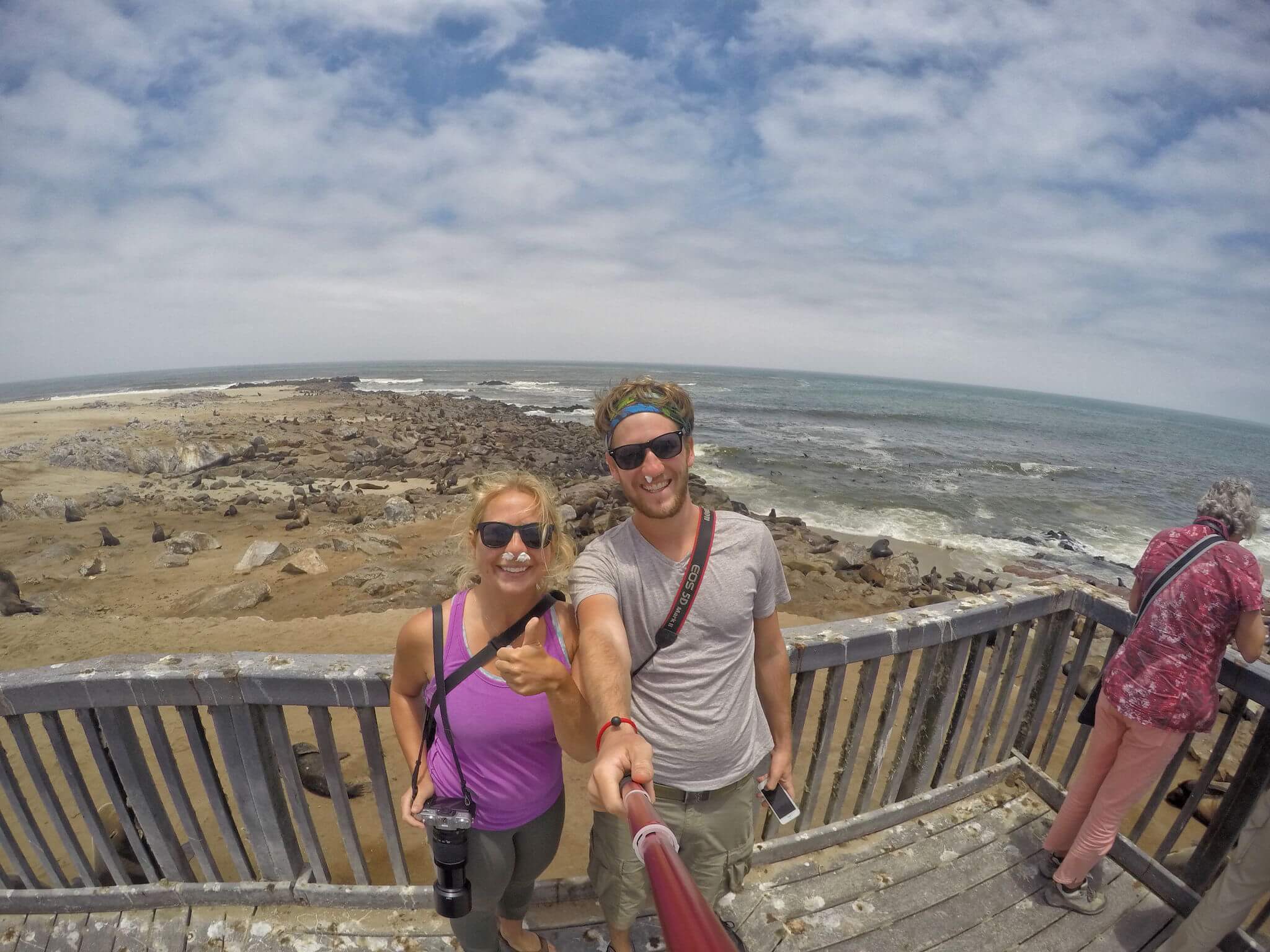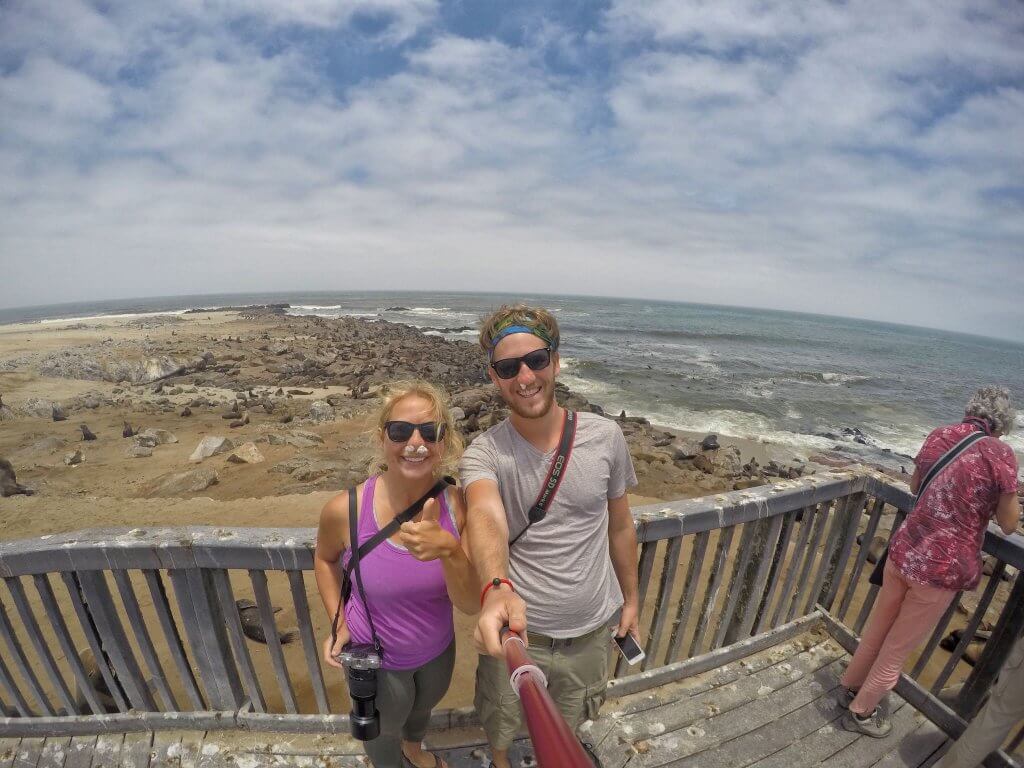 Good to know: The Cape Cross Seal Reserve is a protected area in Namibia. To help with conservations foreign visitors are required to pay 80 NAD to enter. We stayed for about an hour, but if you have a weak stomach the smell may get the best of you. I recommend bringing something to cover your nose with. And most importantly plan to burn your clothes after…
Stay: To see the seals I suggest camping along the way or staying in Swakopmund and driving up.
Namibia's greatest wildlife spectacle
Etosha National Park is not only the top wildlife destination in Namibia but one of the best game parks in all of Africa. The park is only a four-hour drive from the capital city, Windhoek, making it easily accessible for people on a short trip to the country.
The massive Etosha Salt Pan covers a large swath of the park and it is a sight to see. There are hundreds of different mammals and bird species in the park. The park is also home to the Big 5 (Rhino, Elephant, Leopard, Lion, and Buffalo).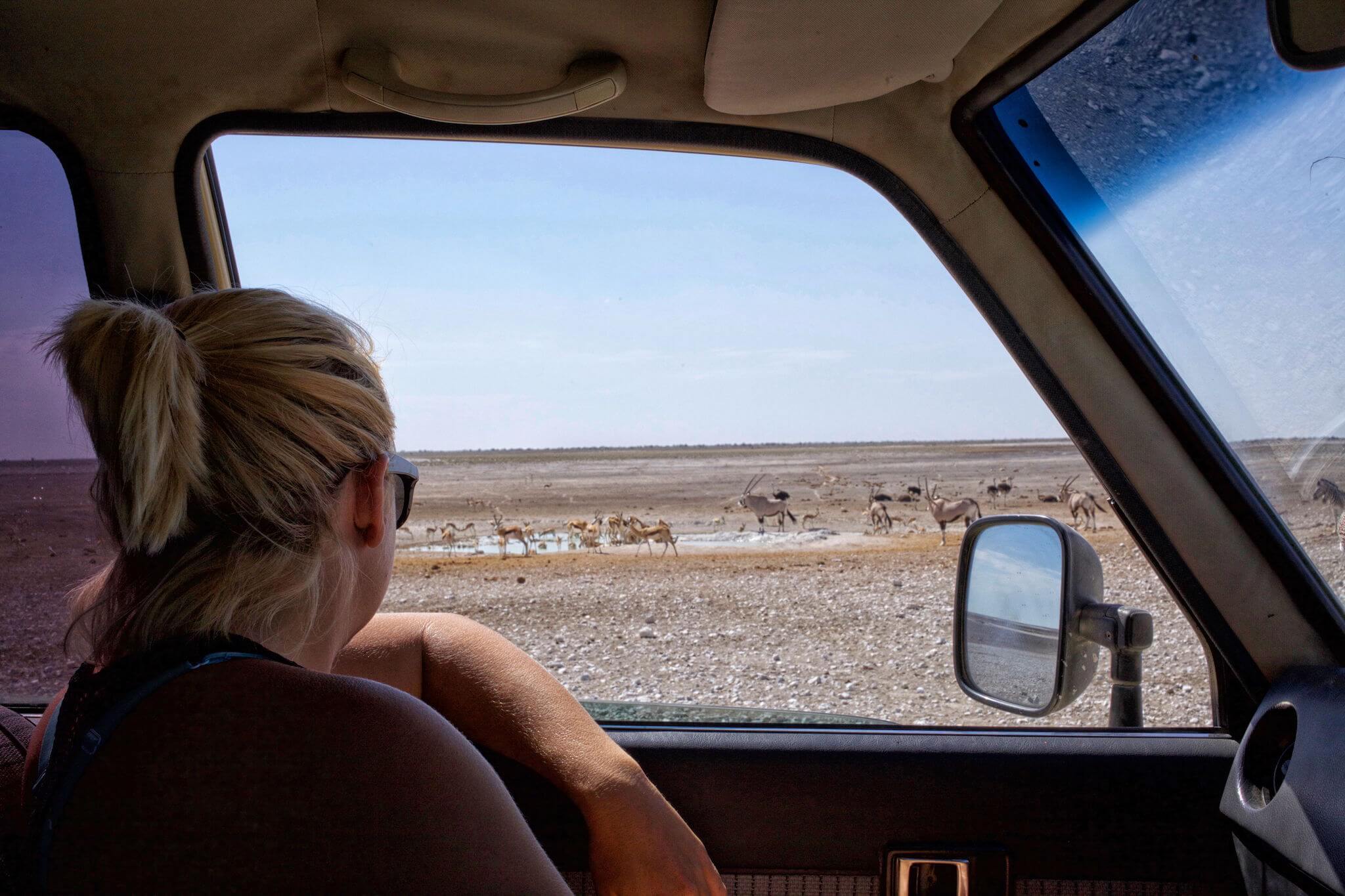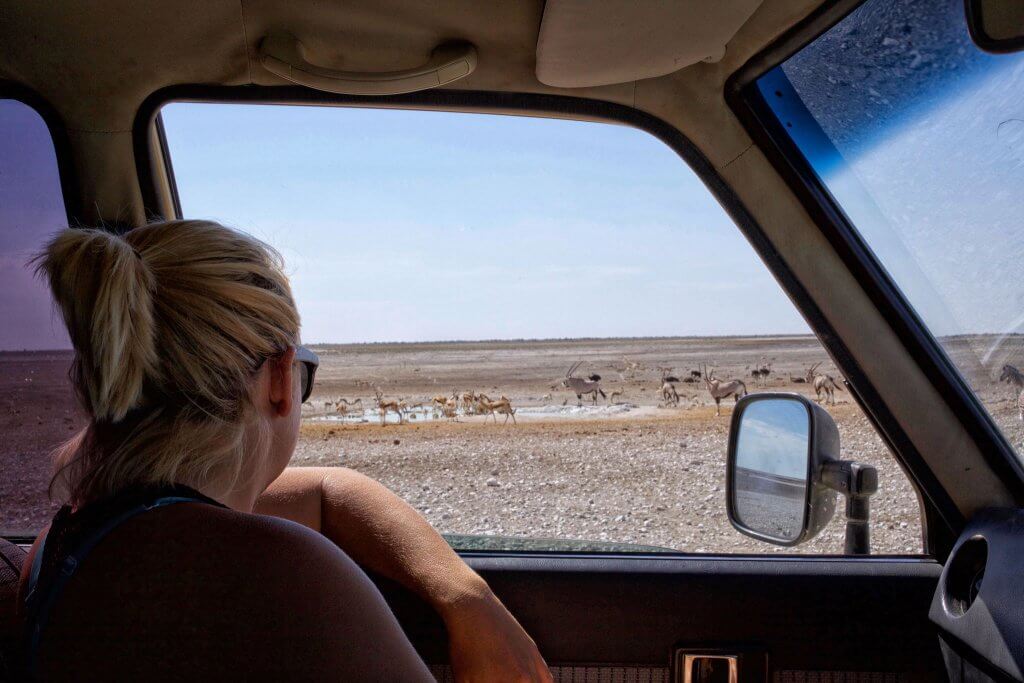 We spent two days in Etosha and had amazing sightings at just about every watering hole. Our favorite sighting was at the Gaseb watering hole just after passing through Okaukuejo. We arrived around 10 am thinking it would be too late to see anything, but decided to hang around just for kicks. Within ten minutes giraffe, ostriches, oryx, zebra, jackals, wildebeest, and impala had all come to get a drink. We watched with excitement for over 30 minutes barely wanting to leave. We told each other we would return to the Gaseb watering hole at sunset to see if there was any new activity for the day. Good thing we kept to our word for when we returned there had been a lion kill with hyenas, jackals, and vultures waiting for a chance to eat.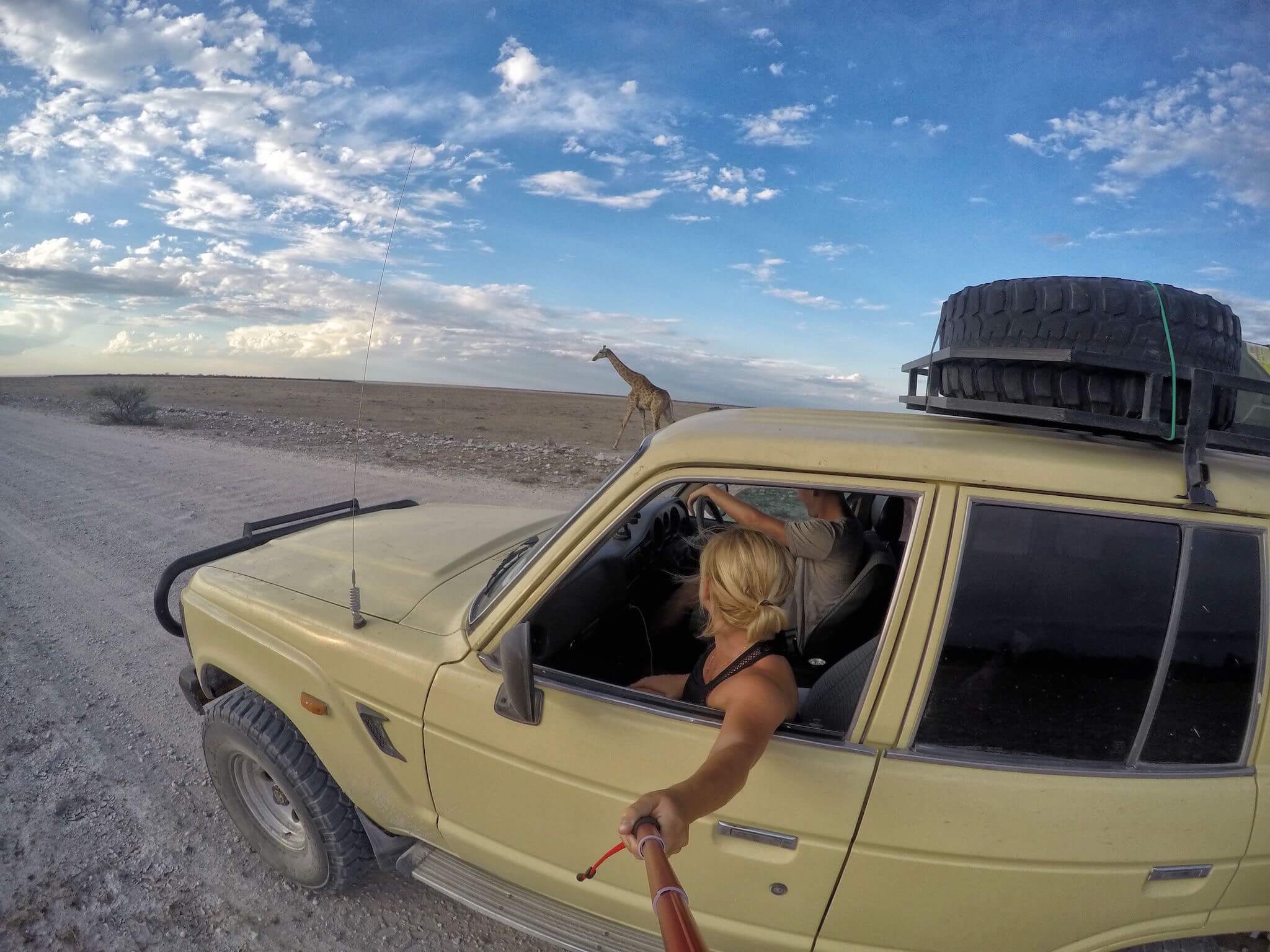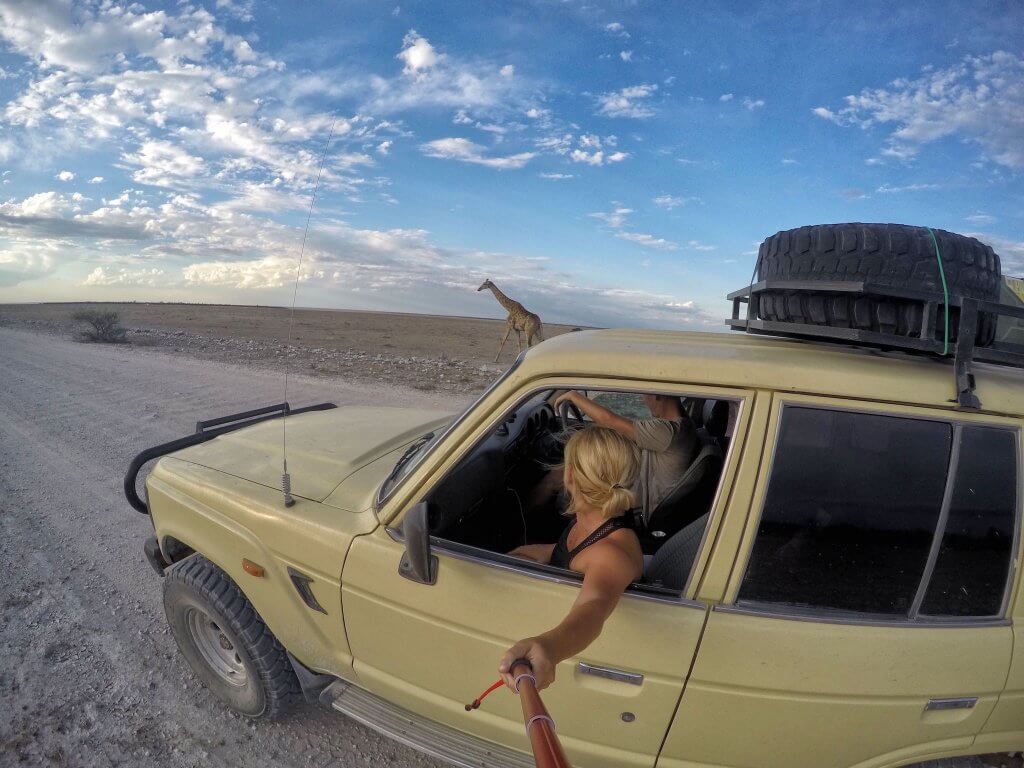 The key to seeing a variety of wildlife in Etosha is to set up camp at a watering hole and wait for the animals to come for a drink. It's exceptionally hot here so animals often flock to where the water is. Other watering holes that we found interesting were Chudob and Ngobib near the Von Lindequist gate.
Good to know: Etosha National Park is one of the most affordable parks in Africa at 80 NAD for foreigners. The park opens at sunrise and closes at sunset. For the best chance to see wildlife I recommend avoiding midday in the park. The animals get as hot as you and will be hard to spot as they hide from the sun. 
Stay: To see Etosha I suggest not staying in the expensive campsites in the park and instead at Gondwana's Etosha Camp near the Anderson Gate or Onguma Campsite near the Von Lindequist gate. Check the online map for more details.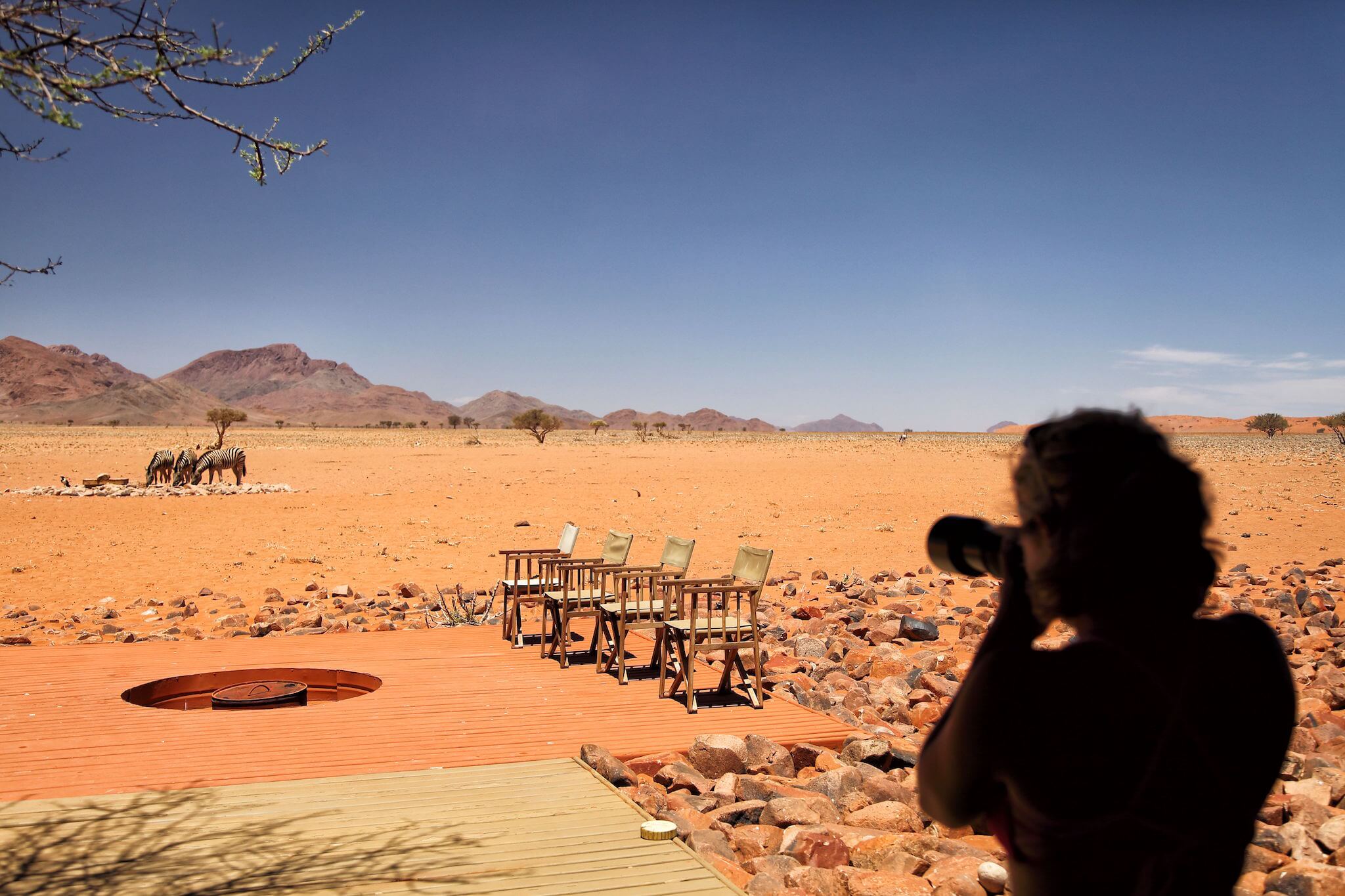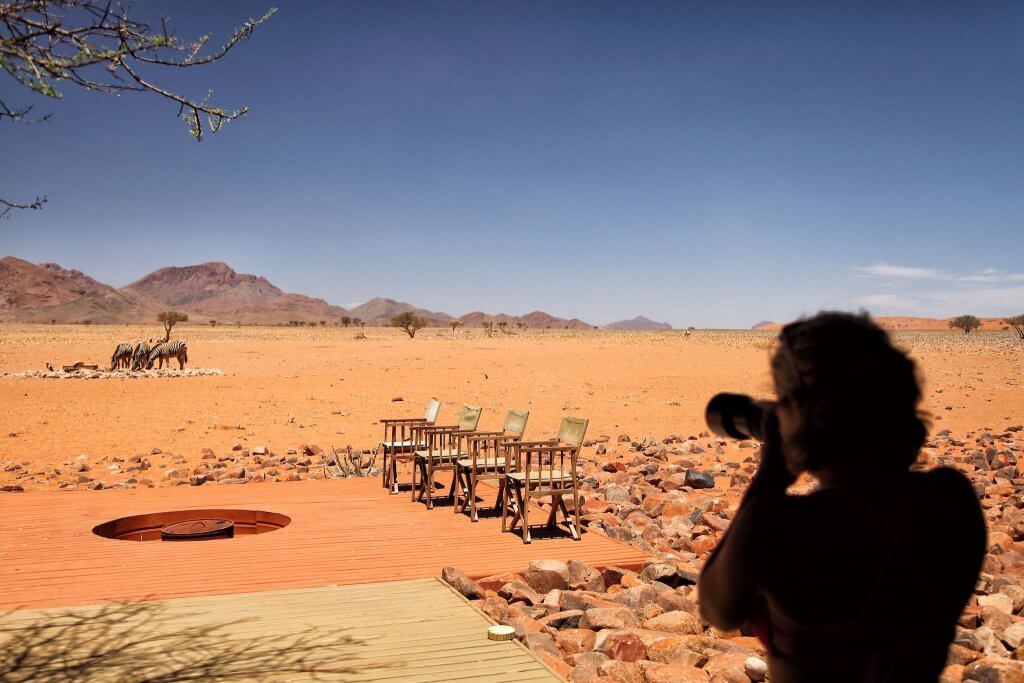 If you want to recreate our visits to the various game reserves and wildlife sightings around Namibia, here's a map to help you get there:
Any visit to Namibia is bound to bring you one step closer to some of Africa's best wildlife. There was never a dull moment in Namibia for us, just make sure to grab a camera and relish in the natural and untouched beauty of the country. We're off to Botswana and Zimbabwe next to delve deep into the Okavango Delta and the jungles of Africa – stay tuned.
About the author: Natasha is a five-foot blonde that believes she was made short so she could fit in air, train, car, and bus seats comfortably while traveling. She lives out of her backpack and documents her travels on The World Pursuit, along with her partner, Cameron. She has traveled to over 50 countries across 6 continents. You can now find her traversing across Africa with a 1989 Land Cruiser named Charlie.