It was a sunny day in Bologna, Italy and the September sun was still bright on the orange-walled coffee shops and gelaterias around me. I had just landed after a long-haul flight from Los Angeles to start on my second year of consecutive travel around the world.
Per usual, I hadn't planned a thing and was looking for inspiration.
As I took a sip of my delicious cappuccino the laptop went bing! with a flight alert from AirAsia for a cheap flight they had just released from Kuala Lumpur to the Maldives. I knew I would find myself back in Asia eventually, and I do have a very soft spot in my heart for Malaysia, so knowing I'd get back to KL eventually, I got to searching.
This began an adventure of staying on a local island and doing the Maldives on a pretty extreme budget (well, as far as the Maldives are concerned, anyway). Want to know how I did it? It was a cinch:
Step One: Booking a cheap flight to Malé
The first step is to get a flight into Malé, the only international airport in the Maldives. AirAsia is who I tend to fly with the most around Asia, given how cheap the fares can be, especially when booked right after receiving one of their discount emails. You can sign up here to become a member.
Utilizing their monthly fare comparison tool, I was able to find a flight departing in November that looked like it would work for me. I selected a total of six days which ended up being the perfect amount. It's easy enough to find these fares, if you can be flexible, by using their fare comparison chart:
After speaking to a few others once on the ground in the Maldives who had traveled from Europe and Dubai using Emirates, which is certainly preferable to AirAsia comfort and mileage-wise, I realized that a lot of airlines are now offering rather cheap flights. Other good places to find fares include cheap booking agents like CheapOair
or whichever your favorite discount booking website may be.
Step Two: Find the right guesthouse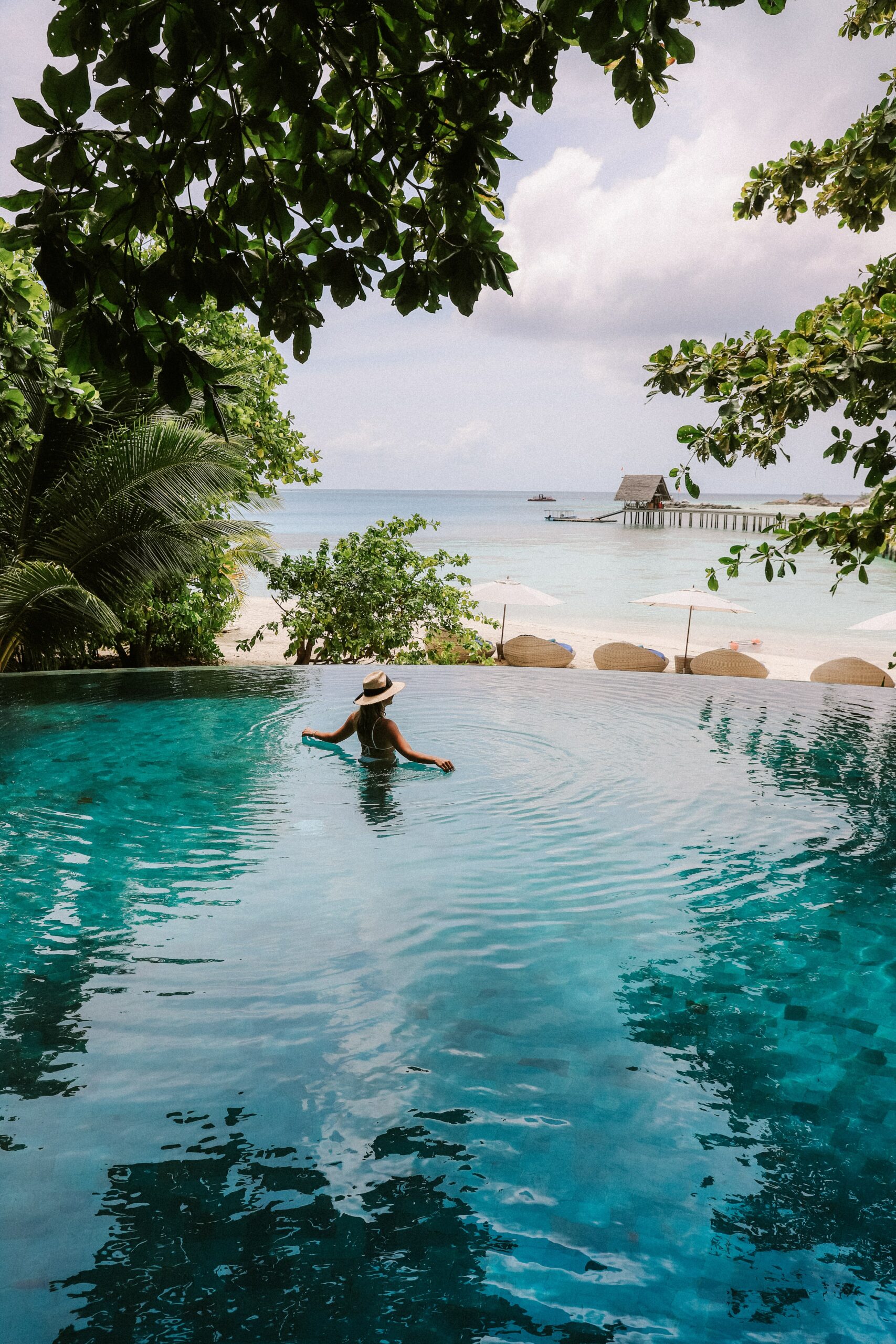 I previously wrote at length about how the Maldives has started to allow locals to open up guesthouses on local islands. This has spawned a network of affordable guesthouses available for as low as $40/night for a room that accommodates two. In general these rooms are pretty clean, have air conditioning, 24-hour electricity, and are comfortable. Wifi and Western-style bathrooms with hot water are not a guarantee, however, so do some reading up on amenities before you book.
The way to find the right guesthouse is to find the right booking website. There are three I would highly recommend for booking, two of which I actively use myself and the other was recommended by the other guests staying at my guesthouse:
Agoda is a discount hotel website that I typically use for booking when looking in an area that doesn't have hostel options. You can filter the search options by price, stars, or reviews. Agoda does not charge a fee.
Airbnb is a way for people to rent out rooms in their flats or whole apartments. Generally, in the Maldives, it has become a way for guesthouses to book rooms. Airbnb is great because it makes it easy to communicate with the guesthouse owner prior to booking. Here's an idea of how to use it to find accommodation by location using their sliding scale: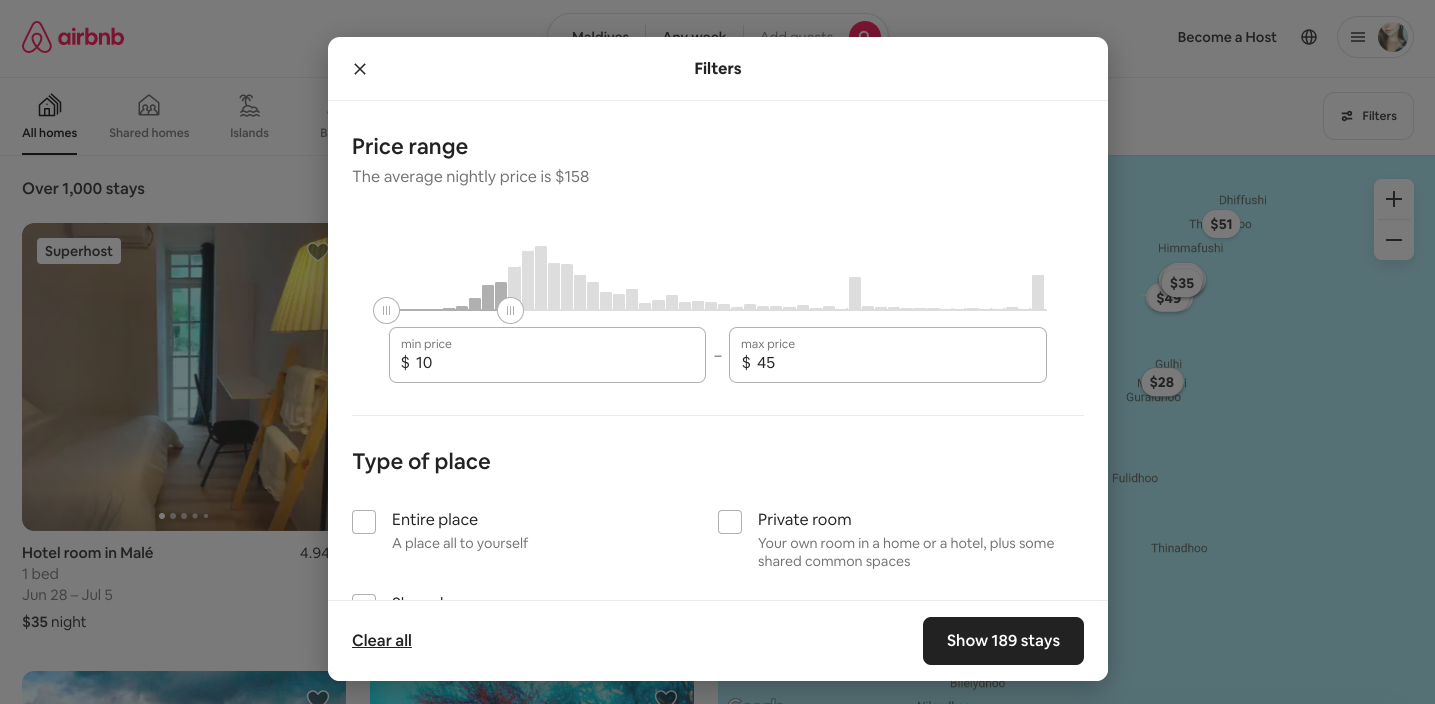 I stayed at a guesthouse called the Amazing Noovilu (which you can book on Airbnb) which ran at $118/night (plus fees and taxes) but included meals. I really enjoyed the local experience it provided and was able to get everything planned ahead of time by speaking with the highly attentive staff there. They were also able to help me get from Malé to Mahibadhoo, which is on Ari Atoll, easily by using local transport.
It seemed that most guesthouses did include meals, which you can find at local coffee shops that dot all of the islands.
Keep in mind that once you arrive in Malé, you'll need to get to your destination of choice. Some hotels offer a transfer service while others do not. You can get a ferry from the airport to Malé itself which is a few dollars and leaves when full. From there, take a taxi to the ferry station that services the rest of the islands. Be forewarned that not every day offers a local ferry (which ran at about $20 for Mahibadhoo). Check the ferry schedule when considering your flight bookings. Prices range from $5-30.
Step Three: Activities!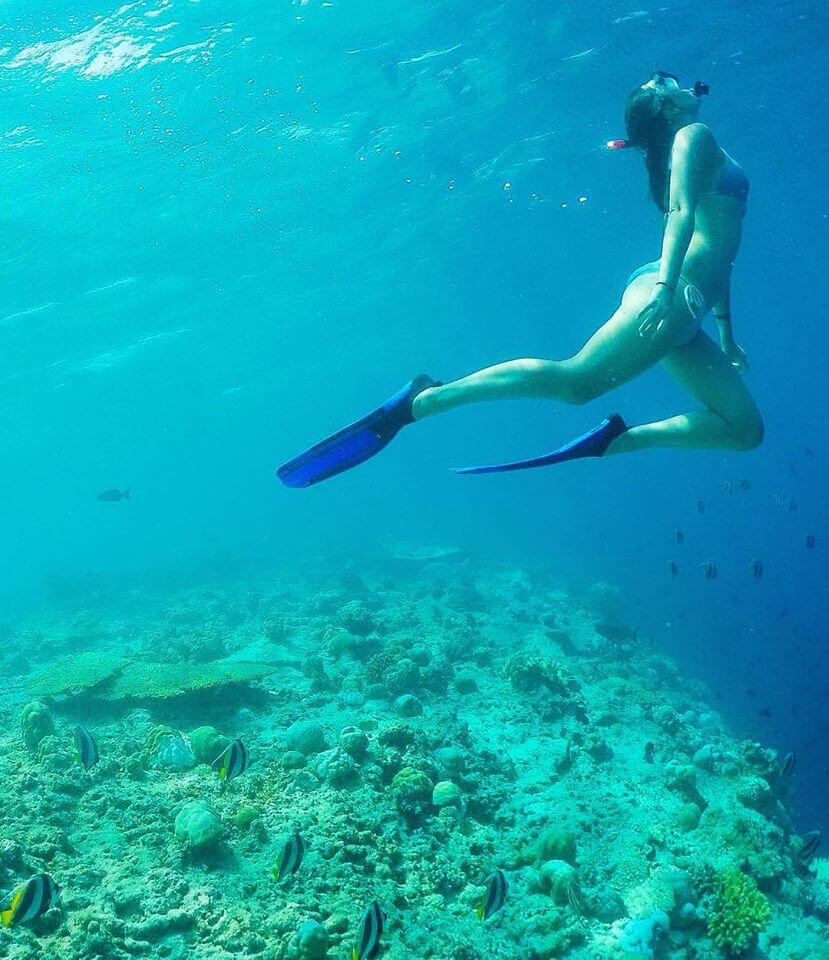 Most smaller guesthouses offer tons of awesome activities from snorkeling, to fishing, to SCUBA diving. These are things that can typically be booked on the ground in person but do heavily depend on what your guesthouse owner can provide.
I paid $30 for manta ray snorkeling, which ended up being a nearly-private tour with just my travel buddy, myself, and our guesthouse owner, who doubled as our tour guide. He mentioned that the boats coming from the nearby resorts charged hundreds of dollars per person.  It was clear who got the better deal! I found a similar deal on Viator for $50, which you can book here.
Diving and excursions were closer to $70-$85 each, but still provided a very small-group feel that I absolutely loved. You can find more budget Maldives tips here.
Things to Consider
Staying on a local island vs. a resort is not without its differences. For one, the Maldives is a Muslim country, therefore bikinis are a no-no on the local islands. This is not a huge deal as most of the excursions take place in the middle of the ocean or on bikini beaches where it's perfectly fine to don a bikini.
One other big consideration is alcohol. You can forget about toasting with wine on the local islands where alcohol (and pork!) is forbidden. I'd also suggest NOT staying on Malé which is just a big city without the beautiful beaches and swaying palm trees you'd probably expect in the Maldives. Moreover, there's been a bit of instability in the past due to elections.
Lastly, the local islands are not as pristine as the resort islands. Though they're catching up and are still absolutely beautiful, be forewarned that there are still some growing pains and some room for improvement.
That said, I wouldn't have changed my experience for anything, and truly enjoyed being able to do the Maldives for far under the thousands of dollars per day I feared it would cost. Being able to experience it from an authentic, local experience made it the trip of a lifetime for me.