The following is from a note I typed into my phone on the night of February 26 while the rain fell outside my room in Arusha, Tanzania. I was panicked and couldn't sleep, so I did what I always do when I'm scared or in pain. I wrote it all down:
I felt my tent shaking and the Maasai camp guard I'd said 'jambo' to 15 minutes before yelling something about water.

It had been raining intensely. No, that's not enough to describe it. It monsooned, it was cartoonish, it was Biblical.

I'd put my tent on a raised concrete picnic area with a tin roof. Though the storm was at a percussion level I'd only ever experienced once or twice before (also in Africa), I figured that where I was had to be the best possible position.

"I know it's raining, but I'm covered, I'm fine!" I relayed from within my tent.

But he was insistent, and panicked, shouting about water again, so I unzipped the tent and got out. He began pulling it out of the shelter and uphill furiously.

"What the hell?" I exclaimed, angry at first, until some lightning lit up the ground and I finally understood. The water was rising, then encircling me as he pulled my tent away, and then before I knew it I was on an island, clutching my journal and this phone I'm typing on, my pillow, and for some reason, my water bottle (who cares about a water bottle?!)

I jumped into the thigh-deep water and charged to higher ground, running to the others (A couple of other travel bloggers who I'm currently driving through Africa with) to tell them they had to come immediately.

The flood started to surround the truck. I don't know what we were thinking, but we somehow trusted that it would not get any higher, and ran back for the truck to grab our electronics from the seats they were resting on while the water ran up around our chests. I shuddered when I realized it had rushed up and over where I was in my tent. The little picnic area wasn't even visible anymore.

We ran back to higher ground with no choice but to watch in horror. Would the truck float away?

The river near the campsite had overflowed. Apparently a tree had fallen into it and got caught on a bridge.

Ma, the owner of the campsite, calmly came over with an umbrella, some keys, and some T-shirts and offered us a room for the night so that we could be dry and warm. It's where I'm sitting now, several hours later.

I hear whistling and shouting outside and engines somewhere in the distance. I don't know what to make of it but the river has two sides, and I have no idea what's on the other. Are people ok? Are they looking for each other? Am I overreacting or just not yet grasping how severe this is? Can I take my eyes off of the ground outside for a moment? Is that ok to do?

Then I wonder for a moment how close I was to getting trapped in my tent, engulfed in mud. Did that warrior save my life? Was it that dire? I wouldn't have known until the water was infiltrating my tent. Within seconds, it would have been well up over my head.

I'll never know, but I do know that it was only the two of us down there, and that he could have just as easily ran but he risked his life too and warned me. There was no way to know then how fast and high the water would rise.

Is this part of the story? It must be. Just like every traumatic event, I wonder if it is the catalyst, one that will only make sense later. But there is one thing for sure, right now I just wish it would not rain anymore.

Please stop with those thumb tacks falling on the tin ceiling. We've had enough.

Tomorrow will be telling. Will the truck start? Is it just a goner now? Is the end of the road here? Is the warrior still watching, in case it happens again?
After that, I watched the rain for a few more hours before passing out. When the birds started chirping in the morning I awoke with a start. I was okay, and all of my stuff was okay, but was the car done for?
I walked outside to survey the damage. It was mud-topia. Seriously, if the circumstances had been different, and there weren't rocks and acacia thorns and perhaps the odd fork or knife from the picnic areas lodged in it, we could have all had one epic mud fight.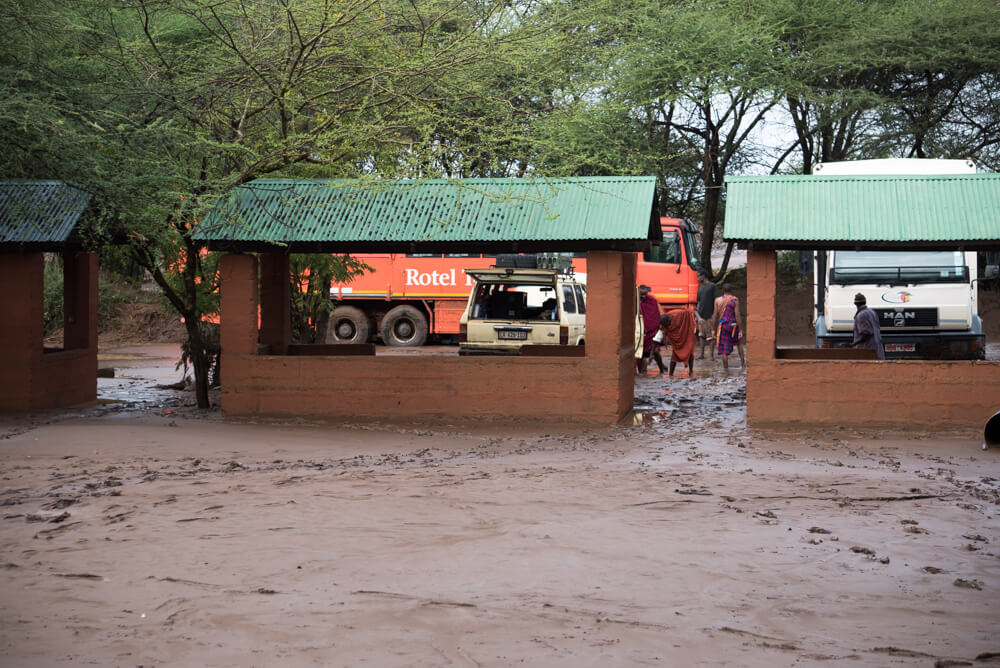 The real hero of the story are Ma and BJ of the snake park, who gave us a room the moment they realized what had happened, gave us T-shirts so that we'd have dry clothes to wear, fed us breakfast and dinner, and fixed the car in their mechanic shop on site, all for free, and all with a smile even though they were suffering too. After all, they were watching their home flood.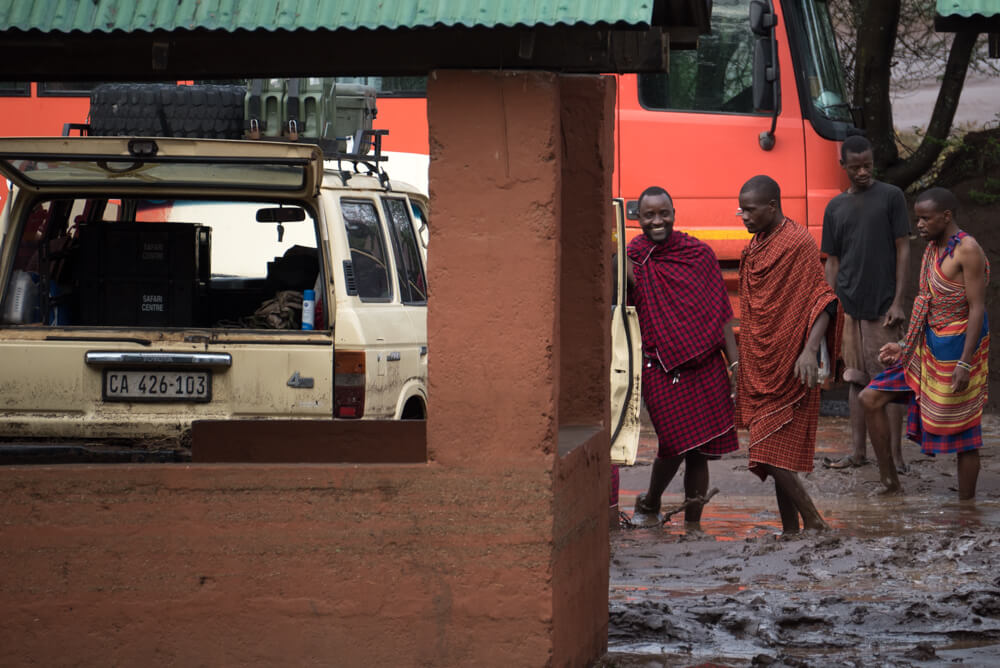 Native South Africans, Ma, Deon, and BJ moved up from South Africa in the early '90s, bought a plot of land with nothing on it, planted trees and flowers, and adopted reptiles, which is a family passion.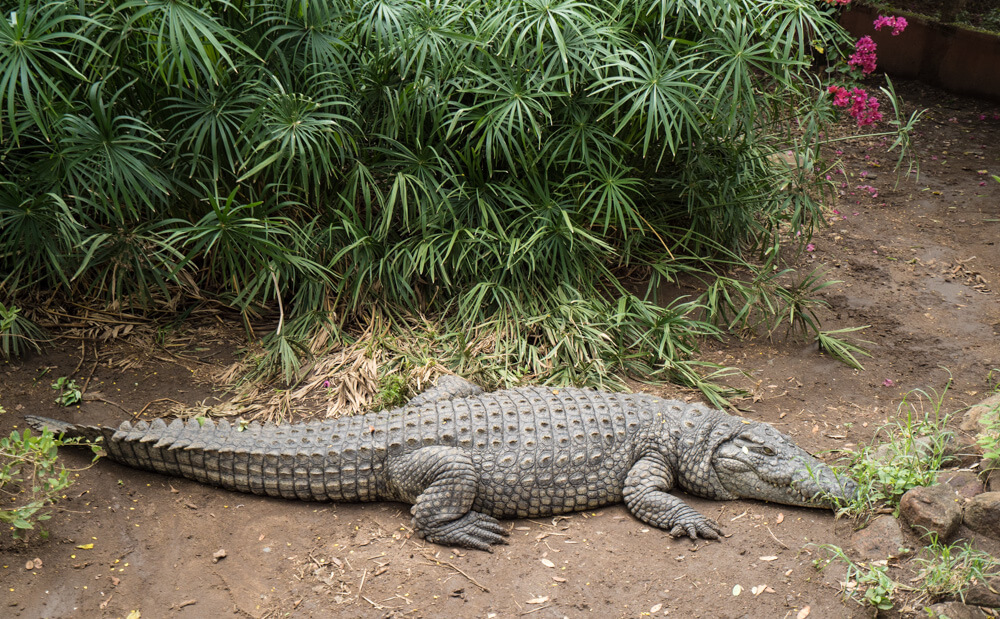 They have vipers, spitting cobras, crocodiles, and the famously venomous black mamba onsite. They also have the only anti-venom clinic in the area, and offer free care for snake bite and burn victims.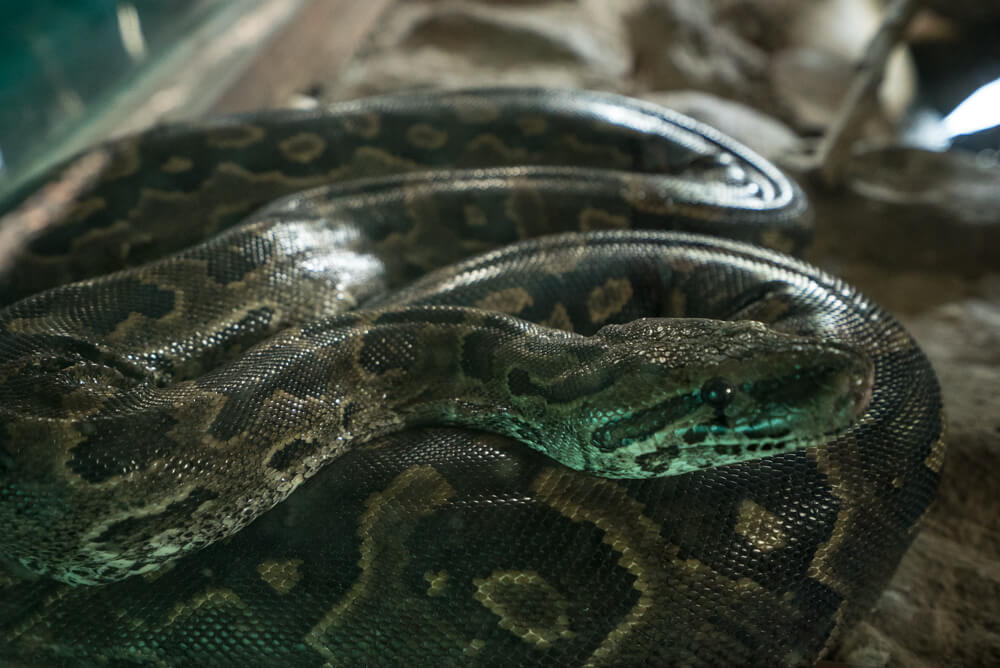 They've also got camels, a Maasai cultural center, an orphanage, and a full mechanic shop onsite. If you're going to get caught in a flood, I suppose the snake park is the best place where it could happen.
Over the next couple of days that felt stuck in time, I hung in my hammock, talked to another camper there and enjoyed the chance to get to know someone new, looked around at all of the beautiful flowers and trees they had planted, and all of the birds that it attracted, and allowed myself to really see and appreciate it all.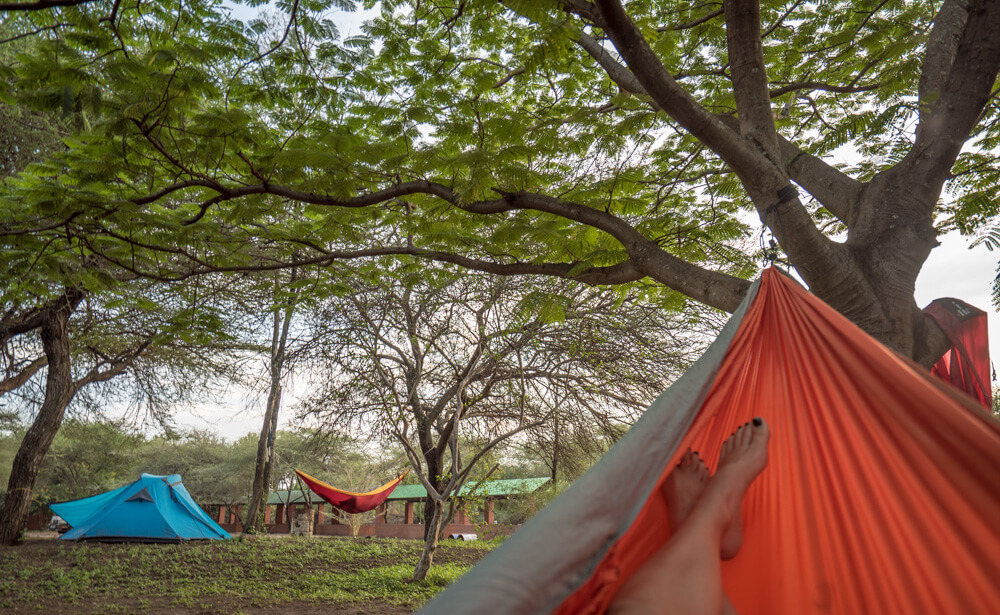 I'm thankful to have met people with such big hearts, and though this might sound crazy, I feel lucky for the experience.
I feel lucky that the Maasai guard was watching that night, that the flood wasn't any faster or higher, and that the adventure, at least for now, continues.
And I'm reminded that life is short, which is something I knew already, but didn't think about nearly enough.