This post was written by Emily Becker, a Mexico-based freelance writer for BMTM.
Heading to Costa Rica and not sure what to pack? Whether you're planning on hitting up the beaches of Manuel Antonio, hiking through the cloud forest in Monteverde, canoeing through the canals in Tortuguero, or all of the above, packing for such a diverse adventure can be a challenge.
Besides your chosen destinations in-country, you should also consider the weather when deciding what to pack. There are two main seasons in Costa Rica: wet and dry. The wet season goes from May to November, when there are frequent heavy rainstorms, monsoons, and hurricanes. The dry season from December to April also sees some rain, especially at high altitudes, but is overall more sunny and much warmer.
With these factors in mind, here's an epic packing list to help you prepare for your next adventure in Costa Rica:
What to Wear in Costa Rica: Wet Season (May–November)
I visited Costa Rica during the rainy season, when there are storms almost every day throughout most of the country. It might sound unappealing to visit such an outdoorsy location during this time, but having been prepared for the rain was a game changer and made it all worth it. Overall, I would definitely visit Costa Rica during the rainy season again, as long as I was similarly prepared.
To pack for this time of year, here's what I recommend:
Clothes: bring layers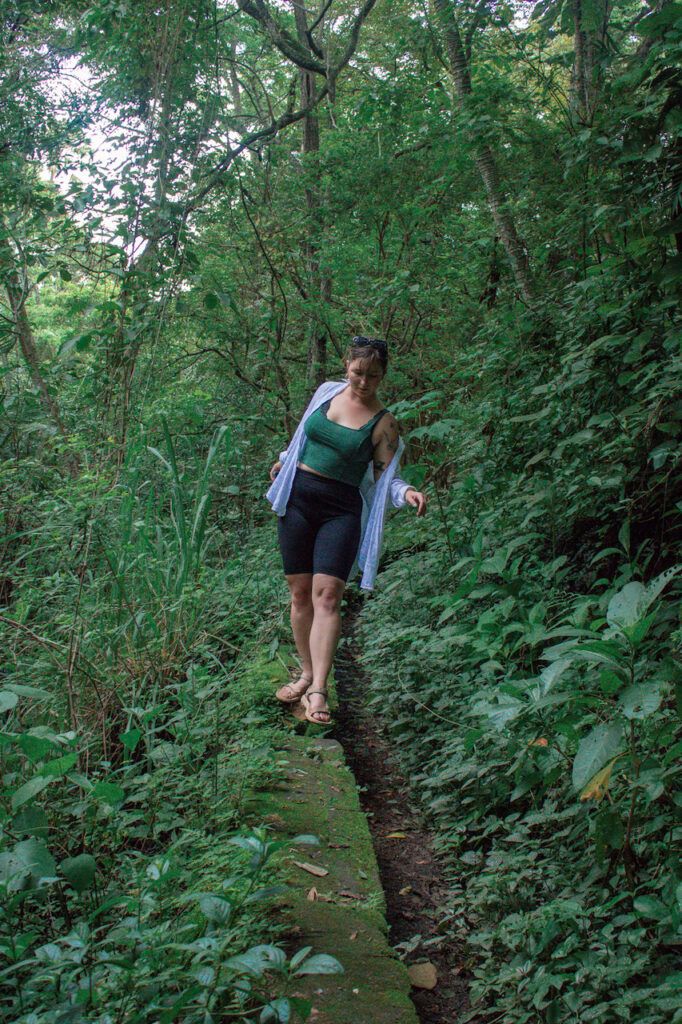 Besides preparing myself for the rain, I also had to consider that I would be visiting a variety of climates. From packing beach attire for my days in Uvita and Manuel Antonio to being ready for chilly mountain weather in Monteverde, I had my work cut out for me.
Bringing layers is key. Bring lightweight clothes that can be layered, so you're prepared for instantaneous changes in weather and various climates alike.
Here's the clothing I packed for one month in Costa Rica during the rainy season: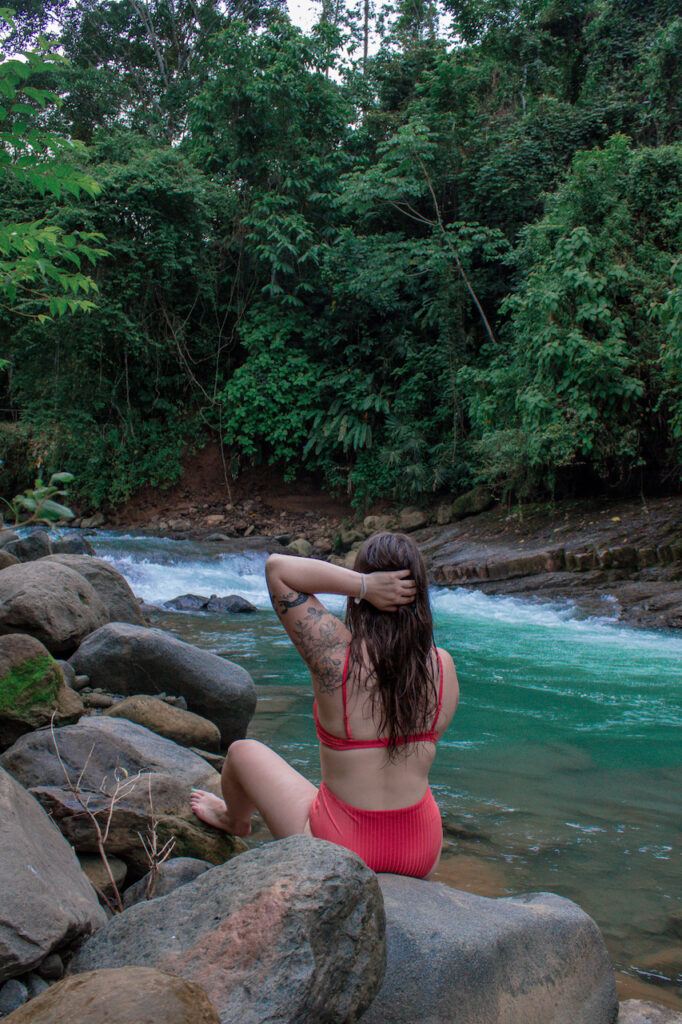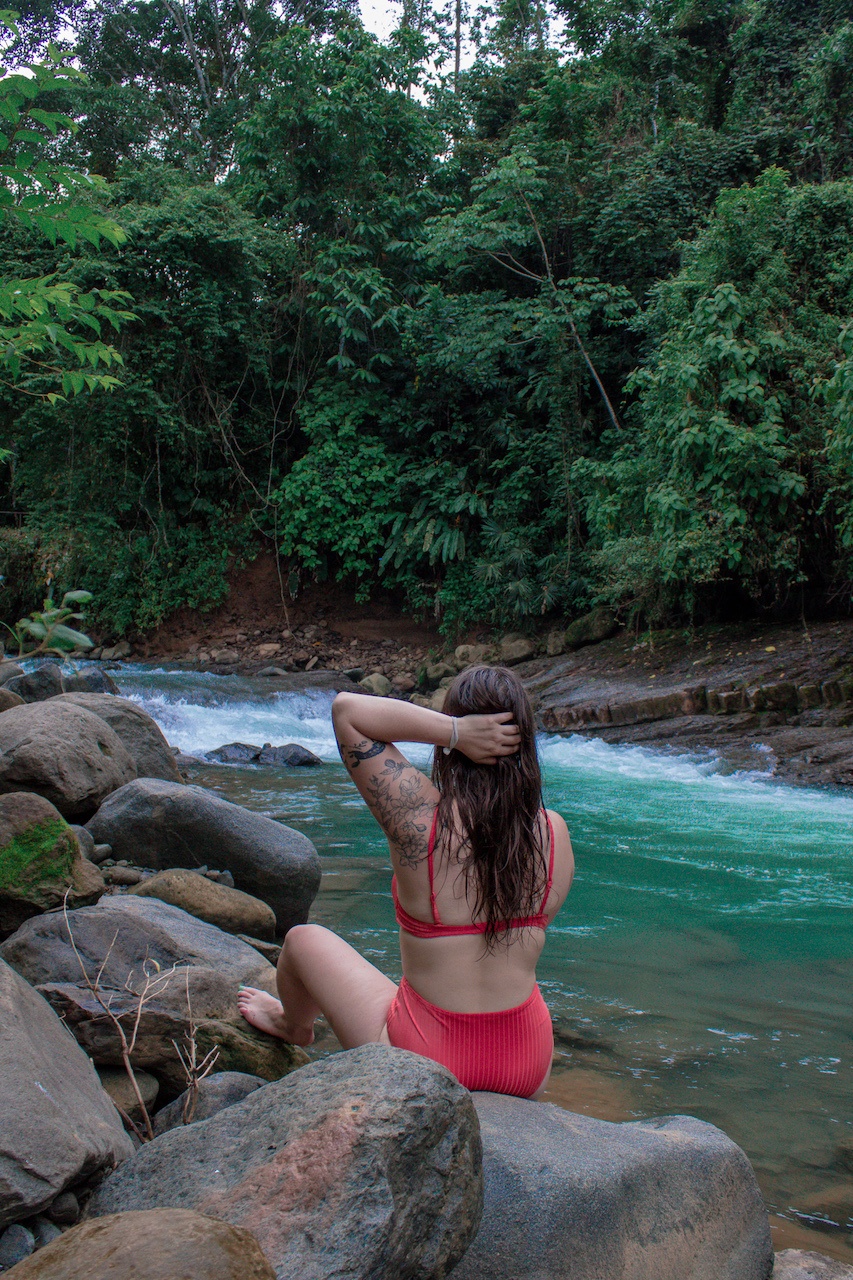 With these, I had a multitude of different outfits to choose from without feeling like I had too much clothing with me. Everything I brought matched, so I felt put together while also being comfortable. My absolute favorite thing I brought was my white linen button-down shirt, because it's such a great layering piece and looks stylish over a simple outfit like the one in the photo above.
Footwear: less is more
Bringing more than two pairs of shoes is a waste of space if you're going somewhere like Costa Rica. I packed my Blundstones and a pair of Tevas and that's it. My Blundstone chelsea boots are heavier, so I wore them on the plane and when traveling, to keep my bag lighter. My Tevas are waterproof and great for hiking, especially if there's a lot of mud and water to walk through.
If I were to bring one more pair, I might consider some running shoes, just because my Tevas took a long time to dry and I ended up wearing wet shoes everywhere. Since the humidity is so high during rainy season in Costa Rica, things take much longer to dry. This wasn't a big deal to me, but might be to someone who can't stand having wet feet.
Accessories: keep it casual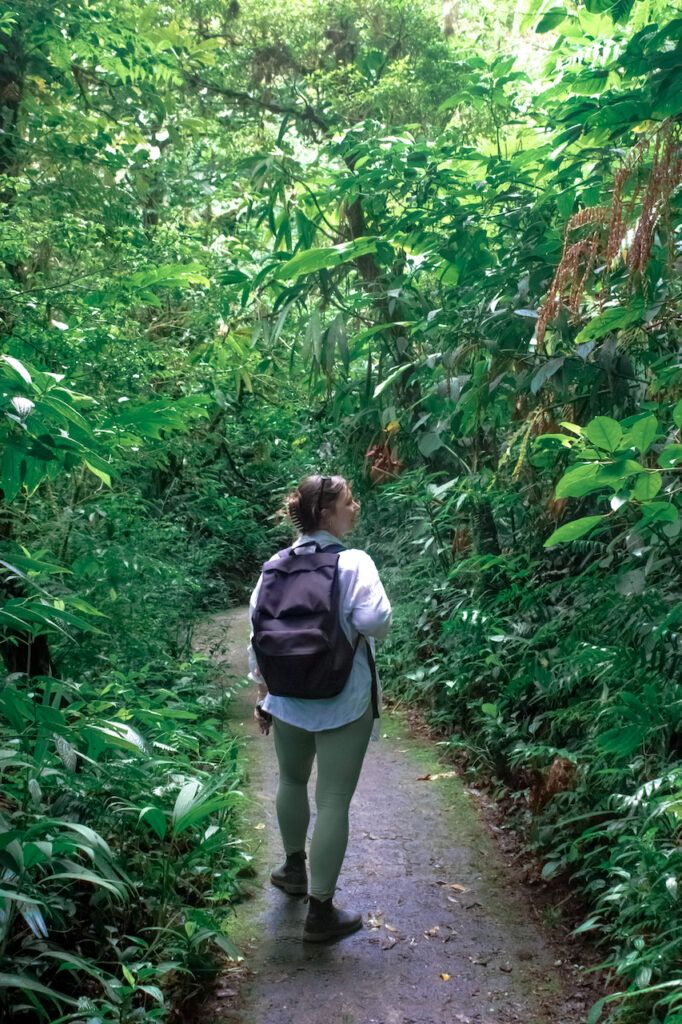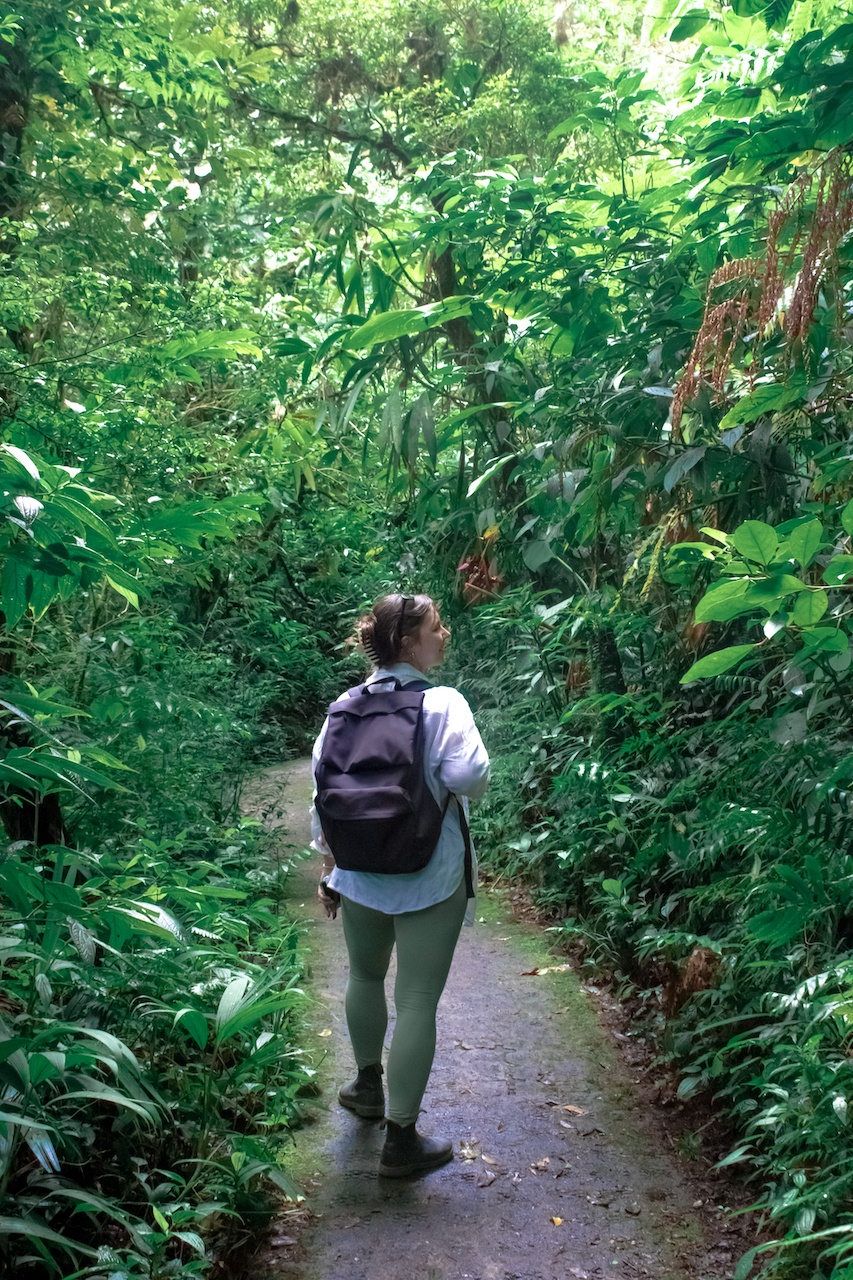 I opted for the simplest accessories possible. Just a pair of gold hoop earrings and simple black sunglasses were enough to elevate my outfits just a little bit without being flashy.
Since it's not very sunny in Costa Rica during the wet season, I didn't see a need for a sun hat that would take up a lot of space in my bag. I did bring a baseball cap, just for a bit of sun protection on the days when I went out for hikes.
Here are the accessories I brought:
Toiletries: opt for solids whenever possible
I'm one of those travelers that endlessly worries about liquids spilling in my bag, so I choose solid products mostly for that reason. However, solid products are also a great plastic-free option and sometimes even last longer than liquid products. For things like moisturizers, sunscreen, and bug spray, it's harder to find them in solid form, sadly.
These are the toiletries that I brought for one month in Costa Rica:
What to Wear in Costa Rica: Dry Season (December–April)
The weather during the dry season is much warmer in many parts of Costa Rica, as there's more sunshine and less rain to break the heat. I often heard Costa Ricans call this season "summer," even though it starts in December (when it's winter north of the equator).
As far as what to wear during dry season, the packing list I suggest is similar to the wet season, but with a few variations that will help prepare you for the heat and sunshine.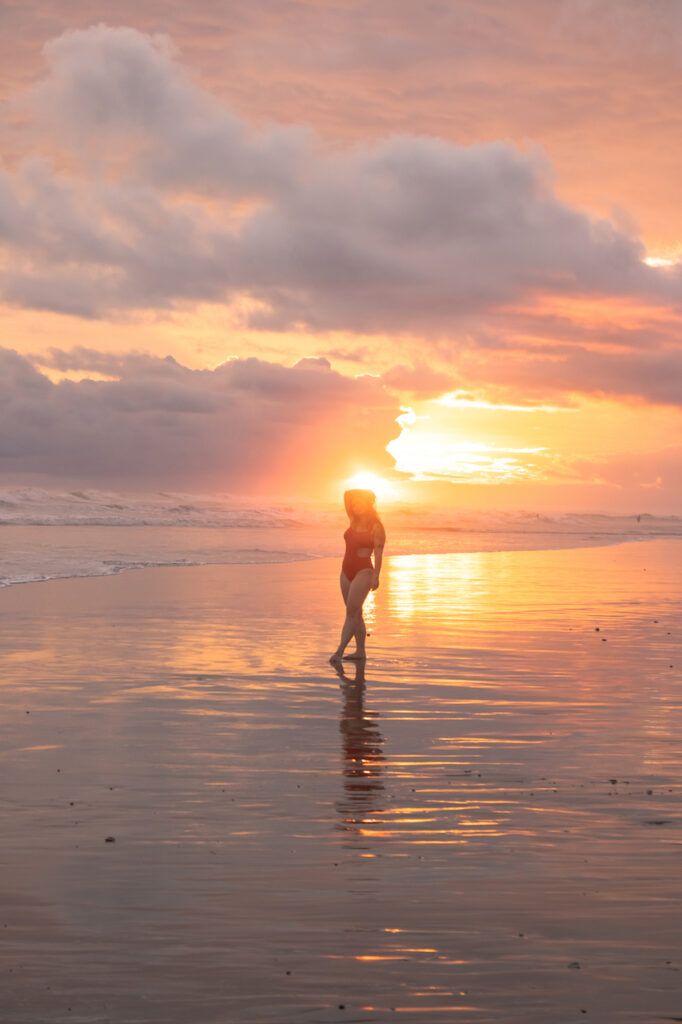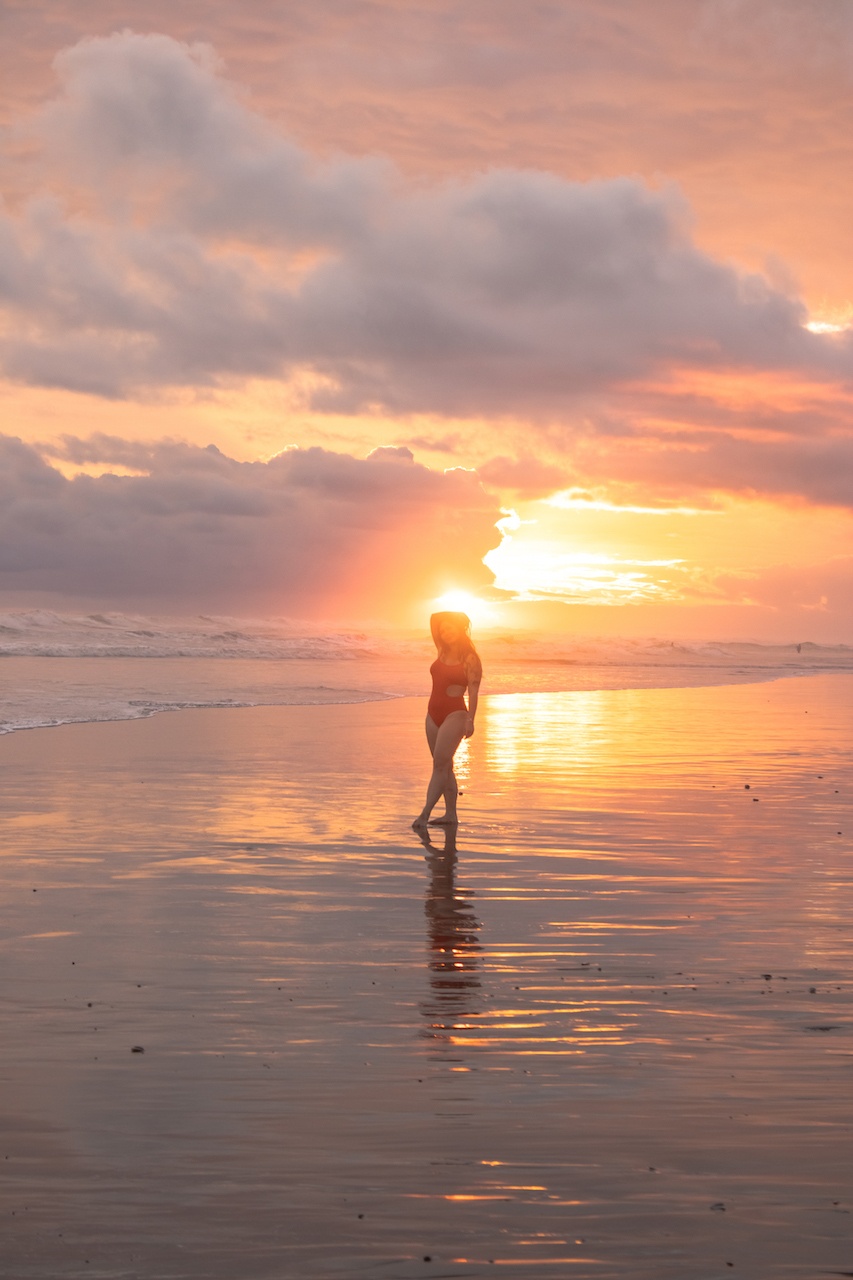 Clothes: easy, breezy, and comfortable
During the dry season, keeping cool is the name of the game, as temperatures soar. Bring clothes that are airy, dry quickly, and are comfortable above all else. Go for fabrics like cotton or linen, which are more breathable. To make it easier to create outfits that you actually want to wear, make sure everything follows the same color scheme, more or less. That way you can mix and match and not feel like you're wearing the same outfit every day.
Here's what I suggest for what to wear in Costa Rica during the dry season:
Footwear, accessories, and toiletries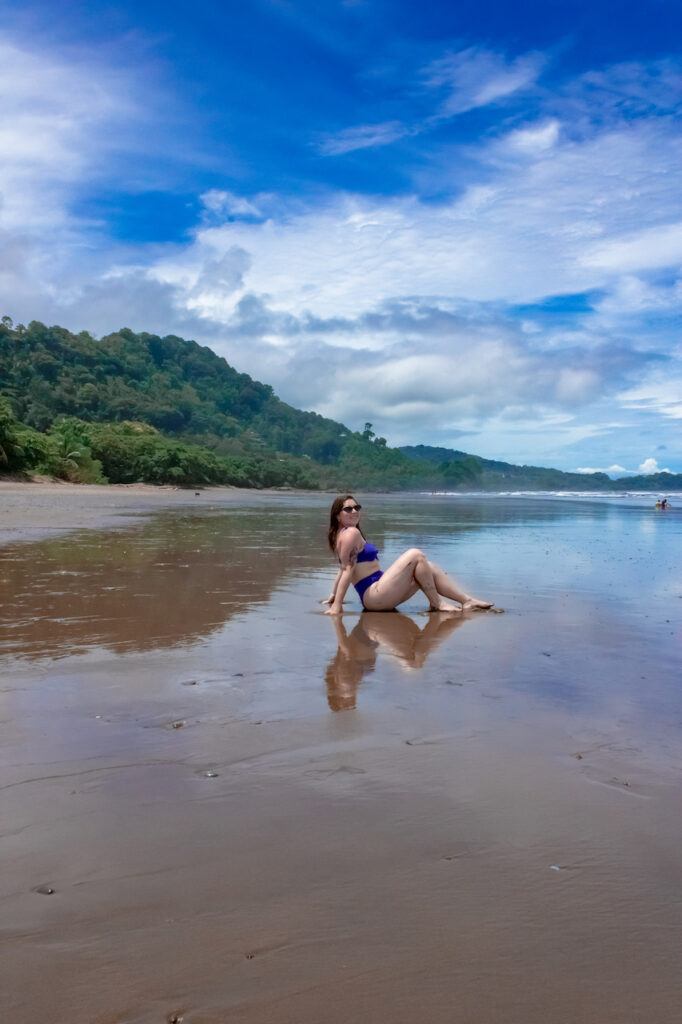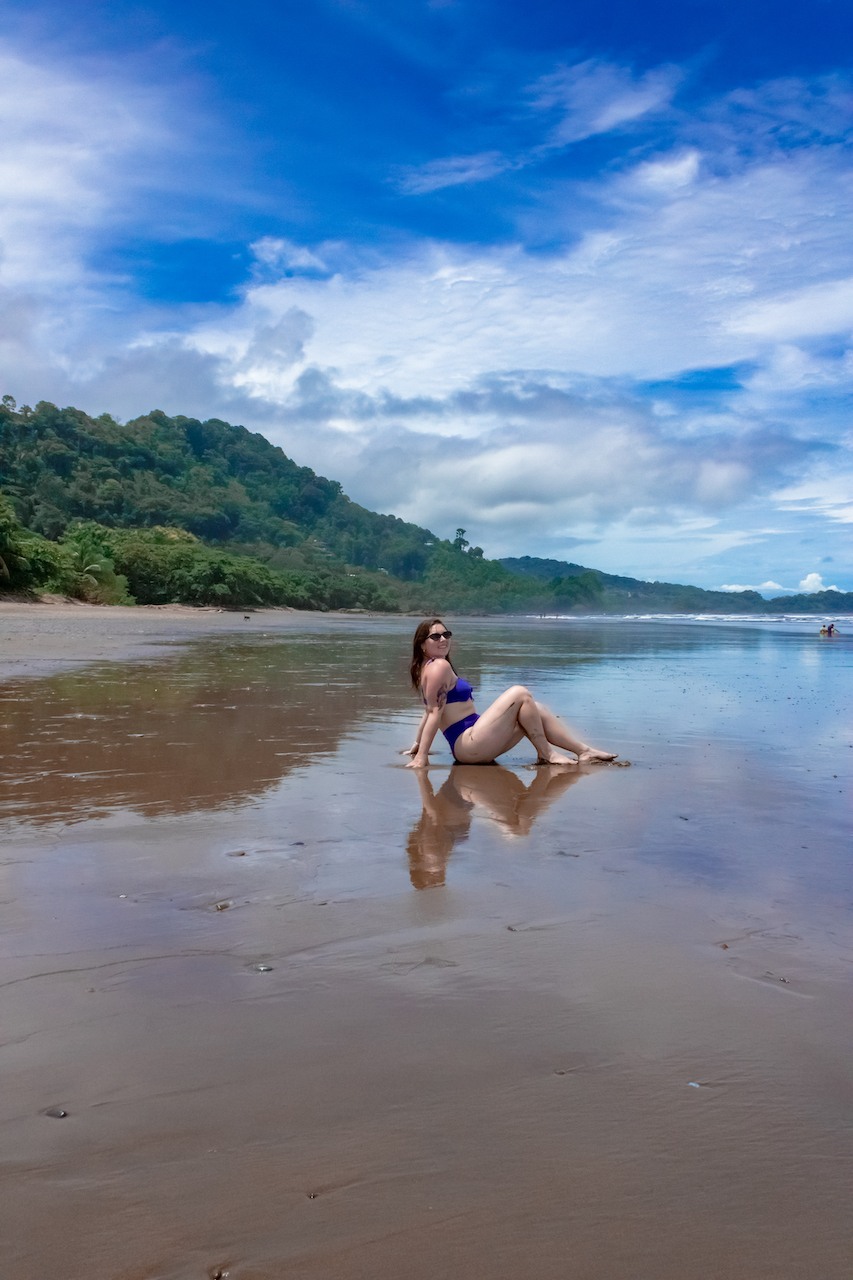 I don't see much need for variation in footwear, accessories, and toiletries from wet season to dry season. If I were heading to Costa Rica during dry season, I would bring the same shoes I brought for wet season. For accessories, I might add a floppy sun hat to protect my face from the harsh rays on the beach. My toiletries would stay the same, but I would bring an anti-chafing stick (my thick-thighed sisters know the drill) and higher SPF sunscreen for my face.
Backpack vs. Rolling Luggage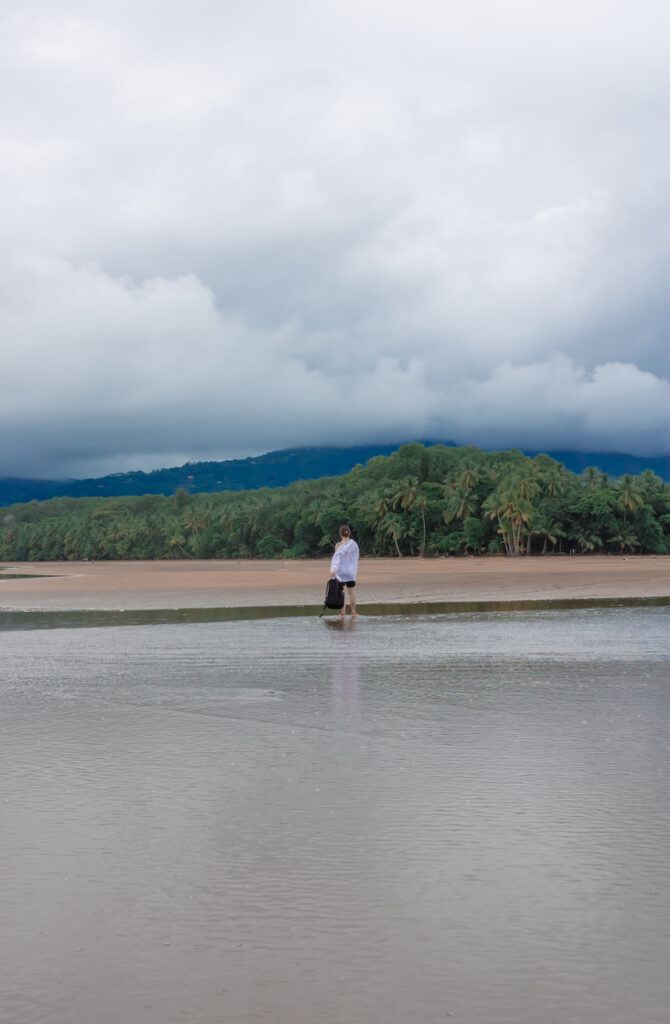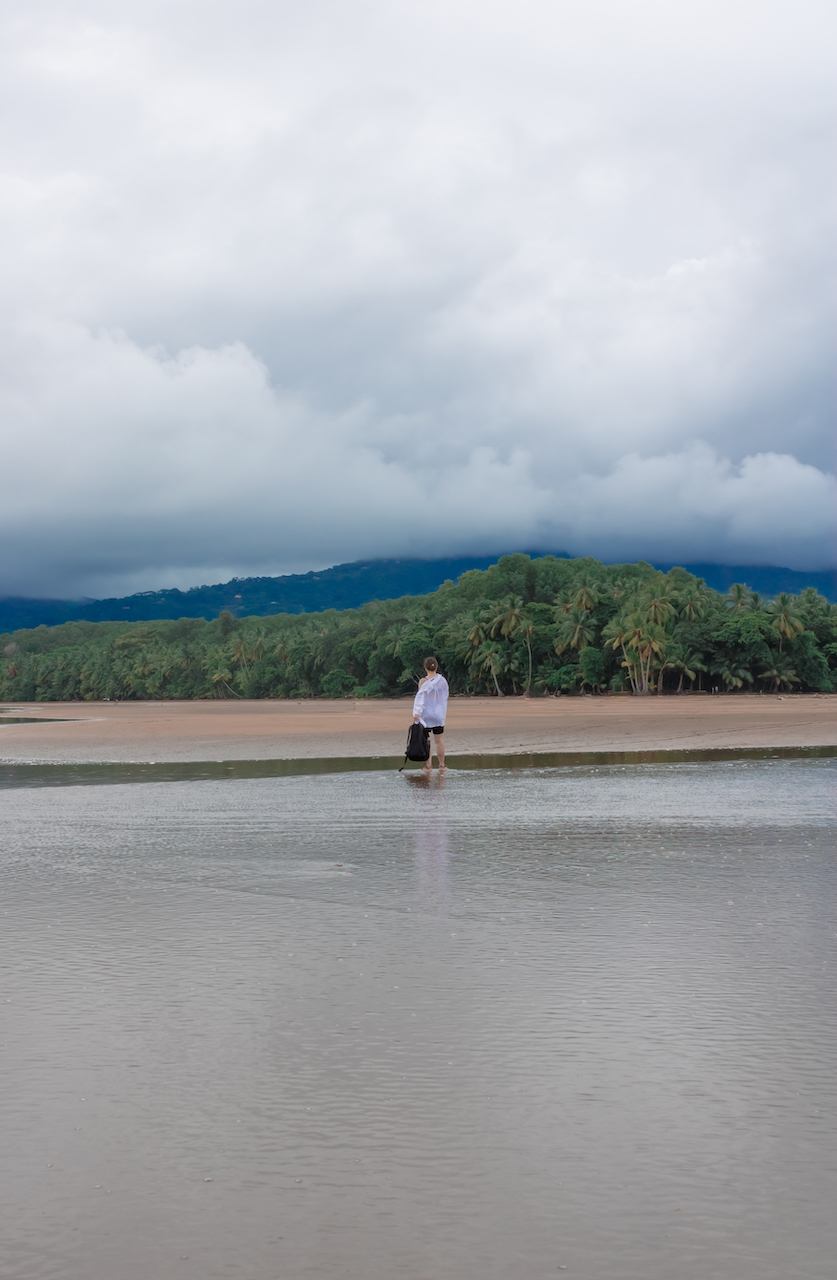 Generally speaking, for any destination the most important factor when deciding whether to bring a backpack or rolling luggage is your chosen mode of transportation. If you're renting a car or only visiting one location for the entirety of your trip, a rolling suitcase might make sense for you. However, if you're planning on using public transportation and will be moving around a lot that way, a backpack is definitely the way to go.
Backpacks & day packs
For me, it was a game changer to discover backpacks that could unzip like a suitcase. I used to dread having to fish out clothing items from my top-loading backpack, which made staying organized much more of a hassle. I recommend this Osprey 70L pack for longer trips, which zips open the way a suitcase would and comes with a waterproof cover to protect it from the rain.
Having a day pack is essential in Costa Rica, as there's so much to do outdoors. I spent very little time in my accommodations during my month there, leaving early in the morning and returning in the evening. So I brought everything I needed for the day with me in my day pack. I have this one from Everlane, which I love; this one from REI is just as cute and a bit smaller.
(If you want to find the perfect one for you, don't miss out on this complete guide to choosing a travel backpack.)
Rolling luggage
If you rent a car and are not worried about lugging your bags around, using a suitcase might be worth it. Especially if you go for a hard shell suitcase, it's easier to keep your things organized and safe from getting smashed in transit.
If you're checking a bag, I recommend this hard-shell rolling suitcase from REI. It's durable and has anti-microbial technology that inhibits the growth of bacteria, which is a big plus considering how humid the weather is in Costa Rica.
If you only want to bring a carry-on, this hard-shell suitcase is just a smaller version.
Keeping your things organized
Whether you bring a backpack or a suitcase, packing cubes are a must if you want to keep your things organized. I especially like clean/dirty packing cubes and sets like this one, which have multiple compartments.
Before I used packing cubes, it was always a struggle to keep my bag organized, which can be frustrating when you're traveling from place to place quickly. Now that I use them, I can't imagine traveling without them. After all, how are you going to decide what to wear if you can't see any of the items in your bag?
Pin me for later: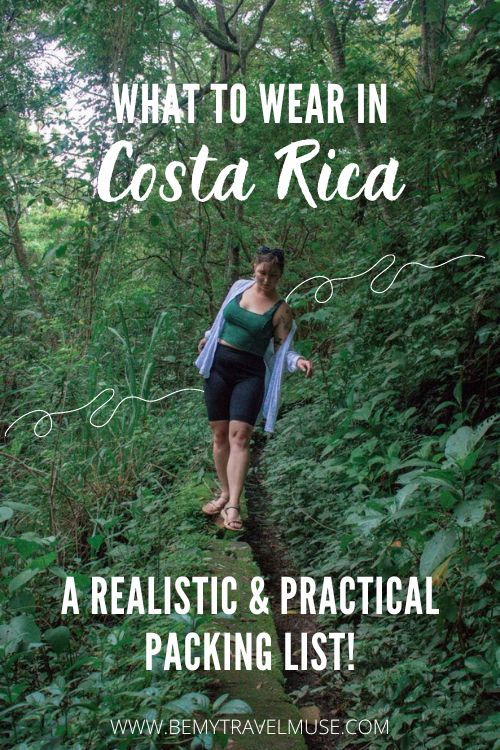 From what to wear in Costa Rica to what bag to put everything in, I hope this guide helps you prepare for an amazing trip.
What other items would you add to your list?
*Some links in this post are affiliate links for products and services we personally use and love. Any purchase you make through them supports us at no extra cost to you. Thanks so much!