This guest post is written by Theresa McKinney, a USVI enthusiast and travel blogger:
Are you headed to St. John USVI, aka one of the most magical places on earth? This slice of paradise is the second smallest island in the US Virgin Islands, with 60 percent of it being covered by Virgin Islands National Park. The national park's protection means this island stays the untouched paradise that visitors treasure.
A trip to St. John will deliver perfect white-sand beaches, unique hikes past colonial ruins, and unforgettable scenery in a pristine setting. As the island only has one chain hotel, the Westin, most people stay in small villas or cottages that dot this mountainous island. Thanks to their elevation, many of these rentals offer incredible views of the turquoise Caribbean Sea.
The below one-week itinerary will show you the best of St. John. From beautiful beaches to the best restaurants, you are guaranteed to have a dreamy getaway.
The Perfect 7-Day St. John USVI Itinerary:
Day 1: Arrive at St. John USVI
The first day of your trip will mostly consist of travel, as it takes a full day to reach St. John from most places. As there is no airport on the island, you must first fly into St. Thomas's Cyril E. King Airport (STT).
Grab a taxi right outside the airport in order to cross the island to the Red Hook ferry dock, where you can purchase tickets for the 20-minute ride to St. John. Tickets cost $8.15, plus an additional $4 for luggage; the ferry departs once per hour (see the schedule here).
The ferry will drop you off in Cruz Bay on St. John. Depending on when you arrive, your next step could be grabbing food or picking up your rental car.
Note: A rental car is not required on St. John, especially when staying in Cruz Bay, but it is much harder to explore without one. Reserve your rental car preferably six months in advance, or as soon as possible. Many villas require a Jeep for access, so double-check if you'll need one; they get booked up quickly. St John Car Rental and Mr. Piper's Jeeps are two of the best companies.
For a casual first meal, I recommend heading straight to High Tide in Cruz Bay. This bar and grille is located waterside, right next to the ferry dock. It's common to see people at High Tide with their luggage, as this is often their first or last stop of the trip.
Next, drive to your lodging. Most likely you'll be headed to a vacation rental in either Cruz Bay or Coral Bay (on the east side of the island). If this is your first time on St. John, you may want to stay closer to Cruz Bay, since it's a bigger town with more shops and restaurants.
Tip: Reserve your rental car preferably six months in advance, or as soon as possible. Many villas require a Jeep for access, so double check if you need one; they get booked up quickly. St John Car Rental and Mr. Piper's Jeeps are two of the best companies to use.
Day 2: Sea Turtles at Maho Bay
Start your trip at Maho Bay Beach, which has some of St. John's prettiest water and lots of amenities. This is the last beach along North Shore Road from Cruz Bay, so there is plenty of coastal scenery to enjoy during the 17-minute drive.
Before arriving at the beach, you'll see the Maho Bay Overlook. Pull off the road and make a quick photo stop before continuing onto the beach. Here, you can take in the beauty of the multihued turquoise water surrounding the boats anchored below.
Next, head down to Maho Bay Beach, where there is both a small parking lot and street parking. Once you settle in, enjoy the gentle water while looking out for the many sea turtles that frequent this beach. Snorkeling and stand-up paddleboarding equipment can be rented at Reef2Peak, which is a short walk across the street.
If you get hungry or want to peruse some shops, check out the beachy stalls at Maho Crossroads right next to Reef2Peak.
Tip: As a general rule for all North Shore beaches, aim to arrive before 10 am. They tend to get very crowded, and parking is limited. Plus, all the best shade spots get swooped up quickly.
Later, after resting up from your beach day, grab dinner back in Cruz Bay at The Longboard. Its menu features mouthwatering poke bowls and ceviche.
Day 3: America Hill Ruins and Cinnamon Bay
Start your morning with a hike to the America Hill estate house ruins. A combination of the Cinnamon Bay and America Hill trails, this uphill hike is approximately three-quarters of a mile in length and requires some exertion. But the unique pink ruins at the top and view out to the British Virgin Islands make it totally worth it.
After your hike, a swim at the beach probably won't sound half bad. Fortunately, Cinnamon Bay Beach is just an easy walk across the road from the trailhead. This beach is one of the longest along the North Shore, and you can admire the mansions of Peter Bay perched up on a hill to the west.
Treat yourself after your hike to lunch at Skinny Legs, which is fifteen minutes away in Coral Bay. This is a popular haunt for locals and visitors alike who seek a no-frills beach bar with good sandwiches, burgers, and drinks. If you still have room, grab a piece of the super tart key lime pie for dessert — it's the best on the island!
Afterwards, take a break at your lodging before heading to the Cruz Bay overlook to watch the sunset over St. Thomas. The sun typically sets just in time for dinner, so next, head over to Rum Hut to dine right on the water. You could also simply choose to watch the sunset here instead, while snacking on calamari and sliders.
Day 4: Snorkeling & Floating Taco Bar
Today is the day to get out on the blue-green Caribbean Sea by joining a full-day boat tour. There are various charter companies that do both private and group tours.
If you want to visit the famous floating taco bar, Lime Out, I highly recommend a tour with Bad Kitty. It makes a couple snorkel stops in crystal-clear, remote waters before taking you to Lime Out for lunch. The day ends with a stop at one of St. John's perfect beaches.
A stop at Lime Out is totally worth it for its high-quality food, some of the tastiest being the short rib and fresh tuna tacos. Plus, all its containers are either reusable or biodegradable, and it runs entirely on solar energy — a win for the environment!
In the evening, take a 25-minute drive to Coral Bay for dinner at Aqua Bistro. This open-air restaurant often has live music and is widely believed to have the best conch fritters on the island.
Day 5: Hike to a Beach
Check out another of St. John's best hiking trails today. Your choice will depend on the time you want to devote and your ability.
Option 1: Reef Bay Trail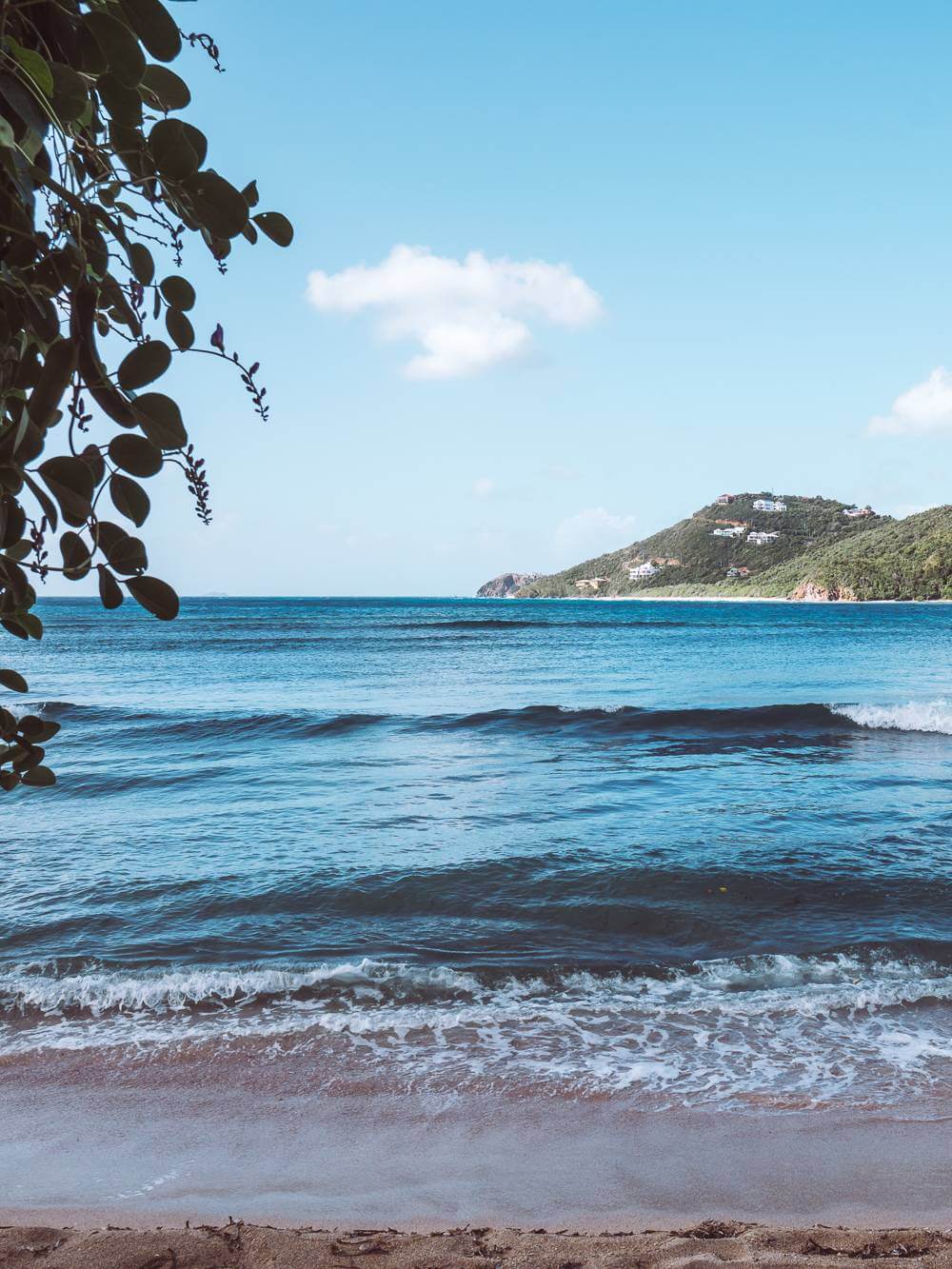 The Reef Bay Trail is one of the most famous and well loved on St. John USVI. It is an out-and-back hike that totals about five miles. It's best to set aside a few hours to complete it and enjoy the many sights along the way. It's a bit easier at the beginning as you descend into a valley, but the climb back up is more challenging on the return leg.
Along this hike, you will pass Danish plantation ruins (the US bought the island from Denmark in 1917) in various degrees of intactness. There is also the option to veer off onto the quarter- mile Petroglyph Trail to see ancient rock carvings.
The trail ends in lovely Reef Bay, which is a small, remote beach with a beautiful view out to sea.
Option 2: Salt Pond & Ram Head
The second option is to hike a fairly flat three-quarter-mile trail to Salt Pond Beach. This is one of St. John's most underrated beaches, and it has some of the stillest, clearest water on the island. From here, you can:
Enjoy the beach for a while
Do another quarter-mile hike to Drunk Bay, a windy, rock beach where you'll see some of the roughest waters on St. John.
Continue on to the Ram Head Trail. This two-mile out-and-back trail is dry, rocky, and dotted with small cacti. The scenery is jaw-dropping, with sapphire blue water contrasting brilliantly against the light rocks. At the end point of the trail before turning back, you'll find panoramic sea views, with the silhouette of St. Croix in the distance.
Later in the day, head back into Cruz Bay for happy hour at The Beach Bar for $4 painkillers. Stay until sunset to be rewarded with amazing views right from your seat. The Beach Bar has a full menu, so you can dine here or head somewhere a little less casual with even more ambience for dinner, like Morgan's Mango.
Day 6: Peace Hill Windmill & Secluded Beaches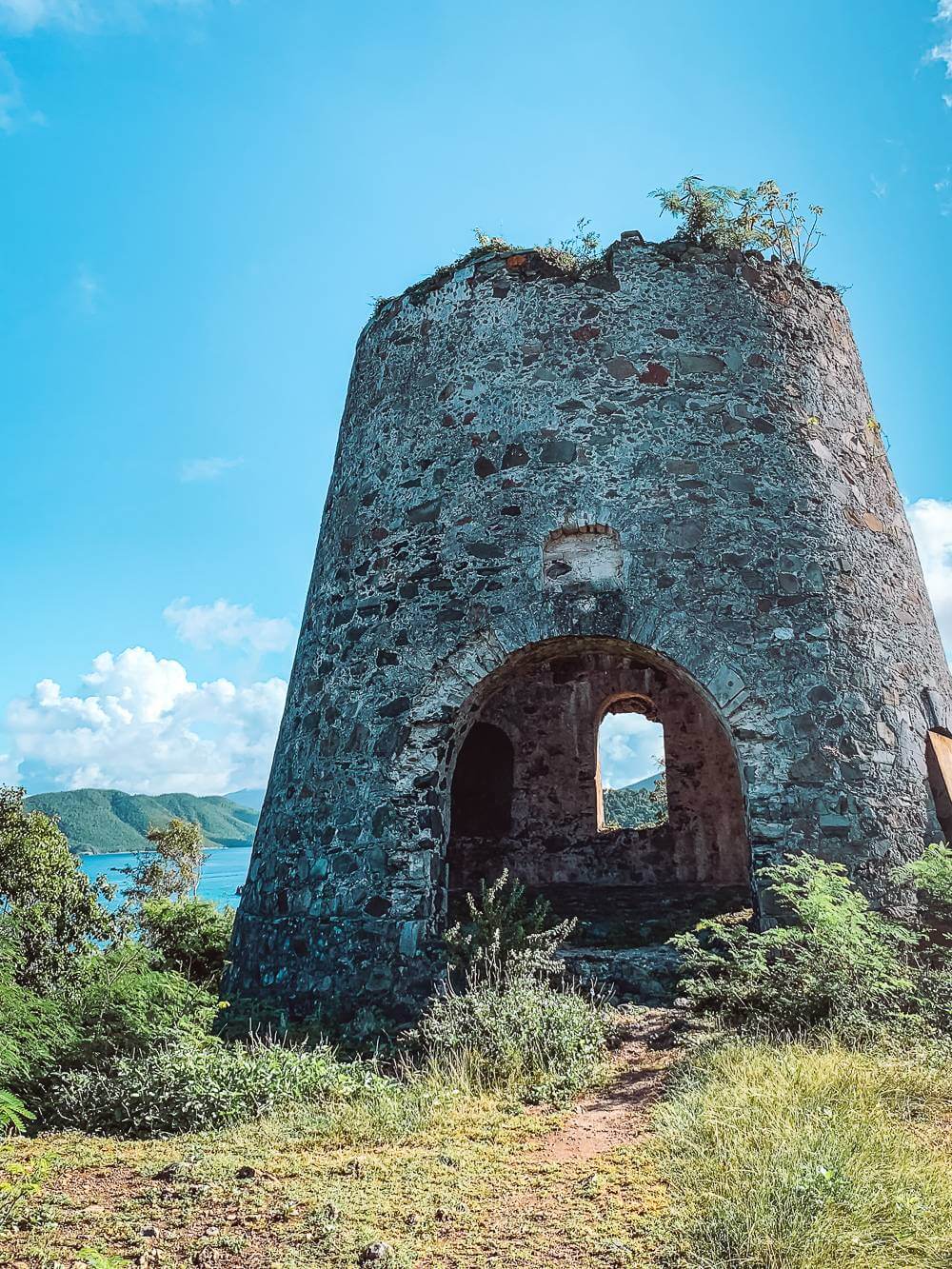 Start your sixth day on the island with a small morning hike up to the Peace Hill Windmill. It's a bit of a climb, but only a hundred meters long and doable for most skill levels. At the top, you'll find the ruin of an old windmill, as well as beautiful 180-degree views of the surrounding beaches.
When you've finished taking in the scenery, choose from one of these two quiet yet gorgeous North Shore beaches that are near each other:
Oppenheimer: To nab one of the three parking spots in the driveway, you must arrive by 8:30am at the latest. If you succeed in getting a spot, you'll be rewarded with a spacious, shady beach with no crowds.
Jumbie Bay: Park in the small lot across the street from the beach. Then follow the quarter-mile trail down to the water. Jumbie also does not get crowded, and it features turquoise water that pops against the surrounding black volcanic rock.
In the evening, treat yourself to one of the nicest dining establishments on St. John USVI. There is ZoZo's, which is uniquely situated at the Caneel Bay Resort along North Shore Road. Extra Virgin Bistro is another classy option right in downtown Cruz Bay.
Day 7: Last Day on St. John USVI
On your last day, make sure to hit all of the scenic overlooks along North Shore Road if you haven't already. The Trunk Bay Overlook, about 11 minutes down the road from Cruz Bay, is the most famous view on St. John, so you definitely don't want to miss it.
Next, continue on to Trunk Bay, where you can park either in the adjacent paved lot or along the road. Arrive by 10 am, or you might not find a parking spot at this super popular beach.
Facing the water at Trunk Bay, there is more sun to the right and more shade to the left. You can spend the day enjoying arguably some of the best scenery on St. John, snorkeling the coral reefs on the underwater trail around Trunk Cay, and grabbing small bites at the snack shack.
Later in the day, head to the shops in Cruz Bay's Mongoose Junction before dinner. This is a great place to grab any last-minute souvenirs.
Finally, it's time for your last dinner out in St. John. Head to one of your favorite spots from earlier in the week, or check out the Lime Inn in Cruz Bay. This is a sister restaurant to Lime Out, with virtually the same drink menu. Although it has a casual vibe, the Lime Inn makes for a festive evening out, with entrees featuring Caribbean lobster and fresh tuna.
Departing St. John USVI
The next morning, you'll make your return trip on the ferry to St. Thomas, with perhaps one last breakfast at High Tide or The Landing before you leave. From the ferry dock in Red Hook, it will be very easy to quickly grab a taxi back to the Cyril E. King Airport.
Your adventures have come to an end — for now. St. John makes a lasting impression on everyone who visits, and you'll undoubtedly be plotting your trip back before you even fly home.
You are now set to spend the perfect seven days in St. John USVI. Prepare to be stunned by some of the most beautiful beaches in the world in this protected tropical wonderland. Just remember to bring some reef-safe sunscreen, and you're good to go!
Pin me for later: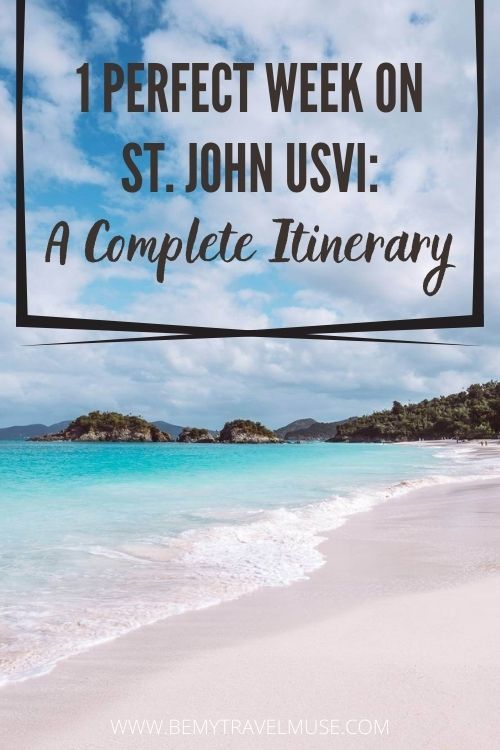 About the author: Theresa is the creator of Fueled By Wanderlust. Although she did not start traveling until her mid-twenties due to some pesky student loan debt, with careful budgeting, she was able to pay that off and start planning trips. Since then, she has traveled more and more each year to various places in the U.S., Europe, and the Caribbean. You can follow along with Theresa's adventures on Instagram.