For as long as I can remember, I've been obsessed with books. I spent a lot of time as a child sitting on the floor of my local library hunched over my latest favorite read — and not much has changed. I don't just read books. I devour them.
That said, I've come across a few that have a bit of extra magic in them. Between typical self-help, self-development-type books, novels, and short reads, there have been plenty that have changed the way I think and live.
These are the 10 most life-changing books that I've read to date:
First of all, I was not ready for this book to totally call me out about my own complicated relationship with money. Once it did, I was sent into a fit of wondering how I had gone this long without questioning my own beliefs and ingrained behaviors regarding it.
Jen Sincero is witty, humble, and relatable in her book You Are a Badass at Making Money. She breaks down her personal evolution by telling stories about her financial triumphs and pitfalls. The main concept that she discusses is that money is essentially just energy. It's not an evil thing that is killing the earth and pitting us against one other, but rather a source of abundance and transformation if we know how to align with it.
She goes into depth about manifestation, but not in a way I had ever read before. Her matter-of-fact tone brings a whole new take to manifestation that I found refreshing and trustworthy. She puts it simply and makes it feel accessible to everyone.
In a nutshell, if you want to start improving your relationship with money and even have more of it, read this book.
Honestly, what did we do to deserve Brené Brown? I have to admit that I've binged nearly all of her podcast episodes and seen her TED talk, "The Power of Vulnerability," too many times to count. She definitely brings her A-game in Daring Greatly, too.
Brown is a researcher and repeats often that she adores data. One of her most famous quotes is that "stories are just data with a soul," an idea that comes up often in Daring Greatly. The book dives into the power of embracing vulnerability in our lives and leaning into imperfection. Her concept of "daring greatly" involves taking emotional risks, mostly in interpersonal relationships, to achieve a greater sense of wholehearted intimacy with ourselves and others.
I can't tell you how many times I had to put this one down and have a good cry. The way Brown tells stories is not only inspiring but also makes this highly sensitive gal feel very seen. The entire idea that it's okay and even encouraged to be vulnerable was a life-changing concept for me before I found this book. I'm so glad I did!
Considering the last few years we've had, the concept of creating a new earth sounds pretty good, right?
If you loved The Power of Now, this should definitely be at the top of your reading list. A New Earth plumbs whole new depths when it comes to examining and understanding the ego.
By exploring how transcending an ego-based consciousness contributes to one's state of happiness and fulfillment, Tolle zooms out self-development to community and worldwide ascension. The book provides a sense of hope for humanity that so many of us need. Not only that but Tolle fills A New Earth with rich personal anecdotes and stories that bring his concepts to life.
This book was life-changing for me, because it deepened my understanding of the ego and provoked many self-observant thoughts. I learned how to look at my ego-based thought patterns without judgment and came to understand myself in a new way.
To be honest, this book had me literally weeping at nearly every chapter. It took me a long time to finish it because of how intense it was to read. Because of that, it's not for everyone and might even be triggering for some.
The Body Keeps the Score explores the physical manifestation of emotional trauma in the body. Diving deep into how traumatic stress rewires our brains, van der Kolk sheds light on the science behind our trauma responses.
This book was so profound for me because of the deep breath it let me take by stating that trauma is a part of life — and it is possible to understand it and even heal from it.
If you have ever wondered why certain things trigger you, this book is a great source of helpful information about how trauma is stored in our minds and bodies.
This is one of the few books that I wholeheartedly recommend you listen to instead of reading. Robin Wall Kimmerer's voice is soothing and brings her wisdom to life.
Kimmerer is a member of the Citizen Potawatomi Nation, which, like many Native American groups, has deeply rooted traditions of caring for plants. She is also a botanist, combining her ancestral knowledge with the teachings of modern science.
Kimmerer holds these two ways of understanding plants perfectly. Her ecological awareness from her Potawatomi traditions involves reciprocity — giving back what we take from the earth. Throughout the book, she demonstrates how she practices this and dives into her personal relationship with plants as both a Native woman and a botanist.
Braiding Sweetgrass is absolutely delightful. Reading (and then listening to) this book helped me understand my relationship with plants and nature overall. It even brought me to tears when I began to think about all the ways I've overlooked the beauty and subtle power of nature.
Sapiens is jam-packed with fascinating information about humankind and maps out exactly how our species came to be. Even if you aren't a big history buff, this book draws from several disciplines to tell a well-rounded story about humanity. Using anthropological, biological, and even economic information, Yuval Noah Harari will make you ponder what it even means to be human.
Not only does Sapiens offer historical knowledge about our species' turbulent past, but it also provides insights into what the future may hold. Harari even gives some suggestions on how we can influence our evolution for the better.
The perfect audience for Sapiens is one that is abundantly curious about humans and how we have gotten where we are. It was life-changing for me because it helped me understand and even appreciate my own nature, as imperfect as it may be.
If your YouTube algorithm is always giving you productivity and wellness videos to watch, like mine is, you've probably heard of (or read) Atomic Habits by James Clear already. This book provides clear, research-based suggestions on how to not only break bad habits but also form good ones. Clear's point of view is that the end results that we look for can be achieved by consistent implementation of small habits.
The concept of creating positive systems, as presented here, was pretty mind-blowing for me. I hadn't thought of my habits as systems before, and once I read this book, I was able to understand why I was feeling stuck in many areas of my life.
Even if you are a person who doesn't consider themselves to have "bad" habits, this book will make you think differently about the different systems you have in your life and how to make the necessary changes to be more productive, all the while shifting your perspective on progress and success.
A life-changing book is one that challenges preconceived ideas, provokes reflection, and continuously makes the reader think about it even after putting it down. That's what Americanah by Chimamanda Ngozi Adichie did for me. I was excited to read this novel after watching Adichie's We Should All Be Feminists TED talk. It was the first novel of hers that I read, and I've been addicted to her writing ever since.
Americanah chronicles Ifemelu, who moves to the United States from Nigeria, leaving her love Obinze behind. He eventually makes a dangerous move to London while Ifemelu navigates culture shock and grapples with what it means to be a Black woman in America for the first time. Adichie not only tells an incredible story but she does so while incorporating all the intricate details of culture and racism in the United States.
Thich Nhat Hanh is a Vietnamese Buddhist monk who is often credited with bringing mindfulness to the West. His writing is always gentle, kind, and simple, which is why I've read so many of his books. This one remains my favorite because it was the first one that made mindfulness click for me.
The Miracle of Mindfulness is a heartfelt read that focuses on the beauty of even the most mundane tasks. The greatest teaching in this book is that every moment of every day is a new opportunity to grow and find peace. Something as "boring" as washing dishes can turn into a mindful moment. This changed my perspective on how I occupy my time and how I'm practicing gratitude in my daily life.
I'm a little bit of a Michael Pollan junkie and have read many of his books, but this one is my new favorite. How to Change Your Mind: What the New Science of Psychedelics Teaches Us About Consciousness, Dying, Addiction, Depression, and Transcendence is fascinating and full of interesting tidbits about the neuroscience behind psychedelic substances and the history of the ones we are most familiar with: psilocybin mushrooms and LSD.
This topic is controversial, which is why I think this book is so life-changing. It helped me understand why the conversation around psychedelics is so taboo and even sparked my curiosity about their therapeutic use. The book includes the historical background necessary to understand how we've arrived to think of these substances as recreational drugs, while also providing hard science to paint a more well-rounded picture of them.
How to Change Your Mind isn't a call for everyone to go out and trip on psychedelics. It's a thoughtful analysis of our species' relationship with the substances and what the future might hold for psychedelics research.
Pin me for later: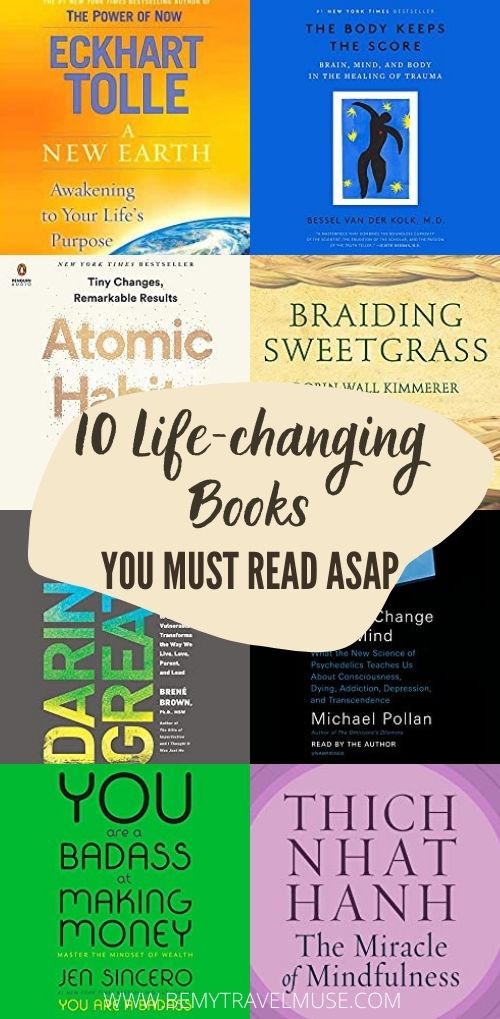 There's a chance that some or all of these books won't be as life-changing for you as they were for me. That's okay! The information that we read hits each of us differently, resonating in new and interesting ways for every person.
What are some of your life-changing books? Let me know what I should read next!