I'm somewhat of a Las Vegas connoisseur.  I go several times per year because it is A. Pretty much free for girls, B. Very close to where I live in Southern California, and C. Vegas is simply fabulous.
The nightclubs in Vegas are, of course, opulent and tons of fun, but my favorite way to spend a day in Vegas has been, and always will be, at a pool party.
One of the hottest pool parties at the moment is Encore Beach at Encore, connected to the Wynn Hotel. The hottest pool parties are always changing, but for the time being, this seasoned Vegas veteran prefers to party here.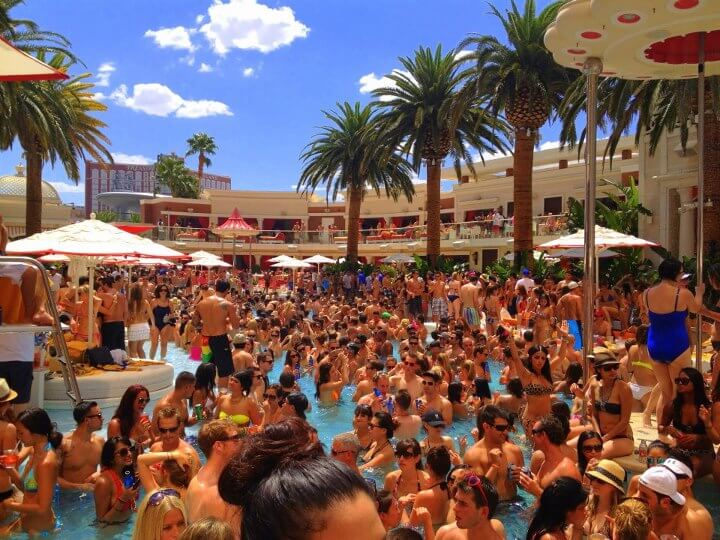 As compared to Tao Beach, this venue is simply much larger.  As compared to Wet Republic it's, well, a little classier (take this with a grain of salt as Vegas isn't exactly a classy destination). There's also the Palms pool, which I find a little meh. Marquee is equally hot at the moment, but I haven't yet had a chance to party there.
Plus, Wynn has contracts with some of the best electronic dance music DJs, if that's your thing (it's most certainly MY thing).
My first experience there consisted of dancing the afternoon away to Kaskade, and my most recent experience involved shaking it to Calvin Harris.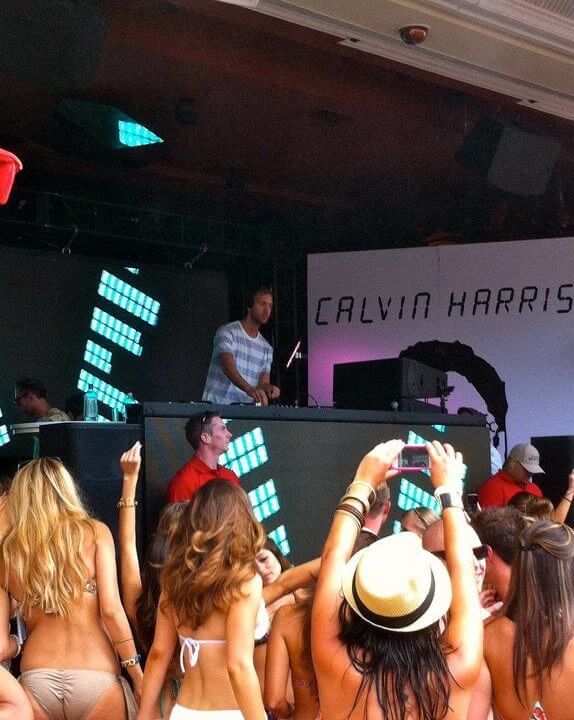 I'm lucky, I have some great friends out there who are well-connected.  So well-connected, in fact, that we were able to get a completely comped table for just us girls next to the DJ booth. It might have been my best Vegas experience yet.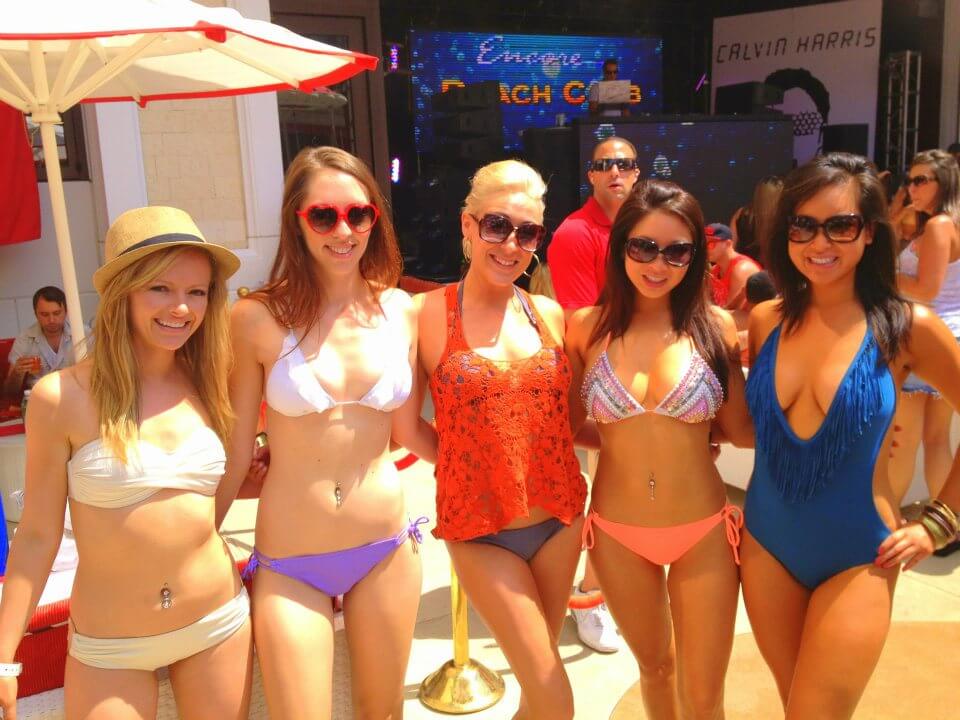 Whether one is well-connected or not, Encore Beach is still a fabulous time.  It boasts runways through the pool, dancing platforms that rain down water,  generally great music, and pretty awesome cabaña options, if you have a few grand to blow.
If you don't, you can still have a fabulous time.  The key is to get to the party early (read, before noon) so that you can avoid waiting in line for ages.  I would recommend an early entrance whenever possible where Las Vegas is concerned, especially if the scheduled DJ happens to be a big name.
Some other important tips:
Don't bring a large purse to the pool.  Minimize the amount of things you bring as it is hard to stash your stuff and, unfortunately, easy to have it stolen.  There are often lockers, but they are expensive to rent.
Whenever possible, get ahold of a promoter a day prior so that you can get on the VIP list for a shorter wait and cheaper entrance fee.  I was surprised to find that loading photos on Instagram of myself and my friends at other venues in Las Vegas got me a few offers from promoters.  One can also walk around the casino earlier in the day and sometimes get approached by promoters as well (fair warning, this only works for girls. Guys, unfortunately, should expect to pay full price).
Be smart.  Don't get too intoxicated and make sure to keep hydrated.  You'll be outdoors in extreme heat and won't have much opportunity to sit or lie down.
*If you don't know any promoters, and really want to have a great Las Vegas experience, the best way to get VIP treatment at the pool party or club of your choice is to stay at the hotel that hosts it.  In this case, that's the Encore at Wynn Las Vegas which is undoubtedly one of the nicest and best situated on the strip.
Do you frequent Las Vegas?  Do you stop by once in a blue moon?  What are your favorite places? Comment below!