Imagine long stretches of snow-hued sand framed by turquoise blue water on one side, and the deep sapphire of the Pacific on the other. When standing in the middle, one can easily see both sides in this long, slim island. Palm trees lean lazily over the blue while black-tipped reef sharks weave through the water, given away by their conspicuous dorsal fins in the ankle-deep water.
There's hardly anyone else on the beach, yet it's one of the most pristine in the world. I feel like I've stumbled upon a secret paradise – one of many in French Polynesia.
Locals throw out the shaka and say "Ia Ora na" (pronounced yo-rah-nah) as I cycle by on my beach cruiser. As I've come to understand and love about French Polynesia, friendliness is built into the cultural fabric.
I make a quiet promise to myself to improve my high school French. I love it that much here, along with the sea breeze, walls of sharks, afternoon rains and mosquito bites. I understand why the 800 or so residents live here. It's instant relaxation.
During my time there I explored, dived, biked, and ate to my heart's content. This is everything you need to know about visiting Fakarava in French Polynesia: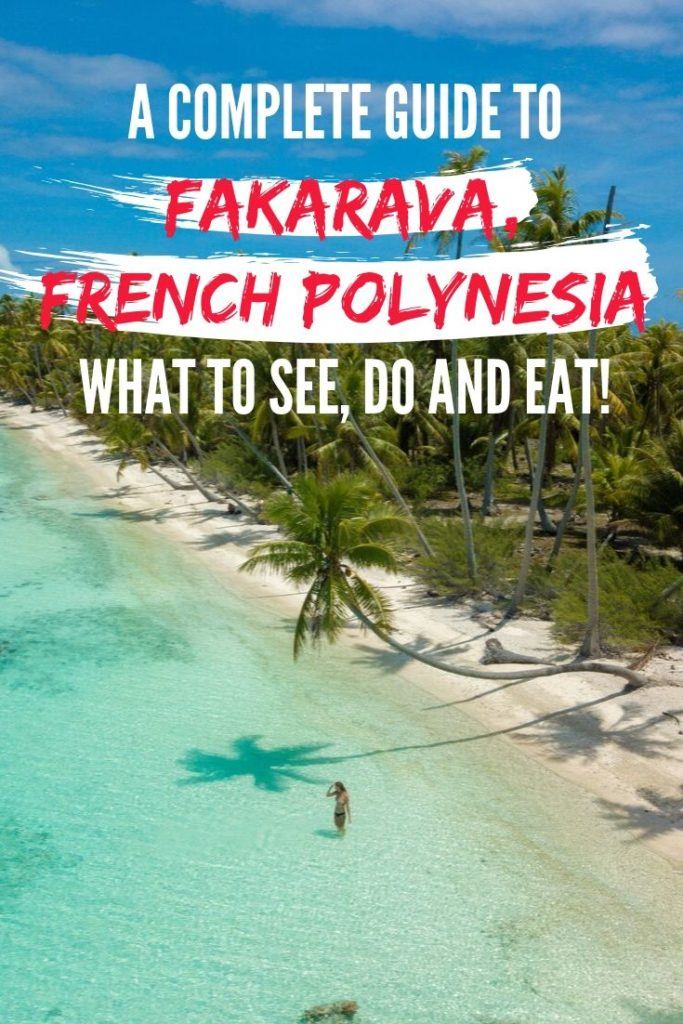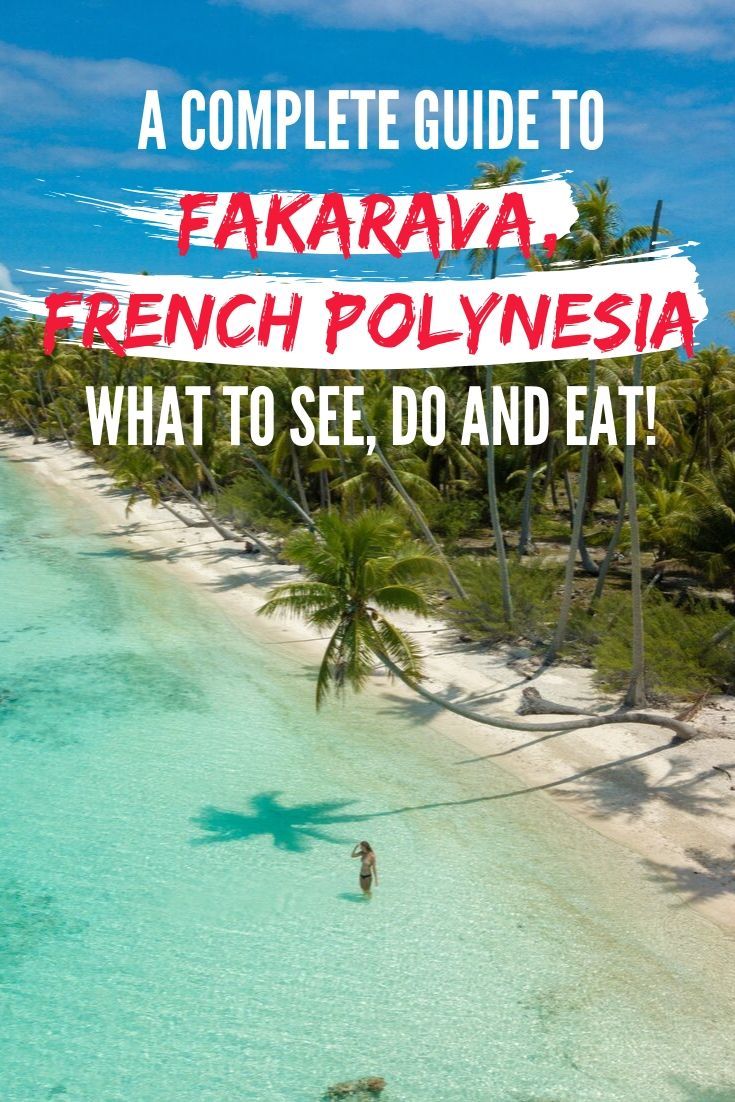 Getting to Fakarava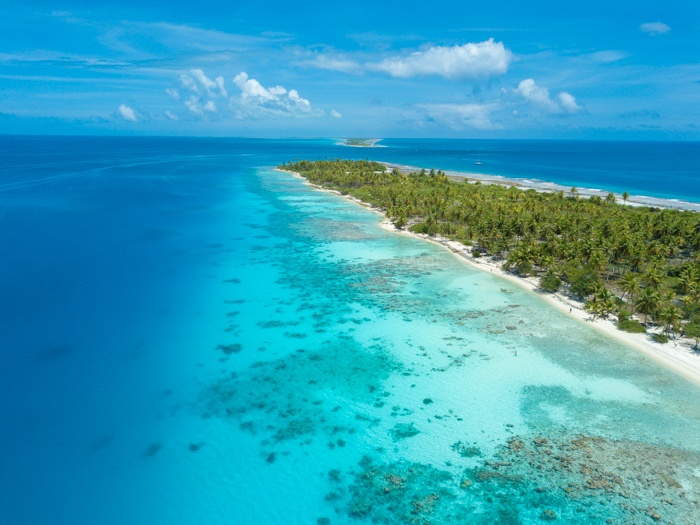 Fakarava is located in the Tuamotu Archipelago, close to the largest atoll in French Polynesia, Rangiroa. As of this writing, Air Tahiti flies to Fakarava from Tahiti every day of the week, except once in a while they skip Tuesdays (the most) and/or Thursdays. You can also reach Fakarava from Rangiroa on Tuesdays (sometimes), Wednesdays, Fridays, and Saturdays.
As is the case with most Air Tahiti flights, budget around $250 each way if flying from Tahiti. It's also possible to fly onward to the Marquesas from Fakarava, which I find quite exciting. You can book your flights here.
Most pensions offer transport to and from as part of their rates, since there are no taxis or buses in Fakarava. You'll see when you land – it's a small, one-room airport!
What to do in Fakarava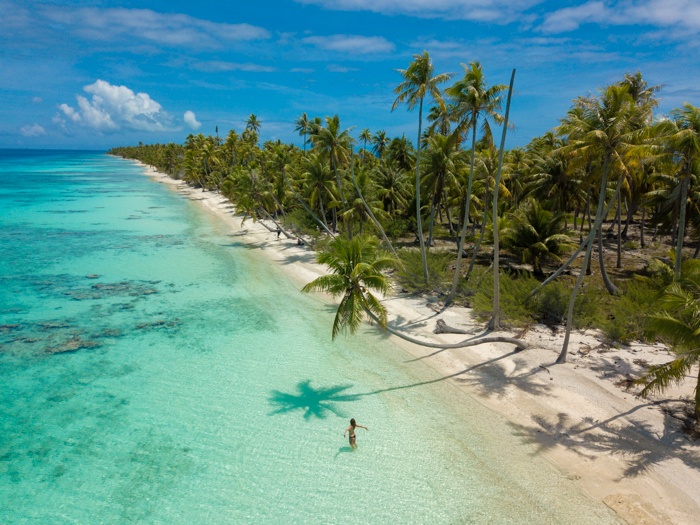 If you've heard of Fakarava, chances are good you already know it's famous for SCUBA diving, which I'll cover in the next section, but there's a lot more to it than that! Here are a few more of my favorites:
Plage du PK9: This is the best beach I've ever been to, and I've been to a lot! The sand is white, I didn't see one piece of trash, and there's hardly anyone else there. You'll find PK9 on the north side of the island, past the airport to the west.
I biked the 9km there and back from my guesthouse in Rotoava town ("PK9" essentially means 9km from Rotoava!). After the airport, the road turns into dirt, but it's flat and easy enough to bike if you can avoid the big rocks and potholes. Your reward is paradise. Bring your snorkel mask!
A word of caution – PK9 is 1km before the end of the north side of the island. The current is very strong at the pass, so swimming is not advised. Save it for SCUBA diving!
Pink Sand Beach (Les Sables Roses): While there are several pink sand beaches in Fakarava, this little sandbar is the most famous and perhaps the most striking. It's best accessed from the south part of the island. You can organize a trip through your guesthouse.
Lagoon Tours: Not a diver? Not a problem. Lagoon tours can take you to some of the best snorkeling spots in the area. Some pensions include this in their rate, others charge extra for it. As with most excursions in Fakarava, you can organize this through your pension (guesthouse). Some pensions include this in their rate, others charge extra for it.
Ride a Bike: I loved this part of Fakarava! You can just hop on a bike and see where the adventure takes you. Locals will say hello as you pass by, you'll see gorgeous beaches and signs for pearls, and every now and then, a snack bar. Pull over whenever you feel compelled. It's flat and easy, and impossible to get lost. I loved it!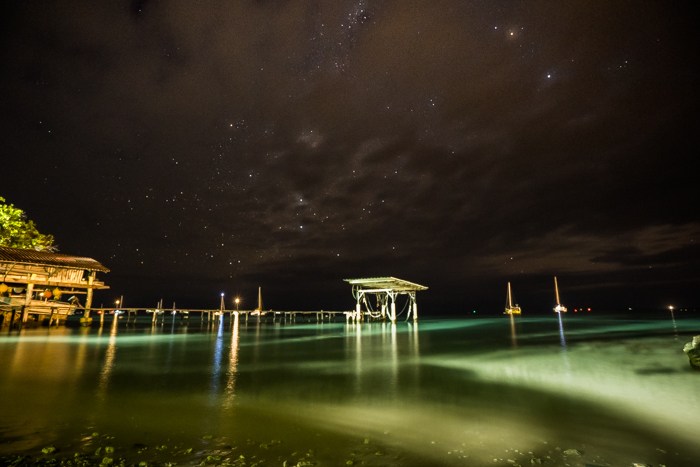 Stargaze: It's so safe in Fakarava, it's easy to just hop on a bike and explore at night, but bring a light with you so that cars can see you. The street lights end once you're out of town. On a clear night, you can clearly see the Milky Way. Even though I had clouds, it was a beautiful sight.
SCUBA Diving in Fakarava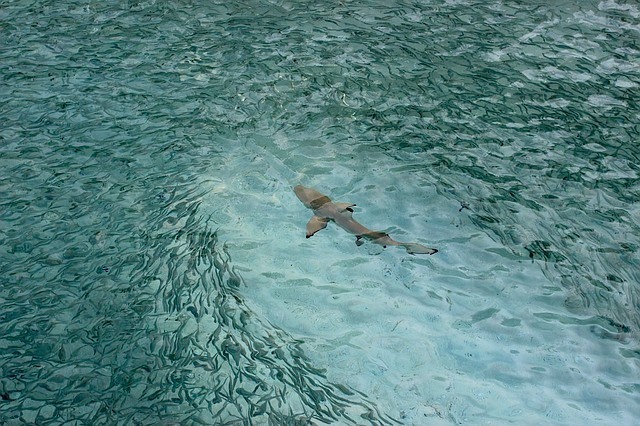 I can honestly say this was some of the best SCUBA diving I have ever done. If you love the big stuff, you're going to love diving in Fakarava.
Most dive shops organize single dives or if it's a far trek, like a day trip to the Tumakohua (south) Pass from Rotoava, it'll be a day trip to the tune of about $200, including lunch. It's more expensive than most diving I've done, but it was worth it every time.
Tumakohua (South) Pass: The walls of sharks at this southern pass are what makes it famous. Plan on black and white-tipped reef sharks, upwards of one to two hundred at once.
The best way to dive the Tumakohua Pass is to stay down south. I learned this the hard way when some bad weather came in and made it impossible for me to dive it. It was disappointing, but only reinforced what I already knew, I would be coming back to Fakarava. Based on what I heard from others who dived it, the amount of sharks was unbelievable.
Garuae (North) Pass: I dived this one twice. Keep in mind this is a drift dive and the current is very strong. The more experience you have, the better. Expect to see plenty of sharks here, too.
In addition, you'll see a wide variety of schools of fish. The abundance was mind blowing. I also regularly saw manta rays, having the most prolonged and close encounter I've ever had with one. On our slowest day we even saw a freaking humpback whale during the dive. I think that says it all.
If you do decide to stay on the north side of the island and want to dive both passes, give yourself more time than I did. Excursions can get canceled if there are not enough people or especially if the weather is not good, which is what happened in my situation. Two out of four days that I had in Fakarava were pretty windy and rainy. This is uncommon in September but it happened to me, so give it more time if you can.
Dive Operators:
Kaina Plongee: I went with these guys. Like the other operators, they have a dinghy to dive from and provide all the gear you need. They spoke enough English for me to understand. Email them ahead of time to plan the dives.
TOPDIVE: A bigger operation with locations elsewhere in French Polynesia. Their advertised prices were slightly lower, and I might check them out next time.
Dive Spirit: Another option around PK 4. I haven't tried them but if you're closer to that location, it would be easier than biking to the other two.
Additionally, if you stay near the Tumakohua Pass, many of the accommodation providers down there also provide dive packages. More on that in the next section.
Where to Stay in Fakarava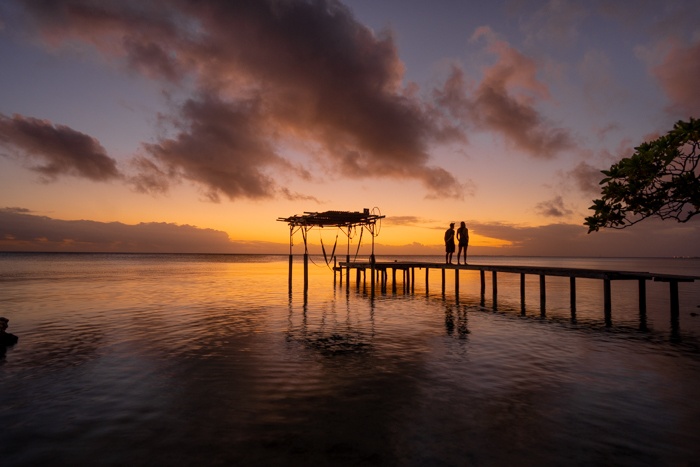 Fakarava is not like Tahiti, Bora Bora, and Rangiroa when it comes to accommodation. To me, that makes it perfect, because I love little pensions and prefer my islands more raw and rustic. I like the type of tourist it attracts and the laid back vibe it promotes. Keep this in mind when considering Fakarava. Nothing's too fancy.
With that in mind, the first question you want to ask yourself is, North or South Fakarava?
Fakarava is split into two main areas. The largest town, which is really just a cluster of a few buildings and a shop, is Rotoava. It's well-situated for PK9 and the Garuae pass. The southern part of the island is about 1.5 hours away by boat. If you have the time, split your days between the two!
Pensions on Fakarava:
Check out TripAdvisor for more options.
Eating in Fakarava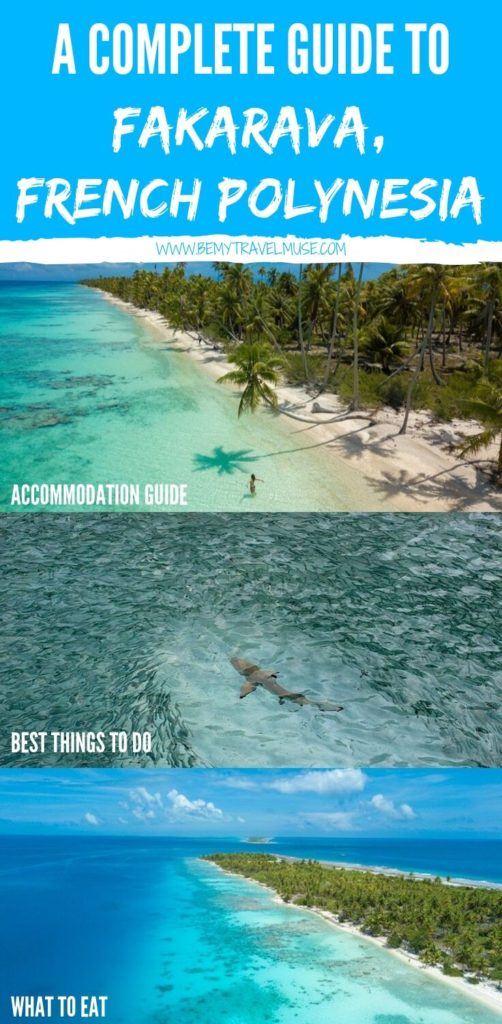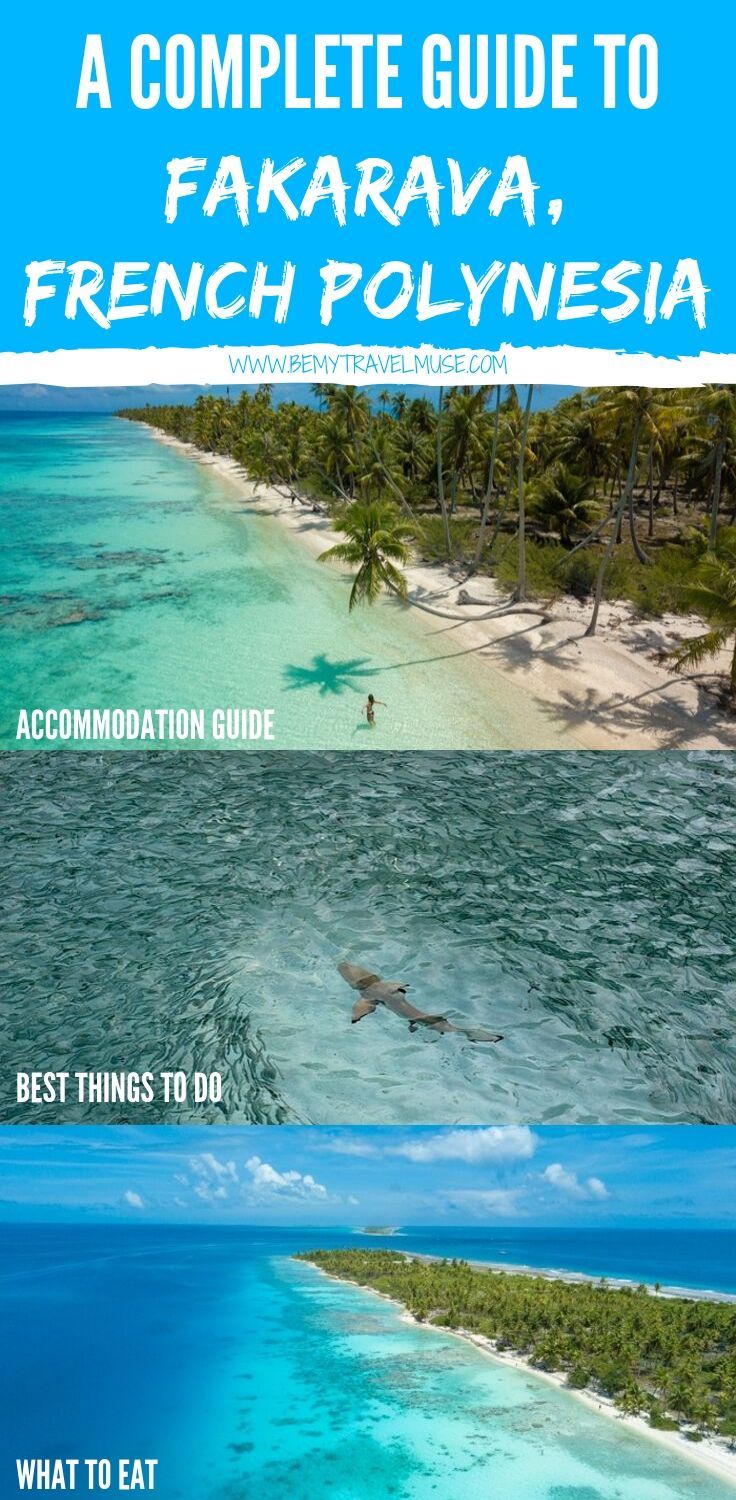 French Polynesian cuisine is seafood-based, and if you're already familiar with it, you'll know that sashimi, poisson cru (cured, raw fish usually in coconut milk or sweet and sour vinegar), and grilled tuna are usually on offer. Since Fakarava is a coral atoll that can only produce fish and coconuts, don't plan on a lot of fresh veggies.
That said, there's a store near Relais Marama with a pretty good selection of frozen veggies and pasta, so we split our time between Snack Elda, the best for fresh seafood, and cooking in the communal kitchen. Many pensions on this list will also provide meals as part of their room rate. I tend to prefer that when in French Polynesia anyways, mostly because I'm very lazy when it comes to figuring out food.
You'll find a pizza shop, boulangerie (bakery), and a few other 'snack' places as well (snack means small eatery). The locals on the island agreed, Snack Elda is where it's at.
If you're lucky enough to visit Fakarava, I hope you'll love it as much as I did. The friendliness, pristine waters, incredible diving, and laid back nature made me love it so. I know I'll be back next year. I have more sharks to see!