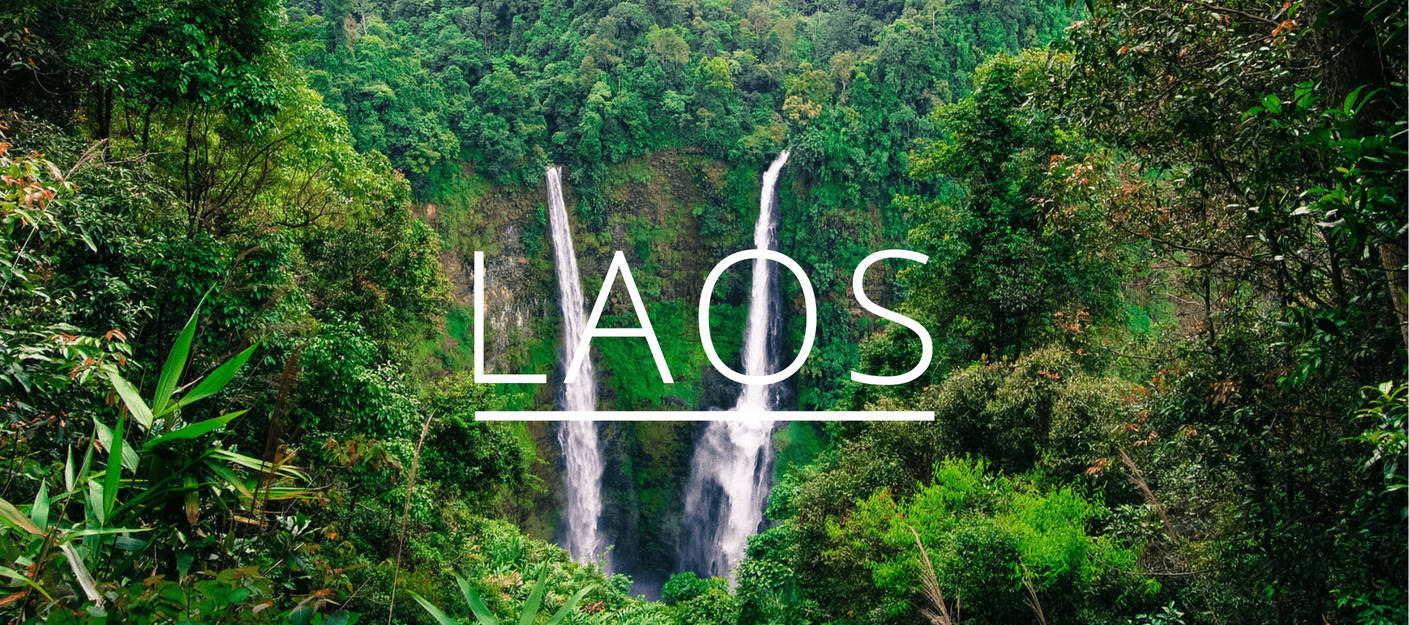 Laos is a landlocked country of giant caves, mountains that seem to appear out of nowhere and the mighty Mekong river. Even though it may not have beaches like most other Southeast Asian destinations, there are still 4000 Islands, the landscape consists of children's wildest imaginations, and it's home to some of the best beer in Southeast Asia - Beer Lao.
The country's French colonial past is evident by the omnipresent baguettes and the charming architecture of Vientiane and Luang Prabang, yet the country boasts a culture that is all its own. Thanks to Laos' much less touristed status compared the likes of Thailand and Vietnam, much of the country, especially the south, provides unique opportunities for genuine cultural interaction, a glimpse at unspoiled nature along the Bolaven Plateau, and enough outdoorsy activities to make Laos a destination in itself.
Quick Tips
'Hello' and 'Thank You' in Lao: "Sai-ba-dee" and "Khawp Jai" (which sounds like 'cup chai')
Currency: Laotian Kip (click here for current conversion rates)
Visa: 30 day visa-on-arrival for most nationalities. Costs vary ($35 for Americans and English, $42 for Canadians, $30 for Australians)
Safety rating: Ranked 45 on the Global Peace Index with a score of 1.80 (USA is ranked 128 with a score of 2.40)
Solo Travel Friendliness: In less-visited areas, the locals may find it strange to see women travel alone, and tend to get curious and ask questions – it is sometimes a good way to start a conversation, but if it does not feel right, then move on. Also, the structure of most overnight buses will have you spooning your neighbor over the bumpiest roads in all of Southeast Asia.
Climate: Hot and humid year-round. Rainy season lasts from May to October
Best SIM cards: ETL and Unitel – cards can be purchased at the airport and major convenience stores
Modesty Consideration: Displaying of bare skin is generally frowned upon, and you are required to cover your shoulders and knees when visiting the temples. Dress modestly and bring a scarf or sarong with you
Random useful tip: Curfew in Laos is 11pm, but in some cities like Luang Prabang, the bowling alley is curiously open all night
Accommodation
Budget Solo Travelers ($3 - $6): If staying in dorms or sharing a room, it is pretty easy to get by spending around $3 - $6 in most places. Bigger cities tend to cost much more than smaller towns. The cost of accommodation changes with the season, too. You can get an entire bungalow by the river in Nong Khiaw, a small village 4 hours away from Luang Prabang, for as low as $3 during low season. Most hostels these days offer free Wi-Fi, but powercuts are very common in Laos, so if you need the Internet all the time, you are better off with a local SIM card with data.
Mid Budget Solo Travelers ($5 - $15): Many hostels in Laos also operate budget hotels with basic private rooms. Expect to pay around $5 for a basic fan room, whereas a private room with AC costs around $8 - $15. Airbnb is rapidly gaining its popularity in major cities, with a private room costing about $8.
Food
Local Food Spots ($1 - $3): Due to a lack of large scale farming, food in Laos is more expensive than its neighbors. That said, you can still find cheap and delicious street food for about $1 per dish. In the night markets at Luang Prabang, there are buffet-style stalls where you can fill your bowl with as much food as you want for $2. Follow the locals to the hole-in-the-wall restaurants that serve tasty baguettes all day.
Cafes & Restaurants ($5 - $10): Major cities are dotted with mid-range restaurants and cafes that serve Western, Indian and French cuisine, costing about $5 - $10 per dish. International fast food and café chains are also growing rapidly in Laos. You will find lovely cafes serving coffee and cakes in most main streets. While there aren't many clubs or pubs in Laos and things quiet down after 11pm, most restaurants serve alcohol, with a bottle of beer costing about $1 - $3.
Transportation
Getting There: The main international airports are Luang Prabang International Airport and Wattay International Airport, However, there are no direct flights to Laos from countries outside of Asia, and most travelers would cross borders overland from its neighboring countries as part of their big trip in Southeast Asia. Land borders are uncomplicated to cross, with the options including Thailand, Vietnam, Cambodia, and China.
Getting Around Town: I did not see any metered taxis during my time in Laos. However, Tuk-tuks and moto taxis are widely available – make sure to always negotiate and confirm the price before getting on one. Renting a bike is easy and as long as you are confident enough on two wheels, riding through the mountains is not only fun but also meditating. Just watch out for the cows.
Inter-city Traveling: This is the part where things can get a little bit frustrating. Laos is a mountainous country with poor roads, so getting from point A to point B could take a long time, even if the distance seems short, KM-wise. Local buses / minivans are cheaper but take a notoriously long time due to frequent and long stops, while night-time VIP busses can cost upwards of USD$20.  Book directly at the bus depot to save a few dollars. It sounds horrible, and truthfully it kind of is, but if you can look at the situation with a pinch of salt, it could end up in good fun and you might make new local friends on the road.
Things to Do
Tubing in Vang Vieng: There were rumors going around stating that tubing is Vang Vieng was over, due to the high numbers of backpackers who overdosed, crashed, and sadly died while tubing down the river. Well, the party was and is still well and alive today! Be smart and drink responsibly and you will have a fabulous time tubing down the river, making stops along the way to dance and make new friends.
Float Down the Mekong River: When in the 4000 islands, chat up with your dorm mates and organize a day trip tubing down the Mekong River. It's a more laid back experience compared to the one in Vang Vieng. It was one of my favorite Laos memories. You could also rent a kayak if that's up your valley.
Swimming in the Kuang Si Waterfalls: While it is the most popular waterfalls in Laos, it is, for some reasons, never really overly crowded – the place is huge and there are many parts that make up the entire waterfalls, giving space to everyone who visits. Do not stop at the main pool, take a small trek up and look for the (not so) secret pool for a cool swim in the blue water. The rescued bears close to the entrance are absolutely adorable to look at, too.
Zip Lining at the Gibbon Experience: I did not try this but it definitely sounds like an experience of a lifetime! Here, some of the world's highest treehouses are connected by ziplines and you get to spend a few nights ziplining across them, trekking, and hanging out with the gibbons.
Trekking Bolaven Plateau: In all honesty, I'd take the waterfalls at Bolaven Plateau over Kuang Si Waterfalls any day. Located at Southern Laos close to Pakse, It is what I imagined wild, untouched Southeast Asia might look like. Trek around that area and be blown away by the greenery and current that Bolaven Plateau has to offer.
Relax in Nong Khiaw: About 5 hours away from Luang Prabang is Nong Khiaw, a quiet, laidback village that's perfect for relaxing. In low season, a spacious bungalow next to the river could cost as low as $3. There's honestly not much to do other than trekking and swimming in the river (which is perfect!). You can also take a 3-4 hour walk to one of the 3 smaller villages close by and spend a night at a local homestay, experiencing the true Laotian village life.
Get a Tiger Balm massage: …or 3, in my case. It is amazing, feels great, and will leave your skin tingling.  Lao massages are AWESOME.