Pillowy-soft white sand and turquoise waters make Bora Bora one of the most Instagrammable honeymoon destinations in the world, but there's more to it than that. While most newlyweds come for the overwater bungalows, many find that there's more than meets the eye here. This island in French Polynesia has a strong cultural identity that is ever present in its gastronomy, architecture, and celebrations.
To capture Bora Bora's beauty and uniqueness, here are the top 10 best places to stay for a honeymoon, with options ranging from the most extravagant resorts to quaint vacation homes and everything in between:
1. InterContinental Le Moana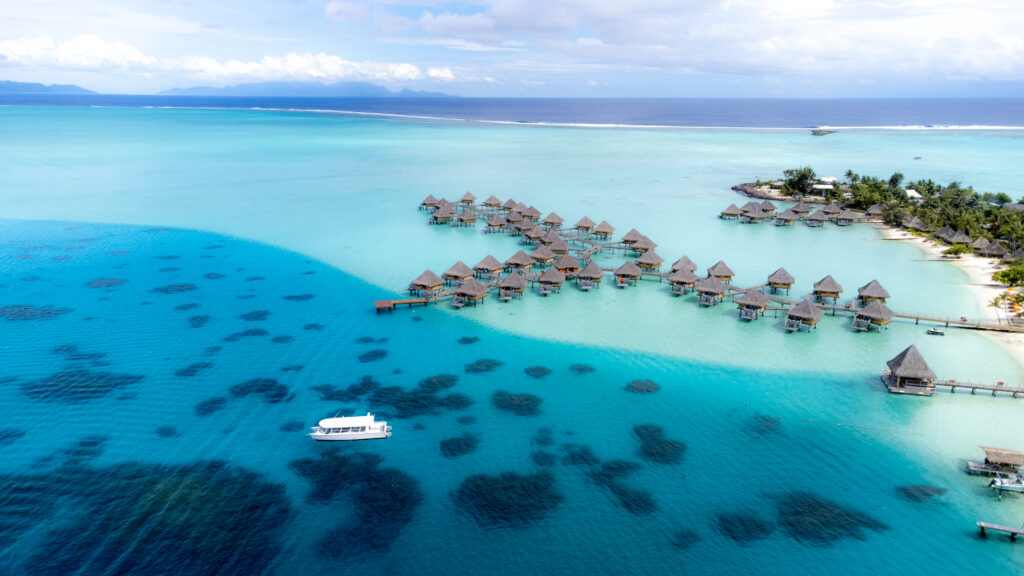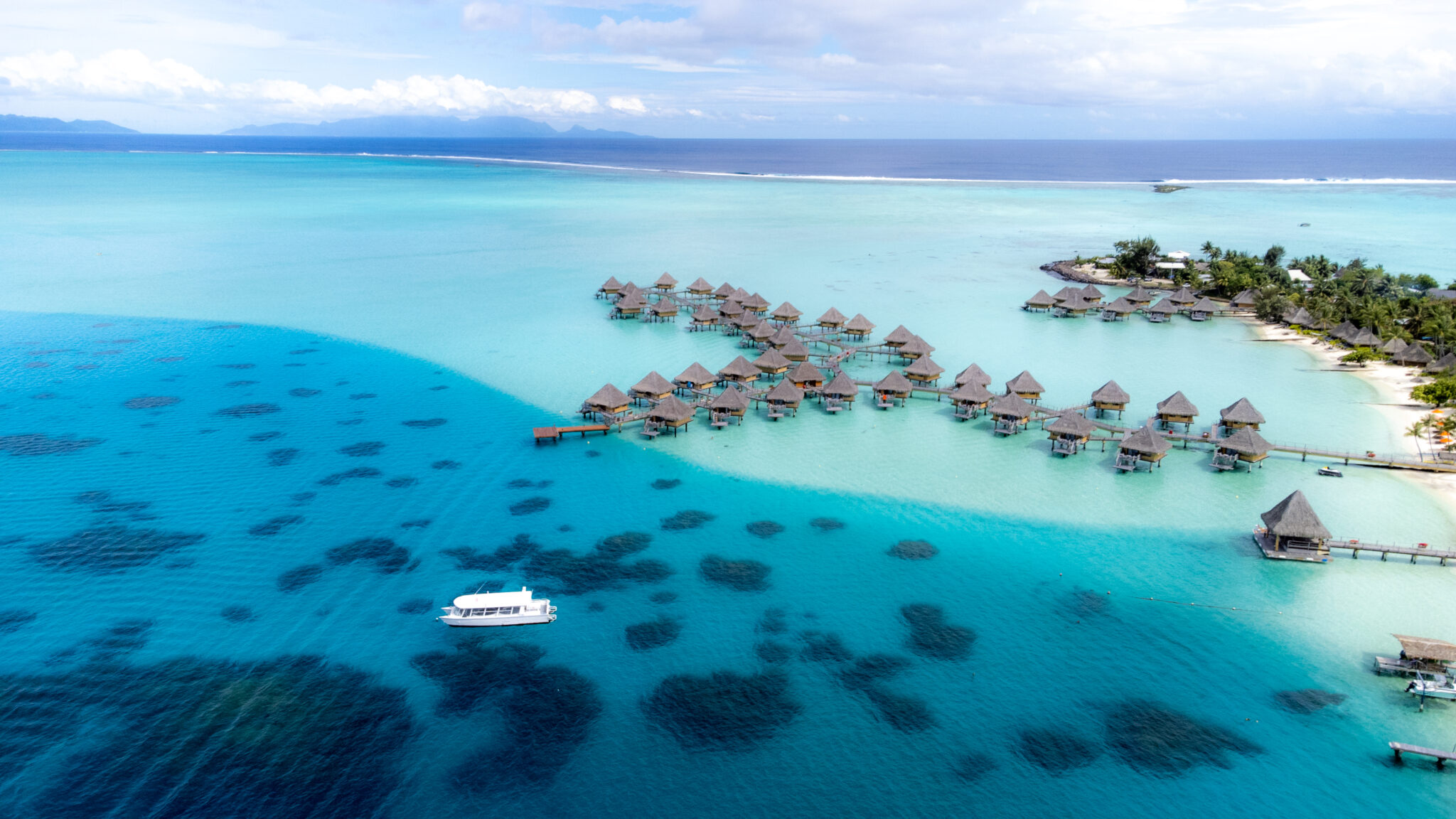 Known for its private beach with amazing views, InterContinental Le Moana is the perfect backdrop for a romantic honeymoon. Guests love the luxurious and spacious overwater bungalows with direct lagoon access, the resort's exceptional service, and the phenomenal attention from staff. Kristin stayed here and liked that it was located on the main island, making it easy to access attractions.
The resort is ideal for honeymooners who want to stay active during their romantic getaway. You can book experiences like snorkeling, scuba diving, and traditional Polynesian dance performances. Though it's considered a "midrange" hotel because it's slightly more affordable than other overwater bungalow stays, prices hover around $1,000 USD/night during high season, so if you want to sang a deal, make sure to avoid booking between May and October.
2. Four Seasons Resort Bora Bora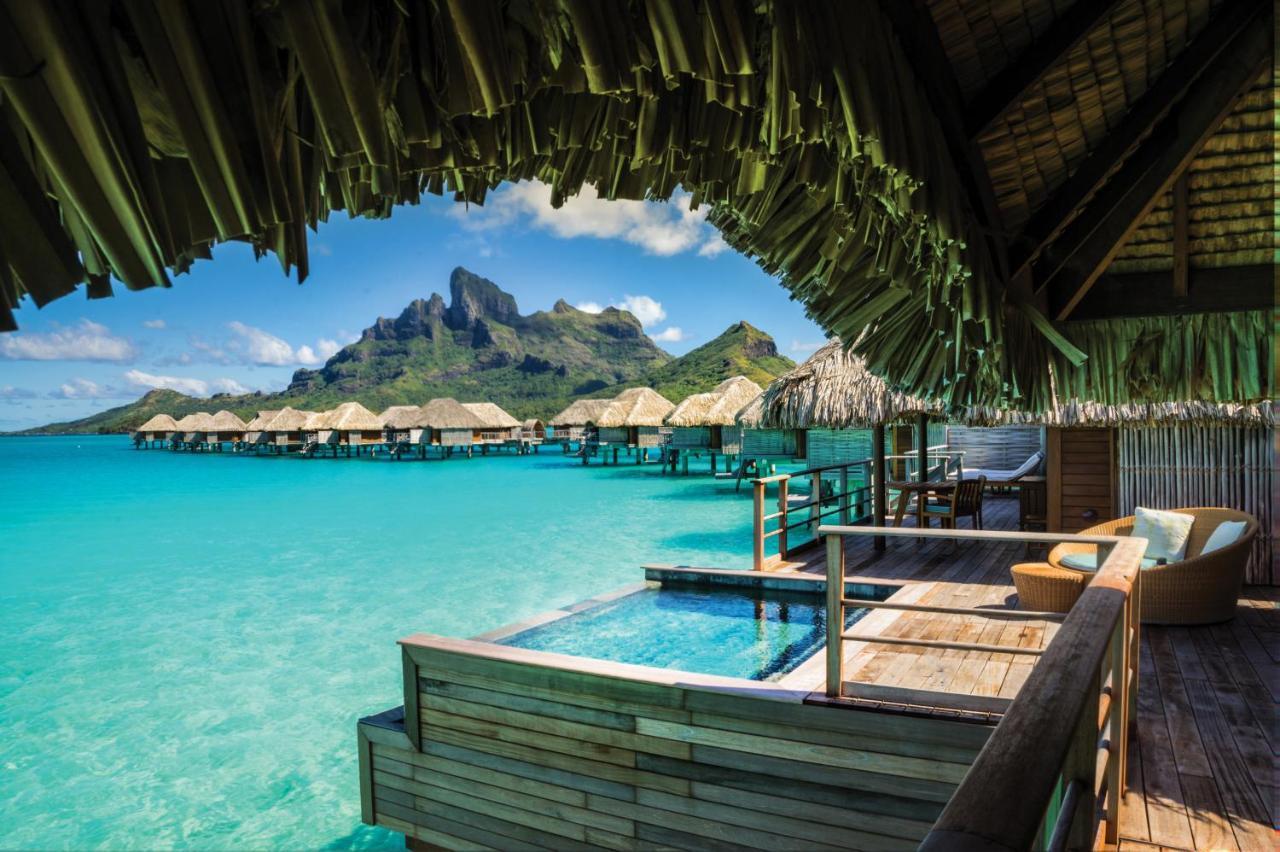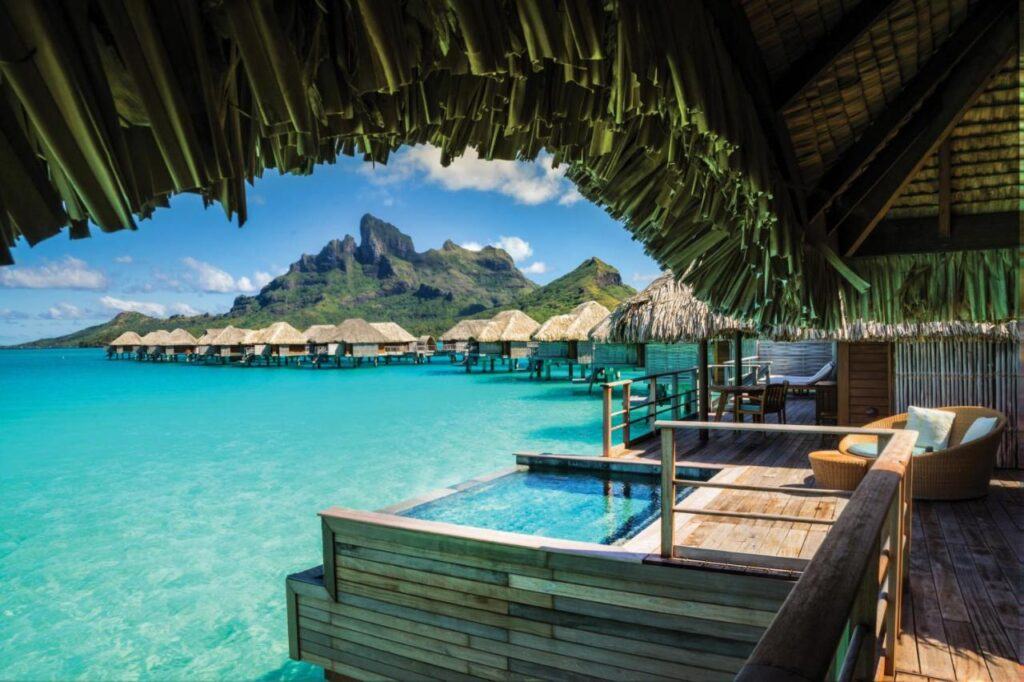 This is the Bora Bora hotel that makes many honeymooners' dreams come true. The Four Seasons Resort Bora Bora is an ultra-luxurious property with overwater bungalows and villas decorated in traditional Polynesian decor, each with breathtaking views of the crystal-clear waters of the lagoon. There are ample dining choices, and you'll also enjoy a spa, a fitness center, and a range of water activities, such as snorkeling, kayaking, and paddleboarding.
Many guests have praised the resort for its exceptional service, with staff going above and beyond to make their stay unforgettable. The overwater bungalows and villas, private beaches, and romantic dining options make it the ideal destination for anyone looking to celebrate their love in a beautiful and intimate setting.
3. Conrad Bora Bora Nui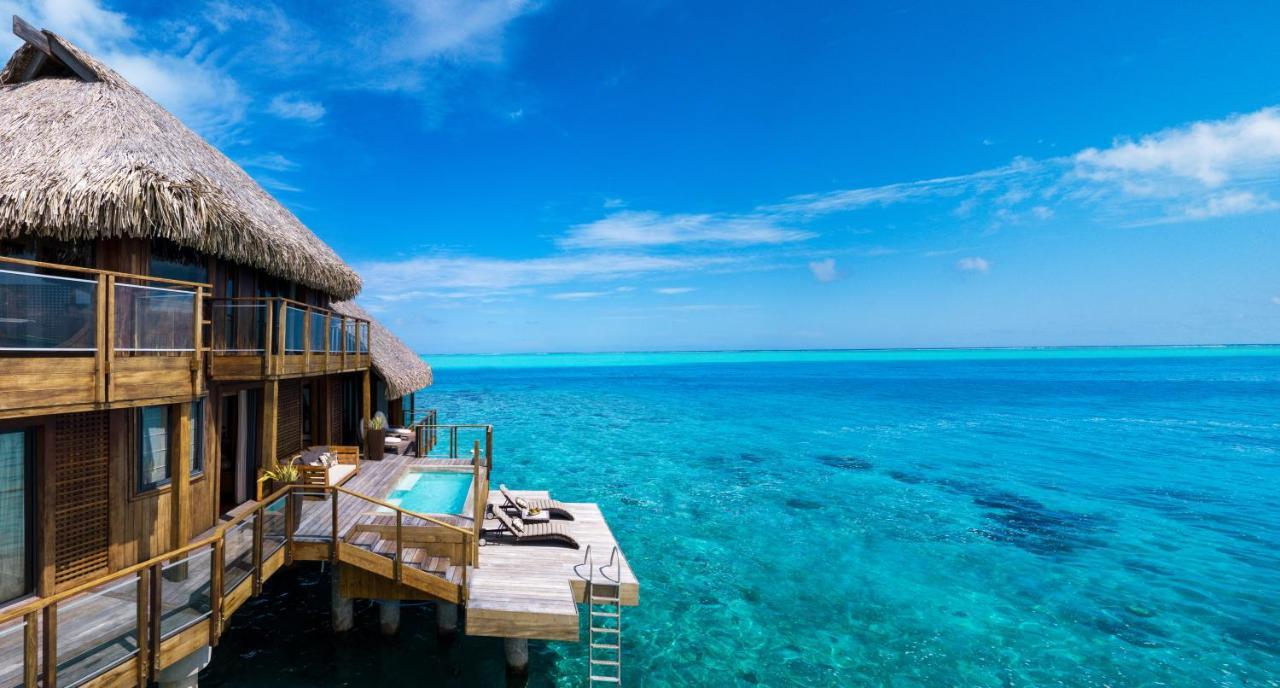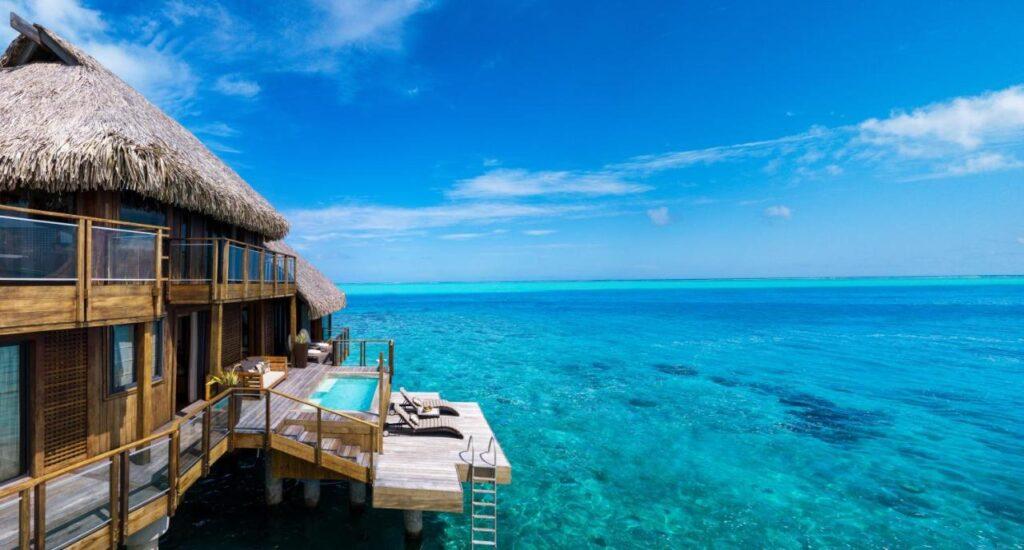 Offering awesome panoramic views of the turquoise lagoon, Mount Otemanu, and tropical gardens, Conrad Bora Bora Nui is second to none when it comes to luxurious stays in French Polynesia. The overwater bungalows and villas, beachfront suites, and garden villas are all beautifully designed. You'll also find impeccable dining experiences, including fresh seafood and authentic local cuisine. There are ample opportunities to stay active, too, with activities such as snorkeling, kayaking, paddleboarding, and scuba diving, which you can book at the resort.
Conrad Bora Bora Nui's romantic and secluded location, luxurious amenities, and unparalleled natural beauty make it a fantastic pick for lovebirds. Sure, it's a splurge, but a honeymoon is such a unique occasion and many couples love to go all out. There are few better places to do so than Conrad Bora Bora Nui.
4. St. Regis Bora Bora Resort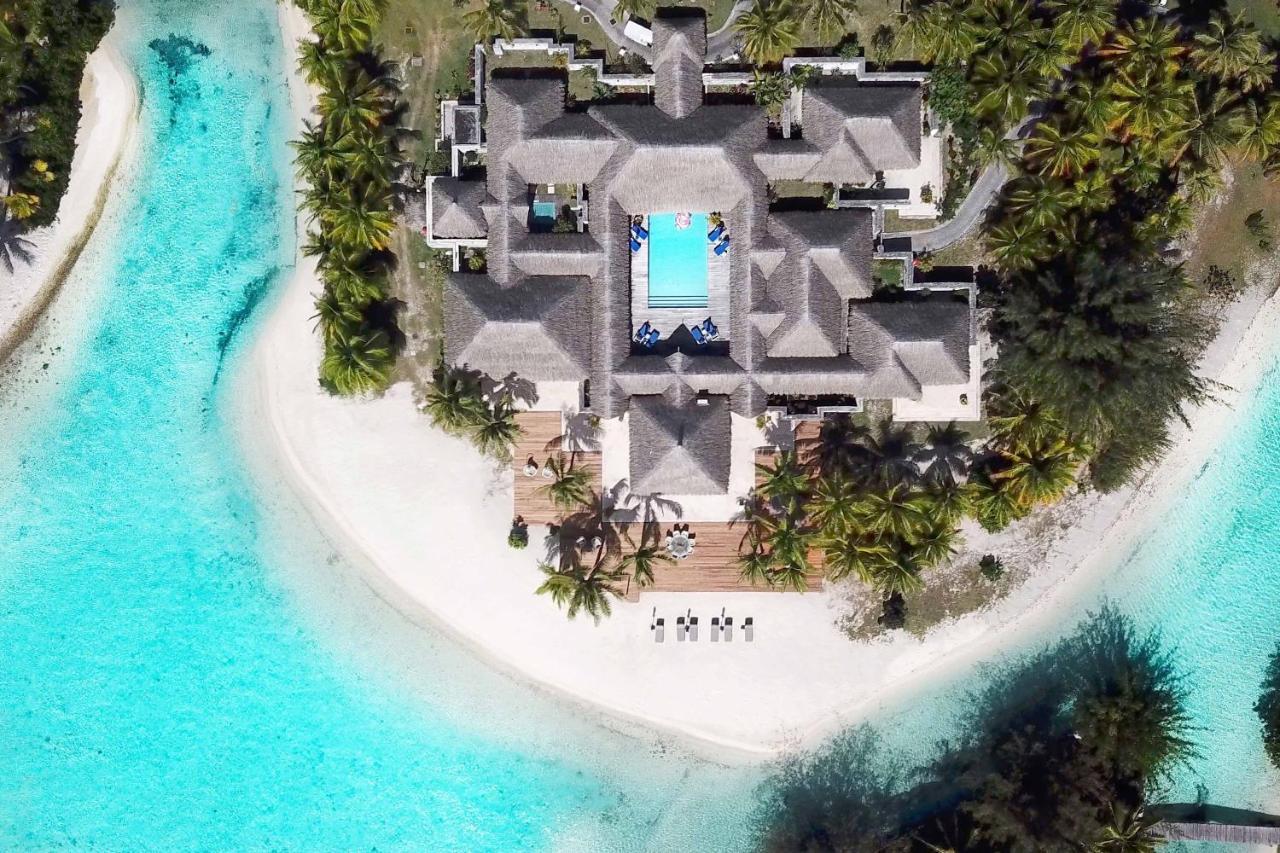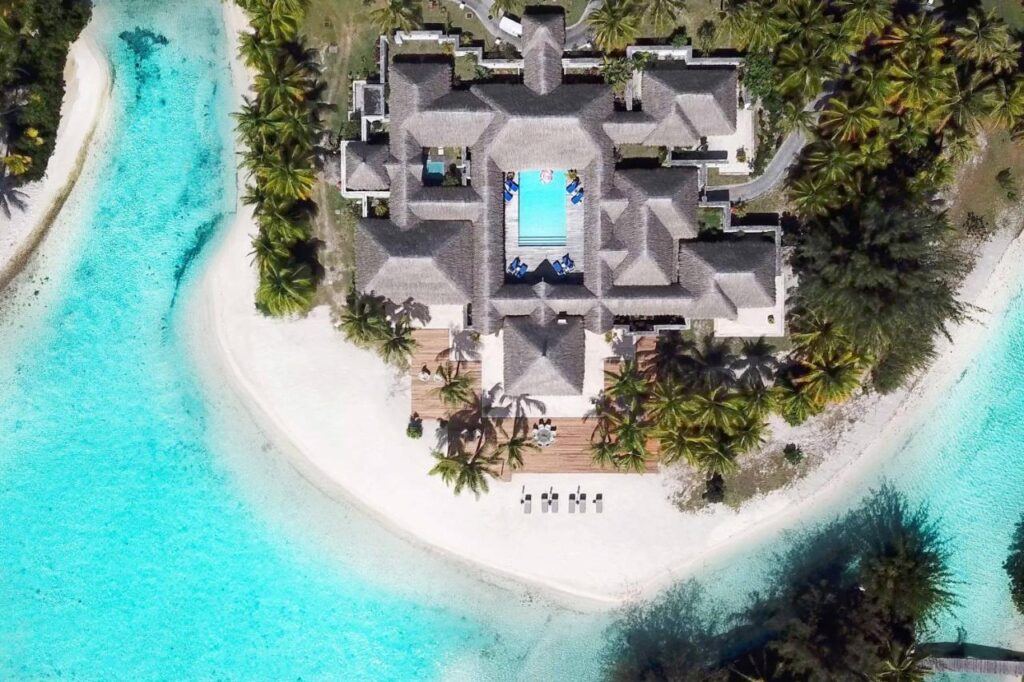 St. Regis Bora Bora Resort is the ultimate choice for honeymooners with a "go big or go home attitude" when it comes to planning their romantic getaway. It's an iconic property with both overwater bungalows and villas similar to those mentioned above. However, one of the unique things about the St. Regis is that it has the largest overwater villas in the South Pacific, some of which feature private swimming pools and direct access to the lagoon. Yep, that means you have the best of both worlds: a natural paradise and a sweet pool setup.
The resort also features some of the best dining choices in all of Bora Bora, with hundreds of reviews to prove it. There's also a spa, a fitness center, and water activities like snorkeling, kayaking, and paddleboarding. You can also book one of several honeymoon packages that include romantic dinners, couples' massages, and sunset cruises.
5. Le Meridien Bora Bora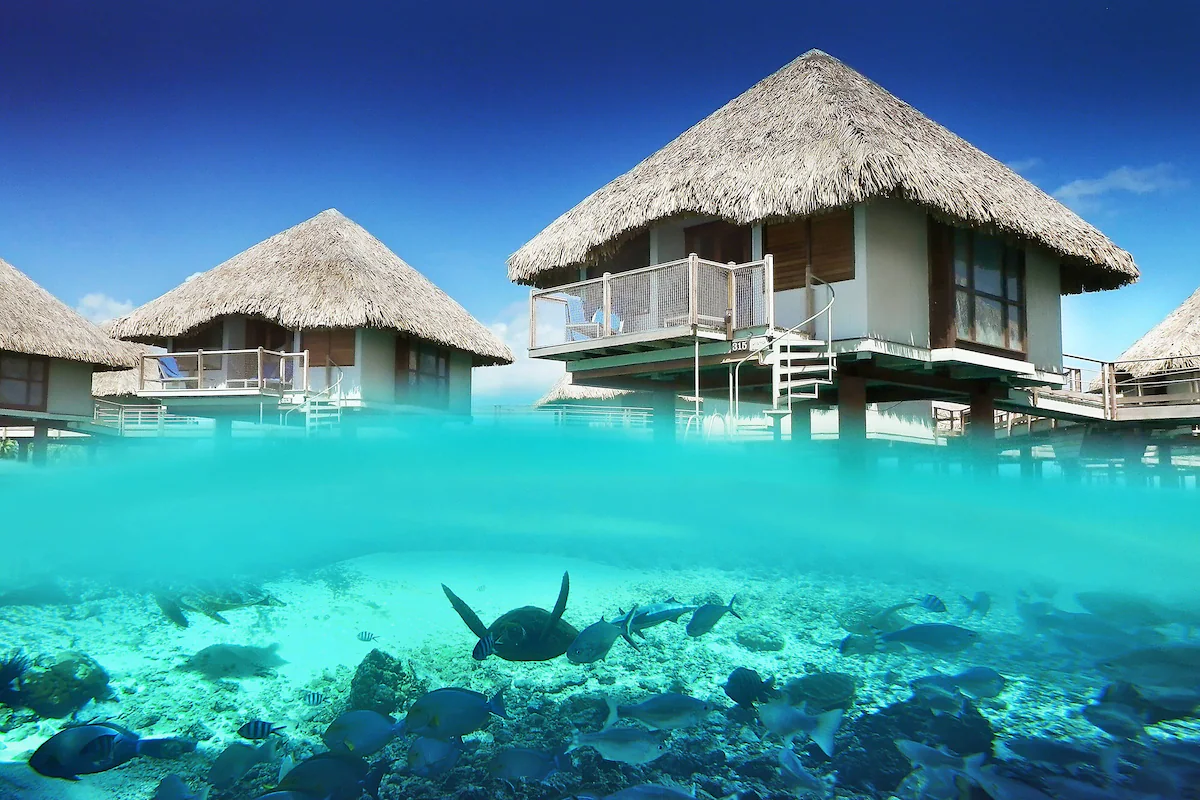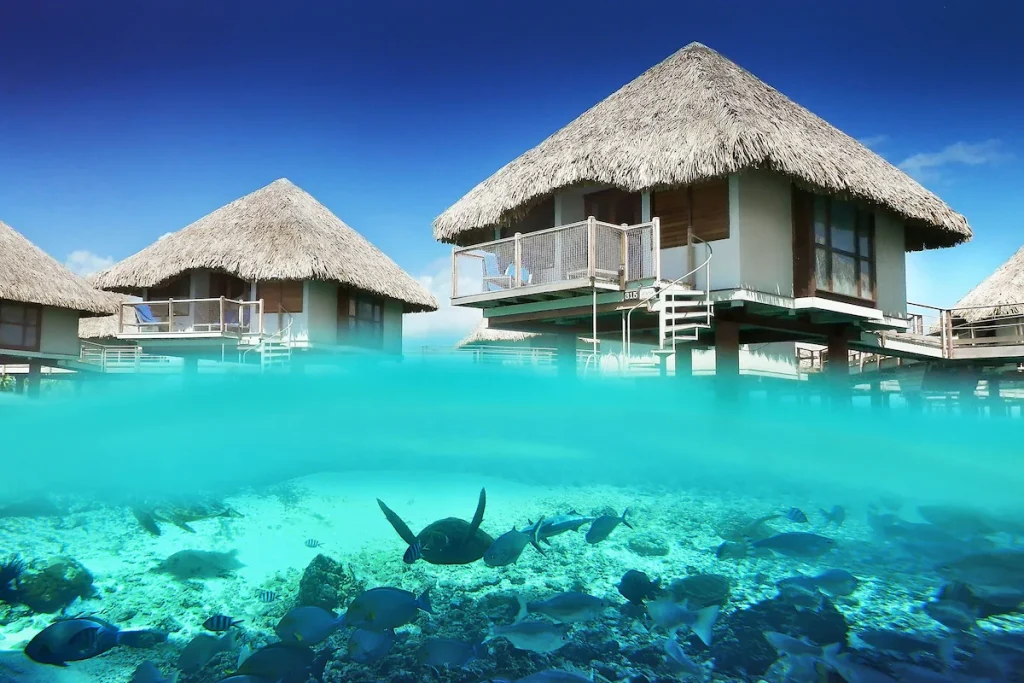 Le Meridien has everything that most luxury resorts in Bora Bora have: private overwater bungalows, incredible perks like sunset cruises and water activities, and fantastic dining options, including the overwater Te Ava restaurant and the Miki Miki Bar. It's also one of the smaller hotels with overwater bungalows, which gives guests are more low-key experience.
What makes this resort stand out from the rest, however, is its turtle sanctuary. In fact, many guests staying in other locations all around French Polynesia come to Le Meridien for the turtles, so it's a must on many travelers' itineraries.
Le Meridien Bora Bora also gets some of the best reviews on the island. They are overwhelmingly positive, and many praise the resort's exceptional service, nodding to the staff for their friendly attitude and helpful, attentive service. Many guest reviews say that staying here was the best vacation they've ever had and that they can't wait to return.
6. Le Bora Bora by Pear Resorts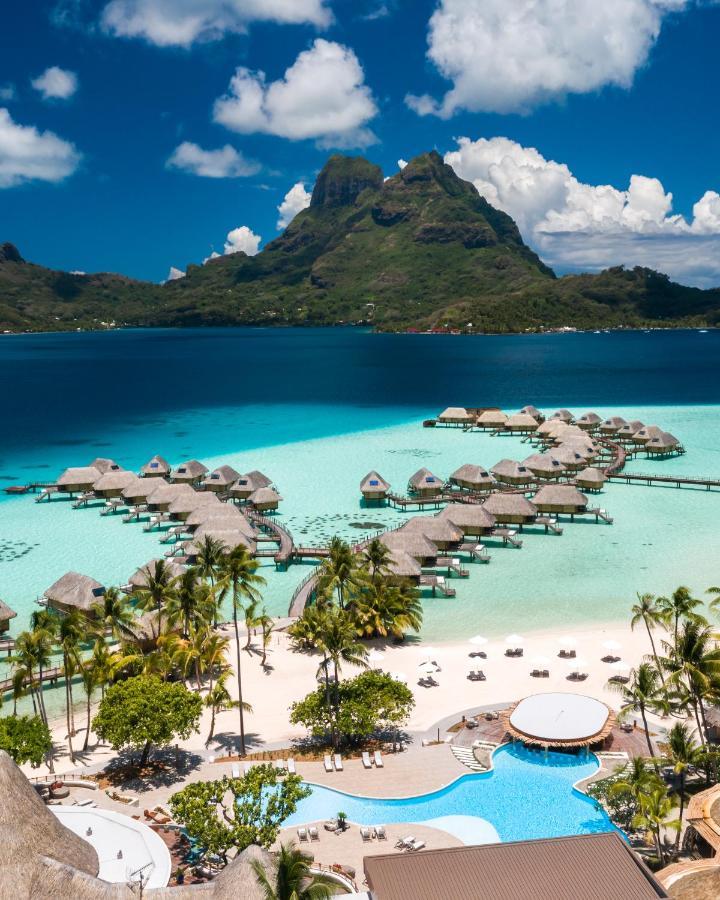 This is an excellent choice for those looking for a luxury experience that is also environmentally conscious. Le Bora Bora is known for its commitment to sustainability and eco-tourism, with several initiatives in place to protect the environment. Considering that Bora Bora's natural beauty is the top reason why travelers visit, it's important that hotels take the environment seriously.
Le Bora Bora has a world-class spa, where couples can book treatments such as massages, facials, and body scrubs, so if you're excited to relax with your love, this is the place to do it. Like other resorts, the private overwater bungalows and villas at Le Bora Bora provide a perfect setting for those looking for privacy and intimacy, and the resort's stunning location offers breathtaking views that make it a romantic paradise.
7. Villa Yrondi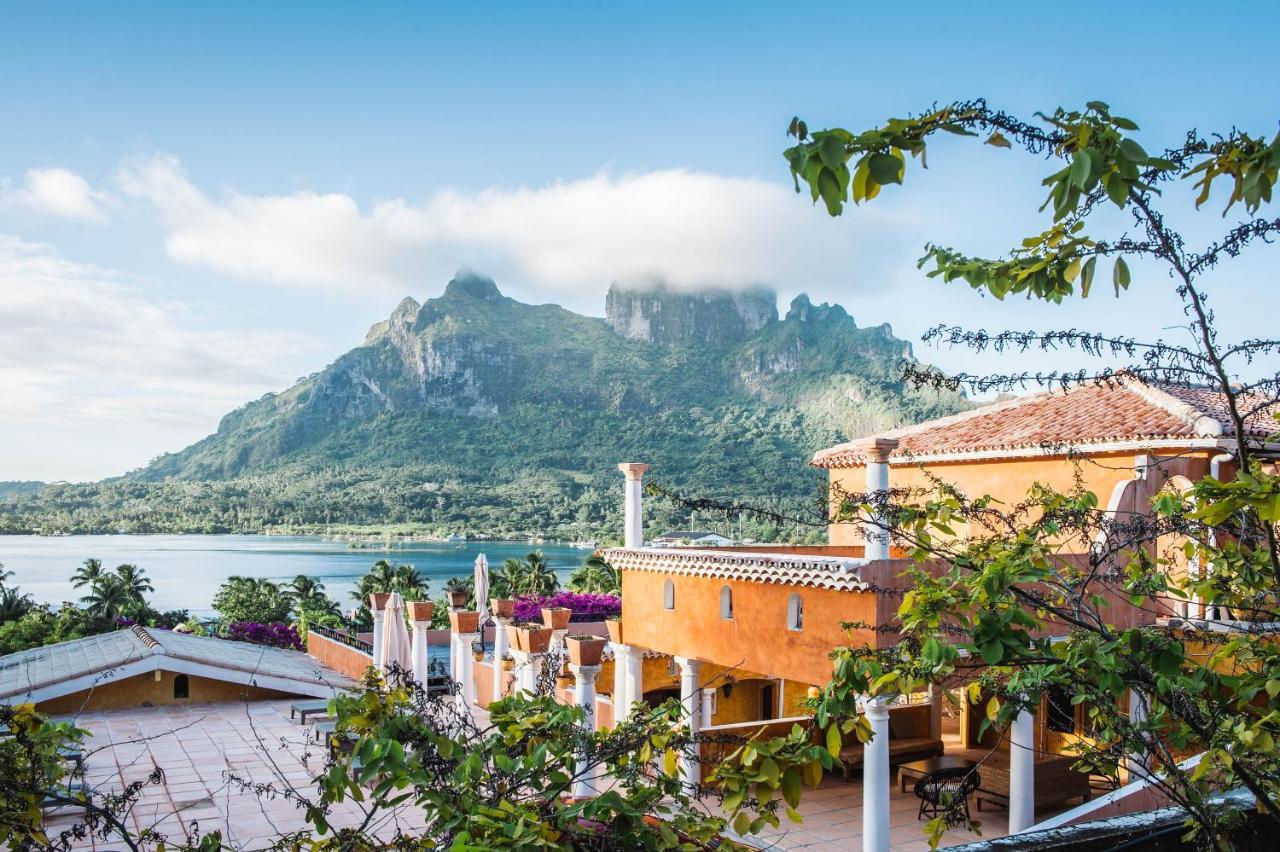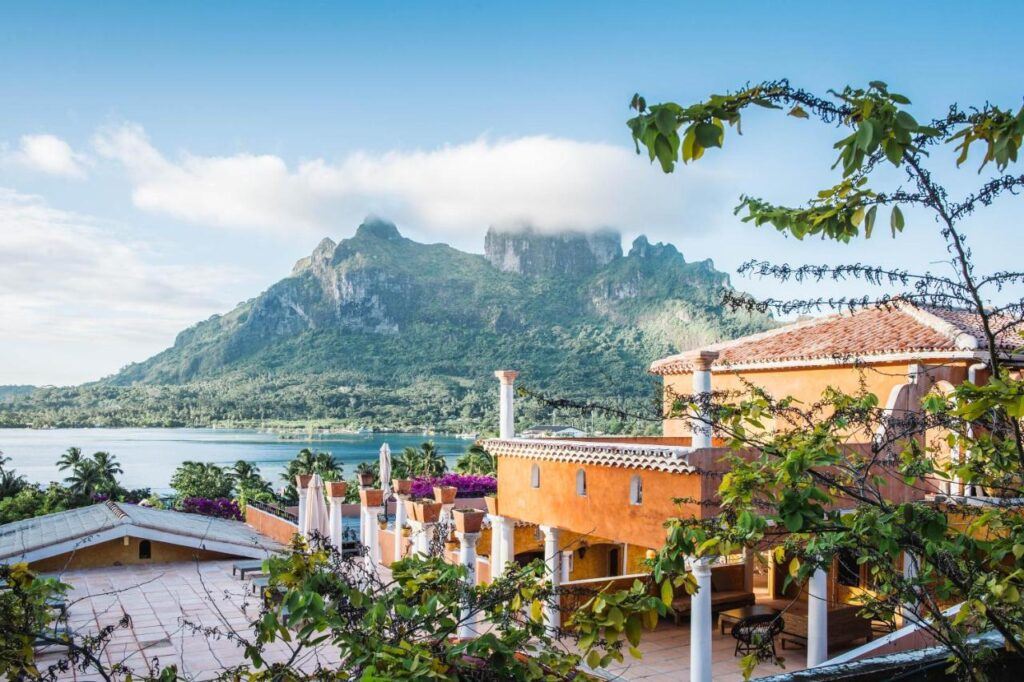 Villa Yrondi is a private property located in the heart of Bora Bora. What makes it unique is its secluded location on a small motu (islet), which provides outstanding views of Mount Otemanu and the quintessential turquoise waters of French Polynesia. This guesthouse has been designed to blend harmoniously with the natural surroundings, using local materials such as bamboo, wood, and volcanic stone. It also has a private pool that guests rave about in recent reviews.
Villa Yrondi has one overwater bungalow that features a glass floor with a unique view of the marine world below. The villa also has a private beach, kayaks, and stand-up paddleboards for guests to explore the lagoon at their leisure.
Overall, Villa Yrondi offers an exclusive and luxurious retreat that is just right
for honeymooners and different from the huge resorts throughout Bora Bora.
8. Maitai Bora Bora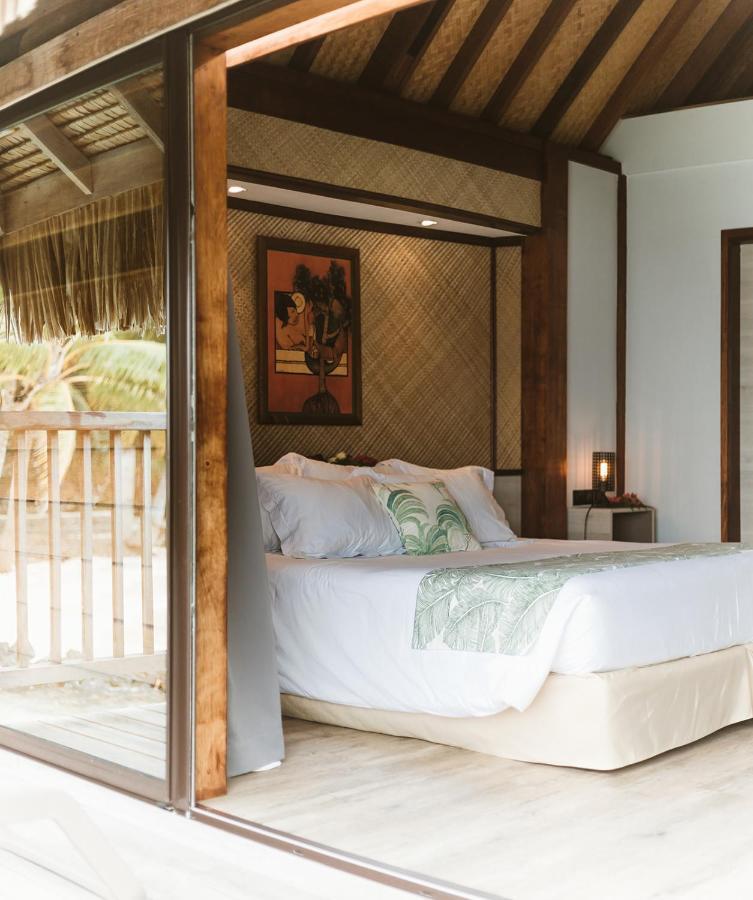 This hotel is situated on the southern end of Bora Bora's famous Matira Beach, which is known for its white sand and crystal-clear waters. Unlike other luxury resorts on the island, Maitai Bora Bora has lower rates and is ideal for travelers who want to experience the beauty of Bora Bora without breaking the bank.
Maitai Bora Bora is an awesome choice for honeymooners due to its romantic and intimate atmosphere. The hotel has a variety of bungalows that are perfect for newlyweds, including overwater bungalows that offer direct access to the lagoon. The hotel also has a range of romantic activities, such as sunset cruises, couples' massages, and private dinners on the beach.
9. Rohotu Fare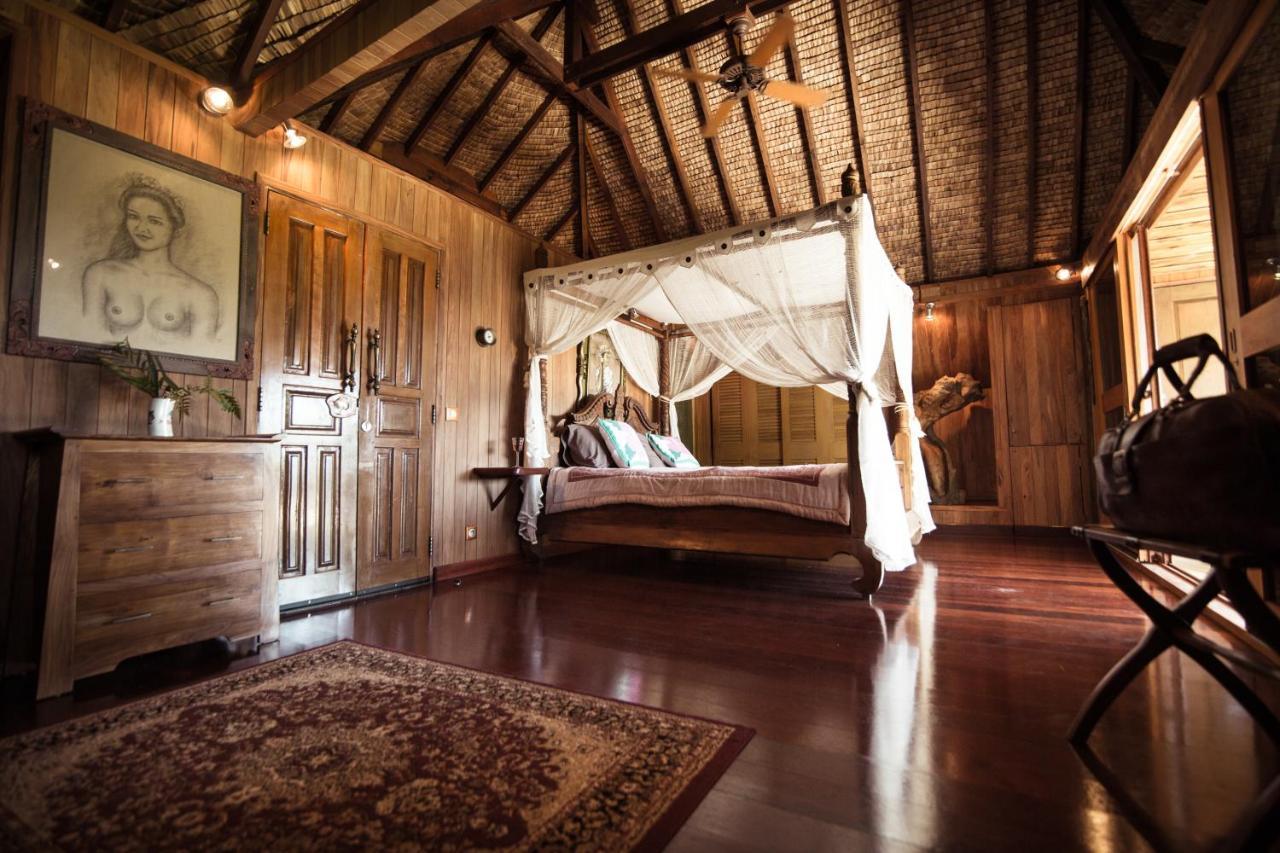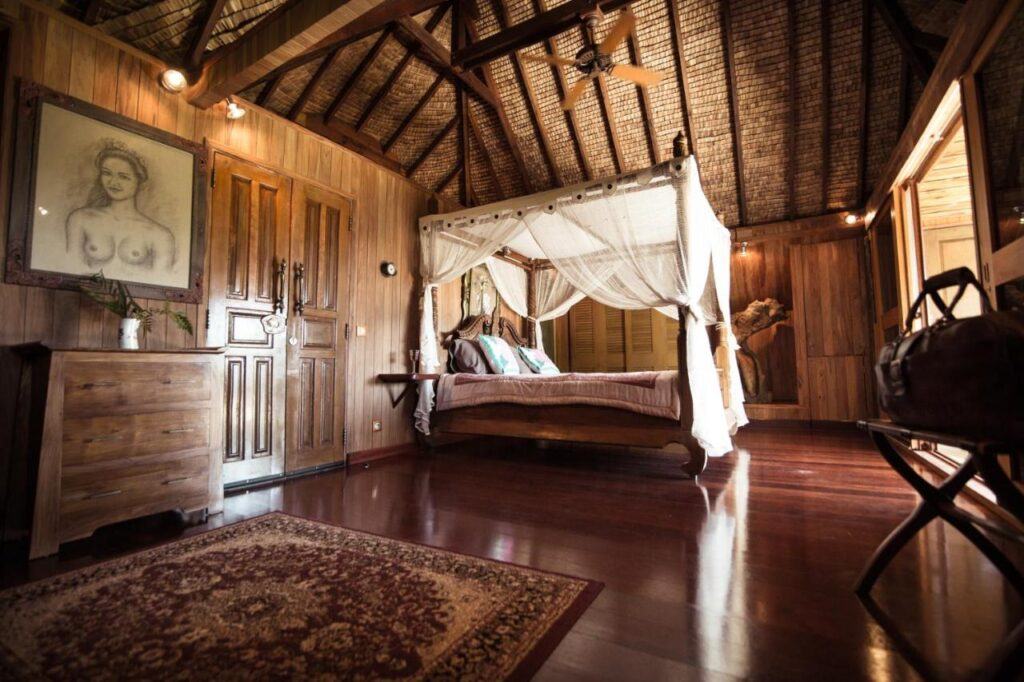 Rohotu Fare, on the southern end of Bora Bora, is unique because of its emphasis on sustainability and eco-friendliness. The hotel is designed to minimize its impact on the environment and has been built using locally sourced and sustainable materials. The bungalows are made from bamboo and wood and are powered by solar energy. The hotel also has a rainwater catchment system and a wastewater treatment plant to reduce its impact on the local ecosystem.
In addition to its focus on sustainability, Rohotu Fare offers guests an authentic Polynesian experience. The hotel is designed to reflect the traditional architecture and culture of the region and has activities and experiences that allow guests to immerse themselves in the local way of life. Guests can participate in traditional weaving, cooking, and fishing activities, which most big hotels don't have.
Overall, Rohotu Fare is a luxurious and sustainable choice for honeymooners who want to experience the beauty and culture of Bora Bora in an authentic and responsible way.
10. Village Temanuata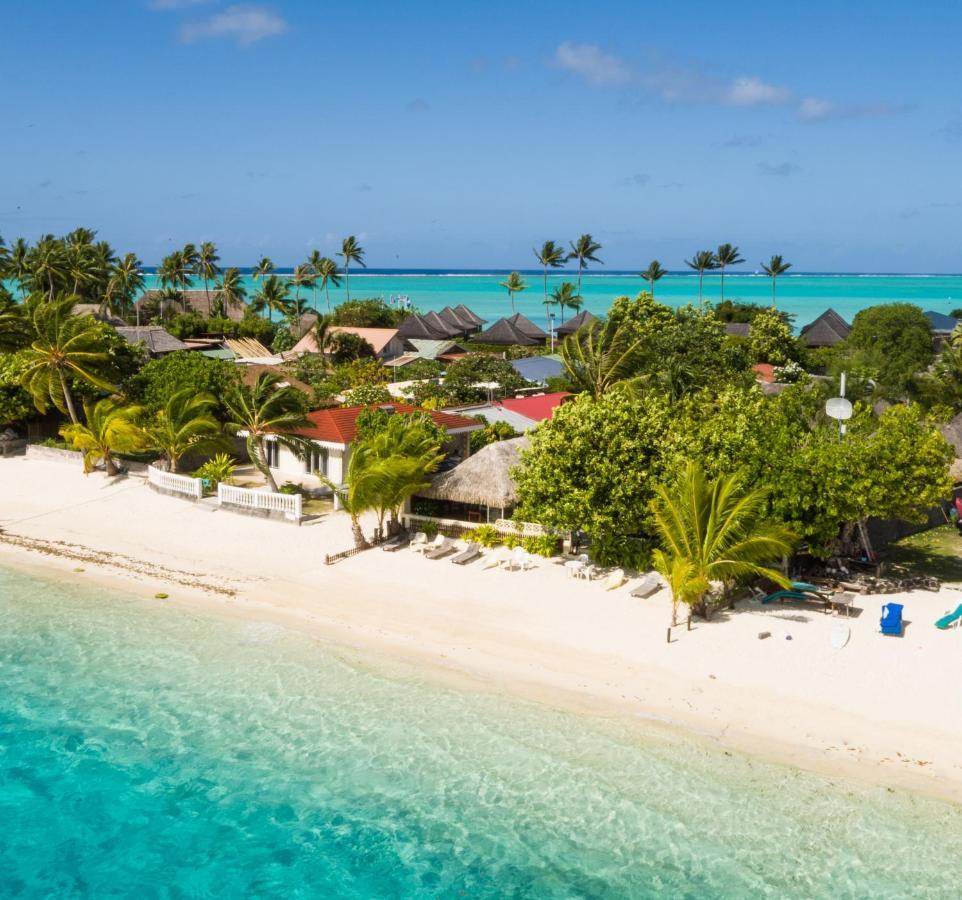 Village Temanuata is a charming beachfront property on the main island of Bora Bora. The property has traditional Polynesian-style bungalows decorated with local art and crafts, which gives guests a sense of the local culture and way of life. The bungalows are surrounded by lush tropical gardens with stunning views of the lagoon and neighboring islands.
Another unique aspect of Village Temanuata is its location on a public beach. While many other hotels on Bora Bora have private beaches, Village Temanuata allows guests to interact with residents and experience the island's vibrant culture. Like Rohotu Fare, Village Temanuata gives honeymooners who want to connect with the local culture and community of Bora Bora a more authentic and immersive experience.
11. Chez Mimi et Daniel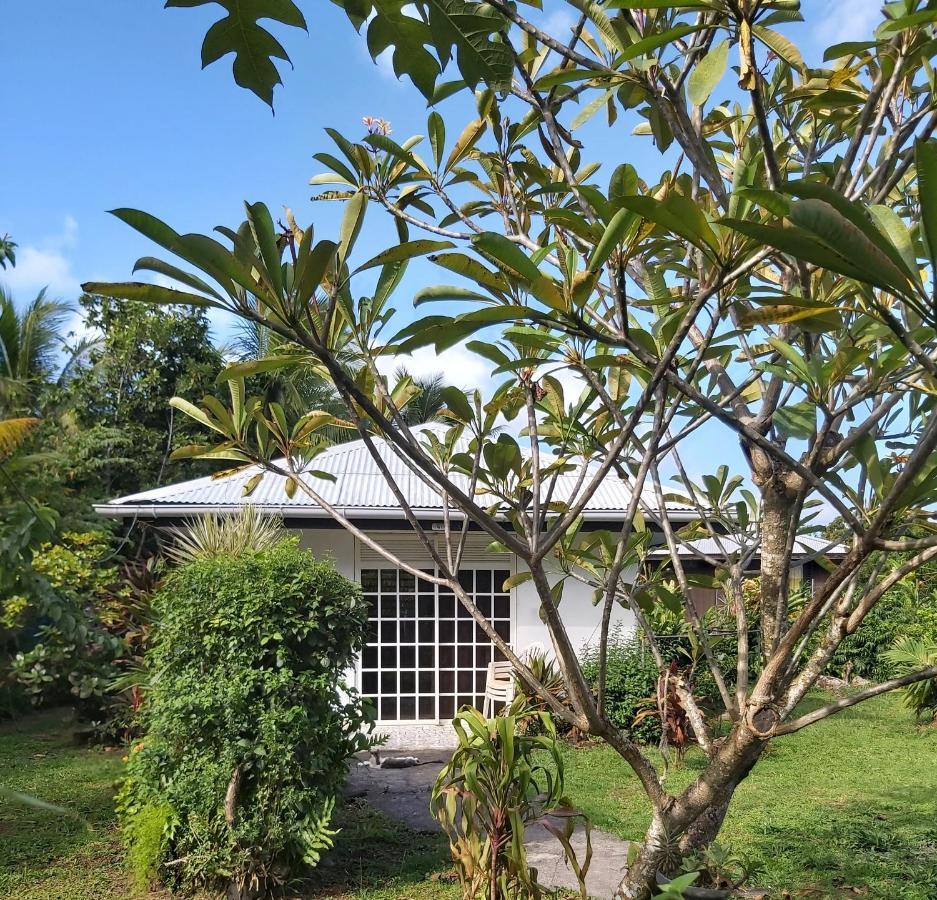 This is a bit of a bonus, because it isn't technically a hotel, but rather a vacation home. Some honeymooners prefer complete privacy and renting an entire home for their romantic vacation, and Chez Mimi et Daniel is one of the best such options in Bora Bora. The house has a lush garden with beautiful mountain views, giving newlyweds a much different experience than staying in the super hyped overwater bungalows that Bora Bora is most famous for. You won't be skipping out on all the stellar beach activities, though, because the chalet is just two miles from Matira Beach.
Besides having a charming chalet to yourselves, you'll also be able to use the bikes the host provides for guests. This is a fun way to explore Bora Bora and catch a glimpse of local life that you would otherwise miss if you stayed at a resort. Overall, this is the ideal stay for adventurous couples looking for something out of the ordinary in Bora Bora.
***
For such a small place, Bora Bora sure packs a punch when it comes to its variety of accommodations. While the overwater bungalow resorts appear to offer the same experience, each one has its own flare. Plus, you can also find more affordable stays that won't break the bank for your honeymoon.
Which one of these will you book for your special trip?