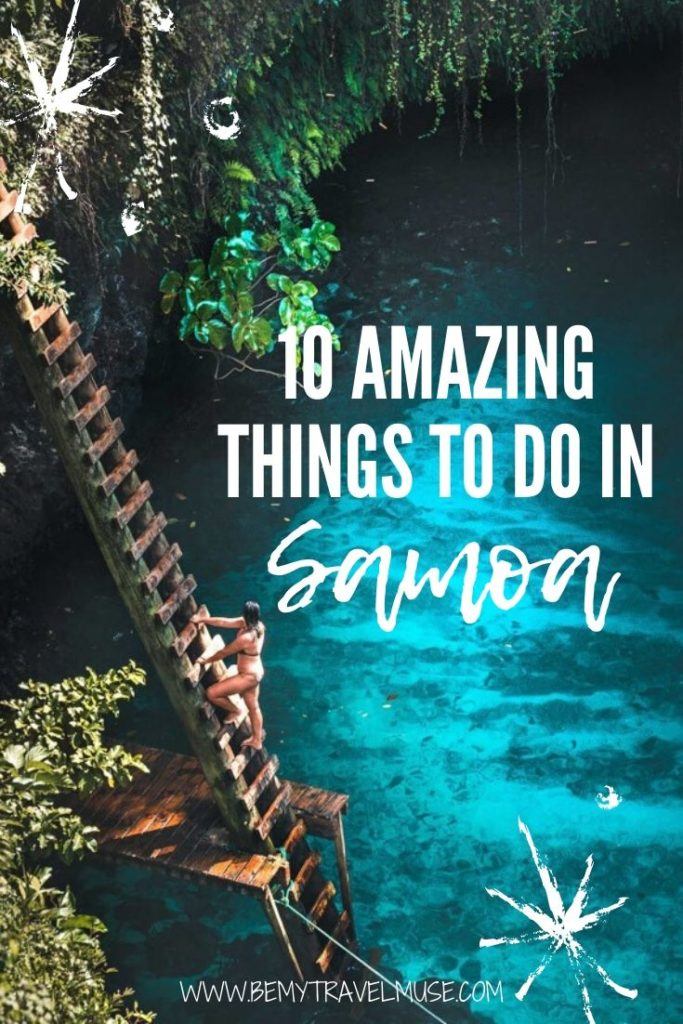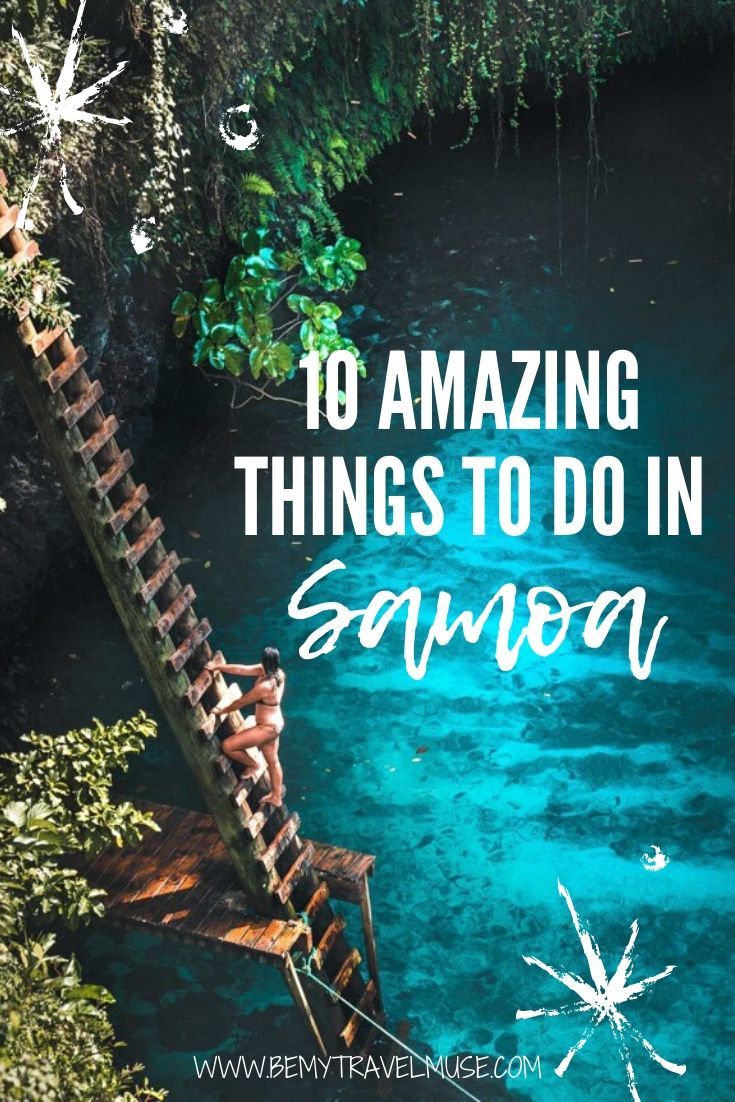 Samoa is one of the most underrated destinations of the South Pacific, but one we bet will make its way to the top of your bucket list by the end of this article.
Samoa's coast is lined with gorgeous sandy beaches, followed by volcanic cliffs. The crystal clear sea is teeming with colourful coral and an abundance of exotic reef fish and sea turtles. There are jungle-covered volcanoes and sometimes it feels like you're in Jurassic Park and you wonder when T-rex will make an appearance. You'll see palm trees everywhere filled with coconuts that are small but oh-so-sweet. And there's the waterfalls, so many and some of the most beautiful waterfalls we've ever seen. Samoa is a true tropical paradise, but even if relaxing on the beach isn't your thing, there are plenty of things to do and see to keep you entertained.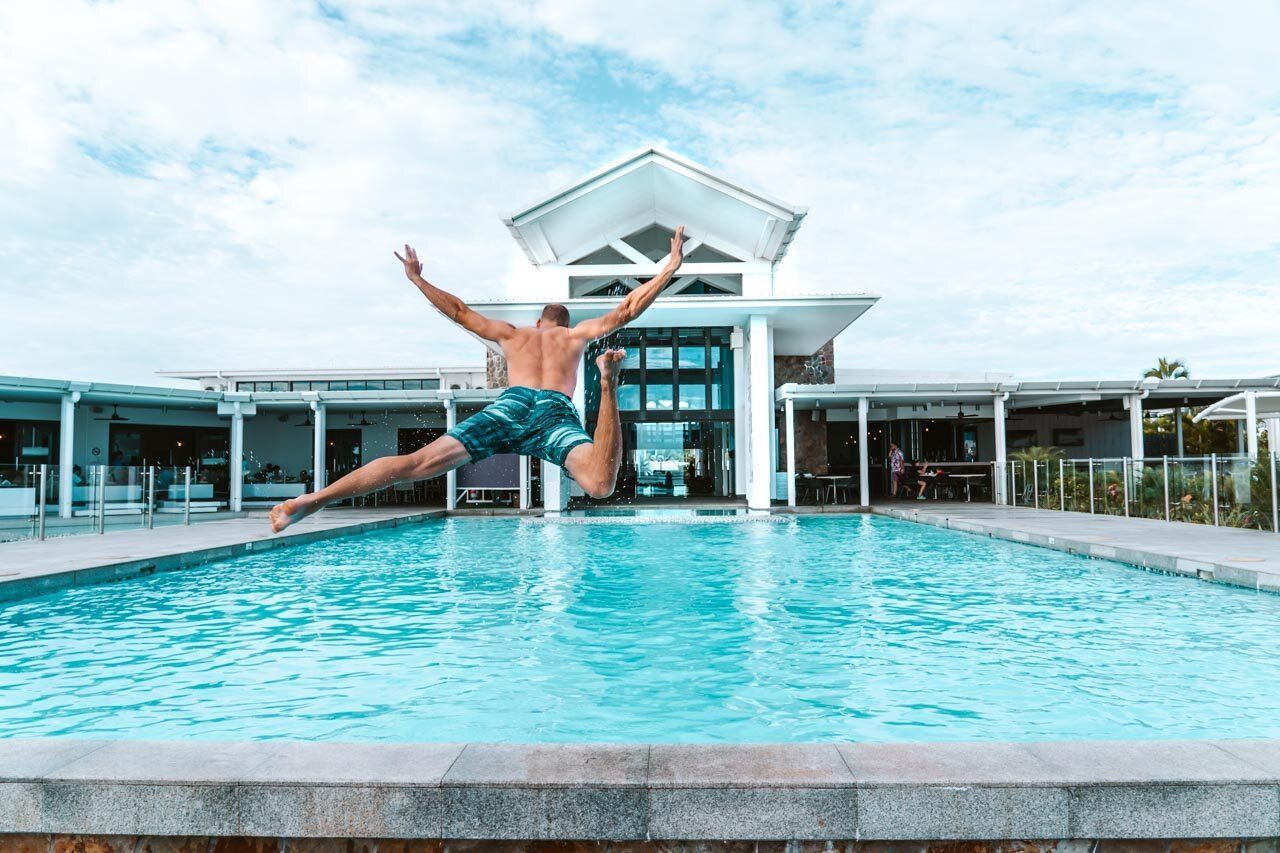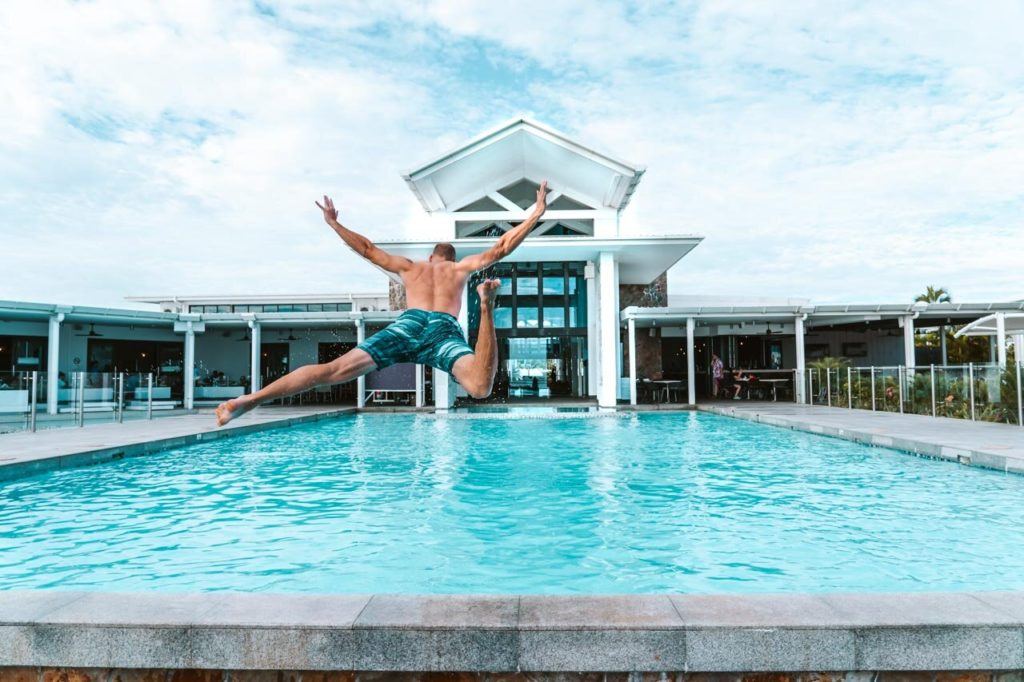 Top things to do on Upolu Island
Upolu, the main Island, is where the majority of the Samoans live and it's also where your plane will land. Apia, the capital and the only city in Samoa is also found on this island. The southern part of the island is lined with luxurious resorts and while tourism in Samoa isn't nearly as developed as in the surrounding Pacific islands, it is becoming evident that this area will eventually turn into a tourist hot spot.
1. To Sua Ocean Trench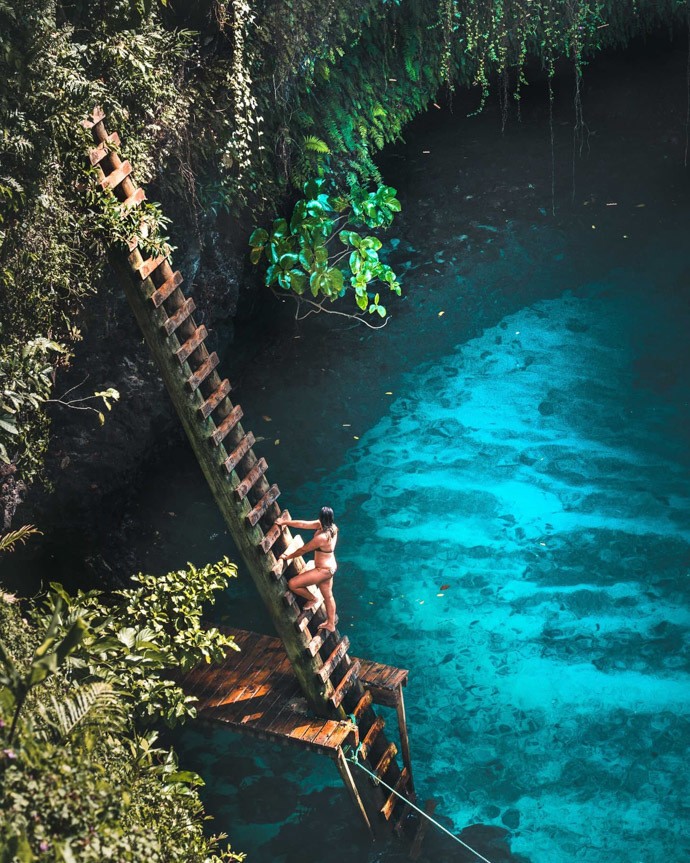 To Sua translates to 'Giant Swimming Hole' which was formed by a cave-in of an ancient lava tube system that connects to the ocean. It's this swimming hole that brought our attention to Samoa, and we're sure we're not the only ones whose attention it caught. To Sua Ocean Trench is the most popular and most iconic attraction in Samoa and one you should not miss out on.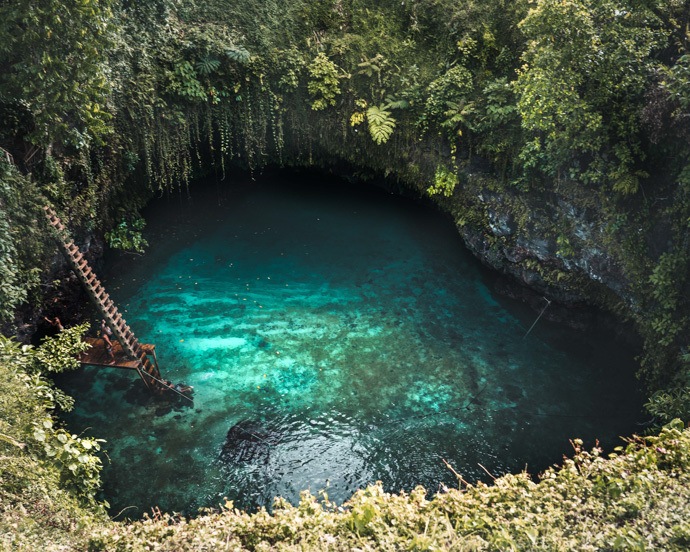 The sea water comes in through an underwater cave and it is warm and full of fish. You'll feel the current gently rocking you from side to side and after rainfall you'll hear rainwater dripping down the sides. It's paradise.
Top tip: Even at high tide the water is not very deep so be very careful when jumping in.
Entrance fee: 20 WST
2. Lalomanu Beach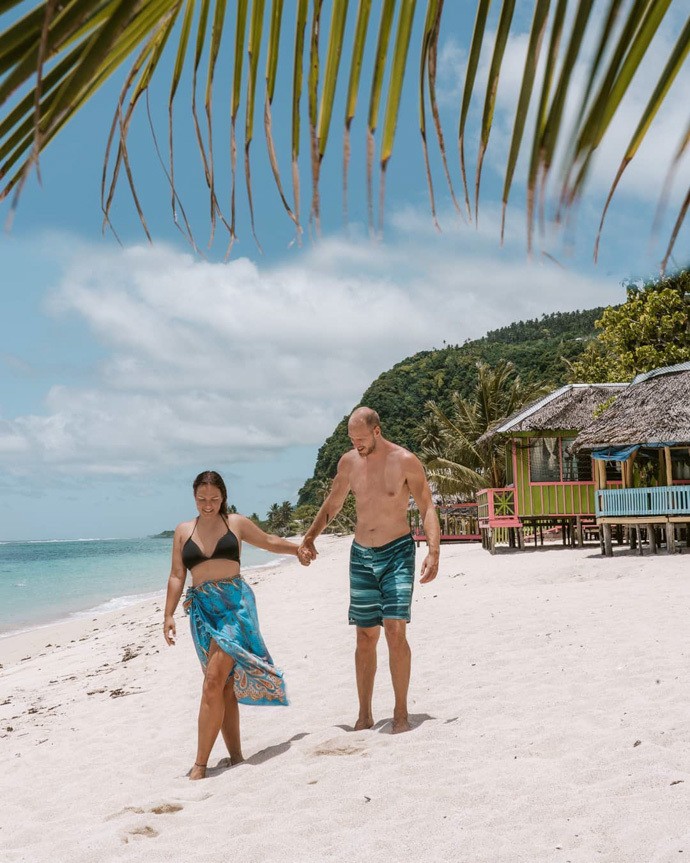 Lalomanu Beach has been voted one of the top 10 beach destinations in the world by Lonely Planet. While this beach is often considered the most beautiful beach in Samoa, it still feels surprisingly pristine and doesn't get crowded at all.
Lalomanu is absolutely gorgeous with its endless stretch of white sand lined with palm trees and colourful fales. This is the perfect spot to watch the sun go down while listening to the turquoise water gently breaking on the shore.
Top tip: Due to its position, you can see both sunrise and sunset on Lalomanu Beach.
Where to stay: spending at least one night in beach fales is a must. Taufua Beach Fales are fantastic and have the most amazing views.
3. Giant Clams Sanctuary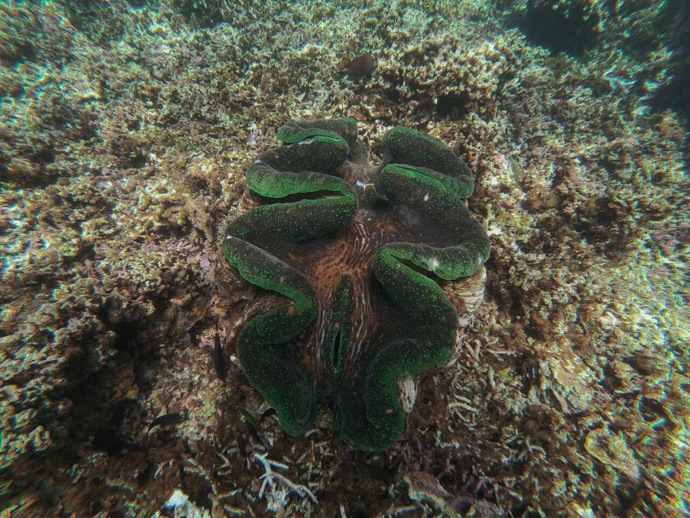 How big can a clam get? Ten centimeters? Half a meter? Turns out they can grow up to 1.2 meters in length! Crazy, right? These big boys are super pretty too and you can find them in vibrant shades of green, yellow, red and blue.
Giant clams are only found in the warm waters of the Pacific and Indian ocean and in Samoa you can see them up close in a sanctuary just off the coast. There are hundreds of them and it's a strange feeling swimming past them as they slam shut.
Top tip: It's safest to visit the sanctuary at high tide.
Entrance fee: 10 WST
Where to stay: Return to Paradise Resort offers the comfort of a full size resort without the painful price.
4. Fiafia Night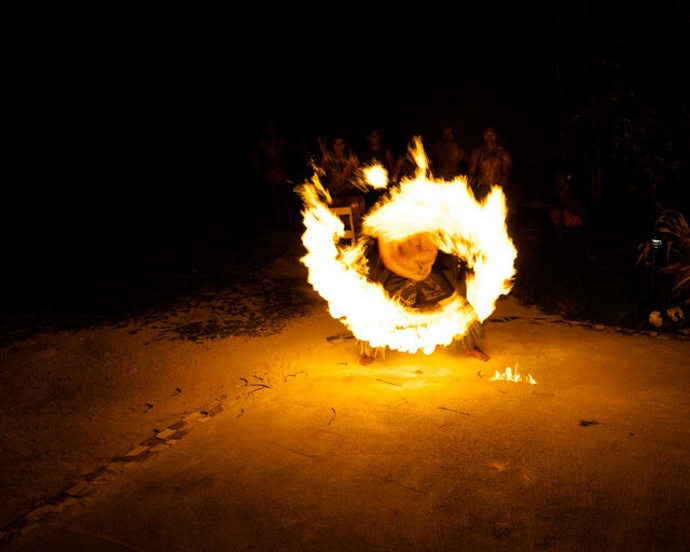 Fiafia means gathering or celebration and Fiafia nights are organised in all bigger resorts or fales and most of them allow outside guests to join in. Fiafia nights feature a traditionally cooked meal (umu) usually consisting of a lot of taro (the ugly brother of a potato), followed by a dance & fire show. These Fiafia nights can be a lot of fun and a great way to get familiar with the Samoan culture.
Top tip: If you have the opportunity to attend the Fiafia night at Return to Paradise Resort you're in for a treat! These guys have been winning awards (yes, there is a Fiafia competition) for more years than they can count.
5. Samoa Cultural Village in Apia
The Samoa Cultural Village in Apia is the lunch version of a Fiafia night but it also gives a lot more insight into the cultural and historical background. You'll start the visit by weaving your own plate, they'll show you how an umu (earth oven) is made, then you'll get an introduction to Samoan arts and crafts and finish it off with an up and close display of traditional Samoan tattooing before eating the just cooked umu.
Top tip: The Samoa Cultural Village is free of charge but we encourage you to tip generously.
Where to stay: Taumeasina Island Resort is the ultimate luxury resort on a private island connected by a bridge to Apia. For a more affordable option check out Olivias Accommodation.

6. Palolo Deep Marine Reserve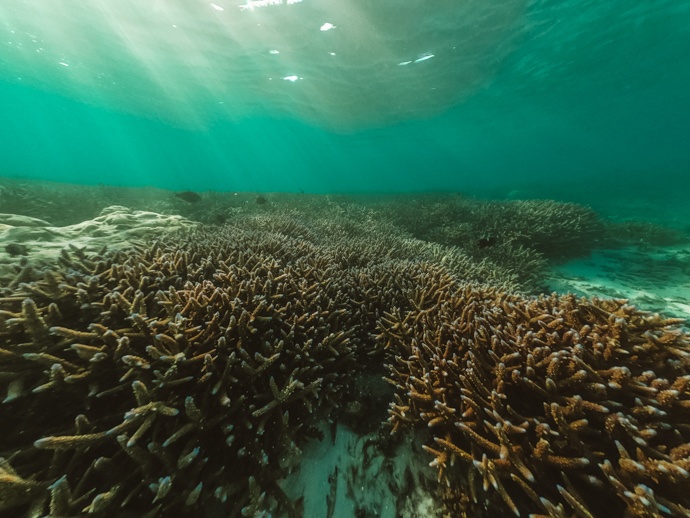 When we first heard of Palolo Deep we didn't expect much, after all it is located right next to the port so how good can it possibly be with all that boat traffic and pollution? Well, it turns out it is freaking amazing!
About 100 meters from the shore you'll see a pole and that's where you'll want to go. The swim starts in the shallows where you'll only find dead corals, but as you make your way further away from the coast, you'll be seeing more and more fish and small clusters of coral will be getting bigger and bigger with every stroke you make. Then, as you reach the pole something amazing happens. The sea floor suddenly and steeply drops down and a whole new underwater world opens up in front of your eyes! The corals become more vibrant and the fish more diverse. There are giant schools of tiny yellow fish opening up a passage as you swim through, as well as bigger and more colorful reef fish. We've seen swordfish getting ready to catch lunch and puffer fish blowing up in front of our eyes. Palolo Deep is a snorkeling paradise!
Top tip: Take your flippers with you as it's quite a swim and the current can get really strong.
Entrance fee: 5 WST
Top things to do on Savai'i Island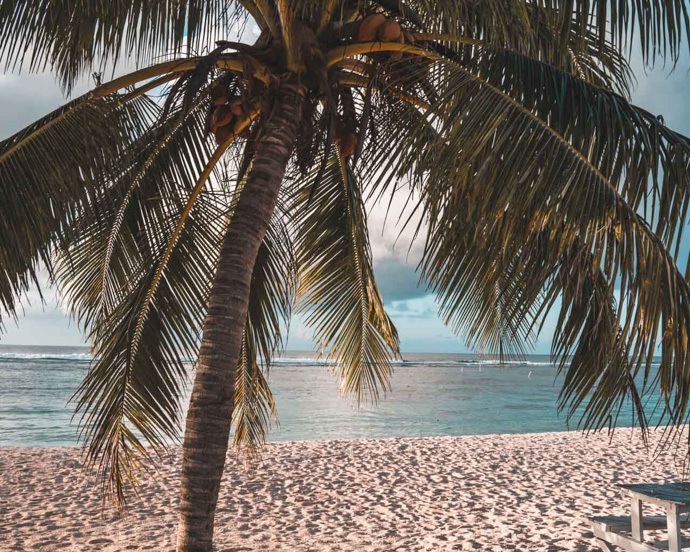 Savai'i is the bigger and more pristine island of Samoa. Although bigger in size, not many people live here and only about 20% of visitors ever cross over. What can I say… 80% of visitors are seriously missing out!
Savai'i is often referred to as the 'real' Samoa. It is wilder and in our opinion it is even more beautiful than Upolu. 2-3 days would be the perfect amount of time to see the highlights in Savai'i but for us, it would have been easy to spend a week just in Manase, shifting between our terrace and the beach, trying to find the perfect blend of sun and shade only to break it up with the occasional swim amidst wild sea turtles. So if this sounds like something you would like to do more of, go ahead and add a few days to your Samoa itinerary.
7. Alofaaga Blowholes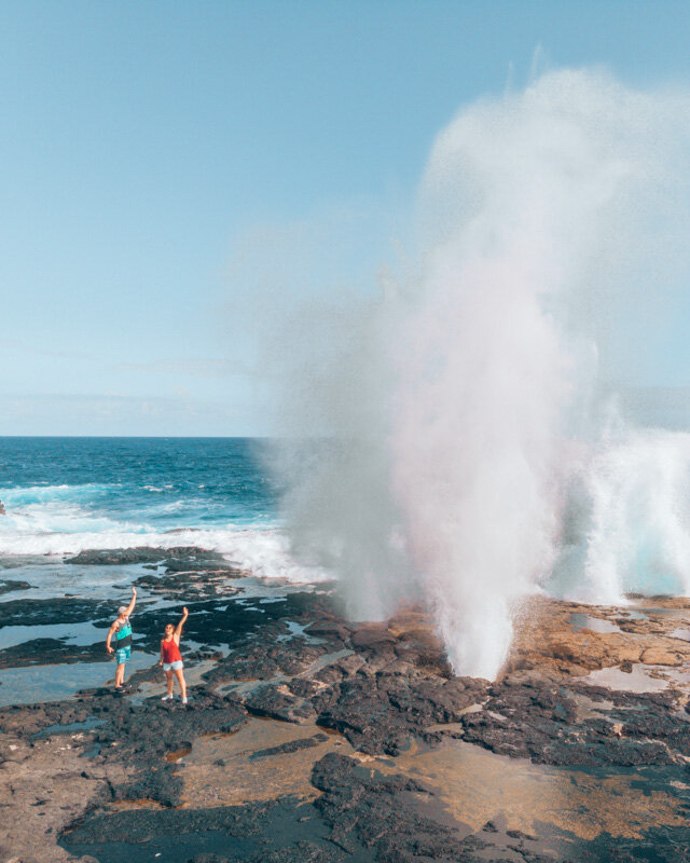 Over 100 years ago Mt. Matavanu erupted, covering big parts of Savai'i with lava and creating some of the most breathtaking and surreal landscapes.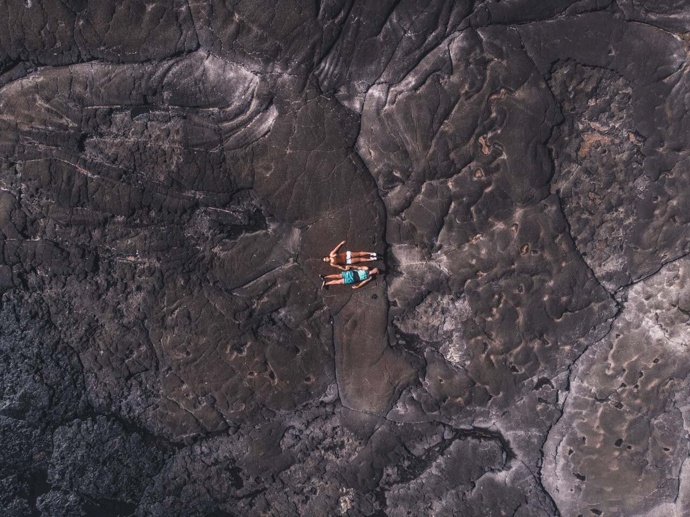 Alofaaga Blowholes are a prime example of the power of Mother Nature. When the waves come in, water pushes through the lava tubes and blows up into the air over 30 meters high. This is a spectacular sight which will make you feel incredibly small and humble.
Top Tip: Visit the blowholes at high tide to see them at their full power.
Entrance fee: 5 WST
8. Falealupo Beach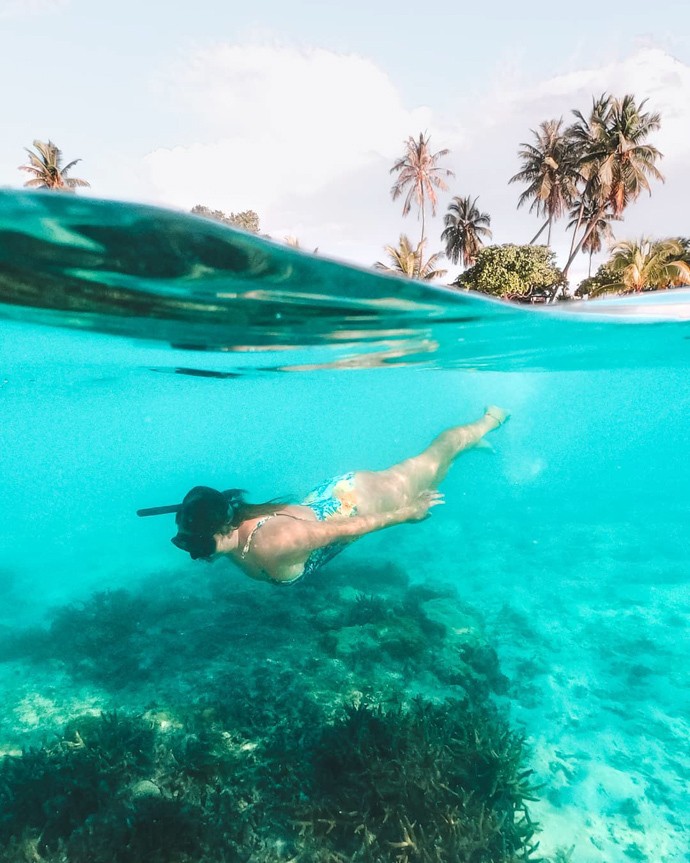 Falealupo is a small village on the westernmost point of Savai'i. Asphalt roads didn't make it this far yet and it seems like time stopped in this little corner of the Earth.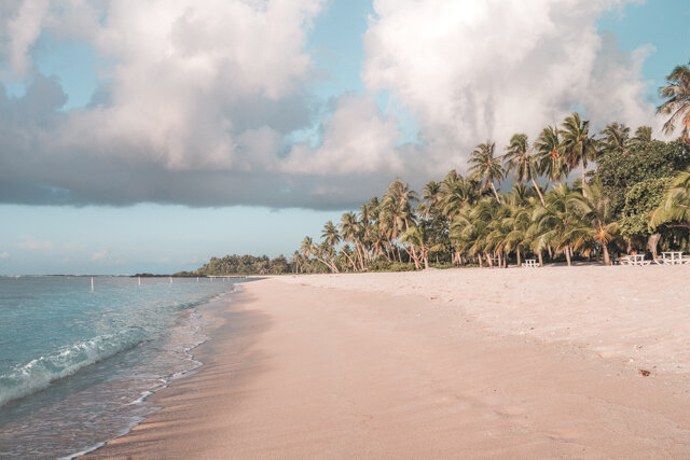 Falealupo Beach is the most beautiful beach on Savai'i with it's pinkish sand and palm trees leaning over water. This is the only place in Samoa with an unobstructed view of the sunset so you can see the sun drop into the sea. Falealupo Beach is also beautiful underwater with it's funny coral clusters and colorful reef fish.
Where to stay: Se'eti Beach Fales has the yummiest food in the area.
9. Swim with wild sea turtles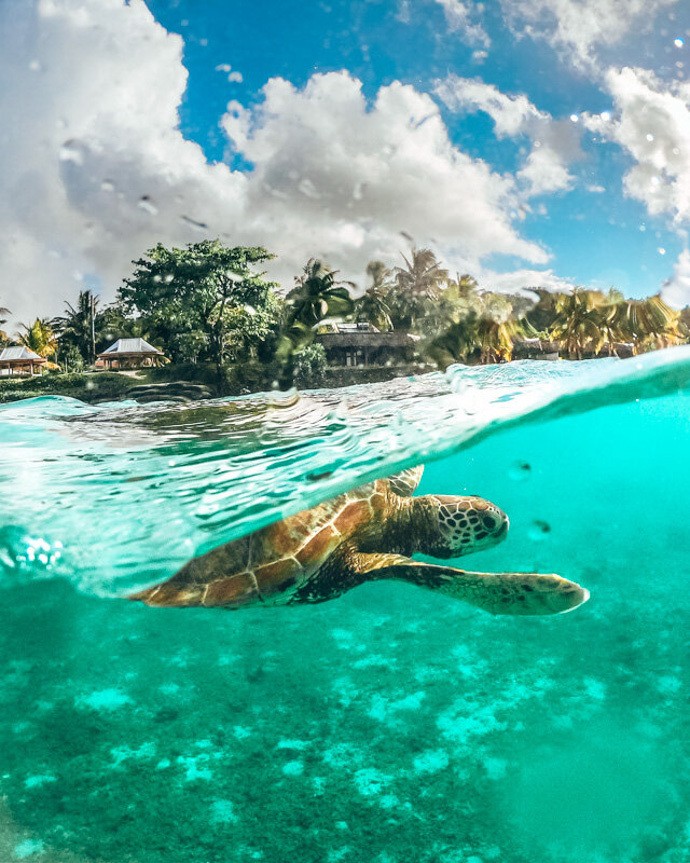 Just in front of the village of Manase you will find the most beautiful reef in all of Savai'i and on the edge of this reef you'll find sea turtles munchin on the sea grass. They're very punctual creatures and hang around there every day at high tide.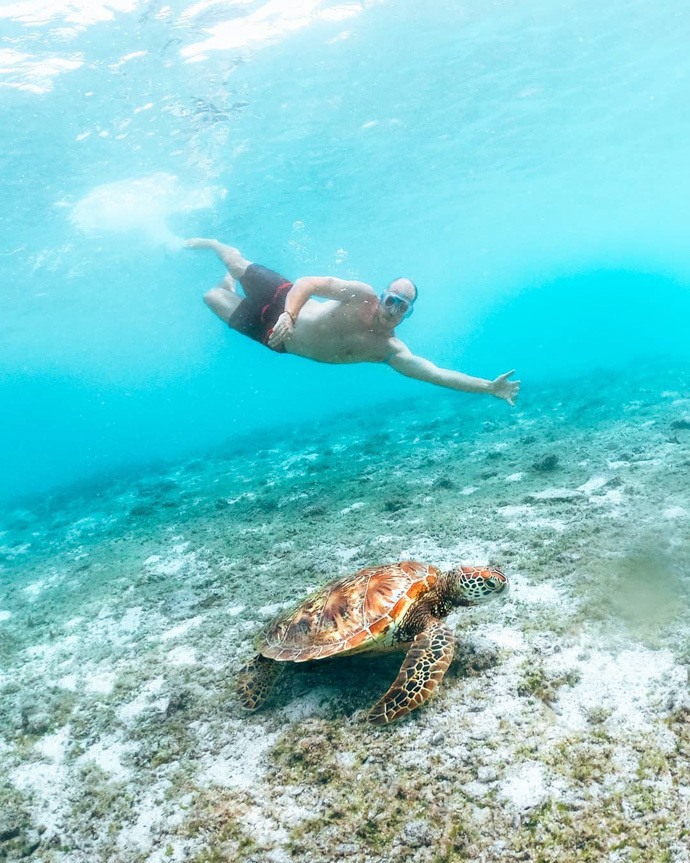 Top tip: Don't go to "Swimming with Turtles" since they keep them in captivity. Instead, grab your snorkel and find them in the wild just in front of Stevenson's Resort or Tanu Beach Fales.
Where to stay: Tanu Beach Fales for a budget option or Stevenson's for affordable luxury.
10. Afu Aau Waterfall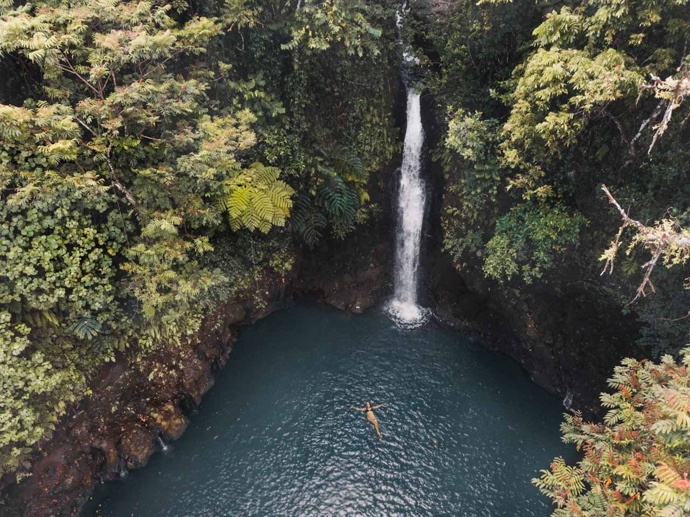 We are avid waterfall chasers and we're happy to report that Afu Aau is one of the best falls we've ever visited! This 30m waterfall created a big plunge pool surrounded by rocks and jungle which is perfect for a refreshing swim. The water is just cold enough to give you that refreshing kick after a walk in the Samoan sun, but also warm enough that you can spend hours floating around and jumping off the rocks.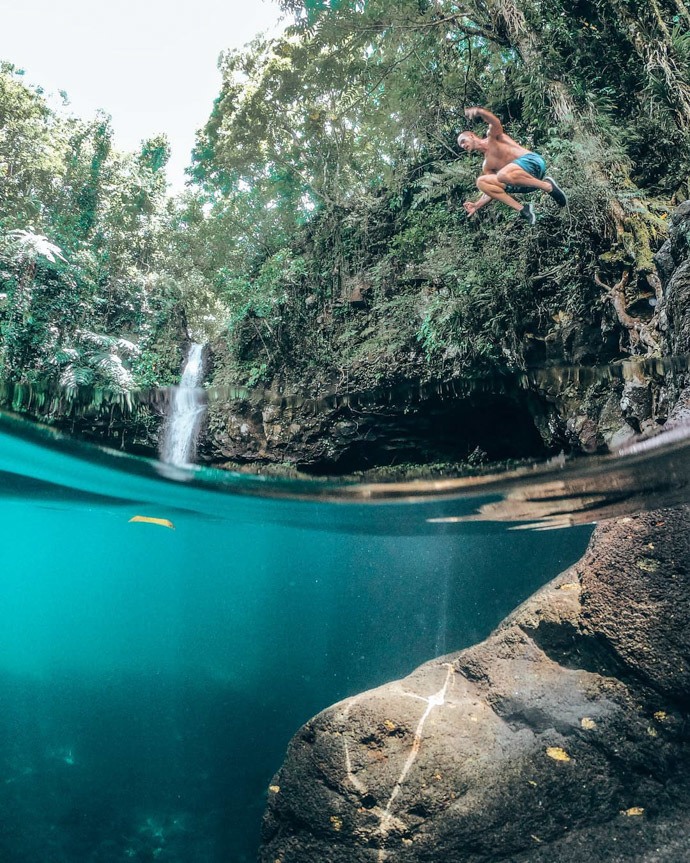 Top tip: Don't get tempted to jump in at the first waterfall. Instead walk up to the end of the path and dive in under the third and biggest waterfall, so worth the wait!
Entrance fee: 10 WST
How long to stay in Samoa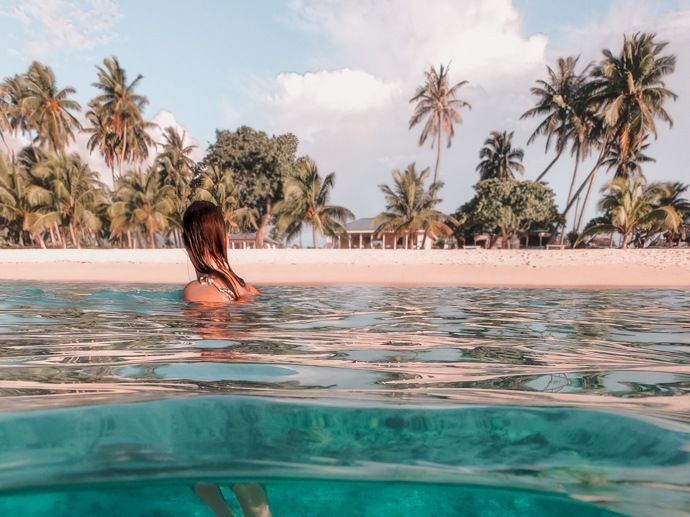 Samoa consists of two main islands and a few smaller surrounding islands. The main islands are called Upolu and Savai'i, and are both equally stunning but completely different. Most tourists will only visit Upolu and spend 5-7 days suntanning in a resort, but if you want to explore both islands (which you should!) we recommend you set aside 8-10 days in Samoa. This will allow you not only to see all the major points of interest but also give you some time to unwind and work on that tan. We spent nearly 3 weeks in Samoa and loved every second of it.
Getting to Samoa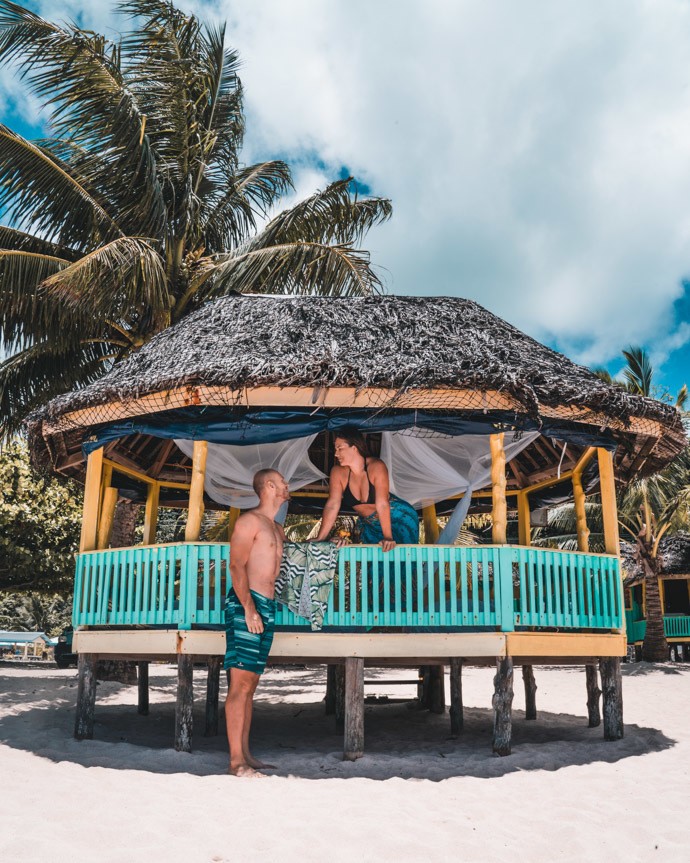 Faleolo International Airport is the only international airport in the country and it is located on Upolu Island, 40 kilometres west of the capital Apia. There are regular flights from New Zealand, Australia and some of the surrounding Pacific Islands. While waiting for your luggage you will most likely be welcomed by an acoustic band wearing flower necklaces and playing traditional Samoan music. Talofa, and welcome to beautiful Samoa!
Getting Around
Samoa is small and roads are few. Both islands have one main road that follows the coastline, and on Upolu there are a couple of additional roads crossing the island, so navigating is rather easy. The roads are however in poor condition, and the speed limit is low, so even if distances are short, it can take you considerably longer than expected to get from A to B. These are the available options for transport: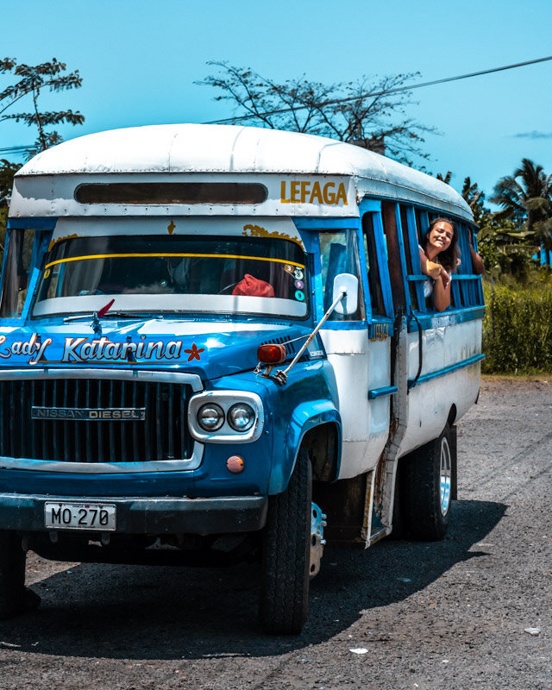 Public Bus: The buses in Samoa are an experience in itself and one we can not recommend enough, but only when you're not in a hurry. Apart from a couple of bus terminals there are no official bus stops so you have to wave them down by the side of the road. While timetables do exist, the buses are almost never on time, they often stop at supermarkets, take detours and sometimes even break down. But taking an old and colorful bus is something you should not miss out on in Samoa as it is a true cultural experience and we promise you'll have fun as long as you keep an open mind. The buses have no aircon and some don't even have glass windows, they get crammed and the music is loud, but the conversations are great and the smiles are real.
Taxi: There's no Uber service in Samoa and taxi meters seem to be optional and often tampered with. Always haggle and agree on a price before getting into a taxi. As a general rule of thumb, any ride within Apia is about 5 WST, the ride from Apia to the airport is 50 – 60 WST.
Rental Car: Renting a car is probably the best and most reliable way of getting around in Samoa. We've seen rental options as low as 80 WST per day in the outskirts of Apia.
Ferry: The ferry connects both islands and departs every two hours between 6 am and 4 pm from Monday to Saturday, and twice a day on Sunday. Tickets can be purchased just before departure and you can take your rental car over with the ferry. The ferry terminal on Upolu is conveniently located just 5 minutes from the airport.
We've met several travellers (also solo female) who opted to hitchhike their way around Samoa. They felt safe doing so and didn't have issues getting a ride. Samoans are very friendly and hospitable, most of them will gladly give you a ride and tell you all sorts of stories on the way. It is also possible to rent a scooter but we would only recommend it for short trips as the road conditions are poor.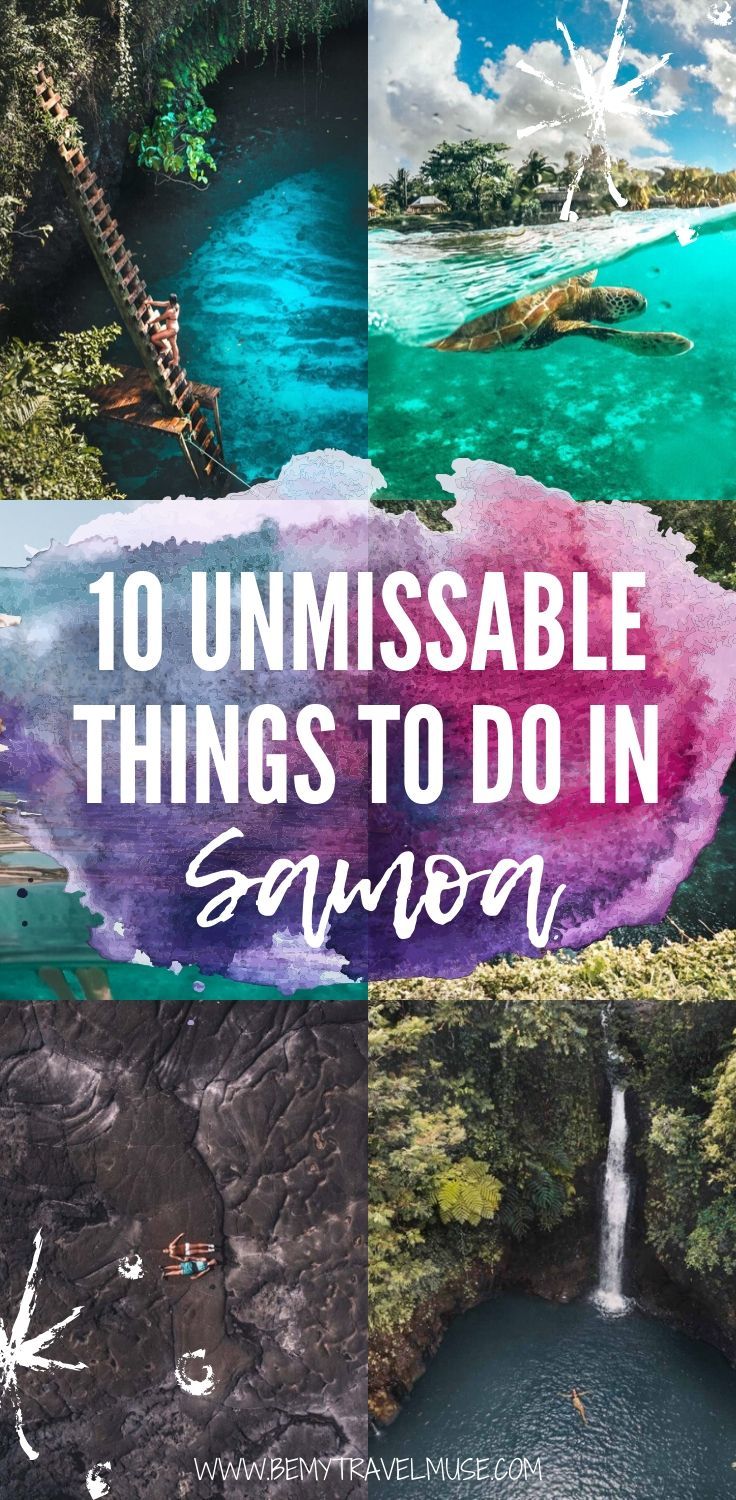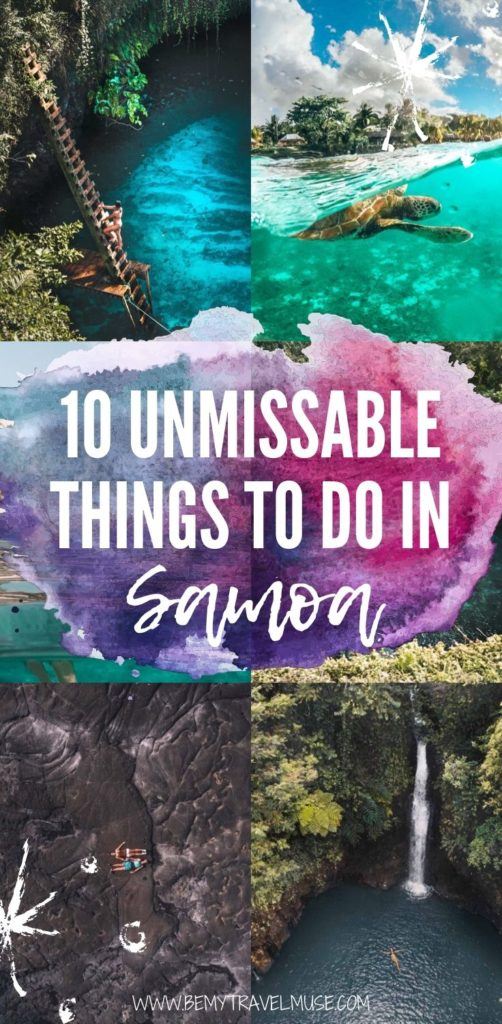 In our opinion, Samoa is a true gem of the Pacific and a place we'd go back to in a heartbeat. It offers the perfect combination of soft sandy beaches, jungle covered mountains, gorgeous waterfalls, kind people, island vibes, interesting traditions and mesmerising underwater life.
So, are you convinced, did Samoa make it on your bucket list yet?
About the authors: Tom and Zi are the creatives behind Craving Adventure. They met while solo travelling through SEA and fell in love. Once that trip was over they both had to go back home – to the opposite sides of the world, but they couldn't stand the distance so they found a way to make it work. They quit their jobs, packed up their bags, sold what didn't fit into said bags and hit the road to travel full time. Through their blog and Instagram account they aim to bring you all the insights on a life of travel, exploration and adventure.