Lately there seem to be new travel-related innovations in the digital sphere almost monthly. Every now and then, one really grabs my attention, makes my life easier, is entertaining, or all of the above.
It may be a phone application, a new way to listen to music or take pictures, or in this case, a company that makes choosing a hotel easier: Yonderbound.
Yonderbound is like a mixture between Pinterest and a hotel booking agent. Though still in Beta, the idea is definitely there and I've had a lot of fun planning vacation scenarios with it.
Yonderbound allows you to select hotels of various prices in locations you want to visit (or dream about – I could see Honeymoon Yonderboxes getting big).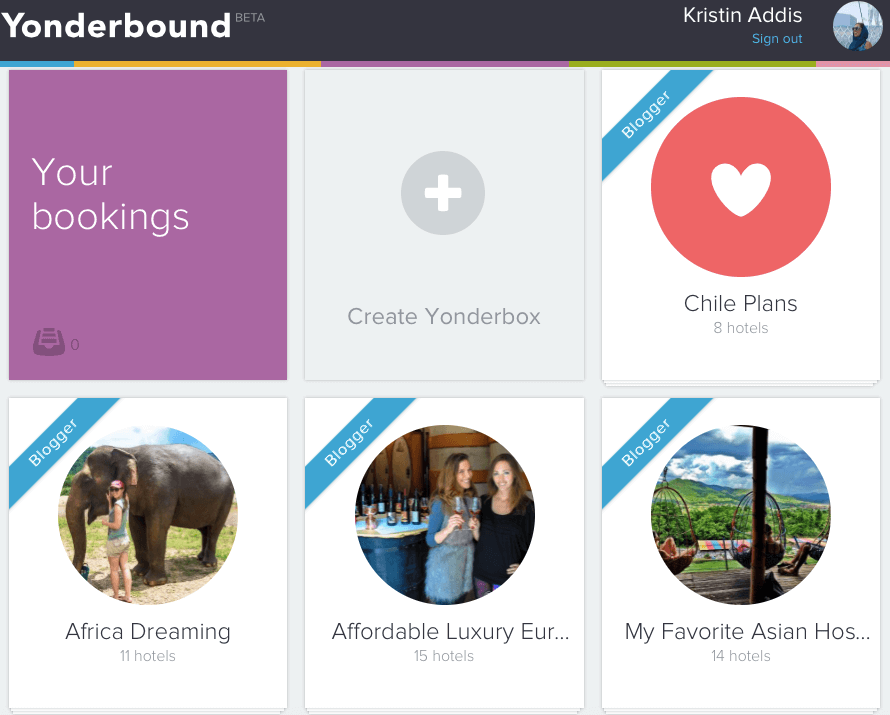 I find that more and more, the idea of something nice, private, or quirky, suits me more than backpacking in hostels. I will always have a soft spot in my heart for them, and I still believe they're the best way to meet other solo travelers. I had said before that my backpacking days are likely behind me. Therefore, the challenge becomes finding these quirky and boutique BnB-type places.
Luckily it's made much easier with the ability to set up my plans in this visual kind of way and having access to others' recommended hotels as well. I love it when something makes life easier.
Before I could declare it use-worthy, of course, I had to price compare between Yonderbound and some of my other favorites. I did a few searches for hotels I stayed at while I was in South Tyrol, Italy, and sure enough, Yonderbound was actually cheaper, even before the others' added fees.
Another thing I like about this – fees are included. I searched Hotel Greif in Bolzano, Italy and found that Yonderbound came back with $240 and was pretty surprised to see the other two websites I normally alternate between come back with $242, which was before the fees both websites impose.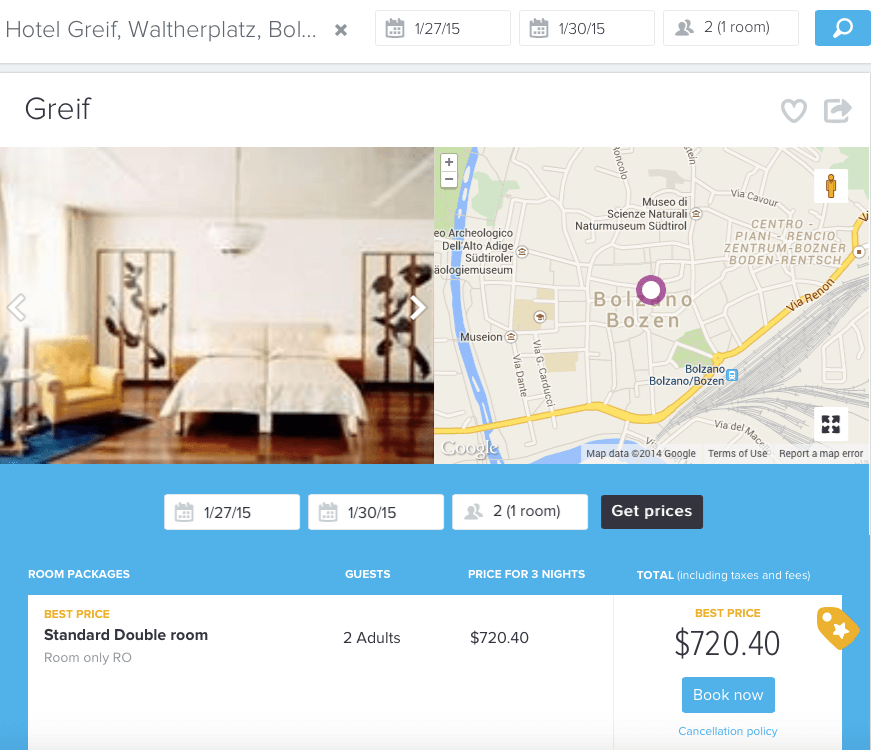 It's just a few dollars per night but that does add up when you travel all year long! I also like the idea of sending someone I'm planning a trip with a visual wish list of places to go, broken down by location, which would have really simplified things when my friends and I were trying to plan our two weeks together in Thailand.
Since it looks like I might be headed to Chile soon, based on your voting patterns (although South Africa and Myanmar are still battling it out as well for first place), I made a Yonderbox to get me excited about the trip and help imagine what kind of places I can stay and at what price point.
If you need inspiration, like I kind of do for Chile because I have no idea what it's like or what to expect, you can simply look at the Yonderboxes made by others. I've seen a lot of travel bloggers in there, and I naturally tend to look at those because I know the reviewers are experts in these areas and may have even stayed in the same place.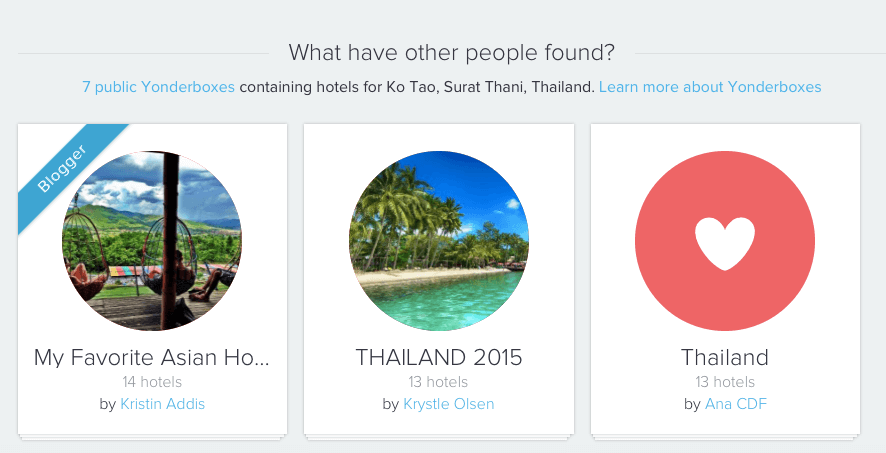 Lastly, and what I find of huge value, is anyone who books through the Yonderboxes that you have created, which you can send to friends, family, whomever, helps you build more Yondercredits which can be used towards future bookings.As a travel blogger it's a perfect way for me to recommend my favorite hotels directly to you guys, and to see what your favorite hotels are. Double win for me.
I definitely think at the moment, Yonderbound is perfect for mid-range to high-end hotels and a great way to plan if you have multiple people to inform. It's a fun tool that makes searching and planning over the long term easier. I'm definitely excited to see how this company grows.
*In the spirit of full disclosure, this post is part of a collaboration with Yonderbound. However, before writing this post I spent time – lots of time – checking prices and playing with the service. I definitely stand behind my words and think this booking method has lots of potential to become big. Thoughts and opinions are completely my own. 
Click to read more posts about