It had been a tiring day.  It was take two of my attempt at climbing Kawah Ijen and I had woken up at 1am in order to see the stars and blue flames.  My high from the natural beauty plummeted upon making my way down.
Something all-too-typical happened.  A miner asked the fellow hiker I was walking with (we had met at the blue flames and bonded over our mutual near-asphyxiation from the sulfuric fumes) for a cigarette.  He offered him a Marlboro and the man turned it down instead asking for money to buy the cigarettes he actually wanted.
Really? The audacity!
Rewind to my first day in Sumatra.  I was in Medan and covered myself from head to toe, thinking I would be alright.  I walked outside and immediately was bombarded with catcalls and rude gestures.  I was so intimidated that I retreated to my hotel and didn't leave again for three days.
Then there was the bus trip between Flores and Lombok.  It mostly went well, but somewhere between Labuan Bajo and Bima a boy seated next to the old lady who I had bonded with on the boat whispered something to her, the two traded seats, and before I knew it his hand was on my thigh.
Uh, What? Unhand me you man-child!
Then I had the worst day of my travels so far, getting scammed and cheated seemed to be the name of the game in Indonesia, and I was getting really sick of it.
It probably didn't help that I had just had an easy six weeks in Malaysia, where most people spoke English and were genuinely pleased to have me there visiting.  I was viewed as a guest and was generally treated as such.
When I finally did make my way to Sempol, the jumping off point for Kawah Ijen, I walked to a warung (small eatery) about 1km away from my guesthouse to save some money on dinner.  Several times young men would stop near me on their motorbikes for the sole purpose of taunting me and making rude gestures with their fingers.  What could I do? I just ignored it and kept walking, a little more dejected each time.
Why? Why is it ok to make rude gestures at me just because I'm a foreigner?
I braced myself for another battle when I made my way to the bus stop after climbing Kawah Ijen.  Sure enough, several young men rode by taunting me, but I just ignored them and kept my nose in my book.
Then, something odd happened.  A truck carrying a brand new motorbike pulled over and a uniformed young man stepped out.
"Bondowoso?" he asked.
Yes, that was where I was going.  He offered me a ride.  Skeptical and jaded, I asked how much money he was looking for.  He looked surprised and said he wanted nothing.  Something about his demeanor made me trust him, and I climbed inside with him and his two coworkers.
Before long, we were joking around and I was speaking with them in my very limited Indonesian, while they did the same in their very limited English.  We even stopped by a grocery store and they told me I could wait in the car. They emerged with a cold drink for me and the driver even though they, given it was Ramadan, had to abstain.
How sweet is that?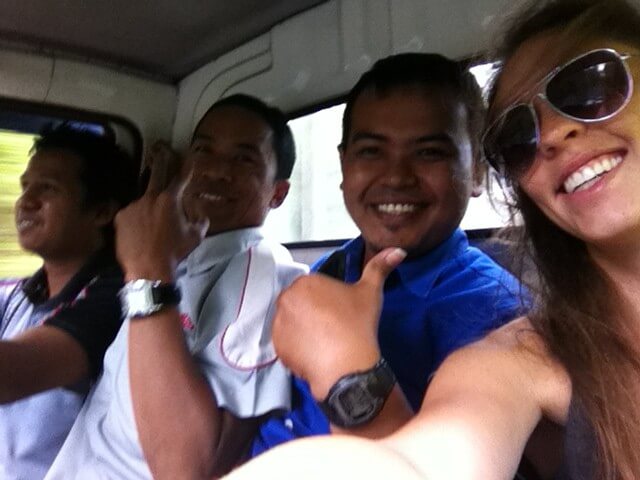 We dropped off the motorbike and I was invited into the buyer's lovely home.  Everyone was incredibly kind and I eventually made it to the bus station safe and sound.  Just as promised, they wanted nothing from me.
I wish I could tell them now how much that really meant to me.  It was one simple act of kindness but it set the tone for the rest of the trip, which ended up being a little easier, maybe simply due to my more positive outlook.
They say all it takes to ruin a place is one bad egg, but I think the opposite.  All it took to restore my faith in Indonesia was one random act of kindness. 
Have you had a similar experience while traveling?