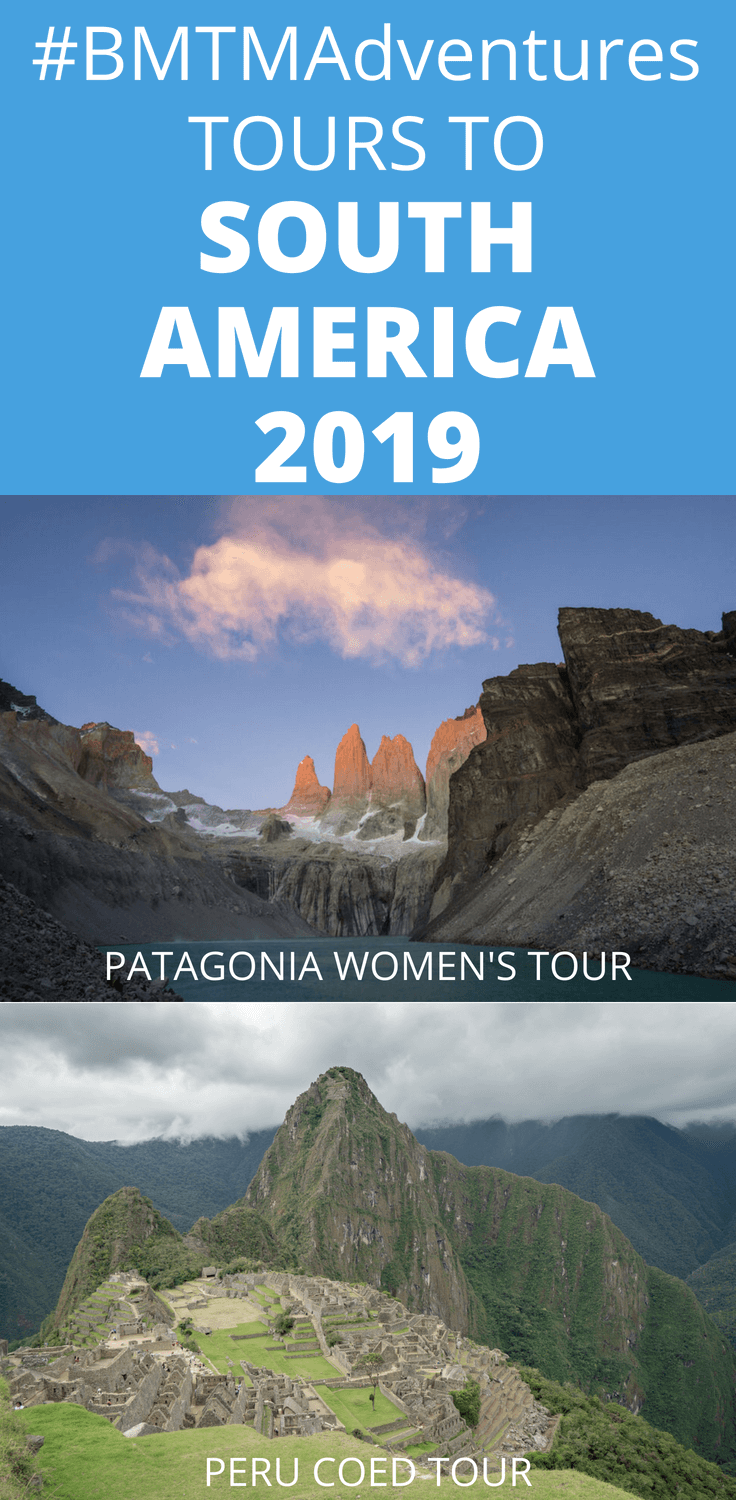 Hello from a little window seat on an airplane bound for California, leaving Anchorage and 2.5 weeks of amazingness behind as I wrap up my second adventure tour of this year with another group of some of the most fantastic, inspiring, and fun-loving people I've ever had the pleasure of hanging out with.
When I first started thinking of offering adventure tours to Be My Travel Muse readers, various options and possibilities came up to market existing tours, but none of them gave me the autonomy and freedom that creating my very own tours would. I wanted to create something that would be an exhilarating challenge, an opportunity to try something new, and a way to meet other solo travelers from around the world – the cool kind, like those who read this blog.
Since this year's Peru trip was so much fun, and since Alaska proved to me yet again that the people who come on these trips are super laid back and amazing, now I just want to hang out with you guys as much as possible, in the most adventurous and beautiful places this world has to offer.
If you follow me on Instagram and subscribe to my newsletter then you've already heard; I'm hosting two more adventure tours in South America in 2019! 
Peru
Peru is easily the most varied and diverse country I've been to. There are approximately 90 different microclimates in Peru, including 28 of 32 world climates! This results in incredible biodiversity in the jungles, the mountains, and the valleys, with the third highest number of unique bird and mammalian species in the world. It's also home to some incredible history. There's truly nothing like spending a week in the jungle, followed by hiking along the Inca Trail to Machu Picchu, one of the ancient wonders of the world.
Last year's Peru trip took us to the Amazon to search for sloths and pink river dolphins, then down the trail of the ancient Incans to Machu Picchu, and ziplining through the Sacred Valley and finally finishing with the iconic Rainbow Mountain.
Since there was so much interest in that trip and since the wait list ended up growing longer than I could have imagined, my tour buddy, Pete, and I decided to offer this trip again.
So far, attendees are usually solo travelers, many of whom have lots of travel experience, and some of whom are traveling abroad for the first time. We share lots of laughs, take photos of each other, and keep in touch long after the trip is done. The group Whatsapp from the last Peru trip is still active with us sharing inside jokes from the trip!
The tour includes everything from when you step off the plane until you board again to go home, including:
All activities
Local guides and permits for the Inca Trail
All accommodation including camping equipment
Most meals (though some will be on your own so that you can pick what you want to eat)
Intracountry flights and transportation
Just book your own flight to meet us and we'll take it from there!
The Peru trip is open to both men and women, and it starts on March 30. You can read more about it here!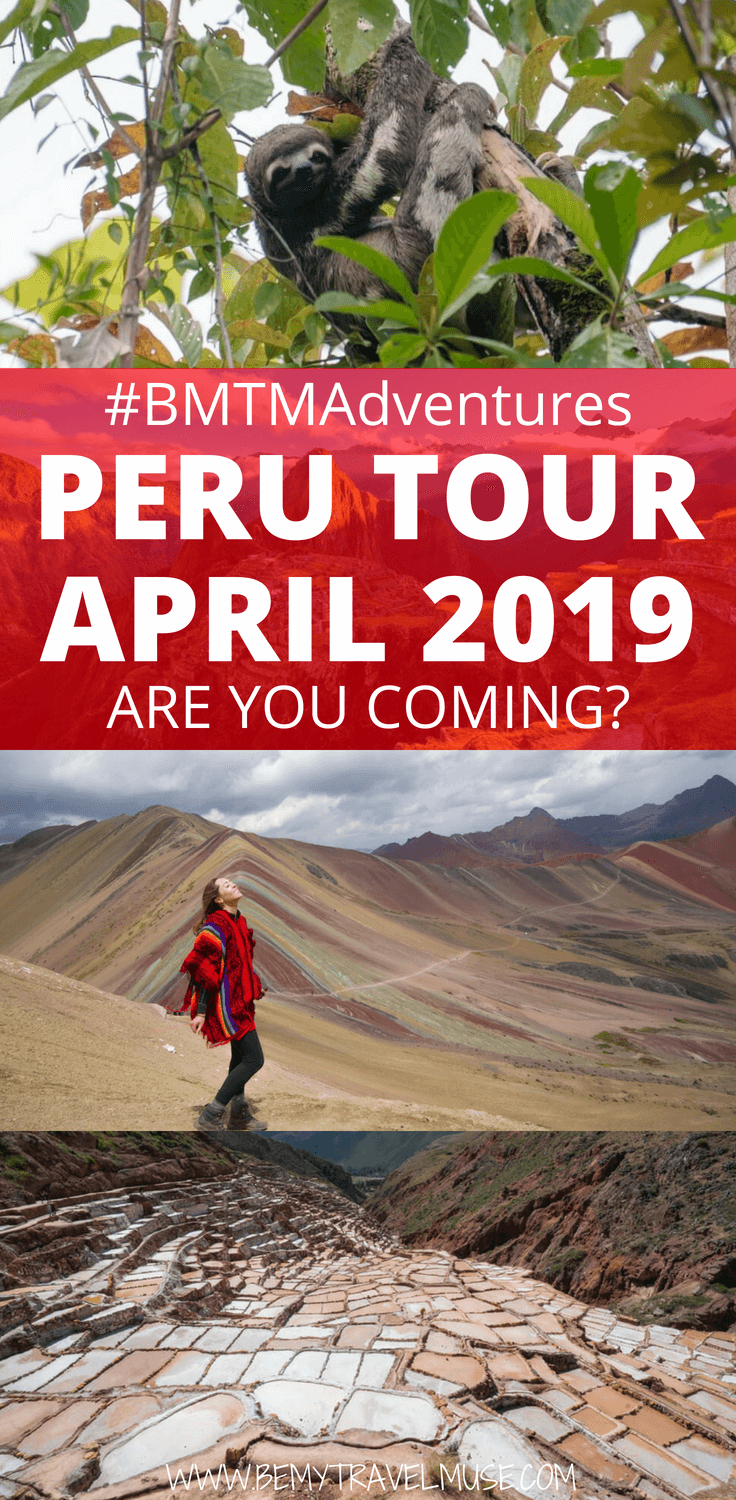 Here are a few reviews from last year's trip:
"I had a wonderful time on my BMTM Peru adventure! From the activities that we did before The Inca Trail (salt mines, via ferrata, zip lining, etc.) to the actual Inca Trail, everything was very organized and an absolute blast! Kristin and Pete were both great guides, and did everything they could to make everyone's trip awesome!  I highly recommend to others to go on a BMTM trip, and plan to go on another one in the future!" – Calie
"I was so happy to be a part of the first BMTM group trip. It exceeded my expectations in so many ways….going on group trips, you never quite know how they'll turn out. But this trip to Peru was amazing!! Kristin planned the perfect itinerary… it was packed full of amazing sights, photography tips, and adventure.  But without the annoying group time constraints that large company tours usually have.  Kristin and Pete were fun and down to earth and made the trip so memorable along with all of the other individual travelers I met. Couldn't have asked for a better group.  Overall it was an amazing trip that I'll never forget and I can not wait to join another BMTM adventure!! Thanks so much!!" – Kassandra
I hope to see you there! Click here to join. 
Patagonia
I first visited Patagonia 3 years ago and spent two months hiking and hitchhiking my way through. I couldn't believe how dramatic the landscape was and how untouched it still felt.
The crown jewel of the time I spent there was Torres del Paine in Chile. The O hike there took me through dramatic peaks, past the Southern Patagonian Ice Field, which looks like an endless glacier, over suspension bridges and finally to the Torres, the peaks that made the park famous.
I carried all of my own gear for that hike, but this time I wanted it to be more accessible, so we partnered with local operators to provide tents, food, and a luxury hotel stay afterwards. We'll also visit the penguins of Magellan island and tour the rest of the park that you don't see from the trail by bus after the hiking portion. I can't wait to go back and do this again!
For a video of the last time I was there, plus a better look at the hotel, see below:
This particular trip is a women's adventure tour open to 16 female participants. You can find out more and sign up here!
Spots for both trips are going fast. At the time of this posting there are actually only four more spots left on the Patagonia trip and the Peru spots are filling up as well (sorry for posting about it so late on here!).
Both trips come with a folder of amazing, edited photos, filters and presets that you can use yourself, and hands-on tutorials with me during the tour.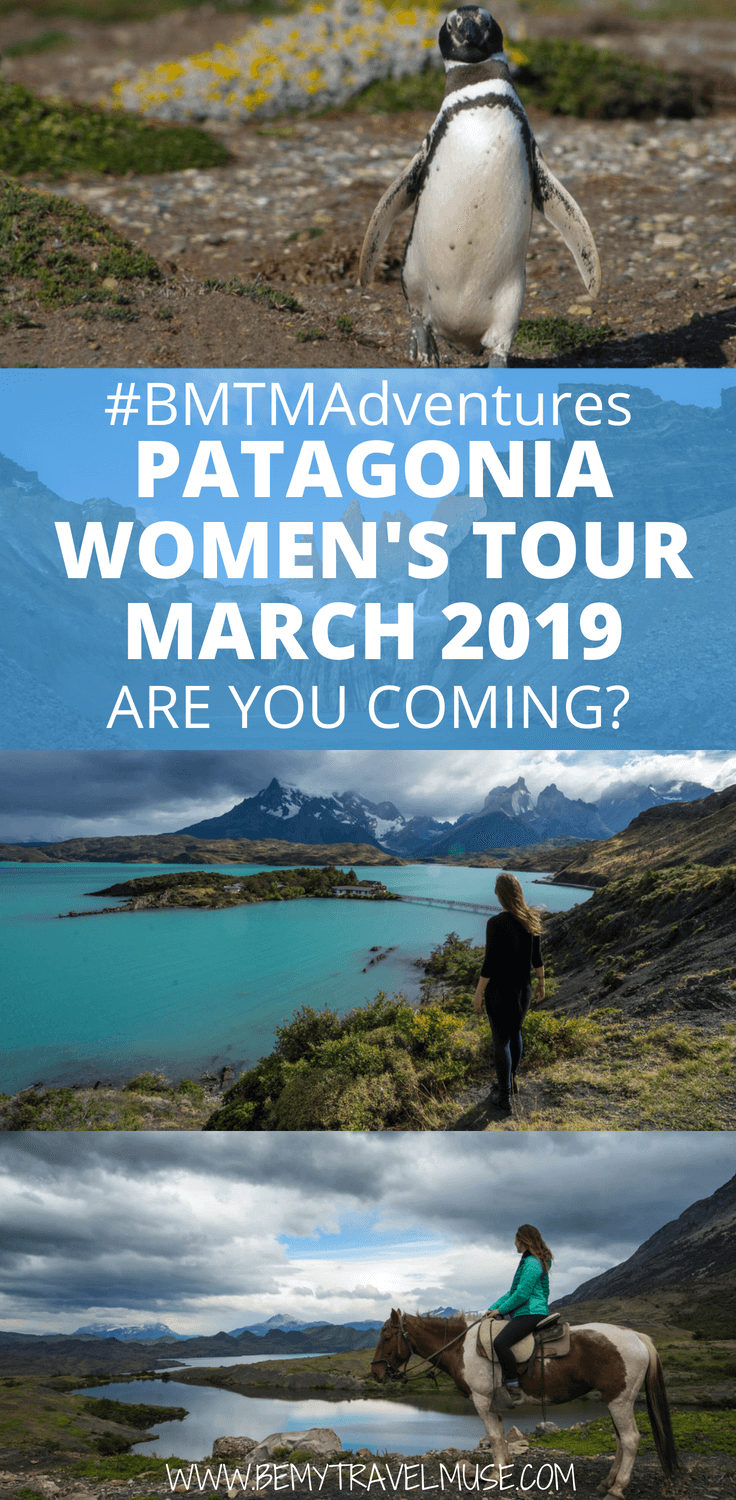 Got questions? I got answers!
The following are a few common questions about the trips:
What level of physical activity should I expect?
Both trips involve hiking, some of which is challenging. Neither trip requires that you carry all of your own gear like a typical backpacking trip, but you should be free from any injuries and be fit enough to hike for most of the day each day of the Inca Trail and the 9-day circuit, respectively. You have plenty of time to train for the trip to get your fitness levels up!
What are most of the attendees like?
Most attendees are solo travelers. I've been blown away by how well-educated, talented, funny, easygoing, kind-hearted, and interesting the people who attend the trips have been. Of course I always knew that this blog's readers were cool, but I have been amazed by how wonderful each group has been. I can honestly say there have not been any 'bad seeds' or downers on any of the four trips we've already run. BMTM readers are super cool!
What's the average age of participants?
There hasn't been an 'average age' on the trips so far. Participants have generally ranged from their early 20s to late 50s, but the best part is each group so far has been supportive, fun-loving, and drama-free. I've laughed til my abs hurt on each and every one!
Will you repeat any of these trips?
Probably not! I generally like to do new trips to keep it interesting. If these dates don't line up for you, stay tuned!