The kids excitedly called out "hello" to me as I rode by.
The mountains rose up out of the ground as if spontaneously popping up to greet me.
The rice terraces seemed like a an endless green carpet leading to an eternity of natural beauty.
Farmers smiled and raised their hands to make a peace sign.
Our biker gang rode by, each person in turn yelling a similar hello or flashing peace right back.
I'm speaking of Phong Nha-Ke Bang National Park near Hue in Vietnam.
Is this paradise? It's darn close.
Phong Nha wasn't really even on my radar until I teamed up with my Vietnam travel buddy, grill master Double D, who told me about the famous caves in the area.
I had certainly heard about all kinds of caves in Vietnam, but had no idea how amazing and still unchanged these caves would turn out to be.
Apart from that, renting motorbikes and exploring the area for a couple of days in a row made this area the most beautiful, enjoyable, and amazing part of my entire month in Vietnam.  Here's why:
The Dark Cave
This cave is accessed by either kayaking or swimming to the cave mouth, and requires a guide. This ended up being the most expensive part of the day, but was so much fun, so we were happy to pay.
The cave is darn muddy.  At first, I just accepted that, yes, I was going to have some really muddy feet.  Then my legs got involved as the mud got deeper.  Before I knew it, I was waist deep and, while rounding a corner, huddled behind a rock as a barrage of mud balls came raining down on me.
It was time for a mud war!  
Our group of five ended up practically swimming in the mud by the end of it, throwing mud at each other every now and then and finally just accepting the muddiness and fully immersing ourselves, hair and all!  The guide even got in on it, all of us laughing and playing like children again.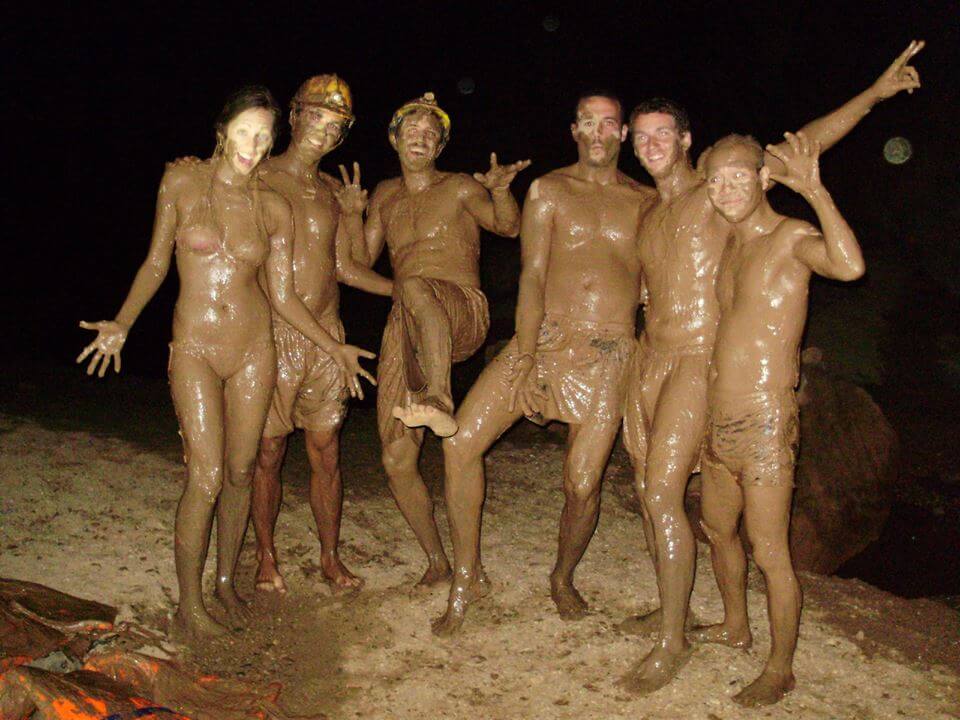 When I finally washed the mud off when we got back to the mouth of the cave, I realized that as the mud washed off it left my skin and hair incredibly soft. People pay good money for this kind of thing in fancy spas!
If you're a confident swimmer, bypass the kayaks and just swim to the mouth of the cave to save some money.  Do this whole thing in a bathing suit, or clothing that you're OK with getting muddy and wet. 
Paradise Cave
Paradise Cave is absolutely massive.  Unlike the caves visited during a typical Halong Bay tour, this one has no graffiti, has not been changed at all (the walkway is a wooden deck added in rather than a paved walkway that changes the natural flow of the cave), and the lighting is all natural colors, rather than the reds and greens I saw in the other caves.
One could spend hours in here, marveling at the shapes and seeing various things in them, subjectively, much like cloud or star-gazing.
At the entrance of the caves one can either walk or take a little open-air shuttle bus to the cave entrance. Enjoy the walk and save your money. It's an easy stroll in the shade and not worth the extra cash to bypass. 
The Pub with Cold Beer
This is known as the place where one can "buy a chicken" live, have it plucked, butchered, and then cooked for lunch.  Though I didn't personally buy a chicken (it's a 200,000 VND price tag), I was present when a few other tourists did.
I have now seen a chicken from the living stage to the plate stage.  It was a little grizzly.
That's all I have to say about that.
The drive out, though, was beautiful.
Fair warning, the road turns into a dirt and rock road with lots of potholes on the way to the pub, then ends at a river that needs to be crossed on foot (or bike, if you're particularly adventurous and confident). No matter what you do, if you are motorbiking be sure to have travel insurance – it's just the right thing to do.
The incredibly friendly locals in this area, and the natural beauty, made it very worth it.
The awesome Side Roads 
My favorite thing was getting lost on the little side roads around the national park.  The reaction from the locals was absolutely awesome.
Much in the way that the kids ran out of their little shacks in Kratie, Cambodia, yelling hello, the kids (and their parents too!) did the same on the small side roads here in Phong Nha.  Honestly, what feels better than being welcomed every few minutes by the locals?  It's my favorite part of traveling and definitely makes a place that much more amazing for me.
The complete lack of traffic and generally good main roads made this an easy drive.
Even better, a first time rider came out with us and fell in love with motorbiking, much like I had my first time driving myself on a motorbike in Pai, Thailand. It's tons of fun!
*All of the above can be done with a tour, but I tend to avoid tours and prefer doing things on my own.  I spent about half what the tour cost was, but am comfortable driving a motorbike, which is essential on these roads, particularly those on the way to the Pub with Cold Beer.  
Do it yourself: 
From Hue, there are several ways to get to Phong Nha.  One can take a small minibus for 500,000 VND per person that goes from Hue Backpackers to your guest house of choice in Phong Nha. I can only verify that this most expensive option works, because that was my only choice given the Tet holiday, during which the public bus I wanted to catch wasn't running

If you'd like to take public transport from Hue, there is *apparently* a bus that leaves from the North Bus Station daily at 10:30am with "Phuc Vu" written across the front of it. Its rego plate is 73L9790. Otherwise, get to Dong Hoi either by bus or train and catch the 2pm bus from the bus station. A taxi or private car can also be hired in Dong Hoi for anywhere from 125-500k VND per person depending on group size

Some online guides I read state that the only guest houses are Easy Tiger Backpackers and the Farm Stay. This is not true. There are plenty of options in the very small main road, though most people hang out at Easy Tiger whether they're staying there or not (I happily stayed there, personally)
Rent a motorbike from your guest house for 200,000 VND per day
Enter the national park for 40,000 VND. Barter at the dark cave for a guide, which will run about 200,000 VND+ each
Paradise and Phong Nha caves are a standard price, posted at the entrance