Apart from traveling in an airplane, on a bus, or, you know, on the back of a donkey, one of my favorite ways to explore the world is through written word and photographs.
When a writer and/or photographer is particularly talented, you just feel transported into that time and place, don't you?
It's like even though you might be a half a world away, the descriptions are so vivid, the colors are so crisp, that even on a rainy day in the city apartment you might feel like you're swimming in the lukewarm waters of the Indian Ocean.
That's why I love writing competitions like Navigator Around the world in 80 Pages, which I participated in as a jury member last year and will again this year, because they reward something that I think is too often overlooked – the art of telling a good story. It's not about social media likes or how many votes you can get online, it's about how well you communicate the feeling of a place. It's a skill I love to see take center stage.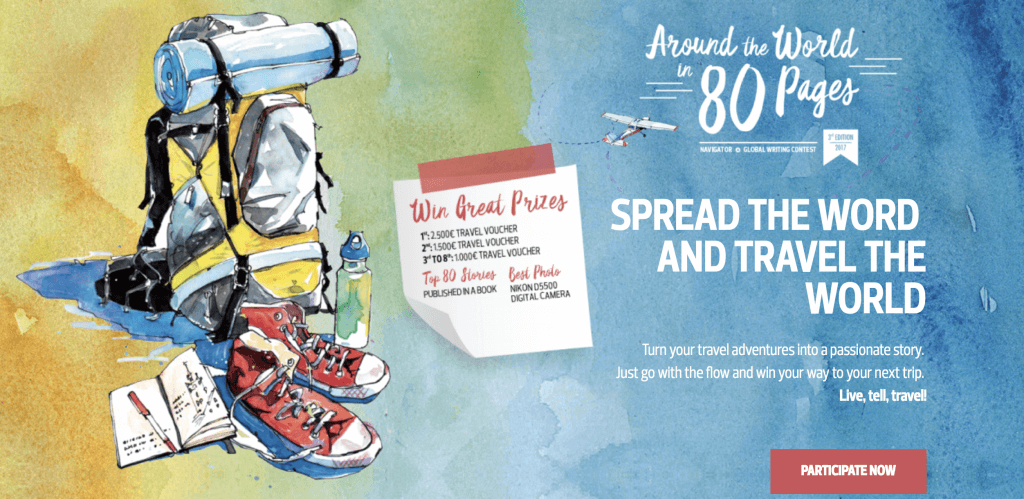 In 2016, I loved reading the many amazing stories from fellow travelers and I also really loved that three of them received prizes that could help them travel even more. This year, we're doing it again!
Do you have a story that you are itching to tell? Do you love writing, but don't necessarily feel like putting all the time and effort into creating a blog? Well I totally understand that! Which is why I like writing competitions where you get a chance to get published and share a story without learning about WordPress and SEO.
This year, similar to last year, the top three stories have a chance to win a €1000, €1500 or €2500 travel voucher for their stories and the winning photo submission wins a brand new Nikon D5500 camera. The top 80 stories will be published in a book alongside my submission and the other jury members as well.
I will serve as jury for both the writing and photo competitions and I cannot wait to see what you come up with! This year I hope to see even crazier stories, more inspiring photos, and to learn about places I have never heard about before.
I'm looking for a submissions that are deeply inspiring, moving, and open up my mind to something new, or to see something in a new way. If you've got the chops, I'd love to see what you have in store to share with the world!
Here are the competition rules:
The Navigator Global Writing Contest is open to all individuals over 18 years of age.
1st phase – submission
Text proposals shall be submitted directly on the website.
All texts must be submitted in English and have up to 2500 characters (including spaces).
Candidates shall assign a title to the story and identify the country where it took place.
Candidates must ensure they have secured the appropriate rights and clearances for the texts and images submitted. Navigator will not be liable for any copyright, trademark, patent infringement or for non-payment grievances held against entrants.
Winners agree to transmit all copyrights for their proposals to Navigator.
Entries received after 23:59 (GMT) on the 31st of December 2017 will not be considered valid.
Every person can participate with more than one story, as long as the narratives of the episodes take place in different countries.
The contact for queries related with the contest is contact@navigatoraroundtheworld.com
2nd phase – 80 best stories announcement
From the universe of texts and photos submitted, Navigator will select 80 stories and 1 picture, based on the following criteria:
– Ability to engage and inspire the reader;
– Ability to convey the experience;
– Originality of the style;
– Creativity;
– Realness: Real stories told by real people;
The authors of the 80 stories selected will be revealed on the 15th of January 2018 at www.navigatoraroundtheworld.com. They will also be notified by e-mail.
Navigator reserves the right to publish these 80 stories (and respective pictures) in a Navigator book, edited under this contest purpose. The same applies to the winning picture, if it isn't among the first 80.
3rd phase – winners announcement
The 80 texts selected will be assessed by an independent jury panel, who will select the 9 winners based on the same criteria referred above. The 9 winners will be announced on the 1st of March 2018 on the contest website.
Prizes will be delivered to the winners by a Navigator representative. When not possible, Navigator will guarantee its delivery by post or DHL.
Navigator reserves the right to use the winning proposals (texts and pictures) in the promotion and communication of the Around the World in 80 Pages – Navigator Global Writing Contest – in 2018 and following years.
Navigator reserves the right to make any necessary changes to the 80 proposals selected, in order to guarantee that these meet proper English spelling and grammar rules.
Decisions made by the jury are final.
Note: Winners will be notified by e-mail and will have seven (7) days from receipt of notification to acknowledge Winner status. Navigator is not responsible for and shall not be liable for late, lost, misdirected, or unsuccessful efforts to notify winners. If a selected Winner cannot be contacted, is ineligible, fails to acknowledge status, or fails to comply with any term or condition of these Contest Conditions, a prize may be forfeited and an alternate Winner may be selected.
JURY
The judging panel for Around the world in 80 Pages – Navigator Global Writing Contest combines travel writers and bloggers, as well as The Navigator Company Executive Director, The Navigator Company Marketing Director and Navigator's Office Paper Brand Manager.