What if your words could take you around the world?
When I was a kid I used to write elaborate stories, mostly about fantasy, and castles, and the 'olden days,' imagining a future where I'd write books that people might actually read.
It wasn't for the glory, but rather for the desire to share my overflowing imagination with someone, anyone, who might appreciate it. I scrawled across pages, drew, painted, and dreamed constantly.
Though things have taken a more realistic turn in regards to my writing, that same spirit was in me when I started this travel blog, and in the years since, people have asked me how I initially found the drive to keep writing even when nobody was reading it.
Here's the thing about travel writing: It's a gift, first and foremost, to yourself. It's a way to immortalize a moment in time that was special to you.
Have you ever written in a journal, only to go back and reread the words as an adult that meant so much to you as a kid or teen? Did you ever do that exercise in class where you wrote a note to your future self, and then actually went back and read it? It's one of the most endearing and delightful gifts I ever gave myself, and if you haven't tried it, write something down now!
These days, going back through my earlier blog posts brings tears to my eyes. When I wrote my memoir and retraced the entire first year of my solo travels, I was overwhelmed with gratitude. Even if nobody was reading it, wouldn't that have been enough in and of itself?
Yes, it would have.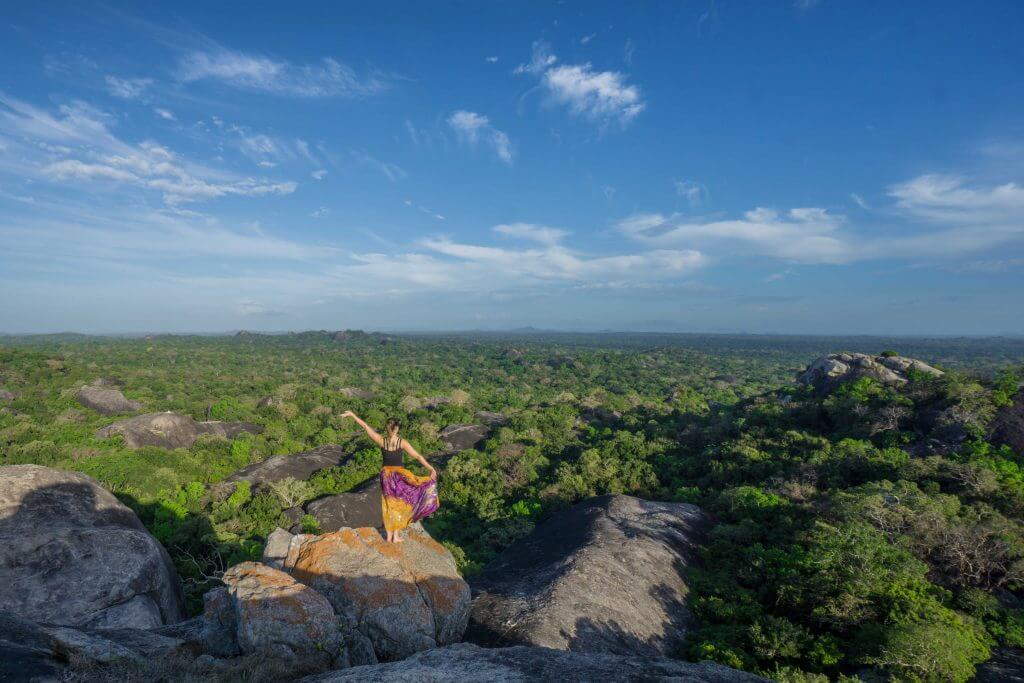 You don't have to bite off an entire blog to share your stories (but if you want to, here's some advice on how to start), you can test the waters with just 2500 characters, for a chance to win €2500 towards your next trip with Navigator's Global Writing Contest.
When Navigator approached me with this idea, I loved the thought of encouraging others to put pen to paper and share their travel stories, especially since it means that everyone from first to 8th place will win something generous.
If you place third to eighth, you'll win €1000, if you come in second, you'll win €1500 towards the destination of your choice and if you place first in the photo competition, you'll win a new Nikon D5500 worth €1000.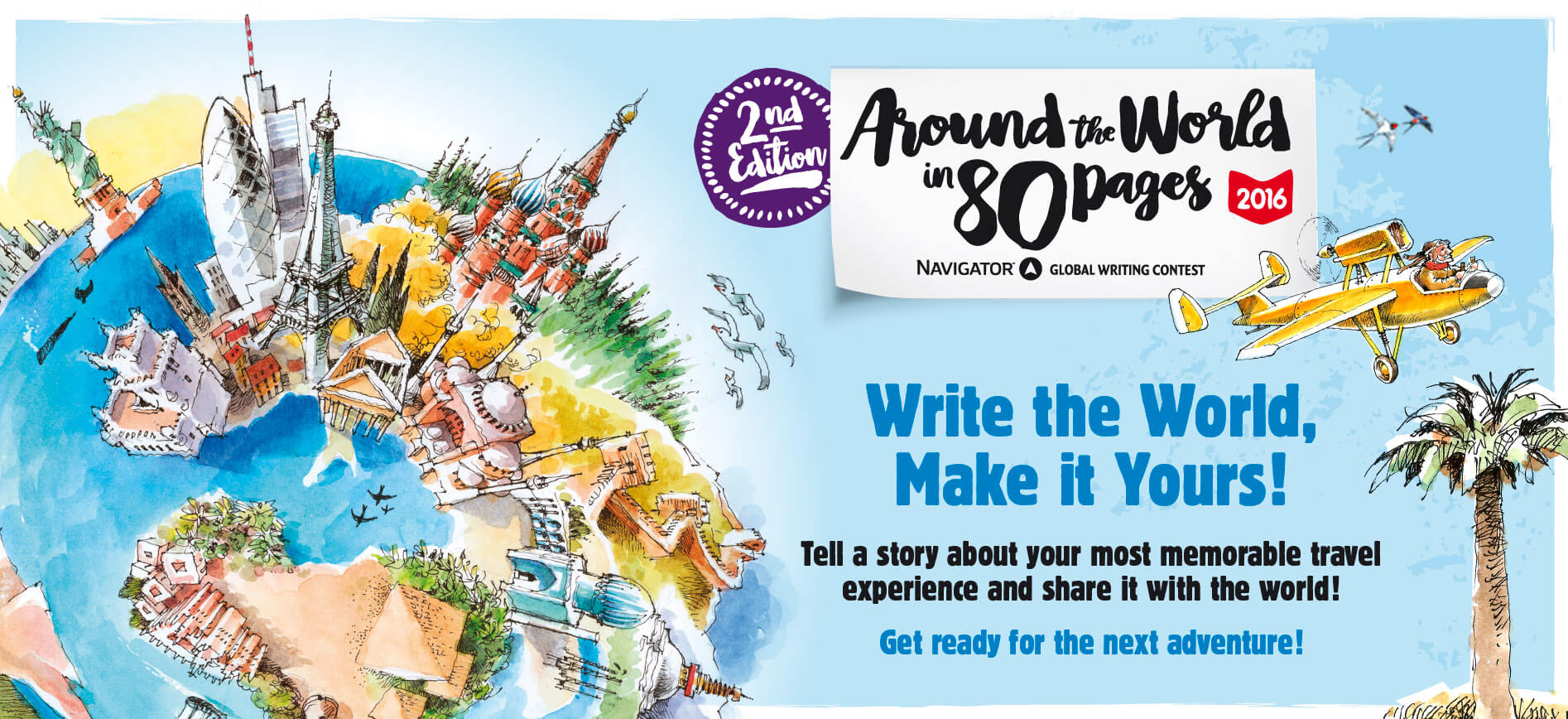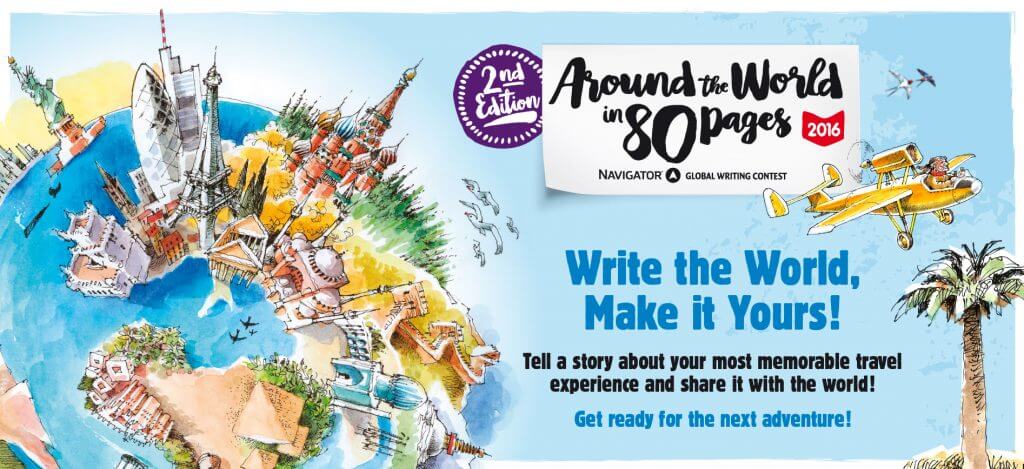 For only 2500 characters?! That's some of the easiest potential winnings possible.
I'll be one of the judges evaluating the stories and photos, and I can't wait to see what you come up with!
If you're stumped on how to be brief or what to write about, click on my bio to read my story about seeing the aurora borealis on my trip around Iceland's Ring Road last year.
What stories are you itching to tell? Submit yours before the end of 2016, and give it your best shot.
Now for the fine print:
ELIGIBILITY
Around the world in 80 Pages – Navigator Global Writing Contest is open to all individuals over 18 years of age.
RULES
Text proposals shall be submitted directly on the website.
All texts must be submitted in English and have up to 2500 characters.
Candidates shall assign a title to the story and identify the country where it took place.
Candidates must ensure they have secured the appropriate rights and clearances for the texts and images submitted. Navigator will not be liable for any copyright, trademark, patent infringement or for non-payment grievances held against entrants.
Winners agree to transmit all copyright for their proposals to Navigator.
Entries received after 23:59 (GMT) of the 31st of December 2016 will not be considered valid.
Every person can participate with more than one story, as long as the narratives of the episodes take place in different countries.
Happy writing, guys! I can't wait to help send a few of you on your dream trip!