There has been much talk on this blog about what I packed over the past year in my 35 liter backpack, what I found essential in Southeast Asia and what I didn't, and how I took on (and completely dominated, annihilated, and owned) the carry-on only challenge all year. Yet I've never shown you exactly how I packed so light.
It's high time that changed.
In the below video I show you some tricks for fitting everything into a small bag (the one I use is an REI Vagabond Tour Pack
), the following of which are the most important highlights:
I roll and stuff every clothing item I bring into a packing cube. This condenses my clothing quite a bit and creates space that other travelers don't seem to have as much of. I also have less wardrobe variety than others, but I don't care. Back home in Los Angeles, I definitely care what I wear and how I look, but in Southeast Asia it's simply not the focus, which is really nice.
Everything has its place and is well-organized. My toiletries all must fit into my toiletry bag. My clothes all must fit into the packing cube.

Electronics are either on my person or stuffed into my shoes, which protects them and creates space.
I utilize every compartment. The top one holds my telephoto lens, wrapped in my microfiber towel.

The side compartments hold my makeup and hairbrush.
I make do without certain things. I don't have any jackets or jumpers of any kind, which is typically fine because Southeast Asia is so hot and humid. On the rare occasion that I did need a jacket in the past, I was typically lent one or could even rent one by the day in some trekking towns, like Cemoro Lawang at the base of Mt. Bromo in Indonesia.
It's actually pretty easy:
I initially decided to bring only carry-on luggage after reading several blogs from other nomadic female travelers, all of whom wrote that they wished they had brought less. I heeded their lamentations and decided to bring a small bag and see if I could make it all year with only carry-on luggage. It turned out to be easy, somewhat rewarding because I didn't have room to buy anything (which kept my costs down), and entertaining every now and then when a fellow traveler would see my bag, almost unable to process that I really traveled so light.
The benefits of packing light are numerous. I never pay for checked bag fees, can usually keep my bag with me on a bus instead of putting it in the undercarriage, and my back isn't as burdened.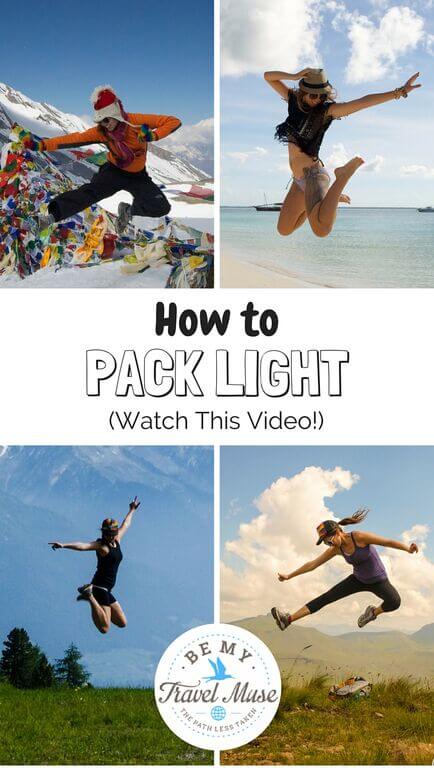 For a full listing of what, exactly, I travel with and how you can buy the same gear, check out this page.
Thanks for watching. What are some more pre-trip planning guides that you would find helpful? Do you have any questions or tips to add?