This is part two of a multi-part series on how to start a travel blog. In part one, we focused on how to set up the blog, what to name it, and how to select a theme.  In this post, we'll be focusing on understanding and utilizing social media to find readers and become more attractive to advertisers and tourism boards.
Focus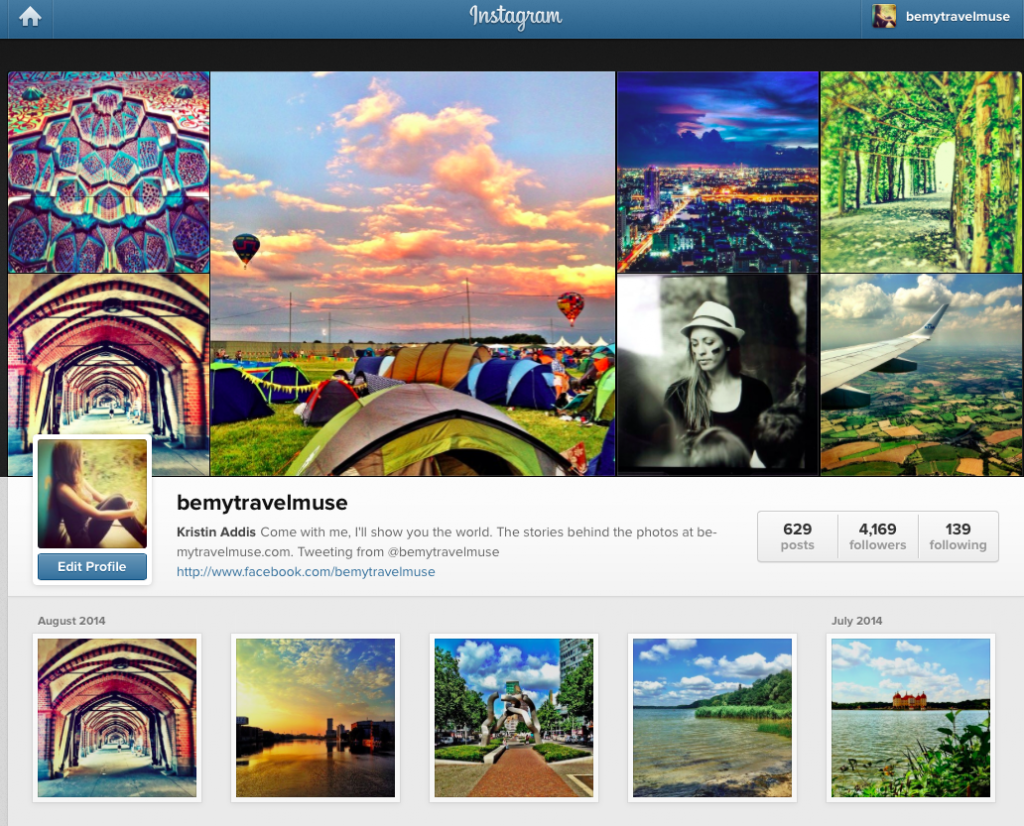 There are hundreds of social media networks out there. You simply can't focus on all of them and still manage to eat, sleep, and most importantly, travel. For this reason, it's best to focus on a few networks that you know and can do well.  Though there will always be those that are essential, such as Facebook, Twitter, and Google+. Because of their market share, they should also be a focus from the very beginning.
As for the rest, pick and choose which intrigue you most and will help you get the name out about your blog/brand. You can decide this by thinking about what kind of blogger you intend to be. If you will focus more on photography, visual networks such as Instagram and Pinterest are likely to be the most helpful. If you love food, think about joining Foodspotting, FourSquare, and the aforementioned two which can be a big help since food is visual when shared on the web. If you're into video blogging, definitely get into YouTube, Vimeo, and Vine.
Also keep in mind that each social network is wildly different in what it achieves. Twitter is about conversations (short ones), Instagram is about telling a story through pictures, Pinterest is about displaying your personality visually, Google+ is about passions, and Facebook is about sharing links to things you love with your friends and family.
More and more, Facebook is charging to reach its fans. While it will remain an important social media channel, keep this in mind before pouring tons of money into ads and boosting posts. That said, Facebook is the highest driver of traffic to Be My Travel Muse as far as social media networks go.
Google+ has yet to really catch on, but since it's a Google product, making it a big part of your strategy is likely wise.
Twitter is a great way to talk to readers and writers you'd otherwise have no access to.  Many people sign up for Twitter, only share their own articles, and never really "get" the network or the potential it has. Use twitter for conversations. Reach out to people who you read the most – engage them.
Finally, Instagram is a beautiful addiction of mine. I love travel photography so it makes sense that I'm a big fan of sharing my travels through this social media network the most.
Basically, go for what you enjoy, but be selective, because you can't be a genius at every social media network available.
How to Harness Social Media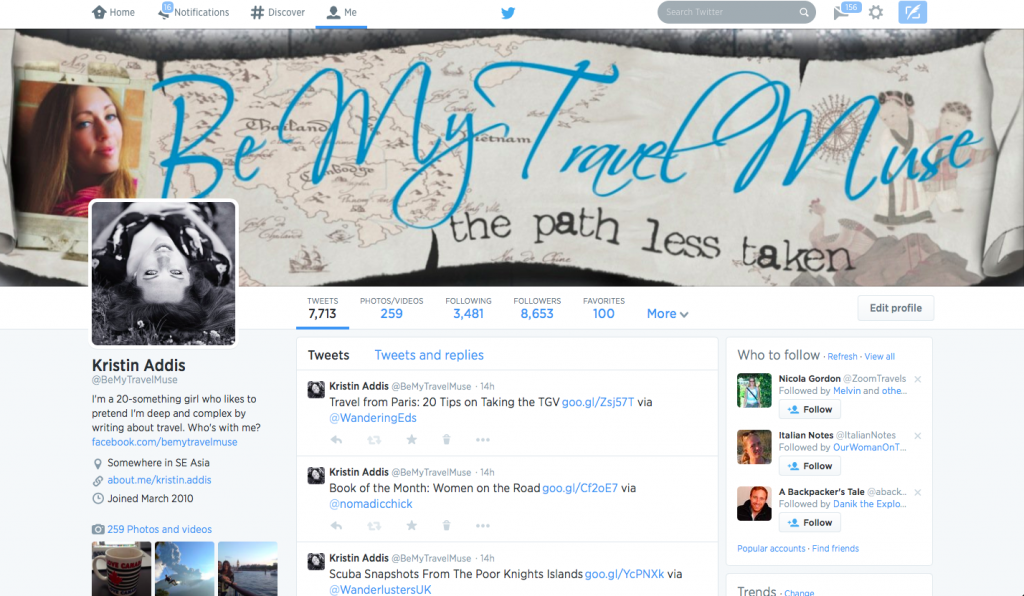 Make sure to secure your blog's name on all of the social networks you're going to use. Make accounts and start following, repinning, liking, and thumbs-upping those who you enjoy reading. When it comes down to it, curating a great feed is the best way to gain real followers. Sure, you can buy fake followers, but that doesn't really achieve much if your goal is to develop a real audience (and it should be).
If you find that you're struggling to understand how best to utilize your chosen social networks, the solution is simple: learn from an expert.
Even if you think you know all there is to know about Facebook, for example, you should never stop reading up on and learning about the constantly changing landscape.
This is easily one of the most important parts of blogging that a lot of people miss. You always have room to learn and grow.
I have found the following books to be very helpful and am always reading and trying to learn things I wasn't aware of before:
Likeable Social Media: How to Delight Your Customers, Create an Irresistible Brand, and Be Generally Amazing on Facebook (& Other Social Networks)
 by Dave Kerpen. This is the most important book I've ever read regarding Facebook. It really helped me to understand how to reach my audience on Facebook and beyond, based on real-life examples of successful campaigns. Kerpen writes in such a way that's easy to read, engaging, and easy to apply. It's so good, I've read it twice.
I also like What the Plus! Google+ for the Rest of Us
 by Guy Kawasaki for Google+, Pinterest Power: Market Your Business, Sell Your Product, and Build Your Brand on the World's Hottest Social Network
 by Jason Miles and Karen Lacey for Pinterest, and 500 Social Media Marketing Tips: Essential Advice, Hints and Strategy for Business: Facebook, Twitter, Pinterest, Google+, YouTube, Instagram, LinkedIn, and More!
by Andrew McCarthy for an overview of all of the important social media channels.
In Conclusion
Social media will play a huge role in your ability to reach your readers, as well as the heavy hitters in the blogging, travel, and related industries. This is how you show what you can do beyond the platform of your blog. Perhaps more importantly, it also gives you access to other people who can help you continue to grow, which leads us to the topic of focus for the next article in the series: the importance of networking.