I wrote a post about a year ago about how I afford to travel. That was after I completed my first 12 months of continuous solo travel, and I have since completed another 10.
I still get a lot of emails asking how I afford it, which led me to the realization that I wasn't clear enough before – even to myself. There were a lot of things I didn't consider – mainly about how my approach to spending is fundamentally different now than it used to be.
I also didn't fully cover how I make money from my blog, so I'm releasing a 5-part series on exactly how I built and started making money from this blog in the coming weeks as well.
Returning to the question at hand: how have I really managed to afford to keep traveling without working a full time job?
For the past few months I've kept meticulous records of what I've been earning and what I've been spending so that I can figure out what exactly has made it possible for me to survive earning about 10-20% (dependent on the month) of what I did when I worked full time.
Wow. Look at that figure again. My yearly income is 10% of what I used to make! How am I even surviving right now?
After crunching the numbers and really closely monitoring what I've been spending, I realized something. The real question is: what in the world did I spend on before?
Breaking it down:
I had $25,000 in debt to pay off after school. My tuition was paid for, but I had things like rent, books, and food that needed to be covered as well. When I was making a large salary, I also paid about half of my income, since I had no write-offs, in some form of taxes, covering things like Medicare or social security, none of which were directly benefitting me.
I still had to save for my own retirement because social security alone isn't enough, and I covered a lot of my own medical costs as we don't have socialized medicine in the US, and Medicare is only for those generally 65 years old and over.
What was left over usually went towards living expenses. I wasn't a big spender by Orange County, California standards, but by my current standards, I sure was.  I bought new clothes and shoes all the time. I always bargain hunted, getting nearly everything on sale, but that doesn't change the fact that it was designer labels I wore. I still spent $25-100 on a shirt and thought I had done well.
I also went to every music festival I felt like attending, frequented Las Vegas (where I never had to pay for anything past hotels and flights due to friends and promoter connections I had there, but still), and every now and then, spent on a big-ticket item like Pilates certification, a $700 purse, or a $2000 vacation.  It didn't matter because each month I made enough to pay off my credit card back to zero without noticing a dip in my bank account.
I'd spend $2000 in one week while vacationing, and now it takes me nearly two months to spend that.
I also tended to invest a lot, which is not something I'm doing now and truthfully is worrying. My goal over the next 6 months is to get to a point where I'm covering my expenses, saving a bit in cash, and investing a bit as well. If I can't make this happen, I have to seriously consider other options.
What I was spending then:
Health and wellness: Around $150/month on Pilates, yoga, spin, and gym memberships and $65/month on facials
Phone: $75/month on my cell phone plan (and I was grandfathered in at a low rate for being a customer for so long while most of my friends paid more like $100)
Connectivity: $150/month on cable TV and internet
Sleeping: $700 on rent and utilities (incredibly cheap for my area plus I was sharing a room – this helped tremendously)
Transport: $200/month on gas and car insurance
Shopping: easily $700/month if not more
Food: An average of $3-$10 per meal. Food was not a big expense as premade and processed foods are expensive, and I bought raw ingredients and cooked most of what I ate. If I ate food out it was usually pretty affordable. If I ate food out it was usually pretty affordable
(By the way, here are some tips on how to cut this down and save money for traveling)
What I Spend Now:
Health and wellness: I'm spending the summer in Berlin where I bought a bicycle at the flea market for 50 Euros and ride it everywhere, even an hour away. I use online Pilates videos combined with my training knowledge to work out at home without needing gym equipment. I miss the class atmosphere, but I can do without. I miss facials, and once I'm making more money that will be a treat I give myself
Phone: Usually around $15 maximum/month (In Vietnam it was only $4)
Connectivity: I don't watch TV anymore, and I don't miss it. Internet is covered by the hostels I stay at
Sleeping: I usually stay at places that range from $5-$10 per night. I like hostels because that's how I meet people as a solo traveler. I don't mind if it's less comfortable than a fancy hotel room. It really doesn't bother me, which is helpful
Transport: Varies quite a bit, but hardly ever exceeds $100-200/month unless I take flights (which blow the whole budget immediately)
Shopping: An average of $50/month on replacing cheap clothing and shoes or buying warmer items if needed
Food: An average of $1-$10 per meal. I eat street food (because it's the same as what they serve in the restaurants in Vietnam and Thailand! Really!), cheap food in Berlin, or cook at home
In Conclusion:
When I look at the comparisons, I've largely simplified my life and made it cheaper by living in cheaper places, but also by making different choices. Honestly? My life is no less rich because I can no longer buy $100 tops. It's richer now in my $5 dress. 
I haven't worn most of those costly clothing items in years, and honestly, I wouldn't have even if I lived at home and they were hanging in my walk-in closet. Now I buy clothes and wear them each week, or perhaps every other week. They get used to death. When they get a hole I move on. If I get tired of them I move on. They're cheap, it doesn't matter.
I take the time to wander around a national park, read a book, write, sing, or dance. I didn't do those things much before. It took up time I didn't have. When I did have the time, I wanted to spend it spending the money I had worked so hard for. I had to make it worth it somehow.
A brilliant article I recently read alerted me as to why this was:
Big companies didn't make their millions by earnestly promoting the virtues of their products, they made it by creating a culture of hundreds of millions of people [who] buy way more than they need and try to chase away dissatisfaction with money.
In conclusion, I can tell you to buy fewer coffees, attend fewer movies, go out to bars less, or stop going to the mall, but the real way to afford to travel the world is to change your perspective.
Will buying a latte bring you closer to Vietnam? Will a new cocktail dress make you more attractive than the other 5 already in your closet? Probably not, but a cultured outlook will. Becoming a more interesting person because you've seen the world will. Instead of thinking of spending less as limiting yourself, think of each thing you don't buy as making you richer.
That's the ticket to the world.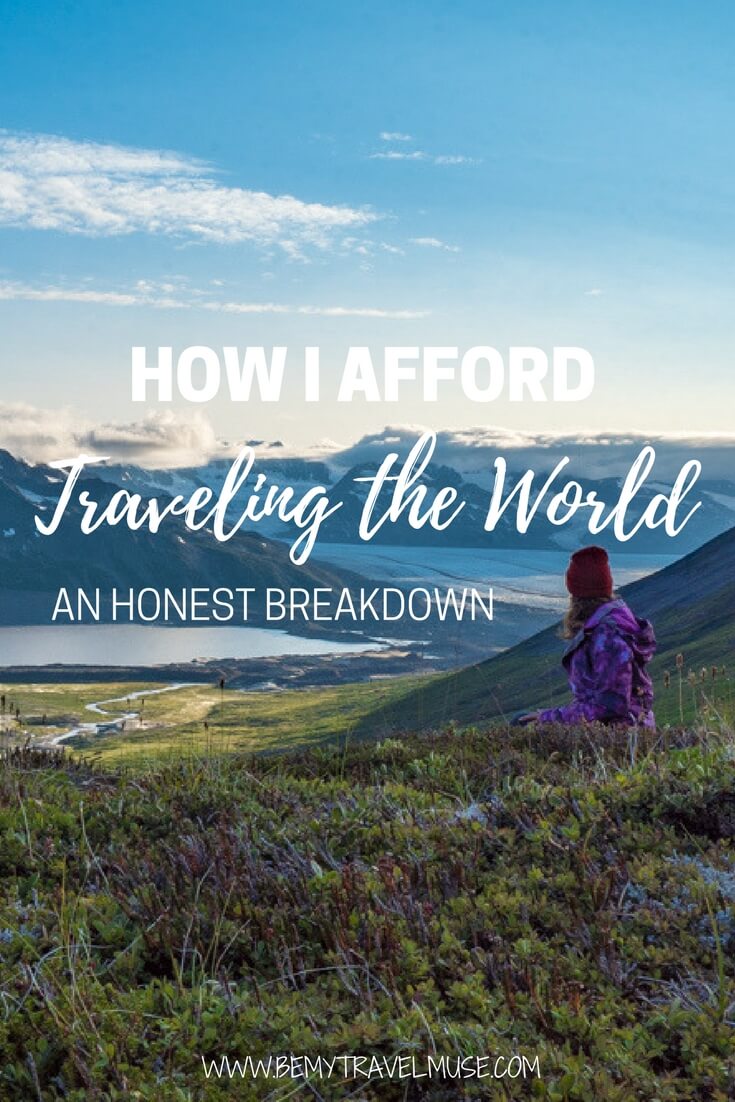 —