Leaving South Africa caused a stirring of bewildering emotions in my chest.
This always happens when I leave a place: I start to get a yearning feeling in the pit of my stomach. My heart beats a bit faster. I feel a sudden urge to stay, along with the seductive pull of the unexplored ahead of me.
It's like an internal tug-of-war with a sentimental longing for the familiar on one side and inquisitiveness for the new on the other. Does it happen to you, too? I think it's called a bittersweet goodbye.
After nine weeks in beautiful South Africa, it was time to enter Namibia, passing from the Orange River on the border to the Fish River Canyon in Namibia.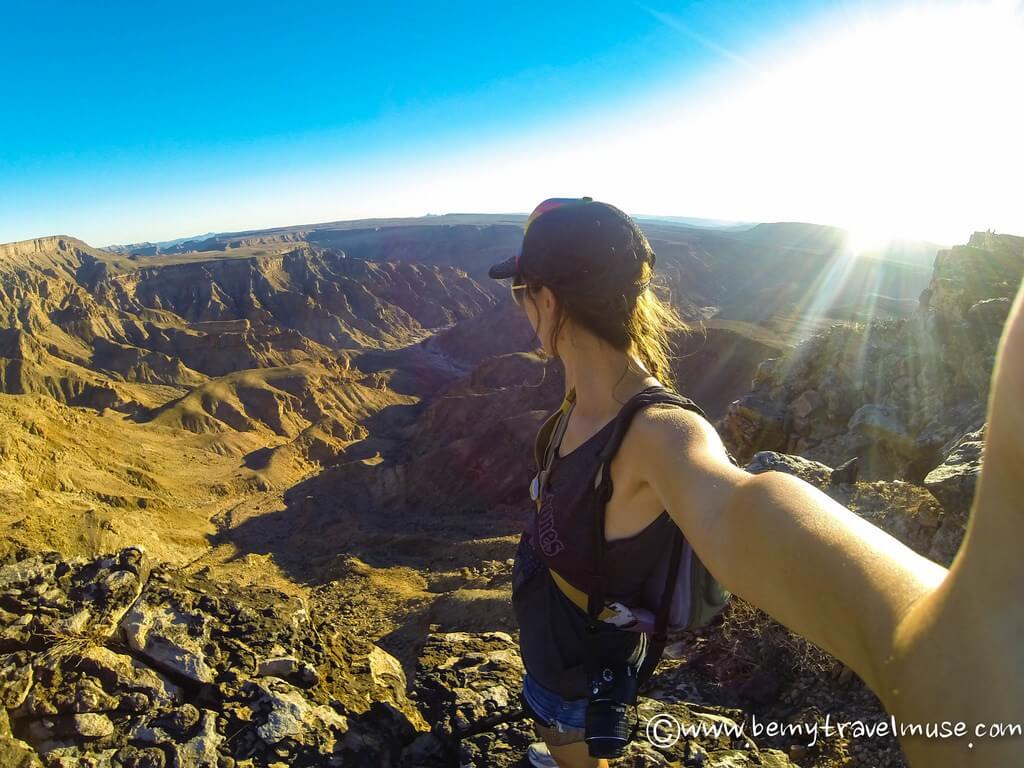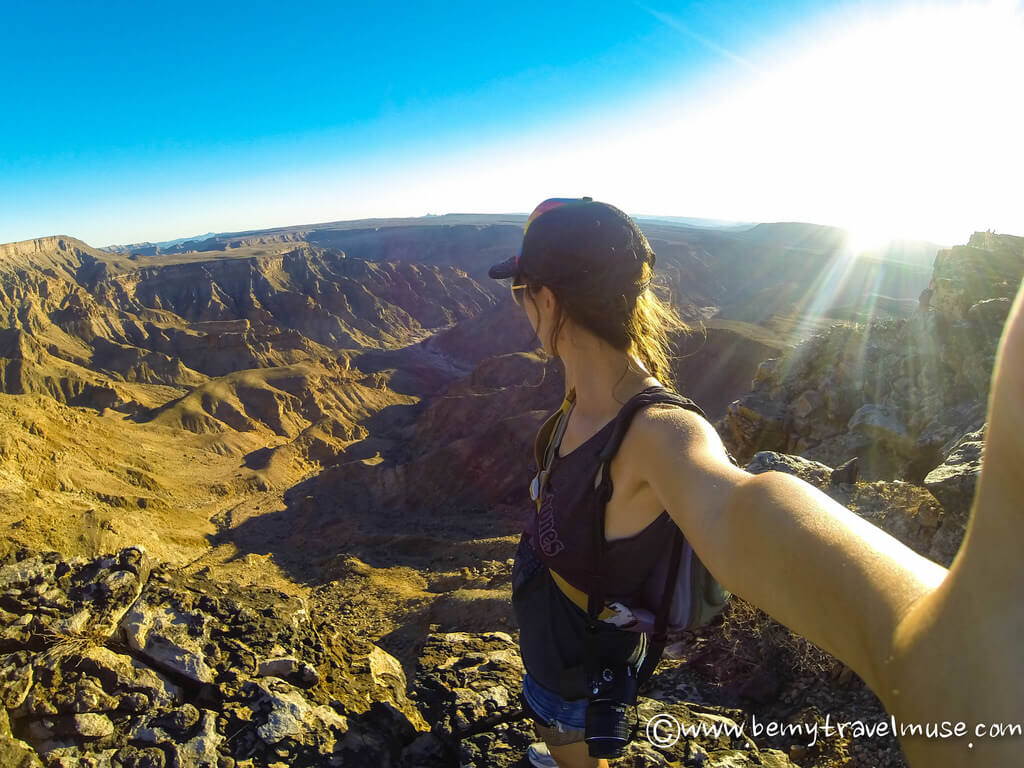 A….Safari Tour?!
You're not going to believe this, but I chose to do so in a fashion that I haven't done in eight years. I joined an overland safari, and I would be on a truck for 35 days.
That would be 35 days of camping in a tent, without a bed, 35 days of doing chores like helping with cooking and cleaning, and 35 days of living out of a locker on a truck. It would mean 35 days of someone else doing the planning, and being surrounded by other people, not so solo anymore. Yes, 35 whole days.
Generally everything I do is solo and independent. I don't like tours and am really not a fan of excessive hand-holding. However, I did my homework on this one and realized that if I wanted to see Namibia and the surrounding countries, it was the only safe option.
I am adventurous, but I'm not stupid. Traveling solo across Asia with its bus system and big populations is not the same as driving a car solo across a barren, shade and water-free desert without any mechanical know-how when the possibility of seeing another car pass by is slim and cellular signal is nil.
What I liked about this overland safari with Acacia Africa was that it wasn't an air-conditioned, fancy resort, fake experience. It would involve pitching tents, avoiding scorpions, running barefoot in deserts, and seeing lions from a big truck as we powered through Southern and Eastern Africa.
In short, it was an unexpectedly sublime adventure with a few awesome 20-something girls and guys. I got along with each person, and honestly loved finally letting someone else do the planning for a while. As you may have noticed, solo travel was starting to wear on me and I needed a little break.
Entering Namibia
Getting my stamp as I left South Africa, walking through the incredible heat to the other side of the border and entering into Namibia, it became real – I was saying goodbye to a country that was more transformative for me than any before it.
As I do with almost every place I visit, I silently vowed to return.
The landscape quickly turned barren and mostly treeless. However this is the perfect environment for me. I love the quiet stillness and seeming emptiness of deserts. Despite the fact that they are inhospitable to most life, I find them peaceful and particularly beautiful.
I love the feeling of the hot, dry heat on my skin. Perhaps because I grew up with it and it's what I'm used to, this is my preferred type of weather.
Fish River Canyon
The final stop of the night and the first Namibian sunset took place at Fish River Canyon, the largest canyon in Africa. A hiking trail runs through it, which is one of the most popular in Southern Africa.
That said, as much as I love hiking, I probably wouldn't consider it. The temperatures there regularly soar to 48°C (118°F)! To add to that, in the dry season, the river is often dried up in certain parts. No thank you.
I was surprised to find that people actually run this, though, with the fastest runner clocking in at just under 7 hours for 90km. Through the desert. Without shade. Wow.
As the sun set we sipped wine and took in our new surroundings. For the next 12 days, we'd be exploring this desert country, with pockets full of sand, walking through forests of leafless trees on their way to petrification, and in my case, jumping out of planes.
It would turn out to be a welcome change, after all.
*This post, and following posts associated with the trip, was brought to you in collaboration with Acacia Africa. As always, you will never read a positive review on this site for an activity, product, or destination that I did not love. All opinions shared are genuine and my own.